There have been much speculations on the aftermath of the Ukraine crisis, and the extent of its impacts. Many only vaguely understand them to be "no less serious than those of September 11 attacks".
Much of the consequences of Putin's war in Ukraine will, of course, not manifest immediately but rather gradually. However, at least one major change is becoming apparent and noticeable, and this is re-emergence of Germany in global geopolitics. Looking back at the past, Germany has always been a lion of Europe, indeed a powerful and formidable force, even one that is regarded to be able to contend with the ambitious Russia. To be sure, this country famed for its refined industries has been, historically speaking, the only continental power feared by Russia. Compared with Germany, other European countries are more akin to jesters before the Goliath that is Russia.
Now, Putin has awakened the giant force known as Germany. Before that, this force had been in dormant for decades after the end of the Cold War.
In Germany now, tens of thousands of people gathered in front of Berlin's Brandenburg Gate, some holding placards that read "Russia Hands Off Ukraine", "Putin! You Need Therapy!" and the like. Such zealous spirit of the Germans has never been higher. Europe shares the same sentiment against Russia and this can be seen in major cities in Europe, from Rome to Prague, from Istanbul to Madrid, or from Paris to London. The solidarity born out of loathing against Putin's Russia is unprecedented in the history of modern Europe.
Noteworthily, just a few weeks ago, the Germans' attitude towards the influence of Russia on Europe was more or less restrained, hence such change within a short time is something worth pondering.
During the Merkelian era, Germany and Russia had the largest, most enduring, and closest energy relationship in Europe. German politicians chose Russia, whose energy exports to Germany, mainly natural gas, oil and coal, have become the mainstay of the German economy. In 2021, Germany's natural gas use reached 100 billion cubic meters, and Russia provided half of the supply. In January-October 2021, 34% of Germany's crude oil came from Russia, and 53% of the hard coal received by German power plants and steelmakers also came from there. German politicians have long tied the country's world status to Russia, and this has led to dangerous dependence.
Yet even in the West, no one denies the existence of such "dangerous dependence", the question is how should it be dealt with. Angela Merkel's governing forces had long adopted a compromising approach that mixes factors such as geopolitical skills, personal friendships, Putin's European preferences and the European Dream. This was done so with the hope that disaster would not happen, or could be delayed. For the same reason, the new German government, which inherited Merkel's legacy, was reluctant to take actions that might offend Russia after the crisis in Ukraine erupted. When other European countries were sending anti-tank missiles and other armaments to support Ukraine, Germany merely sent 5,000 helmets. When countries around the world agreed to cut off Russia's SWIFT system, the only country in Europe that opposed such move was Germany. On the top of that, there were other issues that have not been resolved in the German-American diplomacy long before the war. Germany's attitude remained the same, as if the collective mind of the nation is solidified. It appeared that such development of Germany was what Russia wanted it to be.
Then, Putin just helped solving the issues that politicians in the West could not handle for so long.
Putin's irrational assault of Ukraine sparked outrage in the world and changed the how the Germans think, who finally realized and acknowledged Ukraine's relationship with Europe. They now know that Germany cannot always keep Ukraine as the gatekeeper of Europe, without paying the cost. This is especially true after seeing the war in Ukraine, the scenarios of a future Europe with burning villages and towns, where rockets and missiles soaring through its skylines and where battle tanks roaming about through its streets become real and possible. The proud Europe has now realized the daunting challenge that it has to face now. This is the time that regardless how big the economic cost is, it will have to be the secondary consideration. The Germans are finally waking up.
The German government immediately reversed its prior decisions and agreed to cut off Russia's SWIFT system, even if it could lead to inflation and energy price problems. Germany also immediately took risky arms transfers, sending the largest batch of high-grade military equipment in Europe to Ukraine. The information I saw was that there were 1,000 anti-tank missiles and 500 anti-aircraft missiles, and these are unprecedented numbers. Theoretically, the number of these anti-aircraft missiles is enough to knock down Russia's air force on the Ukrainian front twice.
This is certainly a welcoming shift in Germany for the West, but bigger changes are yet to come. Far-reaching and historic geopolitical transformation are taking place in the country, so to speak. Germany announced on February 27 that it would strengthen its military, committing an armed forces fund of USD 113 billion, and keep its defense spending above 2% of GDP from now on. For military spending to exceed 2% of GDP is a long-standing requirement of the U.S. government, as it has been done in at least two U.S. administrations. Yet, Germany had always been reluctant to do the same. They had since enjoyed a long quiet time in the comfort zone after the end of the Cold War, developing the economy and promoting the arts. Now that it is all over, the Germans have risen from their slumber.
The German army not only has a long history, but historically it was also the one with the largest scale. During the Cold War, the German army was the second largest in NATO. At that time, the military strength of West Germany was three times that of East Germany. Moreover, the German army has never lacked technology. Even today, even the U.S. military has to import German arms from tanks to missiles, from guns and ammunition. The re-emergence of German army will be a terrible force of the world's mainland island in the future.
What happens in Germany could very well happen in the rest of Europe, even in the ever-moderate Sweden and Finland. They may rearm themselves, with NATO, to bring about a wave of post-Cold War rearmament in Europe, thereby completely changing the geopolitical pattern of the world. All these could be what the result of the war in Ukraine.
Putin has aroused a force, one that was a ruling power on the mainland island of the world, and one that had captured 5.75 million Soviet troops during World War II. It is this force that the Russian President has caused to break from its past to face its present. Therefore, even if Putin takes the whole Ukraine, he will lose Europe.
U.S. Sanctions and Russia's Weapon Systems: A New Game in the Quest of High-Tech Microchip
Modern warfare places a great deal of emphasis on semiconductors and microchips because they are the fundamental building blocks for a wide range of military technology, such as drones, radios, missiles, and armored vehicles. Russia has consistently used modern weapons in its military operations against Ukraine since the start of the war between Russia and Ukraine in 2022, thereby prolonging the ongoing war.
In the year 2022, Moscow initiated a comprehensive military intervention in Ukraine, while the nation of Russia saw an increase in the importation of semiconductor technology, with a value of $2.5 billion, compared to $1.8 billion in the preceding year of 2021. Microprocessors originating from Western countries are used in smartphones and laptops, which are progressively being integrated into Russia's military inventory. Moscow has been procuring a higher quantity of superior Western technology by using intermediate nations, such as China.
The Russian military incorporates a diverse range of foreign-manufactured components throughout its 27 advanced military systems. These systems include various technologies such as cruise missiles, communications systems, and electronic warfare complexes. A significant majority, exceeding two-thirds, of the foreign constituents detected in Russian military equipment may be traced back to corporations based in the United States. Additionally, a portion of these components are sourced from Ukraine, as well as other allied nations like Japan and Germany. Russia continues to successfully import the essential Western-manufactured components required for its military operations. Nevertheless, the influx of microchips into Russia continues via trade lines through China, Turkey, the United Arab Emirates, and other nations, contributing to the expansion of the country's prewar inventories.
China is the primary supplier of microchips and other technological components used in critical military equipment to Russia. This represents a substantial increase compared to the same period in 2021 when Chinese sellers accounted for just 33% of the imports. Furthermore, Moscow has seen a notable rise in its imports from nations situated in the Caucasus, Central Asia, and the Middle East. In 2022, there was a notable increase in exports to Russia from Georgia, Armenia, and Kyrgyzstan. This rise mostly consisted of automobiles, airplanes, and warships, which played a key role in driving the overall growth. Simultaneously, there was an increase in exports from the European Union and the United Kingdom to these nations, although their direct commerce with Russia saw a significant decline.
The increasing trade flows have led Western partners to advocate for expanding the number of countries participating in sanctions or imposing secondary restrictions on specific companies operating inside those countries to suppress Russia's military capabilities. In June 2023, the European Union implemented a fresh set of sanctions that include an anti-circumvention mechanism aimed at limiting the trade, provision, or export of specifically sanctioned commodities and technology to certain third nations serving as intermediaries for Russia. In addition, the aforementioned package expanded the roster of corporations that directly endorse Russia's military by including 87 newly incorporated entities across several nations, including China, the United Arab Emirates, and Armenia. Furthermore, it imposed limitations on the sale of 15 specific technological goods that are often found in Russian military apparatus deployed in Ukraine.
The use of microchips originating from the United States is contributing to the enhancement of Russia's military capabilities, even amidst the ongoing war between Russia and Ukraine, facilitated via clandestine channels including intermediate nations like China. American technological companies like Intel, Micron Technology, Texas Instruments, and others produce a portion of these microchips. The United States and other Western countries have put restrictions in place to make it more difficult for Russia to trade certain technologies.
While the Russia-Ukraine war is ongoing, Hong Kong ranked as the second-largest exporter of microchips to Russia in terms of monetary value and as the third-largest exporter in terms of transaction volume. In 2022, Finland ranked as the fifth-largest supplier of microchips to Russia in terms of dollar value and Germany ranked as the third-most significant supplier of microchips to Russia in terms of dollar value and held the fifth position in terms of the number of transactions conducted. Germany is a significant supplier of semiconductor equipment to the Russian market. In 2022, the Netherlands and Estonia held the position of being the fourth-largest exporters of microchips to Russia in terms of dollar value. ASML Holding NV, a prominent Dutch company, is globally recognized as the foremost provider of lithography equipment, a critical component in the production of sophisticated microchips.
Subsequently, the United States has implemented sanctions on Russia, which include prohibiting the shipment of American semiconductors, as well as items manufactured using American equipment, software, and designs, to Russia. The United States has engaged in collaborative efforts with its allied nations, including the European Union, Japan, Australia, the United Kingdom, Canada, and New Zealand, to effectively enforce such limitations. The United States Commerce Secretary has issued a warning over the potential termination of Chinese firm's access to essential American technology required for chip manufacturing in the event of their non-compliance with the ban on chip supply to Russia. The United States has also called upon China to participate in international endeavors aimed at exerting pressure on Russia to withdraw from Ukraine. The United States employs diverse methodologies to oversee and trace the transportation of chip shipments that have the potential to reach Russia.
The sanctions imposed on Russia have had a substantial and diverse effect on its military capability. To develop modern weapons, Russia is heavily dependent on purchasing a variety of high-tech goods from Western nations, such as microchips, engines, composite materials, and semiconductor machinery. The implementation of Western sanctions has limited Russia's ability to produce and maintain its modern military hardware, including aircraft, missiles, drones, tanks, and radar systems. Russia's military-industrial complex, which includes more than 800 businesses engaged in defense and related industries, is largely responsible for the country's defense capabilities. Western sanctions have been imposed on several companies, including Rostec, Mikron, Tactical Missiles Corporation, Sukhoi, MiG, and Kalashnikov Concern. The implementation of these sanctions has resulted in the cessation of their ability to get funding, access technological advancements, and engage in market activities, leading to a decline in their overall financial gains and profitability.
The Russian economy and energy industry exhibit a significant reliance on the exportation of oil and gas to Western countries. The industries have also been subject to Western sanctions, which have imposed limitations on their ability to access financial markets, technology, and services. This resulted in a decrease in their ability to produce new weapons. Additionally, this has led to a decline in the government's foreign exchange reserves, both of which are essential for funding its military activities and defense expenditures. Also, these sanctions have resulted in the isolation of Russia from the international community since they have curtailed Russia's ability to engage in diplomatic, political, and security collaborations with other nations. Russia's influence and power in regional and international affairs have decreased, which has also made it more vulnerable to pressures and challenges from abroad. Furthermore, this has undermined Russia's perceived credibility and standing as a dependable and trustworthy collaborator.
In conclusion, the imposition of Western sanctions has effectively sent a resolute and unified message from Western nations in reaction to Russia's aggressive actions against Ukraine. However, there is little proof that these sanctions have caused Putin to behave differently or withdraw from Ukraine. Hence, the efficacy of the imposed restrictions in restraining Russia's military aspirations remains uncertain.
Three Sahelian Interim Military Leaders Sign Security Pact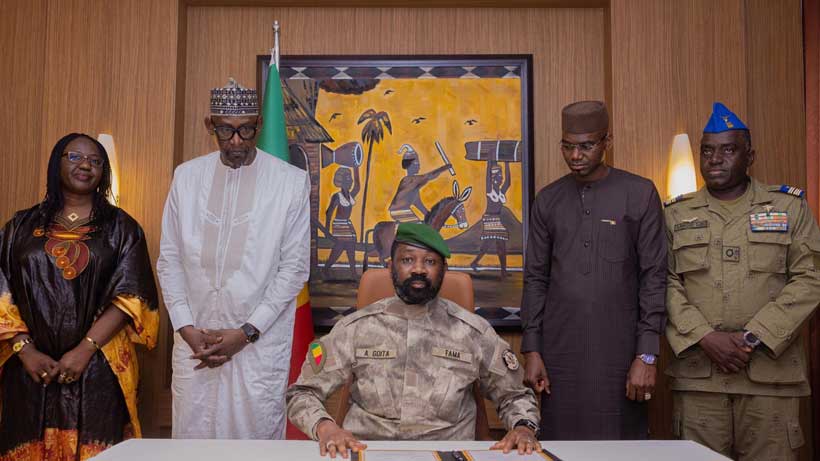 Burkina Faso, Mali and Niger have taken an admirable strategic step by signing trilateral security pact in collective efforts to battle extremism and terrorism threats in the Sahel region. It is an opportunity, especially this critical moment, to work relentless for peace and tranquility, a necessary factor that could determine their sustainable development.
These three Sahel states are under the interim military administration. The Economic Community of West African States (ECOWAS), the 15-member regional bloc, has put political pressure on them to return to constitutional democracy since after removing the elected civilian governments. The African Union (AU) and the ECOWAS have jointly suspended their membership, and further imposed stringent sanctions on them.
Backed by the AU, ECOWAS has even gone as far as threatening the use of force to reinstate constitutional governance in Niger. In response, Mali and Burkina Faso have solemnly pledged to extend their support to Niger if it is eventually attacked by ECOWAS Standby Forces. Burkina Faso, Mali and Niger also have considerable strain on their relationships with neighboring states and international partners.
Nevertheless, in a significant development on September 16th, three West African Sahel states came together to ink a security pact. Currently grappling with formidable challenges of combating Islamic insurgents associated with groups like al Qaeda and the Islamic State (ISIS), this accord offers the possibility to tackle any rebellion or external aggression.
The security pact, known as the Alliance of Sahel States (ASS), unequivocally indicated that an assault on the sovereignty or territorial integrity of any of its signatory nations would be deemed an aggression against all parties involved. The agreement outlined their unwavering commitment to provide assistance, either individually or collectively, and further categorically stipulated the deployment of armed forces.
The signed charter binds the signatories to assist one another – including militarily – in the event of an attack on any one of them. "Any attack on the sovereignty and territorial integrity of one or more contracting parties shall be considered as an aggression against the other parties and shall give rise to a duty of assistance… including the use of armed force to restore and ensure security," it states.
Malian leader, Col. Assimi Goita, announced the establishment of the Alliance of Sahel States through his social media account. He emphasized their primary objectives of establishing a framework for collective defense and mutual assistance. Its aim is to "establish an architecture of collective defence and mutual assistance for the benefit of our populations", he wrote.
The Liptako-Gourma region – where the Mali, Burkina Faso and Niger borders meet – has been ravaged by jihadism in recent years. A jihadist insurgency that erupted in northern Mali in 2012 spread to Niger and Burkina Faso in 2015.
"This alliance will be a combination of military and economic efforts between the three countries. Our priority is the fight against terrorism in the three countries," Mali's Defence Minister Abdoulaye Diop also said after the signing the document.
Mali and Burkina Faso have vowed to come to Niger's aid if it is attacked. "Any attack on the sovereignty and territorial integrity of one or more contracted parties will be considered an aggression against the other parties," according to the charter of the pact, known as the Alliance of Sahel States.
The three French-speaking West Africa states were previously members of the France-backed G5 Sahel alliance joint force, (with with Chad and Mauritania) initiated in 2017 to combat Islamist extremist groups in the region. However, Mali withdrew from this alliance following its own military coup, and relations between France and these three Sahel states have severely deteriorated. France has been compelled to withdraw its military presence from Mali and Burkina Faso, leading to a tense standoff with the junta that assumed power in Niger after requesting the withdrawal of French troops and its ambassador. France has firmly declined to recognize the authority of the interim military governments.
The situation in the Sahel region including Burkina Faso, Chad, Mali, Mauritania and Niger still remains extremely difficult with internal conflicts, extremism and militant attacks, economic development is undeniably at its lowest points in history. In fact, Sahelian states are consistently looking for strategic ways to effectively address the sustainable development in the region. These three French-speaking states and the entire Sahel region are the most volatile and have large impoverished population in Africa.
The African Union, Economic Community of West African States (ECOWAS), the European Union (EU), the United States and the United Nations (UN) are all asking for quick transition to civilian governments, and that efforts are taken to resolve outstanding issues relating to sustainable development and observing strictly principles of democracy in these French-speaking states in West Africa.
Depleting Water Resources and Growing Risks of Water Wars
Climate change, often regarded as byproduct of modern industrial society, has gradually transformed into a challenge with global ramification. The most concerning factor regarding climate change is the unpredictable nature of consequences it can cause. One of the grave impacts of climate change is the depleting fresh water resources available to humanity. The Earth's surface is predominantly covered with water, accounting for approximately 70 percent of its total area. Within this vast water coverage, a staggering 97 percent is composed of saltwater found in the Earth's oceans while only 3 percent is fresh water. This 3 percent is distributed among various sources, with the majority, approximately 69 percent, residing in glaciers and about 30 percent is situated underground. The remaining fraction, less than 1 percent, can be found in lakes, rivers, and swamps. This suggests that mere 0.33 percent of planet's fresh water is directly available to humanity and other animal life forms. To put into perspective, if the world's water supply was 100 liters, then usable fresh water supply would be mere 0.003 litre (one-half teaspoon approximately).
According to the United Nations, by 2025, two-thirds of the global population could be living under water-stressed conditions and around 1.8 billion people will be living in areas with absolute water stress. The depletion of fresh water sources is generating friction between nations and thus increasing the risks of water wars in vulnerable regions.
Conflict over water is not a new phenomenon and over 1298 conflicts over water have been recorded in human history. In modern times, factors like climate change, expansion of population, and shrinkage of water sources have further increased the likelihood of water-conflicts. There are growing concerns that the competition over water sources will yield conflicts between nations in near future. There are four regions in particularly, including South Asia, Central Asia, Middle East, and North-East Africa, which are highly vulnerable to water induced conflicts. Besides suffering from water scarcity, these regions are under-developed and have history of political instability and mutual hostilities.
Perhaps the biggest flash point of water wars is South Asia, or more specifically India and Pakistan. Both nations, being the second and fifth most populated countries in world, are overwhelming dependent on rivers emerging from Himalayan Glaciers. These glaciers, located in territorially disputed Kashmir region, have the most snow covered land area after Antarctica and Arctic. Melting of ice due to global warming on one side has increased the intensity of Glacial Lake Outburst Floods (GLOF), while on other side it has significantly reduced the volume of frozen water deposits in Himalayan region.
The Indus Water Treaty (1960), which delineates the sharing of the Indus River's waters between the two nations, has historically maintained a fragile equilibrium. However, with growing shortage of fresh water and subsequent construction of new dams by India at Indus upstream, occasional tensions and lack of co-operation regarding treaty have been observed between New Delhi and Islamabad. With disputed Kashmir region still awaiting resolution, any water-crisis can further exacerbate already strained relations between both nuclear armed neighbors. Under current circumstances, it's highly probable that South Asian region will be at the verge of water-war in near future if both nations failed to undertake credible Confidence Building Measures (CBMs) regarding water resources.
In Central Asia, the climate change, coupled with growing populations, has also intensified competition over shared water resources. The construction of upstream dams by Kyrgyzstan and Tajikistan on Amu Darya and Syr Darya rivers, under the rubric of hydroelectric development, has raised concerns about downstream water availability for Uzbekistan, Kazakhstan, and Turkmenistan. The drying-up of Aral Sea and gradual reduction of water in Caspian Sea is exacerbating the water-crisis further. Similarly, the fertile land of densely populated Ferghana Valley, known for its near perfect faming conditions, is now heading towards desertification primarily due to global warming. Uzbekistan, Kyrgyzstan, and Tajikistan converge in this valley which is gradually becoming a flash-point for water-based conflict. In April 2021, a border clash erupted between Kyrgyzstan and Uzbekistan over dispute of irrigation water distribution. The conflict killed 40 people and displaced more than 30,000 residents. The confrontation stopped after Russia led diplomatic settlement but the core issue still persists.
With 61 percent population living in high water stress areas, Middle East and North Africa (MENA) is the most water scare region in the world. Approximately 60 percent of fresh water resources in MENA region flows across international border, and thus is source of political tensions between states already suffering from water scarcity and political instability. Against this backdrop, Euphrates and Tigris Rivers which are critical source of water for Turkey, Syria, Iraq, and Iran, have strained relations since 1960. Factors like erratic weather patterns, global warming, increasing population, and uncoordinated water management projects, are diminishing fresh water availability in Euphrates-Tigris basin. Instead of crafting a equitable and sustainable trans-border agreement for countering water deficiency, the four riparian stated have securitized water relations with neighboring countries. As a result, the risk of regional water-induced conflicts has increased substantially.
Moreover, militancy in region has also significantly contributed in intensification of water related crisis. For example, in 2014, attempts by ISIS to use Mosel Dam at Tigris River in Iraq for Hydro-Terrorism was also timely thwarted by security forces and a major water-disaster was successfully averted. Similarly, few months ago a border conflict ignited between security forces of Iran and Afghanistan in Zabu district of Sistan. The major cause of military clash was distribution of Helmand River water which flows from Afghanistan into Iran. Being among the most effected region of climate changes, both nations are vulnerable to frequent and intense droughts. Persistence of political instability and lack of co-operation has undermined the prospects of resolution of water issue in these regions.
In North-East Africa, the Nile water crisis has the potential to ignite a multifaceted conflict involving Egypt, Ethiopia, and Sudan due to their overwhelming dependence on the Nile River's waters. Ethiopia's construction of the controversial Grand Ethiopian Renaissance Dam (GERD) has raised concerns in Egypt and Sudan as both are concerned over potential reductions in downstream water flow. In particular, Egypt, historically reliant on the Nile's waters, views the GERD as a direct threat to its water security. In recent past, Egypt has even threatened military action against GERD if Ethiopia fails to address Cairo's concerns. Despite several negotiation efforts, these African nations have failed to agree on a mutually acknowledged framework regarding distribution of Nile water.
Israel is often regarded as benchmark for overcoming the shortage of fresh water. Once a country suffering from acute fresh water shortage, Israel now has ample fresh water availability to meet the domestic, agricultural and industrial requirements. Israel achieved this fate by building robust water Desalination infrastructure. However, Israel's example cannot be used as a template for highly populated regions with varying geopolitical and demographic dynamics.
Technological advancements have provided new solutions for conservation of new water resources. Beside desalination, many similar water conservation technologies like, drip irrigation, fog & rain water harvesting, nano-filtration, and aquifer recharge etc. have been developed to extract, purify, and store fresh water. However, adaptation of these technologies on national scale is very expensive and, therefore, beyond the economic capacity of majority of developing nations.
Abruptly changing weather patterns are disturbing water cycle and rapidly declining availability of fresh water. The intensifying water scarcity can potentially act as conflict flashpoint with far reaching consequences. Therefore, it's crucial that international society should realize the magnitude of problem and adapt to the changing realities of a warming planet. Collaborative efforts are essential to; undertaking scientific research for finding affordable and innovative technological solutions, water diplomacy for establishing effective water-sharing agreements, and adopting water-saving practices for sustainability of fresh water resources. If humanity fails to timely resolve this issue, it will not only undermine the global strategic stability, but will also threaten our existence as modern civilization.