Russia has evaded neighboring Ukraine located in the Eastern Europe. As one of the former Soviet republics looking to climb unto global stage and steadfastly develop the future, it therefore sets ambition to join the North Atlantic Treaty Organization and European Union. On the other hand, these two directions of its ambitions have angered Russia. As already known, Ukraine is in Eastern Europe and shares a border with Russia. It used to be part of the Soviet Union but became an independent country in 1991.
Under the directorship of Russian President Vladimir Putin, and approved by the both Federal Council and the State Duma, Russian collective made the decision to hold a special military operation in response to the address of leaders of Donbass and Luhansk republics, both in eastern Ukraine. Putin launched the "special military operation" repeating a number of unfounded claims, alleging that Ukraine's democratically elected government had been responsible for eight years of genocide.
Putin feverishly seeks to demilitarize and denazify Ukraine. The results of the waging war on Ukraine, Russia has to suffer from a raft of sanction imposed by various foreign countries including the United States, Canada, Britain, European Union and down to Australia. The results of the waging war on Ukraine.
While the sanctions take its bites and associated snow-balling effects, it has opened huge significant potential opportunities for a number of African countries. In the first place, researchers at Oxford Economics Africa believe that Russia's invasion of Ukraine could increase wheat prices in Angola and Mozambique, but the rise in oil and gas prices benefits the finances of these two African countries.
"Both Angola and Mozambique have a very limited level of trade with Russia and Ukraine; Angola imports wheat and yeast from Russia, while Mozambique imports a significant amount of wheat and a small amount of refined oil from Russia," Oxford Economics Africa analyst who follows these two African economies told Mozambique News Agency.
"It appears that, at least for now, Angola is generally benefiting from higher oil and gas prices, which are partially driven by the conflict," Gerrit van Rooyen said in remarks from Paarl, South Africa. Higher oil prices are positive for government revenues," the analyst added. If the rise is sustained, "this could increase investment in Angola and lower debt levels faster than previously anticipated."
"If gas prices remain high due to the conflict, this will be positive for investments in Mozambique's liquefied natural gas [LNG]," his analysis continues, since "the profits from the natural gas in the Rovuma basin could be greater than the risk of armed extremist insurgency in the region."
Despite the benefits for the public accounts of the two Portuguese-speaking states, van Rooyen points out that, for the average citizen, the disadvantages outweigh the advantages. Higher oil and wheat prices could be bad news for consumers, as inflation, which is already high in these countries, particularly in Angola and it is, however, expected to increase more than initially expected.
Monitoring media reports have indicated that a few oil and gas producing African countries have the possibility, if well-exploited, to supply Europe. For example, Algeria's state energy firm is ready to supply Europe with more gas in view of a possible decline due to the Russian invasion of Ukraine.
Sonatrach CEO Toufik Hakkar said the firm was ready to pump additional gas to the EU from its surplus via the Transmed pipeline linking Algeria to Italy. Sonatrach is "a reliable gas supplier for the European market and is willing to support its long-term partners in the event of difficult situations," Hakkar said, and was reported by the daily Liberte.
Hakkar nonetheless said this would be contingent on the availability of a surplus of gas or liquified natural gas [LNG], but have to fix its "contractual engagements" with the importing partner for the supplies to the European market.
Nonetheless, Algeria could only compensate for the decline in Russian gas supply by offering a maximum of two or three million additional cubic meters. Algeria plans to develop new reserves of shale gas. In January, Sonatrach said it would invest US$40 billion into oil exploration, production and refinement, as well as gas prospecting and extraction, between 2022 and 2026.
Arguments whether Africans can take advantage to increase their business, especially in oil and gas, are still varied. "For Africa it's a gain, it's an opportunity, it presents that window of opportunity for African countries to see how they can increase their production capacity and meet the need of global demands of crude oil," says Isaac Botti, a public finance expert told Voice of America.
However, Africa's production combined accounts for less than a tenth of total global output. Nigeria is Africa's largest producer of oil followed by Libya. Other notable producers are Algeria and Angola.
Algerian state-owned oil and gas giant said it would supply Europe if Russian exports dwindled as a result of the crisis, Botti noted and added that it's a good example for other African nations. "We need to develop our capacity to produce locally, we need to look at various trade agreements that are existing," he said.
For years African oil producers including Nigeria have been struggling to meet required daily output levels. Many experts, including Botti, worry strongly that African producers may struggle to fit into the big market with increasing global demands for crude oil.
Instead of African business to the United States and Europe, some researchers and experts have shown concern about the level of impact of Russia-Ukraine conflict on Africa. Admittedly, they noted in their separate discussions that the war in Ukraine could further push oil prices up and increase inflation in Africa.
From an African agriculture perspective, the impact of the war will be felt in the near term through the global agriculture commodity prices channel. A rise in prices will be beneficial for farmers, especially for grain and oilseed farmers, the surge in prices presents an opportunity for financial gains.
In his research analysis, Wandile Sihlobo, Senior Fellow at the Department of Agricultural Economics, Stellenbosch University, wrote that some countries on the continent, such as South Africa, benefit from exporting fruit to Russia. In 2020 Russia accounted for 7% of South Africa's citrus exports in value terms. And it accounted for 12% of South Africa's apples and pears exports in the same year – the countries' second largest market.
But from Africa's perspective, Russia and Ukraine's agricultural imports from the continent are marginal – averaging only US$1,6 billion – in the past three years. The dominant products are fruits, tobacco, coffee, and beverages in both countries. Every agricultural role-player is keeping an eye on the developments in the Black Sea region. The impact will be felt in other regions, such as the Middle East and Asia, which also import a substantial volume of grains and oilseeds from Ukraine and Russia. They too will be directly affected by the disruption in trade, according to Sihlobo.
There is still a lot that's not known about the geopolitical challenges that lie ahead. But for African countries there are reasons to be worried given their dependency for grains imports. In the near term, countries are likely see the impact through a surge in prices, rather than an actual shortage of the commodities. Other wheat exporting countries such as Canada, Australia and the US stand to benefit from any potential near term surge in demand.
"The last time we had a windfall from oil prices related to war was in 1991, during the Gulf War. We know it will directly impact the price of crude oil. The revenue may increase, but since we have shifted oil investment to multinational companies, they are more likely to reap greater revenues than the country itself." Professor Abdul-Ganiyu Garba of the Department of Economics Ahmadu Bello University Zaria said.
"If there is an increase in crude oil prices, it means inflation will grow globally, the cost of most of our imports will also rise, which will transfer to the domestic crisis," the Nigerian economist added. Commodity prices have skyrocketed in many African countries, making life more challenging for millions of people.
"People start starving once these countries fight because they [global powers] presented themselves to African countries as mother countries," Dox Deezol, a South African entrepreneur and artist in Johannesburg, told DW.
As a member of BRICS [Brazil, Russia, India, China, South Africa] — the world's five emerging economies — South Africa was relatively silent when Russia annexed Crimea in 2014. However, the South African government has urged restraint this time.
"South Africa is integrated into the global economy. So the war's impact on the global economy, as we have seen in the soaring prices of oil and energy generally, will affect South Africa because when the world sneezes, South Africa catches a cold," Professor Siphamandla Zondi, an international relations expert and head of BRICS studies at the University of Johannesburg, told DW.
It's not just the oil prices that could impact Africa. For example, there is significant agricultural trade between African countries and Russia and Ukraine. Some say Africa's trade with Russia and Ukraine could also be at stake. In 2020, African countries imported agricultural products worth $4 billion from Russia. Wheat accounted for approximately 90% of these imports. Egypt was the largest importer, followed by Sudan, Nigeria, Tanzania, Algeria, Kenya, and South Africa.
Similarly, Ukraine exported agricultural products worth US$2.9 billion to Africa in 2020. Wheat accounted for roughly 48% of this, maize 31%, and sunflower oil, barley, and soybeans accounted for the remainder. The ongoing war could affect supply chains and raise the cost of imports. It is also unclear what effect the sanctions imposed by the US and its allies on Russia will have on Africa-Russia trade relations.
The repercussions of the conflict are readily felt in other economic sectors. Media reports indicated tourism and aviation business are also negatively affected. In terms of education and training, many African governments, ministries and departments struggle to evacuate their students and nationals from the war-torn Ukraine. From basic research for this article, Ukraine has emerged as a choice destination for African students, especially in the fields of medicine and engineering.
According to Ukraine's Ministry of Education and Science, some 180,000 international students study in Ukraine with the largest number from India, followed by Morocco, Azerbaijan, Turkmenistan, Egypt, Nigeria, South Africa, Tanzania, Zimbabwe and Ghana. Nearly all African foreign ministries have expressed their deepest displeasure over the violation of the territorial integrity of Ukraine and categorically blamed Russia for creating instability in the world.
While looking the future African business to the United States, Europe and Asia, the current Chair of the African Union and President of Senegal, Macky Sall, and the Chairperson of the African Union Commission, Moussa Faki Mahamat, have expressed their extreme concern at the dangerous situation created in Ukraine. They called on the Russian Federation and any other regional or international actor to respect international law, the territorial integrity and national sovereignty of Ukraine.
The Chair of the African Union and the Chairperson of the African Union Commission urged Russia and Ukraine to establish an immediate ceasefire and to open political negotiations without much delay. It should be under the auspices of the United Nations, in order to preserve the world from the consequences of planetary conflict, and in the interests of peace and stability in international relations in service of all the peoples of the world. Some tough actions are expected from the Security Council of the United Nations.
Decorating Africa at United Nations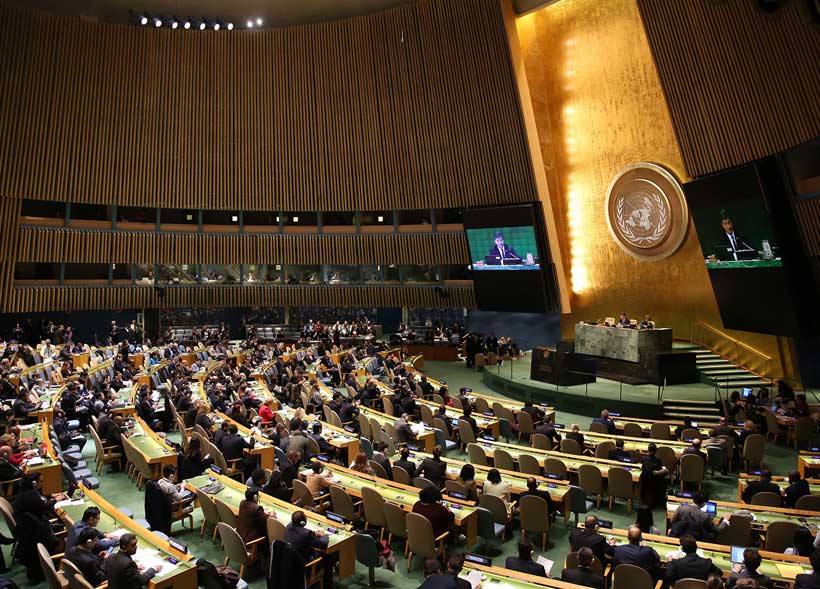 At least majority of African leaders are calling for complete overhaul of multinational financial system to enable them pursue their development goals across Africa. Further to their scathing remarks on negative impact inflicted by imperialism, neocolonialism and western hegemony struck a serious chord during their invaluable speeches delivered at the United Nations General Assembly in New York.
But in critical assessment and careful analysis of develoments for the past decades, Africa's poor development could be attributed to several reasons which African leaders have realized but grossly failed to address in the continent. African leaders provided diverse perspectives on the state of politics, economic development and socio-cultural issues that are unique and thought provoking. Paradoxically, Africa has huge resources both natural and human, but the larger size of its population lives in abject poverty. As it is now, the African continent is wrapped with its own distinctive complexities and contradictions.
Conflicts, Democracy and Good Governance
The nature of politics in Africa includes monarchy, autocracy, dictatorship, military and democracy. The intellectual and middle-class apathy to politics is also formed alongside down the years. Throughout its history, civil society have been mounting peaceful demonstrations to demand transparency and accountability primarily due to weak institutions, ineffective organs of the state especially the parliaments. Opposition groups are stiffed, putting democracy at risk, across Africa.
A number of African leaders have different views about fundamentals of democracy. Guinea's military leader Mamady Doumbouya told the U.N. General Assembly that the Western model of democracy does not work for Africa, as evidenced by a recent wave of coups. Doumbouya took power by overthrowing Alpha Conde, Guinea's then 84-year-old president who had changed the constitution to run for a third term, sparking widespread protests. Mali, Niger, Burkina Faso, Chad and Gabon are also run by military officers.
The United Nations and Western powers such as the United States and France have urged democracy to be restored as soon as possible in those French-speaking West African states. But Doumbouya vehemently argues during his speech at UN that Africans are mature enough to design their own models of governance. "Africa is suffering from a governance model that has been imposed on it… a model that is good and effective for the West but is difficult to adapt to our realities, our customs and environment," he told world leaders gathered in New York.
At the UNGA, South African President Cyril Ramaphosa told the gathering there that through the United Nations Charter nations accepted a shared mandate to foster peace and to promote fundamental human rights, social progress and a better standard of life for all. "And yet, as we gather here, much of humanity is confronted by war and conflict, by want and hunger, by disease and environmental disaster. Solidarity and trust between states is being eroded. Inequality, poverty and unemployment are deepening. In these conditions and in the wake of a devastating global pandemic, the achievement of the Sustainable Development Goals seem increasingly remote," according to Ramaphosa.
The global community needs to work alongside the African Union to support peace efforts in the eastern DRC, Libya, Sudan, Somalia, Mali, Central African Republic, South Sudan, northern Mozambique, the Great Lakes Region, the Sahel, Niger and the Horn of Africa. (UNGA, September 19, 2023). The UN Special Representative of the Secretary-General and Head of the United Nations Office for West Africa and the Sahel (UNOWAS), Mohamed Ibn Chambas, suggested to the UN Security Council's meeting as far back in 2020 that conflicts raging through Africa has to be dealt with through multilateral mechanisms. Academic research studies have shown that the radical Islamic groups have set foot in Libya, Mali, Niger, Nigeria, Chad, Somalia, Kenya, Sudan and South Sudan, and are spreading further throughout Africa.
The military leaders of Burkina Faso, Mali and Niger signed a mutual defense pact, establishing the so-called Alliance of Sahel States. It was explained that the objective of establishing an architecture of collective defense and assistance mutual for the benefit of the population and the three participating states in the Sahel region. A similar multilateral defense mechanism already exist in Southern Africa. The Southern African Development Community (SADC) with support from the Addis Ababa based African Union Commission (AUC) have set the deployment of joint regional military force in Mozambique. According to the statement released by SADC (Southern African Review, July 2012), the mission has as its objective, to support the Republic of Mozambique in the fight against acts of terrorism and extremist violence, in addition to supporting the country in restoring the rule of law in the affected areas of Cabo Delgado province.
Moussa Faki Mahamat, the Chairperson of the African Union Commission (AUC), highly commended and described it "as a strong and concrete act of African solidarity" on the part of the Rwandan Government and the Southern African Development Community (SADC). The forces are still based in Cabo Delgado Province, Mozambique. That region has suffered from what is, always referred to as acts of terrorism. Beginning in October 2017, armed extremists linked to the Islamic State of Iraq and the Levant (ISIL) launched an insurgency in the Cabo Delgado region of Mozambique.
Reviewing the gravity of these conflicts and Islamic militant treats, it is therefore necessary to ensure a continental security, a set of measures needs to be taken, along with preventive action to combat possible threats. The biggest vulnerabilities include proliferation of weapons, weak border control and unprotected industrial facilities.
Besides creating effective armed forces is just one factor of ensuring national security, preventive measures are, in fact, necessary. In order to eliminate the root causes of conflicts, review and plan for sustainable development and it is necessary to resolve acute socioeconomic problems and strengthen their public institutions in Africa.
In spite of that suggestions mentioned above, African leaders express support for the UN Secretary-General in the New Agenda for Peace for Member States to provide more sustainable and predictable financing to peacebuilding efforts. But on the opposite side, there have been so many unconstitutional changes of government in some parts of Africa.
Bema D. Yeo, a doctoral student in Global Security at the American Military University and a U.S Army Veteran, however argues in a report that "the emergence of the new wave of politicians in West African countries alongside the resurgence of coup d'états has become evident that Africa is at a critical juncture in its political evolution."
In assessing the political evolutionary processes in the continent, it is convincing to say that Africa is experiencing transformative changes especially through military coups the removal of long-time dictatorship. The path ahead may be fraught with obstacles, but with determination and strategic foresight may lead to a better future political stability. "The success of the new leaders in this political landscape may require a commitment to inclusive governance, transparency, and accountability. Learning from the successes and failures of past political transitions will be instrumental in steering these nations towards a future characterized by stable, prosperous, and democratic societies," the expert concluded.
Mismanagement and Deep-Seated Corruption
The 12th Regional Conference of Heads of Anti-Corruption Agencies in Commonwealth Africa convened in Kigali, Rwanda, from May 2022 under the theme: 'Combating Corruption for Good Governance and Sustainable Development in Africa' shared and exchanged reports. It finally discussed the impacts of corruption on sustainable development in Africa and innovative approaches in the fight against corruption, to fast-track implementation of the UN Convention against Corruption (UNCAC). This actionor decision pointed explicitly to the common fundamental fact that was in line with Africa's Agenda 2063, "The Africa We Want" – aspiration number 3, which provides for an Africa of good governance, democracy, respect for human rights, justice and the rule of law.
Most African countries have ratified African Union Convention on preventing and combating corruption and other international legal instruments on corruption. As required by international obligations, African countries have enacted national anti-corruption laws and established anti-corruption institutions. Almost every African country has a specialised anti-corruption agency to address specific crimes and malpractices including illicit flow, money laundering, embezzlement, and conflict of interest among others.
Prime Minister Ngirente, for instance, pointed to the conference several reports indicating that global corruption is now costing around $1 trillion annually, there are common causes of Africa's corruption, and this is adversely impacting the lives of African people. Corruption creates economic distortions and hampers investments. There are so many corruption-linked adverse effects. Corruption is a serious threat to sustainable and equitable development.
Corruption in South Africa
Under the presidency of Jacob Zuma, who ruled South Africa from 2009 to 2018, corruption was at its highest. Zuma participated in anti-apartheid struggle until South Africa finally attained its independence in 27 April 1994. He held various positions in ruling African National Congress (ANC) until he was elected president of South Africa. Before that, he was the deputy to President Thabo Mbeki, but was dismissed of corruption over arm deals. There were multiple graft scandals, that he was forced to step down in February 2018, and currently spends time in prison, and faces corruption allegations in court.
In January 2018, as elected president of the African National Congress, Cyril Ramaphosa has raised hopes that he will stamp out corruption. "Corruption must be fought with the same intensity and purpose that we fight poverty, unemployment and inequality. We must also act fearlessly against alleged corruption and abuse of office within our ranks," Ramaphosa declared in his maiden speech after his election. "We must investigate without fear or favour the so-called 'accounting irregularities' that caused turmoil in the markets and wiped billions off the investments of ordinary South Africans," he added.
In May 2021, the South African commission investigating corruption and graft, Ramaphosa acknowledged that the ruling ANC party did little to prevent corruption, including by his predecessor Jacob Zuma. "State capture and corruption have taken a great toll on our society and indeed on our economy as well," Ramaphosa said. "They have eroded the values of our constitution and undermined the rule of law. If allowed to continue they would threaten the achievement of growth, development and transformation of our country."
Since Ramaphosa made his promise in 2018, already five years, there are still fresh demonstrations and allegations of persistent corruption in Ramaphosa's administration and inside the government.
Africa Needs Strong Institutions
The Transparency International's Global Corruption Barometer, in its report 2021 for instance, aspect relating to Africa indicated that "Corruption is hindering Africa's economic, political and social development… More than this, it affects the wellbeing of individuals, families and large communities." The report attributed the deterioration of rule of law and weak democratic institutions, as well as a rapidly shrinking space for civil society and independent media to corruption in Africa.
In July 2009, Barack Obama was right when he told political tyrants and autocratic African leaders who have enriched themselves through opaque deals that Africa's future (including efforts to uproot all kinds of crimes, engage in sustainable development et cetera) is up to Africans.
"Development depends upon good governance. That is the ingredient which has been missing in far too many places, for far too long. That is the change that can unlock Africa's potential. And that is a responsibility that can only be met by Africans," Obama said during his first landmark presidential trip to Africa.
Obama, in addition, declared that "Africa doesn't need strongmen, it needs strong institutions." Some leaders of external countries have it a policy to interfere in the internal politics of African States, and as a result end up supporting long-time corrupt autocratic leaders. Here it must not be absolutely analysed that the United States is dictating or imposing its form (model) of democracy.
It is a normal political culture to show tenets of good governance by public accountability and that business deals at the highest levels are conducted with transparency. For instance, large-scale deals involving natural resources and financial, must be thoroughly discussed at the legislative assembly, and approved by the executive cabinet. Unilateral decisions taken, without consulting with legislative body or parliament and the cabinet, by a leader are proned to be also criticized by the civil society.
Simultaneously, there should be initiatives to boost transparency and clean society. It is worthy, at least, to keep in mind the suggestion made by the Republic of Ghana's Vice President, Mahamudu Bawumia, who early May 2022 stated: "Building strong institutions means putting in place the right systems and practices that ensure transparency and brings about efficiency. As the saying goes, the biggest disease is corruption and the vaccine is transparency. The fact is that corrupt people hate transparency."
Economic Policies and Strategies
Economic and business paradigms. The African Union expresses hope that through a series of actions and strategic mechanisms, African countries world be able to overcome development difficulties and deficiencies. The opening of the world's largest free trade area, popularly referred to as the African Continental Free Trade Area (AfCFTA), in Africa on January 2021, is also seen as one great leap towards attaining economic independence.
It aims at making Africa the largest common market in the world and accelerating continental integration. It is expected to reinforce the measures taken in terms of free movement of persons and goods and services across borders. But much depends on the collective determination and solidarity demonstrated, to face the challenges in a united and resolute manner, by the African leaders. It depends on the strong mobilisation of African leaders and the effective coordination provided by the African Union.
For this to successful, Africa has to engage in modernising agriculture, strengthening agri-food systems by working towards its own food security rather than simply accept food packages as 'gifts' from the so-called external friends. The next stage to industrialise, add value to the agricultural products by processing them, and finally distrivuting locally and for exports, hence the establishment of the AfCFTA. From this concrete perspective will emerge a new Africa, "the Africa we want" which has understandably become the resounding guiding slogan.
Modernising Food Production
What is Africa doing with its huge agricultural lands? In fact, taking adequate measures toward shedding import dependency should be part of African leaders' challenge, so also improving food production for the entire population which stands at an estimated 1.4 billion. In stark reality, Africa should not be presented as beggars at the global stage. The most popular rhetoric, it becomes more or less a chorus, is that it has abundant natural resources, and yet Africa remains the world's poorest and least-developed continent, resulting from various causes including deep-seated political corruption. According to the United Nations Human Development Report in 2023, the bottom ranked (151st to 175th) are all African states.
At the Paris summit, AfDB President Akinwumi Adesina, insisted that "it is necessary to unlock Africa's potential in agriculture. Africa must feed itself." He emphasized that adopting measures for establishing food security is crucial to sustainable development. Addressing food security, therefore, is one of the keys for Africa in this 21st century. In this context, important to say here that African Development Bank (AfDB) and the African Export-Import Bank (Afreximbank) have gained increasing prominence for their work with the private sectors within Africa. These two banks support the agricultural sectors, but more is needed to meet the highest target.
Faustin-Archange Touadera and William Ruto
Taking the podium at the United Nations General Assembly, Central African Republic Faustin-Archange Touadera raised in his flowering speech the appalling consequences of the plundering of natural resources. He was not alone in the African choir group to song the chorus. Alongside the widespread attacks on unipolar system, many African leaders who spoke in New York hold the perception that Westerners and Europeans have plundered the continent's natural resources through slavery and colonization.
Western governments and aid organizations have poured billions of dollars into Africa suffering from hunger, armed conflict and other crises over the years, but critics say delivery of the aid is often hampered by corruption from local governments and militants. Corruption has been an unerasable characteristic feature of African politics, from Maghreb down to the Southern African Development Community, from East African Community and the Horn of Africa across the Sahel to the Atlantic coastal West African States.
Addressing the General Assembly later, Kenyan President William Ruto said investments in technology, infrastructure, green initiatives and agriculture in Africa will "enable our young people to find the livelihoods they desire at home, and reverse the tide of migration in the opposite direction."
Progress Slow But SDGs Still Vital
As the world continues to evolve with key players pursuing their special interests, Africa has to discern between the truths and untruths. Speeches at the September UNGA in New York reviewed the achievements, the challenges and the highlighted pathways into the future. Some of the African leaders offered resonating development strategies, future visions worthy of appreciation that need to be unreservedly supported. Those suggestions are consistent with the ideals of African Union's Agenda 2063 and that of the UN SDGs 2030.
Seemingly there are three main directions: democracy and good governance, food security and industrialization, and economy and trade. With these, it could lead to social inclusion, and broadening employment for the youth and the next generation. It could also lead to economic growth, stability and better life conditions across Africa. All aspects of Africa's development are incorporated into the joint report published at the African Economic Conference 2022.
In a nutshell, Africa is lagging behind on the UN's sustainable development goals. However, the report further argued that formulating policies to promote the SDGs, including transforming agricultural productivity through modernisation and promoting equitable and affordable access to energy. Achieving the SDGs in their entirety may now be beyond many African nations, but much good could still come out of conscious efforts to pursue them. That ought to concentrate minds as global policymakers meet in New York for the UN General Assembly.
It might be difficult to say though, but the African Union and African leaders have to realign the foreign policies, back away from geopolitical insinuations, rather with eagle eyes take advantage of the complexities and confrontations to look for substantive opportunities to support their efforts in pursuit of building back better. Attaining sustainable development requires allies, transforming relations and refining strategies with external players. It is also advisable to bolster the confidence in raising up whatever deteriorating relations to avoid regret in foreseeable future. Above all, what is necessary, during this changing era, ability to prioritise negotiations instead of engaging in geopolitical games and confrontations. We cannot install steel borders, segregate and put partitions in this emerging multipolar world.
Africa Needs Increased Financial Support to Achieve Sustainable Development Goals
Seventy-eight years ago, in the aftermath of the Second World War, the nations of the world made a solemn commitment to save future generations from the horror and the suffering of war.
Through the United Nations Charter these nations accepted a shared mandate to foster peace and to promote fundamental human rights, social progress and a better standard of life for all.
And yet, as we gather here, much of humanity is confronted by war and conflict, by want and hunger, by disease and environmental disaster.
Solidarity and trust between states is being eroded.
Inequality, poverty and unemployment are deepening.
In these conditions and in the wake of a devastating global pandemic, the achievement of the Sustainable Development Goals seem increasingly remote.
At the moment when every human effort should be directed towards the realisation of Agenda 2030, our attention and our energies have once again been diverted by the scourge of war.
But these woes, these divisions, these seemingly intractable troubles, can and must be overcome.
Over millennia, the human race has demonstrated an enormous capacity for resilience, adaptation, innovation, compassion and solidarity.
At this moment, we are all called upon to reaffirm these essential qualities that define our common humanity.
These qualities must be evident in how we work together as a global community and as nations to end war and conflict.
Democratic South Africa has consistently advocated for dialogue, negotiation and diplomacy to prevent and end conflict and achieve lasting peace.
It has committed itself to the promotion of human rights, human dignity, justice, democracy and adherence to international law.
From the experience of our own journey from apartheid to democracy, we value the importance of engaging all parties to conflicts to achieve peaceful, just and enduring resolutions.
It is these principles that inform South Africa's participation in the African Peace Initiative, which seeks a peaceful resolution of the conflict between Russia and Ukraine.
In this conflict, as in all conflicts, we have insisted that the UN Charter's principle of respect for the territorial integrity of every country should be upheld.
Our participation in the African Peace Initiative is informed by a desire to see an end to the suffering of those most directly affected by the conflict and the millions on our continent and across the world who, as a result of the conflict, are now vulnerable to worsening hunger and deprivation.
As the international community, we must do everything within our means to enable meaningful dialogue, just as we should refrain from any actions that fuel the conflict.
As we confront other conflicts in several parts of the world, including on our continent Africa, we need to be investing in prevention and peacebuilding.
We support the call by the UN Secretary-General in the New Agenda for Peace for Member States to provide more sustainable and predictable financing to peacebuilding efforts.
As a global community, we should be concerned by recent incidents of unconstitutional changes of government in some parts of Africa.
The global community needs to work alongside the African Union to support peace efforts in the eastern DRC, Libya, Sudan, Somalia, Mali, Central African Republic, South Sudan, northern Mozambique, the Great Lakes Region, the Sahel, Niger and the Horn of Africa.
The African Union Peace and Security Council has declared that it stands ready to deepen its cooperation with the UN Security Council to silence the guns on the African continent and to achieve peace, stability and development.
We are called upon to remain true to the founding principles of the United Nations, by recognising the inalienable right of the people of Western Sahara to self-determination in line with the relevant UN General Assembly resolutions.
We must work for peace in the Middle East. For as long as the land of the Palestinians remains occupied, for as long as their rights are ignored and their dignity denied, such peace will remain elusive.
The actions of the Government of Israel have imperiled the possibility of a viable two state solution.
The principles of the UN Charter on territorial integrity and on the prohibition on the annexation of land through the use of force must be applied in this situation.
South Africa continues to call for the lifting of the economic embargo against Cuba, which has caused untold damage to the country's economy and people.
Sanctions against Zimbabwe should also be lifted as they are imposing untold suffering on ordinary Zimbabweans.
As many people around the world are confronted by hunger and want the essential human qualities of cooperation and solidarity must be evident in the actions we take to bridge the divide between wealthy and poor.
We must summon the necessary will and resolve to regain the momentum towards the achievement of the 2030 Agenda.
This means that we must address the fundamental development challenges that have long characterised our unequal world.
To address the developmental challenges that face many people in the world we required targeted investment, technology transfer and capacity building support, especially in key areas such as industrialisation, infrastructure, agriculture, water, energy, education and health.
This also requires predictable and sustained financial support, including supportive trade policies, from the international community.
We call on our partners from wealthier countries to meet the financial commitments they have made.
It is a great concern that these wealthier countries have failed to meet their undertakings to mobilise 100 billion dollars a year for developing economies to take climate action.
We support the proposals outlined in the Secretary-General's Sustainable Development Goals Stimulus.
In particular, we support the call to tackle debt and debt distress, to massively scale up affordable long-term financing to 500 billion dollars a year, and to expand contingency financing to countries in need.
It is a grave indictment of this international community that we can spend so much on war, but we cannot support action that needs to be taken to meet the most basic needs of billions of people.
The achievement of the Sustainable Development Goals depends fundamentally on the empowerment of women in all spheres of life.
Social and economic progress will not be possible unless we end gender discrimination. We must ensure that there is equal access for women to health care, education and economic opportunities.
We must pay particular attention to the provision of adequate health services to every woman, child and adolescent. By doing so, we will fundamentally improve the health and well-being of all.
The empowerment of women must be central to the actions we now take towards the realisation of Agenda 2030.
The essential human qualities of innovation and adaptation must be evident in the actions we take to prevent the destruction of our planet.
Africa is warming faster than the rest of the world.
We are told that of the 20 climate hotspots in the world, 17 are in Africa.
Centuries after the end of the slave trade, decades after the end of the colonial exploitation of Africa's resources, the people of our continent are once again bearing the cost of the industrialisation and development of the wealthy nations of the world.
This is a price that the people of Africa are no longer prepared to pay.
We urge global leaders to accelerate global decarbonisation while pursuing equality and shared prosperity.
We need to advance all three pillars of the Paris Agreement – mitigation, adaptation and support – with equal ambition and urgency.
African countries, alongside other developing economy countries, need increased financial support to both implement the 2030 Agenda and achieve their climate change goals in a comprehensive and integrated manner.
We need to operationalise the Loss and Damage Fund for vulnerable countries hit hard by climate disasters, as agreed at COP27.
Africa has embraced this challenge.
Africa is determined to deploy smart, digital and efficient green technologies to expand industrial production, boost agricultural yields, drive growth and create sustained employment for Africa's people.
As the global community, we must ensure the essential qualities that define our humanity are evident in the institutions that manage the conduct of international relations.
We require institutions that are inclusive, representative, democratic and advance the interests of all nations.
We require a renewed commitment to multilateralism, based on clear rules and supported by effective institutions.
This is the moment to proceed with the reform of the United Nations Security Council, to give meaning to the principle of the sovereign equality of nations and to enable the council to respond more effectively to current geopolitical realities.
We are pleased that the Common African Position on the reform of the Security Council is increasingly enjoying wide support.
This process must move to text-based negotiations, creating an opportunity for convergence between Member States.
We must ensure that the voice of the African continent and the global South is strengthened in the United Nations and broader multilateral system.
All the peoples represented here in this United Nations had their origins in Africa.
In Africa, they developed the tools and capabilities to spread across the world and achievable remarkable feats of development and progress.
Despite its history, despite the legacy of exploitation and subjugation, despite the ongoing challenge of conflict and instability, Africa is determined to regain its position as a site of human progress.
Through the African Continental Free Trade Area, which is creating a wider seamless trading area of low tariffs and accelerated interconnectivity, African countries are mobilising their collective means and resources to achieve shared prosperity.
Through the African Continental Free Trade Area, African countries are establishing the foundation for a massive increase in trade, accelerated infrastructure development, regional integration and sustainable industrialisation.
As the global community, we have the means and we have the desire to confront and overcome the enormous challenges that face humanity today.
As the nations gathered here in this General Assembly, let us demonstrate that we have both the will and the resolve to secure a peaceful, prosperous and sustainable future for our world and for the generations that will follow.
A New Wave of Leaders in West Africa: A departure from instability to stability
In recent years, West African countries have witnessed a notable shift in political dynamics, characterized by the emergence of a new wave of politicians. These leaders, often hailing from younger generations, mostly military, bring with them a fresh perspective and a renewed commitment to addressing the pressing concerns of their countries. Several countries in sub-Saharan Africa have experienced a resurgence of coup d'états, marking the departure from instability to stability with a better political landscape compared to previous decades per se. This phenomenon prompts a critical examination of the underlying factors driving these political transformations and their implications for governance, stability, and regional dynamics in West Africa. In this context, it becomes imperative to analyze the interplay between these new political actors and the resurgence of coup d'états and to discern the broader implications for the socio-political landscape of the region.
Causes and Catalysts of Coup d'états in African Countries
The surge in coup d'état in some sub-Saharan African countries seems to be a departure from a long hold of colonialists to freedom. Recently, the crisis in Burkina Faso has spotlighted a shift in political approaches, with a new generation of politicians aiming to address the pressing concerns faced by the society, particularly the youth, who are growing up on a path seemingly devoid of opportunities. Following Burkina Faso, Niger has witnessed a change in leadership due to the predecessor's failure to adhere to the law and serve the interests of the people. Prior to Niger, Mali boldly resisted colonialists, and now Gabon has taken a similar stance. What is the correlation or the relationship between these coup d'états, and what are the possible causes?
The coup d'état in Mali raised a lot of concerns about France's foreign policies in Africa, but the narrative on the international realm seems to favor the country with the higher bargaining power. In most of the African countries, instability and political tensions have become common. A surge of grievance and discontent with leaders has emerged as people become increasingly open-minded, largely due to the influence of social media platforms. This trend has raised questions about the fragility of governance structures in several African countries and the challenges they face in consolidating democratic institutions. Factors such as political corruption, socioeconomic disparities, ethnic and regional tensions, and security threats have contributed to the resurgence of coup attempts. For instance, Burkina Faso experienced a revolt in 2014, leading to a transition towards a more democratic system. Similarly, Sudan saw mass civilian protests in 2019 and recently in Gabon, ultimately bringing down a longstanding autocratic or so-called democratic leader. These examples highlight the complex dynamics at play in Africa's evolving political landscape, where both traditional military-led coups and hybrid models involving various actors are on the rise.
The international community and regional organizations such as the African Union (UA), and the Economic Community of West African States (ECOWAS), also known as CEDEAO in French, have been actively engaged in responding to these coup attempts. Diplomatic efforts, peacekeeping missions, other military interventions, and even sanctions have pressured coup leaders and sought resolutions that align with democratic values. However, the effectiveness of these interventions varies from case to case, and the delicate balance between stability and democracy remains a central challenge. As Africa navigates this period of political
transformation, there is a growing need to strengthen institutions, foster civic engagement, and uphold the rule of law to ensure that the departure from instability leads to lasting stability and democratic progress on the continent (Nkurunziza, 2020; Williams, 2018; Kandeh, 2021). However, despite the coup attempts, poor governance and political corruption remain some serious unsolved issues.
Governance Failure and Political Corruption
While the surge in coup d'états may appear concerning at first glance, it also signals a shifting dynamic in African politics. It reflects a growing desire for accountable governance and the rejection of autocratic regimes, as citizens increasingly demand transparency, representation, and a voice in their countries' affairs. This changing political landscape is echoed in the popular uprisings and movements that are sweeping across the continent. There is an increasing belief that a positive change and the determination of African citizens to shape their own political destinies can be a reality. However, unexpected rise in coup attempts continues to raise concerns about the region's progress towards stability and democratic governance. Factors such as socioeconomic disparities, governance failures, and security challenges have contributed to the fertile ground for discontent and unrest. An analysis of these factors and reforms from one regime to another is not convincing since the political landscape never really change and the leaders kept falling in the same path.
Governance failures and political corruption have long been persistent challenges in Africa, contributing to instability, economic stagnation, and diminished public trust in institutions. Weak governance structures, characterized by inadequate checks and balances, limited transparency, and a lack of accountability mechanisms, have allowed corruption to thrive. The misallocation of public resources and embezzlement of funds intended for essential services like healthcare, education, and infrastructure development have been detrimental to the well-being of citizens (Osei-Tutu & Mahama, 2017). This pervasive corruption not only hampers economic growth but also undermines the legitimacy of governments and erodes public confidence in the effectiveness of state institutions. The impact of corruption on development is particularly pronounced in several sectors like healthcare and education, where limited resources are stretched thin, leading to inadequate service provision and compromised public welfare (Méon & Weill, 2010). Efforts to combat corruption and improve governance in Africa are crucial for fostering sustainable development and ensuring that the benefits of economic growth are equitably distributed among all citizens, but first and foremost, strengthening institutional frameworks, promoting transparency, and empowering civil society are essential to address the challenges that are facing African countries.
Transitions to stable governance and the path from instability to stability
A successful transition to stable governance can provide valuable insights into the key factors and strategies that may contribute to sustainable political stability. Ghana has experienced a successful transition from military rule to democratic governance in the early 1990s. Through a combination of strong civil society activism, international support, and an effective transitional justice mechanism, Ghana has managed to establish a stable democratic system, and still today there is no coup attempt. The establishment of democratic institutions, coupled with a commitment to the rule of law, allowed for the peaceful transfer of power through multiple elections, solidifying Ghana's reputation as one of the most politically stable countries in West Africa. I hope that Mali, Burkina Faso, Niger, and Gabon will seize the opportunities presented to forge a more robust democratic system anchored in resilient and trustworthy institutions. These foundations, coupled with effective accountability mechanisms, hold the potential to catalyze the restoration and progress of these nations.
In examining the emergence of the new wave of politicians in West African countries alongside the resurgence of coup d'états, it has become evident that Africa is at a critical juncture in its political evolution. The dynamic between these factors highlights a complex struggle for governance and stability. While the infusion of fresh perspectives offers a promise for transformative change with youth conscious awakening, the specter of coup d'états must serve as a stark reminder of persisting challenges and the need for robust democratic institutions. The success of the new leaders in this political landscape may require a commitment to inclusive governance, transparency, and accountability. Learning from the successes and failures of past political transitions will be instrumental in steering these nations towards a future characterized by stable, prosperous, and democratic societies. The path ahead may be fraught with obstacles, but with determination, strategic foresight, and a collective dedication to the betterment of their nations, West Africa has the potential to emerge stronger and more resilient than ever before.