Modi's BJP the Direct Beneficiary of Pulwama Attack
When an incident happened in anywhere in the world the prime responsibility of the state, government and its law and enforcement agencies is to find out the route cause of the incident. But in India things are opposite of it. Because whenever, wherever and what happened in India, the first word in the lips of Indians, its government, intelligence agencies and media is Pakistan involvement. Even if a little cracker explode there, they blame Pakistan and their mouther piece media lead from the front. Even some media outlet and its top brass knew in advance what will happen. It show there is dirty nexus between Indian government and its media.
On February 14th, 2019 a suicide attack on Indian military convoy in Pulwama, at Jammu-Srinagar highway which killed 40, personnel of Central Reserve Police Force (CRPF). The responsibility for the attack had claimed by the banned terror outfit Jaish-Muhammad (JeM). The Pulwama attack energized PM Modi to blamed directly on Pakistan. India suspended Pakistan status of Most Favorite Nation (MFN) and hiked customs duty on imports by 200%. After that tension heightened between the two nuclear arm neighbors. India send thousands of its more troops into Kashmir Valley. BJP supporters launched a social media campaign attacking Pakistan and calling Modi as a tiger. For many Indians, humiliating Pakistan is more important than winning a war.
In response to Indian accusations, PM Imran Khan Denied any involvement of Pakistan in Pulwama terror attack and vowed to take action against the culprits, if India provide proof. Pakistan also assured that any misadventure against Pakistan will be given befitting reply .
The Pulwama attack further led to Indian Air Force strikes in Pakistani area of Balakot near Line of Control (LoC) which Indian government claimed to kill the terrorists but did not provide any official figure of killing. On the other hand India media had claimed the killing of 300 terrorist at Balakota and called it a big win for Indian force without taking any official statement. Meanwhile international media had witnessed only fallen tree nothing else there. It was just one example of confusion which spread through misinformation based on false media reports. Next day Indian fighter jets again violated the Pakistani air space where its Mig-21 fighter jet was shoot downed by Pakistani Air Force and its pilot Wing Commander Abhinandan Varthaman's was captured by Pakistani forces. Later he was handed over to India on goodwill gesture and to defuse the tension.
Whenever elections happened in India Modi tried to do something new to get huge benefit from it. In election campaigns Modi led BJP made public rhetoric to sell Pulwama and Balakot in whole of elections. PM Modi tried to get vote in the name of Balakot and Pulwama victims. The poor performance of BJP in first term compelled Modi to do something adventures to retain power and become a champion. Modi,s led BJP government was the direct beneficiary of the Pulwama attack, because it secured a landslide victory in the Lok Sabha elections.
The most important feature of provocation after Pulwama was the media stir. There were hardly any story that had independently verified, or considered necessary to counter check. Everything was served under the ambition of Modi government. It was believed that many media outlets and reporters were contradictory, biased over Pulwama attack. Even Indian Republic TV's co-owner and host, Arnab Goswami knew in advance, New Delhi's plan to attack Balakot, Pakistan. No serious questions had pointed towards the big intelligence failure over Pulwama attack. There were serious concerns that why PM Modi did not address the nation after the Pulwama attack, and why only Foreign secretary and External Affairs spokesperson briefed media without taking any question. Which is itself a question mark.
After the Pulwama and Balakot incident Indian media played unprofessional, irresponsible, negative and aggressive role, which took two nuclear arms states to the brink of war. The negative role of Indian media has also been highlighted by the international media. During that time the core issues of Indian government failure and the Rafale deal scam was suddenly put on side and only narrative was Pulwama and Balakot. The role of Indian media after Pulwama left serious reservations whether Indian media had engaged in journalism or engaged in the propagation of Hindu nationalist ideology.
State-led misinformation campaigns is a new phenomenon in the modern world. India spread millions of fake news against Pakistan which was exposed by the EU DisinfoLab. It uncovered the dirty face of Indian government over organized network of fake Indian news to influenced global opinion against Pakistan and in favor of India . According to Mikel Kugelman Fake news has become a new front in the India-Pakistan rivalry.
No doubt Modi's anti Pakistan rhetoric made him strong enough to tighten its grip on power, but the questions remained there. Now anti Modi voices are getting stronger in India. There are still some factions who believes that Modi is exaggerating the things to divert the attention.
Now its been three years to Pulwama attack but no evidence provided to Pakistan by India, except blaming and defaming Pakistan. It is believed that Pulwama attack was state sponsored and organized plan under the supervision of PM Modi. Indian Congress Leader Udit Raj has also claimed that "power-hungry" Narendra Modi had planned the Pulwama terror attack. For Modi's and Amit Shah only elections and self interests matter but for the nation peace and stability matter, because they knew that any miss-adventure or miscalculation by the Modi government will be disastrous for entire region.
Al-Assad -Xi Jinping: Confronting Turkestan Islamic Party and its relations with ISIS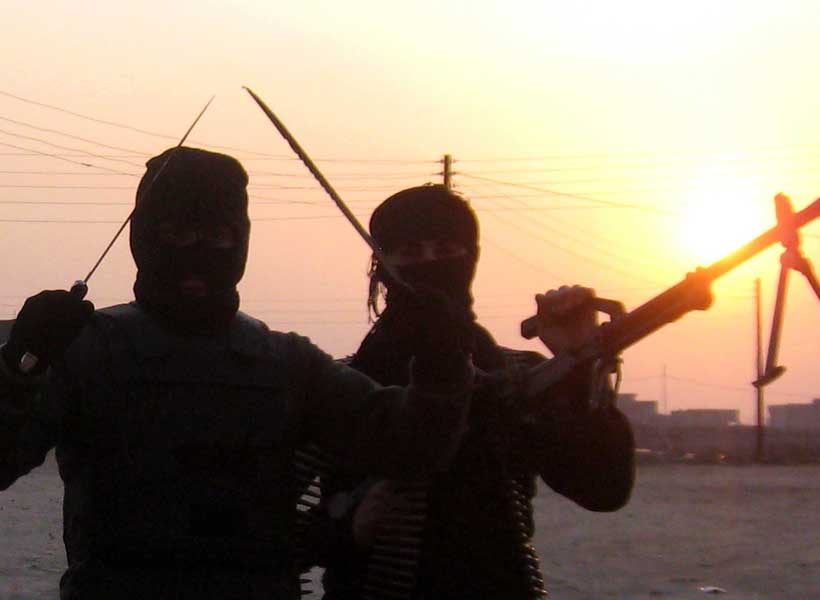 Perhaps after deep thought on my part about the other hidden reasons, in addition to the declared ones, about the reasons for Syrian President Bashar Al-Assad's visit to China at this precise and sensitive time, I realized that the issue of the "Chinese terrorist Turkistan Islamic Party" and its extensions in Syria and its work with the terrorist organization ISIS The Chinese authorities asked their Syrian counterpart to hand over Uyghur fighters to them and count their numbers. Here it is necessary to draw attention to the fact that the transformation of Syria and Iraq in particular into a destination for jihadists from all corners of the earth was not a coincidental act, but rather an organized act by global and regional intelligence services, with the aim of flooding Syria and Iraq with foreign fighters. While European intelligence services were facilitating the passage of European jihadists to the Middle East and Syria, with the aim of getting rid of them, the finger of blame was directed at the role of Turkish intelligence in bringing in jihadists, led by Chinese Uyghur fighters from the Xinjiang region, and spreading them in Syria and Iraq.
Perhaps this matter, despite its extreme sensitivity to China and its danger, related to the fighters of the Chinese terrorist Turkestan Islamic Party, or what is known as "Uyghur fighters", may not have been extensively covered in analyzes of the reasons behind Bashar al-Assad's visit to China, namely China's attempt and the requests of its officials, at their forefront is the former Chinese Premier (Li Keqiang) in 2021. The Syrian side is requested to assist it in the issue of confronting the Turkestan Party and its expansion in Syria and its relations with the terrorist organization ISIS, which includes Chinese Uyghur fighters and is located in northwestern Syria. The separatist Turkestan Islamic Party, based in the Chinese province of Xinjiang, is considered a terrorist organization by the Chinese authorities, and its work in Syria is a branch of the Uyghur Turkestan Islamic Party, which works with the terrorist organization ISIS in Syria.
The Chinese Ministry of State Security and its counter-terrorism agencies were keen to follow up on the official establishment of a branch of the terrorist Turkestan Islamic Party, which was established in Syria at the beginning of 2014, and which operates in Syria alongside the "Al-Nusra Front" (Al-Qaeda). The leader of the Turkestan Islamic Party in Syria was the terrorist known as "Abu Reda al-Turkestani", who was killed by Syrian aircraft in a raid on Jisr Al-Shughur Hospital, which was his stronghold. He was followed by the liquidation of the terrorist "Ibrahim Mansour".
Due to the strong coordination between the Chinese authorities and their Syrian counterparts, the influx of Uyghur terrorists from China to Syria has decreased and may have stopped, specifically starting in 2018, and those who are still fighting with ISIS in Syria are the reason for maintaining the tense situation in the Latakia countryside and launching sporadic attacks on it. With care to settle several thousand Uyghur terrorists and their families there.
What was striking about the Chinese Turkestan Islamic Party in Syria was its participation in the demolition of Syrian churches by its fighters, members of the Uyghur Turkestan Islamic Party, who glorified the acts of destruction. The Turkestan Islamic Party also cooperated in the squares of Homs and Idlib with the Uzbek brigades and the Al-Nusra Front. Here, Jabhat Al-Nusra and ISIS are competing with each other to recruit Uyghur fighters. The flag of the Turkestan Islamic Party was placed in "Jisr Al-Shughur" above the cross of the church after the end of the battle, as evidence of their victory in it. Therefore, China fears that Uyghur fighters will return to it and cause unrest there, especially in China's Xinjiang region, and for this purpose it is trying to coordinate with the official Syrian authorities to count their numbers and try to arrest them and hand them over to the Chinese authorities.
Western intelligence is trying to obstruct Russia and China by supporting separatist terrorist groups banned there. On the Russian side, Chechen terrorist movements are supported, and on the Chinese side, the East Turkestan Independence Movement is supported, which demands the independence of the Uyghur minority from the Chinese central government in Beijing.
Here, the reports of the Syrian intelligence services loyal to the Bashar al-Assad regime indicate the presence of three thousand Chinese terrorist Uyghur fighters affiliated with the Turkestan Islamic Party, fighting in Syria alongside terrorist organizations, especially the Al-Nusra Front and ISIS. Therefore, the meeting between Chinese President "Xi Jinping" and his counterpart Bashar al-Assad focuses on the issue of military and security cooperation between the Chinese security system and the Syrian security services, with a real intention made clear by China to increase its military support for the Syrian army, with the aim of combating and combating Takfiri groups. Specifically, Uyghur fighters of Chinese origin, whom Beijing considers a future threat to it, especially in the Xinjiang region in the west of the country.
Confirmations by the Syrian intelligence services indicate that Uyghur fighters have two main camps in the Syrian Idlib Governorate, the first in the village of Ehsim in the Jabal al-Zawiya area, and the number of those in this camp is estimated at about 2,500 Uyghur fighters from the Turkestan Party, while the second camp of the Chinese terrorist Turkestan Islamic Party is located in the town of Two marshals in Jabal Al-Zawiya. This camp includes about three thousand Uyghur fighters. The Uighur fighters, who brought their families from the Chinese province of Xinjiang to Syria, are intending to settle some villages in Idlib Governorate, and take them as their main headquarters, especially in the villages of Jabal Al-Summaq, from which they expelled their people or confiscated their property in partnership with Jabhat Al-Nusra terrorists.
Uyghur fighters affiliated with the Chinese terrorist Turkestan Islamic Party and its branch in Syria and its extensions with the terrorist organization ISIS are trying to find a foothold in Syria, specifically trying to create their own organization extending from the west of Idlib Governorate and the countryside of Latakia to the south and east of the Iskenderun district in Syria, with a plan in place to settle 200,000 Turkestan fighters in those areas inside Syria, including the families of Turkestan Uyghur fighters. The process of settling Turkestan families in towns such as Rabia, next to Turkmen and Jabal Al-Bair, up to the Salqin region, also took place on a large scale. The most dangerous is the construction of new homes and residential complexes for Chinese Uyghur fighters in Syria in the "Jabal al-Summaq" area in Harem. Or even in Christian villages whose residents were completely abandoned by terrorists, such as the villages of (Al-Yaqubiyah, Al-Ghassaniyah, Hallouz, and Atira). There is also confirmed information that Turkey has granted its citizenship to more than 300,000 Chinese Uighurs since 2011.
Therefore, the visit of Syrian President "Bashar Al-Assad" to China comes in a serious Chinese attempt to cooperate with the Syrian side and Bashar Al-Assad's intelligence to hand over Uyghur fighters to it and limit their numbers, especially with the common Chinese-Syrian fear that the Chinese terrorist Turkestan Islamic Party in Syria will begin to establish (The Chinese Islamic Emirate of Turkestan) in northern Syria, provided that this emirate is led by the Turkestan fighter (Jund Allah al-Turkestani), in the Jisr Al-Shughur region in particular and other areas close to it, so that this would be the first recognition of its kind for the establishment of an emirate and settlements for the Turkestans in Syria, from those who are fighting since the beginnings of the Syrian crisis.
Bad Strategies Boost Al-Shabab
There is not much left to debate on the dangerous aspect of al-Shabab's demonic doctrine that proclaims Islamic values and functions as mindless terrorists or bloodthirsty hoodlums, at best. At its core, al-Shabab is what it is. However, in recent years it has been transforming away from its original monolithic nature. Aside from becoming decentralized franchises with mercenary style function, it has infiltrated the Somali government, intelligence, and the traditional clan structure. That said, it would be naïve to assume that al-Shabab is the only source of violence and insecurity in Somalia.
More than a year ago, President Hassan Sheikh Mohamud declared an 'all-out war against al-Shabab' and vowed to take the fight to them in every remote village across Somalia. Therefore, he decided to partner with various clan-based vigilantes and armed them to fight al-Shabab. Some warned against that strategy due to its potential to further divide the country, fuel perpetual clan wars, and inadvertently strengthen al-Shabab. Almost a year and a half later, Somalia is barely surviving a worse scenario. Today, more and more clans are turning their guns on each other.
Worse, the Somali army and the highly trained counter-terrorism divisions Danab and Gorgor continue to get ambushed at night, massacred, their equipment taken, and others destroyed in remote villages and military camps in no man's land in Galmudug and Hirshabelle federal states. These kinds of attacks that happened more than a dozen times—the worst and most under reported being Cowsweyne—are raising serious concerns. They are causing finger pointing, and profound distrust within the military apparatus.
Is al-Shabab strong enough to deliver these successive defeats against a much larger army that is backed by ATMIS and U.S.? Is al-Shabab logistically capable of executing deadly operations in various locations of a vast geographical area? How many fighters, combat technical and suicide trucks did they bring to execute such ambushes? How come on each occasion the massacred soldiers failed to hear the roaring engines coming at them? We are talking about rural areas where there are only dirt tracks that zigzag through a flat landscape. And at night one could hear the muffled sound of the coming truck from a far distance and could see its headlights from afar.
Answers to these critical questions, and to get to the bottom of these mysterious attacks, would depend on whether you drank the Kool-Aid or not. In other words, if you are persuaded by the government's version that al-Shabab is the only group behind all terrorist attacks—past, present, and future—you don't need to read beyond this point. However, if you are pained by the scores of young commandoes being mysteriously terminated, or are simply in pursuit of truth, things are not the way they are officially presented.
Somalia, due to its abundant natural resources, lack of patriotic leadership, prevalence of high-level corruption, and relentless zero-sum political competition, is a lucrative, open-for-all illegal mining cottage industry. And Galgadud region, particularly around the town of El-Bur, remains the center of gravity regarding this latest, multi-actor, deadly competition for control.
War Is a Deception
In late August 2011, at that historic night when al-Shabab abruptly pulled out of Mogadishu, I received a good news call from a senior Somali official who told me something to the effect 'Our mole was right. They are leaving.' When I asked 'Who?' He enthusiastically replied: 'Al-Shabab, of course.' I was Somalia's Special Envoy to the U.S. at the time. In the morning, local and international headlines were claiming that al-Shabab was defeated by a coalition of the Somali National Army and AMISOM. President Sharif Sheikh Ahmed declared al-Shabab "defeated," and they declared it "a change of tactics."
However, there were no face-to-face deadly battles between these entities that ultimately compelled al-Shabab to run for their lives. Al-Shabab was controlling almost all of Mogadishu and executing its terrorist attacks at-will. Likewise, it controlled the narrative as it owned more propaganda outlets than the government. But, behind the scenes, al-Shabab militants were being hunted down every night by killer ghosts- mercenary sharpshooters using military night vision and silencers. Al-Shabab militants were dropping like swatted flies when their leader, Ahmed Godane, realized the existential threat that his militants were facing and ordered immediate evacuation.
The ghost-lords of Halane, predatory capitalists, and their armed enforcers, have always been the x-factor. A few countries already have their own mercenaries to serve their interests. Sure, those interests may at times coincide or confluence with the national interest of their host nation. But let us not forget, mercenaries are neither disciplined and restrained by ethics or moral values nor are they accountable to any authority other than their next lucrative contract.
Change of Scenery
On August 5, President Mohamud put on his military gear and set up a central command in Dhusamareeb of Galmudug region to lead the Somali military and clan militias' all-out war against al-Shabab from there. He has been there more than 40 days. This raised many questions since the town of Mahas in the Hiiraan region was recognized as the ground-zero where that whole community declared war against al-Shabab.
Dhusamareeb is the headquarter or the bazaar of international illegal mining. A fierce competition is already underway between Ethiopia—the old field guardian—and mercenaries funded by U.S, UAE, and the late comer, uranium-desperate, European Union whose new Ambassador took a private plane to present her diplomatic credentials to President Mohamud in Dhusamareeb. An historic moment, indeed.
Meanwhile, President Mohamud cannot go to Garowe- the capital city of Puntland which is only 270 miles from where he is now stationed. Puntland has officially suspended its relationship with the federal government. It is now where Somaliland was three decades ago.
Meanwhile, the people of Sool, Sanaag and Cayn (SSC-Khatumo) who have been living under brutal repression by Somaliland military have organized themselves in recent months and accomplishing what many thought impossible. They convincingly defeated Somaliland military and exhibited exceptional discipline for not chasing the fleeing army into their clan territory. Immediately after their victory, they officially declared their independence from Somaliland and appealed to the Federal Government to accept them as a federal state. With visionary leadership and the right strategy, this issue could have served as a catalyst to a Somali-owned, country-wide reconciliation process. But, President Mohamud pled deaf, dumb, and blind.
Danger still looms as this issue is likely to morph into a long military struggle. Neither Somaliland, nor UAE which heavily invested in Berbera seaport, nor UK which is Somalia's penholder, and the trainer of Somaliland's special forces are willing to accept this latest fateful development.
And as if all these are not enough, the federal government mandated citizens to apply for a digital national identification card. While this may be appreciated from the security perspective, for a nation whose constitution remains 'provisional' and what constitutes Somali citizenship is yet to be determined, this will only further divide the country. Because clan identity is strong in Somalia and these clans inhabit various parts of East Africa, the citizenship issue has been the most controversial issue since the trusteeship period (50-60).
The emotionalization of the war on al-Shabab, and the muzzling of media reports has not only ensured President Mohamud jingoistic praises, it also emboldened him to declare victory over al-Shabab despite a large number of Somali soldiers getting killed and others being forced to evacuate almost every town or region they occupied for a short while. Things turned out so bad that President Mohamud had to sideline top military commanders, give the greenlight to reshuffle the government after the UN General Assembly, and request an emergency 90-day delay on ATMIS troops reduction.
Any objective observer would question the logic driving the claim of victory against al-Shabab under the current circumstances. But thinking logically means questioning the government's narrative, and that ironically is considered a treasonous act.
Sadly, the only thing that stood the test of time in Somalia in the past three decades is lustful greed and the attitude that integrity is not necessary in building trust and unity. The status quo preserves al-Shabab, sustains corruption, and makes failure a lucrative cottage industry. Neither the doner nations, nor the Somali government, nor the international non-governmental organizations want to see that industry under any form of scrutiny.
Moscow remembers horrendous terrorist attack in Beslan
On September 3, the Russian Federation is marking a memorable date, specifically, the Day of Solidarity in the Fight against Terrorism that became part of Russian legislation in 2005, a year after a horrendous terrorist attack in Beslan that killed over 300 Russian citizens, including children. This appalling terrorist atrocity was something unprecedented in terms of its meanness and brutality, and it highlighted the need to rally the entire international community against terrorism.
"We have to state that, in the current international realities, the issue of combatting terrorism has long since lost its unifying essence. The collective West that considers itself a beacon of democracy and human rights is openly waging a hybrid war against Russia. Not only is the West using Ukraine as a geopolitical battering ram against our country, but it is brazenly turning a blind eye on the terrorist essence of the Kiev regime and is sponsoring it," official statement, released ahead of September event, said.
At the same time, the Western line to "isolate" Russia has not been crowned with success even in such a sensitive area as the fight against terrorism. The opinion of Russia remains significant and weighty during dialogue with friendly states. The Russian Federation prioritises cooperation with friendly states in the current complicated conditions of foreign policy turbulence. For example, we are collaborating rather fruitfully with our partners at various regional associations, including the Commonwealth of Independent States, the Shanghai Cooperation Organisation and the Collective Security Treaty Organisation.
Close contacts between the security agencies of these associations' member states are taking place under the auspices of the CIS Anti-Terrorism Centre and the SCO's Regional Anti-Terrorist Structure. As for the CSTO, it can deploy its Collective Peacekeeping Forces in the shortest possible time, and this is an extremely important, effective and essential factor in facilitating counter-terrorism security in the zone of its responsibility.
Additionally, the BRICS Counter-Terrorism Working Group now ranks among the most advanced cross-regional formats. The BRICS Counter-Terrorism Strategy and the Action Plan for its implementation, drafted in 2020 and 2021 when Russia and India chaired BRICS, are the gold standard, reflecting an analytical and well-thought-out perception of real, rather than imaginary, terrorist threats.
The Russian Federation also supports constructive dialogue on counter-terrorism operations with the states of the African continent. The Declaration of the Second Russia-Africa Summit on Strengthening Cooperation in the Fight against Terrorism, signed following the Second Russia-Africa Summit in St Petersburg in July 2023, reflects the common approaches of our countries.
"We will continue to coordinate joint efforts in the above-mentioned multilateral formats, including those aimed at streamlining the existing mechanisms for coping with the security risks of the states involved," the statement finally said.
The Beslan school siege and the Moscow theater siege were the toughest tests that Vladimir Putin went through during his 20 years in power. "Major terrorist attacks were the toughest to deal with. The Beslan school siege was one of them. I will never forget it. Another one was the Moscow theater siege," Putin noted in the Kremlin.
Back in 2019, officers and rescuers who helped to release hostages from Beslan's School No.1 in 2004 were awarded by Vyacheslav Bitarov in the Caucasus republic of North Ossetia.
More than 1,200 people were taken hostage during the terrorist attack at a school in the North Ossetian city of Beslan, which occurred on September 1, 2004, the first day of the academic year. The tragedy claimed 334 lives, including 186 children. Some 126 of these hostages became handicapped, of them 70 children.
The school, located next to the district police station, housed approximately 60 teachers and more than 800 students. Its gymnasium, where most of the hostages were held for 52 hours, was a recent addition, measuring 10 metres (33 ft) wide and 25 metres (82 ft) long.
There were reports that men disguised as repairmen had secreted weapons and explosives into the school during July 2004, something that the authorities later denied. However, several witnesses have since testified they were forced to help their captors remove the weapons from caches hidden in the school. There were also claims that a "sniper's nest" on the sports-hall roof had been set up in advance.
The attack at Beslan was met with international abhorrence and universal condemnation. Countries and charities around the world donated to funds set up to assist the families and children that were involved in the Beslan crisis. This School No. 1 was one of seven schools in Beslan, a town of about 35,000 people in the Republic of North Ossetia–Alania in Russia's Caucasus.