During her recent visit to Indonesia (10/2/2022), French Defense Minister Florence Parly achieved an agreement on Indonesia's $8.1 billion order for 42 Dassault Rafale fighter jets and signed the first contract for the purchase of six fighter jets. On the same day, the US Department of Defense stated that the US State Department had authorized the sale of $13.9 billion in military equipment to Indonesia, including 36 F-15EX fighters.
So, which country will eventually sign a significant fighter jet purchase contract with Indonesia? What practical obstacles will the Indonesian Air Force confront following its "large acquisition" of fighter jets?
Although both the French Rafale fighter jet and the US F-15EX fighter jet are tempting in terms of performance, Indonesia is unlikely to acquire so many jet fighters from France and the US at the same time.
The French Rafale fighter, with two engines, is a fourth and a half generation fighter. It is capable of super-advanced air defense and ground attack. It also includes quite modern active phased array radar and photoelectric detection systems.
The Rafale fighter aircraft can carry a payload of more than 9 tonnes in 14 weapons storage compartments for the air force version and 13 for the navy version. The Rafale is also outfitted with MICA, Sidewinder, ASRAAM and AMRAAM air missiles, Apache ground missiles, AS30L, ALARM, HARM, Maverick, and Exocet/AM39, Penguin 3 and Harpoon anti-ship missiles.
This fighter jet is also outfitted with air-to-ground cruise missiles with a range of more than 300 kilometers, known colloquially as SCALP. The Rafale can deliver MBDA nuclear missiles for strategic missions. The fighter jet is equipped with twin gun pods and a Nexter 30mm DEFA 791B cannon capable of firing 2,500 rounds per minute.
The American F-15EX fighter is the newest enhancement to the F-15 series, and its total performance is also meant to meet four and a half generations of criteria. It has a new phased array radar, electronic warfare system, and cockpit, for example. More critically, its bomb load is far more than that of the usual stealth fighter.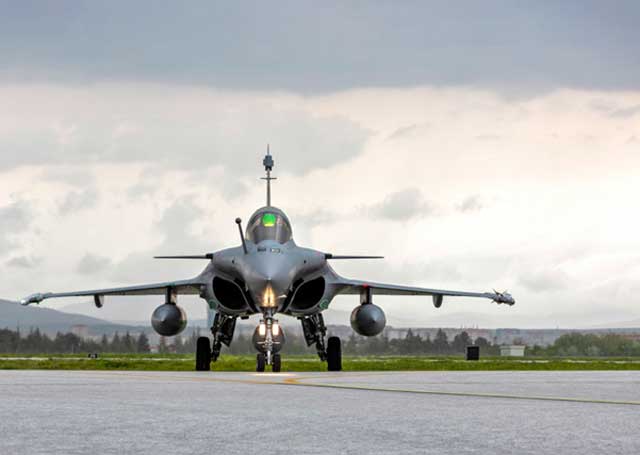 In my judgment, Indonesia will have a tough time paying for the two large arms purchase contracts from France and the United States at the same time. Such a large order is most likely not cheap for any country. As a result, purchasing both the Rafale and the F-15EX in Indonesia is nearly difficult.
If the Indonesian Air Force wants the newly bought fighter jets to be installed as soon as possible, the French Rafale fighter jets may be a preferable alternative. First, the Rafale fighter has been in service with the French Air Force for a long time, and its technical performance is rather mature; second, support for the Rafale fighter's airborne weapons and related systems is also pretty comprehensive.
Indonesia has close military relations with the United States. According to media reports from June of last year, the United States and Indonesia will collaborate to create a joint navy training center in the South China Sea. As a result, even if the US fails to sell the F-15EX to Indonesia this time, the jointly created naval facility at the critical junction of the Malacca Strait and the South China Sea would continue to be operated by Indonesia and used by the US. As an outcome, military ties between the two sides will be unaffected by issues relating to arms sales.
While Indonesia has spent considerably in acquiring fighter jets, which will assist increase its air force combat capacity, the Indonesian Air Force will face significant hurdles in logistical support and integrated operations in the future since fighter jets come from multiple nations.
The Indonesian Air Force's major difficulty right now is logistical support and coordinated operations. For a long time, certain countries have been unable to develop fighter planes on their own owing to limited national military industrial capabilities, and have had to rely on forced outsourcing.
However, once the sources of acquired equipment are diverse, the follow-up fighter performance upgrading, components maintenance, and construction of an integrated logistical support system will provide significant operational challenges.
Previously, logistical assistance for Indonesia was more difficult since its air force fighter squad contained both American F-16s and Russian Su-27s and Su-30s. This will change if the French "Rafales" are introduced in the future. How may the three systems be linked together? How does the data link make connectivity possible?
How does the ground command system ensure that these fighters are all under the same command? How can information be distributed more uniformly? These are severe concerns for any government, and they represent significant hurdles to Indonesia's national defense technology.
One of the main motivations behind Indonesia's ambitious national defense modernization is the country's aspiration to become a strong nation. Indonesia is the world's largest archipelago. It is located in the convergence of three oceans: Southeast Asia, the Western Pacific, and the Indian Ocean. It has a unique geographical placement in the Indo-Pacific geostrategic paradigm, which takes the whole Indo-Pacific region into account.
Indonesia's national strategic goal has always been to become a huge country. Indonesia's geographic position, territory, and economic development are all ideal characteristics for it to become a so-called major country, yet there are still considerable gaps in its military capability. Driven by the ambition of such a huge country, it will energetically seek national defense modernization.