The Muhajir Movement: A Political and Social Aspect
The genesis of the Muhajir struggle for identity and privileges is the subject of this academic research. It delves into numerous topics and occurrences that have occurred since Pakistan's inception. It is described how a Muhajir representative party morphed into an extreme group that focused solely on self-interest while exploiting Muhajirs. Moreover, to shed light on the activities of the authorized party for Muhajirs throughout anomalous administrations. Additionally, the study discusses the core causes, challenges, and elements that led to the downfall of MQM.
Actors and Nature of Movement
Throughout the movement's history, numerous actors, including dictators and governments of the period, were engaged. MQM, originally known as the Muhajirs' representative party, played a critical role. In addition, various fundamentalists, radicals, and nationalities had a significant impact. The movement's nature did not remain constant throughout. There was no in between, it was serene one moment and violent the next.
Dynamics of the Conflict
Looking at the dynamics of the past and present, ethnic strife was primarily about resources and the acquisition of power by different groups; one ethnicity desired to subjugate the other. However, it was a struggle for dominance rather than an ethnic clash.
Research Question
What are the social and political components of the Muhajir Movement, and how has it changed through different political eras? What were the causes of Muhajir mobilization and how did it come to an end?
Methodology
To achieve this research's major objectives, I have used an interpretive approach that focused on the root causes and key issues that have fueled the conflict again and again and the challenges to the recent peace process in Somalia. My research is deductive in nature as it examines the data which is qualitative and it is obtained from the credible secondary sources consisted of official documents, academic studies, articles and reports.
Literature Review
This research paper is mostly concerned with Muhajirs and their aspirations to be identified as Pakistanis rather than an ethnic groups. One looked through a lot of documents, books, websites, and so forth. The majority of them are made up of dispersed material, however this article deals with the Muhajir movement in a hierarchical fashion on occasional basis. Furthermore, the evolution of MQM since its conception is addressed, that is not addressed in a meaningful way throughout the majority of the articles.
Background of Muhajir Movement
Since the British capture in 1839, Karachi, in Sindh, has risen in both size and prominence. As millions of people fled from India to Pakistan in the aftermath of Partition in 1947, the city acted as an important transit centre and offered better economic opportunities. As a result, Karachi's population grew dramatically. While many Punjabi Muslims moved west to live in Pakistan's Punjab state, the vast majority of Muslims from the rest of India moved to Sindh. This altered Karachi's demographic, ethnic, and cultural environment, separating it from the rest of Pakistan. While the Punjabi migrants blended with the state's major tribes owing to cultural proximity. Multiethnic societies across the world are regularly obliged to tackle challenges that result from accepting multiple ethnic groups. Pakistan was founded as an Islamic republic, but it has always been ethnically diverse, with distinct ethnic characteristics dominating people's identities depending on their background.
Congruence of Muhajir Community
Muhajirs were a favored clan in the formative days of Pakistan's existence, with official policies targeted towards their advantage. Prime Minister Liaquat Ali Khan's quota system, for instance, was implemented to raise Bengali participation in the civil services but was devised in such a way that Muhajir participation wasn't really affected. As a result, the Muhajirs dominated politics, administration, and commerce. Despite accounting for only 3% of the inhabitants, they held approximately 21% of the workforce. Seven of the twelve major industrial houses were run by Muhajirs. Muhajirs occupied 33.5 percent of officially designated posts in civilian administration, over half of higher positions in public firms, 23 percent senior positions in the armed services by the mid-1970s.
Muhajir Influx related Complications
Migrants from all over the sub continent and Afghanistan lived in Karachi over the decades. The city's population explosion created rivalry for commodities, and Muhajirs saw themselves at conflict with the Sindhis, Punjabis, and Pashtuns on several occasions. Whereas during 1950s and 1960s, Karachi witnessed tensions between Sindhis and Muhajirs, as well as Muhajirs and Pashtuns. Secular parties such as Jamaat-e-Islami (JI) and Jamiat-i-Ulema-Pakistan (JUP) depicted Muhajirs on political fronts, while many other ethnicities favored a variety of parties until the Pakistan People's Party (PPP) was formed in the 1960s. In Karachi, there was no distinction among racial and political factions till the 1970s. As a result, while still not founded on any distinct racial nativism, the JI and JUP stressed ideological manifestos, that the Muhajirs endorsed.
Political Movement of Muhajirs
Ayubs regime in 1958, precipitated Muhajirs' fall, particularly after Pakistan's capital was relocated from Karachi to Islamabad. The diaspora was upset by Khan's ideas on institutional framework, and they voted for Fatima Jinnah over Ayub Khan in the first general election in 1964. As a result, Khan's victory and the ensuing confrontations in Karachi between Muhajirs and Pashtuns fostered a sense of unease.
By 1970, Zulfikar Ali Bhutto's rule and the PPP's political agenda ushered in a new era of Muhajir politics. The decade would be pivotal for the Muhajirs. Bhutto pursued a number of measures that the Urdu-speaking populace saw as a violation of their civic, socioeconomic, and fundamental freedoms, as well as their multiculturalism. These included the forcible resignation, firing, or dismissals of nearly 1,000 Urdu-speaking officials, as well as the implementation of an ethno – linguistic quota system. Linguistic revolts sprang out in Sindh on a larger scale. Altaf Hussein got involved in student activism. Hussein was a proactive person at Karachi University whose devout Urdu-speaking family had moved from India. In 1978, he founded the All Pakistan Muhajir Student Organization (APMSO) to combat Muhajir prejudice. Muhajir businessmen attempted to maintain influence over slum settlements and also transportation inside the metropolis, that had a Pashtun stronghold, fueling racial tensions and contributing to mob violence in April 1985. Ever since, ethnic battles between Punjabis, Pashtuns, and Muhajirs have persisted over dominance of Sindh's social infrastructure.
MQM and Zia ul Haq's Era
From 1978 onwards, the Muhajirs strengthened their desire for individuality and galvanised around sectarian lines under Zia-ul-Haq's rule. As their perception of financial and political oppression worsened, the term "Muhajir Nationalism" was repeatedly voiced, supporting Muhajir unification under a single authority and movement. Six days after Zia expanded the quotas for a further decade, the APMSO morphed into the Muhajir Quami Movement (MQM) on the premise of opposing Punjabi predominance by striving for an equitable number of positions in public service and academic institutions. MQM's aggressive style added to the party's appeal. MQM events urged adolescents to show their manhood and authority, while also encouraging anti-Punjab attitude.
MQM's Manipulative Role
MQM used and utilized the Muhajir community's dissatisfaction to push its ethno-militant goal. It regimented the youngsters into a rigorous hierarchical organization. Numerous analysts believe the party was the byproduct of Zia's 'political management.' Per the JI officials, it was established to minimize their backing in Karachi, whilst PPP leaders think it was established to 'even out' their dominance in Sindh. Irrespective of their motivation for founding, the MQM effectively stirred up its supporters into a panic; this soon converted into political survival, with the MQM emerging Pakistan's third-largest party in 1988.
On what is in the facts, Muhajir and Sindhi hatred intensified when MQM and PPP joined political factions. These involved sides inked a 59-point pact for their collaboration, which included some contentious arguments and hazy, excessive demands. The MQM management officially departed the partnership in October 1989, expressing its endorsement for a no-confidence resolution against the Bhutto administration. The breakdown of the coalition resulted in one of the bloodiest moments in Karachi's historical past. In 1992, an operation was conducted out that deliberately targeted Muhajirs. The MQM mounted extensive assaults on the country's civil administrative institutions, requiring a new "Operation Clean-Up" in 1995. In order to appeal to a larger socioeconomic base and distance itself from multilateralism, the MQM titled itself "Muttahida Quami Movement" in 1997. However, it did not bring about any significant changes in the party's domestic politics, nor did it permit non-Muhajirs to join the party.
MQM and Musharraf's Dictatorship
After General Musharraf assumed power through a military takeover, the MQM chose to halt hostilities with the administration and form an alliance with the Musharraf regime. Altaf Hussein remarked in a 2004 speech that, his party had just two possibilities whether to join mullahs or Musharraf, and they chose "the socially progressive General rather than the religious fanatics."
Musharraf, being a Muhajir, supported the MQM because he required grassroots support for his unelected dictatorship. As a result, the party became a powerful governing party with Musharraf. This had a significant impact on Karachi democracy, as the MQM got hold of Musharraf's measures. It aimed specifically Pashtuns in Karachi by influencing the home atmosphere, which had turned nasty to militants and extremists. The assassinations in Karachi in May 2007 were the most visible manifestation of the MQM's allegiance to Musharraf.
From 2005 and 2008, the MQM not only dominated municipality affairs but also de facto power over state-owned territory around the city, which technically fell beneath authority of the regional government. At the very same moment, the party began to transform its public discourse. It desired worldwide recognition as an advocate for modern humanism, drawing on its previous conflicts with Religious organizations. It also focused on urban concerns and became an advocate for infrastructure developments. To further its own political agendas, the party maligned its political rivals, namely linking Pashtuns to extremism and fanaticism. MQM exploited countless Pashtuns, who were forced from their homes and relocated in Karachi. This sparked outrage, preparing the door for the PPP and the Awami National Party to emerge again.
MQM and Pakistan People Party's Regime
The fall of Musharraf's dictatorship in 2008 resulted in a turnaround of events for MQM. However during general election, the MQM won 16 of the 20 National Assembly constituencies from Karachi, allowing it to join the PPP alliance both at the federal and provincial level in Sindh. The PPP had a plurality in the Sindh Assembly, but opted to maintain the MQM in its coalition for couple of reasons: a) the MQM's ability to create havoc in the province; and b) to level out the PML(Q), which was also part of a coalition to counterbalance MQM. MQM, was already marginalized in national politics as a result of its partnership with Musharraf, merely relished the chance to preserve some influence. MQM has constantly insulted, intimidated, and criticized the administration of Asif Ali Zardari and Yusuf Gilani.
Later, Karachi's insurgency expanded past ethnic violence to encompass religious and ethnic violence. Tehreek-e-Taliban Pakistan (TTP) constructed a stronghold in the city, and an inflow of asylum seekers and refugees flocked to Karachi, having been driven from their motherland following the army's combat activities against them in the northwestern tribal regions. This fueled ethno-nationalism among the Muhajirs, Sindhis, and Baloch, many of whom were linked to various factions. Extremism evolved into an implementation tool among political actors, for each party holding its own go-to criminal enterprise. Barriers erupted in several sections of Karachi, isolating communities and establishing no-go zones for citizens in territories occupied by terrorists and separatists. To support their operations, such gangs utilized the city as a safe haven and a source of revenue, intimidating the local populace with shakedowns and abductions. Political parties, for their part, seized the chance to make a point regarding on how particular ethnic communities who backed them had been impacted by the no-go zones, producing additional law-and-order issues.
The Supreme Court issued Suo Moto notice of the city's unrest in 2011. It convened multiple sessions to explore the reasons and culprits of the carnage and determined that this wasn't just an ethnic conflict but really a tussle among numerous political factions. The Supreme Court also condemned the province's police force for being politicized. Rangers were given extraordinary policing powers, allowing them to execute strategic operations and inspections around the city, as well as arrest people allegedly involved in rioting.
MQM and Sharif Regime
The triumph of Nawaz Sharif and the PML(N) in the 2013 elections represented a watershed moment in MQM's politics. The PML(N) did not need the MQM's backing to establish a government. Similarly, in Sindh, the PPP gained a simple majority (65 seats) and established a regional government without MQM. The election also saw the rise of Imran Khan's Pakistan Tehreek-e-Insaf (PTI) which emerged as the state's new political powerhouse. PTI was able to pierce the air of infallibility that surrounded MQM. Hussein's political power was dwindling, putting him under growing political strain. Altaf had already been charged of manslaughter, money laundering, bigotry, and instigation of terrorism, among many other things, over the decades. Over 72 felony charges against Hussein were dismissed during the Musharraf government; many of these had subsequently been revived.
Pakistani Taliban and other foreign extremist organizations active in the nation were targeted by operation Zarb-e-Azb, which was initiated by the military in 2014. The operation provoked the Pakistani Taliban's vicious attack on the Army Public School in Peshawar in December 2014, which resulted in the deaths of 100 students. The incident fueled ongoing armed actions in Karachi, with the authorities perceiving it as a chance to go after the MQM and the city's fundamentalist symbiosis. Militarized troops attacked "Nine Zero," the MQM head office, in March 2015, seizing a substantial quantity of weaponry reportedly taken from NATO shipments. This was followed by a string of raids on MQM facilities around the city, during which top party leaders were detained.
Demise of MQM
With Musharraf no longer a dictator, military abandoned the MQM. The combat actions and assaults against MQM eroded the party's previously reduced credibility, leading several top officials to flee it . Hussein delivered his presently statement in which he slammed Pakistan. Not only did he bring out against the state, but he also referred to it as "a disease for the entire globe. The core of violent extremism for the entire world" and advocated for its demise. Farooq Sattar, MQM's senior leader, withdrew to form his own MQM-P, and nine zero was shuttered in reaction to Husein's statements. As a result, not only was the 2018 general election terrible for the MQM, but also for Muhajir nationalism. MQM was relegated to four seats, down from the 17 it had gained in 2013. Internal divisions, a shortage of resources, operational inadequacy, a spike in non-traditional voters, and a loss of credibility eventually drove the MQM down.
Conclusion
Muslims who migrated to Pakistan after August 1947 did really out of fear of victimization in post-independence India. Their quest for identification began in India and tragically lasted for centuries when they came to Pakistan. Muhajirs were formerly an affluent, aristocratic, and educated community in Pakistan, but their position among other ethnic groups has dwindled over the years. The first rumblings of a Muhajir awareness emerged in the early 1970s, sparked by government policies that harmed their career advancement possibilities in Sindh. Shifting demographics, ethno-political disputes, militant and separatist organisations, and entrenched political lobbying groups have all affected the Muhajirs' perception of their role in society today throughout the generations. MQM arose as a group supposedly representing Muhajir frustrations but quickly devolved into a terror syndicate, undermining the validity of the Muhajir movement. Altaf Hussein's once-powerful MQM is now fragmented along philosophical, political, and psychological grounds. Due to a sequence of events, the notion of a single united party representing Muhajirs has essentially disintegrated.
Issues with structure and ideology For the time being, the movement is best defined as'diasporic,' because its leader has been in fugitive ever since early 1990s, but he has been relatively effective in managing the party from London, approaching demonstrations through live stream. Nevertheless, the MQM now seems to have little political influence and has ended up losing most of its clout in Karachi. In the meantime, Hussein's disappearance from the nation and constant hysteria have produced a sense of desperation amid top officials to reinvent the MQM without Hussein.
"Haqeeqi Azaadi" or "Political Invasion"?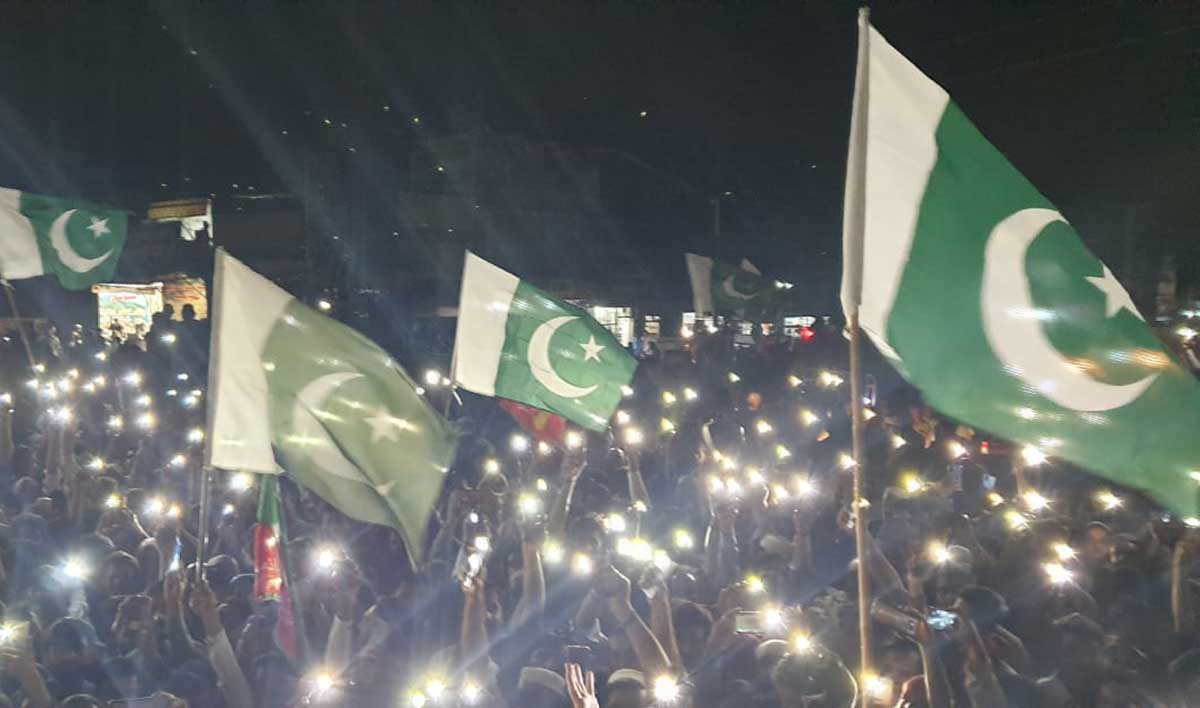 You call it a "Long March" or an "Azaadi March" or a "Haqeeqi Azaadi March" and lastly according to some people "Political invasion of the capital"; whatever attempt it may be, the impact of this "Long March" will not be "Short" at all. Seems like history is repeating. Yesterday, it was PTI, later it was TLP, then JUIF, PDM & now again PTI. This reminds us about a Supreme Court's historic judgment on Faizabad Sit in by Supreme Court, which is quite relevant again in these crucial times. The historic judgment of Supreme Court on Suo moto quotes that "The leaders of the dharna intimidated, hurled threats, abused, provoked and promoted hatred. The media provided unabated coverage. Inflammatory speeches were delivered by irresponsible politicians. Some unscrupulous talk-show hosts incited and provoked citizens." Isn't the situation once again similar? Doesn't it seem like history is repeating? Few analysts consider it to be a worst kind of situation.
Supreme Court writes in its judgment that "the freedom of speech and expression and of the press are fundamental right. However, these rights cannot be used to denigrate or undermine the glory of Islam, security or defence of Pakistan, friendly relations with foreign States, public order, decency or morality or in relation to contempt of court, or commission of or incitement to an offence. He categorically mentions that "PEMRA Ordinance mirrors the restrictions as set out in Article 19 of the Constitution and further prohibits broadcasts which are, "likely to create hatred among the people or is prejudicial to the maintenance of law and order or is likely to disturb public peace and tranquility." So, Supreme Court has already given clear instructions that if some event is likely to disrupt peace and tranquility, media broadcasts can be prohibited.
Insiders say that we are in a dead end and this is the most crucial time of history for Pakistan, especially when the economic fate has to be decided by IMF on 25th May when Imran khan marches on Islamabad. So let's playout the possible upcoming scenarios which political stakeholders may have to consider;
Marching towards Islamabad with huge crowds is one thing but forcing a government to dissolve assemblies with this crowd is another thing. Imran Khan very well knows this is a do or die situation for his political career as well. He knows his March will only succeed if he can force an early election.
Bringing larger mobs to Islamabad will only be fruitful if there is some kind of disruption by the present government or by the PTI itself. IK knows that a prolonged sit in without happenings in the red zone won't be impactful.
PTI leaders have been repeatedly convincing people including government employees, Army officers and police to bring their families in their Haqeeqi Azaadi March. The question which arises is that "Why IK doesn't bring own family members to join the "Jihad" or "Haqeeqi Azaadi"?
IMF has to take crucial decision on Pakistan's economic fate. Without an IMF Package, a Srilanka type scenario may arise. The decision will come on the same date as of long march, on 25th May. This is a do or die situation for Pakistan's economy. So the leaders of this March should definitely come with a futuristic economic plan and tell the masses how will they get rid of this dire economic situation.
While Srinagar Highway will be full of Marchers led by the so-called Ambassador of Kashmir, a big decision is expected to come from Srinagar about Yasin Malik. Unfortunately, it is expected that his sentencing maybe announced on 25th May as well.
The government also has limited options. They are arresting leaders of PTI. They are raiding houses in their own panic mode which will further incite the situation. The removal of fuel subsidiary has become inevitable and when it happens it will be the most unpopular decision. Rising, Inflation will cut purchasing power. Finalization of IMF program has brought them to a dead end.
The dread is in the air. 25th May is around the corner. It is Crucial. It is Do or Die for Pakistan. We must fear!!
When Politics turns Personal; The Toxic Allegations & Accusations become a Norm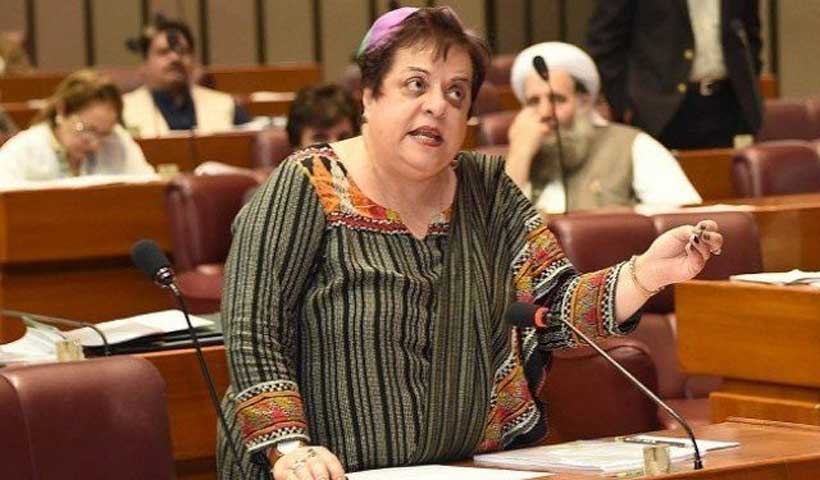 There is something happening beneath this political turmoil which is NOT looking good!!
Whenever Political landscape turns into a Personal battleground, defeats become unacceptable. These past few days are a perfect case study to see that how Political elite in Pakistan has done whatever it took it to stay in power. In this power grab scenario, there could be numerous losses including the integrity of institutions. We have unfortunately entered into a very dangerous phase, where some political stakeholders have put all stakes at risk, where they have stretched their limits beyond a constitutional limit, all to gather mass support, all to stay in power and avoid defeat. Is it a threat of losing power? Is it a double game? Is it a practical hybrid war we are fighting? Whatever it is, it doesn't seem to be good. All is at stake, all is at risk and all is toxic.
As if the political temperature was not noxious enough, Shireen Mazari Saga took place. Once again, accusations, allegations and assumptions started pouring in against the state institutions. Soon after her arrest, her daughter, a lawyer herself Imaan Zainab Mazari alleged that her mother was beaten by male police officers during the arrest. But few minutes later, a video clip surfaced that showed clearly that her mother was arrested by Female Police officers in broad daylight and as per the law. Lie number 1 of the daughter stood exposed. Within moments, without any cogent evidence the lady, known for many controversies in the past targeted state institution for such an act, although the anti-corruption already had taken responsibility of her arrest.
Abuse of power can never be tolerated, regardless of who it targets or from where it emanates. This mantra is true and everyone has an equal belief on it but let's take a deep dive to see that how politics turned dirty in this case, how blame game took place and how this entire episode was used as a tool to churn propaganda against Army leadership and Armed Forces.
1. The anti-corruption police had arrested Shireen Mazari and she herself accepted that Prime Minister and Interior minister were responsible for my arrest. But the mother daughter nexus brazenly started blaming institutions without any solid evidence. Shouldn't there be an inquiry on this too?
2. PTI was always of the opinion that why courts were opened mid night to send IK packing while he wasn't listening to anyone however when same court gave a verdict in favor of PTI ex minister, late night, it was celebrated and much appreciated by Shireen Mazari & IK who have been spearheading anti judicial tirade until recently. Isn't it blatant hypocrisy? Judicial inquiry has been ordered by the Court which is a positive sign, but the serious allegations which Mazari nexus have raised must also be inquired during this newly formed judicial inquiry. Should the Judiciary not question them on hurling these baseless allegations?
3. The present government, whose Police itself arrested Shireen Mazari disowned this attempt. Attorney General displayed his ignorance about the matter in front of the court. So, somehow the government created this impression in the public eye that they are not to be blamed for the arrest of Shireen Mazari. Was it a double game? Or a deliberate effort to discredit institutions?
Pakistan is already facing serious economic downfall, political uncertainty and civil strife. PTI has also announced Long March to Islamabad on 25th May which is likely to further exacerbate already fragile political and economic instability. It has become quite evident now for achieving petty political ends, our political elite has no serious resolve to address the crisis confronting the country. Country is being deliberately pushed to limits of economic and political dead end. The political immaturity and lack of vision to handle the crisis situation is also hurting the repute of institutions amidst internal political wrangling. If political leadership doesn't come to grips of the critical situation prevailing which is likely to aggravate further in coming days, people of Pakistan in particular and the country in general are likely to suffer unprecedented damage. Political elite must put its acts together and steer the country out of prevalent political and economic crisis by showing sagacity and political wisdom until it's too late.
Accusations to Acknowledgement: The Battle of Article 63 A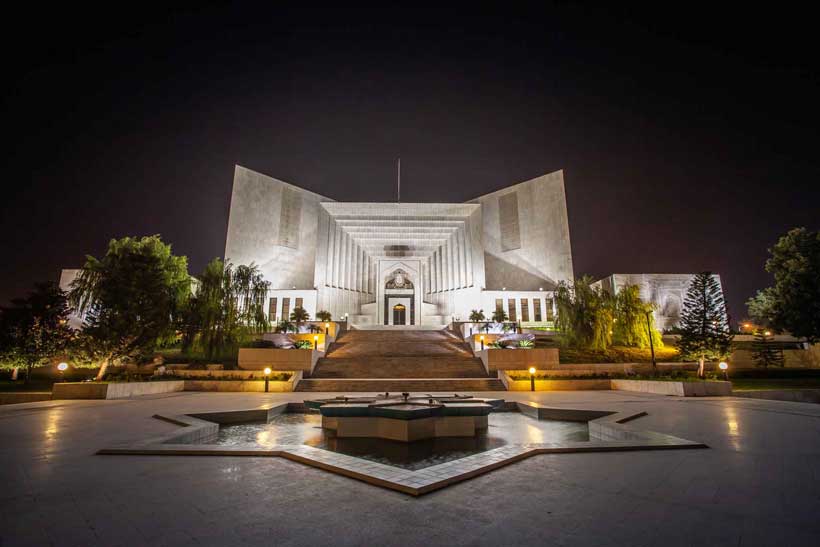 The weather is heating up. As the May is ending, Political temperatures are soaring. The fate regarding the country's political and economic stability will be measured in the upcoming days. Earlier, PDM built momentum by taking on institutions. Maryam Nawaz raised the temperature by targeting key personalities and institutions. Allegations were bursting against the institutions in all dimensions. Today, we witness reversal of roles. Accusations have been outflowing in every Jalsa by PTI. But now suddenly, the "accusations" turned into "acknowledgment". "Complaints" started transforming into "Compliments". Is it the change of narrative? Is it another U-turn? Or is it the restoration of confidence in the institutions? Where will this chaos end?
The Supreme Court's "decision" or as they say "opinion" or "binding" on Article 63 A has raised some pertinent questions on the status of CM Punjab election? In the interpretation of Article 63 A of the constitution, the Supreme court categorically condemns the practice of horse trading by calling it "a cancer afflicting the body politic". Supreme Court in its decision of 3-2 rejected the vote count of these dissident members against the party directives. So the future of the Chief Executive of Punjab is now under threat because it is contrary to what happened in National Assembly. The political instability continues and the situation is messy.
In light of this verdict, Hamza has a support of 172 MPAs in Punjab assembly but at the same time, he also has 4 dissenting members which draws the figure to 168. Now further moving ahead, PTI and alliance also has a collective figure of 168 votes minus 21 dissenting members. The situation here in Punjab is way too complex now. A support of 186 members is required for a clear majority in Punjab assembly to formulate a government. This current Punjab government can either fall through a governor led vote of no confidence or a Supreme court order. The governor even has a right to dissolve the assembly with his discretionary powers according to Article 112 (2) of the constitution. Supreme Court has already made its decision on cross voting against Party fiat. Now legal experts are interpreting the decision in their own dictionaries. What will happen in Punjab? What will happen on the federal level? Will there be an election call? If so, what will be the care taker setup? Will there be a fresh mandate? Who will make the hard economic decisions? Lot needs to be answered in these crucial times.
From "My judges disappointed me" to "Thankyou Supreme Court", a lot has happened and a lot is ready to take place. Islamabad is full of gossips, interpretations, whispers and predictions these days. There is something seething under this political turmoil. The Red zone is under a lot of pressure whether politically or economically. Pre – Elections, Elections and then Post elections, we have a lot of consequences of a lot of hard decisions. But hard decisions need to be taken. Question is who is ready to make the hard choices? Be Afraid!!