People who are less well known and even less mentioned in the media – rather than those who are known for "environmental" reasons and by the will of political parties – honour and serve Italy and the world. The latter often have no skills or even qualifications for their role, thus reducing themselves to mere yes-men useful to local and not general interests.
Today I want to talk to you about a person who honour Italy, although his name and face are not so familiar, as happens on most of these occasions when aporia rules.
Francesco Rocca is currently the President of the International Federation of Red Cross and Red Crescent Societies and national President of the Italian Red Cross.
Voluntary work has always been central to his life, even as a university student at the Faculty of Law. His first volunteering experiences were for the most vulnerable, those living in the grey and marginalized areas of our society, such as the homeless and migrants.
Starting from the late 1980s, Rocca began his involvement with the Jesuit Refugee Service (JRS) in Rome: from 1988 to 1993, first as a volunteer and later as Head of the San Saba Dormitory.
JRS is an international Catholic organisation with the mission to accompany, serve and support refugees and forcibly displaced people, so that they may be cured, learn and determine their own future. JRS was founded in November 1980 as an institute of the Society of Jesus and officially registered as a foundation in Vatican City on March 19, 2000.
During the same period, from 1988 to 1990, Rocca was also a volunteer at the Caritas accommodation centre for minors and, from 1988 to 1991, at the Piccola Casa della Divina Provvidenza "Cottolengo" for assistance to severely disabled people.
In 1990 he graduated and three years later he became a lawyer. From 1990 until 1995 he worked as an operator and then auditor of cooperatives linked to Caritas, particularly the one called "Partire dagli ultimi" (Starting with the Last) and continued to carry out voluntary work at the Caritas legal aid centre for migrants and asylum seekers from 1991 to 1995.
From 1990 to 2003 he practised law. In particular, in the second half of the 1990s, he was one of the lawyers at the forefront in the fight against the Mafia, and for this reason he has been living under escort for five years.
In parallel with his work as a lawyer, he continued his voluntary work in the NGO Hansenian's Ethiopian Welfare Organization (HEWO), of which he was also the Director General – for free – for a short period of time, from 2003 to 2007, with direct operations in the field.
HEWO – which is active in Ethiopia and Eritrea – is a legal reality that has no terms of comparison, made up of self-managed communities of ordinary people in difficulty who struggle together to emerge from hardship and suffering. For over forty-five years, HEWO has been providing free support services in Africa to communities of people affected by misery and neglect and by severe diseases (mainly leprosy, TB, HIV-AIDS and illnesses caused by severe nutritional deficiencies).
From 1996 to 2004, Rocca was President and Commissioner of the Public Institute of Assistance and Charity "Santa Maria in Aquiro", and from 2001 to 2003, President of the IPAB Asilo della Patria, leading the transition from orphanages to family homes for vulnerable children. From 2003 to 2008, he remained a director of this organisation.
In 2003-2004, he specialised at the Scuola Superiore della Pubblica Amministrazione (Graduate School of Public Administration) as general manager of hospitals. In those years he received many sensitive professional assignments. In 2003, he was appointed Extraordinary Commissioner of the Sant'Andrea Hospital in Rome and then, until 2007, he served as General Manager of that hospital. In 2007 he was appointed Head of the Emergency Operations Department of the Italian Red Cross. From 2005 to 2009 he was member of the evaluation team of the National Cancer Institute – IRCSS Pascale Foundation of Naples. From 2007 to 2010 he was member of the steering committee of the National Institute for Infectious Diseases "Lazzaro Spallanzani" in Rome.
In 2008, after a brief period as Head of the Health and Social Activities Department of the Municipality of Rome, he was asked to lead the Italian Red Cross in the Commissioner and reform phase. He accepted the post of ICRC's Extraordinary Commissioner, being proud to represent the largest voluntary organisation in Italy and the world. In 2009, during the General Assembly in Kenya, he was elected to the Board of Directors of the International Federation of Red Cross and Red Crescent Societies.
In 2010, he was appointed Extraordinary Commissioner of ASL Naples 2.
In January 2013 he was elected National President of the Italian Red Cross. Again in 2013, at the General Assembly in Sydney, he was appointed to the post of Vice-President of the International Federation of Red Cross and Red Crescent Societies.
In spring 2015, Rocca was selected for the post of Director General of the IDI Dermatological Institute in Rome. In 2016, the volunteers of the Italian Red Cross re-elected him as National President, after completing the historic reform of the Association, which thus made it return into the mainstream of the International Movement, no longer being a public body, but an association completely back in the volunteers' hands.
In November 2017, the General Assembly of the International Federation of Red Cross and Red Crescent Societies elevated Rocca to the Presidency during the statutory meetings held in Antalya, Turkey. Finally, in May 2020, he was confirmed as Head of the Italian Red Cross.
During his years as a Red Cross member, he had the burden and honour of coordinating and representing the Association at national and international levels. From the conflict in Georgia in 2008, to the earthquakes in Italy (L'Aquila, Emilia, Central Italy) that followed one another over the years, to the missions to Syria during the war, to the earthquake that hit Haiti and the armed conflict in Palestine, and particularly in the Gaza Strip, to the mission to Kenya, during the very severe drought that had devastated the Turkana area, in particular, Rocca has always tried to be in the field as much as possible to understand people's needs and be close to the Italian volunteers and operators.
Italy hosted two major international events: in 2009 the Solferino celebrations for the 150th anniversary of the Red Cross and Red Crescent, and in 2014 the 9th European Conference in Florence. In his capacity as Vice-President, he represented the International Federation of Red Cross and Red Crescent Societies on many occasions, including the UN General Assembly in New York and international meetings on migration.
Francesco Rocca has a privileged observatory on what is happening in the world, for the additional reason that – with his daily commitment – he can take action in favour of those who are vulnerable and in need.
As Italians, we are proud that Rocca represents the largest humanitarian organisation in the world, both nationally and internationally.
On the other hand, we are surprised and hurt that – at the same time – people at the height of their mediocrity are invading the media in Italy with speeches and statements that are the sum of ignorance, conceit, arrogance, boasting and inanity.
Nurturing Sino-EU Ties through Multilateralism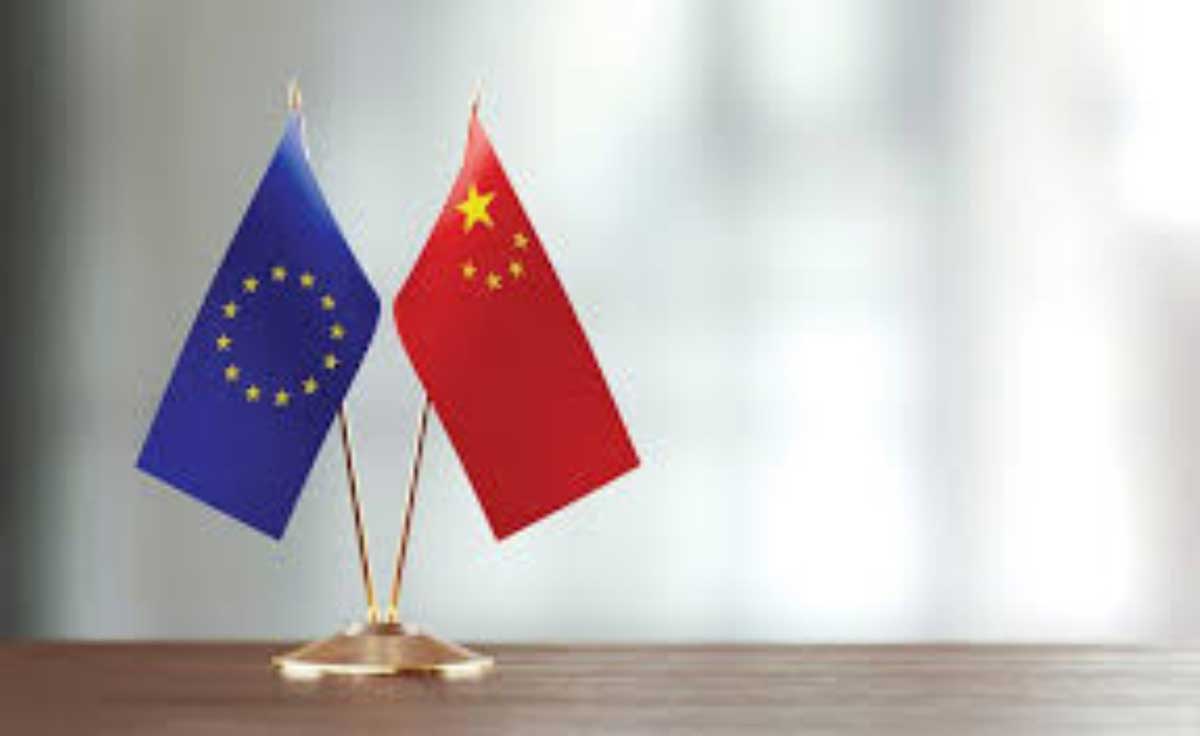 Considering the fact that relations between China and the EU are shifting, they will continue since China's position as a crucial economic powerhouse for the EU cannot be understated, especially as the EU confronts a real and technical economic downturn. In the Eurozone, countries such as the Czech Republic, Lithuania, and Germany are experiencing a deceleration in economic growth, which requires immediate consideration. The primary reason for this is the industry-related crisis caused by the collapse of export operations on both domestic and global markets due to a lack of purchasing power.
If this mild downturn becomes a full-blown crisis, the economies of both the European Union and the United States could stagnate. Because of these challenges, the European Union (EU) must strike a fine balance between resolving the current crisis and accommodating U.S. demands. The recent summit of European Union leaders holds great importance as the EU determined its policy towards China. The EU's economic prospects are highly dependent on developing strong ties with China.
When combined with China's growing consumer market and massive expenditures in infrastructure, the European Union's economy has a once-in-a-generation chance to rebound and thrive. The European Union (EU) stands to gain from closer economic connections with China due to the opportunities it presents for increased collaboration, broader trade, and the infusion of much-needed Chinese investment into the EU's flagging industrial sectors.
Recognizing this undeniable potential, the EU must priorities capitalizing on the benefits of its partnership with China, whilst likewise making sure that the relationship remains mutually beneficial and sustainable. The path towards achieving such equilibrium, however, is fraught with obstacles, mainly due to external pressures from the United States. Notably, the United States has imposed tariffs and trade restrictions on a number of European products, creating financial challenges for European companies. These actions are frequently used as pressure to influence Europe's approach to China.
The EU is in a precarious position, compelled to navigate an environment where financial goals, geopolitical issues, and common values intersect. Maintaining a delicate equilibrium is essential. The pressure exerted by the United States highlights the necessity for Europe to assert its own interests and independence in international affairs. It is essential that the EU devise an independent and principled strategy that protects its own interests while approaching China with a productive discussion.
European Council President Charles Michel's recent statement that it is in the EU's best interest to maintain "stable and constructive" ties with China has, in a sense, confirmed the continuation of EU-China relations. In a latest commentary, Josep Borrell, the EU's high representative for foreign affairs, pointed to how the EU could modify its policy towards China. However, he advocated for "vigorous engagement" between the EU and Beijing.
Under the weight of US pressure, maintaining a delicate balance in EU-China relations requires careful handling. European leaders will have the opportunity to define the EU's position on China at the upcoming EU summit, ushering in a future of balanced, constructive, and mutually beneficial engagement. It is essential that European leaders seize this opportunity and set a course that protects their economic interests and fundamental values. In this manner, the EU can promote stability, resilience, and sustainable growth in the face of changing global dynamics.
At this critical juncture, leaders must engage in exhaustive dialogues that incorporate the many facets of the EU's relationship with China. The promotion of human rights should be coupled with economic considerations. Considerations such as trade disparities, rights to intellectual property protection, and the development of equitable market practices must be addressed in an open discussion. This strategy will ensure an equitable playing field for EU and Chinese businesses, fostering an environment conducive to healthy competition and long-term economic growth.
The foundation of Sino-EU relations should base on mutual interest and respect, multilateralism, and economic exchanges, and they should be exempt from illicit US interference and pressures. By navigating these complexities and forging a path that safeguards economic interests and fundamental values, the EU can promote stability, resilience, and sustainable growth in the face of changing global dynamics.
China-Germany Win-Win Cooperation
The China-Germany cooperation exemplifies the transformative potential of collaboration based on mutual regard, shared objectives, and complementary strengths. This exceptional partnership has spawned a domino effect that extends beyond bilateral relations, inspiring other nations to pursue similarly mutually beneficial partnerships.
As the world becomes more interconnected, countries can learn from the China-Germany model of cooperation, which fosters economic development, technological advancement, environmental stewardship, and cultural exchange. By adhering to the principles of win-win cooperation, nations can construct a more prosperous, sustainable, and harmonious global community.
China and Germany's dynamic and mutually beneficial cooperation is a shining example of win-win collaboration on the global stage. Both nations have nurtured strong economic and diplomatic ties over the years, resulting in enormous advances and benefits for their respective societies.
Strong and coordinated global action is needed immediately to combat climate change and advance sustainable development. There is still a lot to be done, but China and Germany have already shown their dedication to environmentally friendly and low-carbon development. By aligning their strategies and exchanging best practices, they can expedite the transition to a low-carbon, sustainable economy.
China's pledge to peak carbon emissions before 2030 and achieve carbon neutrality before 2060 shows its commitment to a deep low-carbon transformation of its economy and society. Through the International Climate Initiative (IKI) administered by Deutsche Gesellschaft für Internationale Zusammenarbeit (GIZ) GmbH, the German Federal Government supports Sino-German climate change cooperation.
Collaboration in areas such as energy efficiency, renewable energy, the circular economy, and sustainable transportation can lead the way for a greener future, mitigating the effects of climate change and nurturing ecological equilibrium.
China and Germany have established a strong economic partnership that has benefited both countries significantly. Germany's main commercial partner is China, and vice versa, and this strong bilateral commerce has led to significant economic growth and employment creation. This collaboration has given German businesses access to the sizable Chinese market.
Notably, the exchange of products, services, and knowledge between the two nations has fostered innovation, productivity, and economic resiliency, thereby laying the groundwork for long-term cooperation. This commitment to cooperation has yielded an array of beneficial effects, strengthening the conviction that win-win partnerships can drive progress and prosperity in an interdependent world.
The dynamic economic partnership that has grown between the two nations is one of the pillars of China-Germany cooperation. Germany, known for its scientific prowess, inventiveness, and precision engineering, found a favourable market in China, with its enormous customer base and rapidly expanding economy.
On the other hand, China's manufacturing expertise and devotion to infrastructure development have presented German businesses with incredible possibilities to expand their operations and enter new markets. Entrepreneurs from both nations could keep pursuing openness, inclusiveness, and win-win cooperation, as well as keep the stability of industrial and supply chains with high-level practical cooperation. This symbiotic relationship has allowed both nations to capitalize on their respective strengths, resulting in economic expansion and job creation for both countries.
China and Germany have also established cooperation in the fields of innovation and research, recognizing that advancements in these fields are crucial agents of economic and societal progress. Through joint research initiatives, academic exchanges, and institution-to-institution collaboration, both nations have been able to pool their intellectual resources, foster innovation, and address global challenges. This cooperation has not only led to revolutionary scientific discoveries, but it has also set the groundwork for future innovations in technology that will benefit all of humanity.
China and Germany have fostered cultural exchange and people-to-people diplomacy in addition to their economic and technological cooperation. By encouraging education exchanges, cultural events, and intercultural dialogue, both countries have built bridges of appreciation, understanding, and friendship. Not only do these interactions enrich the lives of individuals, but they also strengthen the bilateral relationship as a whole. They facilitate dialogue, eliminate preconceived notions, and set the groundwork for mutually beneficial relationships and respect.
By expanding on these accomplishments and upholding a spirit of mutual respect and shared objectives, the China-Germany partnership can continue to advance progress and inspire global collaboration.
The China-Germany model of win-win cooperation provides valuable lessons for nations seeking to forge prosperous partnerships. It emphasizes the significance of mutual respect, trust, and open communication as the foundations for productive collaboration. It also emphasizes the importance of recognizing and capitalizing on balance in strengths and resources, which allows nations to maximize the positive effects of cooperation.
The Eurasian Zeitenwende: Germany and Japan at the Crossroads
Russia's decision to invade in Ukraine in February of last year has been nothing short of a critical juncture in recent history—sending reverberations across the entirety of Eurasia. Seldom have events on one end of the continent been so consequential on the other. Russia's invasion has shattered the prime directive underpinning the long peace after the Great Wars—the inviolable right to sovereignty has been shattered, as mass armed aggression has reared its head once again. Nowhere is this sweeping change felt than in Berlin and Tokyo—to capitals separated by over 12,453 kilometers of land and sea.
German Chancellor, Olaf Scholz spoke to the Bundestag just three days after Russia's invasion, on the 'historic turning point', the Zeitenwende this moment presented. Not a year later, on December 16, after much negotiation Japan finally released their first National Security Strategy in almost a decade. Ukraine provided for both governments the impetus to shed decades of consensus on defense policy. Berlin and Tokyo were once partners in the greatest conflict wrought on mankind, and today they are once again on the same page—but this time arming in the name of global peace.
The postwar consensus
With 1945 came the crashing down of the German and Japanese imperial ambitions that underwrote the explosions of violence from 1914 to 1945. The first half of the twentieth century saw successive orders predicated the passing of power; the imperialist order long preceded the turn of the century, and came crashing with the First World War. From there, a brief liberal interlude of the Washington Conference was doomed to fail given Anglo-American isolationism, and from that chaos was born—a return to imperialism. With these passing orders, German and Japanese leaders debated and sought to reinvent themselves in response to changing tides across the globe.
In fact, twice in the last century, during Twenty-five Years Crisis, Wilhelmine and Nazi imperialism exploded in the European theater. For the Japanese, a slow roll to imperial domination in Asia began much before the war and exploded in the 1930s. This imperial flame was extinguished almost as soon as it was ignited—bringing with it the deaths of millions through genocide and war, and the destruction of much of the world's industrial capacity. In the wake of it, a similar thinking overtook both Berlin and Tokyo. In the wake of the horrors of war, both peoples came to a similar conclusion that militarism ought be eschewed—with Japan going as far as enshrining its anti-militarist urge in the constitution's article 9. Though it must be noted, the Germans accepted their guilt—the Japanese continue to engage in denialism and apologia.
For decades, under the guise of guilt in Germany, and occupation-enforced constitutional limits for Japan, both countries eschewed providing for their own national defense needs—instead relying on the all-powerful U.S. security guarantee.
A new look in a new environment
This change that has occurred here has happened within the context of what Dr. Kent Calder described in The New Continentalism: Energy and Twenty-First Century Geopolitics, and Supercontinent: the Logic of Eurasian Integration, as 'proto-continentalism'—the modern stirrings of transcontinental integration. The continent was transformed by China's Four Modernizations, the Oil Shock, and the Collapse of the Soviet Union—all requiring readjustments on the continent. Continental integration followed the integration and modernization within China, the Oil Shock highlighted the need for energy-driven interconnection, and the collapse of the Soviet Union meant no more Cold War political antagonisms. These changes meant that there were suddenly lower costs for trade across the continent—one rife with great complementaries. Like some geographic providence, the world's largest energy producers in the Middle East, sat between the world's biggest consumers in Europe and Asia.
Of course, this integration isn't just relegated to the economic realm—but also the defense sector. Whereas integration was predicated by the near-collapse of mass interstate conflict, the War in Ukraine would seem to threaten just that. But in fact, integration ensures the costs associated with this conflict are felt from one end of the continent to the other. This inherently ties the most far-flung countries on matters of defense—exactly what ties Berlin and Tokyo, and their similar responses to the war in Ukraine. This integration doesn't just tie Berlin and Tokyo, but also Seoul and Warsaw, both of which have seen deepened defense cooperation not limited to the production of South Korean tanks and artillery in Poland. Furthermore, Japan has sought out increased cooperation with NATO.
The mutually-reinforcing loop
Russia's invasion has been an unmitigated tragedy for the people of Ukraine—but a boon for solidarity in the 'Western' security architecture, including the West's numerous Asian allies and partners, and Eurasian integration writ large. In fact, the mutual economic ties that have fostered closer defense ties across the region, will continue to reinforce each other. Integration between these partners, across various sectors is the greatest mitigator of future conflict—an idea that underpins the great postwar peace, and one that will continue to endure.
Today, Germany and Japan, once imperial menaces to the international system, now make a proactive contribution to global peace—in deciding to behave like normal countries, and arm amidst a threatening global environment. Their contribution to the peace is in the solidification of transcontinental defense ties—ones predicated on deep economic integration.