With the announcement to appoint a special envoy to the Horn of Africa, China has entered the "Scramble for Africa." The stated objective of China's ambitious political move is to foster peace in the conflict-riven East African "corner." However, as foreign affairs analysts point out, the real Chinese aim is to gain momentum against the US in the world's second largest continent.
***
Year 2022. First week. Chinese foreign minister Wang Yi kept up his usual date with Africa – a tradition dating back thirty-two years by which Chinese foreign ministers open the diplomatic year with a trip to the world's second largest continent. But this year's new-yearly visit to Africa by the Chinese foreign minister was rather unusual. Wang declared at a press briefing during the Africa tour in the Kenyan port city of Mombasa that "China plans to appoint a special envoy to the Horn of Africa." Both analysts and observers of China's Africa policy have been surprised by the timing of Wang's visit to the Horn as also by his announcing that Beijing was ready to proactively mediate some of the region's conflicts.
Horn of Africa and the US and its Western allies
The Horn of Africa – located in the easternmost corner of the African continent, takes its name from the horn-shaped land formation at the southern end of the Red Sea and on the Gulf of the Aden. Five of the region's seven countries – the Sudan, Eritrea, Djibouti, Somalia and landlocked Ethiopia, are situated looking into the Indian Ocean south of the Arabian Peninsula. Located on the main shipping route for the transport of oil from the Persian Gulf to Europe and the United States, the Horn of Africa is considered one of the most strategically important regions in the world. Sadly the region is endowed with rivers, lakes, forests and livestock, and has untapped rich deposits of natural resources including gold, petroleum, salt and natural gas etc. Yet its two hundred million people remain one of the poorest on the earth.
Besides, with its unique strategic location, the Horn of Africa has long been experiencing flare-ups of hot issues and eruptions of conflicts and confrontations. According to Amir Idris, professor and chair, Department of African and African American Studies at New York's Fordham University, during the Cold War days, national strategic interest and not political and economic development was the primary focus of the US in the region. "Consequently, the entanglement of cultural and political history, the complex socioeconomic formations, and the competing ethnic and regional actors and visions in the region have been given less attention in the process of conceiving strategies and policies," professor Idris observed in a recent article in The Hill.
The other reason the US and other major Western powers active in the region focused only on building the security apparatus of states was on containing communist encroachment. In the post- Cold War period, as several African analysts have pointed out, US policy increasingly became static and lacked strategy and coherence. In ensuing years, following a string of terrorist attacks between 1998 bombings on US embassy in Kenya and Tanzania and 2001 "9.11" attacks, "disrupting local Islamic extremists linked to a global jihadi network became superseding objective of the US and its Western allies in the region." As a result of such a narrow policy approach, the US has been pursuing the mantra "either you are with us or against us" in coaxing countries to choose sides in a conflict which did not offer neutrality as a position. "But combating terrorism and promoting trade held pre-eminence [for the US and its Western allies] over all pretence of interest in addressing what Africans deemed to be more pressing priorities," opined Gabriel Negatu, a non-resident fellow at the Washington-based Africa Centre and a former Eastern Africa director general for the African Development Bank.
China "Scramble for the Horn of Africa"
The US failure to reset its Africa policy in order to address growing trouble in the restive region of the Horn of Africa partly explains why countries in the region have been turning towards China. In three major countries in the region – Kenya, Sudan and Ethiopia – the US is now being outstripped by China in various ways. Ethiopia's case is particularly interesting because the region's largest country both in size and in population, has historically been a US proxy state for decades. It was not until a few years ago that Ethiopia was called as "Washington's cop on the beat for the Horn of Africa."
But why has China suddenly put its focus on the Horn of Africa – arguably among the most crisis ridden parts in Africa? In the white paper Beijing released on 26 November last year entitled "China and Africa in the New Era: A Partnership of Equals," it was claimed that shared past experiences and similar aims and goals have brought China and Africa closer together. "Besides China being Africa's largest trading partner since 2009," the white paper proudly put forward the principles of Xi Jinping's Africa Policy in the New Era that "China is the largest developing country in the world and Africa is the continent with the largest number of developing countries." One week later, a worldpoliticsreview.com report on the eighth edition of the triennial forum on China-Africa Cooperation (FOCAC) held in Dakar, Senegal and written by influential commentator Chris Olaoluwa Ogunmodede, nearly echoed the Chinese white paper saying "Africa seeks a more equitable partnership with China."
Timing of Wang Yi's visit and China's definitely well-calculated announcement to send a special envoy to the Horn of Africa must also be viewed in the context of the recent rise in "jostling for influence" among foreign powers active in the region. Additionally, more than the timing, what surprised many is the unusually direct statements by Wang Yi in Mombasa, Kenya on January 6 about why China plans to have a Horn to Africa special envoy. While Wang said conflicts hampered the region's "tremendous potential for development" and such a situation "should not be allowed to continue." [My emphasis] However, Wang's undisguised and overt declaration to flex China's political power in the war-torn zone is being interpreted as Beijing becoming impatient to play a bigger role in the region's politics and security. Moreover, notwithstanding "wolf warrior" style aggressive foreign policy posture recently, Wang's explicit assertion is also being contrasted with China's diplomats generally speaking in more general terms.
The US fearful of being outstripped by China
Interestingly, experts in China have typically welcomed the move as showing the country's responsibility of being a major country and its constructive role in the conflict-torn region. Li Wentao, deputy director of China's influential think tank, China Institute of Contemporary International Relations (CICIR), has welcomed the move, saying "China's special envoy could engage in shuttle diplomacy in the region and contribute China's wisdom and approach to solving problems. China is trusted by all the countries in the Horn of Africa," Li noted. Another researcher at the Chinese foreign ministry's leading think tank, China Institute of International Studies (CIIS), Professor Zeng Aiping, was even more forthright in applauding the initiative. "It [the move] will encourage the Horn of Africa to strengthen exchanges on national governance and overcome governance bottlenecks," Aiping observed.
In contrast, some analysts in Africa have raised questions about the effectiveness of China's role in resolving political conflicts in the region. Despite making several promises last year to try to reach a solution that meets the interests of the three parties – Egypt, Ethiopia and Sudan – over the Grand Ethiopian Renaissance Dam (GERD) crisis, China has been perceived as a big disappointment, especially by Cairo. Salah Halima, deputy chairman of the Egyptian Council for African Affairs reacted to the announcement by Wang Yi, saying: "[We expect] the Chinese envoy to resolve the conflict over the Niles water by taking the initiative to deter any new threat to regional security as a result of Ethiopia's unilateral actions in the GERD." Likewise, in the words of Ahmed Aksar, a researcher at Al-Ahram Centre for Strategic Political Studies, "China's move to appoint a Horn of Africa envoy, if successful, would strengthen China's international and regional sway at the expense of Washington."
To sum up, though observers in India reckon Wang Yi's this diplomatic year's 5-nation tour – crowned with Horn of Africa special envoy announcement – was aimed at challenging and countering India's pre-eminent role in the region. Yet the fact is China and the United States have been for some years – especially since China set up military base in Djibouti – locked in competition for influence in Africa. More significantly, the reason why China is becoming a more attractive investor to African nations than the US and its Western allies is, China does not "view aid in terms of loans" and instead calls it "mutually beneficial cooperation" or "win-win investment." In other words, as Eric Draitser, a US-based political analyst has rather succinctly put it: the US is deeply concerned that it will lose its foothold in the Horn of Africa if Kenya or the Sudan or Ethiopia become direct allies with China. So, what the US has chosen to do is to check Chinese economic penetration in the region, as also all over the continent, with military penetration.
Time is short for Sudan to resolve political crisis
Time is short for Sudan to reach a solution to its protracted political crisis, the Special Representative for the country told the Security Council on Tuesday, warning that if the impasse is not urgently overcome, the consequences will be felt beyond national borders, impacting a whole generation.
"The crisis facing Sudan is entirely homegrown and can only be resolved by the Sudanese," Volker Perthes, who is also Head of the United Nations Integrated Transition Assistance Mission in Sudan (UNITAMS), told Council members.
Envoys of the trilateral mechanism facilitating intra-Sudan talks – the United Nations, the African Union and regional body, the Intergovernmental Authority on Development (IGAD) – have stressed that it is up to the Sudanese, particularly the authorities, to create an environment conducive to the success of any negotiations.
Detainees released
Outlining developments since March, he said authorities have released 86 detainees across the country, including high profile officials affiliated with the work of the Dismantling Committee and activists from the Resistance Committees.
Violence by security forces against protestors also appears to have decreased overall, although violations still occur.
At least 111 people reportedly remain in detention in Khartoum, Port Sudan and elsewhere. On 21 May, another protestor was killed by security forces, bringing the number of those reportedly killed to 96.
To build trust, accountability needed
"If the authorities want to build trust, it is essential that those responsible for violence against protesters be held to account," he stressed.
A growing number of Sudanese parties and eminent national figures have come forward with initiatives to solve the political crisis, he said, while several political coalitions have formed new alliances around common positions.
Against this backdrop, he said the trilateral mechanism held initial talks with key components of Sudanese society and politics throughout April, among them, political parties and coalitions, representatives from resistance committees, youth, the military, armed groups, Sufi religious leaders, women's groups and academics.
He said the aim was to canvass the views of the stakeholders on the substance and format of a Sudanese-led and owned process of talks.
While almost all have shown willingness to engage with facilitation efforts, some key stakeholders continue to reject face-to-face talks with other counterparts or prefer to participate indirectly.
Charting a way out
"Forging shared understandings around these issues will help chart the way out of the crisis and address the institutional vacuum after the coup," he said.
On the security front, he said recent events in West Darfur, including the destruction and displacement in Kerenik and violence in Geneina between 22 and 26 April, have again exposed deficits in the State's ability to provide security and protection for civilians.
The Permanent Ceasefire Committee, chaired by UNITAMS, has launched an investigation into possible ceasefire violations, following the submission of formal complaints by the parties.
In Darfur, high risk of violence
"The risk of a new outbreak of violence remains high," he cautioned. Ultimately, protection of civilians requires that the causes of conflict are addressed, including issues of decades-long marginalization, land issues and the return of internally displaced persons and refugees.
In the meantime, physical protection must be a priority for the Sudanese authorities and for the local/state governments in Darfur.
18 million face acute hunger
He said food prices in April jumped 15 per cent compared to March and remain 250 per cent higher than respective prices in 2021. The combined effects of political instability, economic crisis, poor harvests and global supply shocks are having a "disastrous" impact on inflation.
The number of Sudanese facing acute hunger is projected to double to 18 million by September.
Noting that most Sudanese stakeholders realize that the geopolitical environment is becoming more challenging, and the international gaze is deflected from Sudan, he said: "Too much is at stake, too many hopes and aspirations impacted". He urged the Sudanese to seize this opportunity to make progress.
Russia Renews its Support to Mark Africa Day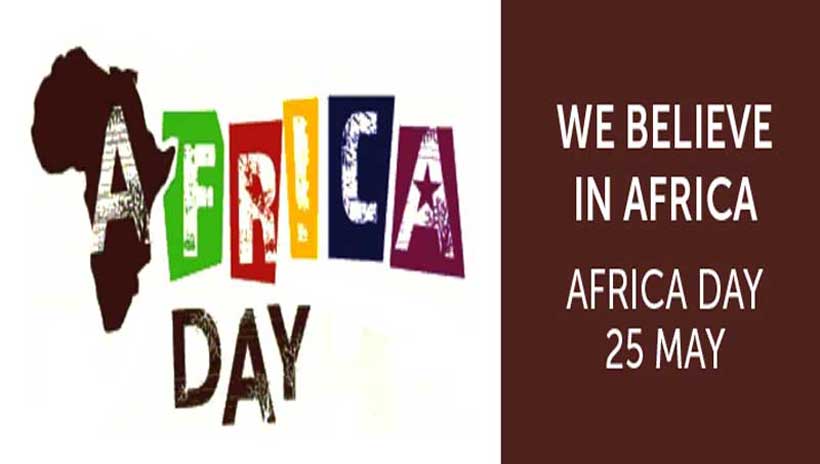 Russia has renewed its unique confidence that "it will be able to ensure the development and implementation of many useful and innovative projects and initiatives in various fields for the benefit of both countries and peoples, in the interests of strengthening security and stability in Africa and around the world."
In a speech, on behalf of Russia's President Vladimir Putin, read by Foreign Minister Sergey Lavrov, on May 25 when the continent marks Africa Day, further noted the change marked the emergence of a multilateral pan-African platform on a qualitatively higher level of interaction in the political, socioeconomic and other spheres.
Putin, in addition, acknowledged that "African states have achieved a great deal together over the past two decades. They have developed mechanisms for a collective response to local conflicts and crises, and are consistently promoting regional integration processes in various formats. Africa enjoys growing prestige on the global stage and plays an increasingly important role in resolving important issues on the international agenda."
Later talking about Russia-Africa relations, Lavrvo told the gathering that Russia would continue to provide comprehensive support and to expand mutually beneficial cooperation. Russian-African relations are traditionally friendly and are making good progress.
Russia has always been and will remain a reliable partner and friend to the countries of Africa. Today, we are confronted with certain Western countries' unscrupulous attempts to constrain our engagement with Africa.
Russia has played a leading role in decolonisation and in consolidating decolonisation processes, as well as drafting UN resolutions. Unfortunately, some of them have been sabotaged by former metropolises to this day. We stand in solidarity with your demands for the complete liberation of Africa from the last vestiges of colonial legacy.
This year marks 20 years since the Organisation of African Unity was transformed into the African Union. That change marked the emergence of a multilateral pan-African platform on a qualitatively higher level of interaction in the political, socioeconomic and other spheres.
"Russia has always been and will remain a reliable partner and friend to the countries of Africa. Today, we are confronted with certain Western countries' unscrupulous attempts to constrain our engagement with Africa. I'm referring to the all-out hybrid war against Russia declared by Washington and its European satellites in connection with the special military operation in Ukraine," he added.
According to him, it is not so much about Ukraine, which is used as a bargaining chip in the global anti-Russian game. The main problem is that a small group of US-led Western countries keeps trying to impose the concept of a rules-based world order on the international community.
Lavrov suggested that Africa must not succumb to Washington's discriminatory pressure. There are attempts to reverse history and subjugate the peoples of the continent again grossly violate the sovereignty and independence of the states of the region, and jeopardize the entire system of international relations, which is based on the principle of respect for the sovereign equality of states in the Unted Nations' Charter.
He called on the African Union (AU) to persistently demand that the West lift illegal unilateral sanctions that undermine the transport and logistics infrastructure necessary for world trade, which creates risks for vulnerable segments of the population.
Russia and Africa will work together to maintain and expand mutually beneficial bilateral ties in the new conditions without external interference. It is important to facilitate the mutual access of Russian and African economic operators to each other's markets, to encourage their participation in large-scale infrastructure projects. All these tasks are at the center of attention in the preparations for the forthcoming second Russia-Africa summit.
Reports show that the Russia-Ukraine crisis has twisted the global economy and many African countries are among the most vulnerable in terms of ensuring food security. Some states of the continent are critically dependent on the import of agricultural products from Russia, therefore will make some deliveries, including food, fertilizers, energy carriers and other goods, of great importance for maintaining social stability and achieving the milestones stipulated by the Sustainable Development Goals approved by the United Nations.
South Africa on the right side of history or captured by Cold War allies?
Authors: Professor Gerrit Olivier and Michèle Olivier*
A seemingly non-negotiable principle of SA's foreign policy, is to be on the side of autocrats and dictators and habitually anti-West, irrespective of the issues. Cosy relations with the likes of Ethiopia's Mengistu Haile Mariam, Sudan's Omar al Bashir Cuba's Fidel Castro and Zimbabwe's Robert Mugabe, characterised our foreign policy under all presidents since Nelson Mandela. With the present government being enamoured with a rabid war criminal like Vladimir Putin, we see a continuation of this policy.
Obsessed with a myopic partisan ideology and habitual hop-nobbing with dictators, of course, come at a high price, particularly degrading SA'S erstwhile high international prestige, role and status as well as stunting our all-important economic development. In short, this means that SA's prevailing foreign policy is totally out of zinc with its intrinsic national interests.
According to ANC declarations, SA would 'stick to its principles' and not take sides in this war in spite of blatantly illegal and murderous Russian war crimes. Hence, it abstained from voting against Russia together with a motley minority of 34 other UN members in the 2 March General Assembly resolution (only 5 states voted against whilst 141 voted in favour).
The minister of the department of international relations and development (DIRCO), Naledi Pandor, issued a statement demanding Russia to withdraw from Ukraine. This clearly upset the Marxist, anti-West faction in the ANC policy establishment who subsequently prevailed upon president Ramaphosa, to denounce the statement, no doubt to assuage Russian and local communist's displeasure.
For many, both inside and outside the country, this was a controversial decision resulting in a rare local public debate about our wayward foreign policy. What emerged was a conflict of opinion between the ideologues and realists in the foreign policy establishment. A hopeful sign, but unfortunately of little consequence in our fossilised ANC foreign policy establishment.
All along, the ideologues accepted that being in cahoots with war criminal Russia was in SA's best interests notwithstanding the normative constitutional dictates and founding moral principles concerning respect for human rights, sovereignty, democracy, and territorial integrity.
What followed was indeed a case study of expedient, if not downright 'Walter Mitty' diplomacy. First, president Ramaphosa rushed to telephone Putin, obviously to bask the reflected glory and honour of speaking to the 'great man'. Afterwards, he subserviently thanked ''his excellency president Vladimir Putin'' for taking his call. At the same time, our 'great negotiator' refused official engagement with the local Ukrainian ambassador as well as with ambassadors of the European Union, our biggest trading partners.
In the latest General Assembly meeting on Ukraine, SA persisted with its pro-Russian pseudo-neutrality but got a humiliating bloody nose after presenting a draft resolution, excluding the country of all blame. No wonder as this resolution was strictly in line with Kremlin propaganda lies casting doubt as to where exactly SA's UN diplomats got their instructions from.
Ramaphosa's aim, it seems, is to push himself forward as facilitator in the conflict, recalling at length in parliament his past experiences a negotiator.
'Illusions of grandeur', it may be called, as SA 's international status and role during about 3 decades of uninterrupted misrule has declined close to being almost insignificant. While most of the world reached out to end the horrible and unthinkable human and material misery inflicted upon Ukrainian people, he offered them naught for their comfort, except portending to be a great negotiator reporting for service.
Belatedly, after strong criticism he rejected war as an instrument of policy, and signalled his wish to also speak to Ukrainian pres Volodimyr Zelinskiy, impressed perhaps by the latter's sterling performances addressing the American senate and the British, Canadian, Israeli, Italian and Japanese parliaments and the German Bundestag. The pièce de résistance of his kindergarten diplomacy, was to blame NATO for being deaf to earlier warnings against eastward expansion, ignoring the Russian brutal invasions, of inter alia, Finland, Latvia, Hungary and Czechoslovakia, in the previous century not realising that NATO membership was their safeguard against future Ukrainian-type of invasions. Theirs was a wise decision. Indeed, Mr President, ignorance is bliss….!
Of course, good relations with countries like Russia are important provided they are based on pragmatism and national interest rather than sentimental ideological predilections. However, the ANC still acts as being a captive of the Cold War and, as if it still owes permanent a feudal fealty to Russia at a time when Soviet Union is passe and with communism on the ash heap of history.
While the world must perforce deal with a totally different and dangerous Putinist Russia, the ANC obstinately refuse to accept that its subservient posture vis-a- vis that country is not in SA's best interest. Lamentably, the global moral imperatives that saw them to power no longer guide its foreign policy. Like the apartheid regime, Putinist Russia today commits a crime against humanity in Ukraine with the support of the ANC government.
The war in Ukraine may yet lead to unthinkable consequences for the world at large. What happens there is really a struggle between democracy and authoritarianism. Putin does not want a democratic Ukraine at his doorstep exposing his bland authoritarianism and precipitating a 'colour revolution'. Given the solidarity in the democratic West and the sluggish performance of the Russian forces in Ukraine, he will probably end up losing. SA policy makers are demonstrably myopic not realising the consequences for being on the side of a war autocratic war criminal war criminal. Like apartheid SA it would probably end up as an isolated global pariah.
An independent SA foreign policy is called for rather than one subservient to the preferences and dictates of Moscow and Beijing. This is the best way in which SA can regain international respect. The way in which it has handled the Ukraine crisis once again laid bare its diplomatic deficiencies, particularly lack of clear headed leadership. This will not change unless foreign policy making is democratised and professionalised rather than being monopolised by a small clique of badly trained and inexperienced ideologues with the help of a few advocating stand-patters.
* Michèle Olivier is a consultant of international law