As per the recent proclamation made by the Lithuanian government, the Belarusian potash will get banned across the country from February 1, 2022. How will this termination of potash transit affect the economies of Belarus and Lithuania?
***
Belaruskali's potash fertilizers are very significant exports for the country as they are the vital source of foreign exchange earnings for the latter. According to the National Statistical Committee reports, in 2020, Belarus earned 2,410,311.5 thousand dollars by exporting potash fertilizers. This amounts to 8% of the total volume of Belarusian exports and about 4% of the country's GDP (60.3 billion dollars). Lithuania plays a crucial role in Belarusian potash exports because the bulk of Belaruskali's products are shipped through the port in Klaipeda, Lithuania. That's why the Lithuanian government's decision to refuse transit access to Belarusian potash from February 1, 2022, will hit the latter's economy.
Losses will not affect Belaruskali:
Usually, Belarus receives 2-3 billion dollars from its potash exports, but Lithuania's recent termination of the transit agreement will result in the loss of 80% in the expected receiving. This will eventually decrease the GDP growth by 1-2%. Moreover, Katerina Bornukova, academic director, BEROC(Kyiv), analyzed that the losses will be incurred by different domains simultaneously, ranging from the Chemical industry, wholesale trade, Belarusian railways etc.
Much depends on Russia's position:
The vulnerable Belarusian position has made it turn their eyes towards Russia, Belarus's last and ultimate saviour. Therefore, it has become quite crucial for the latter to search for other alternative routes for the transhipment of potash after the closing down of Klaipeda port of Lithuania. But contrary to it, Russia hasn't made it stand clear on the matter and still refrains from taking anyone's side openly. Moreover, Vladimir Putin stated that Russia would become an opportunist in international fertilizer trade and make money by taking advantage of the market conditions.
In addition, Putin also had a meeting with the CEO of Uralchem, Dmitry Mazepin, on January 13, but its conclusions are not revealed but it can be averred that if anything positive happens in their talk, it will add to the problem of Belarus. Uralchem holds 80% shares of Uralkali and is the biggest competitor of Belaruskali. Moreover, the current baffling of Russia between Lithuania and Belarus is a cause of concern for the latter because Russia has not made any announcement or an official statement of helping Minsk in getting out of the current crisis.
On the other hand, the market is getting flooded with several apprehensions by politically exposed people. Pavel Slyunkin, Analyst of the European Council on Foreign Relations, firmly believes that Belaruskali should now go for the northern Russian ports for potash exportation because all other ports are occupied in the region Uralkali. Depending on the future political scenario, it may get possible that an agreement is reached between Belarus and Russia, which will free some Russian ports specifically for Belarus only, costing millions of euros.
In Counter reaction, Igor Udovitsky, owner of the BKT terminal, Klaipeda, has advised Minsk to file a lawsuit to prove the illegality of the termination. The decision of the Minsk arbitration council will be binding on all competing parties and courts, so Lithuania will need to restore transit access.
Do Belarus and Russia redirect Potash?
In August 2021, the head of the Belarusian Ministry of Transport, Alexei Avramenko, stated the readiness of Belarus to use the ports of the Leningrad region and Murmansk for the exportation of potash in the Asiatic region if, shortly, Lithuania refuses to provide transit access. The ban imposed on Belarus from February 1, 2022, has led it to seek Russian help, but still, Russia has not come out clearly on this matter. It hasn't stated whether it will help Belarus or not? And if it happens then, such a reorientation will need time to rectify the problems associated with the transhipment. Moreover, some additional time will also be required to get done with all the legal aspects about how the export and transhipment will take place, keeping confidential the identity of the companies involved in these operations. The secrecy will protect the companies from any European and American attack, analysed by Sergey Kondratyev, Deputy Head of the Economics Department of the Institute of Energy and Finance Foundation.
There are several hurdles too in this reorientation to take place. The distance increased from Klaipeda to Russian ports will also enhance the payment amount of the wagon's operators for the transhipment, which will adversely affect the profit of Belarus from the sale of potash fertilizers. The distance to Ust-Luga is 55 times longer, to Murmansk – 3.3 times, said Vladimir Savchuk, Deputy Director-General of the Institute for Problems of Natural Monopolies (IPEM). Moreover, in Russia, there is a shortage of port facilities for the export of fertilizers, due to which Russian companies themselves use the ports of the Baltic countries. That's why Belarus will need to purchase the slots booked by Russian companies in the Russian ports. Sergey Kondratyev added that this wouldn't be a matter of expense for the Belaruskali because tens of millions of euros a year is not a very big figure for the company, keeping in my mind the scale of their business.
"Belaruskali and Uralkali may join hands again: Igor Udovitsky
However, the journey of Belaruskali from Belarus to Russian ports will not be an easy one; it will have to cross several odds like Uralkali and other counterparties. To attract buyers, Belaruskali will be expected to provide heavy discounts. That's why there is a severe apprehension by Igor Udovitsky, a Lithuanian businessman, that Belaruskali will have to make "many compromises" with Uralkali, which may also result in the unification of the two shortly. Earlier, both have worked together but cut off the ties after the 2013's scandal in which Uralkali reproached Belaruskali potash workers for dumping.
Time for experimentation
Moreover, Belarus can also go for different experimentations after the Lithuanian termination of potash transit, for ex: supplying potash fertilizers to China. The same thing also happened in 2020 when the Belarusian potash company supplied potash fertilizers to China via the Northern Sea Route, unlike the previous routes following Baltic ports and Suez Canal. Therefore, assumptions are hanging around that Belarus is again likely to supply potash to China through trains, which will increase transportation costs. But the hikes in potash fertilizer prices can easily bear the additional costs. Katerine Bornukova added that now everything rests on the availability of trains, which will not compensate the volumes supplied through Lithuanian Routes. Moreover, intelligent China is looking forward to take advantage of sanctions imposed and bargain heavily in signing a new contract with Belarus in the wake of the expiration of the previous one that ended last December.
Direct and indirect losses
Sergei Kondratyev has also drawn attention to the direct and indirect losses Belarus will face. Of course, direct losses are tens of millions of euros due to snatching of the transit access, but the leading cause of concern would be the indirect losses. The sanctions imposed by the EU and the termination of transit by Lithuania have worsened the condition significantly. The termination has left Belarus with Russia as the only option available for the transhipments of potash, due to which the latter missed the opportunity of demanding more attractive offers from Moscow.
Indirect losses per year can reach 80-100 million euros which will act as a financial suppressor to the economy of Belarus. Furthermore, European Union sanctions have made Belarus tranship its export cargoes only through the ports of Russia. This is facilitated by the poor relations with Ukraine and the Baltic nations staunch support to the EU sanctions. Sergei Kondratyev also emphasized that the value of Russian ports has increased because that's the only route left for the Belarusian potash export. The companies responsible for the operation of this route may demand more attractive conditions from the latter, considering their risks.
Lithuania's perspective
Apart from Belarus, Lithuania will also suffer badly with this termination. It will lose the status of a great transit power after the departure of Belaruskali, which it maintained even after a significant part of Russian cargoes in the 2000s. Moreover, the country is itself not sure whether the Belarusian potash will cease to be transported in the country after February 1, 2022, as the Lithuanian Transport Minister, Marius Skouodis, himself expressed his dilemma on the same. As per him, the effective ceasing can only be done after the sanctions imposed by the EU. Finally, the country's bad relations with China will result in transhipment losses and confine it only to the domestic needs of the Lithuanian economy, which is very small.
The Central Bank of Lithuania has calculated losses
Amidst the sanctions issue, The Central Bank of Lithuania came up with an estimation that a halt in the Belarusian commodity flow will result in a 0.9% decrease the country's GDP in three years.
The same opinion was shared by Swedbank Chief Economist Nerijus Mačiulis and Ione Kaländene, Head of the Research and Analysis Department of the Entrepreneurship Development Agency Versli Lietuva. Former believed that due to the loss of transit, gross domestic product growth in 2022 will be slower. But the slowdown in growth will be slight and amount to 0.2-0.3%. Therefore, the planned growth of the economy easily compensates for the short-term fall. He stated that loss would be shared by different state-funded institutions like the Latvian railways' company, the port of Klaipeda and several other companies. Of course, the state budget will lose some of the income, but there will be no significant macroeconomic effect.
And Lone Kalandene opined that although the volume of transportation of Belaruskali fertilizers in Lithuania is vast, the losses incurred will be easily compensated because the leading carrier companies are state-owned. This will result in a little more burden on the state budget but will shield the Lithuanian economy.
Klaipeda port will face difficulties.
Algis Latakas, the head of the port, held the view that the ceasing of the transit of Belarusian commodities would incur heavy damages for both the port companies and the port authority, which cannot be compensated quickly. That's why he asks for an assistance to be provided to both port companies and port authorities.
Igor Udovitsky, a Lithuanian entrepreneur, also believed that the sudden termination of the transit access would result in billions of euros, direct loss to Lithuania as 1 million tons of potash transit passes through Lithuania and the port of Klaipeda every month. As per his calculations, the loss of the contract with Belaruskali will result in total damage of more than 1 billion euros. He also mentioned the calculated loss on his Facebook page. Until now, the port of Klaipeda has been the leader in cargo transhipment in the Baltic States and was among the top 5 most efficient ports in the Baltic basin.
The status which Klaipeda achieved in the backdrop of the industrial crisis in Latvia and the shortage of cargo in the Eastern Baltic will become challenging to achieve again.
The head of the Association of Lithuanian Marine Loading Companies, Vaidotas Šilejka, also supported Mr Igor Udovitsky and expressed the irreplaceable position of Belarusian fertilizers for Klaipeda. According to him, the port will lose about 10 million tons of cargo per year which will undoubtedly shake the entire port of Klaipeda and the enterprises operating on its territory. On losing such a significant amount of cargo, port companies will need more than a year to reorient their activities as there are no alternatives available at the moment. Furthermore, the termination will also have wide-ranging implications in different domains and pose geopolitical challenges and changes in the global macroeconomic trends.
The audit and consulting company Ernst & Young also estimated that in 2019, due to the transhipment of Belarusian cargo in the port of Klaipeda, the country's budget was replenished by 155 million euros (this is 1.4% of all revenues). At the end of 2019, 14.1 million tons of Belarusian cargo (30.5% of the total cargo turnover) were transhipped at the port, in 2020 – 15.6 million tons (32% of the total cargo turnover). In addition, the processing of Fertilizers of Belaruskali amounted to 25.5% of the annual transhipment in Klaipeda. According to preliminary reports of the Port Directorate, in 2021, commodity flows from Belarus accounted for about 30% of all cargo.
Latvian Railways are waiting for fines and reduced profits
This political manoeuvring of the Baltic countries will cost Lithuania also dearly. Stopping the transit of Belaruskali will be a severe problem for Lithuanian Railways as well because it was a valuable customer of the latter. The company may lose more than 20% of the commodity flow.
At the end of 2021, Mantas Bartuška, who was the head of the Latvian Railways at that time, said that the company would lose 60 million euros of annual revenue and the entire logistics chain as a whole – more than 100 million euros.
Former Lithuanian Prime Minister and Chairman of the Democratic Party of the Seimas of Lithuania Saulius Skvernelis believes that the damage to the Lithuanian economy from the rupture of the contract for the transit of Belaruskali fertilizers through the territory of the republic may amount to "from one to several billion euros." He also said that Lithuanian Railways would have to pay a fine of 600 million for breaking the contract with Belaruskali.
Commenting on Skvernelis' statement, Sergey Kondratyev said: "600 million is a very, very large figure. There is a possibility that Lithuanian Railways will try to somehow protect itself from this fine by challenging it in court, for example, or by obtaining protection from the government."
Suppose the problem persists longer for 2-4 years. In that case, Lithuanian Railways will have to make a severe reduction in the scale of its activities: lay off personnel, reduce investments, and perhaps even have to consider the conservation of certain sections of tracks that will not be in demand.
"We don't know how far things can go. Therefore, for Lithuanian Railways, the effect of stopping transit may not be felt right here and now. Yes, there will be fewer cargoes, but the company has a margin of financial strength to hold out for a while. But on the horizon of 2-3 years, losses can be tens of millions of euros, if we are talking about profits, and hundreds of millions of euros if we are talking about revenue, taking into account not only Belaruskali, but in general all Belarusian transit, including imported cargo. This could be a very serious blow for Lithuanian Railways, after which it will probably be difficult for the company to recover or, at least, play in the same weight category," Kondratyev said.
In general, the overwhelming majority of experts agree on one thing – the "transit war" will not bring victory to anyone, and ordinary people will become "victims" in the geopolitical confrontation of states.
The negative economic consequences of stopping transit are apparent both sides will suffer equally. It will equally affect both the economies, both private and public companies as well as both the business leaders and ordinary workers.
As a social scientist anybody can conclude that both will have to come on negotiating table to broom out the dust of distrust. Sooner they will do it, better would be for both. The popular former Prime Minster of India, Mr. Atal Bihari Vajpayee remarked, "You can change your friend but cannot change your neighbour, you can change your history but cannot change geography"
The Politics of New Global Borderless-Class
No, they are not the immigrants; they are citizens of a country in their own habitats, but active in yours. Slow circumnavigation of our earth will only prove that at the bottom of the population of each nation now there exists a new borderless-class slowly rising. Firstly, they are effortlessly, technology supported, secondly, squeezed out of imbalances, injustices and inhuman entrapments, thirdly, engaged in 'nouveau occupationalism' with virtual hopping from nation-to-nation all in the same typical routines of a normal day.
Fourthly, they are screaming silently, they see the global problems in desperate need of global solutions. Nevertheless, still inaudible in the political rotundas slowly they now become the force challenging old models of governments.
Study Pakistan, Sri Lanka and dozens of population-rich nations of the free world, notice the restless citizenry and their social media centric mobilization of dissent and protest narratives. As in coming months, peak temperatures will further fry the incompetence of the lingering economic bureaucracies. The sizzle is awakening, the awareness of incompetency on the rise. Unless grassroots prosperity issues are boldly addressed the economic fakery clearly visible on trillion blinking devices. Such blinks do not prove neither fame nor popularity but points to a silent ocean ready to drown them. What are the most important and dramatic roles that these borderless-classes will play in our behavioral economies and future demographics? Observe the goals, vision and narrative of Imran Khan of Pakistan. Notice the silent Australians and polls in dustbins… 25 more national elections ahead.
Why elitism was multinational: Observe, in contrast, for centuries, only elites allowed global games; multinational organization with multinational rules of engagements. Today common folks are on the same platforms. They, born in a country but grew up in another country, work in some other continent and eventually settle in another new country. Exposed to massive digitization, access and internalization of rules of engagement in a massive global society with residency in multiple jurisdictions they are different.
Now Face-to-Face around the world: Compared to previous generations, the new borderless-classes are extremely well informed, this significant feature makes them locally, regionally, nationally and globally interconnected and creates a game changer. Most dramatic economic behaviorism of this borderless dynamic is face-to-face engagement around the world, while remote. Previous elite borderless-class was jet- set dependent. It will take some deep yoga exercises to figure out mathematical variations to measure the power of their productivity of these hush-hush global whisperers.
What is the world waiting for? What does all this mean to the institutionalized bureaucracies, nestled in governances of the nations of the so-called free world, awaiting a nuke-flash? Perhaps nothing, or shocking realization that masses are discovering by the day how artificially created pre planned economic dramas are hurting local grassroots prosperity. Most importantly, they are equipped and capable to see the root causes and equally to recognize the available workable options. This is the difference. Unlike some generations fooled sometimes or some all the times but this global-generation cannot fool all the time.
Is this brain drain or invasions of skilled minds?
The coin-operated competency of the Gig-economy now takes notice…
Most difficult questions; almost numbing most bureaucracies of the free world; when billions are already displaced due to pandemic, a billion replaced due to automation and a billion in wrong mismatched mandates how such masses are handled before they move towards populists viewpoints. Such shifts measured as unemployed now occupy remote work for overseas assignments and equally when local workers pushed over by higher skilled workers at half prices but working as foreign workers without paying taxes or contributing to the local societies. Is this brain drain or invasions of skilled minds? The answers now buried in the several decade long abundance of higher quality upskilling and reskilling in hands of the leading nations of the free world points to massive breakdown of skilled citizenry. Study Expothon on Google on such issues, notice what is changing the thinking…
Only fake economies fail, as only houses built without builders and architectural rules collapse. Observe the root causes of the last few financial crises. How such collapses systematically occurred, how the whole world of finance, quietly went so wrong, no punishments or lessons, just silence? Now all wait for the repeat performances.
Unfortunately, the jobless cannot create green economies and jobseeker mindsets cannot build new economies, therefore, bold, authoritative narrative on entrepreneurialism needed to bring the job creator mindsets in collaboration as the new art and science and combine both mindsets are going forward strategy. Is climate change a global politics or an entrepreneurial challenge, find the answers.
Study why capitalism is not the one failing: It is actually economic development. Winners of the future not necessarily are the visible rich and power of today. Notice the rising power of the bottom societies. Value creation economies when they become beneficiaries of primarily institutionalized value manipulation economies they become open public frauds. Nations without clear and decipherable narratives on economic fronts with national mobilization of entrepreneurialism will create a distinct advantage. Learn fast, fail fast, but move
Nations must demonstrate superior skills to build economies and not wars, creation of armies of entrepreneurs and new valleys of new enterprises.  Only in-depth discussion and nationally televised debates about such economical mysteries will highlight the answers. The silent new borderless-classes of the free economic world are now learning how to fix their government, how to bring change and how to create grassroots prosperity. The rest is easy. 
Effective Investment in China: What Should Be Done When the Situation Gets Complicated?
The current Chinese economy is facing a complex situation and is under unprecedented pressure to maintain steady economic growth. The growth was only 4.8% in the first quarter, making a poor start to 2022.
Domestic consumption has been in a slump for two years and is still lackluster in the first quarter of this year, with total retail sales of consumer goods growing by only 3.3% year-on-year (in the first quarter) and falling by 3.5% year-on-year in March. In terms of foreign trade, in the first quarter, imports and exports grew by 10.7%, exports by 13.4%, and imports by 7.5%. Compared with last year's foreign trade data (in U.S. dollar terms), the growth of imports and exports slowed by 17 percentage points compared with the whole of last year, while exports slowed by 14.1 percentage points and imports significantly slowed by 20.5 percentage points.
With consumption and export growth slowing down, investment becomes an important means of stabilizing growth this year. In recent years, there has been a new concept of investment, known as "expanding effective investment". Compared with the past investment that focused on scale and speed, to improve the effectiveness of investment is to pursue high-quality investment, which can also be seen as part of "high-quality development". According to China's National Development and Reform Commission (NDRC), the active expansion of effective investment is the focus of current macro policy, which will not only boost current demand and cope with downward pressure on the economy, but also help optimize the supply structure and promote high-quality development.
The NDRC called for targeted and effective investment, while resolutely avoiding indiscriminate investment. The state will appropriately advance infrastructure investment, and actively enhance water conservancy, transportation, energy, and other infrastructure construction. It will also strengthen the construction of new infrastructure and enhance the core competitiveness of the manufacturing industry. Additionally, it aims to improve the social and ecological environment, as well as urban infrastructure. The active expansion of effective investment does not mean blindly expanding projects or expanding infrastructure investment, nor imposing massive stimulus through large-scale infrastructure investment. Rather, it means focusing on key areas in economic and social development and carrying out targeted and orderly investment projects that benefit both immediate and long-term interests.
Yet government-driven investment still requires big projects. The NDRC put forward that 102 major projects in the 14th Five-Year Plan should be steadily promoted. In the view of the NDRC, the promotion of these projects is a major measure to actively expand effective investment. In addition, the expansion of effective investment also requires the market to play a major role in mobilizing social investment to participate. For example, within the more than RMB 50 trillion annual fixed-asset investment in China, government investment accounts for a very limited share, while nongovernmental investment accounts for the majority. Government investment plays a guiding role and arouses the proactiveness of social investment.
According to the researchers at ANBOUND, improving the effectiveness of investment starts with an understanding of effective investment itself, and how it can be differentiated in diverse situations.
What then, is an effective investment? As we have pointed out, effective investment is embodied in three aspects. First, it is economically effective. It would not be an investment for the sake of investment, nor to create a pile of debt and turn it into a dead-end project. Investment should be market-oriented, and should not be wholly invested by the state and government. Otherwise, it will cause a crowding-out effect on the private economy and foreign capital and is not conducive to giving full play to the guiding role of financial capital investment. Second, such an investment should be effective in innovation. There is no doubt that effective investment should reflect high-quality development as much as possible and give priority to innovation. In recent years, there has been a large amount of investment in semiconductor chips in China, but a lot of investment has resulted in hundreds of billions of yuan worth of dead-end projects, resulting in the most ineffective waste of investment. Third, it needs to be effective in improving people's livelihood. Steady economic growth is closely related to the realization of common prosperity. To realize effective investment, the state needs to increase investment in projects related to public subsistence. Investment in the ecological environment, urban renewal, education, medical care, elderly care, and urban public services will all be encouraged.
In particular, under the current economic situation in China, it is impossible to expand effective investment by only undertaking large projects or investing in infrastructure, because such projects will not boost the economy in a broader way. When it comes to boosting effective investment, the policy objective cannot be focused solely on making economic data look good. In addition to the three types of effectiveness mentioned earlier, the following aspects should also be noted:
First, effective investment should be made in a wide range of areas, rather than allowing only a few areas to occupy too many resources. Second, the focus of this round of investment is to stabilize the economy, but stabilizing the economy is not the same as maintaining steady growth. Under the current circumstances, stabilizing the economy is more about ensuring people's well-being. The investment to be stepped up in 2022 is a bottom-up investment for the macroeconomy, which focuses on ensuring livelihood, basic operation, and social stability. This is different from investments aimed at high growth. Third, the current situation of domestic investment in China should be divided into several stages, namely, stabilizing the economy (basic fundamentals), seeking growth (fundamentals of growth), and seeking development (fundamentals of future growth). In terms of investment priorities, the first one should be promoting consumption, ensuring employment, and guaranteeing the survival of small enterprises. This should then be followed by investments in urban renewal, agriculture, energy, social security, and key industries. Finally, there should be investments in major projects and industries, which are related to the long-term development of the country.
The Belt and Road Initiative: Innovative Chinese Ideas for a New World Order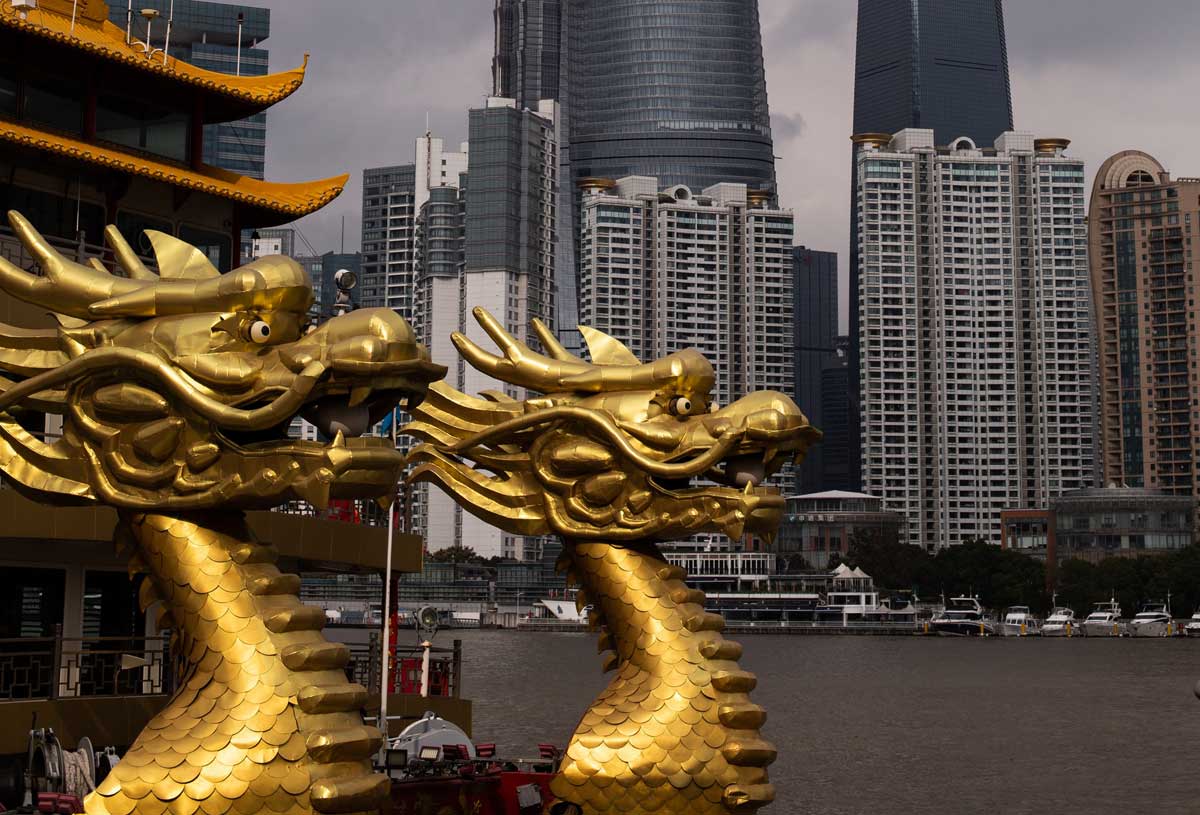 One Belt, One Road is China's largest infrastructure and investment project. China's "One Belt, One Road" strategy aims to develop economic and social linkages amongst the countries it passes through to revive the ancient Silk Road. Project covers 65% of global population and 40% of global GDP. China's planned economy grew almost 10% each year from 1978 to 2014.
China initiated the initiative in 2013 to expand its exports and imports. Through this initiative, China seeks to establish trade and social links with other nations and economic blocs. This endeavor focuses on the expansion of the Chinese export markets through bilateral economic ties that will become strategic partnerships and alliances. The yuan is utilized as a trade currency, and one of China's goals is to raise the rate of trade exchange in this currency, which will assist strengthen the yuan globally while reducing trade exchange costs and settlement times.
For the geopolitical axis, all maritime and land channels were planned to achieve additional geopolitical goals that may lead to future partnerships. More than 100 countries and international organizations have signed Belt and Road Initiative cooperation agreements and invested $5.4 billion in 28 projects in diverse countries. 4,000 rail links connecting China to Asian and European countries were also built. China and other countries have invested $70 billion.
This initiative comprises developing rail networks, oil and gas pipelines, power lines, the internet, and marine infrastructure.
This initiative includes the New Eurasian Land Bridge, The China-Indochina Peninsula Economic Corridor (CICPEC), China–Central Asia–West Asia Economic Corridor (CCAWEC), China-Pakistan Economic Corridor (CPEC), and the Bangladesh, China, India and Myanmar Economic Corridor (BCIM). China will contribute $126 billion if each participant pays for its own infrastructure. Asian Infrastructure Investment Bank (AIIB) and Silk Road Fund give loans.
Half of its six Middle East lines travel through or end on the Mediterranean. China's foreign policy is to stabilize the Middle East, which is known for wars and terrorism. European optimism and pessimism were split. Chinese funding thrilled Eastern and Central Europe. Germany, France, and many western European countries, especially northern ones, were suspicious.
Transatlantic Trade and Investment Partnership (TTIP) is a direct rival. China's low interest rates are blamed for developing countries' debt. In a scathing rebuttal to Trump's protectionist policies, the Chinese president vowed to reject "protectionism." All cooperation projects in the initiative would be guided by market principles, according to the Chinese president.