Von der Leyen Outlines Vision for Stronger Europe
Ursula von der Leyen, President of the European Commission, outlined a vision for a stronger and more independent Europe based on trust and the values of liberal democracy in a special address on Thursday to business, government and civil society leaders taking part in the World Economic Forum's virtual event, the Davos Agenda.
In the face of the COVID-19 crisis, she spoke of European democracies showing their strengths. "The pandemic has demonstrated that democracies are the more powerful, resilient and sustainable form of government," she said.
Democracy means liberty of research, freedom of science and independent choices for investors, she added. Europe has delivered over 1.2 billion doses of vaccines to its citizens, with more than 80% of the European population double vaccinated.
She also pointed to Europe's leadership in discovering the mRNA vaccine technology and exporting it to the world. "Europe is the only region in the world to export or donate vaccines to other countries throughout the crisis, with 1.6 billion vaccine doses made in Europe having been delivered to 150 countries."
On the path to recovery, Europe's most valuable asset is trust, said von der Leyen. "Trust in science, for our health. Trust among countries, for cooperation. Trust in functioning societies, for competitiveness. Trust will be essential to build the world of tomorrow."
Trust will also be essential for European citizens to embrace the European Green Deal, a set of policy initiatives with the overarching aim of making the European Union climate-neutral by 2050. The EC has issued the first NextGenerationEU bond for green and sustainable investments in the EU. This represents, she said, the world's largest green bond issuance, adding that it was heavily oversubscribed.
"These developments demonstrate a clear sign of international confidence and trust in Europe," she said.
Although von der Leyen said Europe is well positioned, it must do more to build supply chains we can trust and avoid single points of failure. Issues range from dependence on non-renewable energy to lack of local manufacturing of microchips and semiconductors to Europe's gas crisis.
"Europe's global semiconductor market share is only 10%. And today, most of our supply comes from a handful of producers outside Europe. This is a dependency and uncertainty we simply cannot afford. We have no time to lose. And this is why I announce here today that we will propose our European Chips Act in early February," she said.
She emphasized that trust is also essential in the international arena: "At this moment in time, the world needs trust in democracy as much as trust between democracies." Referring to intense dialogue with Russia, she stressed that Europe will not go back to the old logic of competition and spheres of interest, where entire countries were treated as possessions or backyards.
"We want this dialogue. We want conflicts to be solved in the bodies that have been formed for this purpose. But if the situation deteriorates, if there are any further attacks on the territorial integrity of Ukraine, we will respond with massive economic and financial sanctions."
"And what I want us never to forget is the following. Russia and Europe share geography, culture and history. We also want a common future," she added.
In Times of Division, Arts and Culture Bring Us Together: Meet the Davos Cultural Leaders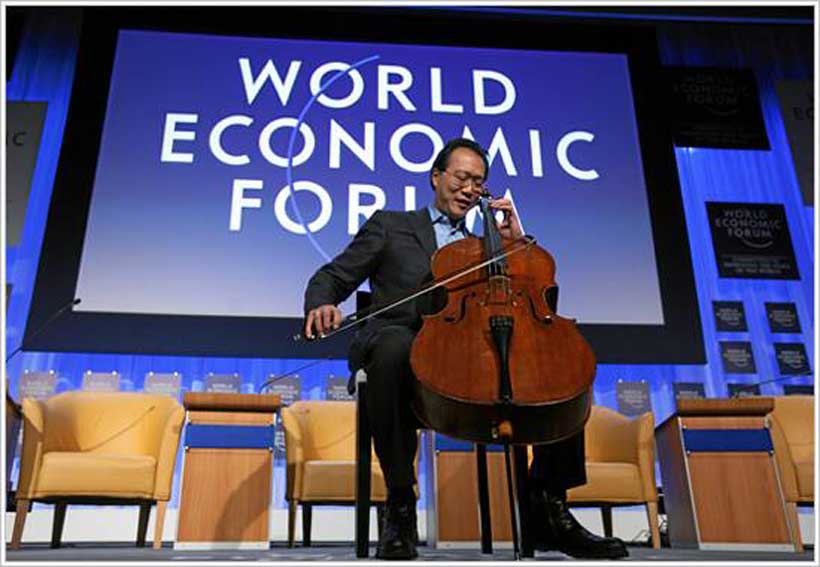 The World Economic Forum announced today the participation of prominent cultural leaders in the Annual Meeting 2022 in Davos-Klosters. These prominent figures will join their peers from business, government, the media and civil society to advance dialogue on how to reconnect in a post-pandemic era and unite to rebuild a world of inclusivity and sustainability under the meeting's theme "History at a turning point: Government policies and business strategies".
Cultural leaders will include former Crystal Award recipients world-renowned cellist Yo-Yo Ma and musician will.i.am; portrait and documentary photographer Platon; Verbier Festival and Academy founder and director Martin Engström; Grammy-winning classical pianist Emanuel Ax; singer/songwriter, actress and activist Inna Modja; and new media artist and director Harry Yeff.
"Never has there been a time more important, more pressing, then the present for arts and culture to unite us," said Joseph Fowler, Head of Arts and Culture at the World Economic Forum. "When you experience culture, there is a sense of expansion when you cease to think about yourself and you feel part of something larger. The creative sectors are some of the most important when it comes to social impact and human connection and when they are coupled with the power of new technologies, arts and culture have an immense potential to nurture a culture of peace."
Arts and culture will be integrated across throughout the Annual Meeting 2022:
Thepower and potential of the human voice is the focus of Voice Gems – Messages of Hope. Created by Harry Yeff and Trung Bao, the Voice Gems system sculpts over 200,000 particles with fingerprint-like voice data to create the colours and form of the each unique gem stone. The exhibition will feature a total of 17 messages of hope that have been recorded by a diverse selection of people including primatologist and anthropologist Jane Goodall; creative innovator, entertainer and tech investor will.i.am; poet and author Rupi Kaur; author and disability advocate Sinead Burke; and spiritual leader Sadhguru.
The Annual Meeting concert entitled "Our Shared Humanity" – to be performed byYo-Yo Ma and Emanuel Ax – is a celebration of humanity and shared hopes for a united and prosperous future. The accompanying immersive backdrop includes images provided by Atlas of Humanity as well as an exclusive filmed performance by dancer and choreographer Ahmad Joudeh. It is also a musical statement of support and solidarity with the people of Ukraine.
In collaboration with the Natural History Museum – London, a selection of photographs from the 2021 edition of the Wildlife Photographer of the Year competition will be showcased, inviting viewers to gaze through the lens of some of the world's best wildlife photographers and explore the natural world in all its fragility, diversity and wonder.
Exploring the endless scope of opportunity the Metaversepresents, the Forum has partnered with Microsoft and Accenture to create the Global Collaboration Village. This will be anopen, collaborative platformbuilt together with international organizations, governments, civil society organizations and arts organizations. The overall concept and architecture will be showcased at Davos as well as a prototype of the experience and its functionality. An immersive experience will tell the story of the Sahel and Africa's Great Green Wall Initiative supported by 1T.org.
After Two-Year Hiatus, Open Forum returns to Davos at a Crucial Turning Point in History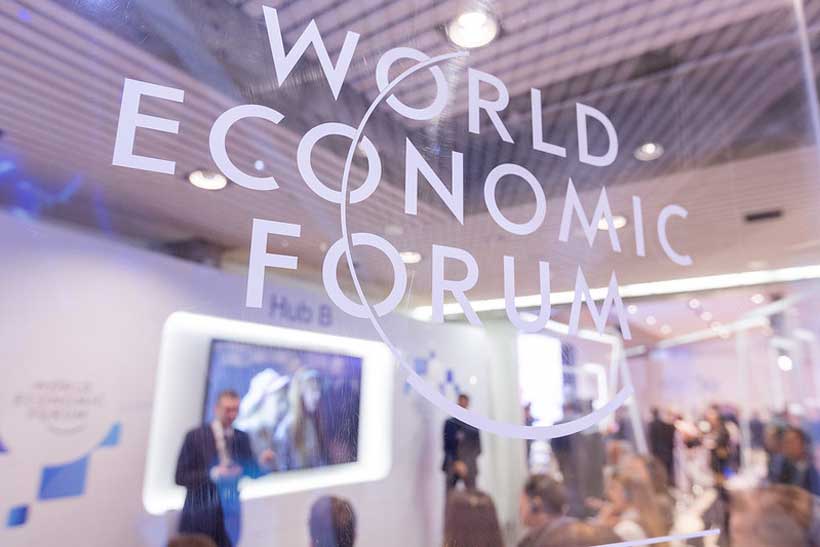 As part of the World Economic Forum Annual Meeting 2022, this year's Open Forum Davos will focus on the impacts of the COVID-19 pandemic, the Russian invasion of Ukraine and the role of multilateralism for peace in Europe as well as other global challenges.
Taking place for the first time since January 2020, the Open Forum offers a platform for debate and interaction on controversial issues between the public and scholars, business leaders and policy-makers around improving the state of the world.
Young and diverse voices will also play a prominent role in the discussions, with one session on youth mental health co-designed and moderated by students from Geneva, Switzerland. Each session will include at least one member of the Forum's Global Shapers Community, a wide-ranging network of people under 30 from all walks of life and different parts of the world.
Ignazio Cassis, President of the Swiss Confederation, among other high-level panellists, will be joined by Ievgeniia Bodnya, 27, who mobilized the Global Shaper Hub she leads in Kyiv to build the Support Ukraine Now, a crowdsourcing and sharing information platform for people to support Ukrainians affected by the war. In another session, Kyiv Mayor Vitaliy Klitschko and his brother Wladimir, Chairman of the Klitschko Foundation, will talk about how the Russian invasion has affected them and their country.
Also present at the Open Forum will be a group of climate activists, including 26-year-old Vanessa Nakate, author and climate advocate who addressed world leaders at the World Economic Forum 2020. The activists will articulate how to turn words into action to fight the climate crisis. Gender equality will also feature prominently in the conversations.
On the digital front, the last two years have seen the blending of in-person and virtual interactions. Peggy Johnson, Chief Executive Office of augmented reality company Magic Leap, will introduce the possibilities of the Metaverse and then join a panel of experts, including Pascal Kaufmann, President and Founder of the Mindfire Foundation, the brain behind Lab42, which is setting up shop in Davos in July and aims to become the largest AI lab in the world.
Additional panellists who will participate in this year's Open Forum Davos include:
Ignazio Cassis, President of the Swiss Confederation and Federal Councillor for Foreign Affairs of Switzerland
Stephane Bancel, Chief Executive Officer, Moderna
Isabella Eckerle, Associate Professor, Department of Medicine, University of Geneva
Vivianne Heijnen, Minister for the Environment, Ministry of Infrastructure and Water Management of the Netherlands
Mikaela Jade, Founder and Chief Executive Officer, Indigital
Peggy Johnson, Chief Executive Officer, Magic Leap Inc.
Marco Lambertini, Director-General, WWF International
Edward Lewin, Vice-President and Head of Government and Public Affairs, LEGO Group
Klaus Moosmayer, Chief Ethics, Risk and Compliance Officer, Novartis AG
Seth Moulton, Congressman from Massachusetts
Nadia Murad, Nobel Peace Laureate, Nadia's Initiative; Co-Founder, Global Survivors Fund (GSF), Global Survivors Fund
Anna Riedl, Cognitive Scientist and Global Shaper, Vienna Hub
Philipp Wilhelm, Mayor of Davos
Sakena Yacoobi, Executive Director, Afghan Institute of Learning
Open Forum Programme
Monday 23 May
12.30 – 13.30 A Discussion with the Klitschkos
18.30 – 20.00 A Wake-Up Call from Nature
Tuesday 24 May
09.00 – 10.30 Growing Up in the Pandemic
14.30 – 16.00 Working Together for Peace
18.30 – 20.00 Ethical Decision-Making in Times of Crisis
Wednesday 25 May
09.00 – 10.30 Turning Words into Action
12.30 – 14.00 A Discussion about Equality
18.30 – 20.00 Racial Disparities in Refugee Treatment
Thursday 26 May
09.00 – 10.30 The Possibilities of the Metaverse
The Open Forum Davos, now in its 19th year, will open its doors to the public from 23 to 26 January in Davos, Switzerland. It will be held at the Tobelmühle Sports Hall, Tobelmühlestrasse 4 e, Davos Platz, Switzerland. Those who missed the deadline to attend in person can watch the sessions via webcast at www.weforum.org/open-forum #wef22 #openforum. Sessions will be also available on YouTube after the event.
Countries review progress on global migration compact
Although many migrants worked on the frontlines of the COVID-19 pandemic, risking their own lives to save others, they were at times denied access to basic services and excluded from recovery plans, UN Secretary-General António Guterres said in New York on Thursday.
Mr. Guterres was addressing the official opening of a meeting to review progress towards implementing the Global Compact for Safe, Orderly and Regular Migration, adopted by governments in 2018.
The first International Migration Review Forum will also examine the interplay between migration and broader concerns, including the pandemic, conflict, development finance, and the climate emergency. 
Lessons from the pandemic
While commending efforts to improve the lives of migrants, such as helping them to integrate into host countries, Mr. Guterres noted that these measures are too often the exception and not the norm.
"The COVID-19 pandemic has painfully demonstrated how far we still are from realizing rights-based, child-sensitive, and gender-responsive governance of international migration for all," he said.
Globally, there are an estimated 281 million international migrants worldwide, who have left their home countries for travel, work, or other opportunities, or due to conflict, poverty, natural disasters or other crises.
Migration is a fact of life, the Secretary-General said, but too often it has been poorly managed, uncoordinated, misunderstood, and vilified.
Making migration safer
"Today, over 80 per cent of the world's migrants move between countries in a safe and orderly fashion.  But unregulated migration – the cruel realm of traffickers – continues to extract a terrible cost," said Mr. Guterres.
He underlined the humanitarian, moral and legal imperatives for safe and orderly migration as thousands still die each year in the pursuit of opportunity, greater dignity, and a better way of life.
"We must do more to break the stranglehold of smugglers and better protect migrants in vulnerable situations, in particular women and girls," he said.
Countries must also expand and diversify what the UN chief called "rights-based pathways for migration" and ensure that returns and readmissions are safe and in full accordance with international law.
The Global Compact represents the international community's resolve to put human rights into practice to transform how we understand and manage migration, he said. 
 Mr. Guterres said migrants are a part of society and must also be part of the renewed social contract, outlined in his Our Common Agenda report, to build trust, increase participation, and strengthen social cohesion.
Support for governments
"The Global Compact speaks to the heart of the mission of the United Nations. It is a global response to a global phenomenon for which we need to be much better prepared."
The Secretary-General also highlighted support to Member States through the UN Network on Migration, which has established a mechanism to contribute technical, financial and human resources towards the Compact's implementation.
The four-day International Migration Review Forum began on Tuesday and will conclude on Friday. Roundtables and a policy debate were held on the first two days, with the final two days devoted to plenary meetings. A progress declaration is set to be adopted
The Secretary-General urged participants to secure a strong political outcome through actionable pledges and strong monitoring and follow-up mechanisms.  
 "Let us keep up the momentum as we work together for a safer and more prosperous future for us all, including migrants," he said.
'Terrible human cost'
In his remarks, the President of the UN General Assembly, Abdulla Shahid, emphasized the need to act now, drawing attention to "the terrible human cost".
He said at least 8,436 migrant deaths were recorded globally between 1 January 2019 and 24 November 2021. A further 5,534 migrants went missing and are presumed dead, adding that these were just the reported numbers.
"Behind every number is a family, a community, a life. They seek what we seek. They dream what we dream – Opportunity. Dignity. A better life," said Mr. Shahid.
"Our ability to protect and to integrate migrants is not only a barometer of the health of our institutions – but of the empathy we feel for our fellow human beings; of our will to do right by our own conscience; of our commitment to upholding the basic human rights of all."
Mr. Shahid told the conference that as countries work to recover from the pandemic, and to achieve sustainable development by 2030, they will need the contribution from all in society, including migrants.