Lithuanians Pave Way for EU's Legal Migration Initiatives with Sub-Saharan Africa
The European Union is facing a shortage of specialists. The reality of demographic characteristics and the labour market dictate that legal migration of talents to the EU is an inevitable need. Still, current pathways of specialist migration are not up to par. Thus, the EU is seeking new ways to connect European companies with foreign labour markets, brimming with young, talented job-seekers, and launched a slew of pilot projects to test the waters. Quite unexpectedly for many, Lithuania was the first to join the initiative and its Digital Explorers became one of the most successful in delivering tangible results.
The main goal of the Digital Explorers—contracted by ICMPD on behalf of the European Commission—was filling vacancies in Lithuanian technology companies with Nigerian ICT talent; consequently, it explored models of international collaboration between business and governments, with a non-governmental organisation as an intermediary. In the light of limited previous engagement between Lithuania and African countries, it has truly been a ground-breaking experience, both participants and partners agree.
While the current European mobility tool for professionals, the Blue Card Initiative, provides a simplified set of legal migration requirements for highly skilled workers from non-EU countries, the numbers of attracted talents are low. A recent revision of the Initiative aims to address this by expanding access to the framework for more qualified young specialists, yet amending the regulation might not be enough. A significant bottleneck is real and perceived risks for the private sector related to hiring talent from outside the EU.
"Pathways of legal migration for young specialists into the Union can solve multiple problems, including the shortage of talents in the EU, the lack of opportunities for young specialists in non-EU countries, and address the unknowns faced by the private sector. They could also help building mutually beneficial partnerships with third countries on overall migration management. We are looking for ways to facilitate the process together with EU member states, in line with the New Pact on Migration and Asylum" says Magdalena Jagiello, Deputy Head, of the Legal Pathways and Integration Unit, Directorate-General for Migration and Home Affairs (DG HOME).
A success story to build upon
Even though EU-based companies willing to hire abroad are inevitable initiators of personnel migration, mobility projects act as catalyzers by providing a missing link between participating countries as well as between business and the public sector.
"While private companies at first were sceptical that this unexpected connection can work, we spoke their language—one that is close to the heart of ICT companies. People in our team had diverse ICT and law backgrounds and firsthand knowledge of the African tech market. Therefore, we managed to address concerns of hiring companies and had answers to key questions, including recruitment and matching strategies, and potential skill level," says Mantė Makauskaitė, project lead of Digital Explorers.
"We also had a long-term vision that the project will give us the means to build further mutually beneficial connections between Baltic and African ICT markets, and stakeholders were excited about that path forward," she continues.
Thanks to the Digital Explorers pathway, 26 young men and women have relocated from Nigeria to Lithuania through two mobility models: 1-year employment and 6-months paid traineeship. They joined 13 companies working in ICT, engineering, fintech, and data science markets. Both sides were supported throughout the program—Nigerians went through technical and soft skills training to further enhance their career prospects, while companies were consulted on integrating internationals and diversity management practices. After the program, 18 participants were retained by Lithuanian ICT companies, while others continue their careers in Nigeria, making it a win-win initiative.
"Lithuanian ICT sector is rapidly growing and the shortage of specialists is difficult to address by depending on local talent only. We were willing to hire talents outside of the EU, but needed help at establishing contacts, aligning with prospective employees from third countries, and facilitating the paperwork," says Vaidas Laužeckas, CEO of Metasite Data Insights.
With help from Digital Explorers, Metasite Data Insights initially welcomed one junior data scientist; after the programme, the company has hired another one. Both of the Explorers started as junior specialists in internship positions and ended up as mid-level specialists in the span of 6 months.
Another Lithuanian company that benefited from a connection to Nigeria, Telesoftas, was deeply impressed by new possibilities offered by the African IT talent market and has made a strategic decision to create a Nigerian branch and opened an office in Abuja with the aims to hire at least 30 engineers by the end of 2022 and up to 100 in 2023. "The potential offered by Nigeria is just too big to ignore. A subsidiary on the spot might act not only as our key delivery center but also as a connection, allowing Lithuanian teams to search for talents to fill their ranks and create new business opportunities" says Algirdas Stonys, CEO of Telesoftas.
ABC news: Xi signals strength in Russia-China alliance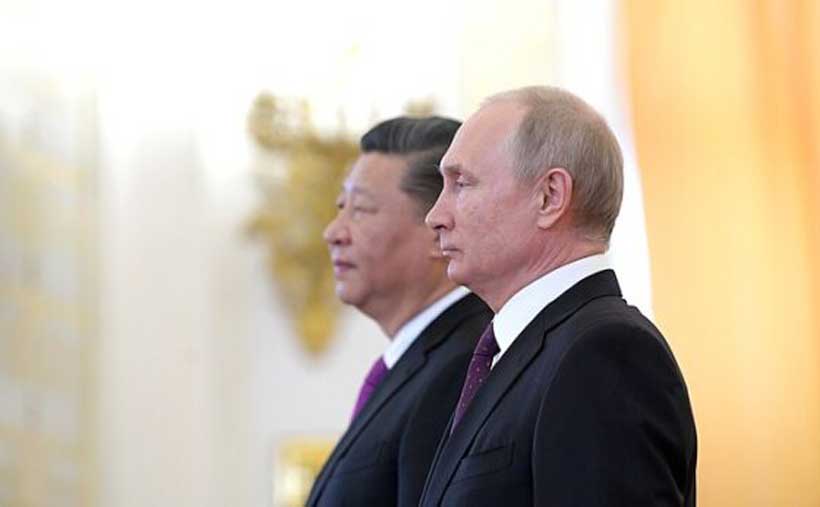 Chinese President Xi Jinping departed Moscow on Wednesday after two days of highly symbolic meetings with Russian President Vladimir Putin, in which the two presented a united front and an alternative vision for global leadership, notes ABCnews.
Despite statements saying that "China-Russia relations are not the kind of military-political alliance during the Cold War," China and Russia made clear they wanted to "advance the trend toward a multi-polar world."
"This highly publicized summit may reflect a shift towards a new and more active role for China, as it seizes the opportunity to convey diplomatic – and possibly tangible – support for Russia and any other state that wishes to defy the West," – Michael Butler, associate professor of political science at Clark University, told ABC News.
Joint animosity towards the U.S.-led world order has kept Russia and China close despite Putin's war in Ukraine and western sanctions against Russia has made China their biggest customer and economic lifeline.
Beijing increasingly sees Russia as necessary ally as China and United States continue to fallout over numerous fronts not limited to Taiwan and access to semiconductors. It was further exasperated by the spy balloon episode earlier this year.
Beijing had initially hoped that the spiraling tensions with the U.S. would abate in the wake of Xi's meeting with President Joe Biden in Bali last November, but as they continued to crater, Xi seems to have re-prioritized Russian relationship. He even aimed a rare direct slight at the United States earlier this month, blaming the Americans for "containment and suppression" as the reasons for China's economic challenges.
Xi highlighted on numerous occasions over the two days of meetings that Russia and China are each other's largest neighbors and that their partnership is "consistent with historical logic and a strategic choice of China."
Petr Pavl: "Ukraine must adjust to dwindling Western support"
"We must consider war weariness", says Czech President Petr Pavl. According to Czech President Petr Pavl, Ukraine must adjust to dwindling Western support. "We have to consider war weariness and what that means for support from Western states. This will pass with time," Pavel told the 'Süddeutsche Zeitung'.
He also mentioned the 2024 US presidential election and the concentration on domestic politics that could then be expected: "If US support decreases, support for a number of European countries will also decrease. Ukraine should take this into account."
Thus, in 2024, Ukraine will probably no longer be able to start any large and complex operations, the new Czech president said. "This year is decisive for the development of the war."
The former general was wary of the prospects of Ukraine joining NATO in the foreseeable future. "Ukraine's path to Europe should run through a faster rapprochement with the European Union and only then with law enforcement agencies," the President said. "I think that's the right order."
WP: The real lesson from the showy Xi-Putin meeting
Pentagon strategists have always divided the world into East and West, with U.S. regional forces under European Command or Indo-Pacific Command. But looking at the embrace of Presidents Xi Jinping and Vladimir Putin this week, you wonder whether we may need a single "Eurasian Command" to handle an integrated threat, writes 'The Washington Post' in a comment.
Xi's rescue strategy for Russia seems to center on a peace plan that would stanch the bleeding in Ukraine. From what we know, Xi proposes a cease-fire agreement… By playing the peacemaker, Xi can position himself better to take other, harsher rescue measures if Ukraine rejects a cease-fire. He could offer ammunition for Russia, arguing he's only leveling the playing field.
He could try to mobilize nations of the Global South, such as India, South Africa and Brazil, to pressure Ukraine to end the fighting. Xi wants to keep the high ground, invoking the sanctity of the United Nations charter even as he affirms his support for the Russian leader who shattered that charter's norms. It's a shameless approach, but smart diplomacy.
Xi's emerging role as the leader of a Eurasian bloc presents dilemmas for U.S. strategists.
For a generation, separating China from Russia was a central goal of U.S. foreign policy. Driving that wedge was a major reason for the historic visit to China in 1972 by President Richard M. Nixon and national security adviser Henry Kissinger.
The Biden administration initially hoped it could try that strategy in reverse — warming relations with Moscow in the June 2021 summit in Geneva in part to concentrate on the Chinese challenge. That didn't work out as the White House hoped, to put it mildly.
Now it's Xi who is the triangulator. He is playing off the bitter split between the United States and Russia, helping Putin.
Xi similarly used China's close relations with Iran to make the diplomatic breakthrough between Riyadh and Tehran that the United States could never achieve, writes WP.