The French Dispatch: The Year 2022 and European Security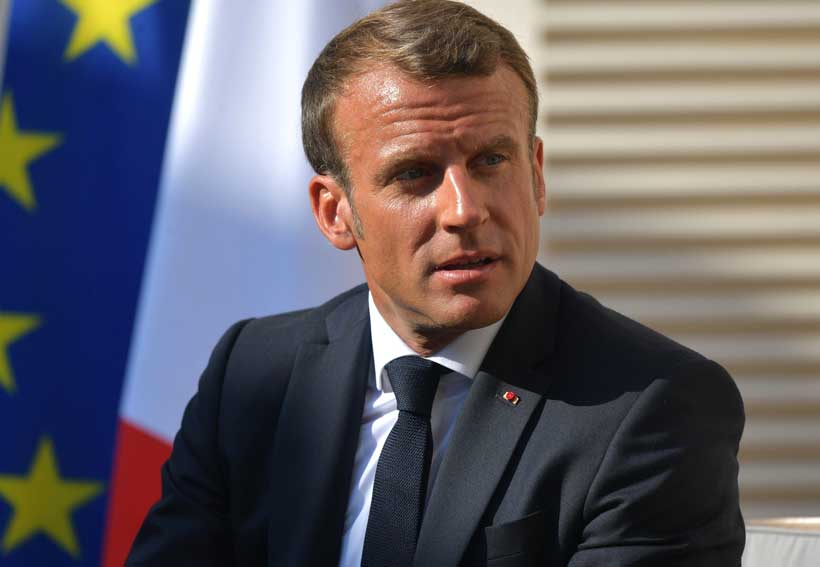 2021 has been rich in negative events for European security: the world has witnessed the collapse of the Open Skies Treaty, American-French discord concerning AUKUS, the termination of the official dialogue between Russia and NATO, and the migration crisis on the Polish-Belarusian border.
Over the past year, the Western countries seem to have been searching for new strategies. Since the end of 2019, NATO has been developing a new concept, and in June 2021 at the summit in Brussels, to the displeasure of sceptics, it was possible to agree on its basis—the transatlantic agenda NATO 2030 (# NATO2030) . While the broad formulations and a direct hierarchy of threats still require clarification, new projects in the field of weapons development, combating climate change, and increasing interoperability have already been declared.
In parallel, since the end of 2020, work has continued on the EU European Parliamentary Research Service project—the Strategic Compass. The dialectic between Atlanticism and Europeanism softened after Joe Biden came to power in the United States, but the European interests and red lines retain their significance for transatlantic relations. In 2022, together with the rotating post of the President of the EU Council, the role of a potential newsmaker in this area has been transferred to Emmanuel Macron, who feels very comfortable in it.
On December 9, the provisions of the Paris programme were published under the motto "Recovery, power, belonging" France, as expected, is reiterating its call for strengthening European sovereignty. The rhetoric of the document and its author is genuine textbook-realism. But now for the entire European Union.
Objectives of the French Presidency, are not articulated directly but are quite visible—making the EU more manageable and accountable to its members, with new general rules to strengthen mobilisation potential, and improve the EU's competitiveness and security in a world of growing challenges.
Paris proposes reforming the Schengen area and tightening immigration legislation—a painful point for the EU since 2015, which has become aggravated again in recent months. This ambitious task has become slightly more realistic since Angela Merkel's retirement in Germany. At least a new crisis response mechanism on this issue can be successful, even if it is not fully implemented.
In addition, the Élysée Palace calls on colleagues to revise the budget deficit ceilings of the Maastricht era to overcome the consequences of the pandemic and finally introduce a carbon tax at the EU borders. The latter allows for a new source of income and provides additional accountability for the implementation of the "green" goals by member countries.
The planned acceleration of the adoption of the Digital Markets Act (DMA) and Digital Services Act (DSA), developed by the European Commission at the end of 2020, is also aimed at unifying the general legislation and consolidating the European position in the world. In other words, the French Foreign Ministry quite soberly assesses the priority areas and vulnerabilities of the European Union and focuses on them, but with one exception.
A special priority of the French presidency is to strengthen the defence capabilities of the EU. On the sidelines, the French diplomats note that the adoption of the Strategic Compass in the spring of 2022, as originally planned, is a fundamental task, since otherwise the process may be completely buried. With a high degree of probability, this is so: the first phase of the development of the Compass—the general list of threats—lasted a year, and consisted of dozens of sessions, meetings, round tables with the involvement of leading experts, but the document was never published. If Macron won't do it, then who will?
As the main ideologist and staunchest supporter of the EU's "strategic autonomy", the French president has been trying for five years to mobilise others for self-sufficiency in the security sphere. With his direct participation, not only the Mechanism of Permanent Structured Cooperation (PESCO) in the defence area was launched, where France is the leader in a number of projects, but also the so-far failed European Intervention Initiative. Even without focusing on French foreign policy traditions and ambitions, the country remains a major European arms exporter and a nuclear power, where the military-industrial complex is closely affiliated with the state.
Implementing the 2022 agenda is also a matter of immediate political gain as France enters a new electoral cycle. The EU Summit will take place on March 10-11, 2022, in Paris, a month before the elections, and in any case it will become part of the election campaign and a test for the reputation of the current leader. Macron has not yet officially announced his participation in the presidential race, but he is actively engaged in self-promotion, because right-wing politicians espousing different degrees of radicalism are ready to take advantage of his defeats to purchase extra points.
The search for allies seems to be of key importance for victory at the European level, and the French Foreign Ministry has already begun working on this matter. In 2016–2017 the launch of new initiatives was predetermined by the support of Germany and the Central and East European countries. The change of cabinet in Germany will undoubtedly have an impact on the nation's policy. On the one hand, following the results of the first visit of the new Chancellor Olaf Scholz to Paris on December 10, the parties announced the closeness of their positions and a common desire to strengthen Europe. On the other hand, the coalition of Social Democrats (SDP) was made up with the Greens and Free Democrats (FDP) who are not at all supporters of excessive involvement in security issues. What "strategic autonomy" means for France, constitutes a more restrained "strategic sovereignty" for Germany Therefore, an intensification of dialogue with Italy and Spain, which are both respected and potentially sympathetic, is likely. The military cooperation agreement concluded in the autumn of 2021 with Greece, an active member of PESCO, can also help Paris.
Gaining support from smaller countries is more challenging. Although the European project is not an alternative to the transatlantic one, the formation of a common list of threats is a primary task and problem for NATO as well. As mentioned above, it is around it that controversy evolves, because the hierarchy determines the distribution of material resources. The countries of Eastern Europe, which assume that it is necessary to confront Russia but lack the resources to do so, will act as natural opponents of the French initiatives in the EU, while Paris, Rome and Madrid will oppose them and the United States in the transatlantic dialogue. The complexity of combining two conversations about the same thing with a slightly different composition of participants raises the bar for Emmanuel Macron. His stakes are high. The mobilisation of the Élysée Palace's foreign policy is one of the most interesting subjects to watch in the year 2022.
From our partner RIAC
EU's Energy and Politic Approach to Indonesia: Between Hate and Love
Authors: Akhmad Hanan and Mayora Bunga Swastika
Since Russia invaded Ukraine in February 2022, Europe has been forced to seek alternative energy sources other than Russian gas. Previously, Russia supplied around 40% of Europe's gas needs through pipelines owned by Russia's Gazprom. However, Russia decided to cut their gas supply to Europe as a counter action of US and its ally economic sanction. As a result, Europe has left no choice but to buy expensive LNG, optimize renewable energy sources, and tap other coal-producing countries.
Winter came, and it tormented Europeans even more. The energy scarcity due to the absence of Russian gas put many European countries into crisis. They had to pay higher for alternative energy sources as a domino effect of the Russia-Ukraine war. They also decided to utilize coal, contradicting their robust commitment towards energy transition goals and the Paris Agreement. Europe's decision to turn back on coal has also altered the global energy transition's geopolitical landscape. Europe is seen as a region supporting accelerated energy transitions and encouraging countries outside the region to follow suit. However, currently, Europe is taking steps contrary to efforts to accelerate the energy transition.
At the same time, Indonesia got their windfall profit through the European situation due to the rising coal price in the market. Europe has been one of Indonesia coal exporters, and following the disruption in Europe's energy supply, Indonesia attempted to capitalize on the situation by increasing export quotas to Europe. This strategy was taken since Indonesia is one of the world's largest coal producing countries.
Indonesia's Ministry of Trade reports coal exports to Europe reached 6.6 million tons in December 2022. Previously, Indonesia only exported less than 1 million tons per year to the same region at the same time. The main reason was some European countries such as Spain, Italy, Switzerland, Greece, Poland, the Netherlands, and Germany increased their demand for Indonesian coal significantly.
Additionally, Indonesia became the top global coal exporter in 2022, with a total of 469 million tons, 9% higher than the previous year. Indonesia used to export coal to developing countries, mainly in Asia. As a result, Indonesia's state revenue exceeded the targets by almost three times higher than expected. The Indonesia's ministry of finance calculated the realization of state revenue reached 7.8 million USD, 2.8 million USD higher, and it was highly contributed from the coal trading.
Relations between Indonesia and Europe regarding energy commodities are indeed often tug-of-war. Hitherto, the European Union's relationship with Indonesia was strained due to Indonesia's decision on palm oil and nickel commodities. Indonesia's decision to utilize palm as a biofuel source was feared to increase land use change in tropical forests and reduce its capacity to be a natural based solution in climate change mitigation.
Indonesia's decision to ban nickel export was also being challenged by the European Union at the WTO in November 2019. The EU claimed this decision was unfairly harming its stainless steel industry. However, Indonesia insisted this decision was made for national development. From Indonesia's point of view, Indonesia's decision is one of the efforts to protect its national interests to fulfill domestic supply. Indonesia's downstream plans will be threatened if Indonesia lifts the nickel export ban as desired by the EU. The Indonesian government has a target to build a nickel smelter in Indonesia. However, Indonesia lost the EU lawsuit regarding the nickel export ban.
Indonesia-Europe relations and Indonesia's defeat in the nickel export ban lawsuit show that the issue of international relations is still closely interdependent. A country cannot only pay attention to its domestic interests but also pay attention to common interests. In this case, Indonesia and EU benefit from each other when conducting economic cooperation, especially export-import. This can be seen from the benefits when coal exports to the EU increase. Of course, the benefits of this cooperation will not be obtained if the two countries do not cooperate.
Apart from Indonesia's interest in securing domestic supply, Indonesia should be able to take opportunities to cooperate with other countries, including the EU, in the energy sector. Cooperation between countries that cannot be avoided in the era of globalization should be the foundation for Indonesia in making and carrying out foreign policy. Indonesia must find a win-win solution in its relations with other countries because doing protection in this era is not a solution.
Europe's relations with Africa and Asia are on the brink of collapse, and Russia is benefiting
More than one year since the beginning of the war in Ukraine, the world remains caught in the middle. Against a backdrop of high energy and food prices, ravaging inflation, social unrest and fears of another global recession, Western and Russian blocs are once again vying for support from nations of the developing world.
Emmanuel Macron, Olaf Scholz, Sergei Lavrov, Qin Gang, and Anthony Blinken are just some of the names that have made high-profile visits to Africa in the last 12 months. All have largely focused on cooperation and trade, yet each has done so with a discourse reflecting a kind of Cold War reboot, with Ukraine as one of its most prominent symptoms.
Each in their own way, armed with their respective propaganda, these superpowers wish for nations of Africa and Asia to pick a side. Yet, unlike the previous century, those nations cannot so easily be made to choose, nor should they have to. Russia understands this. The West does not.
It's no secret that Africa has been reluctant to overtly condemn Russia's actions in Ukraine, or to participate in Western efforts to sanction and isolate the warring country. Instead, African and Asian nations have continued to welcome these longstanding partners with open arms – widely condemning the war, but not Russia.
In Malawi, for instance, Russia's deliveries of tens of thousands of tonnes of fertiliser amidst global shortages are seen as a gift from heaven by struggling farmers. Malawi's minister of agriculture shook hands with the Russian ambassador, describing Russia gratefully as "a true friend". Russia's announced plans to send 260,000 tonnes of fertiliser to countries across Africa, is certain to spread similar sentiments.
In my country Congo-Brazzaville, the government signed five major cooperation agreements with Russia in the midst of its war with Ukraine, including for the construction of a new oil pipeline and to enhance military cooperation.
This charm offensive, prominently led by Russian foreign minister Sergei Lavrov, who has visited South Africa, Eswatini, Angola, Eritrea, Mali, Sudan and Mauritania just since January, is already nourishing pro-Russian sentiment throughout the continent, and stands in sharp contrast to the damp squib that was President Emmanuel Macron's recent African adventure.
In his press conference with Democratic Republic of Congo (DRC) President, Felix Tshisekedi, in what was perhaps the most deaf-tone faux pas of his entire trip, President Macron was repeatedly asked to condemn Rwanda's support for M23 rebels causing havoc in eastern DRC – a situation that closely resembles Russia's covert support for Donbass separatists in recent years. For all intents and purposes, he failed to do so.
Instead, when a French journalist quizzed him on former Defence Minister Jean-Yves Le Drian's disparaging mention of an "African-style compromise" in relation to President Tshisekedi election in 2019, Macron proceeded to lecture the Congolese President on freedom of the press – much to the disbelief of those witnessing the scene.
Despite President Macron's effusive rhetoric about 'new relationships' and 'new starts', his outburst was yet another bitter reminder of Europe's longstanding paternalistic and dissonant attitude towards the continent. This is the same attitude whereby decades of European political and military influence on the continent have failed to generate meaningful progress when they did not actively undermine those efforts. Africans are wise to this and refuse to take it anymore, as evidenced by the growth in anti-French sentiment in West Africa. Russia, China and others, though far from being without reproach, are merely seizing the presented opportunities.
Just as the share of EU aid going to Africa has declined significantly, similar problems are afoot with Europe's relations in Asia. Its share of Southeast Asian merchandise trade, excluding China, fell by over a third over the last two decades. Western Europe was the destination for less than a tenth of Malaysian, Singaporean, South Korean and Taiwanese exports in 2021. Russia is again moving fast to fill the gap, adopting China as its main trading partner, and consistently exporting oil and gas to eager Asian buyers, rather than to the West. When Russia suspended its double taxation treaties with "unfriendly" countries around the world in mid-March, most Southeast Asian countries were exempted from this measure.
Moreover, Russia has over the last decade become the largest arms supplier to the region, recently running joint naval exercises with the Association of South-East Asian Nations (ASEAN). Indonesia, the Philippines and Malaysia have all rejected imposing sanctions on Moscow, whilst Malaysia signed a memorandum of understanding with Russia to improve agricultural trade earlier this year.
One cannot fault these nations for engaging in partnerships and cooperation with international partners, in the interest of addressing their most urgent societal priorities. Nor can one fault African and Asian countries for taking with a pinch of salt a discourse on international values and change, when this supposed change stems not from recognition of current flaws, but from the impositions of emergent global trends.
What lessons can be given about territorial integrity and justice, when the events of 2011 in Libya, as well as their enduring consequences, remain traumatically fresh in African minds, or when the posture of African countries relative to the war in Ukraine is almost identical to that of Europe relative to the conflict in the eastern provinces of the DRC?
What lessons should be drawn from European courts proceeding to the seizure of Malaysian assets and properties worth $15 billion – including lucrative oil and gas assets – based on a questionable arbitration authorised by a Spanish arbitrator facing criminal prosecution from the Spanish authorities? And who will really benefit, given that this claim on sovereign territories, derived from a mid-nineteenth agreement between a long-vanished Sultanate and a colonial-era British company, is funded by unknown third-party investors?
The willingness of European courts to confiscate the resources and assets of a sovereign Asian nation on such flimsy grounds is not lost on observers in Africa and across the developing world.
Whatever the answer to these questions may be, it is evident that relations between the old and new worlds will continue to strain as long as underlying assumptions and beliefs do not evolve. Specifically, change is needed in those attitudes that continue to consider developing nations as oblivious to the many contradictions of rhetoric and practice that characterise the world as we know it – whether in terms of: a system of aid and trade that nourishes the imbalances and ills it purports to address; a discourse on international law and values that crumbles in the face of past transgressions and current drives for reforms; or even negotiations on climate finance in which urgency stops when economic interests begin.
The Western world can only reverse this trajectory by seeking out a genuinely new footing in its relations with the countries of Africa and Asia – challenging its own assumptions and understandings about what a respectful partnership between equally legitimate nations truly means. This is not about paying lip-service to ideals struggling to remain convincing, nor is it about entirely conceding these ideals on the altar of economic pragmatism.
Rather this means accepting a due share of responsibility for the current state of affairs, understanding expectations for the future, being willing to make real concessions, and aligning discourse with dollars and deeds. In doing so, the Western world will reassure those of us that continue to believe in the promises of the UN Charter and Universal Declaration of Human Rights, that these were not merely pretences to maintain hegemony in the face of existential threats, but rather an enduring vision for a better world that remains worth fighting for today.
A Muscular U.S. Foreign Policy and Changing Alliances
Imagine a country rich in fossil fuels and another nearby that is Europe's premier industrial power in dire need of those resources — is that a match made in heaven?
Not according to Joe Biden who quashed it as if it was a match made in hell. Biden was so much against any such rapprochement that to end all prospects of a deal, he ordered the bombing of the Nord Stream pipelines. Two out of four lines were severely damaged, about 50 meters of them and Russia chose not to conduct repairs. Instead,it is pumping its gas up through Turkey.
So far, Russia has not responded to this act of war but a leader can not afford to lose face domestically or internationally, and one may not be surprised if an American facility or ship suffers an adverse event in the future.
In the meantime, Russia has become fast friends with China — the latter having its own bone to pick with Biden. China, a growing industrial giant, has almost insatiable energy needs and Russia stands ready to supply them. An informal deal has been agreed upon with a formal signing ceremony on March 20, 2023.
So who won this fracas? Russia gets to export its gas anyway and China, already generating the world's highest GDP on a purchasing-power-parity basis, has guaranteed itself an energy source.
Of course there is Ukraine where Biden (like the US in Vietnam) is ready to fight to the last Ukrainian. Despite a valiant resistance, they are not winning, for Russia continues to solidify its hold on Ukraine's east, most recently by taking Soledar and capturing parts of the transport hub Bakhmut itself.
And then there is Saudi Arabia: hitherto a staunch U.S. ally, it is now extending a hand of friendship to Iran, which its previous king used to call the snake in the Middle East. But Saudi Arabia is keenly aware of the vassal-like manner in which the U.S. has treated Germany, its ally with the largest economy in Europe, over its desire to buy cheap gas from Russia. The deal was nixed and observers estimate it cost Germany a couple of points of GDP growth. Such a loss in the U.S. would translate to almost zero growth.
India used to be a neutral country between the great powers. In fact, its first leader after independence, Jawaharlal Nehru, was a leading figure in the non-aligned movement. It is now being tugged towards the US.
The latest tug is ICET or the initiative on Critical and Emerging Technologies. Its purpose is to find ways to engage through "innovation bridges" over the key areas of focus. This coordination between the two countries is to cover industry, academia and government.
On the other hand, India's arch rival Pakistan used to be in the US orbit for decades. Now it is virtually a Chinese client state even though for a time, particularly during the Afghan war, it was a source of much help for the US.
Such are the vagaries of alignments in a multi-polar world, particularly when under pressure from major powers.