When Naftali Bennett took over as the prime minister of Israel, it was expected that he would take a different approach compared to Netanyahu. This could be a probable expectation, save for the issue of Iran, since Iran is considered a consistent strategic and existential threat in the eyes of Israeli political and military officials same way that Israel has always been considered an enemy in the strategic culture of the Islamic Republic of Iran. Therefore, with the resumption of the Iran nuclear talks in Vienna, Israel has intensified its campaign for an imminent military strike on Iran. On the other hand, Iran has tried to create a balance of missile threat against Israel based on valid deterrence during the past years.
However, the level and the nature of performance and deterrence of these two influential actors of the Middle East are fundamentally different. While Iran has defined its deterrence based on hybrid missile deterrence concepts—including direct and extended deterrence—, Israel's deterrence is based on preemptive warfare, a.k.a. "immediate deterrence," irrespective of its nuclear capabilities, policies of "strategic ambiguity" and "defensible borders strategy."
From a direct deterrence perspective (i.e., the strength of a large missile fire from within Iranian territory) and given the extended and asymmetric dimensions (i.e., strengthening missile capabilities of the axis of resistance), the Islamic Republic of Iran believes that Israel will gradually become weaker and more fragile defensively, considering the importance of objective components in the area of ​​deterrence—such as geographical depth and population, and this will derive Israeli leaders to consider their fragile security and survival before any attempt to take on a direct military confrontation with Iran. For instance, when the tensions over Iran's nuclear program escalated between 2010 and 2013 during the Obama administration, none of Iran's nuclear facilities was attacked, despite Israel's repeated expression of its willingness to do so. Former defense minister Ehud Barak justified this inaction with the pretext of Barack Obama's opposition and lack of support. In fact, the Netanyahu administration sought to instill this idea to the world that Israel has both the "determination" and the "ability" to attack Iran should this preemptive action not have been faced with Washington objection. The fact that Netanyahu still failed to implement the idea even during Trump administration—as John Bolton points out in the first chapter of his book—despite his overwhelming support for Israel, indicated the fact that Israel does not have independent military capabilities and determination to take such hostile action at no cost without the support of the US.
Therefore, despite the constant claims of Israeli officials, this country's general strategy so far has been to avoid direct military confrontation with Iran and to focus on less intense and covert warfare. This has changed since 2017 due to Israel's objection to pro-Iranian forces regaining the control over Al-Bukamal Qa'im border crossing on the Iraqi-Syrian border, and the consequent lack of a proportionate and retaliatory response from Iran to Israel's ongoing operations in Syria. In fact, inaction of Iran has allowed Israeli army to expand its campaign from northern borders and the Golan Heights (as the first ring) to the province of Deir ez-Zor in eastern Syria, then to the depths of Iraq in cooperation with the US (as the second ring), and eventually, inside the Iranian territory (as the third ring). The expansion of Israel's subversive actions deep inside Iran is an effort to discredit Iran's deterrence as well as undermining Iran's strategic stability, while also dismantling Iran's military and nuclear capabilities.
In the meantime, Israel's embark on the strategy of Third-Circle Directorate based on intensifying low-level but effective military actions on Iranian soil has played a greater role in undermining Iran's conventional deterrent advantages. Israel's repeated operation and its recklessness in accepting responsibility for such actions has taken Israel's belief and determination that it can target Iran's assets and strategic resources inside and outside of Iran with numerous intermittent actions to a new level. Therefore, it can be said that while the previous positions of Israeli officials regarding the bombing and cessation of Iran's nuclear capabilities were mostly focused on the assassination of Iranian scientists, targeted cyberattacks, sabotages, and bombings of industrial, security, and military facilities, there is no guarantee that the Third-Circle Directorate would not extent to explicit and direct entry of Israeli fighters, bombers or ballistic missiles to bomb Iran's nuclear and military facilities in cooperation with the United States or independently.
If Israel mistakes Iran's inaction with inability to respond and decides to extend Mabam Campaign to air or missile strikes inside the Iranian borders, it should not be sure of the unpredictable consequences. Iran has not yet responded decisively to cyber-attacks, the assassination of its scientists, and the Israeli sabotages due to the fact that these actions have been designed and carried out in such a way that Iran has assessed the damage as compensable. That is, a long set of low-level attacks were conducted to change the state of the field without taking actions that justifies an extensive reaction. Iran's failure to respond to the recent Israeli attack on the port of Latakia is a clear example of the success and effectiveness of Salami Slicing strategy. Such strategies are designed to engage Iran in a polygonal dilemma: that it cannot respond to every individual military actions and small-scale sabotage, while inaction against these multiple small and non-intensive attacks will gradually result in losing its strategic position and deterrent credibility.
This very, unique Israeli strategy in military confrontation with Iran has reinforced the assessment of the Bennett administration about the serious weakness of Iran's conventional deterrence. As a clear case Foreign Minister Yair Lapid claimed that "Israel could attack Iran if necessary without informing the Biden administration, which is looking to rejoin the nuclear deal". This problem became more apparent after the assassination of the commander of the Quds Force of the IRGC, especially in the last months of Donald Trump's presidency. In other words, if Tehran decided to respond directly to various Israeli actions, such as the assassination of Mohsen Fakhrizadeh and attacks on its military and industrial centers, the risk of a war with Israel with the support of the US would increase. By the same token, this has in fact given Tehran an opportunity not to retaliate based on the concept of conventional strategic stability. That is, at this level of conflict, Iran's confidence in its ability to retaliate makes it easier for this country to limit and delay the response. From Iranian perspective, therefore, conventional strategic stability means preventing armed conflict in the Middle East, especially a level of conflict that directly threatens its security and territory.
However, if Israel tries to discredit Iran's conventional deterrence and strategic stability by launching a direct air strike into Iranian territory, Iran's retaliatory response will not be as limited and symbolic as the attack on the US base of Ain al-Assad in Iraq, because Tehran would face the so-called "Sputnik moment" dilemma, which forces it to test its missile credibility. In such a situation, Iran will be forced to first, launch a decisive comprehensive missile response against Israel and then change its deterrent structure from conventional to nuclear by leaving the NPT in order to contain pressure of domestic public opinion, maintain its credibility with regional rivals such as Turkey, Pakistan, Saudi Arabia, and even the Republic of Azerbaijan, and to reassure its proxy forces in the axis of resistance.
What is behind the Recalibration of Japanese Security Policy?
On December 16th, 2022, the Japanese cabinet approved three crucial national security documents: 1) National Security Strategy, 2) National Defense Strategy, and 3) Defense Buildup Program. The documents collectively identify challenges and threats to Japan's security and propose counteractive measures to be undertaken during the next five years, essentially marking a paradigm shift in Japan's security policy and military posture.
The transformation: according to new policy documents, Japan would increase its defense spending to meet NATO's standard of 2% of GDP by 2027 meanwhile spending a sum of $314 billion during the period on defense buildup. For the first time in decades, Japan would acquire long-range "counterstrike" capability to deter attacks besides pledging grand investments in developing cyber and space capabilities. To bolster counterstrike capability, Japan would acquire more F-35 aircraft capable of vertical landing and would invest in developing hypersonic weapons, Unmanned Aerial Vehicles (UAVs), and 6th generation fighter jets — last in collaboration with Britain and Italy.
From its humiliating defeat in World War II until the 1970s, Japan maintained a low military profile and relied on the USA's security umbrella for its defense. During the 1970s, Soviet military buildup in the Pacific and the USA's growing engagements elsewhere compelled Japan to increase its military spending and by the end of the Cold War, Japan has transformed itself into the "world's foremost military powers". The steady buildup of military capabilities continued through the unipolar era given the regional threats — especially those emanating from North Korea and to some extent China — did not subside in all respects.
Changing Japan's security outlook via revising Article 9 of the Japanese constitution has long been a goal of the ruling Liberal Democratic Party, which considers Japan's constitution as reminiscent of WWII defeat and subsequent occupation by the USA. Nevertheless, the memories of Japan's militaristic past and its aftermath long haunted the Japanese public, which remained vociferously averse to any such emendation. Therefore, despite having a two-thirds majority at one time, Liberal Democratic Party under the late Shinzo Abe as prime minister fell short of introducing any changes to Japan's constitution.
The Abe government, however, did reinterpret the constitution and initiated a makeover of Japan's security posture during its eight years reign (2012-2020). As James Stavridis puts it, "Shinzo Abe's real legacy is military, not economic". In 2014, the Abe government authorized Japanese troops to act in aid of an under-attack ally. The same year, Abe relaxed the ban on the export of arms, however with the caveat that the exports would only be allowed if they "contributed to the global peace".
In 2018, the Abe government created National Security Council, which significantly enhanced Prime Minister's authority in security affairs. Besides making institutional and organizational changes, Abe's era saw a steady increase in Japanese defense spending by leveraging the country's economy, which remains third biggest in the world. Tokyo acquired cutting-edge weaponry including missile defense systems, new-generation radars capable of detecting targets at a long-range, and fifth-generation F-35 fighters, mostly from the USA.
The recent policy documents mark the culmination of Shinzo Abe's nearly decade-long efforts and essentially purpose to transform Japanese security posture from pacifist to more assertive. Propitiously for the Liberal Democratic Party, in the wake of Russia's invasion of Ukraine, public opinion in Japan has reportedly shifted in favor of changes in security policy.
On the top of the internal predisposition to get away with the memories of WWII humiliation, the external security environment of Japan is also undergoing unprecedented changes, which made the aforementioned modifications inevitable.
China — categorized as the "greatest strategic challenge" in the Japanese National Security Strategy — now wields the world's largest navy by the number of vessels and is speedily expanding to its military footprint in the Western Pacific. Likewise, nuclear-armed North Korea — classified as a threat in the NSS — has grown in belligerence as well as the capabilities. The communist aloof country conducted the highest number of ballistic missile tests during 2022 — one of which flew over Japan last October. Moreover, Russia has recently added Japan to the list of unfriendly countries after Tokyo joined Western sanctions against Russia. Moscow is not only increasing its military presence in the Pacific but is carrying out joint naval drills and air patrols with Beijing evoking anxieties in Tokyo. It goes without saying that the security environment for Japan has become more challenging and complicated than 1970s.
Although the USA has been trying to reorient itself towards the primary theater of Great Power rivalry i.e. Western Pacific, the transformed European security environment owing to war in Ukraine would likely inhibit the Washington's unqualified reorientation towards the Pacific. Moreover, despite Japan under Abe smartly weathered the Trump assault against the US allies, the eccentric real estate tycoon did galvanize Japanese leadership to be prepared for another isolationist inhabiting the Oval Office. Hence the intent to share more burden in the alliance besides taking an assertive role in the regional security matters.
In essence, Japan now seeks to assume primary responsibility for its security meanwhile enjoying the shelter of the USA's security umbrella and extended deterrence. At the same time, Japan is exploring options beyond the alliance with USA by expanding military partnerships and collaboration with other likeminded countries. The project to develop 6th generation fighter jet in collaboration with Britain and Italy, and the recent military drills with India underscore Japan's inclination to expand its military partnerships beyond Washington.
The US tanks deal to Ukraine and the Sino-Russian military alliance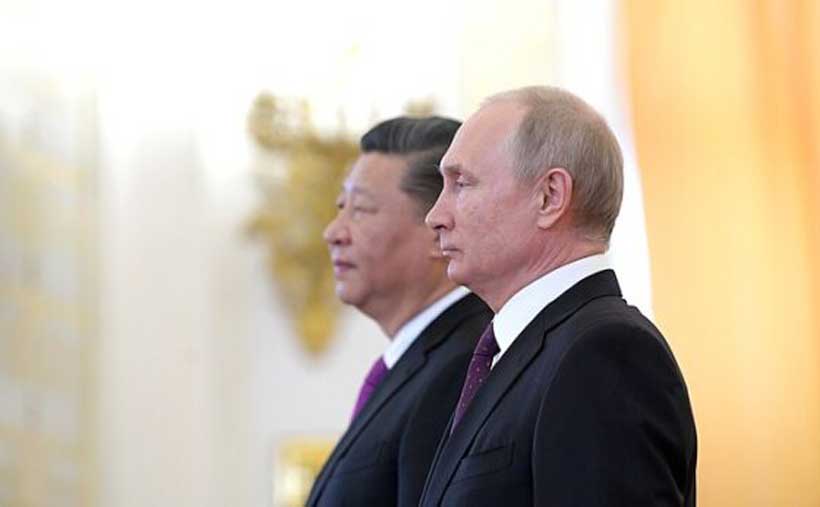 After the warnings of the Deputy Chairman of the Russian Security Council, "Medvedev", of the possibility of establishing a Russian-Chinese military alliance against Washington, the most important questions and analyzes that arise in this regard revolve in their entirety around:
Will Russia implement its threats to establish that alliance?
What are the countries likely to ally with Russia to confront America?
And in the event that Russia implements its threats against the United States of America by establishing that joint military alliance with China, does this mean a weakening of American hegemony in world politics?
Then, what is the relationship of the tank deal that the United States and Germany intend to send to Ukraine with the order of that joint military alliance between China and Russia, and does China really accept a solid and joint military alliance in confronting Washington militarily?
In order to answer these questions, we will find that there is already an existing and joint strengthening of military cooperation between the Chinese and Russian sides, through Russian President "Putin" stressing to his Chinese counterpart "Xi Jinping" the importance of geo-strategic cooperation and technical-military cooperation between the two countries in the wake of the "interaction joint maneuvers" in 2022 between the two countries, which took place in the East China Sea in December 2022, with the assertion of the commander of the Russian forces participating in the joint military exercises with China, that it comes as a response to the violent increase in the number of US forces present in the Indo-Pacific region in the American concept or the Asia-Pacific region in the Chinese and Russian concept. This means that Russia is ready to cooperate closely with Beijing, in response to the American efforts to surround China, through the establishment of American military and technological alliances to confront China, such as the American quadruple alliance with India, Japan and Australia, or through the US nuclear defense Okus alliance with Australia and Britain, or from Through Washington's military support for Taiwan in the face of Beijing and the increase in US arms and military equipment sales to the Taiwanese side, which arouses China's ire.
In recent years, China has also taken the initiative to enhance cooperation between the Chinese People's Liberation Army and the Russian Armed Forces by conducting joint exercises and coordinated patrols in the area around Japan. As for the Chinese army, its cooperation with the Russian army and the Russian armed forces would contribute significantly to the implementation of the military, security and defense reforms that Chinese President "Xi Jinping" seeks to achieve, which aims to transform the Chinese People's Liberation Army into one of the largest fighting forces in the world to be comparable in strength to the US Army.
We find that there is already existing and joint military cooperation between the Chinese and Russian parties in the field of joint military exercises, which has witnessed a clear increase in the recent period, and this cooperation in the security and defense field between China and Russia has acquired clear geopolitical connotations. In May 2022, China and Russia conducted joint sorties and air maneuvers over the Sea of ​​Japan and the East China Sea, which coincided with the summit of the leaders of the Quadruple Strategic Dialogue, known as "Quad" in Japan, which is a forum for political cooperation through which Washington seeks to turn it into a military alliance against China. Therefore, the joint maneuvers of Moscow and Beijing came to confirm that the two countries are cooperating militarily in the face of Washington's attempt to establish military alliances against them, on top of which is the US Aukus nuclear defense alliance with Australia and Britain in the face of China.
Also, all the recent summits that took place between Beijing and Moscow focused, in their entirety, on Russian military cooperation with Beijing, as well as the two parties meeting to strengthen their strategic partnerships in the face of Western threats, and on their intention and desire to establish a multipolar international system, with what that means in the end. The US-dominated world order, which Washington seeks to respond to by pushing the NATO military alliance to adopt policies to besiege the Chinese and Russian countries.
China and Russia have conducted several joint military exercises in the Chinese Shandong Peninsula, and they were mainly focused on anti-terrorism exercises, and it was agreed after that to conduct peace mission exercises annually under the auspices of the Shanghai Cooperation Organization, which consists of (China, Kazakhstan, Kyrgyzstan, Russia, Tajikistan, Uzbekistan).
Then this was followed by several joint naval exercises that took place on a permanent basis, and it was called joint seas exercises and maneuvers (or a joint Russian-Chinese naval interaction, as the Russians called it), and it was mainly concentrated in the Yellow Sea region off the Chinese Shandong Peninsula, with the participation of many Warships from both countries, in exercises simulating joint air defense, anti-submarine warfare, and search and rescue missions. Since then, joint seas exercises have been held annually between the Chinese and Russian sides (except for 2020), and their content is constantly changing. Since 2013, the geographical scope of the Russian-Chinese exercises has expanded, to include areas outside the immediate periphery of China, including Europe, and in chronological order those locations were:
(Sea of ​​Japan in 2013, East China Sea exercises in 2014, Mediterranean and Sea of ​​Japan in 2015, South China Sea in 2016, Baltic Sea and Sea of ​​Japan in 2017, South China Sea in 2018, Yellow Sea in 2019, Sea of ​​Japan in 2021)
China also participated in the "Russian Vostok joint military exercises" in 2018, which were held in the Eastern Military District of Russia and about 3,200 Chinese soldiers from the Chinese People's Liberation Army participated. The Chinese and Russian militaries also carry out coordinated and periodic military missions in the geographical and territorial area surrounding the seas and in the airspace around Japan. Most of the joint military exercises and missions between China and Russia take place in the eastern part of the Sea of ​​Japan, through the northern Tsugaru Strait (between Honshu and Hokkaido regions), along the Pacific coast of Japan, and then west through the Osumi Strait in southern Kagoshima Prefecture.
The main objective of conducting such military maneuvers between China and Russia, as declared by both parties, remains to unite forces against the United States of America and its allies, especially after its strained relations with both countries. In addition to Russia's dispute with the United States of America and the North Atlantic Treaty Organization since the Russian annexation of Crimea in 2014. Recently, US tensions with Russia have exacerbated, due to the latter's invasion of Ukraine.
Bearing in mind that Chinese President Xi Jinping did not respond directly to Russia's desire for joint military cooperation, but merely referred to Beijing's willingness to increase strategic cooperation with Russia. At the same time, there are US assurances that Washington has not monitored any indications of Chinese support for Russia in its war against Ukraine, unlike the case with North Korea and Iran, which Washington has accused of providing Moscow with ammunition and drones.
Here the message of the Russian President "Putin" to his Chinese counterpart "Xi Jinping" by expressing Russia's desire for a military rapprochement between the two countries to confront what he called unprecedented Western pressure, with President Putin affirming the right of the two countries to preserve their positions, principles, and aspirations to build a just international order, in a Russian reference to the multipolar system, which will mark the end of American unipolarity, the Russian side assured its Chinese counterpart that military cooperation between the Chinese and Russian sides will support international peace and security.
Here, Washington expresses its concern about such cooperation, which may cover any shortage of military supplies that Russia needs to continue its war against Ukraine. It was remarkable that Western officials ignored this time threatening China if it sought military cooperation with Russia.
There is an official Chinese assertion through the official Chinese government media affiliated with the ruling Communist Party, that Beijing will continue to adhere to its objective and fair position on the war in Ukraine, which is based on the fact that the West caused this conflict by insisting on spreading NATO bases to countries located in the immediate vicinity from the Russian borders, which is in line with and confirms the Russian point of view, and contradicts its Western counterpart, which views the Russian-Ukrainian war as an assault by Moscow on a sovereign country.
We will find that after the summit talks between President Xi Jinping and Putin (shortly before Russia started its invasion of Ukraine), both the Chinese and Russian sides oppose further NATO expansion, and stand against the formation of closed blocs and opposing camps in the Asia-Pacific region. In this way, China signaled its support for Russia in its power struggle with NATO against Washington and the West.
On the other side, the economic and military cooperation between China and Russia has also been increased, since the start of the Russian military operation against Ukraine in February 2022, despite the United States' threat to Beijing at the beginning of the war, to work to help the Russian economy find alternatives that help it avoid the repercussions of Western sanctions, However, it became clear that Beijing did not heed these American threats.
Here, China and Russia succeeded in arousing Washington's military wrath, through Moscow conducting several multilateral maneuvers with the participation of China and India at the end of 2022, in order to confirm that Washington's attempts to militarily weaken the relationship between Moscow, New Delhi, and Beijing will not succeed.
Hence, we can say that the relations between Russia and China have witnessed a remarkable growth in the military aspects in recent times, exceeding the limit of statements to the level of action and practical moves in the Indo-Pacific region or the Pacific and Indian oceans, as a joint Russian-Chinese response to confront the US alliances with its regional allies. In that region, accusing the American side of seeking and targeting the strangulation of the two countries in the first place. Especially after the series of security, political, economic and military alliances that the United States of America established against China and Russia in their regional region, led by the Aukus-Quad alliances against the interests of China and Russia mainly, coinciding with the escalation of the American provocations in the Taiwan Strait and the South China Sea, with the policy of continuous American mobilization of its allies in Europe, and the imposition of several packages of sanctions against Moscow to paralyze the Russian economy after the Ukraine war.
Therefore, the Chinese-Russian response, on the other hand, was to strengthen their network of military and diplomatic relations in light of their tense relations with the US side and its allies, through political and economic partnerships and joint and extensive military exercises, and Moscow and Beijing's keenness to conduct regular naval maneuvers between the two sides as threatening messages directed mainly at Washington.
SCO in an Era of New-Regionalism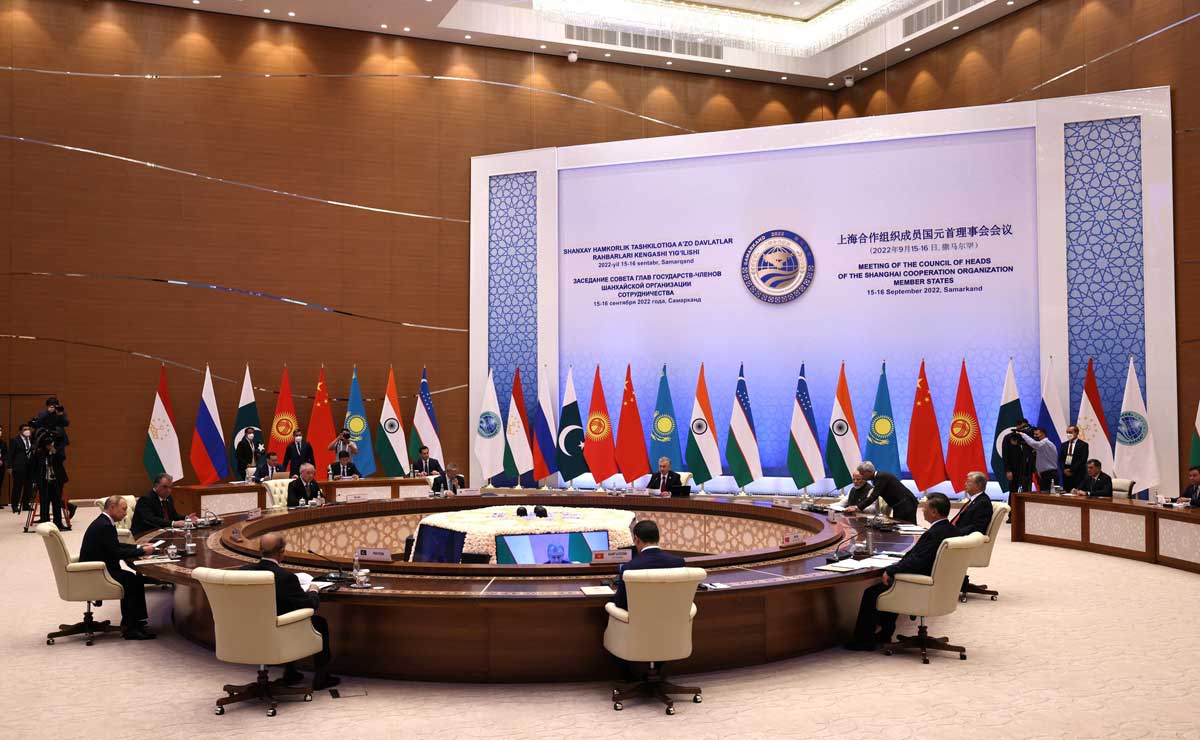 The growth of SCO may have emerged as the most victorious Eurasian Organization but it still has a long way to go. Since the day of its inception, SCO has been struggling to address some of the organization's major concerns such as maintaining cohesion among member states and addressing economic issues besides strengthening its institutional basis. However, it has expanded its regional profile and managed to portend in an era of New Regionalism.
The recent summit of the Eurasian Economic, Political, and Security Forum (on 15-16th September 2022) is of utmost importance considering the current serious political, and economic transformations happenings across the Eurasian Continent. This summit has marked new aspects of Regional Cooperation, and Economic Potential for SCO in the Changing International Environment.
The key takeaways of the recent summit: –
Inclusion of Iran as a permanent member of SCO
Turkey to pursue permanent membership of SCO
Gulf states to gain the status of SCO Dialogue Partner
Iran's supreme leader Ayatollah Khamenei said, "One of our priorities today in foreign policy is preferring East to West, neighbors to remote countries". As the world's biggest regional organization, SCO may use its institutional capacity and political power to counter economic sanctions and assist with financial instability in countries like Iran. Also, Iran has the potential to be a 'Hub Country' playing a key role in East-West and North-South transportation routes. The inclusion of Iran as a permanent member of the SCO demonstrates the rise of anti-Western narratives. Iran and Russia have expanded their connections in recent decades, including non-energy links, defense collaboration, and weapons sales. Therefore, Iran's willingness to pursue better ties with China and Russia (the SCO's two major countries) opens up a new wave of 'Multi-literalism' in the Eurasian Region. The energy crisis caused by the Ukraine war can be met by Iran (which has the world's fourth biggest oil and natural gas reserves) as Iran's commerce with SCO member states has risen to $37 billion by 2021. Iran's inclusion in SCO has strengthened China's policy of "Asia people to uphold Asian security" in changing geopolitical climate. It will enhance International North-South Transport Corridor- a shifting gear in Eurasian connectivity. Besides these positive aspects, there are other prospects for Iran's inclusion in SCO. Above all, SCO members have to deal strictly with three evils "Terrorism, Extremism, and Separatism" where Iran has been blamed for providing nuclear support for terrorism, and cross-border violence support by the West. Hence, Iran may face staunch opposition from the west to perform dexterously in the region. Although SCO has accomplished much in terms of multilateral growth, it does not appear to be capable of taking strong moves in the face of US-Iran antagonism, given the organization's structure, powers, and aims. Still, SCO does accrue economic and geopolitical benefits for Iran, allowing it to maintain its position in the Middle East.
Turkey's president Tayyip Erdogan said, "Our relations with these countries will be moved to a much better position with this step. Of course [membership], that's the target".
Turkey, a NATO member since 1952, indicates a distant possibility of becoming a permanent SCO member. However, its relations with the United States will determine its standing in the SCO. The recent SCO summit has shown Turkey's bid to get permanent membership of SCO. which might be because Turkey has grown closer to Moscow, both politically and commercially, in recent years, including acquiring an S-400 defense system. Ankara has also become economically dependent on Moscow to avoid a balance-of-payments catastrophe before the 2023 elections. However, in the SCO, Turkey will serve as an "Energy Hub" connecting Caspian and Central Asian producers with European customers.
China, SCO major power, is open to Turkey's accession besides Turkey's standing on the Uyghur issue (that might strain the future of China-Turkey relations). On the Syrian upheaval, clashes between Turkey and two SCO leading states Russia and China are possible. Turkey opposes Assad's dictatorship (and even supports humanitarian action), whilst Russia and China encourage non-interference. Membership in the SCO may enhance Islamist imperatives in Turkish internal politics, affecting its path to democracy. Turkey in SCO will have an influence on India's, Pakistan's, and Iran's policies in Central Asia. Furthermore, Turkey has the second biggest military force among NATO countries, after the United States, with around 445,000 troops. Turkey is home to five NATO headquarters in Izmir, as well as a US military-led airport. It also acts as an American security policy in the Middle East and the Balkans due to its key geographical position. Consequently, Turkey's departure does not appear to be a possibility so far. In "The Clash of Civilizations, and the Remaking of the World Order," Samuel Huntington described Turkey as a "torn country" because "its leaders typically wish to pursue a bandwagon strategy and to make their country a member of the West, but the country's history, culture, and traditions are non-western." All of this would impede the SCO's ability to achieve its fundamental aims, which have already been hampered by tensions among SCO member nations
For Gulf nations, the SCO has increased its need considering China as the global economic powerhouse, Russia as the world's second-biggest producer of natural gas, and Central Asian states with virtually unexplored oil and natural gas potential. Gulf States analyst, Ali Ahmad said "All of the countries involved do see china as a rising power and country that is potentially going to have a rising power in the region, and elsewhere" The SCO's recent success in the Arab world is due to China's expanding economic impact in the area. According to the United Nations COMTRADE database on international commerce, China's exports to Saudi Arabia are over US$30.32 billion. The safe access to its essential energy resources and marine trade routes, in addition to major seaports like Dubai, through which 60% of its traffic heading for Europe and East Africa flows, is a crucial driver of China's interest in the Gulf.
Also, US policy toward Gulf states, particularly after 9/11, has made these countries concerned for their future. The many Gulf States now wish to price some oil contracts in non-dollar-dominant countries. Where SCO, states reiterated their commitment to promoting national currencies in bilateral commerce in a recent summit, as China and Russia have boosted trading in rubles and renminbi since 2014. There has been a GCC-China free trade deal; if this agreement comes to fruition, it will undoubtedly benefit tarns-regional connectivity. Hence, Gulf states in SCO will catalyze Eurasian connectivity.
However, Institutional, infrastructural, and trade issues remain unresolved for SCO. Another critical question is SCO's expansion: should it be a regional or global organization? Is it to be a global future, as Russia wants, or a regional future, as China desires? Concrete policies and closer coordination are required, depending on the extent to which domestic and member state impacts converge, as well as their significance in addressing future security and economic concerns for the furtherance of SCO.