The US Economic Uncertainty: Bitcoin Faces a Test of Resilience?
Is inflation harmful? Is inflation here to stay? And are people really at a loss? These and countless other questions along the same lines dominated the first half of 2021. Many looked for alternative investments in the national bourse, while others adopted unorthodox streams. Yes, I'm talking about bitcoin. The crypto giant hit records after records since the pandemic made us question the fundamentals of our conventional economic policies. And while inflation was never far behind in registering its own mark in history, the volatility in the crypto stream was hard to deny: swiping billions of dollars in mere days in April 2021. The surge came again, however. And it will keep on coming; I have no doubt. But whether it is the end of the pandemic or the early hues of a new shade, the tumultuous relationship between traditional economic metrics and the championed cryptocurrency is about to get more interesting.
The job market is at the most confusing crossroads in recent times. The hiring rate in the US has slowed down in the past two months, with employers adding only 199,000 jobs in December. The numbers reveal that this is the second month of depressing job additions compared to an average of more than 500,000 jobs added each month throughout 2021. More concerning is that economists had predicted an estimated 400,000 jobs additions last month. Nonetheless, according to the US Bureau of Labour Statistics, the unemployment rate has ticked down to 3.9% – the first time since the pre-pandemic level of 3.5% reported in February 2020. Analytically speaking, US employment has returned to pre-pandemic levels, yet businesses are still looking for more employees. The leverage, therefore, lies with the labor: reportedly (on average) every two employees have three positions available.
The 'Great Resignation,' a coinage for the new phenomenon, underscores this unique leverage of job selection. Sectors with low-wage positions like retail and hospitality face a labor shortage as people are better-positioned to bargain for higher wages. Thus, while wages are rising, quitting rates are record high simultaneously. According to recent job reports, an estimated 4.5 million workers quit their jobs in November alone. Given that this data got collected before the surge of the Omicron variant, the picture is about to worsen.
While wages are rising, employment is no longer in the dumps. People are quitting but not to invest stimulus cheques. Instead, they are resigning to negotiate better-paying jobs: forcing the businesses to hike prices and fueling inflation. Thus, despite high earnings, the budget for consumption [represented by the Consumer Price Index (CPI)] is rising at a rate of 6.8% (reported in November 2021). Naturally, bitcoin investment is not likely to bloom at levels rivaling the last two years. However, a downfall is imminent if inflation persists.
The US Federal Reserve sweats caution about searing gains in prices and soaring wage figures. And it appears that the fed is weighing its options to wind up its asset purchase program and hike interest rates. In March 2020, the fed started buying $40 billion worth of Mortgage-backed securities and $80 billion worth of government bonds (T-bills). However, a 19% increase in average house prices and a four-decade-high level of inflation is more than they bargained. Thus, the fed officials have been rooting for an expedited normalization of the monetary policy: further bolstered by the job reports indicating falling unemployment and rising wages. In recent months, the fed purview has dramatically shifted from its dovish sentiments: expecting no rate hike till 2023 to taper talks alongside three rate hikes in 2022.
Bitcoin now faces a volatile passage in the forthcoming months. While the disappointing job data and Omicron concerns could nudge the ball in its favor, the chances are that a depressive phase is yet to ensue. According to crypto-analysts, the bitcoin is technically oversold i.e. mostly devoid of impulsive investors and dominated by long-term holders. Since November, the bitcoin has dropped from the record high of $69,000 by almost 40%: moving in the $40,000-$41,000 range. Analysts believe that since bitcoin acts as a proxy for liquidity, any liquidity shortage could push the market into a mass sellout. Mr. Alex Krüger, the founder of Aike Capital, a New York-based asset management firm, stated: "Crypto assets are at the furthest end of the risk curve." He further added: "[Therefore] since they had benefited from the Fed's "extraordinarily lax monetary policy," it should suffice to say that they would [also] suffer as an "unexpectedly tighter" policy shifts money into safer asset classes." In simpler terms, a loose monetary policy and a deluge of stimulus payments cushioned the meteoric rise in bitcoin valuation as a hedge against inflation. That mechanism would also plummet the market with a sudden hawkish shift.
The situation is dire for most industries. Job participation levels are still low as workers are on the sidelines either because of the Omicron concern or lack of child support. In case of a rate hike, businesses would be forced to push against the wages to accommodate affordability in consumer prices. For bitcoin, the investment would stay dormant. However, any inflationary surprises could bring about an early tightening of the policy: spelling doom for the crypto market. The market now expects the job data to worsen while inflation to rise at 7.1% through December in the US inflation data (to be reported on Wednesday). Any higher than the forecasted figure alongside uncertainty imbued by the new variant could spark a downward spiral in bitcoin – probably pushing the asset below the $25000 mark.
Tech layoffs and Indian IT Professionals
According to a report in the Washington Post, nearly 30%-40% of the 200000 workers laid off by IT companies like Google, Microsoft etc, since November 2022 are Indians. Several of these workers are on non-immigrant visas — H1B and L1 Visas. H1B is a non-immigrant work visa which enables US companies to employ individuals with specialised skills. If those on H1B visas do not find a new job within 60 days, they will have to leave the US. This would result in numerous logistical problems – for instance children of many of these individuals are enrolled in schools, and these individuals would also have to sell their properties. One suggestion which had been made is that these companies can extend the termination date for IT professionals on H1B visas by a few months.
It would be pertinent to point out, that several organisations are trying to help Information Technology (IT) professionals in their job search and also in influencing US policy makers of US Citizenship and Immigration Services (USCIS). While some of these individuals may be fortunate enough to find opportunities within the US, and a few would also be willing to relocate to India, if they are economically sound, others need to look at possible alternatives. While one possible alternative is Canada, which in recent years has been going all out to attract skilled tech professionals. After the inward immigration policies of the Trump administration, several professionals shifted to Canada (in 2019 the number of Indians who received permanent residency of Canada was over 80,000 while in 2016 less than 40,000 Indians received Canadian residency). Under the Global Skills Strategy program – the Canadian equivalent of the H1B – the processing time of immigration process for skilled workers to two weeks this has also resulted in Canada being a preferred destination for Indian IT professionals in recent years.
These professionals can also explore the possibility of options like UAE. UAE has been making a special effort to attract skilled professionals through its Golden Visa Program – a 10 year residency visa. Earlier, one of the reasons why the west was a preferred destination for Indian professionals vis-à-vis the UAE was that the latter did not provide long term visas. The introduction of the golden visa could make the UAE as a favoured destination for IT professionals given its proximity to India as well as the high living standards. Apart from this, the Golden Visa does not impose restrictions regarding dependents and family members can be sponsored regardless of their ages.
It is not just the UAE, even Japan is trying to attract professionals and has recently announced that individuals who have graduated from top universities can stay back for a period of two years (currently they can only stay for 90 days). Singapore which in recent years has emerged as preferred destination for Indian professionals has also emerged as an attractive destination for IT professionals. Between 2005 and 2020, the proportion of Indian professionals in Singapore has doubled and this has been driven to a large degree by the demand for tech professionals.
Many of the individuals who have been laid off by US companies can also take advantage of the increasing opportunities in India in the start-up sector and the recent thrust on digitalisation in India. Both the central and state governments should try to woo some of these individuals. A number of state governments, such as Kerala, have devised policies aimed at assisting expats who have returned from overseas to start business ventures.
Seeing the changes which are taking place in the IT Sector globally as well as some of the increasingly insular immigration policies of western countries, it is important that Indian students as well as professionals think innovatively and look at alternative avenues. Western companies as well as companies also need to bear in mind, that if other countries like UAE, Singapore, Japan and possibly countries like Vietnam and Taiwan, with strong research eco-systems and infrastructure, begin to open their doors to skilled IT professionals, then the west is unlikely to remain the primary choice for IT professionals in the longer run.
Free-Market Capitalism and Climate Crisis
Free market capitalism is an economic system that has brought about tremendous economic growth and prosperity in many countries around the world. However, it has also spawned a number of problems, one of which is the climate crisis. The climate crisis is a global problem caused by the emission of greenhouse gases, primarily carbon dioxide, into the atmosphere. These externalities are chiefly a consequence of day to day human activities, such as the burning of fossil fuels, deforestation, and conventional agriculture. The climate crisis is leading to rise in temperatures, sea levels, and more erratic weather patterns-The floods in Pakistan and depleting cedars of Lebanon are vivid instances for these phenomena, which are having a devastating impact on the planet.
One of the main reasons that free market capitalism has contributed to the climate crisis is that it prioritizes short-term economic growth over long-term environmental sustainability. Under capitalism, companies are primarily motivated by profit and are not required to internalize the costs of their pollution. This means that they are able to pollute without having to pay for the damage that they are causing. Additionally, the capitalist system is based on the idea of unlimited growth, which is not sustainable in the long-term. As long as there is an infinite demand for goods and services, companies will continue to produce them, leading to ever-increasing levels of pollution and resource depletion.
Another pressing issue that free market capitalism is recently going through is that it does not take into account the externalities of economic activities. Externalities are the unintended consequences of economic activities, such as pollution and climate change. Under capitalism, companies are not required to pay for the externalities of their activities, which means that they are able to continue polluting without having to pay for the damage that they are causing. In her book "This Changes Everything: Capitalism vs Climate" Naomi Klein argues that the current system of capitalism is inherently incompatible with the urgent action needed to address the Climate crisis.
To address the climate crisis, it is necessary to put checks and balances over the free market capitalism and/or make a way towards a more sustainable economic system. This can be done through a number of different effective policies, such as:
Carbon pricing: This can be done through a carbon tax or a cap-and-trade system, which would make companies pay for the carbon emissions that they are producing. In the article "The Conservative Case for Carbon Dividends" authors suggest that revenue-neutral carbon tax is the most efficient and effective way to reduce the carbon emissions.
Increasing renewable energy investments: an increment in the investments in clean energy technologies, such as solar and wind power, can result in the reduction in the use of fossil fuels.
Regulating pollution: Governments can regulate pollution to limit the amount of greenhouse gases that are emitted into the atmosphere.
Encouraging sustainable practices: Governments can encourage sustainable practices, such as recycling and conservation, to reduce the use of resources.
It is remarkable that evolving Capitalism can be harnessed to address the climate change. The private sector has the resources and innovation to develop and implement new technologies and sustainable practices, but they need the right incentives and regulations to do so. Finding the balance between economic growth and environmental protection must be a priority for capitalists.
The free market capitalism has been the driving force behind global economic growth, but at the same time, it has contributed to the ongoing climate crisis. The solution to this problem is not to reject capitalism, but rather to reform it to the societies' suitable demands. Government should consider providing a level playing field so as to make the probable transition from fossil-based energy systems to Green energy technologies possible. The capitalists should not consider short-termism over long term environmental sustainability. Government intervention to put a price on carbon emissions, invest in renewable energy, regulate pollution, and encourage sustainable practices is necessary to avoid the worst impacts of the climate crisis and build a sustainable future for all. However, here is the catch: Is achieving net-zero-carbon emissions by mid-century a probable target? The answer is quite uncertain, however it is critical point to strive for in the face of escalating Climate Crisis.
Egypt's "Too Big to Fail" Theory Once Again at Test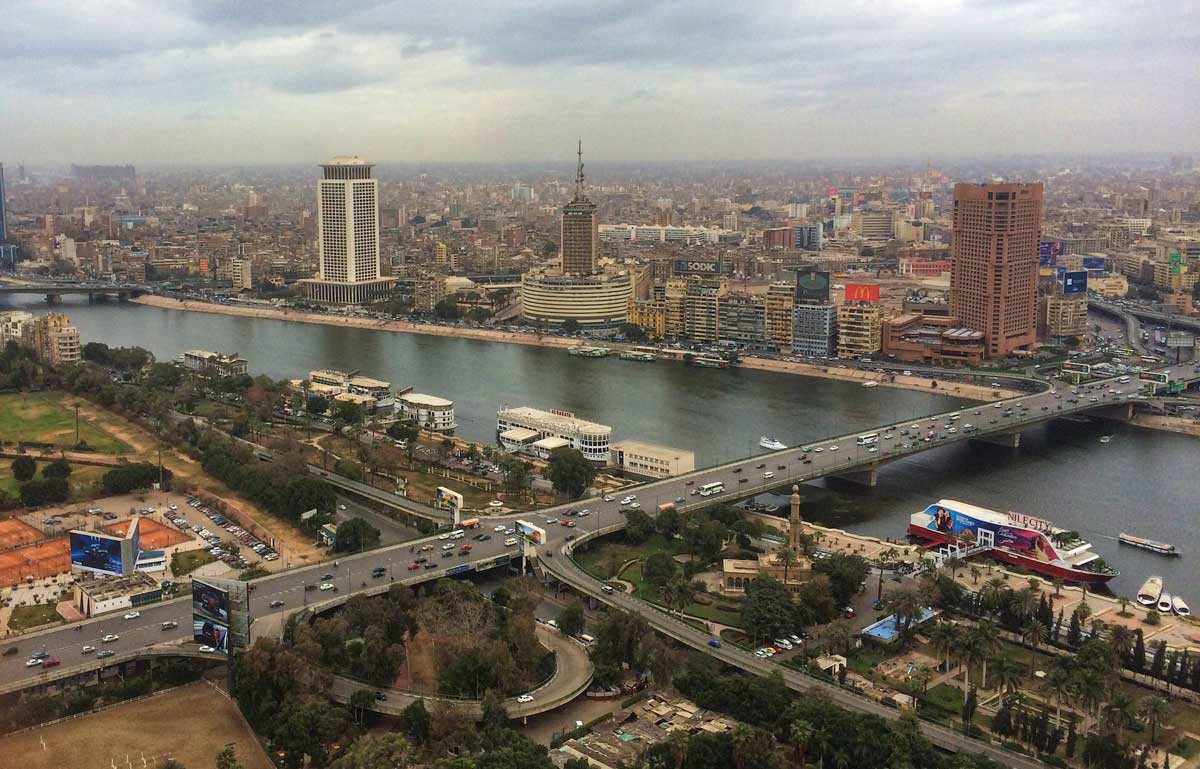 Authors: Reem Mansour & Mohamed A. Fouad
In the wake of 2022 FED's hawkish monetary policy, the Arab world's most populous nation, Egypt, saw an exodus of about USD20bn of foreign capital. A feat that exerted pressure on the value of its pound against the dollar slashing it by almost half. This led to USD12bn trade backlog accumulating in Egypt's ports by December 2022.
Meanwhile, amidst foreign debt nearing USD170bn, inflation soaring to double digits, and a chronic balance of payment deficit, Egypt became structurally unfit to sustain global shocks; the country saw its foreign debt mounting to 35% of GDP, causing the financing gap to hover at USD20billion.
While it may seem all gloom and doom, friends from the GCC rushed to inject funds in the "too big to fail" country, sparing it, an arguably, ill-fate that was well reflected in its Eurobond yields spreads and credit default swaps, a measure that assesses a sovereign default risk.
For the same reason in early 2023, the IMF sealed a deal worth of USD3bn, with the government, which unlocked an extra USD14bn sources of financing from multilateral institutions, and GCC sovereign funds, to fill in a hefty portion of the annual foreign exchange gap, albeit a considerable amount averaging USD6bn per annum is yet to be sourced from portfolio investments.
With the IMF stepping in, the Egyptian government agreed on a structural reform program that requires a flexible exchange rate regime, where the Egyptian pound is set to trade within daily boundaries against the US dollar, rationalize government spending, especially in projects that require foreign currency; and most importantly the program entails stake-sales in publicly owned assets, paving the way for the private sector to play a bigger role in the economy.
In due course, through its sovereign fund, Egypt planned initial offerings for shares in companies worth about USD5-USD6bn, and expanded the sale of its shares in local banks and government holdings to Gulf investment funds.
Through the limited period of execution of these reforms, the EGP hit a high of 32 against the greenback, and an inflow of portfolio investments amounting to USD1bn took place, according to the Central Bank of Egypt.
Simultaneously, Citibank International, cited a possible near end of the devaluation of the Egyptian pound against the US dollar. Also, in a report to investors, Standard Chartered recommended to buy Egyptian treasury bills, and pointed to the return of portfolio flows to the local debt market in the early days of January, 2023. Likewise, Fitch indicated the ability of the Egyptian banking sector to face the repercussions of the depreciation of the pound, and that the compulsory reserve ratios within Egyptian banks are able to withstand any declines in the value of the pound because they are supported by healthy internal flows of capital.
While things seem to be poised for a recovery, the long term prospects may lack sustainability. The Egyptian government needs to accelerate its plans to shift gears towards a real operational economy capable of withstanding shocks and dealing with any global challenges. Egypt, however has implicitly held the narrative that the country is 'too big to fail". This is largely true to the country's geopolitical relevance, but even this has its limitations when the price to bail far outweighs the price to fail.
Former President George W. Bush's administration popularized the "too big to fail" (TBTF) doctrine notably during the 2008 financial crisis. The Bush administration often used the term to describe why it stepped in to bail out some financial companies to avert worldwide economic collapse.
In his book "The Myth of Too Big To Fail" Imad Moosa presented arguments against using public fund to bail out failing financial institutions. He ultimately argued that a failing financial institution should be allowed to fail without fearing an apocalyptic outcome. For countries, the TBTF theory comes under considerable challenge.
In August 1982, Mexico was not able to service its external debt obligations, marking the start of the debt crisis. After years of accumulating external debt, rising world interest rates, the worldwide recession and sudden devaluations of the peso caused the external debt bill to rise sharply, which ultimately caused a default.
After six years of economic reform in Russia, privatization and macroeconomic stabilization had experienced some limited success. Yet in August 1998, after recording its first year of positive economic growth since the fall of the Soviet Union, Russia was forced to default on its sovereign debt, devalue the ruble, and declare a suspension of payments by commercial banks to foreign creditors.
In Egypt, although the country remains to face a number of challenges, signs remain relatively less worrying than 2022, as global sentiment suggests that leverage will be provided in the short-term at least. Egypt's diversified economy, size and relative regional clout may very well spare the country the fate of Lebanon. However, if reforms do not happen fast enough, the TBTF shield may become completely depleted.
Hence, in order to avoid an economic fallout scenario a full fledged support to the private sector's local manufacturing activity and tourism is a must. Effective policies geared towards competitiveness are mandatory, and tax & export oriented concessions are required to unleash the private sector's maximum potential and shift Egypt into gear.