Authors: Ash Narain Roy and Aishwarya Parihar
Introduction
First the Latin American and later the Indian writers stormed the global literary scene and became a vibrant part of the American and European literary tradition across major genres. So much so that when Nigerian novelist Chimamanda Ngozi Adichie was struggling to get her first novel, Purple Hibiscus, published, she was told, says journalist Felicia R. Lee, "if only you were Indian." In recent decades, a significant number of black writers have made a splash on the world literary scene. Their books are on best sellers lists and they are winning top prizes. In October 2021, Tanzanian novelist Abdularazak Gurnah won the prestigious Nobel Prize in Literature while novelist Tsitsi Dangarembga from Zimbabwe got the Peace Prize of the German Book Trade.
The global recognition of African writers is not a flash in the pan. African novelists seem to have made a habit of winning top prizes. What accounts for the tide turning for African writers? Can we discern a trend?
All writing is essentially autobiographical and motivated by a desire for self-creation. "Everybody has a story", says Isabel Allende, and "all stories are interesting if they are told in the right tone." African writers seem to have found the right tone. They have found a formula to communicate their stories well before they are perhaps understood. Their felicity to take themselves back to their past perhaps explains the rise of African writers on the world horizon.
As Maya Angelou writes, "there is no greater agony than bearing an untold story inside you." Repressed memories are today finding outlets as perhaps never before. Pain and trauma have become a repertoire of compelling literature. More so in the case of black novelists. They have several voices in their head and thoughts which are nourished on contradictions of straddling the two worlds.
Writing is a recovery process. You recover your lost memories but also your lost world. Through writing you recover from loss, pain, separation, bereavement, betrayal, abandonment and trauma. American writer Joyce Carol Oates calls fiction a mask that you can wear to get closer to a truth. Mexican writer Octavio Paz says silence and appearance have historically been crucial tools for survival. The habits of keeping silent and maintaining appearance are at the centre of Latin American soul. Paz describes this attitude as a "smiling mask." Perhaps it is equally true of Africa.
Writing is a liberating process to take something that has happened in real life. But you also change your relationship to the past. As a writer you become your own healer, often seeking solace in your own writing. You may call a writer a wounded healer. It is our wounds that enable us to be compassionate with the wounds of others. Writing heals both heart and soul.
Like shamans, writers and poets wield power with words. Ancient Celtic storytellers were essentially both shamans and storytellers. German poet and fiction writer Ludwig Tieck describes Shakespeare as "the consummate shaman" who initiated spectacles through his "eccentric character into a magical worldview with various English esoteric orders." Like a shaman, a writer acts as a guide to the crisis of others. Poets, like shamans, become singers calling us to hear the hidden meanings wrapped in their poems.
To discuss some of the questions and assumptions raised above, this article endeavours to examine the trends in modern literature and, more specifically, the rise of African literature. An effort is made to analyze the works of some of the most prominently recognized African writers. The focus is primarily on the writers whose critically acclaimed works in the period from 2017 to 2021 have taken the literary world by storm. The article covers the Booker and International Booker prize shortlists and winners and the Nobel Prize for Literature winners.
While this time frame is chosen to reflect the recent trends in modern literature, the award categories are chosen based on their international acclaim and popularity, the international scope of the shortlists and their relative diversity. The sample size is not expansive as the focus is on more in-depth qualitative assessment. A careful review of the sample reveals literature emerging from authors with personal background and origins in: Asia, Africa, Latin America, the Middle East along with a continuing strong representation in Europe and North America as well. The article however only zooms in on some of the prominent authors with African background and origins and their respective works. Finally, this article is an attempt to underline prominently emerging themes in the literature of these selected authors of African origins and their own histories and thought processes that inspire their dialogues.
Damon Galgut
Born and brought up in Pretoria, South Africa, Damon Galgut is a novelist and a playwright, who wrote his first novel at the age of 17. His most recent book The Promise recently won the 2021 Booker prize based on what judges called a "spectacular demonstration of how the novel can make us see and think afresh"[i].
The novel spans four funerals over four decades: this duration includes the apartheid period along with the election of Nelson Mandela followed by the corruption years in the post-segregation era. In his own words, Galgut calls it "the four acts of a play". The said promise is essentially that of a dying matriarch of a privileged white family- The Swarts, to their black domestic employee Salome. She wishes to grant the ownership of Salome's home that is on the Swarts' land, back to her as a gesture to reciprocate her devoted service. The story interweaves intricate historical details afflicting the characters and brings out the themes of poverty, racism, settler-colonialism and associated identities.
Galgut explains the dynamic between the Swarts family and Salome as the testament to "the white South African psyche" which he states is "not very perceptive about Black citizens" and this psyche was employed to essentially justify how the Black South Africans were suppressed for more than three centuries. Galgut expresses how writing this book was a means to "exorcize" some elements of how he was brought up, "Pretoria in the 1960s, 70s and 80s was not a great place for anyone to grow up in, even by South African standards. It was very much the nerve centre of the whole apartheid machine and it had a correspondingly conservative Christian mindset, along with a kind of underlying violence that was very memorable."[ii]
Galgut's winner The Promise brings to the forefront the complex layered history of South Africa, weighing in the discussion around the tumultuous times of not only apartheid but also of a transitional post-apartheid society. Galgut's personal aspiration through his works "is to reach through the politics to what lies beneath – the currents of power that play out either on a large scale (nationally) or on the tiny scale of two individuals in a room".[iii] His other semi-autobiographical narratives such as "The Lover", "The Follower" and "The Guardian" aided him in pondering upon the constructed concept of borders and the modern realities attached to it. While he appears as a cosmopolitan traveller with access to certain socio-economic currencies that allow to cross these borders, he is also more constrained with a South African passport than several of his fellows from the first world.
"Everything at times of transition takes on a symbolic weight and power. But this too is why he travels. The world you're moving through flows into another one side, nothing stays divided anymore, this stands for that, weather for mood, landscape for feeling, everything turns into metaphor. The border is a line on a map, but also drawn inside himself somewhere." (The Lover, 23–24)
Galgut's The Imposter at some point critiques the literary practice in South Africa itself in a sense of acute self-awareness and sparks the discussion around the changing landscape of South African literature and authorship. Michael Chapman defines the more current era of local South African literary practice through the term "post post-apartheid" considering the changes that have taken place over the last decade. Chapman recognizes a clear shift in this presently "post-transitional" era of South African writing which is not completely submerged in the questions of ethics with respect to race and cultural differences, with writers expanding into other thematic liberties and diversifying aesthetic choices. This is also characterized by recognizing the literary freedoms beyond protesting apartheid as also noted by Ellen Boehmer that "..freedom has made cultural daring more possible."
Nadifa Mohammed
British-Somali author Nadifa Mohammed's third book The Fortune Men is a fictional recreation of the real-life account of Mahmood Mattan, wrongfully executed in Wales because of grave injustices at the hands of police. The book earned her critical acclaim as well as a shortlist spot in the Booker prize 2021. In the real incident, Mattan was accused of murdering a shopkeeper, he was later found guilty in the trial and hanged at the Cardiff prison in 1952 when he was in his late 20s.[iv] This case is regarded as a symbol of historic miscarriage of justice as it was later discovered that the police had paid the lead witness to testify against him. Mattan was arrested and convicted in a matter of hours after the murders, despite the availability of a verified alibi. The subsequent decades-long campaigning by Mattan's family resulted in his exoneration posthumously about 46 years later in 1998. Albeit set in a different time, the novel is freshly relevant in the face of the contemporary Black Lives Matter movement.
Nadifa Mohamed was born in Hargesia, Somalia but grew up in England as her family moved to England when she was four as in her words her father recognized that "Somalia was sinking deeper".[v] Having left right before the civil war broke out in Somalia, Mohammed explains being in "the middle zone between being an immigrant and a refugee".
It is evident that her works are influenced by the stories and understandings of her father's and her families' realities and of their homeland Somalia at that point of time and a cathartic act of processing these realities in form of writing. Her first works are "Black Mamba Boy"—an account of her father's journey from East Africa to Europe in the 1930s-40s and "Orchard of Lost Souls"—about Somalia at the edge of civil war and the lives of three women in that setting.[vi]
Jaques Chevrier— a French literary theorist coins the term migritude to denote the new body of emerging African literature, he formulates that immigration is a prominent theme in the present-day African literature. Migritude literature critically engages with the themes around diaspora and movement in the epoch of global capitalism, thus offering different perspectives to these.[vii] Much like Nadifa Mohammed, younger authors are in touch with previous generations of black radical tradition. In this context, migritude literature interweaves the nuances of postcoloniality, globalization, racism and modernity through the investigation of the trope of movement and everything it entails, such as displacement, departure, identity and belonging.
"Their faces were passports inscribed with the stamps of many places but in their countenances was something ancient, the variety of those who went wandering and peopled the earth." (Black Mamba Boy, 305)
Cameroonian philosopher Mbembe argues mobility and distinct kind of circulation to be amongst the prime attributes of Africa arising from the continent's historical and cultural experiences. He further ascertains that Africa was never a closed continent- "but always a continent on the move".
Mohammed's Black Mamba Boy (2010) is partially biographical in nature of her father's journey, and records the journey of a young boy Jama in search of his father, across the Horn of Africa, the Middle East and Europe. Although Jama's wandering is what also propels the novel forward, it is ironically what creates obstacles, through the idea of borders that concretizes via the necessity of passports and papers and other such colonial infrastructures. A lack of these derail him— all of this is engaged through the trope of movement.
"Crowds were walking toward the station, where uniformed policemen stopped and searched them. Jama had never needed identification before, he had no paper saying who he was and where he belonged, but from now on, his abtiris would not be enough to prove his identity. In this society you were a nobody unless you had been anointed with a stamp by a bureaucrat." (Black Mamba Boy, 284)
Nadifa Mohamed's migritude literature bridges the themes from colonial pasts, everlasting consequences of it and how they take shape and still remain relevant in the present day.
Mohamed expresses "I don't get my politics from critical theories, I get them from my own lived experience as a woman, as a Black woman, as a Muslim, Black woman. All of these things make me very attuned to power and where it lies, and where it doesn't lie."
David Diop
David Diop comes from a dual culture as a Franco-Senegalese, he was born in France and raised in Dakar, Senegal.[viii] His novel At Night All Blood is Black won the 2021 International Booker prize. Diop brings to the fore— the African soldier on the front lines, the protagonist from the silenced history in WWI literature.[ix] In the first World War, the French government listed about 200,000 soldiers from its vast colonial empire, including Senegal. These recruitments were not always voluntary and Diop brings to surface the grim thought behind the experiences of numerous West African soldiers, who either died or had their entire lives uprooted fighting someone else's war. Even though, the colonial troops were already established at the end of 1800s, in the post- war years the contribution of African soldiers is rarely commemorated[x] or discussed in French curriculums and public discourses.[xi] Santanu Das has emphasized reassessing the commemorative practices of the war in order to challenge the 'the colour of war memory'.
The story is narrated by a 20-year-old Alfa Ndiaye who hails from a rural village in Senegal, he becomes the narrator and the story. Alfa watches his childhood friend, his "more-than-brother" dying in the battlefield, begging Alfa to end his suffering faster by slitting his throat. Alfa is unable to perform the mercy killing due to the values of his ancestors that prohibit it. As he carries the body of his dear friend across the field, he is filled with immense guilt and trauma, and thus begins his slow and gruesome descent into madness. Alfa designs a ritual, in his mind to make amendments for what he couldn't do for his friend. At night he sneaks into the enemy camp and brutally injures the enemy in a similar fashion as his dear friend was and then "cleanly" slits their throats as mercy in no-man's-land. As a memento, he severs a hand off of each kill and stores it.
Albeit celebrated at first by his fellow soldiers for this "brave" act, they later start becoming afraid of him and subsequently Captain Armand forbids him from indulging in the hand-severing.
"You will content yourself with killing them, not mutilating them," Armand orders without a hint of irony. "The civilities of war forbid it." (At Night All Blood is Black, 59)
Diop uses brilliant and shocking imagery to imply the destruction caused by colonialism and the wars that were forced upon so many and the horrors which didn't just uproot whole societies but humanity itself.
"It's the war that's savage, not the soldiers," Diop says.[xii]
Diop talks about how "the other"—the African, or Asian were portrayed during the war and reading into such sources of information. The predominant image of the West African infantrymen as mythologized for propaganda that pervaded France during WWI was characterized by the following traits: bloodthirsty, ruthless, prone to brutal attacks albeit submissive.
He explains "France provided a machete as part of African troops' uniform – they were the only soldiers to be given that particular weapon.
On the other side, I saw caricatures in a 1916 Berlin paper of an African rifleman with skulls hanging from a belt round his waist, a savage rictus grin, and a sort of joy in his eyes that he was going to kill the enemy."
This understanding he uses in the narration by making the cruel irony visible, in the following lines narrated by Alfa:
"The captain told them that the enemy was afraid of savage Negroes, cannibals, Zulus, and they laughed…The captain has told them they are great warriors, so they love to get themselves killed while singing, so their madness becomes a competition…Temporary madness in war, is bravery's sister." (At night all blood is black, 14)
Through the novel, Diop challenges the dichotomy between "the savage and the civilized" and questions where the line of brutality is drawn— by who performs it and not by the nature of the act. As Alfa is baffled by the logic which determines that mutilating German corpses is criticized by the same Captain Armand who forces his own rebellious soldiers to climb out of their trench with hands tied behind their backs, to be shattered by enemy bullets.
"The captain's France needs for us to play the savage when it suits them. They need for us to be savage because the enemy is afraid of our machetes." (At Night All Blood is Black, 14-15)
Tsitsi Dangarembga
Tsitsi Dangarembga was born in 1959 and became the first Black woman from Zimbabwe to publish a novel written in English.[xiii] Her first novel Nervous Conditions was released in 1988 and is amongst BBC's 100 books that shaped the world. Dangarembga's novel This Mournable Body, shortlisted for the 2020 Booker prize is a part of the trilogy that maps Zimbawbe's history spanning the end of colonial rule, the war of independence and the period following from that where "This Mournable body" resumes. The trilogy follows the character Tambudzai Sigauke and her life in these contexts, This Mournable Body is set in post- independence period of 1990s characterized by a flux in Zimbabwe's economy.
A bitter reality of a postcolonial society is that the systems that replace the colonial rule may still enforce the vicious schemes of the colonial rule as they become evident in the case of Zimbabwe as well.[xiv] As she ultimately returns to work beside the people of her community, Tambu comes upon a profound realization "there is more war in your country's way of peace than any of you had expected."
Dangarembga was arrested in July 2020 for participating in an anti-corruption protest in Harare on the alleged grounds of inciting public violence. "That is the tragedy of Zimbabwean life: that life, the whole greatness of human experience, is really curtailed because of the political microcosm." She critically voices the lack of freedom of speech and expression in Zimbabwe and the crackdown by the authorities that follows due to the expression of different opinions.
"We have a joke in Zimbabwe: There is freedom of expression, but there is no freedom after expression."[xv] She explains that a compelling reason of lack of freedom expression is because certain groups of people are withheld from having resources, access to books being one of those. Therefore, the subsequently collapsing publishing industry results in people reading lesser than ever. "From time to time you will find that NGOs will publish a book. It might be fiction, it might be nonfiction but it is always within the context of the development narrative that casts Africa as a problem: "Africa is undeveloped." Therefore, it has this problem, which we have to tackle in this story."
Dangarembga was awarded with the Peace Prize of the German Book Trade in October 2021. She is recognized amongst the most important filmmakers in Zimbabwe and through her films, she creates awareness regarding substantial subjects such as AIDS and violence against women.
African women from the South, in literature, exemplify resistance against political disenfranchisement and suppression in African society of colonial and neocolonial era.[xvi]
Dangarembga's works explore the themes of ruthlessness of imperialism, the worth of attainment of western education and how it impacts and often alienates the African, the suppression of women in relation with patriarchy and the experience of colonization maintains as a predominant theme.[xvii]
Dangarembga's trilogy follows what might be an experience for several African women burdened with the dual oppression of colonization as well as patriarchy. The title of the first novel of the trilogy Nervous Conditions therefore becomes an apt metaphor for the conditions of many African women and the psychological intensity (or nervousness) of being subjected to the twofold weight of patriarchal oppression heightened by the colonial experience. Talking about the "multiple oppressions" that women of Zimbabwe face:
"If you have to wash the children or do the laundry or if you are looking after an elderly relative because there is no provision for them, this works functionally to make sure that women's energy does not manifest in expression but really in drudgery, dealing with drudgery."
Abdulrazak Gurnah
"I am a refugee, an asylum-seeker. These are not simple words, even if habit of hearing them makes them seem so. It is a familiar minor climax in our stories, leaving what we know and arriving in strange places, carrying little bits of jumbled luggage and suppressing secret and garbled ambitions." (By the sea, 4)
Abdulrazak Gurnah was born in 1948 in Zanzibar, an archipelago off the coast of east Africa, now Tanzania. He moved to England in the 1960s, in attempts to escape the ensuing civil unrest in Zanzibar and sustained hostilities directed towards the Arab population, and in hopes of pursuing a university education in England.[xviii] Relocation to England from Zanzibar is something he has in common with several of his protagonists. The violence against the Arab population, instigated by radical nationalism is a characteristic that features in his novel Memory of Departure (1987) in the duration of Zanzibar's independence.[xix] One of the most treacherous legacies of the British colonial system— The divide and rule policy contributed in the heightening of the racial divisiveness in the Zanzibari society. Talking about the Zanzibar revolution Gurnah wrote in 2001, "In the shambles and persecutions that followed, a vindictive terror ruled our lives."[xx] He was a Professor in Postcolonial literature before his recent retirement, his first book Memory of Departure came out in 1987 and his writing career spans over a period of three decades. He recently won arguably the most prestigious prize in literature—the Nobel prize in 2021 for "his uncompromising and compassionate penetration of the effects of colonialism and the fate of the refugee in the gulf between cultures and continents".[xxi]
Gurnah explains his venture into writing and that a it was not a conscious act, ""Writing [came] out of the situation that I was in, which was poverty, homesickness, being unskilled, uneducated."
Gurnah's 2001 novel By the Sea is set between Zanzibar and Britain and has primary themes of displacement and unbelonging in postcolonial Africa. His narrative identifies how displacement becomes a link, albeit traumatic, between the past and present in a postcolonial context. Drawing from his personal history, Gurnah explores the representation of the free/unfree dichotomies.
As the displaced subject in By the Sea, Saleh's account does not mull over the past events as such but rather the traumatic revisiting of the past forced through imprisonment and exile.
"So then these are the events that befell. Many of them are difficult to speak of without drama, and some of them fill me with anguish, but I crave to utter them, to display them as judgements of my time and of the puniness of our duplicitous lives." (By The Sea, 112)
The novel offers multiple viewpoints along with contradictory accounts of the truth purposefully to demonstrate how the memory also deceives.
Gurnah speaks of the British migrant experience and his subjects who reside often in two cultural spaces make sense of the realities old and new through taking on emotional and philosophical journeys. In the lives of Gurnah's characters, history is a looming presence but his narration fills the gaps of history itself, which is that he profoundly weaves with history the lived experiences. A prominent character of Gurnah's writing is the embedding of places into people. He does not characterize people by their physical attributes but though the exploration of geographical spaces they have lived in, the person and place coalesce for a greater sense of human experience.
The central protagonist of the novel Memory of Departure is Hassan, an Arab teenager from Kenge and his coming-of-age story amidst the hostile socio-political transformations in Zanzibar, with an acute racial consciousness shaping the narrative. The two key themes of his novel are evidently "memory" and "departure", the novel finds its grounding through the "memory"— a recurring recreation and revisiting of the past to gain a sense of self. "The departure, however, intensifies the attachment."[xxii]
Gurnah admits that displacement is a subject of his fascination, one which isn't getting any less relevant. "This is a very big story of our times, of people having to reconstruct and remake their lives away from their places of origin. What do they remember? And how do they cope with what they remember?" He remembers the time of his one entry and the hostile reception in Britain in 60s. While the overt racism which was much more prevalent then, has reduced, the response to migration remains a worrisome subject still. In this sense, he questions the progress and the illusory advancements made from then to now.
Conclusion
The works of African writers have a dazzling range and rigour. These are elegant, pacey and gripping. However, weaving disparate strands together into a pattern is a challenging task. Writing is a mirror held up to life. It is also an outlet and an escape from the rudderless, ordinary existence and banality of life. It is African writers' profound sense of empathy and an act of imagination which is receiving international recognition.
In recent decades, African writers have got extensive exposure to the west. They continue to be torn between the two worlds, but they don't suffer from the complex that the only way to re-join the universe is to die. They are as practical, analytical and sophisticated as their western counterparts. Where they excel is in their narratives about the loss of community, customs, rituals, values and sanctions that give meaning to life.
As Iranian-American writer Azar Nafisi writes, stories "link us to our past, provide us with critical insight into the present and enable us to envision our lives not just as they are but as they should be or might become." Home, sense of loss and hurt never go away. As Norwegian singer-song writer Astrid S sings, "Hurts So Good/When it hurts but it hurts so good."
Ash Narain Roy is Director, Institute of Social Sciences, Delhi
*Aishwarya Parihar is a Global Studies Masters student, studying under the Erasmus Mundus scholarship having studied at Leipzig University and currently at the University of Vienna.
Endnotes
---
[i]Barry, Eloise. "Damon Galgut on the Promise and Winning The Booker Prize." Time. Time, November 5, 2021. https://time.com/6114441/damon-galgut-booker-prize-the-promise/.
[ii]"Damon Galgut: 'the Booker Pulls a Nasty Little Trick on You'." The Guardian. Guardian News and Media, September 4, 2021. https://www.theguardian.com/books/2021/sep/04/damon-galgut-the-booker-pulls-a-nasty-little-trick-on-you.
[iii] Kostelac, Sofia. "'Imposter, Lover and Guardian': Damon Galgut and Authorship in 'Post-Transition' South Africa." English Studies in Africa 53, no. 1 (2010): 53-61. https://doi.org/10.1080/00138398.2010.488339.
[iv]"The Fortune Men by Nadifa Mohamed Review – a Miscarriage of Justice Revisited." The Guardian. Guardian News and Media, May 25, 2021. https://www.theguardian.com/books/2021/may/25/the-fortune-men-by-nadifa-mohamed-review-a-miscarriage-of-justice-revisited.
[v] "Nadifa Mohamed: 'Modern-Day Britain Is Intense'." The Guardian. Guardian News and Media, October 9, 2021. https://www.theguardian.com/books/2021/oct/09/nadifa-mohamed-modern-day-britain-is-intense.
[vi] Abdul, Geneva. "Writing about a Past Injustice Helped Her See What Has and Hasn't Changed." The New York Times. The New York Times, October 20, 2021. https://www.nytimes.com/2021/10/20/books/nadifa-mohamed-fortune-men.html.
[vii] Foster, Christopher Ian. "Home to Hargeisa: Migritude, Pan-Africanism, and the Politics of Movement from Banjo to Black Mamba Boy." Ufahamu: A Journal of African Studies 38, no. 2 (2015). https://doi.org/10.5070/f7382025975.
[viii] Cappelle, Laura. "He Is Senegalese and French, with Nothing to Reconcile." The New York Times. The New York Times, May 30, 2021. https://www.nytimes.com/2021/05/30/books/david-diop-at-night-all-blood-is-black.html.
[ix] Stevens, Jessi Jezewska. "In the Trenches with the Colonizer." Foreign Policy, November 21, 2020. https://foreignpolicy.com/2020/11/21/trenches-colonizer-world-war-i-france-senegal-review-david-diop-night-all-blood-is-black/.
[x] Branach-Kallas, Anna. "Tirailleurs Sénégalais, Savagery, and War Trauma in at Night All Blood Is Black by David Diop." Journal of War & Culture Studies, 2021, 1–16. https://doi.org/10.1080/17526272.2021.1891674.
[xi] Caroline D. Laurent Postdoctoral fellow. "David Diop: His Haunting Account of a Senegalese Soldier That Won The Booker Prize." The Conversation, November 10, 2021. https://theconversation.com/david-diop-his-haunting-account-of-a-senegalese-soldier-that-won-the-booker-prize-162120.
[xii] "International Booker Winner David Diop: 'It's War That's Savage, Not the Soldiers'." The Guardian. Guardian News and Media, June 18, 2021. https://www.theguardian.com/books/2021/jun/18/international-booker-winner-david-diop-its-war-thats-savage-not-the-soldiers.
[xiii] Swart, Mia. "Tsitsi Dangarembga: Life in an 'Ever-Narrowing Zimbabwe'." Arts and Culture | Al Jazeera. Al Jazeera, November 16, 2020. https://www.aljazeera.com/features/2020/11/16/qa-tsitsi-dangarembga.
[xiv] "Suffering Visible: The Ravages of Postcolonial Capitalism in Tsitsi Dangarembga's 'This Mournable Body.'" Los Angeles Review of Books, September 14, 2018. https://lareviewofbooks.org/article/suffering-visible-the-ravages-of-postcolonial-capitalism-in-tsitsi-dangarembgas-this-mournable-body/.
[xv] Deutsche Welle. "Tsitsi Dangarembga: 'Access to Books in Zimbabwe Is Very Difficult': DW: 22.10.2021." DW.COM. Accessed December 21, 2021. https://www.dw.com/en/tsitsi-dangarembga-peace-prize/a-59423526.
[xvi] Aegerter, Lindsay Pentolfe. "A Dialectic of Autonomy and Community: Tsitsi Dangarembga's Nervous Conditions." Tulsa Studies in Women's Literature 15, no. 2 (1996): 231. https://doi.org/10.2307/464133.
[xvii] Uwakweh, Pauline Ada. "Debunking Patriarchy: The Liberational Quality of Voicing in Tsitsi Dangarembga's 'Nervous Conditions.'" Research in African Literatures 26, no. 1 (1995): 75–84. http://www.jstor.org/stable/3820089.
[xviii] Boparai, Mohineet Kaur. The Fiction of Abdulrazak Gurnah: Journeys through Subalternity and Agency. Newcastle upon Tyne, UK: Cambridge Scholars Publishing, 2021.
[xix] Kharoua, Mustapha. "Abdulrazak Gurnah's By the Sea: Unbelonging and the Trauma of Imprisonment." INTERNATIONAL JOURNAL OF HUMANITIES AND CULTURAL STUDIES 3, no. 3 (December 2016): 126–41.
[xx] "'I Could Do with More Readers!' – Abdulrazak Gurnah on Winning The Nobel Prize for Literature." The Guardian. Guardian News and Media, October 11, 2021. https://www.theguardian.com/books/2021/oct/11/abdulrazak-gurnah-winning-nobel-prize-literature-zanzibar-priti-patel-racism.
[xxi] "The Nobel Prize in Literature 2021." NobelPrize.org. Accessed December 21, 2021. https://www.nobelprize.org/prizes/literature/2021/summary/.
[xxii] Banerjee, Debayan. "Nation as Setback: Re-Reading Abdulrazak Gurnah's Memory of Departure." International Journal of Research and Analytical Reviews 5, no. 3 (2018): 874–78.
Sergey Lavrov to Choose between Illusions and Reality for Africa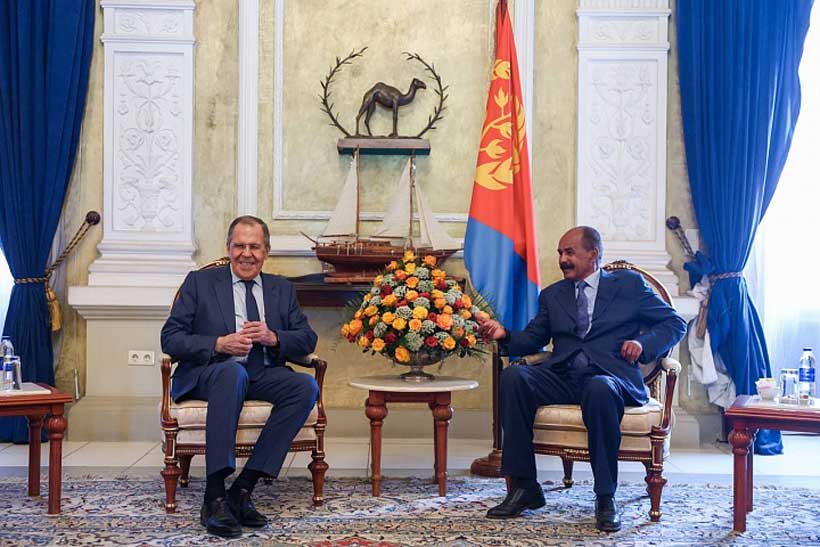 Late January, four African countries – South Africa, Eswatini, Angola and Eritrea – officially hosted Russian Foreign Minister Sergey Lavrov. He went visiting these African countries, as part of laying the groundwork and testing the pulse, ahead of the forthcoming second Russia-Africa summit set for late July in St. Petersburg. The first such summit was held in Sochi from October 2019 under the motto "For Peace, Security and Development" which attracted a large number of African representatives.
As Russia prepares to strengthen its overall corporate economic profile during the next African leaders summit, many Russian policy experts are questioning bilateral agreements that were signed, many of them largely remained unimplemented, with various African countries.
At the prestigious Moscow-based Institute for African Studies, well-experienced policy researchers such as Professors Vladimir Shubin and Alexandra Arkhangelskaya have argued that Russia needs to be more strategic in aligning its interests and be more proactive with instruments and mechanisms in promoting economic cooperation in order to reap the benefits of a fully-fledged bilateral partnership.
"The most significant positive sign is that Russia has moved away from its low-key strategy to vigorous relations, and authorities are seriously showing readiness to compete with other foreign players. But, Russia needs to find a strategy that really reflects the practical interests of Russian business and African development needs," said Arkhangelskaya, who is also a Senior Lecturer at the Moscow High School of Economics.
Currently, the signs for Russia-African relations are impressive – declarations of intentions have been made, important bilateral agreements signed – now it remains to be seen how these intentions and agreements entered into these years will be implemented in practice, she pointed out in an interview.
The revival of Russia-African relations have to be enhanced in all fields. Obstacles to the broadening of Russia-African relations have to be addressed more vigorously. These include, in particular, the lack of knowledge or information in Russia about the situation in Africa, and vice versa, suggested Arkhangelskaya.
While answering questions from the "Moscow. Kremlin. Putin" television programme, December 25, 2022, Lavrov explained that Russia's motto is the balance of interests. "This balance is the core of our foreign policy. It is the only approach that has prospects in international affairs," he reiterated, so Russia should balance its interest (not to describe them as enemies) with other external players in Africa.
Lavrov has been in the ministerial seat these several years and, of course, seems to be up to the existing challenges and the comprehensive policy tasks in continental Africa. In Pretoria, Lavrov held discussions with South African Foreign Minister Naledi Pandor. While talking later about Russia-Ukraine crisis at the media briefing, Lavrov said Moscow appreciated "the independent, well-balanced and considerate approach" taken by Pretoria. South Africa has refused to condemn Moscow's invasion of Ukraine. Russia has been hit by unprecedented stringent sanctions, suffers from isolation.
South Africa has now assumed the chairmanship of the BRICS, a grouping that includes Brazil, Russia, India and China. It will, however, host joint maritime drills with Russia and China in February 17 to 27, off the port city of Durban and Richards Bay. Some experts say BRICS grouping, especially in the emerging new geopolitical world, throws many challenges to United States and European-led global governance structures.
In August 2023, South Africa will host the BRICS summit. In this context, the sides expressed confidence that Pretoria's upcoming chairmanship of this group opened up new opportunities for its future development, including in the context of expanding the partnerships between the five BRICS countries and African states.
Currently, South Africa has little trade with Russia but champions a world view – favoured by China and Russia – that seeks to undo perceived U.S.-hegemony in favour of a "multipolar" world in which geopolitical power is more diffuse.
Nevertheless, Foreign Minister Naledi Pandor called for greater economic cooperation between South Africa and Russia at the start of her meeting with Lavrov. "Our countries share growing economic bilateral relations both in terms of trade and investments," she said. "It is my view that both countries can and must do more to develop and capitalize on opportunities to increase our cooperation in the economic sphere."
Besides that as indicated above however, Lavrov mentioned peaceful space, high technology, smart cities, and nuclear energy as promising areas of collaboration with South Africa. Pretoria expresses readiness to collaborate, but the question is how to build a supply chain and financial services for collaborative projects in the face of Western sanctions imposed on Russia.
The two are members of BRICS, a grouping of major emerging economies, although they remain relatively insignificant markets for each other: Russia ranked as South Africa's 33rd-largest trading partner in 2021, with two-way flows amounting to just $1.46 billion. In comparision, South Africa trade with the United States were $10.2 billion in 2021.
Reports have also pointed to the negative effects of Russia's opaque transactions with South Africa under Zuma administration. "There is a split in the South African establishment between the ruling ANC party and the opposition, which is fiercely against Russian-South African collaboration. There are fears that the country's frenetic anti-Russian media campaign may gradually tip the scales against Moscow. Nonetheless, for the time being, South Africa is interested in broadening its foreign relations, particularly through the BRICS," Researcher at the Institute for International Studies at MGIMO, Maya Nikolskaya, told local Russian daily Kommersant.
Maya Nikolskaya underlined the fact that 2022 was generally not an easy year for Russian-African relations. Majority of African countries found themselves under tremendous pressure from the West. However, Moscow still has great potential in Africa: Russia is a major grain exporter and in turn, "Moscow is interested in new sales markets, so building alternative value chains is in the interests of both parties," the expert explained about Russia's relations with South Africa.
On his second stopover in the Kingdom of Eswatini, Lavrov expressed deep worriness about the Western dominance, and situations guided mostly by the orders of the former colonial powers. "We understand the painful feelings of the US and Europe, as the structure of international relations is changing, becoming multipolar, polycentric. We cannot change our Western friends and make them polite, behave democratically," Lavrov said at a news conference following talks with the Kingdom of Eswatini's top diplomat, Thulisile Dladla.
Reports indicated that King of Eswatini Mswati III has been invited to the Russia-Africa summit to be held this year in St. Petersburg. And Moscow plans to deepen its interaction with Eswatini in the area of Russian grain supplies, the construction of irrigation systems, energy and mineral resources mining. "We stated that efforts should be focused now on the economic sphere, which by its indicators so far lags far behind other areas of our cooperation, above all the excellent level of political dialogue," the Russian top diplomat said.
About 50 Swazi nationals are receiving military education at Russian Defence Ministry colleges, further agreed to step up cooperation in the field of security. Tongue-twisting Lavrov repackaged a long list of projects, nearly all the sectors including industry, agriculture, information communications technology, digital, education, culture and many others. With a small population of 1.2 million, Eswatini is a the tiny landlocked country in Southern Africa.
During the media conference, he made references to his previous tour in Africa (Egypt, the Republic of Congo, Uganda, and Ethiopia) and also to the Arab League headquarters. He also discussed BRICS at length, particularly proposals for its expansion, as well as its role in the global economy, globalization and global finance. "BRICS is not planning to shut the door to the rest of the world. On the contrary, we would like to cooperate with all countries as much as possible, equally and based on the balance of interests. The BRICS countries' approach to global affairs is winning the sympathy of more and more countries across the world, including in Asia, Africa and Latin America," he asserted.
Wrapping his "business-as-usual" meetings in Eswatini, Lavrov referred to countries as China, India, Turkey et cetera that are emerging together as new multipolar world. But these countries have good economic footprints in Africa. For Russia to recognizably play dominating role similar to China, India and Turkey, it has to make a complete departure from frequent rhetorics and work seriously on its economic policy dimensions in Africa.
The Kingdom of Eswatini, officially renamed from Swaziland in 2018, is a constitutional monarchy with the current constitution in force since February 8, 2006. The country is a member of the British-led Commonwealth. Eswatini, with an approximate population of 1,2 million (2021), is bordered by South Africa and Mozambique. It has had diplomatic relations with the Russian Federation since November 19, 1999.
Upon his arrival on January 24, Lavrov and his delegation were welcomed by his Angolan counterpart, Tete Antonio. On the next day, he held an in-depth discussion with President João Lourenço. According to the transcript, the focus was on the preparations for the next meeting of the Intergovernmental Commission on Economic, and Scientific-Technical Cooperation and Trade in Luanda in late April. Both, however, outlined steps to advance strategic partnership across all areas.
With Minister of External Relations Tete Antonio, there were questions relating to the launch of Angola's AngoSat-2 satellite and that allows to continue cooperating in the peaceful exploration of outer space and other high-tech areas. Lavrov and Antonio have ultimately agreed to expedite the coordination of several new intergovernmental agreements, including those on the opening of cultural centres and on the nuclear power industry, humanitarian missions and merchant shipping.
Eritrea was Lavrov's final working station. With an estimated population of 5.8 million, it is located on the Red Sea, in the Horn of Africa region of Eastern Africa. Russia and Eritrea have had diplomatic relations since May 1993. President Isaias Afwerki has ruled Eritrea with an iron fist since independence from Ethiopia in 1993. Eritrea was one of the countries that voted against a UN resolution condemning Russia over the situation in Ukraine in March 2022.
In April 2022, Eritrean Foreign Minister Osman Saleh Mohammed made a visit to Moscow. Both Lavrov and Mohammed reaffirmed Russia's strategic interest to make coordinated efforts aim at building logistics hub along the coastline. During their meeting, Lavrov promised Moscow's contribution towards stronger stability and security in the Horn of Africa.
As far back 2018, Lavrov spoke extensively about economic cooperation. According to him, Russia's truck maker KAMAZ was already working in Eritrea, supplying its products to that country, as was Gazprombank Global Resources, which was building cooperation in the banking sector. The same year 2018, concrete talks were held to build a logistics centre at the port of Eritrea, that makes world's class logistics and services hub for maritime transportation through the Suez Canal and definitely set to promote bilateral trade.
According to the transcript posted on the website, Lavrov said: "we cooperate in many diverse areas: natural resources, all types of energy engineering, including nuclear and hydroelectric energy, and new sources of energy, infrastructure in all its aspects, medicine, the social sphere, transport and many more."
Still that same year, Eritrea was interested in opening a Russian language department at one of the universities in the capital of the country, Asmara. Lavrov further indicated: "We agreed to take extra measures to promote promising projects in the sphere of mining and infrastructure development and to supply specialized transport and agricultural equipment to Eritrea."
As always, Lavrov's discussions with Eritrean President Isaias Afwerki focused on "strengthening bilateral relations as well as regional developments of interest to the two countries." He, however, reaffirmed Russia's unconditional commitment to fulfilling all of its obligations under export contracts to send critical food supplies to African countries in need, including under the package agreements reached with the participation of the United Nations.
Isaias Afwerki further listened carefully as Lavrov listed mountains of proposals including those relating to the economy, mining, information and communication technologies, agriculture, infrastructure projects, the possibilities of the sea and air ports of Massawa, as well as Russian proposals for the development of industry in Eritrea. "All these are topics for the upcoming consultations between our ministries of economy. We agreed to start them soon and give them a regular character," he convincingly assured.
In summary, Lavrov's trip to Africa, which has become a renewed diplomatic battleground since the Ukraine war began, has taken him to Angola, Eswatini and South Africa. As previously, not a single development project was commissioned in any of the those African countries he visited. It was the usual diplomatic niceties, "dating and promising" but, at least, with a bouquet for the bride.
During his four-African country visit, Lavrov did not hold meetings with any youth and women groups neither did he address a gathering African entrepreneurs. He did not visit any Russian-funded project facility sites to first-hand assess developments and progress there, not any educational establishment especially those dealing with international relations. His meetings were state-centric and mostly office-centered. Throughout his speeches, not a single reference to the Africa Continental Free Trade Area (AfCFTA). While exploring more opportunities, there was absolutely nothing on Covid-19 and Russia's Sputnik V vaccines or offer practical proposals to develop vaccines for other deadly diseases across Africa.
Lavrov left Moscow the next day after his three-hour media conference, summing up foreign policy achievements and the way forward on 18 January. During that conference, Africa only appeared at the bottom of the discussions. And yet Africa is considered as "a priority" in Russia's policy. Lavrov made a sketchy response about Africa, and then reminded the gathering of the forthcoming summit planned for late July 2023. He, however, mentioned that there were drafted documents to reset cooperation mechanisms in this environment of sanctions and threats, and in the context of geopolitical changes.
"There will be new trade and investment cooperation tools, logistics chains and payment arrangements. The change to transactions in national currencies is under way. This process is not a rapid one, but it is in progress and gaining momentum," he told the gathering in quick remarks, then swiftly closed the media conference that day.
Nevertheless, African leaders are consistently asked to support Russia against Ukraine. Since the symbolic October 2019 gathering in Sochi, extremely little has happened. With high optimism and a high desire to strengthen its geopolitical influence, Russia has engaged in trading slogans, and many of its signed bilateral agreements have not been implemented, including all those from the first Russia-Africa summit. The summit fact-files show that 92 agreements and contracts worth a total of $12.5 billion were signed, and before that several pledges and promises still undelivered.
Since his appointment in 2004 as Minister of Foreign Affairs of the Russian Federation, Sergey Lavrov has succeeded in building high-level political dialogues in Africa. But, his geopolitical lectures have largely overshadowed Russia's achievements in Africa. Throughout these several years of his official working visits to Africa, unlike his Chinese counterparts, Lavrov hardly cuts ribbons marking the completion of development projects in Africa.
That however, he needs simultaneously to understand how to approach ideas from inside Africa. These ideas could offer Russia hopes for raising its economic cooperation to a qualitatively new level and ultimately contribute to the building of sustainable relations with Africa. The new scramble for Africa is gaining momentum, therefore Russians have to face the new geopolitical realities and its practical existing challenges. But in the nutshell, Russians seem to close their eyes on the fact that Africa's roadmap is the African Union Agenda 2063.
For more information, look for the latest Geopolitical Handbook titled "Putin's African Dream and The New Dawn" (Part 2) devoted to the second Russia-Africa Summit 2023.
Janet Yellen: U.S. Focuses on Business Investment and Infrastructure Development in Africa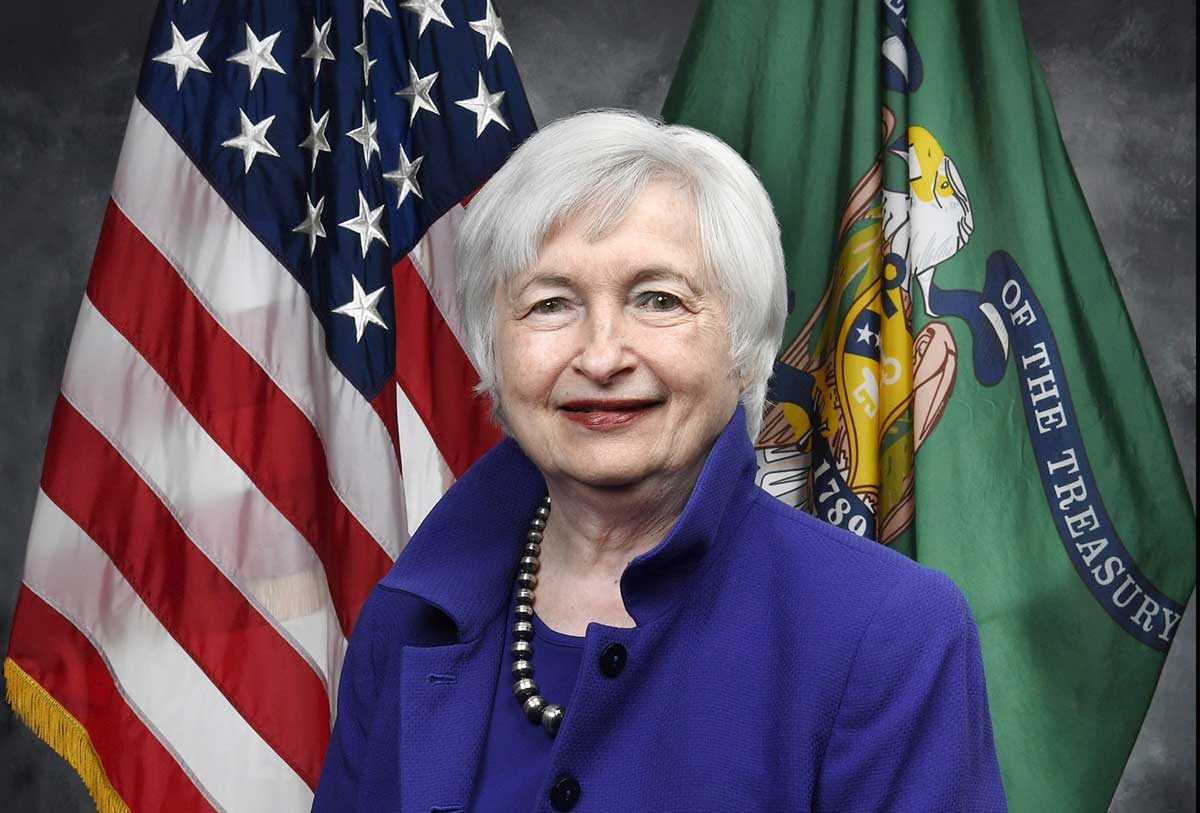 United States officials, at least, are strategically moving to reset multi-dimensional relations with Africa after the last African leaders summit held in Washington. President Joseph Bidden and Vice President Kamala Harris, in well-coordinated working agenda, with the White House, the Department of African Affairs and the U.S. Treasury are up to the task. This challenging task is backed with $55 billion budget publicly announced during the African leaders gathering.
It all began with series of working visit to Africa late December and early 2023, which underscored the message delivered by Biden at last summit: "The United States is all in on Africa, and all in with Africa." The $55 billion budget and along with private sector investment for Africa, well-built institutionalized structures and the African-American diaspora are distinctively linking together the United States and Africa.
On January 20, U.S. Treasury Secretary Janet Yellen went for a 10-day trip to three African countries that aims to revitalize and expand U.S.-African ties and address challenges such as climate change, food security and debt in Africa. After decades in which China has dominated investment on the continent, the U.S. is pitching itself as a more sustainable alternative. In the sub-Sahara, Yellen visited Senegal, Zambia and South Africa.
That will be followed by the United States Ambassador to the United Nations, Linda Thomas-Greenfield, who travelled to three Republics of Ghana, Mozambique and Kenya starting Jan. 25 and another round trip by Secretary of State Antony Blinken official visits to Eastern Western and Southern Africa.
In Dakar, Yellen had an extensive and fruitful discussions with Senegalese President Macky Sall, who is also the rotating Chair of the African Union. The African Union is a 55-member continental organization with headquarters in Addis Ababa, Ethiopia. With President Macky Sall, she highlighted United States efforts to boost economic ties with the region "by expanding trade and investment flows," according to official reports.
Later, she also interacted with Senegal's Minister of Economy, International Planning, and Cooperation Oulimata Sarr, who, like Yellen, is also the first woman to serve in her current role. In a meeting with Finance Minister Mamadou Moustapha Ba, Yellen said the two officials had "much to discuss on how best to meet the challenges both of our countries face, including in the context of global financial tightening and an increasingly uncertain global economic environment. The U.S. is committed to working with Africa to realize that promise, because we know that a stronger African economy is good for the world, and good for the United States."
In a speech delivered at a business event in Senegal's capital Dakar, Yellen mapped out the United States vision for strengthening African relations, eyeing the massive economic opportunities created by its demographic boom.
Currently, Senegal is participating in a G-20 programme that helps finance a shift from fossil fuels to clean power generation, it's also on the verge of becoming a significant fossil-fuel producer. A new offshore project straddling its border with Mauritania is projected to bring Senegal $1.4 billion of oil and gas revenue from 2023 to 2025. The project may also provide Europe with energy relief as it turns away from Russian gas and oil.
Reports indicated that Treasury Yellen gave the concrete go-ahead on rural electrification project in Senegal. The new rural electrification project estimated to bring reliable power to 350,000 people while supporting some 500 jobs in 14 American States.
Our monitoring shows that Yellen traveled to the site of the project, headed by Illinois-based engineering firm Weldy Lamont. The new project received technical assistance from the U.S. Power Africa initiative, capacity building through the U.S. Agency for Trade and Development, and a $102.5 million loan guarantee from the Export-Import Bank.
"Our goal is to further deepen our economic relationship and to invest in expanding energy access in a way that uses renewable resources spread across the continent," U.S. Treasury Secretary Janet Yellen underlined in her remarks. Senegal has among the highest rates of electrification across Sub-Saharan Africa – between 70% and 80% – but access to electricity remains far more limited in rural areas.
Such disparities can hinder opportunity for households and businesses in areas otherwise ripe for economic development, Yellen said. The project includes an important renewable energy element with a solar grid to power 70 villages. "This groundbreaking will create a higher quality of life in many communities, and it will help Senegal's economy grow and prosper. It will also help Senegal get one step closer to its goal of universal electricity access by 2025," she said.
Yellen, who met women and youth entrepreneurs in Dakar, said the electrification project would allow Senegal to rely on energy sources that are within its borders, cost effective and not prone to the kind of volatility in energy prices sparked by Russia's invasion of Ukraine. The U.S. Power Africa project has helped connect 165 million people to reliable electricity across Africa. Its goal is to add at least 30,000 megawatts (MW) of cleaner and more reliable electricity generation capacity and 60 million new home and business connections by 2030.
Yellen, then, travelled to Zambia to meet President Hakainde Hichilema as well as other finance officials. President Hichilema, who took office in 2021, has promised to restore the copper-rich nation's credibility and creditworthiness after inheriting a cash-strapped economy. Here, she spoke on efforts to improve global health and prepare for future pandemics, as well as on food production.
Yellen cited $11 billion in commitments by the U.S. Development Finance Corp and $3 billion in programmes by the Millennium Challenge Corp in 14 African countries, with more in the pipeline. On a wider scale, the G7 group of wealthy Western nations also planned to mobilise some $600 billion for global infrastructure investments over the next five years.
"We are saying that African countries firmly belong at the table. Their communities are disproportionately vulnerable to the effects of global challenges. And any serious solution requires African leadership and African voices," she said.
In South Africa, which recently assumed the chairmanship of the BRICS emerging economies group, Yellen held talks with Finance Minister Enoch Godongwana and South Africa Reserve Bank Governor Lesetja Kganyago. She also visited the Ford assembly plant to showcase successful examples of U.S.-Africa economic relations.
Washington provided about $13 billion in emergency aid and food assistance last year, and was now setting up a U.S.-Africa strategic partnership to address the short-term food needs of more than 300 million Africans, Yellen said. It is also helping to build more resilient and sustainable systems for the future.
In practical terms, Yellen focused on building relationships and understanding the barriers to investment and business in Africa. Our monitoring shows that Chinese trade with Africa is about four times that of the United States, and Beijing rapidly expanded its lending by offering cheaper loans, although the opaque terms and collateral requirements are now being questioned by some African countries.
United States is currently looking to broaden investment in South Africa, which is developing new legislation to speed up energy projects. There are a number of external players showing interest in the energy sector, these include Russia, China, United Arab Emirates and others in the Arab world.
Former US ambassador Susan Page told AFP that despite positive developments like the major summit in Washington last year, "the proof is in the pudding" when it comes to pledges of support for African countries. "Are they really going to come up with the serious money… Or is it going to be a trade-off?" asked Page, now a professor at the University of Michigan. She added that while US moves have been largely framed as countering China's advances, it "is a shame because African countries want to be treated as Africa, and not as a wedge between great power competition."
Joseph Siegle, who leads the Africa Center for Strategic Studies research programme, said the scope of Yellen's visit was far broader than the matter of China's influence. "From an emerging market standpoint there is a lot going on there – with its resources and growth and a large African diaspora in the U.S. Arguably the U.S. has not paid enough attention to Africa with the rigor that's warranted," he said. "I think the significance of this trip is trying to rectify there hasn't been enough high-level engagement on the part of the U.S. in Africa."
In fact, despite criticisms especially over neo-colonialism and unipolarism, the United States and Africa are culturally, and by biological blood, are inseparable. According to the latest World Bank report, remittances from the African diaspora to the continental was $49 billion in 2021.
With rivals China and Russia competing for influence and opportunity in Africa, the United States has been working to stave off an erosion of its once-powerful position in the region. But as Treasury Secretary Janet Yellen strongly noted the histories of the United States and Africa were "intimately connected" by the "tragedy" of slavery, as Washington seeks to strengthen relations with the continent. Speaking at Goree Island off the Senegalese capital of Dakar, the largest slave trading centre on the African coast.
For their part, many African countries say they are keen for increased investment and financial support for infrastructure development across Africa. And that Africa is only ready for potential credible investors, and not for active sloganeers and ideological choristers. Africa is not a field for confrontation, but for cooperating on transforming the economy and operate the single continental market.
In the emerging multipolar world, the United States still shares cultural values and democratic principles with Africa. The trans-Atlantic slave trade is an integral part of both American and African history. United States is their second home, nowhere else. United States and Africa are 'intimately connected' by slavery, have culturally indivisible bondage, and currently with the growing African-American diaspora it is completely absurd and awkward for external geopolitical rival countries asking African leaders and Africans to abandon their history and the United States.
Sergey Lavrov Embarks on Geopolitical Lecturing Tour to Africa
As Russian Foreign Minister Sergey Lavrov begins his four African nations tour, Russia's future is what matters the most especially in the emerging multipolar world. Russia continues to enlist African leaders' support for its 'special military operation' in the former Soviet republic of Ukraine, expresses overwhelming support against the growing neo-colonial tendencies in Africa and, at least, intensifying efforts to strengthen its hyperbolic political dialogue with Africa.
Minister Sergey Lavrov visited Egypt, Congo-Brazzaville, Uganda and Ethiopia last year and attempted to justify Russia's correctness of waging war on Ukraine. As he embarks on another round of lecturing tour to Southern Africa (South Africa, Eswatini, Botswana and Angola), the popular focused themes include geopolitical changes, growing neo-colonialism and creating multipolar world order. After Southern Africa, Lavrov would return to North Africa in February to visit Tunisia, Mauritania, Algeria and Morocco.
Since his appointment on 9 March 2004 by President Vladimir Putin, Lavrov has occupied this position for nearly two decades (20 years). Throughout these several years of his official working visits to Africa, unlike his Chinese counterparts Lavrov hardly cut ribbons marking the completion of development projects in Africa. Most of his trips were characterized by impressive policy rhetorics full of many pledges and countless initiatives, and geopolitical lectures.
During his marathon three-hour media conference, summing up foreign policy achievements and way forward on 18 January, Africa only appeared at the bottom of the discussions. And yet Africa is considered as a priority in Russia's policy. Lavrov made little response, reminding of the forthcoming summit planned for late July 2023. He mentioned that there were drafted documents to reset cooperation mechanisms in this environment of sanctions and threats, and in the context of geopolitical changes.
"There will be new trade and investment cooperation tools, logistics chains and payment arrangements. The change to transactions in national currencies is under way. This process is not a rapid one, but it is in progress and gaining momentum," he told the gathering in closing the media conference that day.
Nevertheless, African leaders are consistently asked for support for Ukraine. Since the symbolic October 2019 gathering in Sochi, extremely little has happened. With high optimism and a high desire to strengthen its geopolitical influence, Russia has engaged in trading slogans, and many of its signed bilateral agreements have not been implemented, including all those from the first Russia-Africa summit. The fact-files show that 92 agreements and contracts worth a total of $12.5 billion were signed, and before that several pledges and promises still undelivered.
Since his appointment in 2004 as Minister of Foreign Affairs of the Russian Federation, Sergey Lavrov has succeeded in building high-level political dialogues in Africa. He will, during the first quarter 2023, engage in his geopolitical rhetoric and anti-Western slogans, often unremittingly smearing and attacking other countries especially the United States and France. His political lectures have largely overshadowed Russia's achievements in Africa.
These three decades, hardly Lavrov cuts white-ribbons marking the handing over or completion of concrete development projects in Africa. Of course, Russia could choose to maintain its state-centric approach since it is also an admirable foreign policy instrument to push for influence in Africa. While currently, Russia seems to be soliciting the support of Africa to lead the emerging new multipolar world, Russia does not still recognize that it needs to adopt more public outreach policies to win the minds and hearts of Africans. Its economic footprint on the continent is comparatively weak.
Historically Africa has attained its political independence and currently need to transform its economy to provide a better living conditions for the estimated 1.3 billion population. That's the factual situation now for Africa. The fight against growing neo-colonialism requires investing in the critical sectors, building needed infrastructures, modernize agriculture, production facilities for manufacturing, and add a bit of value to products by industrializing. That's the main reason and the conditions necessitated the creation of single continental market.
Our monitoring shows that the Russian business community hardly pays attention to the significance to, and makes little efforts in leveraging unto the African Continental Free Trade Area (AfCFTA) which provides a unique and valuable platform for businesses to access an integrated African market of over 1.3 billion people. Nevertheless, Russia brings little to the continent especially in the economic sectors that badly need investment. Undeniable fact is that many external players have also had long-term relations and continue bolstering political, economic and social ties in the continent.
Almost all African countries are looking for building and creating new incorporated economic situation that takes care of the growing young generation. These further involve the availability and accessibility to necessary technologies and innovations. In order to realize these novel transformations, African leaders need credible external partners with funds to invest, external partners to support large-scale projects in the continent. Days of political sloganeering are long ago gone.
It has taken three decades to finally make its return journey back to Africa. It is still at the crossroad, and worse thinking indecisively which way to turn in order to reach its the final destination. At the crossroad, there are truly four options: turn left, move ahead, choose right or go back especially this time, in the context of dramatic geopolitical changes.
Russia has to concretely design its comprehensive policy with Africa. It has to show, in practical terms, its great confidence, powering strength and clean determination in various ways to support economic sectors, to win the minds and hearts of Africans. Multipolar in its basic meaning, is creating an integrative conditions. Today's Russia is a closed country in the world. For years, Africans have heard of 'neo-colonialism' and 'Soviet-era assistance' through lectures, speeches and official statements from Russia's officialdom. These are archaic playing gamecards.
Russian International Affairs Council, non-government organization and policy think tank, published an opinion article authored by Kirill Babaev, Director of the Institute of Far Eastern Studies of the Russian Academy of Sciences, Professor at the Financial University. He made an excellent analysis of the relations between Russia and Africa. The article highlighted future perspectives based on the existing successes cloaked in building political dialogues during the previous years. On the other hand, he exposes for serious consideration by authorities some existing obstacles and weaknesses.
Going forward, Russian officials have to note: Russia's return to Africa has been discussed in the media and at various levels of power for two decades. That the African elites, especially those who studied at Soviet institutes and universities, still have memories of the struggle for the freedom of Africa.
During the Soviet times, at the height of fighting against Western colonialism, there were economic offerings of the Soviet era. However, all these cards are a matter of the past, while in the present it has been difficult for Russia to offer Africa anything of value that could compete with large-scale Western investment or Chinese infrastructure projects (until recently), Professor Kirill Babaev wrote in his article.
Going forward, Russian officials have to note: That in another publication headlined "Russian Business in Africa: Missed Opportunities and Prospects" in the journal Russia in Global Affairs, Professor Alexei Vasilyev, former Special Representative of the Russian Federation to African Countries and Director of the Institute for African Studies, wrote in that article that Russian companies are pursuing their various economic interests in Africa.
But, Africa still accounts for just 1.5% of Russia's investment which is a drop in the ocean. It must be admitted that Russia's economic policy grossly lacks dynamism in Africa. "African countries have been waiting for us for far too long, we lost our positions in post-apartheid Africa and have largely missed new opportunities. Currently, Russia lags behind leading foreign countries in most economic parameters in this region," he underlined in the article.
Going forward, Russian officials have to note: Federation Council Deputy Speaker Konstantin Kosachev said Russia's Western opponents are trying to prevent African states from taking part in the second Russia-Africa summit, scheduled to take place in July 2023 in Russia's second largest city of St. Petersburg.
Moreover in Senator Kosachev's opinion, the first Russia-Africa summit held three years ago was successful, "but, in many respects, its results remained within the dimension of politics" and were not translated into additional projects in trade, economic, scientific or humanitarian cooperation. "I'm sure it will be a very serious miscalculation on our part if the next year's summit is not prepared in a drastically different fashion, providing each of its participants with a concise roadmap of our bilateral relations, with clear incentives to participate and conclude practical agreements," argued Senator Kosachev.
In November 2021, the 'Situation Analytical Report' compiled by 25 Russian policy experts vividly highlighted some spectacular pitfalls and shortcomings in Russia's approach towards Africa. The report noted Russia's consistent failure in honouring its bilateral agreements and several pledges over the years. It decried the increased number of bilateral and high-level meetings that yield little or bring to the fore no definitive results. In addition, insufficient and disorganized lobbying combined with a lack of "information hygiene" at all levels of public speaking.
The South African Institute of International Affairs has published its latest policy report on Russia-African relations. In the introductory chapter, Steven Gruzd, Samuel Ramani and Cayley Clifford – have summarized various aspects of the developments between between Russia and Africa over the past few years and finally questioned the impact of Russia's policy on Africa.
According to Steven Gruzd, Samuel Ramani and Cayley Clifford, Russia has been struggling to make inroads into Africa these three decades, the only symbolic event was the first Russia-Africa Summit held in Sochi, which fêted heads of state from 43 African countries and showcased Moscow's great power ambitions.
Russia's expanding influence in Africa are compelling, but a closer examination further reveals a murkier picture. The authors further wrote that "Russia's growing assertiveness in Africa is a driver of instability and that its approach to governance encourages pernicious practices, such as kleptocracy and autocracy promotion, the dearth of scholarship on Moscow's post-1991 activities in Africa is striking."
Now Russia's main tactics to expand its influence, such as debt forgiveness, arms contracts to fragile states and resistance to US unilateralism, come from its transition-era playbook and are not simply throw-backs to its Soviet-era superpower status. On the other hand, Russian public diplomacy in Africa explores the targeted use of historical ties, existing anti-Western narratives, state-centric approach and educational programmes to enhance Moscow's 'soft power' on the continent.
In the context of a multipolar geopolitical order, Russia's image of cooperation could be seen as highly enticing, but it is also based on illusions. Better still, Russia's posture in a clash between illusions and reality. Russia, it appears, is a neo-colonial power dressed in anti-colonial clothes. Russia looks more like a 'virtual great power' than a genuine challenger to European, American and Chinese influence.
The new scramble for Africa is gaining momentum. Russians have to face the new geopolitical realities and its practical existing challenges. With flexed-muscles sloganeering and ear-deafening noises relating to 'neo-colonialism' and 'Soviet-era assistance' should be addressed by investing in competitive sectors and economic spheres. Russia's priority should include building public perceptions through social and cultural activities in Africa. The reality is that African leaders await practical investments proposals from potential credible Russian investors and to take advantage of the immense untapped resources.
This time raising economic cooperation to a qualitatively new level and ultimately contribute to the building of sustainable relations be the focus with Africa. After all, the 1.3 billion Africans would prefer living and working with one heart and one mind in United Africa. The slogan 'Africa We Want' is now propagated by the African Union. Therefore, Russians must strongly remember that Africa's roadmap is the African Union Agenda 2063.