International Students: The importance of Reaching Unity in Diversity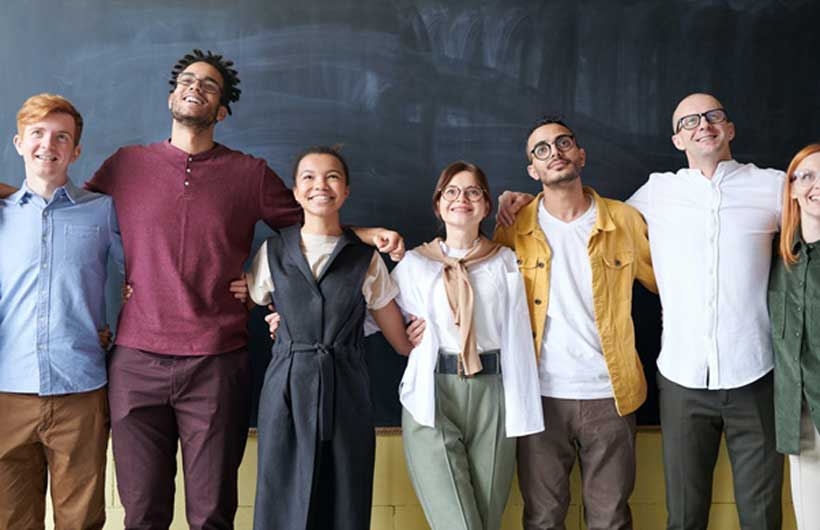 Studying abroad comes with many challenges, which can be difficult for international students to handle. With the rapid increase in foreign studies, establishing unity has become vital in the education system. Diversity cuts across differences in culture, race, ethnic group, etc.
While Unity in diversity seemingly refers to promoting intercultural relations, it has since evolved to encourage multiculturalism and knowledge through self-evaluation. Consider reading an essay on unity with topics and examples to get more unity in diversity information. In addition, many colleges now use information technology to foster a multiracial learning atmosphere in classrooms.
Various research processes also show that international scholars struggle to cope with the new environment due to different factors. Therefore, we will be exploring ways to encourage unity in diversity and its added value to educational systems.
What is Unity in Education?
Unity is an essential attribute needed in every environment to aid effective communication and harmony. It promotes a sense of oneness among people. Unity in education depicts the togetherness of sophomores in a classroom environment irrespective of dissimilarities in nationality, race, or religion.
The academic environment often brings people of different cultures together. This mixture is usually evident in tertiary institutions where many international students travel to study.
The central idea of unity within educational settings is an academic environment that combines theoretical knowledge with multicultural understanding. Unity depicts the notion that despite our differences in color, race, tradition, and languages, we are all part of the same humankind and should live in togetherness.
Why it is Important To Achieve Unity in a Scattered Collective of International Students
Unity and diversity are two different notions that can ironically function together. The main goal of diversity within unity is to foster harmony within a diverse group of students.
Let's look at the importance of promoting unity among diverse students.
Prejudice against Foreign Students
Many students from foreign countries have reacted to being treated differently based on their cultural backgrounds. This has often led to exclusion from social events and gatherings. However, encouraging intercultural relations among students would help lay a solid foundation in controlling discrimination and ostracization of international students. In addition, unity in classrooms allows people to view each other with a great sense of tolerance and multicultural sensitivity.
Academic Performance
Recent studies have shown that encouraging diversity in classrooms helps to foster unity among the students. In addition, this form of study allows them to interact together and could positively affect their performance levels.
Also, exploring various multinational backgrounds has proven to give students a better insight and knowledge on specific subjects. Scholars now have a more comprehensive perception and understanding of different multicultural settings and origins.
How To Achieve Unity for Students
Diversity in educational systems often leads to a lack of proper communication due to people's differences. These differences could serve as a hindrance to an effective learning environment. However, there are ways to achieve harmony in schools.
Here are some methods used in various higher institutions to promote student unity.
Orientation for International Students
Orientation for newcomers and international students is very vital in any academic institution. This program will help them transition into a new phase of their academic life seamlessly and without struggles.
Campuses should provide proper orientation programs for international students to make them feel welcome. It also illustrates an atmosphere of a supportive community.
Promotion of Campus Activities
Social activities in schools often encourage interpersonal relationships among undergraduates. Formulation of student clubs and associations are examples of extra-curricular activities that increase interaction among native and non-native scholars. A good mixture of native and international students in groups will bring a positive bond and communication. Campus activities are also an effective way to promote foreign language skills among foreigners.
Language Support
Most academic institutions use the English language as the universal form of communication. Nonetheless, linguistic communication is often a common barrier for international students. According to samples from our base, while many international scholars have proven to understand the English language, many of them also admitted to lacking proficiency in the language. This barrier was primarily evident in their oral communication with fellow students and teachers.
International students need all the help they can get in this area. Schools should provide language classes and dedicated conversational tutors to bridge the linguistic barrier between young people.
Conclusion
Many schools today, especially American colleges, focus on the best drawing on unity in diversity. Teachers also play a crucial role in encouraging multicultural learning. While no educational system is perfect, multiracial education remains an effective means of achieving unity in diversity.
Competition to Find Solutions to Reduce Overfishing in Coastal Fisheries
The World Bank Coastal Fisheries Initiative – Challenge Fund (CFI-CF) is launching a competition to seek collaborative solutions to reduce overfishing by supporting coordination among fishers and collaboration across seafood value chains. The competition seeks innovative solutions that promote the productive and sustainable use and management of coastal fish stocks in Cabo Verde, Ecuador, Indonesia, and Peru. Both new and established coalitions of fishing and coastal communities, businesses, and/or nonprofit organizations are invited to apply.
Overfishing is among the biggest challenges threatening the health of the world's oceans, the livelihoods of millions living in coastal communities, and the business opportunities of seafood and related industries. Each year, global fisheries lose out on US$83 billion in economic benefits due to overfishing (World Bank "The Sunken Billions Revisited"), a sum that could instead be productively reinvested in people, communities, and economies. Limited coordination among fishers and seafood stakeholders has blocked the development of viable solutions to overfishing, resulting in the continued loss of natural resources and economic benefits.
"The Coastal Fisheries Initiative – Challenge Fund is committed to improving coastal fisheries, which are important sources of food and livelihoods for local communities. This competition is a call to action to bring together all of the actors in the seafood industry to tackle this perennial problem of overfishing," said Mimi Kobayashi, Senior Environmental Economist at the World Bank and team leader of the CFI-CF. "Although this issue remains challenging, we are confident that we will receive some innovative and game-changing solutions."
This competition aims to mobilize the collective power of fisheries and seafood stakeholders to design and implement solutions that systematically reduce overfishing in a self-sustained way by effectively engaging stakeholders. Solutions should address the restoration of already degraded fish stocks, while protecting people who are impacted when fishing is reduced.
Eligible applicants will receive mentoring and coaching support to improve their approaches and then can re-apply to increase their chances of winning.
One winner and one runner up will be selected in Cabo Verde, Ecuador, Indonesia, and Peru and announced at a virtual Knowledge Sharing Event in Spring 2022. Winners and runners up will participate in a week-long series of virtual events designed to share knowledge and experience in advancing productive and sustainable coastal fisheries. They will also receive dissemination support from the World Bank and acceleration services to improve and implement their solutions from competition partners.
The CFI-CF project is part of the Coastal Fisheries Initiative (CFI), a collaborative, global effort funded by the Global Environment Facility (GEF) and led by FAO.
Davos Agenda 2022 to Mobilize World Leaders around Global Challenges
Two years since the start of the COVID-19 pandemic, global leaders will convene for the World Economic Forum's Davos Agenda 2022, from 17-21 January. It will be the first global platform this year to provide an opportunity for key heads of state and government, together with chief executives and leaders from civil society and international organizations, to reflect on the "State of the World" and shape solutions for critical challenges in the year ahead.
Radically different pandemic experiences have exacerbated global divisions. Vaccine inequities, combined with new strains, have also slowed international economic recovery. However, as the Global Risks Report 2022 makes clear, COVID-19 is only one of the critical global challenges which may become unmanageable unless world leaders prioritize proactive collaboration. Accordingly, the Davos Agenda will focus on driving concerted action among key global stakeholders.
Klaus Schwab, Founder and Executive Chairman of the World Economic Forum, said: "Everyone hopes that in 2022 the COVID-19 pandemic, and the crises that accompanied it, will finally begin to recede. But major global challenges await us, from climate change to rebuilding trust and social cohesion. To address them, leaders will need to adopt new models, look long term, renew cooperation and act systemically. The Davos Agenda 2022 is the starting point for the dialogue needed for global cooperation in 2022."
Through Special Addresses and panels with leaders of G20 economies and international organizations, the Davos Agenda 2022 will provide crucial insights into a range of critical challenges. Participants will hear first-hand how these leaders will drive action in these and other areas.
World leaders delivering "State of the World" Special Addresses will include:
Narendra Modi, Prime Minister of India; Kishida Fumio, Prime Minister of Japan; António Guterres, Secretary-General, United Nations; Ursula von der Leyen, President of the European Commission; Scott Morrison, Prime Minister of Australia; Joko Widodo, President of Indonesia; Naftali Bennett, Prime Minister of Israel; Janet L. Yellen, Secretary of the Treasury of the United States; Yemi Osinbajo, Vice-President of Nigeria.
Additional "State of the World" Special Addresses with G20 leaders will be announced tomorrow.
The Davos Agenda 2022 will also mobilize government and business leaders, international organizations and civil society to share their outlook, insights and plans relating to the most urgent global issues such as climate change, social contracts and vaccine equity. These sessions will also provide a platform for a wider connection, enabling the global public to engage and be included in the conversation.
Key sessions will include:
COVID-19 – What's next? (17 January)
Technology Cooperation in the Fourth Industrial Revolution (17 January)
Renewing a Global Social Contract (18 January)
Meeting the Challenge of Vaccine Equity (18 January)
Navigating the Energy Transition (19 January)
Accelerating and Scaling up Climate Innovation (19 January)
ESG Metrics for a Sustainable Future (20 January)
Live from Space: The Next Frontier for Knowledge and Action (20 January)
Global Economic Outlook (21 January)
Building Future Preparedness (21 January)
The programme will feature:
Tedros Adhanom Ghebreyesus, Director-General, World Health Organization (WHO); Fatih Birol, Executive Director, International Energy Agency; José
Pedro Castillo Terrones, President of Peru; Ivan Duque, President of Colombia; Anthony S. Fauci, Director, National Institute of Allergy and Infectious Diseases, National Institutes of Health of the United States of America; Yasmine Fouad, Minister of Environment of Egypt; Kristalina Georgieva, Managing Director, International Monetary Fund (IMF); Alejandro Giammattei, President of Guatemala; Al Gore, Vice-President of the United States (1993-2001) and Chairman and Co-Founder, Generation Investment Management; Paulo Guedes, Minister of Economy of Brazil; Paula Ingabire, Minister of Information Communication Technology and Innovation of Rwanda; Paul Kagame, President of Rwanda; John F. Kerry, Special Presidential Envoy for Climate of the United States of America; Christine Lagarde,President, European Central Bank; Guillermo Lasso, President of Ecuador; Ngozi Okonjo-Iweala, Director-General, World Trade Organization (WTO); Abdulaziz Bin Salman Bin Abdulaziz
Al Saud, Minister of Energy of Saudi Arabia; Nicolas Schmit, Commissioner for Jobs and Social Rights, European Commission; François Villeroy de Galhau, Governor of the Central Bank of France; Sarah bint Yousif Al-Amiri, Minister of State for Advanced Technology, Ministry of Industry and Advanced Technology of the United Arab Emirates. Others are expected to confirm.
Forum flagship reports, initiatives and the latest book by Klaus Schwab
On 7 January, Klaus Schwab published his latest book, The Great Narrative, co-authored with Thierry Malleret. The Great Narrative explores how we can build a more inclusive, sustainable and resilient future. The book was based on interviews conducted with 50 of the world's foremost global thinkers and opinion-makers, who come from a broad spectrum of academic disciplines and diverse geographies and backgrounds.
On 11 January, the World Economic Forum released its Global Risks Report 2022. The flagship annual report – which this year saw climate risks dominate the list of top concerns – is an important marker for prioritizing action in public and private sectors over the coming year.
On 26 January, the World Economic Forum will release its Global Competitiveness Report 2021-2022. Over the past 40 years, this flagship report has contributed to shaping economic policies globally by recognizing that productivity is key to achieving high standards of living and human development
The Davos Agenda 2022 will also mark the launch of several World Economic Forum initiatives to accelerate the race to net-zero emissions, the economic opportunity of nature-positive solutions and cyber resilience. Other launches on a diverse range of critical topics will also take place between 17-21 January. These include strengthening the resilience of global value chains, building economies in fragile markets through humanitarian investing, bridging the vaccine manufacturing gap and using data solutions to prepare for the next pandemic.
'Keep speaking out', UN chief urges in message to World Youth Forum
Although everyone has been deeply affected by the COVID-19 pandemic, the impact on young people has been "especially heartbreaking", UN Secretary-General António Guterres said on Monday.
In a video message to the World Youth Forum in Sharm el Sheikh, Egypt, he urged participants to help shape a better world after the crisis, in line with the conference's theme.
"Building a better future starts today. So, to the young people attending this forum, keep speaking out. Keep identifying the solutions and actions we need to recover."
The Secretary-General reeled off some of the devastating impacts COVID-19 has dealt the world's youth.
Calling for change
More than 1.6 billion have had their education disrupted, while unemployment in their ranks has grown.
Young people have also seen access to services such as health care and counselling dwindle, during a challenging period for mental health.
At the same time, they have stepped up.
"In the streets, and online, they're calling for change — demanding equality, peace, justice and action on the climate crisis," said the Secretary-General.
"They're supporting one another – in their neighbourhoods and on social media. And through events like this one, they're providing ideas and solutions on how communities can rebuild, and emerge stronger from the pandemic."
Message to leaders
The forum runs through Thursday and is being held under the theme of Back Together: The World After COVID-19, which the UN chief said is a reminder that there is no time to lose.
Having admonished young people to continue speaking out, the Secretary-General also delivered a message to leaders and policy makers in attendance.
"As you look to recovery, look to young people," he advised. "Young people are an incredible source of ideas and innovative solutions. Their needs must come first in policy and investment discussions."
Mr. Guterres said he looks forward to hearing the results of the forum, and to working with participants to shape a better future, beyond the pandemic.
Peace, Development, Creativity
Discussions at the World Youth Forum revolve around three tracks: Peace, Development and Creativity.
It was first held in Sharm el Sheikh in November 2017, according to the official website.
The initiative was developed by a group of young Egyptians at the National Youth Conference that April, who proposed the idea of holding a dialogue with counterparts from around the world.
Since then, three sessions have been held, with the last taking place in 2019.