Assessing Russia-African Relations, its Setbacks and the Existing Challenges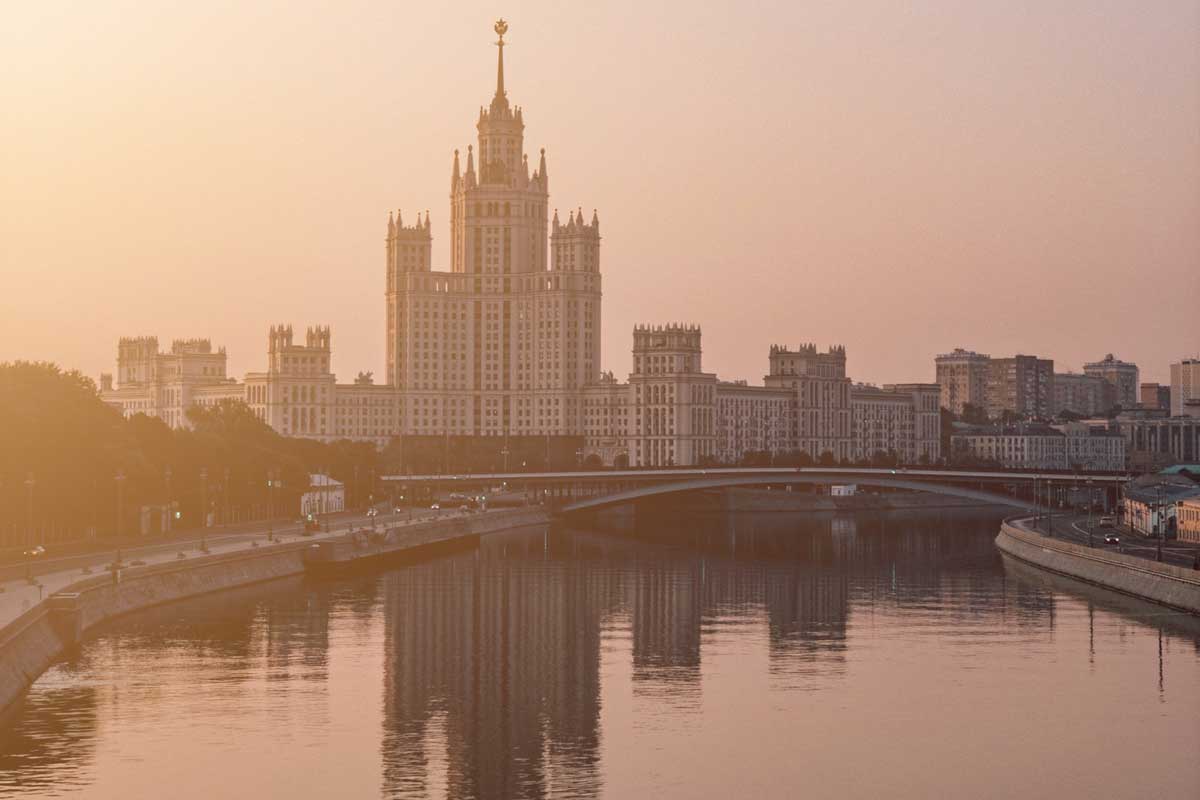 Last November, an expert group headed by Sergei A. Karaganov, the Honorary Chairman of the Presidium, Council on Foreign and Defense Policy, presented its final 150 paged assessment policy report with some recommendations intended to improve and scale up the existing Russia's influence in Africa. The report, put together by 25 academic researchers and experts, further indicated concrete pitfalls and setbacks in the policy implementation in Africa.
This latest policy report unreservedly criticized Russia's policy towards Africa. It claimed that there have been inconsistencies in the policy implementation. It said that the policy strategy regarding Africa has to spell out and incorporate the development needs of African countries.

While the number of top-most and high-level meetings have increased, the share of substantive issues on the agenda often remains intangible and negligibly small. There are little definitive results from such meetings, which were to demonstrate, a large extent, the "demand for Russia" by Africa and its leaders. In addition, disorganized Russian-African lobbying combined with lack of "information hygiene" at all levels of public speaking were listed among the main flaws of Russia's current Africa policy.
"In many cases and situations, ideas and intentions are often passed for results, and unapproved projects are announced as going ahead. Russia's possibilities are overestimated both publicly and in closed negotiations. Worse is many projects announced at the top and high political levels have not been implemented," according to the report presented in November.
Long before the historic Russia-Africa summit, at least during the past decade, several bilateral agreements between Russia and individual African countries were signed. Besides, memoranda of understanding, declaration of interests, pledges and promises dominated official speeches. On the other side, Russia is simply invisible in economic sectors in Africa, despite boasting of decades-old solid relations with the continent.
It has however attempting to transform the much boasted political relations into a more comprehensive and broad economic cooperation. Its economic footprints are not growing as expected. Interestingly, Russian authorities always acknowledge the enormous potentials and advantages Russia has, and at the same are puzzled by the comparatively high level of economic influence by other foreign players in Africa.
Russia has intensified efforts to strengthen political dialogue, including the exchange of visits at the top levels. Interaction between foreign ministries is expanding. During the year prior to the first Russia-African summit, 21 African foreign ministers visited Russia. According to the calculation with information made available officially at the website, Sergey Lavrov and his deputy Minister, Mikhail Bogdanov, have held talks with nearly 100 African politicians including ministers, deputies between January and September 2019. Bogdanov interacted with all African ambassadors in the Russian Federation. Russian ambassadors and staff are also at their posts inside Africa.
Russians like historical references. As always expected, they have nostalgic interest towards Africa, relying on the traditions of friendship and cooperation established back to the days of the political liberation struggle for freedom and independence and eager to use that as unifying factor. Soviet Union, in many respects, supported most of the countries during the decolonization of Africa.
The question being asked three decades after the collapse of the Soviet Union: What has noticeably changed between Russia and Africa? In answering this basic question, Lavrov acknowledged talking to students and staff at the Moscow State Institute of International Relations (MGIMO): "Africa is one of our priorities. Our political ties in particular are developing dynamically. But economic cooperation is not as far advanced as our political ties."
According to Lavrov, the process of Russia returning to Africa is taking the form of intensifying political dialogue, which has always been at a strategic and friendly level, and now moving towards a vigorous economic cooperation. It is necessary to consolidate these trends and draw up plans for expanding consolidated partnerships with the African countries.
That however, just as the coronavirus pandemic subsided leading to the opening of air space and borders, a lined-up of African foreign ministers including Algeria, Chad, Djibouti, Egypt, Ethiopia, Guinea-Bissau, Libya, Mali, Nigeria, Sudan, Sierra Leone and Togo came, as always, for political consultations and dialogue.
The significance of diplomatic meetings and most possibly those to follow preceding the next Russia-Africa summit slated for 2022, Lavrov has always indicated in his introductory speeches –these visits are to review the status of the bilateral relations and prospects for their further development.
Russian and African experts have expressed their concern about official visits proliferating both ways, with little impact on the sustainable development currently needed by the majority of African countries. While some see official visits simply as diplomatic tourism, a number of the African leaders keep in mind how bilateral policies would help tackle key questions such as rising unemployment, healthcare problems, poor infrastructure and industrial development – how to turn Russia's focus towards realizing the Sustainable Development Goals (SDGs).
Russia has shown interests in niche sectors such as nuclear power development, launching African satellites, and energy and mining projects. It has been seeking to exploit conventional gas and oil fields in Africa; part of its long-term energy strategy is to use Russian companies to create new streams of energy supply.
In terms of a strategic outlook and action on economic engagement, it is seriously lagging behind. Russia has long ago cut the "red-ribbon" marking the completion of an infrastructure project in Africa. With regard to other economic areas, it may have to identify wide range of sectors as with members of the European Union, China, the United States, India, the Gulf States and others.
Nevertheless, within the framework of the African Continental Free Trade (AfCFTA) that promises creating a single borderless market, it offers opportunities for localization, production and marketing of consumables throughout Africa. This should perhaps, be the strongest dimension of Russia's dealings in Africa.
Currently, Russian trade is heavily concentrated in North Africa, especially with Algeria, Egypt, Tunisia and Morocco. Noticeably, in 2019 bilateral trade information from Russian Export Centre shows (trade statistics) that Russia's relationship with North Africa is the most significant, US$17 billion of the aggregate total US$20 billion for the whole of Africa. President Vladimir Putin has asked that this trade figure be doubled, up to US$40 billion before the next summit planned for 2022.
In an interview with Steven Gruzd, Head of the African Governance and Diplomacy Programme at the South African Institute of International Affairs (SAIIA), he similarly noted that Africa is a busy geopolitical arena, with many players, both old and new, operating. Apart from EU countries, China and the US. There are players such as Iran, Turkey, Israel, the UAE, Japan and others. Russia has to compete against them, and distinctively remain focused its efforts. On the other side, Russia uses the rhetoric of anti-colonialism in its engagement with Africa, and that it is fighting neo-colonialism from the West, especially in relations with their former colonies. It sees France as a threat to its interests especially in Francophone West Africa, the Maghreb and the Sahel.
"I would largely agree that there is a divide between what has been pledged and promised at high-level meetings and summits, compared to what has actually materialized on the ground. There is more talk than action, and mere intentions and ideas have been officially presented as initiatives already in progress. There needs to be a lot of tangible progress on the ground for the second summit to show impact. It will be interesting to see what has been concretely achieved in reports at the second Russia-Africa summit scheduled for late 2022," he distinctively argued.
Steven Gruzd also heads the Russia-Africa Research Programme initiated this year at SAIIA, South Africa's premier research institute on international issues. It is an independent, non-government think tank, with a long and proud history of providing thought leadership in Africa.
In another discussion, George Nyongesa, a Senior Associate at the Africa Policy Institute in Nairobi (Kenya) reminded that Africa is heading for its defining moments. By 2050, a quarter of the world's population especially its young people and thus the largest labor force will be in Africa.
Human capital is definitely an important feature of Africa's global profile besides its natural resources. Thus, it is no wonder that global players like the United States, Europeans and Asians are competing for influence, simultaneously investing and focusing on the youth, on the African continent. The competition for the control of the continent by global players is a geopolitical reality and by nature multidimensional: economic, education and training, and social; and brings to memory the rivalry of the Cold War era when the United States often treated African states as pawns or prizes rather than partners, according to Nyongesa.
However, 21st century Africa is different in the sense that African leaders seem aware of their windfall potential in human capital and resources and are no longer interested in patrons or protector and this new attitude has opened wide a range of partners necessary for the achievement of security and prosperity they seek.
During the discussion, he simply underlined the fact that "the continent is enjoying enviable attention as key global players from the United States, Europe and Asia continue to outfox each other. This can be seen from the fact that US retreat from its fight against violent extremism in Africa, allows Russia to fill in security gaps; hence the growing Russian military influence on the continent. At the same time, the United States expansion of trade and business in the continent is proving a constructive counter Chinese ever-increasing economic influence."
There are still some challenges and persistent problems with perceptions. With economic engagement, Russia often interprets the influence of foreign players as neo-colonizers. In order to make successful economic inroads into Africa, Russia is signing agreements exchanging military weapons for mining concessions. It finds it expedient to militarize and deal with its competitor, as exemplified in Central African Republic, Guinea and Mali and in the Sahel-5 region.
Lipton Matthews, an American researcher and business analyst in recent discussions with this research writer about foreign players and the "scramble" for resources, he explained that the weak governance structures in Africa, the perception that China is colonizing Africa is a consequence of Africa's history of defective governance. Though China through its infrastructural projects is presiding over the modernization of Africa, similar to what Europeans and Americans did in the developing world years ago.
On the other hand, he argued: "We must disabuse ourselves of the notion that colonialism is inherently exploitative. Most people would prefer sovereignty to colonial rule, but the truth is that colonial status does not impede economic growth and some colonies in Africa experienced faster growth during the colonial era. We should give greater priority to good governance than national sovereignty. It is better to be under the rule of benevolent colonizers than to be the subject of a dictator."
In order to aid Africa, Russia should assist Africa in transitioning to a knowledge-based economy by promoting technology transfer agreements. Russians must also invest in more R&D collaborations with their African partners. This agreement will revolutionize Africa's economy and a richer Africa is a positive for Russian investors. If Africa is properly managed, the continent should succeed with sustainable development and, to a considerable extent, attain an appreciable economic independence.
As far back in October 2018, before the start of the first Russia-SADC business forum, Stergomena Lawrence Tax, then Executive Secretary of SADC, explained an exclusive interview that Russia has a long history of bilateral engagements with the Southern African countries, which constitute the Southern African Development Community.
On the other hand, for the past several years, it has not been that visible in the region as compared to China, India or Brazil. It is encouraging that, of late, Russia has positioned itself to be a major partner with Southern Africa and being part of the BRICS promotes engagement with the region. It has to move with concrete steps into such areas like agriculture, industrial production, high technology and transport.
In the interview, Stergomena shortlisted some of the southern Africa priorities that are also in line with SADC as indicated below:
Prospecting, mining, oil, construction and mining, purchasing gas, oil, uranium, and bauxite assets (Angola, Namibia and South Africa);
Construction of power facilities—hydroelectric power plants on the River Congo (Angola, Namibia and Zambia,) and nuclear power plants (South Africa);
Creating a floating nuclear power plant, and South African participation in the international project to build a nuclear enrichment centre in Russia;
Railway Construction (Angola);
Creation of Russian trade houses for the promotion and maintenance of Russian engineering products (South Africa).
Participation of Russian companies in the privatization of industrial assets, including those created with technical assistance from the former Soviet Union (Angola).
Stergomena further discussed questions relating to public diplomacy. Russia has all but overlooked or underestimated many aspects of it. These include cultural exchanges, scholarly visitors' programmes, and of course, the use of media to cover and project issues on Africa from a Russian perspective.
These are instruments and aspects of public diplomacy, which would have the effect of reaching audiences on our continent and beyond and impacting positively on what Russia has to offer the world. In the same vein, this can be seen as a form of "soft power" as its aim is to appeal and attract partners rather than coerce them into a relationship of one form or the other, she in an emailed interview in October 2018.
There are the Intergovernmental Commissions on Economic, Scientific and Technical Cooperation and Trade fixed with African countries. There is the Russian Chamber of Commerce and Trade, the Moscow Chamber of Commerce and Trade. The Coordinating Committee for Economic Cooperation with African States established back in 2009.
According to historical documents, the Coordinating Committee for Economic Cooperation with African States was created at the initiative of the Chamber of Commerce and Industry of the Russian Federation and Vnesheconombank with the support of the Federation Council and the State Duma of the Federal Assembly of the Russian Federation. It has the support from the Ministry of Foreign Affairs, the Ministry of Economy and Trade, the Ministry of Natural Resources, as well as the Ministry of Higher Education and Science.
Within the framework of the joint declaration adopted at the first Russia-Africa Summit, the Ministry of Foreign Affairs of the Russian Federation established the Secretariat of the Russia-Africa Partnership Forum. The Secretariat of the Russia-Africa Partnership Forum also moved to create an Association of Economic Cooperation with African States (AECAS). Alexander Saltanov, former Deputy Minister of Foreign Affairs, is the Chairman of AECAS and feverishly stepping forward to advance significant issues of business cooperation between Russia and Africa.
The Secretariat of the Russia-Africa Partnership Forum has a useful structure, and its primary task is to find real opportunities for mutually beneficial cooperation and joint implementation of projects between Russian and African entrepreneurs. There are coordination, public and scientific councils operating under its roof. The Secretariat seems to coordinate and support some kind of public outreach initiatives from the civil society.
As most contemporary researchers do, they have offered additional strategic proposals and authorities have to bite on them to make the long-expected progress. It is a well-known and irreversible fact that Russia's economic presence in Africa is significantly inferior in comparison to the top-ten key global players. It is time to overcome this yawning gap, use the existing structures to expeditiously operationalize the set goals and accelerate the economic return the continent.
Indeed, judging from the above discussions about the changing geopolitical relations, there are well-functioning structures and mechanisms to reap the benefits of a fully-fledged economic partnership and to achieve a more practical and comprehensive results expected from the new multifaceted relations between Russia and Africa.
By all purposes, the relationship requires a new approach, broad levels of interaction including the civil society to forge a new positive image and change public perceptions, and work consistently with the private sector for diversified corporate partnerships. Strategically speaking, Russia needs to adopt an agenda – rather than running on ad hoc basis – and it further needs an effective Action Plan, both the agenda and plan have to conform to African Union's Agenda 2063 and the UN Development Goals 2030.
The new role of formal and informal academic diplomacy for the China-Africa Forum
Chinese think tanks and research centers play an important role in political decision-making by developing general visions for formulating important political and development decisions in the Chinese and western states. In the recent time, there are seven Chinese study centers entered the global ranking of the best Chinese think tanks around the world, and occupied the first global ranks, most notably:
(China Institute of Contemporary International Relations, Chinese Academy of Social Sciences, China Institute of International Studies, Development Research Center of the State Council, Institute of International and Strategic Studies of Peking University, Center for China and Globalization, Shanghai Institute of International Studies)
The (Union of Cooperation of Research Countries for the "Belt and Road" initiative) was established on April 8, 2015, which cooperates with most research centers in China to study the "Belt and Road" initiative and its projects. The Chinese side has officially announced the inauguration and opening of (a committee for the cooperation of international research centers for the "Belt and Road" countries) in the capital, Beijing, under the joint sponsorship of 15 Chinese, foreign and African research centers. Here, the strength of the research centers working on studies of the "Belt and Road" initiative projects in achieving Chinese development around the world and facilitating academic, research and knowledge communication between China and the world increases. There is no doubt that these research centers are now playing a greater role in deepening political communication and popular communication in building the "belt and the Chinese Road" in the future.
At present, Chinese think tanks and research centers play a new and influential role, especially after the announcement of the Chinese Belt and Road Initiative in 2013, through its new practice of what is known as "academic diplomacy", which is entrusted with sending Chinese experts and academics working in think tanks. Chinese scholars with different disciplines, by the Chinese Ministry of Foreign Affairs or others, either to find out the prospects for a settlement or to participate in mediation or negotiations about certain political crises, and this is formally or informally, in an announced way or in a parallel track, and sometimes these Chinese researchers and academics are assigned to participate in international conferences to learn about the latest political information and theses to serve the goals of the political decision-maker in Beijing.
The most applicable example of this is what was announced by the ruling Communist Party in Beijing in 2015, to develop between 50 to 100 Chinese research institutions by the year 2020, in addition to the Chinese Communist Party's call in particular for the development of think tanks specialized in strategic issues and policies related to studies of the Belt and Road. China is also currently working on a large scale to open think tanks outside the geographical scope of the Chinese state in order to enhance international cooperation within the framework of its huge Belt and Road initiative.
Chinese think tanks and research centers are now playing a new role, known as the revolving door policy between diplomats, officials, or senior positions in the Chinese state and its ruling Communist Party, and between experts and workers in those think tanks for research and studies, in terms of alternating various positions in order to assume senior leadership positions within the party. The ruling communist and its various grassroots and party branches in all Chinese provinces and cities. In addition to its most important role in political and partisan education of the masses.
In this context, we note that Chinese think tanks have now become one of the most important actors influencing the decision-making process, and we see this through the arrival of many researchers of these centers to work in various sectors related to the Chinese Communist Party, in addition to their most important role in looking forward to the future by completing future studies, or forward-looking, especially with the emergence of the science of futurism in the world, the results of which have become one of the basic requirements for strategic planning and for making the most correct decisions in the Chinese state.
In analogy to this, the Secretariat of the Chinese Follow-up Committee of the China-Africa Cooperation Forum through a number of researchers and academics associated with Chinese think tanks and research centers, led by: (The Chinese African Institute, the Institute of African Studies at Zhejiang Normal University, the Peking University Center for African Studies) that have been played a major role On advancing the spirit of friendship and cooperation between China and Africa and working together to implement global development initiatives and achieve the following three goals, as follows:
First: Enhancing the level of comprehensive strategic partnership between China and Africa
Second: Accelerating the implementation of the United Nations 2030 Agenda for Sustainable Development
Third: Enhancing coordination between the vision of Chinese-African cooperation 2035, China's vision 2035, the United Nations Plan for Sustainable Development for the year 2030, and Africa's Agenda 2063.
The China-Africa Forum for Think Tanks has played a major and important role in the new Chinese academic diplomacy, whether formally or informally. Majors, the most prominent points of convergence between China and the African continent and activating this through the Chinese Belt and Road Initiative, in light of this delicate and sensitive time, in which peace in the world is threatened, and development faces great challenges, especially after the Coronavirus pandemic caused waves of shocks that swept the global economy, and caused the largest global economic crisis, and led to a sharp increase in inequality within and between countries.
Therefore, the role of Chinese experts and academics associated with the Chinese Belt and Road think tanks came to discuss China's role and its effects through a round table with their African counterparts after the formation of what is known as the China-Africa Think Tank Forum, which is a major quantum leap in the field of academic and research cooperation between Chinese think tanks and their African counterpart in the new era, according to the vision of Chinese President "Xi Jinping". This was evident as well, through China's hosting of the meetings of the eleventh session of the China-Africa Forum for Think Tanks, which was hosted by the Chinese capital, Beijing, under the title of:
"Strengthening the spirit of friendship and cooperation between China and Africa through joint action on the Chinese global development initiative"
Through my analytical vision as an expert in Chinese political affairs, I found that the role of Chinese think tanks and research in African affairs has become significant in advancing cooperation and coordination between the two sides, through the China-Africa Forum for Think Tanks, which was officially launched and publicized to activate research and academic cooperation between the two countries. China and Africa. What stopped me most, on a personal, analytical, and academic level, was the fruitful and extensive meetings and discussions that took place in November 2021 between the experts of the China-Africa Forum for think tanks, both Chinese and their African counterparts, which was discussed at length over two full days of dialogues and discussions between the two parties, in the presence of More than 200 participants of African and Chinese officials and specialists, in addition to the participation of about fifty experts, academics and specialized researchers representing all Chinese and African think tanks and research related to the topics of discussion, from about 19 African countries and regions via the Internet. Several important issues were discussed between Chinese and African experts in the context of the comprehensive strategic cooperation relations between China and Africans, and the results of the eighth ministerial conference of the China-Africa Cooperation Forum, which was held in the Senegalese capital "Dakar" in November, discussed the important results, and what Beijing put forward, with new programs and initiatives for the future development of the world.
This has been confirmed by Chinese Deputy Foreign Minister "Ding Li", that the Chinese Belt and Road Initiative, the China Global Development Initiative and the China-Africa Cooperation Forum (FOCAC) are a Chinese response to contribute to global development, as well as the development of the African continent, and this was discussed at length through China and Africa experts through several meetings, meetings and round tables between the two parties, and convey what was agreed upon to the decision makers of the two parties.
Hence, we will find that Chinese thought and research centers linked to Africa have a major role in making and influencing the political decision of Beijing and the leaders of the ruling Communist Party with regard to the development component of the African continent, as Africa is for the Chinese an important model for promoting cooperation between the countries of the South, as well as being a model for global development cooperation promoted by China in Africa and the world.
Sergey Lavrov to Choose between Illusions and Reality for Africa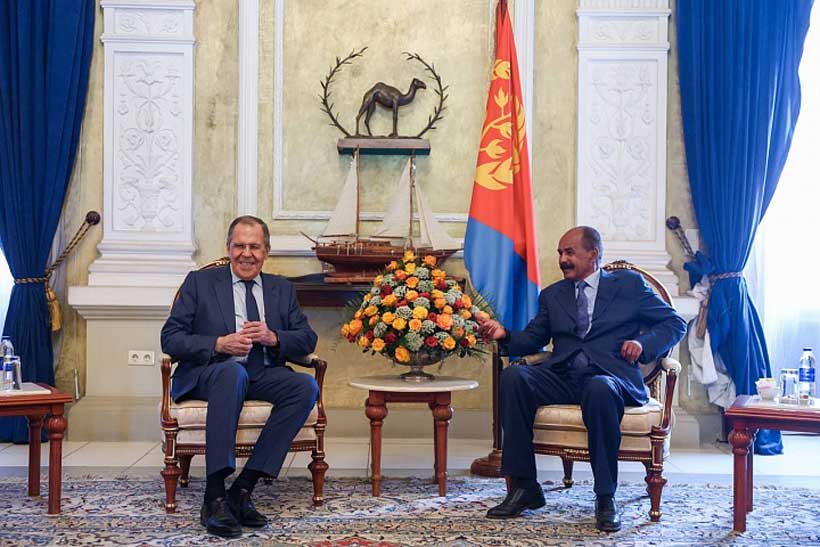 Late January, four African countries – South Africa, Eswatini, Angola and Eritrea – officially hosted Russian Foreign Minister Sergey Lavrov. He went visiting these African countries, as part of laying the groundwork and testing the pulse, ahead of the forthcoming second Russia-Africa summit set for late July in St. Petersburg. The first such summit was held in Sochi from October 2019 under the motto "For Peace, Security and Development" which attracted a large number of African representatives.
As Russia prepares to strengthen its overall corporate economic profile during the next African leaders summit, many Russian policy experts are questioning bilateral agreements that were signed, many of them largely remained unimplemented, with various African countries.
At the prestigious Moscow-based Institute for African Studies, well-experienced policy researchers such as Professors Vladimir Shubin and Alexandra Arkhangelskaya have argued that Russia needs to be more strategic in aligning its interests and be more proactive with instruments and mechanisms in promoting economic cooperation in order to reap the benefits of a fully-fledged bilateral partnership.
"The most significant positive sign is that Russia has moved away from its low-key strategy to vigorous relations, and authorities are seriously showing readiness to compete with other foreign players. But, Russia needs to find a strategy that really reflects the practical interests of Russian business and African development needs," said Arkhangelskaya, who is also a Senior Lecturer at the Moscow High School of Economics.
Currently, the signs for Russia-African relations are impressive – declarations of intentions have been made, important bilateral agreements signed – now it remains to be seen how these intentions and agreements entered into these years will be implemented in practice, she pointed out in an interview.
The revival of Russia-African relations have to be enhanced in all fields. Obstacles to the broadening of Russia-African relations have to be addressed more vigorously. These include, in particular, the lack of knowledge or information in Russia about the situation in Africa, and vice versa, suggested Arkhangelskaya.
While answering questions from the "Moscow. Kremlin. Putin" television programme, December 25, 2022, Lavrov explained that Russia's motto is the balance of interests. "This balance is the core of our foreign policy. It is the only approach that has prospects in international affairs," he reiterated, so Russia should balance its interest (not to describe them as enemies) with other external players in Africa.
Lavrov has been in the ministerial seat these several years and, of course, seems to be up to the existing challenges and the comprehensive policy tasks in continental Africa. In Pretoria, Lavrov held discussions with South African Foreign Minister Naledi Pandor. While talking later about Russia-Ukraine crisis at the media briefing, Lavrov said Moscow appreciated "the independent, well-balanced and considerate approach" taken by Pretoria. South Africa has refused to condemn Moscow's invasion of Ukraine. Russia has been hit by unprecedented stringent sanctions, suffers from isolation.
South Africa has now assumed the chairmanship of the BRICS, a grouping that includes Brazil, Russia, India and China. It will, however, host joint maritime drills with Russia and China in February 17 to 27, off the port city of Durban and Richards Bay. Some experts say BRICS grouping, especially in the emerging new geopolitical world, throws many challenges to United States and European-led global governance structures.
In August 2023, South Africa will host the BRICS summit. In this context, the sides expressed confidence that Pretoria's upcoming chairmanship of this group opened up new opportunities for its future development, including in the context of expanding the partnerships between the five BRICS countries and African states.
Currently, South Africa has little trade with Russia but champions a world view – favoured by China and Russia – that seeks to undo perceived U.S.-hegemony in favour of a "multipolar" world in which geopolitical power is more diffuse.
Nevertheless, Foreign Minister Naledi Pandor called for greater economic cooperation between South Africa and Russia at the start of her meeting with Lavrov. "Our countries share growing economic bilateral relations both in terms of trade and investments," she said. "It is my view that both countries can and must do more to develop and capitalize on opportunities to increase our cooperation in the economic sphere."
Besides that as indicated above however, Lavrov mentioned peaceful space, high technology, smart cities, and nuclear energy as promising areas of collaboration with South Africa. Pretoria expresses readiness to collaborate, but the question is how to build a supply chain and financial services for collaborative projects in the face of Western sanctions imposed on Russia.
The two are members of BRICS, a grouping of major emerging economies, although they remain relatively insignificant markets for each other: Russia ranked as South Africa's 33rd-largest trading partner in 2021, with two-way flows amounting to just $1.46 billion. In comparision, South Africa trade with the United States were $10.2 billion in 2021.
Reports have also pointed to the negative effects of Russia's opaque transactions with South Africa under Zuma administration. "There is a split in the South African establishment between the ruling ANC party and the opposition, which is fiercely against Russian-South African collaboration. There are fears that the country's frenetic anti-Russian media campaign may gradually tip the scales against Moscow. Nonetheless, for the time being, South Africa is interested in broadening its foreign relations, particularly through the BRICS," Researcher at the Institute for International Studies at MGIMO, Maya Nikolskaya, told local Russian daily Kommersant.
Maya Nikolskaya underlined the fact that 2022 was generally not an easy year for Russian-African relations. Majority of African countries found themselves under tremendous pressure from the West. However, Moscow still has great potential in Africa: Russia is a major grain exporter and in turn, "Moscow is interested in new sales markets, so building alternative value chains is in the interests of both parties," the expert explained about Russia's relations with South Africa.
On his second stopover in the Kingdom of Eswatini, Lavrov expressed deep worriness about the Western dominance, and situations guided mostly by the orders of the former colonial powers. "We understand the painful feelings of the US and Europe, as the structure of international relations is changing, becoming multipolar, polycentric. We cannot change our Western friends and make them polite, behave democratically," Lavrov said at a news conference following talks with the Kingdom of Eswatini's top diplomat, Thulisile Dladla.
Reports indicated that King of Eswatini Mswati III has been invited to the Russia-Africa summit to be held this year in St. Petersburg. And Moscow plans to deepen its interaction with Eswatini in the area of Russian grain supplies, the construction of irrigation systems, energy and mineral resources mining. "We stated that efforts should be focused now on the economic sphere, which by its indicators so far lags far behind other areas of our cooperation, above all the excellent level of political dialogue," the Russian top diplomat said.
About 50 Swazi nationals are receiving military education at Russian Defence Ministry colleges, further agreed to step up cooperation in the field of security. Tongue-twisting Lavrov repackaged a long list of projects, nearly all the sectors including industry, agriculture, information communications technology, digital, education, culture and many others. With a small population of 1.2 million, Eswatini is a the tiny landlocked country in Southern Africa.
During the media conference, he made references to his previous tour in Africa (Egypt, the Republic of Congo, Uganda, and Ethiopia) and also to the Arab League headquarters. He also discussed BRICS at length, particularly proposals for its expansion, as well as its role in the global economy, globalization and global finance. "BRICS is not planning to shut the door to the rest of the world. On the contrary, we would like to cooperate with all countries as much as possible, equally and based on the balance of interests. The BRICS countries' approach to global affairs is winning the sympathy of more and more countries across the world, including in Asia, Africa and Latin America," he asserted.
Wrapping his "business-as-usual" meetings in Eswatini, Lavrov referred to countries as China, India, Turkey et cetera that are emerging together as new multipolar world. But these countries have good economic footprints in Africa. For Russia to recognizably play dominating role similar to China, India and Turkey, it has to make a complete departure from frequent rhetorics and work seriously on its economic policy dimensions in Africa.
The Kingdom of Eswatini, officially renamed from Swaziland in 2018, is a constitutional monarchy with the current constitution in force since February 8, 2006. The country is a member of the British-led Commonwealth. Eswatini, with an approximate population of 1,2 million (2021), is bordered by South Africa and Mozambique. It has had diplomatic relations with the Russian Federation since November 19, 1999.
Upon his arrival on January 24, Lavrov and his delegation were welcomed by his Angolan counterpart, Tete Antonio. On the next day, he held an in-depth discussion with President João Lourenço. According to the transcript, the focus was on the preparations for the next meeting of the Intergovernmental Commission on Economic, and Scientific-Technical Cooperation and Trade in Luanda in late April. Both, however, outlined steps to advance strategic partnership across all areas.
With Minister of External Relations Tete Antonio, there were questions relating to the launch of Angola's AngoSat-2 satellite and that allows to continue cooperating in the peaceful exploration of outer space and other high-tech areas. Lavrov and Antonio have ultimately agreed to expedite the coordination of several new intergovernmental agreements, including those on the opening of cultural centres and on the nuclear power industry, humanitarian missions and merchant shipping.
Eritrea was Lavrov's final working station. With an estimated population of 5.8 million, it is located on the Red Sea, in the Horn of Africa region of Eastern Africa. Russia and Eritrea have had diplomatic relations since May 1993. President Isaias Afwerki has ruled Eritrea with an iron fist since independence from Ethiopia in 1993. Eritrea was one of the countries that voted against a UN resolution condemning Russia over the situation in Ukraine in March 2022.
In April 2022, Eritrean Foreign Minister Osman Saleh Mohammed made a visit to Moscow. Both Lavrov and Mohammed reaffirmed Russia's strategic interest to make coordinated efforts aim at building logistics hub along the coastline. During their meeting, Lavrov promised Moscow's contribution towards stronger stability and security in the Horn of Africa.
As far back 2018, Lavrov spoke extensively about economic cooperation. According to him, Russia's truck maker KAMAZ was already working in Eritrea, supplying its products to that country, as was Gazprombank Global Resources, which was building cooperation in the banking sector. The same year 2018, concrete talks were held to build a logistics centre at the port of Eritrea, that makes world's class logistics and services hub for maritime transportation through the Suez Canal and definitely set to promote bilateral trade.
According to the transcript posted on the website, Lavrov said: "we cooperate in many diverse areas: natural resources, all types of energy engineering, including nuclear and hydroelectric energy, and new sources of energy, infrastructure in all its aspects, medicine, the social sphere, transport and many more."
Still that same year, Eritrea was interested in opening a Russian language department at one of the universities in the capital of the country, Asmara. Lavrov further indicated: "We agreed to take extra measures to promote promising projects in the sphere of mining and infrastructure development and to supply specialized transport and agricultural equipment to Eritrea."
As always, Lavrov's discussions with Eritrean President Isaias Afwerki focused on "strengthening bilateral relations as well as regional developments of interest to the two countries." He, however, reaffirmed Russia's unconditional commitment to fulfilling all of its obligations under export contracts to send critical food supplies to African countries in need, including under the package agreements reached with the participation of the United Nations.
Isaias Afwerki further listened carefully as Lavrov listed mountains of proposals including those relating to the economy, mining, information and communication technologies, agriculture, infrastructure projects, the possibilities of the sea and air ports of Massawa, as well as Russian proposals for the development of industry in Eritrea. "All these are topics for the upcoming consultations between our ministries of economy. We agreed to start them soon and give them a regular character," he convincingly assured.
In summary, Lavrov's trip to Africa, which has become a renewed diplomatic battleground since the Ukraine war began, has taken him to Angola, Eswatini and South Africa. As previously, not a single development project was commissioned in any of the those African countries he visited. It was the usual diplomatic niceties, "dating and promising" but, at least, with a bouquet for the bride.
During his four-African country visit, Lavrov did not hold meetings with any youth and women groups neither did he address a gathering African entrepreneurs. He did not visit any Russian-funded project facility sites to first-hand assess developments and progress there, not any educational establishment especially those dealing with international relations. His meetings were state-centric and mostly office-centered. Throughout his speeches, not a single reference to the Africa Continental Free Trade Area (AfCFTA). While exploring more opportunities, there was absolutely nothing on Covid-19 and Russia's Sputnik V vaccines or offer practical proposals to develop vaccines for other deadly diseases across Africa.
Lavrov left Moscow the next day after his three-hour media conference, summing up foreign policy achievements and the way forward on 18 January. During that conference, Africa only appeared at the bottom of the discussions. And yet Africa is considered as "a priority" in Russia's policy. Lavrov made a sketchy response about Africa, and then reminded the gathering of the forthcoming summit planned for late July 2023. He, however, mentioned that there were drafted documents to reset cooperation mechanisms in this environment of sanctions and threats, and in the context of geopolitical changes.
"There will be new trade and investment cooperation tools, logistics chains and payment arrangements. The change to transactions in national currencies is under way. This process is not a rapid one, but it is in progress and gaining momentum," he told the gathering in quick remarks, then swiftly closed the media conference that day.
Nevertheless, African leaders are consistently asked to support Russia against Ukraine. Since the symbolic October 2019 gathering in Sochi, extremely little has happened. With high optimism and a high desire to strengthen its geopolitical influence, Russia has engaged in trading slogans, and many of its signed bilateral agreements have not been implemented, including all those from the first Russia-Africa summit. The summit fact-files show that 92 agreements and contracts worth a total of $12.5 billion were signed, and before that several pledges and promises still undelivered.
Since his appointment in 2004 as Minister of Foreign Affairs of the Russian Federation, Sergey Lavrov has succeeded in building high-level political dialogues in Africa. But, his geopolitical lectures have largely overshadowed Russia's achievements in Africa. Throughout these several years of his official working visits to Africa, unlike his Chinese counterparts, Lavrov hardly cuts ribbons marking the completion of development projects in Africa.
That however, he needs simultaneously to understand how to approach ideas from inside Africa. These ideas could offer Russia hopes for raising its economic cooperation to a qualitatively new level and ultimately contribute to the building of sustainable relations with Africa. The new scramble for Africa is gaining momentum, therefore Russians have to face the new geopolitical realities and its practical existing challenges. But in the nutshell, Russians seem to close their eyes on the fact that Africa's roadmap is the African Union Agenda 2063.
For more information, look for the latest Geopolitical Handbook titled "Putin's African Dream and The New Dawn" (Part 2) devoted to the second Russia-Africa Summit 2023.
Janet Yellen: U.S. Focuses on Business Investment and Infrastructure Development in Africa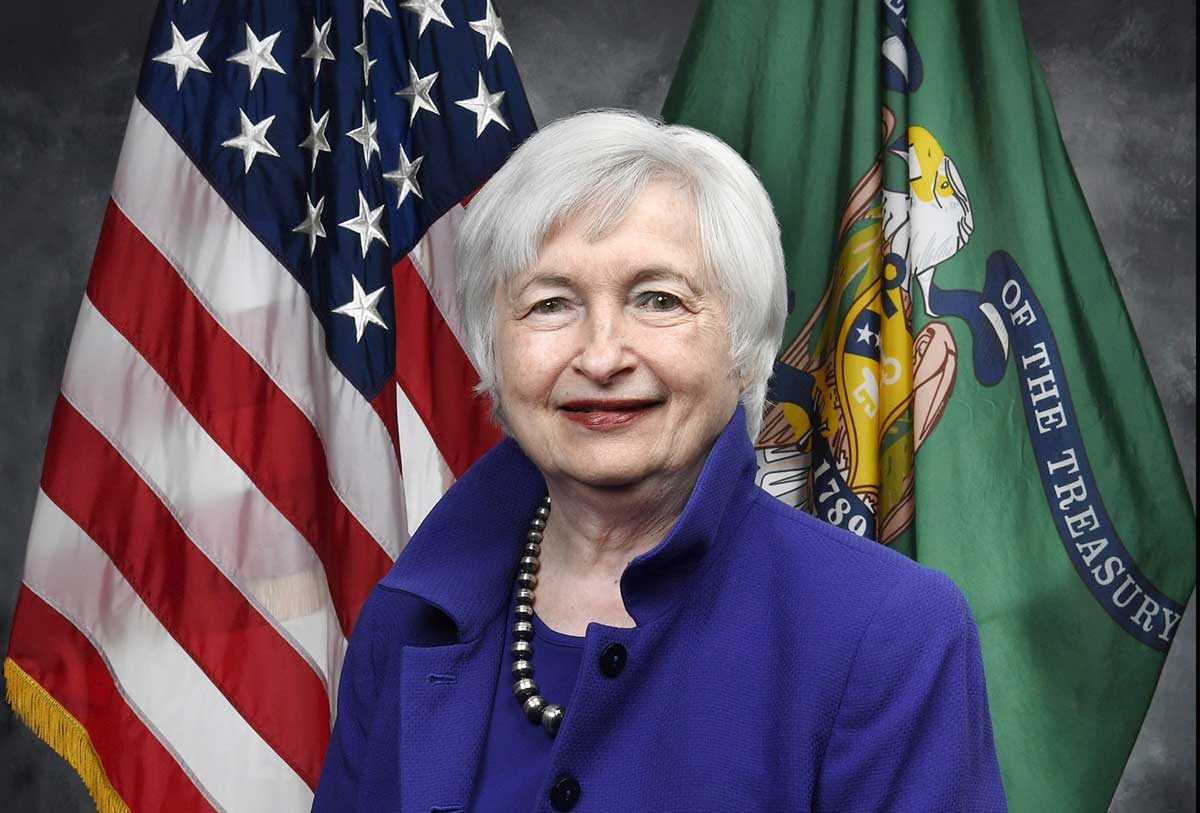 United States officials, at least, are strategically moving to reset multi-dimensional relations with Africa after the last African leaders summit held in Washington. President Joseph Bidden and Vice President Kamala Harris, in well-coordinated working agenda, with the White House, the Department of African Affairs and the U.S. Treasury are up to the task. This challenging task is backed with $55 billion budget publicly announced during the African leaders gathering.
It all began with series of working visit to Africa late December and early 2023, which underscored the message delivered by Biden at last summit: "The United States is all in on Africa, and all in with Africa." The $55 billion budget and along with private sector investment for Africa, well-built institutionalized structures and the African-American diaspora are distinctively linking together the United States and Africa.
On January 20, U.S. Treasury Secretary Janet Yellen went for a 10-day trip to three African countries that aims to revitalize and expand U.S.-African ties and address challenges such as climate change, food security and debt in Africa. After decades in which China has dominated investment on the continent, the U.S. is pitching itself as a more sustainable alternative. In the sub-Sahara, Yellen visited Senegal, Zambia and South Africa.
That will be followed by the United States Ambassador to the United Nations, Linda Thomas-Greenfield, who travelled to three Republics of Ghana, Mozambique and Kenya starting Jan. 25 and another round trip by Secretary of State Antony Blinken official visits to Eastern Western and Southern Africa.
In Dakar, Yellen had an extensive and fruitful discussions with Senegalese President Macky Sall, who is also the rotating Chair of the African Union. The African Union is a 55-member continental organization with headquarters in Addis Ababa, Ethiopia. With President Macky Sall, she highlighted United States efforts to boost economic ties with the region "by expanding trade and investment flows," according to official reports.
Later, she also interacted with Senegal's Minister of Economy, International Planning, and Cooperation Oulimata Sarr, who, like Yellen, is also the first woman to serve in her current role. In a meeting with Finance Minister Mamadou Moustapha Ba, Yellen said the two officials had "much to discuss on how best to meet the challenges both of our countries face, including in the context of global financial tightening and an increasingly uncertain global economic environment. The U.S. is committed to working with Africa to realize that promise, because we know that a stronger African economy is good for the world, and good for the United States."
In a speech delivered at a business event in Senegal's capital Dakar, Yellen mapped out the United States vision for strengthening African relations, eyeing the massive economic opportunities created by its demographic boom.
Currently, Senegal is participating in a G-20 programme that helps finance a shift from fossil fuels to clean power generation, it's also on the verge of becoming a significant fossil-fuel producer. A new offshore project straddling its border with Mauritania is projected to bring Senegal $1.4 billion of oil and gas revenue from 2023 to 2025. The project may also provide Europe with energy relief as it turns away from Russian gas and oil.
Reports indicated that Treasury Yellen gave the concrete go-ahead on rural electrification project in Senegal. The new rural electrification project estimated to bring reliable power to 350,000 people while supporting some 500 jobs in 14 American States.
Our monitoring shows that Yellen traveled to the site of the project, headed by Illinois-based engineering firm Weldy Lamont. The new project received technical assistance from the U.S. Power Africa initiative, capacity building through the U.S. Agency for Trade and Development, and a $102.5 million loan guarantee from the Export-Import Bank.
"Our goal is to further deepen our economic relationship and to invest in expanding energy access in a way that uses renewable resources spread across the continent," U.S. Treasury Secretary Janet Yellen underlined in her remarks. Senegal has among the highest rates of electrification across Sub-Saharan Africa – between 70% and 80% – but access to electricity remains far more limited in rural areas.
Such disparities can hinder opportunity for households and businesses in areas otherwise ripe for economic development, Yellen said. The project includes an important renewable energy element with a solar grid to power 70 villages. "This groundbreaking will create a higher quality of life in many communities, and it will help Senegal's economy grow and prosper. It will also help Senegal get one step closer to its goal of universal electricity access by 2025," she said.
Yellen, who met women and youth entrepreneurs in Dakar, said the electrification project would allow Senegal to rely on energy sources that are within its borders, cost effective and not prone to the kind of volatility in energy prices sparked by Russia's invasion of Ukraine. The U.S. Power Africa project has helped connect 165 million people to reliable electricity across Africa. Its goal is to add at least 30,000 megawatts (MW) of cleaner and more reliable electricity generation capacity and 60 million new home and business connections by 2030.
Yellen, then, travelled to Zambia to meet President Hakainde Hichilema as well as other finance officials. President Hichilema, who took office in 2021, has promised to restore the copper-rich nation's credibility and creditworthiness after inheriting a cash-strapped economy. Here, she spoke on efforts to improve global health and prepare for future pandemics, as well as on food production.
Yellen cited $11 billion in commitments by the U.S. Development Finance Corp and $3 billion in programmes by the Millennium Challenge Corp in 14 African countries, with more in the pipeline. On a wider scale, the G7 group of wealthy Western nations also planned to mobilise some $600 billion for global infrastructure investments over the next five years.
"We are saying that African countries firmly belong at the table. Their communities are disproportionately vulnerable to the effects of global challenges. And any serious solution requires African leadership and African voices," she said.
In South Africa, which recently assumed the chairmanship of the BRICS emerging economies group, Yellen held talks with Finance Minister Enoch Godongwana and South Africa Reserve Bank Governor Lesetja Kganyago. She also visited the Ford assembly plant to showcase successful examples of U.S.-Africa economic relations.
Washington provided about $13 billion in emergency aid and food assistance last year, and was now setting up a U.S.-Africa strategic partnership to address the short-term food needs of more than 300 million Africans, Yellen said. It is also helping to build more resilient and sustainable systems for the future.
In practical terms, Yellen focused on building relationships and understanding the barriers to investment and business in Africa. Our monitoring shows that Chinese trade with Africa is about four times that of the United States, and Beijing rapidly expanded its lending by offering cheaper loans, although the opaque terms and collateral requirements are now being questioned by some African countries.
United States is currently looking to broaden investment in South Africa, which is developing new legislation to speed up energy projects. There are a number of external players showing interest in the energy sector, these include Russia, China, United Arab Emirates and others in the Arab world.
Former US ambassador Susan Page told AFP that despite positive developments like the major summit in Washington last year, "the proof is in the pudding" when it comes to pledges of support for African countries. "Are they really going to come up with the serious money… Or is it going to be a trade-off?" asked Page, now a professor at the University of Michigan. She added that while US moves have been largely framed as countering China's advances, it "is a shame because African countries want to be treated as Africa, and not as a wedge between great power competition."
Joseph Siegle, who leads the Africa Center for Strategic Studies research programme, said the scope of Yellen's visit was far broader than the matter of China's influence. "From an emerging market standpoint there is a lot going on there – with its resources and growth and a large African diaspora in the U.S. Arguably the U.S. has not paid enough attention to Africa with the rigor that's warranted," he said. "I think the significance of this trip is trying to rectify there hasn't been enough high-level engagement on the part of the U.S. in Africa."
In fact, despite criticisms especially over neo-colonialism and unipolarism, the United States and Africa are culturally, and by biological blood, are inseparable. According to the latest World Bank report, remittances from the African diaspora to the continental was $49 billion in 2021.
With rivals China and Russia competing for influence and opportunity in Africa, the United States has been working to stave off an erosion of its once-powerful position in the region. But as Treasury Secretary Janet Yellen strongly noted the histories of the United States and Africa were "intimately connected" by the "tragedy" of slavery, as Washington seeks to strengthen relations with the continent. Speaking at Goree Island off the Senegalese capital of Dakar, the largest slave trading centre on the African coast.
For their part, many African countries say they are keen for increased investment and financial support for infrastructure development across Africa. And that Africa is only ready for potential credible investors, and not for active sloganeers and ideological choristers. Africa is not a field for confrontation, but for cooperating on transforming the economy and operate the single continental market.
In the emerging multipolar world, the United States still shares cultural values and democratic principles with Africa. The trans-Atlantic slave trade is an integral part of both American and African history. United States is their second home, nowhere else. United States and Africa are 'intimately connected' by slavery, have culturally indivisible bondage, and currently with the growing African-American diaspora it is completely absurd and awkward for external geopolitical rival countries asking African leaders and Africans to abandon their history and the United States.