Moscow's digital ecosystem was awarded with Runet prize
Projects of the Moscow Government received the Runet Prize in five nominations at once, in particular in "State and Society", "Creative Industries", "Development of Domestic Tourism" nominations and others. Among the laureates are the digital ecosystem of Moscow, the service of short-term rent of urban spaces "Together with Culture", the Russpass tourist service and the Discovermoscow.com portal. More than a thousand applications were submitted for the contest.
This year the Moscow digital ecosystem celebrated its 10th anniversary — in 2011 was launched the first e-service. And now more than 380 useful digital services help residents in their daily life. The mos.ru portal of the Mayor and the Moscow Government, the Electronic House and Our City platforms, useful mobile applications — each city project is designed to make it as easy as possible for Muscovites to solve everyday problems and free up time for what is really important to them.
With digitalization a fundamentally new standard of quality of life in the metropolis was set. Moscow became more human-centered, and former bureaucratic apparatus turned into user-friendly 24/7 service.
In 2021, the Runet Prize was awarded in six main nominations, such as State and society, Media and mass communications, Education and personnel, Economy and business, Science, technology and innovation, Health and healthcare, and in seven special nominations. Among them are "Development of domestic tourism", "Cultural projects in the network", "Gaming industry and eSports", "Creative industries".
State and Society nomination
The winner of the award in the category "State and Society" was the project "Digital Ecosystem of Moscow. City as a Service". Any technology is introduced in Moscow not for the sake of the technology itself, but in order to make life in the metropolis as comfortable as possible. Every citizen is at the center of digital transformation.
Moscow was the first in Russia to start providing government services online. At this stage, the Moscow digital ecosystem includes more than 10 online resources that solve various issues, and over 380 electronic services. With their help, Muscovites can make an appointment with a doctor or for a vaccination, enroll a child in a creative circle or a sports club, apply for a business subsidy. 14.4 million people are registered on the mos.ru city portal, from where online services are provided.
Unnecessary visits to institutions, receipt and transfer of paper certificates are in the past: they are replaced by a few clicks. Since 2011, electronic services in Moscow were used more than two billion times. And their demand is growing every year: if in 2011 residents applied for electronic services only 57 thousand times, then by the end of 2020 this figure exceeded 400 million. Almost any household issue can be resolved online.
The digital ecosystem of Moscow is a complex of technological solutions, forming a single online environment with useful tools for every Muscovite. For example, a Mos ID account gives access to more than 150 resources — portals and mobile applications, including not only city sites but also popular private ones. Thanks to the development of digital interagency interaction, authorities receive almost all the necessary information from each other in electronic form, which saves citizens from the need to provide them and significantly saves time.
Development of Domestic Tourism nomination
Moscow projects Russpass and Discovermoscow.com were jointly awarded in the special nomination "Development of Domestic Tourism".
The Russpass travel service was created at the initiative of the Moscow Government. To develop the project Moscow government cooperates with all regions of the country. The service began operating in the summer of 2020, and has since been used by 1.4 million people. Using the Russpass, one can plan an individual route in Russia, purchase ready-made tours, plane, train or museum tickets, and book a table in a restaurant. Today the service brings together more than 3.5 thousand offers for travelers. Last autumn Russpass presented a mobile application. It is available in three languages: Russian, English and Spanish.
All the basic information for travelers is accumulated by the official travel portal of Moscow Discovermoscow.com. Here you can find data on hundreds of attractions: old manors, cultural sites, museums and monuments. There you can also find a section with online excursions and virtual walks around the city, get acquainted with the gastronomic points of Moscow.
Creative Industries nomination
In the nomination "Creative Industries" Moscow service of short-term rental of urban spaces "Together with culture" won the Runet award. Since February of this year, Muscovites have the opportunity to rent premises in a library, museum or House of Culture in order to hold their event there — an exhibition, performance, or lecture. Now the service has more than 530 premises. In addition, the user can order the necessary equipment or request organizational assistance.
Other Moscow projects — laureates
Two more digital projects of the Moscow Government became laureates in 2021 — the use of computer vision in medicine, as well as virtual laboratories and the Moscow Electronic School (MES) progress report mobile application.
The Runet Prize is a prestigious national award in the field of information technology and electronic communications. This year it was awarded for the 18th time. For all the time, more than 360 organizations received this prize.
Moscow virtual map: mos.ru updated city panoramas
Map section of the mos.ru portal updated Moscow virtual panoramas. New 3D photos were added to the selection, and for the easiness of users a toolbar was developed, which provides new opportunities for maps and images using. Now you can find out the exact date of the last panorama shooting of a particular street and measure the distance to the required object.
The interactive map on mos.ru is part of the Moscow Digital Twin system. In the past year, almost 1.5 million images were added to it, and there are already more than 11.4 million of them. For the first time, users have the opportunity to measure the distance from one object to another directly in the photo. The functionality also allows you to trace through archive footage how the city's appearance changed. To date, this is the most detailed map of Moscow with panoramic photographs.
To use the Panorama function, go to the Map section of the mos.ru portal. In the upper right corner, you click on a special icon. You can move around the map by clicking on the desired point (at the bottom of the screen) or with 360 degrees panorama scrolling.
A new toolbar that helps the user to work with panoramic images is located at the bottom of the screen. It has eight icons: Object Info, Length, Distance to Line, Vertical Distance, Polyline Length, Area, Plane, and Dual Screen mode. By clicking on each of them, you can get additional on the Moscow region and the panorama objects.
"Specialists shoot panoramas once or twice a year. Thanks to this, the map remains relevant. Information on it can be searched by thematic sections, for example, such as "My District", "Repair and Reconstruction", "Landscaping"," Eduard Lysenko, the Minister of the Moscow Government, head of the Moscow Department of Information Technologies, noted.
Thanks to the options in the toolbar, all panoramas are now interactive. Now you can also measure the area of buildings and any other structures. And by clicking on the "Objects information" button, it is easy to find out the address of the building or land plot and other data from the database of the Property Inventory and Registration Authority.
A tool "Dual Screen mode" allows you to display two panoramic pictures at the same time, taken from approximately the same point, but in different years. You can see how Moscow changed over the past time. In addition, the shooting date is now added to every panorama photo.
An interactive map on the mos.ru portal is useful Moscow service that helps you easily navigate the city. The map shows Moscow in great detail: with its help, you can find any organization, the nearest bike rental or city Wi-Fi access point, as well as get information on the planned changes in neighboring and much more.
The panoramic car with four cameras on the roof is used for shooting in most cases. The car moves through the streets, and every 20-30 meters, all four cameras simultaneously take pictures. When there is no access by car, a manual photo session is done. Every month the service is used by an average of 35 thousand people.
Choosing the Best Engine Hoist for your Garage
An engine hoist is an extremely valuable piece of equipment. It will allow you to remove an engine from a vehicle easily, without putting yourself or others in danger. People have been using ropes and pulleys for centuries to lift heavy objects – and some modern engine hoists work via the same principles. However, there are a few alternatives which offer distinct advantages.
So, what's the best kind of engine hoist for your garage? Let's look at choosing the best engine hoist for your next car repair job.
Manual
The manual hoist uses old-fashioned pulleys and cords to lift a heavy object. These tend to be the simplest option, and therefore the cheapest. Simply pull on the chain, and the other chain will move. The main drawback here is that the manual hoist needs to be suspended above the room. That means that you'll need a suitably-rated ceiling that's capable of carrying the load.
A manual chain can allow a single person to lift tonnes of weight, since the arrangement of pulleys will result in a larger transfer of force. The cost is that you'll be moving the chain a large distance to move the engine just a small one.
Hydraulic Hoists
Hydraulic hoists work using fluid, spread over multiple vessels. By reducing or increasing the amount of fluid in one vessel, you can change the amount of fluid in another, attached by a length of hose. In this way, you can push or pull heavy loads. A telescopic boom arm actually does the lifting, with the help of pumps, cylinders, and oil.
Hydraulic hoists are positioned on the ground rather than the ceiling, and they tend to come with plenty of castors so that they can be moved from one side of the workspace to the next. The relative mobility of the hydraulic hoist puts it at a considerable advantage over the mechanical one in situations where you need to be flexible. You can even use a hydraulic hoist outdoors.
Electric Hoists
The electric hoist is similar to the manual one, except that you don't have to pull on the chain – an electric motor will do that for you. This makes life much more convenient – though you can expect to pay a little extra for the remote-control console. Electric hoists tend to be underpowered in comparison to hydraulic ones, which might be something to consider if you're lifting loads heavier than a few hundred kilos.
Electric hoists tend to be operated by a single dangling button, which means that you might not have the same degree of precise control as you do on a manual hoist. For most applications, however, this won't be an issue.
Tech Start-ups Key to Africa's Digital Transformation but Urgently Need Investment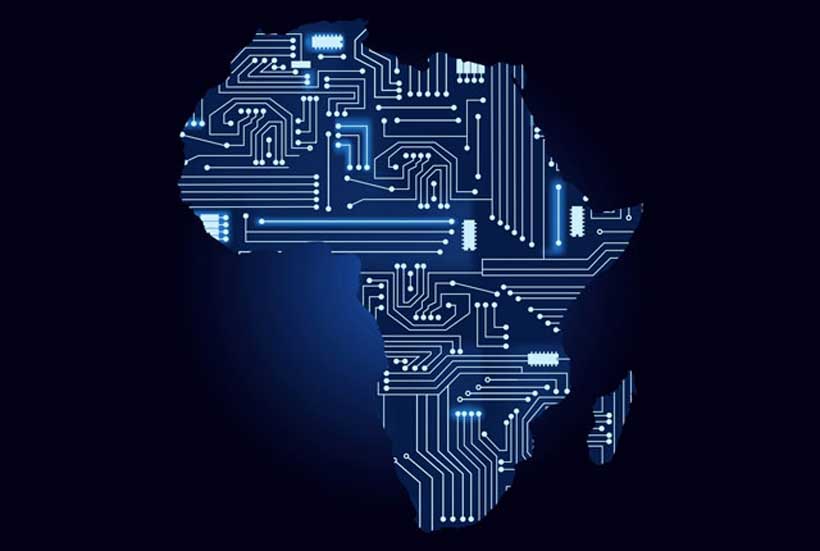 The World Economic Forum's latest report, "Attracting Investment and Accelerating Adoption for the Fourth Industrial Revolution in Africa" analyses the challenges Africa faces in joining the global knowledge-based digital economy and presents a set of tangible strategies for the region's governments to accelerate the transition.
The Forum's report, written in collaboration with Deloitte, comes just weeks after the announcement by Google of a $1 billion investment to support digital transformation across Africa, which centres on laying a new subsea cable between Europe and Africa that will multiply the continent's digital network capacity by 20, leading to an estimated 1.7 million new jobs by 2025. Africa's digital economy could contribute nearly $180 billion to the region's growth by the by mid-decade. Yet with only 39% of the population using the internet, Africa is currently the world's least connected continent.
Tech start-ups such as Kenya's mobile money solution Mpesa and online retail giant Jumia, Africa's first unicorn, represent what the continent's vibrant small business sector is capable of. Despite raising $1.2 billion of new capital in 2020 – a six-fold increase in five years – this represents less than 1% of the $156 billion raised by US start-ups in the same year. Meanwhile, Africa's investment in R&D was just 0.42% of GDP in 2019 – less than a quarter of the global average of 1.7%.
"African governments urgently need to drive greater investment in the tech sector and the knowledge economy," said Chido Munyati, Head of Africa Division at the World Economic Forum. "Policy-makers can make a difference by reducing the burden of regulation, embedding incentives within legislation and investing in science and technology skills."
The report breaks down these three policy enablers:
Pass legislation such as "Start-up Acts" designed to spur private sector innovation, reduce the burden of regulation and promote entrepreneurship, in which Tunisia and Senegal are leading the way.
Embed incentives for start-ups in legislation, such as start-up grants, rebates on efficiency gains through technology implementation, co-investment of critical infrastructure, tax-free operations for the early years, and incentives for R&D.
Invest in workforce education, skills and competencies. Currently, only 2% of Africa's university-age population holds a STEM-related (science, technology, engineering, mathematics) degree.
However, the analysis of 188 government incentives for business across 32 African countries finds that just 14 incentives – fewer than 10% – facilitate investment in Fourth Industrial Revolution technology. And most of these incentive schemes lack an efficient monitoring and evaluation system to gauge their effectiveness.
Delia Ndlovu, Africa Chair, Deloitte, believes that digital transformation promises to boost economic growth in Africa: "Connecting the region to the global digital economy will not only open new avenues of opportunity for small businesses, but will also increase intra-Africa trade which is low at 16% compared to markets such as intra-European trade which is approximately 65% to 70%."
African governments have much to learn from each other. In Côte d'Ivoire, an R&D tax incentive has been created to direct investment away from commodities and into innovation. In South Africa, the Automotive Investment Transformation Fund created by the largest manufacturers in the country is facilitating the development of a diverse supplier base to realise the 60% local content target set by the Automotive Production and Development Programme (APDP). In Tunisia, the government offers state salaries for up to three start-up founders per company during the first year of operations, with a right to return to their old jobs if the venture fails.
Coding – what is it and what are the benefits?
Coding has become more popular in recent years with everyone from entrepreneurs, hobbyists, children and professionals. And with many different kits now available, it's easier than ever to try your hand at coding.
If you're unsure what coding is or where to begin, read on to discover more and find out the benefits of learning this new skill.
What is coding and what is it used for?
In a nutshell, coding is writing a set of instructions in a language understood by machines to enable a computer to follow to carry out a task. It's used daily across the world in multiple applications from appliances to traffic systems and the motor industry.
With more of the world relying heavily on digital systems, there is an increased need for those who know how to code. But it's not just for professionals. Anyone can now try their hand at coding and it's increasingly popular amongst hobbyists who are creating exciting projects during their spare time.
A good place to start when thinking about coding as a hobby is by using a Raspberry Pi kit. Starter kits are great for beginners and allow you to develop your coding skills with everything you need in one package.
Benefits of learning to code
Whilst some benefits of learning to code such as future career options might be obvious, there are other advantages to this skill:
You could become smarter – Coding can utilise the logical part of your brain which is useful for other tasks, not just the coding process. It can also be very creative if you use your coding skills to work on different projects.
It increases your employability – and not just in the computer software industry. Skills learnt from coding are transferrable and the kind of qualities employers across many industries will be looking for.
It helps you understand technology – By getting to grips with computer languages, you'll learn how technology works at a base level – knowledge that will filter through to everyday life as well as in your career.
Enhance problem solving skills – By learning to code you'll learn how to address problems and, in turn, become skilled at solving them. Tools that will be transferred to other aspects of life.
Coding is a universal language – so there are endless opportunities to learning this skill.
Whatever knowledge you have of coding, why not give it a go? You could be creating the next big robotics project, having fun playing games with your kids or even developing a new software programme in no time.