Iran, Saudi Arabia FMs hold brief meeting in Pakistan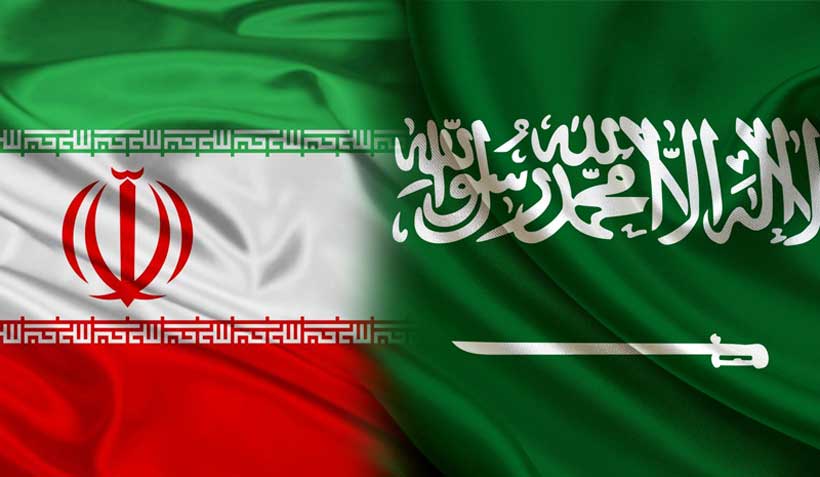 The foreign ministers of Iran and Saudi Arabia held a brief meeting in Islamabad on Sunday on the sidelines of a regional summit on Afghanistan, the spokesman for Iran's foreign ministry said.
Speaking during a presser on Monday, Saeed Khatibzadeh said, "The foreign ministers of Iran and Saudi Arabia had a brief meeting on the sidelines of the Organization of Islamic Conference foreign ministers' meeting in Islamabad, Pakistan."
But the spokesman at the same time underlined that no new developments have taken place in negotiations between Tehran and Riyadh.
Commenting on the negotiations, the spokesman said, "We did not have a new development in this regard. We are still waiting for Riyadh's answer. The progress of the negotiations will depend on the seriousness of the other side. To the extent that they show seriousness, we are ready to make progress in the talks as well as to reach an understanding on the region and the bilateral talks."
He added, "We call on Riyadh for political and diplomatic solutions and non-interference in the internal affairs of other countries. Comprehensive regional arrangements go through mutual respect and understanding of the realities of these countries."
In response to a question posed by Tehran Times correspondent, Khatibzadeh said the fifth round of the Iran-Saudi talks has not been held yet.
Source: Tehran Times
Naftali Bennett Highlights Tech and Trade, Bridge-Building and Climate Change
Prime Minister Naftali Bennett of Israel used his address to the Davos Agenda 2022 to highlight the role of digital technologies in confronting the Omicron variant and climate change. He also highlighted how regional bridge-building with the United Arab Emirates and neighbouring Arab states has accelerated trade volumes.
Israel was the first country in the Omicron wave to shut its skies for a few weeks to buy time and formulate the best policy response based on analysis of data from its national database and the actions of other countries. "The pandemic is all about data information and gleaning insights from that data", Bennett said. Israel has developed a "variant radar" of data scientists dedicated to gathering intelligence on emerging variants around the world. "That's why," he added, "we reacted to Omicron before it even got its name."
The pandemic has changed the ways we work, with the world more dependent than ever on remote working. Bennett pointed out that nearly half the global investment in cyber defence in recent years has come from Israel.
Turning to regional bridge-building, he said the Abraham Accords – cooperation agreements signed between Israel, UAE and Bahrain in 2020 – have the potential to greatly accelerate regional trade. Already trade between Israel and UAE has "skyrocketed", while trade with Egypt remains "tiny". Bennett views UAE as "a gate to the East" and regards "Africa as a big potential partner for Israel". He recently met President Sisi of Egypt and King Abdullah of Jordan and said: "I want to inject more content into these relationships."
His wider strategic aim is to firm up agreement among regional partners who are coming to see Israel as "an anchor of stability in a very tumultuous region."
The prime minister highlighted how his move to open Israel's borders to Palestinians is helping tens of thousands from Gaza and the West Bank to make a better living. In his speech, Bennett spoke about joint Israeli-Palestinian industrial zones to allow Palestinians to work in very high-tech sectors. "I believe that through business, through economy, through jobs is the most sustainable way to bring stability," he said.
Israel has committed to reach net zero on carbon emissions by 2050. Bennett pointed to Israel's "small carbon footprint", adding that the country's unique contribution to fighting climate change is through its high-tech innovation sector. He called on Israel's cohort of young entrepreneurs to start developing the "technologies that do not yet exist", which the world needs to deliver net zero by 2050. Israel is already a world leader in climate-relevant technologies such as generating, conserving and recycling freshwater, he said, while noting that the climate crisis gives it the opportunity to grow its capacity in renewable energy and alternative meat products.
Lithuanians Pave Way for EU's Legal Migration Initiatives with Sub-Saharan Africa
The European Union is facing a shortage of specialists. The reality of demographic characteristics and the labour market dictate that legal migration of talents to the EU is an inevitable need. Still, current pathways of specialist migration are not up to par. Thus, the EU is seeking new ways to connect European companies with foreign labour markets, brimming with young, talented job-seekers, and launched a slew of pilot projects to test the waters. Quite unexpectedly for many, Lithuania was the first to join the initiative and its Digital Explorers became one of the most successful in delivering tangible results.
The main goal of the Digital Explorers—contracted by ICMPD on behalf of the European Commission—was filling vacancies in Lithuanian technology companies with Nigerian ICT talent; consequently, it explored models of international collaboration between business and governments, with a non-governmental organisation as an intermediary. In the light of limited previous engagement between Lithuania and African countries, it has truly been a ground-breaking experience, both participants and partners agree.
While the current European mobility tool for professionals, the Blue Card Initiative, provides a simplified set of legal migration requirements for highly skilled workers from non-EU countries, the numbers of attracted talents are low. A recent revision of the Initiative aims to address this by expanding access to the framework for more qualified young specialists, yet amending the regulation might not be enough. A significant bottleneck is real and perceived risks for the private sector related to hiring talent from outside the EU.
"Pathways of legal migration for young specialists into the Union can solve multiple problems, including the shortage of talents in the EU, the lack of opportunities for young specialists in non-EU countries, and address the unknowns faced by the private sector. They could also help building mutually beneficial partnerships with third countries on overall migration management. We are looking for ways to facilitate the process together with EU member states, in line with the New Pact on Migration and Asylum" says Magdalena Jagiello, Deputy Head, of the Legal Pathways and Integration Unit, Directorate-General for Migration and Home Affairs (DG HOME).
A success story to build upon
Even though EU-based companies willing to hire abroad are inevitable initiators of personnel migration, mobility projects act as catalyzers by providing a missing link between participating countries as well as between business and the public sector.
"While private companies at first were sceptical that this unexpected connection can work, we spoke their language—one that is close to the heart of ICT companies. People in our team had diverse ICT and law backgrounds and firsthand knowledge of the African tech market. Therefore, we managed to address concerns of hiring companies and had answers to key questions, including recruitment and matching strategies, and potential skill level," says Mantė Makauskaitė, project lead of Digital Explorers.
"We also had a long-term vision that the project will give us the means to build further mutually beneficial connections between Baltic and African ICT markets, and stakeholders were excited about that path forward," she continues.
Thanks to the Digital Explorers pathway, 26 young men and women have relocated from Nigeria to Lithuania through two mobility models: 1-year employment and 6-months paid traineeship. They joined 13 companies working in ICT, engineering, fintech, and data science markets. Both sides were supported throughout the program—Nigerians went through technical and soft skills training to further enhance their career prospects, while companies were consulted on integrating internationals and diversity management practices. After the program, 18 participants were retained by Lithuanian ICT companies, while others continue their careers in Nigeria, making it a win-win initiative.
"Lithuanian ICT sector is rapidly growing and the shortage of specialists is difficult to address by depending on local talent only. We were willing to hire talents outside of the EU, but needed help at establishing contacts, aligning with prospective employees from third countries, and facilitating the paperwork," says Vaidas Laužeckas, CEO of Metasite Data Insights.
With help from Digital Explorers, Metasite Data Insights initially welcomed one junior data scientist; after the programme, the company has hired another one. Both of the Explorers started as junior specialists in internship positions and ended up as mid-level specialists in the span of 6 months.
Another Lithuanian company that benefited from a connection to Nigeria, Telesoftas, was deeply impressed by new possibilities offered by the African IT talent market and has made a strategic decision to create a Nigerian branch and opened an office in Abuja with the aims to hire at least 30 engineers by the end of 2022 and up to 100 in 2023. "The potential offered by Nigeria is just too big to ignore. A subsidiary on the spot might act not only as our key delivery center but also as a connection, allowing Lithuanian teams to search for talents to fill their ranks and create new business opportunities" says Algirdas Stonys, CEO of Telesoftas.
Way forward
A collaboration between Lithuania and Nigeria has established itself as an excellent example demonstrating the importance and mutual benefits stemming from legal migration. Drawing on lessons learned from the Digital Explorers and other projects, the EU is working towards establishing Talent Partnerships. "The Digital Explorers have demonstrated a successful way of internationally connecting business, employees, and governments, and may become an example for future cooperation. Better matching of skills from outside of the EU with labour market needs within the EU is direly needed and benefits every stakeholder in multiple ways. It would be the key aspect of Talent Partnerships that would enhance legal pathways to the EU, while engaging partner countries strategically on migration management," Jagiello says.
A collaboration between Lithuania and Nigeria has established itself as a go-to example for larger scale projects in Talent Partnerships. "The Digital Explorers have demonstrated a successful way of internationally connecting business, employees, and governments, and may become an example for future projects. Better matching of skills from outside of the EU with labour market needs within the EU is direly needed and benefits every stakeholder in multiple ways," Jagiello says.
According to Makauskaitė who is already exploring ways to expand Digital Explorers from Lithuanian to Baltic scale, including other African countries, such partnerships could create even more European value-added if our legal systems were more harmonized and scaling across borders would not require understanding a completely different regulation. However, for now, at least in-depth knowledge of matching the existing talent pool with business needs can be used by other European countries.
"The match might not be perfect straight away, but it's important to know ways for perfecting it," the leader of Digital Explorers concludes.
Guterres Calls on Private Sector to Help Developing Countries with Post-Pandemic Recovery
In a special address at the virtual World Economic Forum Davos Agenda 2022 on Monday, United Nations Secretary-General António Guterres outlined three urgent areas that need to be addressed for the world to emerge from the ongoing global economic and health crisis and to ensure the UN Sustainable Development Goals are achieved.
"Recovery remains fragile and uneven amid the lingering pandemic, persistent labour market challenges, ongoing supply chain disruptions, rising inflation and looming debt traps," he said. "To chart a new course, we need all hands on deck, especially the global business community."
The first area that needs immediate attention is confronting the COVID-19 pandemic with equity and fairness. Citing the World Health Organization's global target to vaccinate 40% of people in all countries by the end of 2021 and 70% by the middle of 2022, Guterres said the world is nowhere near these targets. "If we fail to vaccinate every person, we give rise to new variants that spread across borders and bring daily life and economies to a grinding halt," he said.
To ensure vaccine equity, he called on countries and manufacturers to prioritize vaccine supply to the global programme COVAX and to support the local production of tests, vaccines and treatments around the world. He also asked pharmaceutical companies to stand in solidarity with developing countries by sharing licences, know-how and technology to find a way out of the pandemic.
The second challenge is the need to reform the global financial system, especially as low-income countries are at a huge disadvantage and are experiencing their slowest growth in a generation. "The burdens of record inflation, shrinking fiscal space, high interest rates and soaring energy and food prices are hitting every corner of the world and blocking recovery, especially in these low- and middle-income countries," Guterres said. This is stifling any hope of growth by making it even more difficult for governments to invest in the sustainable and resilient systems.
He urged business leaders to help shape a global financial system that works for all countries. This includes working to restructure the long-term debt architecture, addressing corruption and illicit financial flows, ensuring that tax systems are fair and designed in a way that reduce inequalities, and bringing together governments, businesses, the financial sector and international financial institutions to build up private investment in developing countries.
Supporting climate action in developing countries is the third area that needs immediate attention, especially as global emissions are set to increase by 14% by 2030.
"Even if all developed countries kept their promises to drastically reduce emissions by 2030, global emissions would still be too high to keep the 1.5 degree Celsius goal within reach. We need a 45% reduction in global emissions this decade," Guterres stressed.
Climate shocks, including extreme weather events, forced 30 million people to flee their homes in 2020 alone – three times more than those displaced by war and violence. And 1 billion children are at an extremely high risk of the impacts of climate change. "Turning this ship around will take immense willpower and ingenuity from governments and businesses alike, in every major-emitting nation," he said. "We see a clear role for businesses and investors in supporting our net-zero goal."
This, he said, calls for the creation of coalitions of government, public and private financial institutions, investment funds and companies with the technological know-how to provide targeted financial and technical support for every country that needs assistance.
The World Economic Forum's Climate Action Platform is helping businesses, governments and NGOs accelerate and scale ambition and partnerships needed to drive a sustainable and inclusive future, and its Alliance of CEO Climate Leaders is engaging policy-makers to help deliver the transition to a net-zero economy.
Guterres concluded by saying that many countries need the support, ideas, financing and voice of the global business community.
"If we fail to provide debt relief and financing to developing countries, we create a lopsided recovery that can send an interconnected global economy into a tailspin," he said. "If we fail to reduce inequalities, we weigh down economic progress for all people in all countries."