COVID-19 cases and deaths in the Americas triple in 2021
Compared to the first year of the COVID-19 pandemic, 2021 was "undoubtedly worse" for the Americas, where infections and deaths tripled, the top UN health official there reported on Wednesday.
Dr. Carissa Etienne, Director of the Pan American Health Organization (PAHO), delivered her final briefing of the year, providing a regional update and reflections on the crisis.
A heavy toll
Since the start of the pandemic, more than 98 million people in the Americas have developed COVID-19 and more than 2.3 million have died from the disease.
More than a third of all cases reported worldwide, and one in four deaths, have occurred in the region.
"And when we compare 2020 to 2021, this year was undoubtedly worse. We saw triple the number of COVID infections and deaths in this second year of the pandemic than we did in 2020," Dr. Etienne told journalists. 
She said hospitals were stretched thin, stocks of vital medicines and supplies ran low, and health systems "were put to the test like never before."
Regional overview
PAHO is the regional office of the World Health Organization (WHO).
Over the past week, more than 926,056 new COVID-19 infections were reported across the Americas, a nearly 19 per cent increase over previous weeks.
North America is experiencing a resurgence in cases as Mexico witnesses a reduction in infections.
Cases are down in Central America, except in Panama, where they have steadily increased over the last month.
"We're seeing a shifting picture in South America," Dr. Etienne reported. "Cases have dropped in Bolivia for the first time since September, just as COVID infections increased in Ecuador, Paraguay and Uruguay, and cases remain steady in Brazil and Peru."
Although infections are down overall across the Caribbean, Trinidad and Tobago reached its highest weekly case count, while Saint Lucia also saw cases rise by 66 per cent over the last week.
The Cayman Islands reported the highest weekly incidence of any country or territory in the Americas.
Vaccine inequity persists
While 2021 has been "a sobering year", COVID-19 vaccines have protected millions against the worst of the coronavirus, said Dr. Etienne. More than 1.3 billion doses have been administered in the region to date.
"Although rollout of vaccines has not been as rapid as we would have liked, or as evenly distributed, today 56 per cent of people in Latin America and the Caribbean have been fully vaccinated against COVID-19, thanks to the efforts of countries and the support of donors," she said. 
Dr. Etienne warned that vaccine inequity continues to divide the region, saying "if we don't address glaring gaps, we'll fail to bring this virus under control." 
Learn from the pandemic
With no "magic bullet" against COVID-19, the health official underscored the need to both embrace new tools and use them wisely.
Several promising new drugs are in late-stage development, and countries must be ready to leverage them once approved, she said.
Dr. Etienne also urged countries to build on lessons learned over the pandemic. This includes heeding advice from WHO, experts, scientists, and regulators "whose jobs it is to carefully review the safety and efficacy of drugs and recommend when, where and how to deploy them."
Countries must also work together to ensure people everywhere can benefit from any new therapeutics, once available, through timely access and affordable prices.
Solidarity and sharing
Stressing that "we cannot and must not let history repeat itself", Dr. Etienne called for nations to collaborate now to expand production capacity, including in the Americas region, "so countries don't remain completely dependent on pharmaceutical imports." 
She underlined the importance of solidarity, another major lesson from the pandemic, which is how vaccines were developed in record time, variants could be identified quickly, and countries could adjust their responses based on latest available evidence.
"Each time we worked together, we had breakthroughs. But when countries worked in isolation, when innovations and resources were not shared, we created space for the pandemic to thrive. Sharing is central to defeating this pandemic," she said. 
UN-backed COVAX mechanism delivers its 1 billionth COVID-19 vaccine dose
With a 1.1 million jab delivery in Rwanda this weekend, the World Health Organization's multilateral initiative to provide equal access to vaccines for all reached the one billion milestone.
Along with the Coalition for Epidemic Preparedness Innovations (CEPI), the Vaccine Alliance GAVI, and partners, WHO has led the largest vaccine procurement and supply operation in history with deliveries to 144 countries to date.
According to a press release published on Sunday, as of 13 January 2022, out of 194 countries members of WHO, 36 have vaccinated less than 10% of their population, and 88 less than 40%.
"COVAX's ambition was compromised by hoarding/stockpiling in rich countries, catastrophic outbreaks leading to borders and supply being locked. And a lack of sharing of licenses, technology, and know-how by pharmaceutical companies meant manufacturing capacity went unused", the agency explained.
On 24 February 2021, Ghana became the first country in the world to receive vaccines through COVAX when 600,000 doses of the Oxford–AstraZeneca vaccine were delivered to Accra.
The work that remains
COVAX is currently working with governments, manufacturers and partners to ensure that when countries receive vaccines, they can get them to people quickly.
"The work that has gone into this (1 billion) milestone is only a reminder of the work that remains", the UN's health agency underscored.
They added that with updated vaccines in the pipeline, citizens should demand that governments and pharmaceutical companies share health tools globally and "bring an end to the death and destruction cycles of this pandemic, limit new variants and drive a global economic recovery".
COVAX is one of three pillars of the Access to COVID-19 Tools (ACT) Accelerator, which was launched by WHO in April 2020 in response to the pandemic.
The ACT Accelerator is a ground-breaking global collaboration to accelerate the development, production, and equitable access to COVID-19 tests, treatments, and vaccines.
WHO recommends two new drugs to treat patients with COVID-19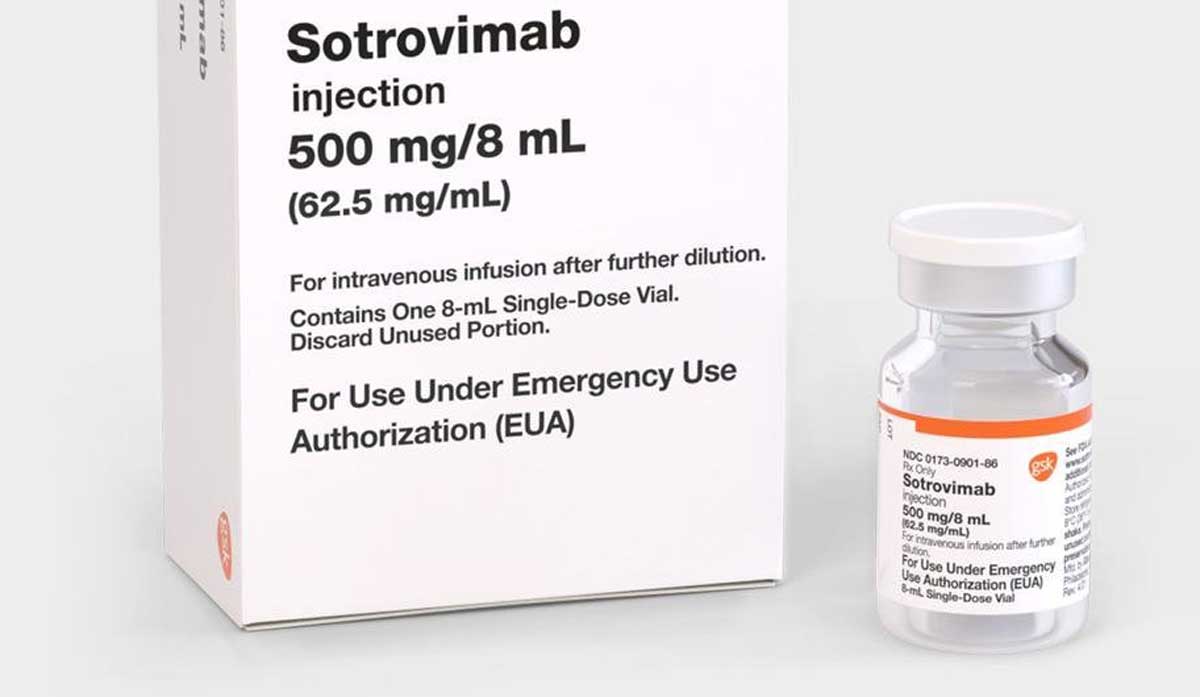 The World Health Organization (WHO) on Thursday reccommended two new drugs to treat patients with COVID-19, one for patients with critical disease, and another deemed effective for non-severe cases.
The first drug, baricitinib, is a Janus kinase (JAK) inhibitor- a class of drugs used to treat autoimmune conditions, blood and bone marrow cancers, and rheumatoid arthritis.
According to the WHO Guideline Development Group, it is "strongly recommended" for patients with severe or critical disease in combination with corticosteroids.
The group of international experts based their recommendation on "moderate certainty evidence" that it improves survival and reduces the need for ventilation.
There was no observed increase in adverse effects.
The experts note that it has a similar effectas other arthritis drugs called interleukin-6 (IL-6) inhibitors. Because of that, when both drugs are available, they suggest choosing the best option based on cost, availability, and clinician experience.
It is not recommended to use both drugs at the same time.
The experts also advise against the use of two other JAK inhibitors (ruxolitinib and tofacitinib) for patients with severe or critical cases of COVID-19 infection.
According to them, trials undergone using these drugs failed to show any benefits arising using either drug,and suggested a possible increase in serious side effects with tofacitinib.
Non-severe cases
In the same update, WHO makes a conditional recommendation for the use of a monoclonal antibody known as sotrovimab in patients with non-severe cases.
According to them, the drug should only be administered to patients at the highest risk of hospitalisation. In those at lower risk, it onlyshowed "trivial benefits".
A similar recommendation has been madepreviously, for another monoclonal antibody drug, casirivimab-imdevimab, and the experts say there is insufficient data to recommend one over the other.
For both, the effectiveness against new variants, like Omicron, is still uncertain. 
The group will update their guidelines for monoclonal antibodies when more data becomes available.
Recommendations
These recommendations are based on new evidence from seven trials involving over 4,000 patients with non-severe, severe, and critical infections.
Developed by WHO with the methodological support of MAGIC Evidence Ecosystem Foundation, the guidelinesprovide trustworthy guidance and help doctors make better decisions with their patients.
According to the agency, the guidelines are useful in fast moving research areas, because they allow researchers to update evidence summaries as new information becomes available.
The latest guidance also updates recommendations for the use of interleukin-6 receptor blockers and systemic corticosteroids for patients with severe or critical COVID-19; conditional recommendations for the use of casirivimab-imdevimab (another monoclonal antibody treatment) in selected patients; and against the use of convalescent plasma, ivermectin and hydroxychloroquine, regardless of disease severity.
Omicron fuels record weekly COVID-19 cases, but deaths 'stable'
Fuelled by Omicron, more than 15 million new cases of COVID-19 were reported around the world last week, by far the most cases reported in a single seven day period, the World Health Organization (WHO) informed on Wednesday.
Briefing reporters in Geneva, the UN health agency chief, Tedros Adhanom Ghebreyesus, said the "huge spike" is being driven by the Omicron variant, which is rapidly replacing Delta in almost all countries.
Despite the number of cases, the weekly reported deaths have "remained stable" since October last year, Tedros added, at an average of 48,000. The number of patients being hospitalized is also increasing in most countries, but it is not at the level seen in previous waves.
He told reporters this is possibly due to the reduced severity of Omicron, and widespread immunity from vaccination or previous infection.
'50 thousand deaths too many'
For the WHO chief, while Omicron causes less severe disease than Delta, it remains a dangerous virus, particularly for those who are unvaccinated.
"Almost 50 thousand deaths a week is 50 thousand deaths too many", Tedros said. "Learning to live with this virus does not mean we can, or should, accept this number of deaths."
For him, the world cannot "allow this virus a free ride" when so many people around the world remain unvaccinated.
In Africa, for example, more than 85 per cent of people are yet to receive a single dose of vaccine.
"We cannot end the acute phase of the pandemic unless we close this gap", he said.
Making progress
Tedros then listed some progress towards reaching the target of vaccinating 70 per cent of the population of every country by the middle of this year.
In December, COVAX shipped more than double the number of doses it distributed in November. In the coming days, the initiative should ship its one billionth vaccine dose.
Some of the supply constraints from last year are also starting to ease, Tedros said, but there's still have a long way to go.
So far, 90 countries have still not reached the 40 per cent target, and 36 of those countries have vaccinated less than 10 per cent of their populations.
New vaccines
Tedros also highlighted an interim statement from the WHO Technical Advisory Group on COVID-19 Vaccine Composition, released on Tuesday, stressing that further vaccines are needed that have a greater impact on preventing infection.
Until such vaccines are developed, the experts explained, the composition of current vaccines may need to be updated.
The Group also said that a vaccination strategy based on repeated booster doses is "unlikely to be sustainable."
A heavy toll
According to Tedros, the overwhelming majority of people admitted to hospitals around the world are unvaccinated.
At the same time, while the immunizations remain very effective at preventing severe disease and death, they do not fully prevent transmission.
"More transmission means more hospitalizations, more deaths, more people off work, including teachers and health workers, and more risk of another variant emerging that is even more transmissible and more deadly than Omicron", Tedros explained.
The sheer number of cases also means more pressure on already overburdened and exhausted health workers.
A study published last year showed that more than one in four health workers have experienced mental health issues during the pandemic. Data from several countries also show that many have considered leaving or have left their jobs.
Pregnant women
On Tuesday, WHO hosted a global webinar, attended by clinicians from around the world, on the clinical management of the virus during pregnancy, childbirth and the early postnatal period.
As stated earlier in the pandemic, pregnant women are not at higher risk of contracting COVID-19, but if they are infected, they are at higher risk for severe disease.
"That's why it's vital that pregnant women in all countries have access to vaccines to protect their own lives, and those of their babies", Tedros said.
The agency chief also called for pregnant women to be included in clinical trials for new treatments and vaccines.
He also stressed that, fortunately, mother to baby transmission in utero or during birth is very rare, and no active virus has been identified in breast milk.