Azerbaijan might be the champion that GUAM needs
International organizations remain key venues where states with overlapping interests try to cooperate and find common ground. Such organizations range from all-encompassing global organizations to small thematic institutions. In order to remain operationally relevant and on the agenda, they may need to seek ways of reviving organizational structures with fresh methods and ideas that fit their interests and values.
GUAM Organization for Democracy and Economic Development is an organization with a unique membership of four post-Soviet states – every of which has gone through identical turmoil in their recent history. GUAM – which takes its name from initials of the member states – Georgia, Ukraine, Azerbaijan and Moldova – promised a great deal of hope when it was first conceived. GUAM Charter includes "strengthening international and regional security and stability," as well as "intensification of political interaction and practical cooperation in the fields of mutual interest," among its core purposes. GUAM's publicity and day-to-day role have been focused on rather thematic areas mostly, however organization can be revitalized and cooperation within it might be include important topics such as post-conflict restoration, something that is crucial for all of the member states.
GUAM is known to be aimed at sectoral cooperation, rather than being an all-out alliance that takes a unified stance at every possible platform. In spite of this, GUAM members were unanimous when it came to common problems, such as condemnation of military occupation of their respective territories in various platforms. Each of GUAM member states suffered or continue to suffer from the same type of problem. Territorial conflicts with the final outcome of military occupation marred all spheres of life in Georgia (Abkhazia and South Ossetia), Ukraine (Crimea and Donbas), Azerbaijan (Karabakh) and Moldova (Transnistria).
GUAM can deliver efficient outcomes if its functioning might be tailored to the realities of the day. Common historical past, values and interests can bring enormous opportunities to be explored for the prosperity of all member states.
First of all, GUAM needs a champion country that would both help member states create a common and acceptable vision and vigorously promote it across the region and globe. Appointing or electing champion country has not been a very wide practice among international organizations; however, it can be very effective if pinpointing right causes or initiatives to target. Champion country or countries can take the leading position in advocating specific measures or implementation of obligations set out by agreements of different sorts. UNESCO and UN Network on Migration are among the institutions that utilize champion countries practice in order to reach hastened and effective implementation of initiative and agreements. Although GUAM's daily proceedings function on the basis of yearly rotation principle, having a champion country who sets examples for increasing organization's appeal could be a long-needed way of boosting GUAM's appeal and effectiveness.
Azerbaijan, with a recent positive track record of effectively putting an end to decades-long military occupation of its sovereign territories by Armenia, might be the right candidate for championing GUAM in possible platforms. Many calls were made by expert community to thoroughly study Azerbaijan's experience of military victory. Its better-trained military forces and technologically superior weapons systems allowed it to inflict a crushing defeat upon Armenia, which lost gigantic amount of weaponry and military personnel during 44 days of intense fighting. Nevertheless, it is not exclusively the military power at its disposal that makes Azerbaijan the right candidate for being a GUAM champion country, but rather and mostly, its ability to diplomatically and economically bring about and accommodate its military victory with the geopolitical realities of the contemporary world. Indeed, Azerbaijan's success of harnessing allies and not estranging those interested in power politics of the region played a crucial role in bringing about its military triumph. Thus, GUAM countries may learn significantly in terms of military-diplomacy nexus and can turn GUAM into a functionally competent organization under the Azerbaijani guidance.
Second topic that needs to be addressed is including broader issues to the GUAM agenda, such as involving GUAM countries in the reconstruction of liberated territories. The latter approach may help GUAM countries to see how post-conflict territorial rehabilitation takes place and give them first-hand opportunity to draw lessons for themselves. Considering that all four member states have long suffered from the same type of problem – territorial aggression – they may need to engage in a dialogue over finding ways of reconstruction once they have restored access over their internationally recognized territories.
Colossal projects implemented by Azerbaijan in liberated territories, such as rapid construction of Fuzuli airport, turning an ex-ghost town Aghdam into a modern industrial center, as wells as projects to restore roads and railway links among others, makes it an attractive champion that other GUAM countries may want to learn from.
Built in just over 10 months, fully-operational Fuzuli International Airport has proven that with adequate economic measures and political will, post-war reconstruction can happen in a record time. Fuzuli city, where the airport is located, was razed to the ground by Armenian Armed Forces during the First Karabakh War and were surrounded with minefields upon its liberation by Azerbaijani Armed Forces in October 2020 during the Second Karabakh War. Another example is massive infrastructure projects being realized in Aghdam, a ghost-town once called "Hiroshima of the Caucasus" with unprecedented scale of destruction and pillage. Moreover, railway and highway constructions are being carried out in order to rebuild and increase connectivity to the liberated territories and rejuvenate transport corridors across the broader region. Azerbaijan's reconstruction projects are not limited to these. Beyond mentioned efforts, Azerbaijan's ambitious plan of transforming liberated territories into economically viable region continue at a full pace.
Once again, other GUAM nations may grow their much-needed expertise thanks to Azerbaijani experience in this field. Perhaps, this may also motivate them to seek ways of solving territorial disputes through soft means such as promising similar development and rehabilitation initiatives along with other measures to the people living in their occupied areas.
To conclude, this article does not invoke other GUAM countries to emulate Azerbaijan's practice of military solution to the so-called "frozen conflicts", but rather suggests to take positive lessons from Azerbaijan's post-conflict restoration and give the relevant credit that it needs for advancing GUAM's interests and vision worldwide. Azerbaijan's experience can be used by GUAM countries to create roadmaps for themselves in order to incorporate into future policies regarding their own territorial issues. Furthermore, with the cooperation of all member states, GUAM can advocate for resolution, post-conflict reconstruction and restoration in broader context and improve its standing as an organization with a unified voice. It can expand its focus from more than a sector-oriented organization to the one that embodies economic development and democracy – with its active engagement in Azerbaijan's liberated territories and learning from its experience – as its name also depicts.
Ukraine war's first anniversary and beyond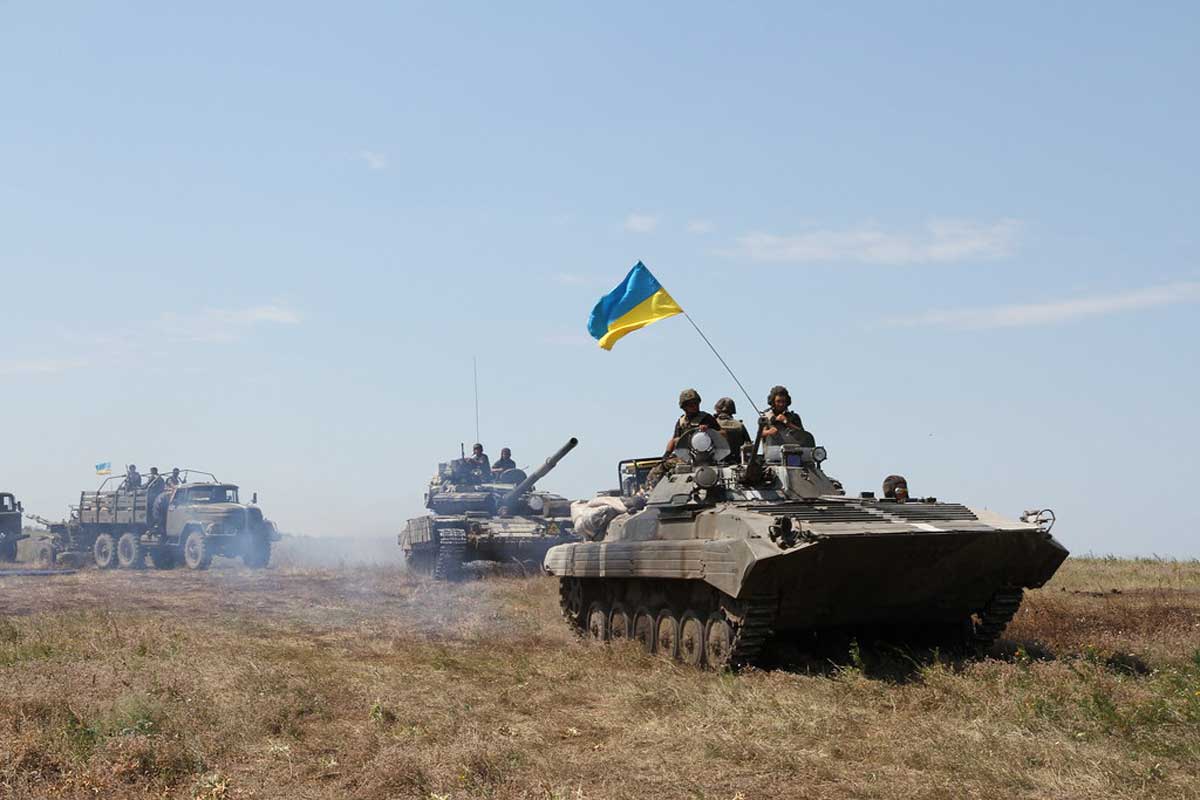 The first anniversary of Russia's special military operation in Ukraine falls on February 24. The Russian strategy of attrition war has not yet produced the desired political outcome but has been a success nonetheless, writes Indian Ambassador and prominent international observer M.K. Bhadrakumar.
The delusional "westernist" notions of the Moscow elite that Russia can be a dialogue partner of the West have dissipated thoroughly, with ex-German Chancellor Angela Merkel's stunning disclosure recently that the West's negotiations with Russia regarding the Minsk Agreement were an "attempt to give Ukraine time" and that Kiev had used it "to become stronger."
Thus, the accession to Russia four ex-Ukrainian regions — Donetsk and Lugansk [Donbass], Zaporozhye, Kherson oblasts – accounting for around one-fifth of Ukrainian territory, is a fait accompli now, and Kiev's recognition of it is a pre-requisite for any future peace talks.
The Kremlin has put necessary mechanisms in place to galvanise the defence industry and the economy to meet the needs of the military operations in Ukraine. From a long-term perspective, one historic outcome of the conflict is going to be Russia's emergence as an unassailable military power that draws comparison with the Soviet Red Army, which the West will never again dare to confront. This is yet to sink in.
Under the plan approved by Putin, the Moscow and the Leningrad military districts will be created, three motorised rifle divisions will be formed in the Kherson and the Zaporozhye oblasts (that have been annexed in September) and an army corps will be built in the northwestern region of Karelia bordering Finland.
The internal western assessment is that the war is going badly for Ukraine. Spiegel reported last week that Germany's Federal Intelligence Service (BND) "informed security politicians of the Bundestag in a secret meeting this week that the Ukrainian army is currently losing a three-digit number of soldiers every day in battles."
The Biden Administration is hoping to buy time till spring to revamp the pulverised Ukrainian military and equip it with advanced weaponry. The old stocks of Soviet-era weaponry have been exhausted and future supplies to Ukraine will have to be from hardware in service with NATO countries. That is easier said than done, and western defence industry will need time to restart production.
All the bravado that 'Kiev is preparing for an offensive to drive the Russians out of Ukraine' has vanished.
The big picture, therefore, as the war enters the second year is that the West is working feverishly on plans, with the Biden Administration leading from the rear, to deliver heavy armour to the Ukrainian military by spring, including German Leopard tanks. If that happens, Russia is sure to retaliate with strikes on supply routes and warehouses in western Ukraine.
Dmitry Medvedev, the outspoken former Russian president who is close to Putin and serves as deputy chairman of the powerful security council, explicitly warned, "Nuclear powers have never lost major conflicts on which their fate depends."
There is the 'X' factor — US domestic politics as it approaches the 2024 election year. The Republicans are insisting on an auditing of the tens of billions of dollars spent on Ukraine — $110 billion in military aid alone — making the Biden Administration accountable.
The CIA chief William Burns paid an unpublicised visit to Kiev, reportedly to transmit the message that US arms supplies beyond July may become problematic.
International Affairs
China Still Ambivalent About the Middle Corridor
Despite the oft-touted momentum behind the Eurasian Middle Corridor circumventing Russia, China still appears not to be fully behind the project beset by geopolitical challenges and infrastructure hurdles.
Overlapping Interests
Russia's war on Ukraine has been a game-changer for Eurasian connectivity. The route through north Eurasia running from China to Europe that served as a major conduit between the two is now less attractive as a result of the Western sanctions imposed on Moscow. China-EU shipments along the Northern Corridor have decreased by 40 percent according to data from October 2022. This new reality serves as a major incentive for finding alternative routes.
It is rare in geopolitics that so many states in such a short timeframe would agree on advancing a certain project. The Middle Corridor, connecting China and Europe via Central Asia, the Caucasus and the Black Sea, is a good example of a vision where different countries from across Eurasia have accelerated the work not only on promoting the idea, but also laying the ground for its expansion.
In the months following the invasion of Ukraine, the EU has re-invigorated its policies toward the wider Black Sea region and has actively engaged Central Asia through high-level visits, pledging economic and political support. No longer willing to trade with China through Russia, Brussels is now pushing for the expansion of the Middle Corridor.
Small nations along the Corridor, too, have upped their diplomatic game. Leaders of Azerbaijan, Georgia, and Central Asian states have grasped the emerging opportunity and begun inter-state cooperation through bilateral visits and the signing of memorandums on the minimization of tariffs and border crossing hurdles.
The effects of such cooperation are already evident. Indeed, emerging connectivity opportunities push the governments to reconsider their previous position on long-stalled projects such as the Anaklia deep sea port in the case of Georgia or the China-Kyrgyzstan-Uzbekistan railway, which the cooperating states pledged to begin work on in 2023.
Then, there is Turkey. Seeing an opening in the region, Ankara has increased its outreach to Central Asia already following Azerbaijan's victory over Armenia in 2020. Effectively the initiator of the Middle Corridor idea back in 2000s, Turkey is now arguably one of the critical players driving the concept. A series of "block train" transports were initiated in recent years, traversing the corridor. In February 2021, a train reached China from Turkey's eastern provinces after nearly twenty days of transit. In April 2022, another train was dispatched via the same route. Turkish President Recep Tayyip Erdogan and his Kazakh colleague Kassym-Jomart Tokayev commended during their summit in Ankara in 2022 "the growth of cargo transit via the Baku-Tbilisi-Kars railroad and the East-West Middle Corridor." Moreover, the two sides "stressed the importance of strengthening coordination between the relevant institutions for the effective and sustainable use of the Middle Corridor."
Yet, one critical player– China – is largely missing. Beijing has rarely commented on the Middle Corridor and Chinese analysts write exceptionally little on the issue. Most importantly, Beijing has invested very little in the actual development of the corridor.
Significant Constraints
China's reticence so far can be explained by pure pragmatism. Of course, there is a major imperative for Beijing to find alternative routes as transit through Russia becomes problematic. In that regard, the Caspian Sea and the South Caucasus indeed constitute geographically the shortest link to Europe.
Yet, the route is not an easy one – it is multimodal, i.e. consists of both sea lines and land routes and crosses multiple countries which have made little effort to synchronize their transit capabilities and develop infrastructure before 2022.
Currently, there is close to no joint tariff coordination, effective inter-governmental dialogue and adequate infrastructure to process the throughput which has been shipped through Russia. For instance, lack of infrastructure in the Caspian Sea prevents convenient transit from Central Asian ports to Azerbaijan. Similar troubles beset the Georgian side of the Black Sea, especially as there is no deep sea port. The construction of the Anaklia port was postponed due to political infighting in the country with new construction plans only recently announced. In 2022, the Middle Corridor could only absorb 3-5 percent of the China-EU trade, which limits Beijing's interest in the route.
Finally, geopolitical factors, such as instability in the South Caucasus, have contributed to making the Middle Corridor not as attractive for China as it might seem on the first sight. Russian influence is a primary factor. Despite Russia's current weakness and incrementally growing dependence on China, the latter will have to carefully measure how Moscow will be responding to the development of a route which circumvents it from the south, in the region where Moscow has four military bases.
Kremlin could potentially rupture the connection both politically and through the use of more radical measures if deemed necessary. Much will depend on how Moscow fares in Ukraine. Perhaps a victory might even embolden it to prevent the corridor from materializing. But even if defeated or bogged down in a protracted war, Russia's behavior will remain unpredictable, keeping China at unease.
From the South Caucasus, the Middle Corridor continues to either the Black Sea or Turkey. The former is currently a war theater, with chances for peaceful implementation of the corridor quite limited. This leaves China with Turkey.
Ankara and Beijing have promoted inherently competing visions of Eurasian connectivity. There were even hints that Turkish and Chinese influence clashed in Azerbaijan, which limited China's engagement in the expansion of the Middle Corridor. After the outbreak of the war in Ukraine, the situation seems to have changed and Turkey and China have opened more active talks on cooperation along the corridor. For instance, China-Turkey Communication Forum was held in September 2022, focusing, among other things, on synergizing the Belt and Road Initiative (BRI) with the Turkey's Middle Corridor. Yet, the pace of cooperation remains slow with little practical steps taken so far.
Looking Ahead
China might eventually grow interested in the re-invigorated Middle Corridor as a part of a hedging strategy. As was the case with silk roads in ancient and medieval times, trade corridors rarely remain static. They constantly adjust to emerging opportunities and evade potential geopolitical dangers. In the same vein, China's massive BRI is far from stationary, but constantly evolving and adjusting to varying circumstances instead.
Although the South Caucasus and the Caspian Sea have not featured high in the BRI documents published by Beijing, the region can rise to rank higher among Chinese interests amid a new emerging geopolitical reality. This is especially the case if Russia grows even more sidelined in Eurasian geopolitics and Beijing realizes that betting on Russia long-term is a dead-end.
Author's note: first published in chinaobservers
A turning moment in Ukraine Crisis
Germany's decision to send tanks to Ukraine is a major moment in the Ukraine Crisis. It will have a far-reaching impact and may turn it into World War III. It is a tradition of the US to gang up to counter its adversaries. Iraq war, Libyan attacks, Syrian aggression, and the Occupation of Afghanistan, all were the result of allied forces, the US has the skills to make allies in addition to NATO and achieve its political objectives.
The US lobbies against its adversaries, and use all dirty tricks including media to malign its adversaries. They mislead the public and level the ground for the next stage – armed intervention. Looking at US interventions in any part of the world, you may conclude a similar approach.
Ukraine is also no exception. The US was preparing grounds for this crisis for a long and dragged Russia into it. Including Ukraine in NATO, was a red line for Russia, but, deliberately, this path was chosen to spoil global peace.
After failing all negotiations, Russia was left with no option except launch a special military operation on the same line as the 2014 Crimea operation. It was just a limited operation and should have been over after securing Russian borders only.
Unfortunately, the US had different intentions and trapped Russia in Ukraine and a full-scale war started. It was purely American war against Russia, but, as usual, America ganged up with NATO and also sought assistance and support from friendly countries.
German Chancellor Olaf Scholz announced the move on Wednesday, bowing to intensifying international pressure – led by the United States, Poland, and a bloc of other European nations, which called on Berlin to step up its military support and commit to sending their sought-after vehicles. The influx of Western tanks into the conflict has the potential to change the shape of the war. The shipments are a breakthrough in the West's military support for Kyiv, signaling a bullish view around the world about Ukraine's ability to reclaim occupied territory. Crucially, they may allow Ukraine to take the fighting to Moscow's forces and re-capture more occupied land, rather than focusing primarily on beating back Russian attacks.
The US has increased its defense budget and military aid to Ukraine. It is aimed to attack Russia, not limited to liberating Ukraine only. It will prolong the war and let Russia bleed for longer.
Participation of Europe in conflict may worsen the situation and may harm Europe more. Although there are public rallies, protests, and agitations in major cities in Europe to end the Ukraine war or at least oppose Europe's active participation. Some were chanting slogans to leave NATO. It seems the public understands the consequences but the rulers are blindly following US policies. It might create a rift between the public and rulers.
Blunders made by rulers, but, the price is being paid by the public, in the form of inflation, hikes in the price of fuel, energy, food, etc., are a common phenomenon all over Europe. The danger of spreading the war is at high risk.
Imagine, if Russia also seeks assistance from its allies and gangs up to conform to NATO aggression, it will be certainly a Word War III. Today, the World is obviously polarized and blocks are emerging rapidly.
It also can turn into nuclear war too. The 8 declared nuclear states have enough piles of nuclear weapons to destroy the whole world completely. It is scaring scenario.
But despite knowing the consequences, no one is taking any initiative to end the war and seek political solutions to the crisis. The US is not interested in the peaceful resolution of the disputes and Europe is blindly following America.
It is urged that the UN may intervene proactively and initiate a dialogue to reach an acceptable solution for all stakeholders. Unbiased, non-partisan nations may come forward to initiate peace dialogues. All peace-loving countries and individuals may act proactively and struggle to end the Ukraine crisis. Satisfying all concerned parties may achieve sustainable peace and avert any big disaster.
Humankind is the most precious thing in this universe and must be respected. Value human lives, save human lives, and without any discrimination protects human lives across the board all over the globe.