Is Deterrence in Cyberspace Possible?
Soon after the Internet was founded, half of the world's population (16 million) in 1996 had been connected to Internet data traffic. Gradually, the Internet began to grow and with more users, it contributed to the 4 trillion global economies in 2016 (Nye, 2016). Today, high-speed Internet, cutting-edge technologies and gadgets, and increasing cross-border Internet data traffic are considered an element of globalization. Deterrence seems traditional and obsolete strategy, but the developed countries rely on cyberspace domains to remain in the global digitization. No matter how advanced they are, there still exist vulnerabilities. There are modern problems in the modern world. Such reliance on the Internet also threatens to blow up the dynamics of international insecurity. To understand and explore the topic it is a must for one to understand what cyberspace and deterrence are? According to Oxford dictionary;
"Cyberspace is the internet considered as an imaginary space without a physical location in which communication over computer networks takes place (OXFORD University Press)"
For readers to understand the term 'deterrence'; Collins dictionary has best explained it as;
"Deterrence is the prevention of something, especially war or crime, by having something such as weapons or punishment to use as a threat e.g. Nuclear Weapons (Deterrence Definition and Meaning | Collins English Dictionary)."
The purpose of referring to the definition is to make it easy to discern and distinguish between deterrence in International Relations (IR) and International Cyber Security (ICS). Deterrence in cyberspace is different and difficult than that of during the Cold War. The topic of deterrence was important during Cold Wat for both politicians and academia. The context in both dimensions (IR and ICS) is similar and aims to prevent from happening something. Cyberspace deterrence refers to preventing crime and I completely agree with the fact that deterrence is possible in Cyberspace. Fischer (2019) quotes the study of (Quinlan, 2004) that there is no state that can be undeterrable.
To begin with, cyber threats are looming in different sectors inclusive of espionage, disruption of the democratic process and sabotaging the political arena, and war. Whereas international law is still unclear about these sectors as to which category they fall in. I would validate my affirmation (that deterrence is possible in Cyberspace) with the given network attacks listed by Pentagon (Fung, 2013). Millions of cyber-attacks are reported on a daily basis. The Pentagon reported 10 million cyberspace intrusions, most of which are disruptive, costly, and annoying. The level of severity rises to such a critical level that it is considered a threat to national security, so professional strategic assistance is needed to deal with it[1]. The past events show a perpetual threat that has the ability to interrupt societies, economies, and government functioning.
The cyberspace attacks were administered and portrayal of deterrence had been publicized as follows (Fung, 2013);
The internet service was in a continuous disruption for several weeks after a dispute with Russia in 2007.
Georgian defense communications were interrupted in 2008 after the Russian invasion of Georgia.
More than 1000 centrifuges in Iran were destroyed via the STUXNET virus in 2010. The attacks were attributed to Israel and the United States of America.
In response to STUXNET virus attacks, Iran also launched a retaliatory attack on U.S financial institutions in 2012 and 2013.
Similarly in 2012, some 30,000 computers had been destroyed with a virus called SHAMOON in Saudi Aramco Corporation. Iran was held responsible for these attacks.
North Korea was accused of penetrating South Korean data and machines in 2014, thus interrupting their networks in 2014.
A hybrid war was reported between Russia and Ukraine in 2015 that left Ukraine without electricity for almost six hours.
Most critical scandal, which is still in the limelight call WikiLeaks released distressing and humiliating emails by Russian Intelligence at the time of the U.S presidential campaigns in 2016.
While such incidents may be considered a failure of deterrence, this does not mean that deterrence is impossible. Every system has some flaws that are exposed at some point. At this point, in some cases a relatively low level of deterrence was used to threaten national security, however, the attacks were quite minor in fulfilling the theme affecting national security. Nye (2016:51) in his study talks about the audience whose attribution could facilitate deterrence. (I). intelligence agencies should make sure highest safeguarding against escalation by third parties, and governments can also be certain and count on intelligence agencies' sources. (II). the deterring party should not be taken easy, as I stated (above) about the lingering loopholes and flaws in the systems, hence, governments shall not perceive the intelligence forsaken. (III). lastly, it is a political matter whether international and domestic audiences need to be persuaded or not, and what chunk of information should be disclosed.
The mechanisms which are used and helpful against cyberspace adversary actions are as follows (Fischer, 2019);
Deterrence by denial means, the actions by the adversary are denied that they failed to succeed in their goals and objectives. It is more like retaliating a cyberattack.
Threat of punishment offers severe outcomes in form of penalties and inflicting high costs on the attacker that would outweigh the anticipated benefits if the attack takes place.
Deterrence by Entanglement has the features and works on a principle of shared, interconnected, and dependent vulnerabilities. The purpose of entanglement is to embolden and reassure the behavior as a responsible state with mutual interests.
Normative taboos function with strong values and norms, wherein the reputation of an aggressor is at stake besides having a soft image in the eyes of the international community (this phenomenon includes rational factors because hard power is used against the weaker state). The deterrence of the international system works even without having any credible resilience.
Apparently, the mechanisms of deterrence are also effective in cyber realms. These realms are self-explaining the comprehensive understanding and the possibility of deterrence in cyberspace. The four mechanisms (denial, punishment, entanglement, and normative taboos) are also feasible to apply deterrence in the cyber world. Factually, of many security strategies, cyber deterrence by using four domains could be a versatile possibility. Conclusively, as far as the world is advancing in technological innovations, cyberspace intrusions would not stop alike the topic of deterrence in the digital world.
---
[1] An updated list of cyberspace intrusions from 2003 till 2021 is available at (Center for Strategic and International Studies, 2021).
India's Strategic Use of TTP to Undermine Pakistan's Stability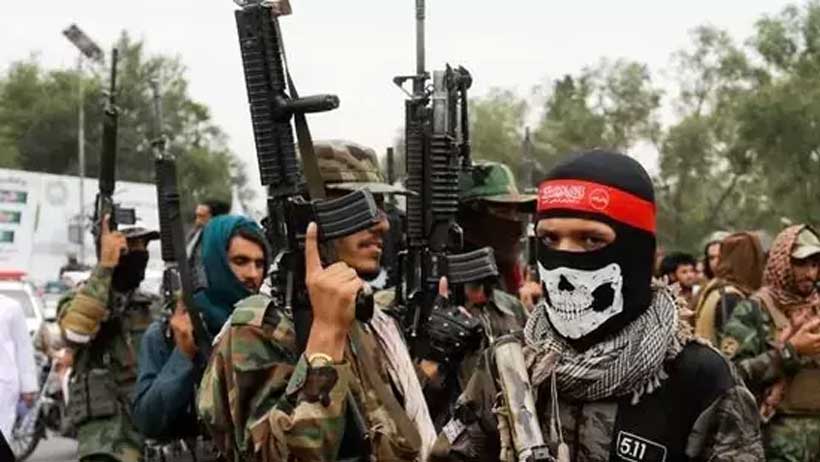 Again, bloodshed in the city of flowers, with more than 90 martyrs and at least 250 injured in a suicide attack by the Tehrik-i-Taliban Pakistan in Peshawar. India's backing for the TTP and its participation in the group's avowed jihad against Pakistan have emerged as the most important security challenges in South Asia, with significant ramifications for regional stability and peace.
The Tehrik-i-Taliban Pakistan (TTP), commonly known as the Taliban in Pakistan, is a Pakistan-based Islamist extremist group. The group, which was founded in 2007, has claimed responsibility for a number of fatal assaults against Pakistani civilians and military personnel. TTP has proclaimed war against Pakistan's government and military forces, arguing that they are not Islamic enough.
TTP has become a major security danger to Pakistan over the years, spreading widespread fear and instability. The group's constant strikes on civilians and military targets have resulted in hundreds of deaths and massive devastation. The rising frequency and savagery of TTP assaults has caused considerable alarm among Pakistanis and the international world. Despite significant international criticism, the TTP continues to carry out atrocities with impunity.
Evidence of India's Support for TTP:
Over the last decade, Pakistani security services have often reported on the Indian intelligence agency (RAW) providing support to the TTP. This assistance has been reported to include financing, training, and weaponry, all of which have aided the TTP's capacity to carry out strikes against Pakistan. Pakistani officials, security professionals, and independent investigators have claimed India's participation with TTP, citing proof of Indian involvement in TTP activities and divulging the false flag operations.
TTP commanders obtaining safe shelter in India is another piece of evidence pointing to India's connection with TTP. TTP commanders have been said to have crossed the border into India for medical treatment and then stayed for lengthy periods of time. The granting of safe haven to TTP commanders implies that India is not only supporting the organization, but also shielding its leaders from prosecution and reprisal.
In addition to the Indian intelligence agency's direct backing for TTP, there have been claims of Indian media outlets distributing misinformation in favor of TTP. This has included interviews with TTP officials and positive coverage of TTP's efforts by Indian news sources. The media coverage has been interpreted as a means for India to legitimize the TTP's conduct and seek sympathy from the world community.
India is contributing to Pakistan's instability by supplying TTP with the money, safety, and legitimacy it requires to carry out its assaults.
India's Motives Behind Supporting TTP:
One of India's key motivations for supporting the TTP is to undermine Pakistan's government and military. By assisting the organization, India is able to undermine Pakistan's ability to maintain security and stability, creating an atmosphere in which the TTP may operate with impunity. The ultimate purpose of this assistance is to weaken Pakistan's military and political institutions, making it easier for India to achieve a regional advantage.
Another reason India backs the TTP is to create a political and security vacuum in Pakistan. By assisting the organization, India may foment turmoil and instability in the country, creating possibilities for India to exploit the situation. The political and security vacuum left by the TTP's operations can then be utilized by India to further its own goals and acquire more influence in the area.
India's backing for the TTP might also be interpreted as an attempt to shift attention away from its own human rights violations in Kashmir. By assisting the TTP and producing turmoil and instability in Pakistan, India is able to divert attention away from its own activities in Kashmir, which have been severely condemned for abusing the human rights of Kashmiris. By helping TTP, India can divert attention away from its own acts and position itself as a responsible regional actor.
The Consequences of India's Actions:
One of the most serious consequences of India's backing for the TTP is the worsening of terrorism in Pakistan. India is feeding the fire of terrorism in the area by supplying finance, training, and equipment to the group, making it easier for TTP to carry out its heinous actions. This has had a significant influence on Pakistan's security and stability, as well as the safety of its population. Terrorism has exacerbated violence and loss of life, creating an environment of dread and insecurity throughout the country.
India's backing for TTP worsens regional tensions and instability. The rise of terrorism in Pakistan has heightened tensions between Pakistan and India, as well as between Pakistan and its neighbors. This has produced a climate of insecurity and uncertainty in the region, threatening regional peace and security. As each side gets more entrenched in its stance, the international community's ability to find a solution to the crisis has become more difficult.
India's backing for TTP has had a significant influence on regional peace and security. The rise in terrorism and tensions has made it increasingly difficult to establish regional peace and stability. This has had a detrimental influence on the region's economic development, social advancement, and people's well-being. The continuation of violence and insecurity has also made it more difficult for the international community to address the underlying causes of conflict and work toward a long-term solution.
Conclusion:
The international community must take steps to confront India's backing for TTP. India's activities are clearly against international law and standards, and they endanger regional peace and security. The international community must strongly denounce India's conduct and endeavor to hold those involved accountable for their acts.
Holding those involved accountable for their conduct is critical to preventing such incidents in the future. The international community must act to bring individuals who promote terrorism and destabilize the area to account. This involves investigating and punishing individuals responsible for supplying TTP with support, as well as those involved in planning and carrying out terrorist actions. Only by taking firm action can we expect to restore stability and security to the area and prevent such actions in the future.
Cyberwar, Netwar: The Untouchable and Unpredictable
Territorial integrity, sovereignty and non-interference are salient features of a just and secure state. For a state to exist, compete and survive in the international context, a country must be well equipped. The unbiased, neutral and non-aligned movement is the best way to reach heights, especially for small states. However, this is not an easy task, 'everything has a price'. The existence and co-dependence of a state are made further vulnerable as well as strengthened by way of 'information'. Unlike in past, when troops protected borders, at present country must face and react to content generated and disseminated on online platforms.
Cyberwar and Netwar are mechanisms that are used by certain individuals as well as entities to infiltrate systems, pass a message, steal information or change the material content. "Cyberwar" is the act of "disrupting, if not destroying, information and communication systems". On the contrary, "Netwar" is to "disrupt, damage, or modify what a target population knows or thinks it knows about the world around it". These threats are vicious to national security. Since the whole world is digitalized, any information regardless of its credibility reaches a wide audience. There are various modes of cyberwar including Phishing, Ransomware, E-commerce data interception, Crimeware-as-a-Service, Cyber Scams and Crypto-jacking. (Arquilla and Ronfeldt 1995) states, that a Netwar may focus on public or elite opinion, or both. It may involve diplomacy, propaganda and psychological campaigns, political and cultural subversion, deception of or interference with local media, infiltration of computer networks and databases and efforts to promote dissident or opposition movements across computer networks.
According to Blackfog's 2021 State of Ransomware Report, government agencies were the top targets for cybercriminals, followed by education, healthcare, services, technology, manufacturing and retail. According to Curran, Concannon and McKeever (in Janczewski and Colarik 2008: 03) have pointed out; the LTTE became the world's first terrorist outfit to attack a country's computer system in 1998. Another example is India. In August 2013, Indira Gandhi International Airport (IGI) faced a Cyberattack. 'Technical snag' hit the operations of terminal no. 03. Nisar & StepovayaIn (2022) has cited (UNODC, 2021) which states that in September in Malaysia, a web-hosting service was the target of a ransomware attack demanding US$ 900,000 in cryptocurrency and In May, four subsidiaries of an international insurance company in Thailand, Malaysia, Hong Kong, and the Philippines were hit by a ransomware attack asking for US$ 20 million. Where that being said for cyber-war, net war is also a crucial problem. This is explicit in Russia and Ukraine conflict where information advantage is heavily discussed and debated. Byman (2022) has mentioned, "Confrontation between Bahrain, Egypt, Saudi Arabia, and the UAE (the so-called "Quartet") and Qatar, for example, began in 2017 in part due to social media exploitation involving hacked email accounts and associated disinformation". Sri Lanka too faces disinformation by LTTE and its international networks.
Threats, which occur on online platforms, are equally important as much as militaristic aspects of warfare. Where the militaristic aspect includes conquering and declaring power, Cyberwar and Netwar disrupt systems and brainwash people respectively. Since crimes conducted, are unpredictable, intangible and cross borders, ascertaining the criminal is daring. Due to these reasons, imposing liability as to whether it is collective or individual becomes strenuous. Furthermore, lack of experience, expertise in personnel, lack of technology and inadequate infrastructure can be identified as problems. Information illiteracy is another pertaining issue, which is the inability of individuals to recognize when information is needed and have the ability to locate, evaluate and use information effectively. Moreover, cyber-attacks are widely done due to their low cost and widespread nature.
With that being said, it is imperative to reiterate, that national security is threatened by Cyberwar as well as Netwar. Thus, any country must overcome the challenges mentioned afore. For that, to fight cyber war, enhancing technological infrastructure and technical capacity is important. In netwar, information literacy must be instilled to the population. Hence, people will be able to evaluate the quality, credibility and validity of the content. In addition, it is crucial to have a reporting mechanism for false content disseminated online. International cooperation is effective to combat Netwar and Cyberwar. Likewise, it is vital to sign and ratify necessary laws and follow resolutions in the international context. Furthermore, individuals, government, as well as private entities, must behave in a cyber-resilient manner that they are otherwise not incentivized to do.
Operation Neptune Spear and the Killing of Osama bin Laden
The founder and first leader of Al-Qaeda, And establishing 20-years republican government in Afghanistan: Neptune Spear was the secret name or code of the operation that was carried out under the leadership of the CIA on May 2, 2011 in the Abbottabad region of Khyber Pakhtunkhwa for killing of the leader of the Al-Qaeda group Osama bin Laden. This operation, which was carried out from Afghanistan to the territory of Pakistan by former President of the United States Barack Obama, is generally known as JSOC.
Why this mission was named Neptune Spear?
The reason why the operation to kill Osama Bin Laden, the leader of the al-Qaeda group, was given the name Neptune's Spear is as follows: The mission was named Operation Neptune's Spear because it was the emblem of the United States Navy Seal, and Neptune in classical mythology means the god of the sea. In addition, this operation is commonly known as JSOC, because the Joint Special Operations Command (JSOC) is a sub-command of the United States Special Operations Command (USSOCOM), which played an important role in the operation to kill Osama Bin Laden on May 2, 2011.
The Neptune Spear operation started on May 1, 2011 from the American military base in Jalalabad province of Afghanistan, and ended on May 2 in Abbottabad, Pakistan. Former President Obama, Secretary of State Hillary Rodham Clinton, Vice President Joe Biden, Defense Secretary Robert Gates and members of the national security team were monitoring the operation online. All involved in Operation Neptune Spear were 23 SEALs, an interpreter, two helicopters and a combat dog. The operation started from a base of the American forces in Jalalabad, Afghanistan, on May 1, 2011 at 10:30 pm local time, and on May 2, 2011, after 40 minutes long operation, they ended by killing Osama Bin Laden before one o'clock. Who was Osama Bin Laden and how did he become a big threat to the world, especially the United States? Osama bin Laden, the son of Muhammad bin Awad, was born on March 10, 1957 in Riyadh, Saudi Arabia, but some sources close to Osama believe that he was born in 1958. Osama bin Laden had five wives, his first wife was Najwa Ghanim, who married him in 1974, his second and divorced wife was Khadija Sharif, who married him in 1983, and His third wife was Khairya Saber who married Osama bin Laden in 1985. His fourth wife was Siham Saber, who married Osama bin Laden in 1987, and his fifth wife was Amal al-Sadah, who married Osama bin Laden in 2000.
Osama had about twenty male and female children from his first four wives, but according to some sources, Osama had twenty-four male and female children from his fifth wife, and some put the number of children at 26, but the exact report is 24 about Osama's children. Osama bin Al-Adeen studied economics at Abdul Aziz University, And in addition to this, after receiving education in the field of Civil engineering, politics and Shari'a, he studied partially in English literature at Oxford University in England, But intellectually, he was more encouraged towards the jihadist ways and intellectually he chose the jihadist way. Before Osama Bin Laden left Britain and went to Pakistan to choose the path of war, he showed intellectual interest in the Muslim Brotherhood in Egypt. Moreover, during his university years, he financially supported jihadist groups in South Sudan, Egypt, Syria and a number of African countries, because he inherited 20 to 25 million dollars from his father, And Osama spends a part of that money on construction projects and financially supports terrorist groups with the money received from those construction companies. In 1979, Bin Laden went to Pakistan and stayed with his intellectual and jihadist teacher, Abdullah Azzam, and prepared for the war against the former Soviet Union in Afghanistan, after that, he became friends with Ayman al-Zawahiri and founded the (Maktab-Al-Khadamat) in 1984 with Abdullah Azzam, Ayman al-Zawahiri and Osama bin Laden. After that, he started recruiting fighters for Mujahideen against the Soviet Union in Afghanistan and spent most of his wealth on financing terrorists. After that, Osama bin Laden started a massive effort to establish Al-Qaeda and started recruiting fighters from Africa, the Middle East and South Asia, And he accelerated the search for young people with a fighting and jihadist mindset from all over the world, and he focused on Egypt in order to attract Egyptian engineers. After extensive financial and armed cooperation with other jihadist organizations in Pakistan, in 1988, the Al-Qaeda armed group was activated by Osama, Not only did they continue their attacks in Afghanistan, but they also carried out many bloody attacks in the Middle East and Africa. The bloodiest attack was the 11th of September 2001 and the darkest day in the history of the United States. September 11 or 9/11, on September 11, 2001, 19 Al-Qaeda terrorists hijacked four commercial airplanes, and the first two commercial airplanes and suicide bombers targeted the New York City International Trade Center. The third plane targeted the headquarters of the Pentagon in Arlington County, Virginia, and the fourth plane planned to attack the federal government building in Washington DC, but did not reach the target, And in four attacks, around 3000 Americans were killed and up to 25000 Americans and foreigners were injured. After this attack, Osama was included in the list of the most wanted terrorists by the United States and the Western alliance, a list controlled by the FBI.
After 10 years of intense investigations and intelligence investigations, on May 2, 2011, the US government avenged 9/11 by killing Osama at the ISI's most secure location in Abbottabad, Pakistan. However, Osama's body was thrown into the sea before his body should be presented to the intelligence agencies of the world as evidence. But there is some confidential information that Osama bin Laden, the American dictator and the founder of al-Qaeda, was recruited by the CIA in 1979 at the beginning of the US-sponsored jihadist war against Afghanistan, And he was 22 years old and trained in a CIA-sponsored guerrilla training camp. In any case, Osama's entry into Afghanistan led to the fall of the first Taliban regime, and at the same time, a person who was famous for so dear to Westerners came to power in Afghanistan.
How did Hamid Karzai get from immigration to the presidency?
Common understanding between former President Hamid Karzai and the Central Intelligence Agency of the United States and some untold facts: When the Al-Qaeda group carried out the deadly attacks in New York, Washington and Pennsylvania on September 11, 2001, and the leader of this group, Osama bin Laden, took refuge in Afghanistan. In addition, the first Taliban regime of Afghanistan at that time, under the leadership of Mullah Omar Mujahid, accepted the refuge of Osama Bin Laden. Not only that, the American people knew that the United States and the security agencies of this country would not remain silent, and would soon start preparing for revenge. But before that the United States, the Central Intelligence Agency, the Army, and the Special Operations Command of the United States Army started a response plan, they first proposed to the Afghan government to hand over Osama Bin Al-Adeen to the United States. Nevertheless, the leader and founder of the Taliban, Mullah Omar Mujahid, rejected their request, and for the second time, the United States tried to mediate the Saudi Arabia. The US asked the Taliban government to hand over Osama to the government of Saudi Arabia, but Mullah Omar Mujahid said that handing over Osama Bin Al-Aden to Saudi Arabia means handing over to America.
Furthermore, after rejecting the second proposal, the plan to attack Afghanistan was started by the United States and its allies on October 7, 2001. Just 15 days after the terrorist attacks of September 11, 2001, CIA and US Special Forces personnel were sent to northern Afghanistan, to meet local tribal leaders and local commanders such as Abdul Rashid Dostum and work together, to start a war against the Taliban, who controlled the country and gave shelter to Osama bin Laden. A CIA team arrived with $3 million in $100 bills to use to recruit tribal leaders and strengthen the war against the Taliban, and teams of military units came from the fifth Special Forces Group. The then President of the United States, George W. Bush, together with the head of the CIA, George J. Tenet, made a coordinated decision to overthrow the Taliban government by appointing an influential person from the southwest zone of Afghanistan after the formation of a new government in the country.
That person was Abdulhad Karzai's son Hamid Karzai who spent a lot of time in exile in Pakistan, not only he was the national leader for the Pashtuns of this side of the border, but he also had a special status among the Pashtuns of that side of the border in Pakistan. This position made him a target of the CIA. After October 7, 2001, members of the Central Intelligence Agency began to secretly visit Hamid Karzai's house in Quetta and Chaman, Baluchistan, Pakistan, as a result, in July 2002, Hamid Karzai came to power in Afghanistan under the warm support of the CIA and the West, and he remained the president of Afghanistan until September 2014.