Kenya's Economy is Showing Resilience as Output Rises Above Pre-Pandemic Levels
Kenya's economy has demonstrated resilience to the COVID-19 shock, with output in the first half of the year rising above pre-pandemic levels. In 2021 as a whole, gross domestic product (GDP) is expected to grow by 5%, one of the faster recoveries among Sub-Saharan African countries.
Overall economic performance is expected to be robust at 4.9% per year in 2022-23, similar to the pre-pandemic pace (5% average annual growth from 2010 to 2019). According to the 24th edition of the Kenya Economic Update, "From Recovery to Better Jobs," growth has been supported by rebounds in industry and, especially, services. Agricultural output, however, fell by 0.5% year on year in the first half of 2021 following a particularly strong performance in 2020, partly due to below-average rains. Demand-side recovery has been supported by a revival in private consumption, against a backdrop of improving employment conditions and household incomes.
"Kenya's economy has shown considerable resilience to the enormous shock of the pandemic, and this year is expected to post one of the stronger growth rebounds in the region thanks to diversified sources of growth and sound economic policies and management," said Keith Hansen, World Bank Country Director for Kenya. "However, poverty has increased, and the buffers and coping mechanisms of households, firms, and the public finances have been depleted."
Economic activity in Kenya has continued to adapt to the pandemic and associated restrictions. A mix of containment measures, such as a nightly curfew, were in effect through most of 2021, while more economically disruptive measures such as lockdowns and travel restrictions were phased, limiting the impact on economic activities. The vaccine rollout, which had a slow start due to supply constraints, has picked up as new shipments of vaccines have arrived, particularly since September. This has supported economic recovery and growth through the third quarter of 2021.
As of December 5, 2021, Kenya had received a total of 16,201,670 vaccines, with 7,583,134 administered. While vaccine acceptance is reportedly high there is still a long way to go towards the government's target of fully inoculating the adult population of about 30 million by the end of 2022.As of December 6, 2021, about 10% of adults (2.9 million people) had been fully vaccinated while another 16% (4.9 million people) had received their first dose.
The report also projects robust growth in the medium-term. This outlook takes into account that some sub-sectors, such as education, have bounced back strongly, but others such as international tourism, have only partially and face a much more protracted recovery. The anticipated further recovery of hotels and restaurants, trade, transport, and other services, depends on substantial vaccination progress to help prevent new waves of infections and associated containment measures.
"Recent economic performance has been strong and the outlook is positive, but in Kenya, as everywhere, the future course of the pandemic remains a major source of uncertainty, said Alex Sienaert, Senior Economist for Kenya. "To support further recovery, reduce debt distress risks, and rebuild space for social and development spending, it is critical that Kenya continues to implement medium-term fiscal consolidation plans."
In addition to pandemic-related risks to the outlook, a second key domestic risk factor stems from the drought conditions which are affecting parts of the country and already causing severe hardship. Should the drought intensify or spread, this would weigh on the near-term economic outlook. Weaker global growth, higher-than-anticipated energy prices, and tighter external financing conditions are the primary external risks.
As Kenya pursues an inclusive and resilient economic recovery, accelerating job creation will be essential. The special topic of this report complements the labor market analysis in the previous Kenya Economic Update (KEU23), turning the spotlight on firm dynamics and job creation. The earlier analysis showed how critical the country's jobs and economic transformation (JET) agenda is to achieving a resilient recovery from the COVID-19 crisis and to providing good jobs for Kenya's burgeoning youth population. Continued investment in human capital and social protection is at the center of enabling Kenya's fast-growing workforce to participate in and drive JET.
Confrontation between US and Chinese ships in South China Sea
A US Navy destroyer sailed near the disputed Paracel Islands in the South China Sea and sparked yet another confrontation between the US and China for the second day in a row, informs London's 'The Independent'.
The first confrontation occurred when the USS Milius guided-missile destroyer sailed near the group of islands.
Next day the ship was spotted again in the vicinity of the islands, as part of a "freedom of navigation operation" challenging requirements from China, Taiwan, and Vietnam, that require advance notification or permission before a military vessel can pass through.
China said that the US's actions violate its sovereignty and security and said its navy and air force had forced the American vessel away, something the US military has denied. Beijing also warned the US of "serious consequences".
The latest incident comes as tensions between the US and China have plumetted to new lows.
"The United States challenges excessive maritime claims around the world regardless of the identity of the claimant," said US 7th Fleet spokesman Luka Bakic.
China's Ministry of National Defense responded by accusing the US of "undermining the peace and stability of the South China Sea".
"The act of the US military seriously violated China's sovereignty and security, severely breached international laws, and is more ironclad evidence of the US pursuing navigation hegemony and militarizing the South China Sea," ministry spokesman Tan Kefei said.
He said China will take "all necessary measures" to ensure security, but did not elaborate further.
In recent years, China has become increasingly assertive in the region, prompting the US to push back.
The South China Sea is an important waterway for global trade, with around $5 trillion in trade passing through each year. Additionally, the area holds valuable fish stocks and undersea mineral resources.
Seymour Hersh: The cover-up
This is a new comment of American journalist Seymour Hersh: "It's been six weeks since I published a report, based on anonymous sourcing, naming President Joe Biden as the official who ordered the mysterious destruction last September of Nord Stream 2, a new $11-billion pipeline that was scheduled to double the volume of natural gas delivered from Russia to Germany.
The story gained traction in Germany and Western Europe, but was subject to a near media blackout in the US.
Two weeks ago, after a visit by German Chancellor Olaf Scholz to Washington, US and German intelligence agencies attempted to add to the blackout by feeding the New York Times and the German weekly Die Zeit false cover stories to counter the report that Biden and US operatives were responsible for the pipelines' destruction.
Press aides for the White House and Central Intelligence Agency have consistently denied that America was responsible for exploding the pipelines, and those pro forma denials were more than enough for the White House press corps.
There is no evidence that any reporter assigned there has yet to ask the White House press secretary whether Biden had done what any serious leader would do: formally "task" the American intelligence community to conduct a deep investigation, with all of its assets, and find out just who had done the deed in the Baltic Sea.
According to a source within the intelligence community, the president has not done so, nor will he. Why not? Because he knows the answer.
In early March, President Biden hosted German Chancellor Olaf Scholz in Washington. The trip included only two public events — a brief pro forma exchange of compliments between Biden and Scholz before the White House press corps, with no questions allowed; and a CNN interview with Scholz by Fareed Zakaria, who did not touch on the pipeline allegations.
The chancellor had flown to Washington with no members of the German press on board, no formal dinner scheduled, and the two world leaders were not slated to conduct a press conference, as routinely happens at such high-profile meetings. Instead, it was later reported that Biden and Scholz had an 80-minute meeting, with no aides present for much of the time.
There have been no statements or written understandings made public since then by either government, but I was told by someone with access to diplomatic intelligence that there was a discussion of the pipeline exposé and, as a result, certain elements in the Central Intelligence Agency were asked to prepare a cover story in collaboration with German intelligence that would provide the American and German press with an alternative version for the destruction of Nord Stream 2.
In the words of the intelligence community, the agency was "to pulse the system" in an effort to discount the claim that Biden had ordered the pipelines' destruction…" stresses Seymour Hersh.
ABC news: Xi signals strength in Russia-China alliance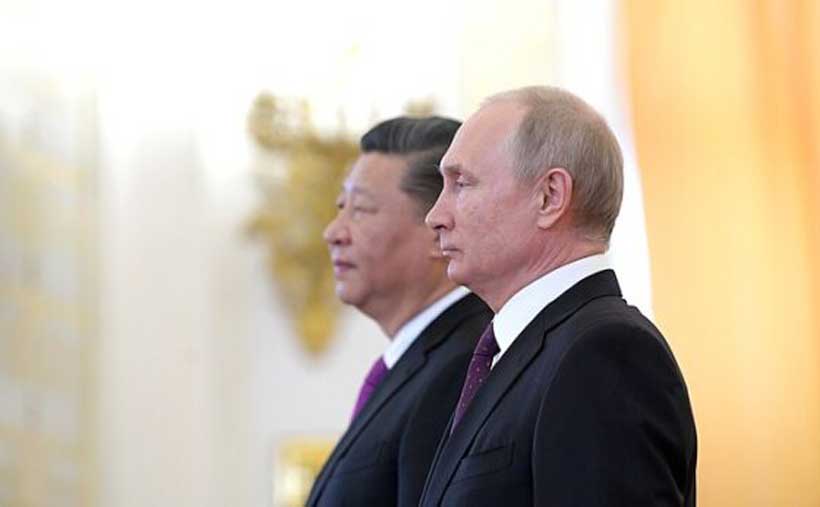 Chinese President Xi Jinping departed Moscow on Wednesday after two days of highly symbolic meetings with Russian President Vladimir Putin, in which the two presented a united front and an alternative vision for global leadership, notes ABCnews.
Despite statements saying that "China-Russia relations are not the kind of military-political alliance during the Cold War," China and Russia made clear they wanted to "advance the trend toward a multi-polar world."
"This highly publicized summit may reflect a shift towards a new and more active role for China, as it seizes the opportunity to convey diplomatic – and possibly tangible – support for Russia and any other state that wishes to defy the West," – Michael Butler, associate professor of political science at Clark University, told ABC News.
Joint animosity towards the U.S.-led world order has kept Russia and China close despite Putin's war in Ukraine and western sanctions against Russia has made China their biggest customer and economic lifeline.
Beijing increasingly sees Russia as necessary ally as China and United States continue to fallout over numerous fronts not limited to Taiwan and access to semiconductors. It was further exasperated by the spy balloon episode earlier this year.
Beijing had initially hoped that the spiraling tensions with the U.S. would abate in the wake of Xi's meeting with President Joe Biden in Bali last November, but as they continued to crater, Xi seems to have re-prioritized Russian relationship. He even aimed a rare direct slight at the United States earlier this month, blaming the Americans for "containment and suppression" as the reasons for China's economic challenges.
Xi highlighted on numerous occasions over the two days of meetings that Russia and China are each other's largest neighbors and that their partnership is "consistent with historical logic and a strategic choice of China."