Violence in Cameroon, impacting over 700,000 children shut out of school
Over 700,000 children have been impacted by school closures due to often brutal violence in Cameroon, according to an analysis released by the UN humanitarian arm, OCHA, on Thursday.
Two out of three schools are closed in the North-West and South-West regions of the country. On 24 November, four children and one teacher were killed in an attack in Ekondo Titi, in the South-West.
Lockdown
A recent lockdown imposed by a non-State armed group, from 15 September to 2 October, limited access to basic services including health and education.
During the period, OCHA reported a series of attacks in the North-West.
Eight students were kidnapped, and a girl's fingers were chopped off after she tried to attend school. Five public school principals were also kidnapped, including one who was then killed.
All schools and community learning spaces were closed, except for some schools in a few urban areas which operated at less than 60 per cent capacity.
The lockdown and insecurity also forced UN agencies and aid organisations to temporarily suspend the delivery of aid. During that time, about 200,000 people did not receive food.
Multiple crisis
Nine out of ten regions of the country continue to be impacted by one of three humanitarian crises: the crisis in the North-West and South-West, conflict in the Far North, and a refugee crisis, with people fleeing the Central African Republic.
Because of these combined crises, over one million children need urgent education support.
To answer some of these needs, Education Cannot Wait (ECW), the UN global fund for education in emergencies and crises, is working closely with UN agencies, the Norwegian Refugee Council and other civil society partners.
ECW is contributing $25 million over three years and calling for other donors to fill the gap, which is estimated at $50 million.
When fully funded, the programme will provide approximately 250,000 children and adolescents with access to safe and protective learning environments in the most-affected areas.
Visit
Just this week, the Secretary-General of the Norwegian Refugee Council, Jan Egeland, and the Director of Education Cannot Wait, Yasmine Sherif, had a joint visit to the country.
In a statement, Ms. Sherif said the situation "is among the most complex humanitarian crises in the world today."
"Children and youth are having to flee their homes and schools, are threatened with violence and kidnapping, and being forced into early childhood marriage and recruited into armed groups," Ms. Sherif recalled.
Jan Egeland argued that "putting a schoolbag on your back shouldn't make you a target", but unfortunately children in Cameroon "risk their lives every day just showing up for school."
"Cameroon's education mega-emergency needs international attention, not deadly silence by the outside world," Mr. Egeland declared.
Bringing dry land in the Sahel back to life
Millions of hectares of farmland are lost to the desert each year in Africa's Sahel region, but the UN Food and Agriculture Organization (FAO) is showing that traditional knowledge, combined with the latest technology, can turn arid ground back into fertile soil.
Those trying to grow crops in the Sahel region are often faced with poor soil, erratic rainfail and long periods of drought. However, the introduction of a state-of-the art heavy digger, the Delfino plough, is proving to be, literally, a breakthrough.
As part of its Action Against Desertification (AAD) programme, the FAO has brought the Delfino to four countries in the Sahel region – Burkina Faso, Niger, Nigeria and Senegal – to cut through impacted, bone-dry soil to a depth of more than half a metre.
The Delfino plough is extremely efficient: one hundred farmers digging irrigation ditches by hand can cover a hectare a day, but when the Delfino is hooked to a tractor, it can cover 15 to 20 hectares in a day.
Once an area is ploughed, the seeds of woody and herbaceous native species are then sown directly, and inoculated seedlings planted. These species are very resilient and work well in degraded land, providing vegetation cover and improving the productivity of previously barren lands.
In Burkina Faso and Niger, the target number of hectares for immediate restoration has already been met and extended thanks to the Delfino plough. In Nigeria and Senegal, it is working to scale up the restoration of degraded land.
Farming seen through a half-moon lens
This technology, whilst impressive, is proving to be successful because it is being used in tandem with traditional farming techniques.
"In the end the Delfino is just a plough. A very good and suitable plough, but a plough all the same," says Moctar Sacande, Coordinator of FAO's Action Against Desertification programme. "It is when we use it appropriately and in consultation and cooperation that we see such progress."
The half-moon is a traditional Sahel planting method which creates contours to stop rainwater runoff, improving water infiltration and keeping the soil moist for longer. This creates favourable micro-climate conditions allowing seeds and seedlings to flourish.
The Delfino creates large half-moon catchments ready for planting seeds and seedlings, boosting rainwater harvesting tenfold and making soil more permeable for planting than the traditional – and backbreaking – method of digging by hand.
"The whole community is involved and has benefitted from fodder crops such as hay as high as their knees within just two years", says Mr. Sacande. "They can feed their livestock and sell the surplus, and move on to gathering products such as edible fruits, natural oils for soaps, wild honey and plants for traditional medicine".
Women taking the lead
According to Nora Berrahmouni, who was FAO's Senior Forestry Officer for the African Regional Office when the Delfino was deployed, the plough will also reduce the burden on women.
"The season for the very hard work of hand-digging the half-moon irrigation dams comes when the men of the community have had to move with the animals. So, the work falls on the women," says Ms. Berrahmouni.
Because the Delfino plough significantly speeds up the ploughing process and reduces the physical labour needed, it gives women extra time to manage their multitude of other tasks.
The project also aims to boost women's participation in local land restoration on a bigger scale, offering them leadership roles through the village committees that plan the work of restoring land. Under the AAD programme, each site selected for restoration is encouraged to set up a village committee to manage the resources, so as to take ownership right from the beginning.
"Many women are running the local village committees which organise these activities and they are telling us they feel more empowered and respected," offers Mr. Sacande.
Respecting local knowledge and traditional skills is another key to success. Communities have long understood that half-moon dams are the best way of harvesting rainwater for the long dry season. The mighty Delfino is just making the job more efficient and less physically demanding.
Millions of hectares lost to the desert, forests under threat
And it is urgent that progress is made. Land loss is a driver of many other problems such as hunger, poverty, unemployment, forced migration, conflict and an increased risk of extreme weather events related to climate change.
In Burkina Faso, for example, a third of the landscape is degraded. This means that over nine million hectares of land, once used for agriculture, is no longer viable for farming.
It is projected that degradation will continue to expand at 360 000 hectares per year. If the situation is not reversed, forests are at risk of being cleared to make way for productive agricultural land.
Africa is currently losing four million hectares of forest every year for this reason, yet has more than 700 million hectares of degraded land viable for restoration. By bringing degraded land back to life, farmers do not have to clear additional forest land to turn into cropland for Africa's rising population and growing food demands.
When Mr. Sacande talks about restoring land in Africa, the passion in his voice is evident. "Restoring degraded land back to productive good health is a huge opportunity for Africa. It brings big social and economic benefits to rural farming communities," he says. "It's a bulwark against climate change and it brings technology to enhance traditional knowledge."
A version of this story first appeared on the FAO website.
South Africa's Covid-19 Response Gets a $750 Million Boost
The World Bank Group Board of Executive Directors today approved South Africa's request for a $750 million development policy loan (DPL). This loan will support the Government of South Africa's efforts to accelerate its COVID-19 response aimed at protecting the poor and vulnerable from the adverse socio-economic impacts of the pandemic and supporting a resilient and sustainable economic recovery.
The DPL supports the implementation of South Africa's Economic Reconstruction and Recovery Plan (ERRP) and is well aligned with the World Bank's Crisis Response Approach aimed at protecting lives, livelihoods and supporting a more inclusive and resilient growth path. It reflects priorities to modernize the country's social protection and health services and to improve delivery systems which will apply even beyond the pandemic. It also enhances financial sector stability, specifically the establishment of a deposit insurance scheme. It further supports South Africa's commitment to climate change.
"The World Bank budget support is coming at a critical time for us and will contribute towards addressing the financing gap stemming from additional spending in response to the COVID-19 crisis," says Dondo Mogajane, Director General of National Treasury of South Africa. "It will assist in addressing the immediate challenge of financing critical health and social safety net programs whilst also continuing to develop our economic reform agenda to build back better."
The funding is a low interest loan that contributes to the government's fiscal relief package while reinforcing South Africa's decisions on how best to provide relief to the economy and those worst affected by the current crisis. The loan complements support by the International Monetary Fund, the African Development Bank, and the New Development Bank as part of the Government of South Africa's broader financing strategy to access external financing from international financial institutions.
"With this DPL, we have partnered with the government to provide much needed relief from the impacts of the most serious economic crisis South Africa has experienced in the past 90 years, while tackling long-standing challenges to growth and development. This support aims to put the country on a more resilient and inclusive growth path by leveraging South Africa's strength to mitigate the effects of the COVID-19 crisis through their strong social safety net and by advancing critical economic reforms," says Marie Françoise Marie Nelly, World Bank Country Director for South Africa. "This financing builds on our new World Bank Group Country Partnership Framework (CPF)  2022 – 2026, jointly developed with the government in July 2021, to help stimulate investment and job creation."
As the second largest economy in Africa, South Africa's economic performance has spillover effects on other countries in the region. Its recovery and successful economic development will provide an economic boost to the whole region.
1.5 million children lack treatment for severe wasting in Eastern and Southern Africa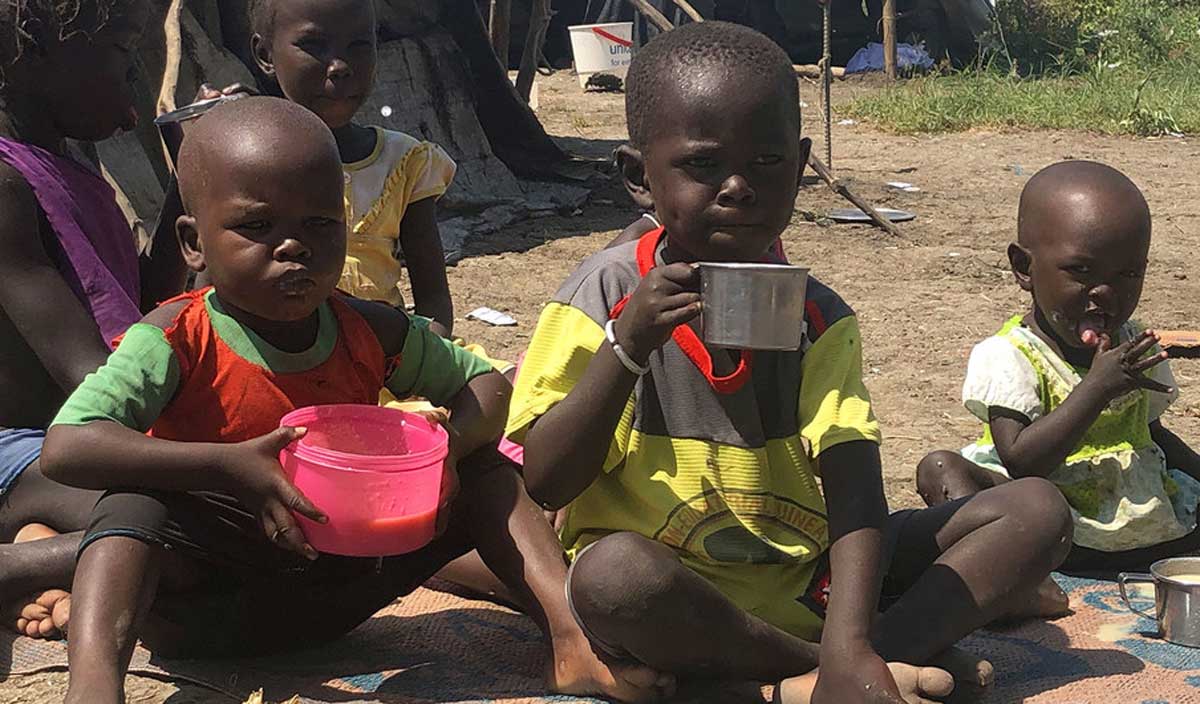 At least 1.5 million children are not receiving life-saving treatment for severe wasting in Eastern and Southern Africa, warned the United Nations Children's Fund (UNICEF) on Friday.
The number represents almost half of the estimated 3.6 million children in urgent need, who are not being reached in time to save their lives or keep them from permanent development damage.
For UNICEF's Regional Director for Eastern and Southern Africa, Mohamed M. Fall, "nothing is more devastating than seeing children suffering from severe wasting when we know it could have been prevented and treated."
Mr. Fall highlights "some outstanding results and success stories", thanks to the support of donors and partners, but says "the impacts of COVID19, climate change and conflict are creating the perfect storm where needs are quickly outpacing resources."
For him, "the time to act is now."
Crises pile up
Across the region, families are dealing with multiple crises, including rising levels of food insecurity, economic deterioration, disease outbreaks, unprecedented cycles of floods and droughts, and conflict.
Millions are having to reduce the quantity or quality of the food they eat in order to survive. In many cases, families are forced to do both.
For UNICEF, this is a looming and preventible tragedy that can, and must, be averted.
Prevention remains the best way to ensure that children survive, avoid permanent cognitive and physical damage, and evade the life-long suffering that results from childhood malnutrition.
With unhindered access and predictable funding, UNICEF believes it can work with partners to save the lives of nearly every child admitted for severe wasting.
The agency is asking for $255 million to scale up its emergency response in 2022.
Countries in the spotlight
In Angola, where people are facing the consequences of the worst recorded drought in 40 years, UNICEF and partners managed to scale up its response in the most affected provinces (Cuando Cubango, Benguela, Namibe, Huíla and Cunene), with approximately 40 per cent more children treated in 2021 compared to 2020.
In Ethiopia, the country with the largest child population in the region, the agency and partners reached an estimated 500,000 severely wasted children in 2021, but many children in the war-torn north, still need of life-saving support.
Across four regions, families are struggling for survival as a severe drought takes hold following three consecutive failed rainy seasons. According to the latest data, more than 6.8 million people in drought impacted areas will need urgent humanitarian assistance by mid-2022, many of them children.
In South Sudan, an estimated 1.4 million children under five, are acutely malnourished, including over 310,000 children suffering from severe wasting.
Last year, UNICEF and partners treated more than 240,000 children, but the situation remains urgent, as floods have killed cattle, washed away food and fields, and blocked humanitarian access.
In Madagascar, where three years of consecutive droughts created one of the worst food insecurity and nutrition crisis in decades, UNICEF and partners last year helped avert a feared famine for many families in the southern part of the country.
UNICEF and partners reached almost double the number of children with treatment for severe wasting when compared to 2020. This is estimated to have saved the lives of at least 55,000 children under five years of age.
In Somalia, more than 255,000 children received treatment for severe wasting last year. With the country undergoing one of the worst droughts ever recorded and suffering from continued violence, 1.3 million children under five, are likely to suffer from wasting this year.
In Kenya, at least 65,000 children were reached in 2021 with treatment services for severe wasting. Right now, an estimated 2.8 million people are food insecure, with 565,044 children suffering wasting -123,000 severely so – and the situation is expected to deteriorate further.
Finally, in Mozambique, insecurity continues to have a negatively impact. Last year, some 38,000 children received treatment for severe wasting, up from 10,000 the year before.