Vietnamese PM Chinh visit to Japan: A new era of cyber, space and defence cooperation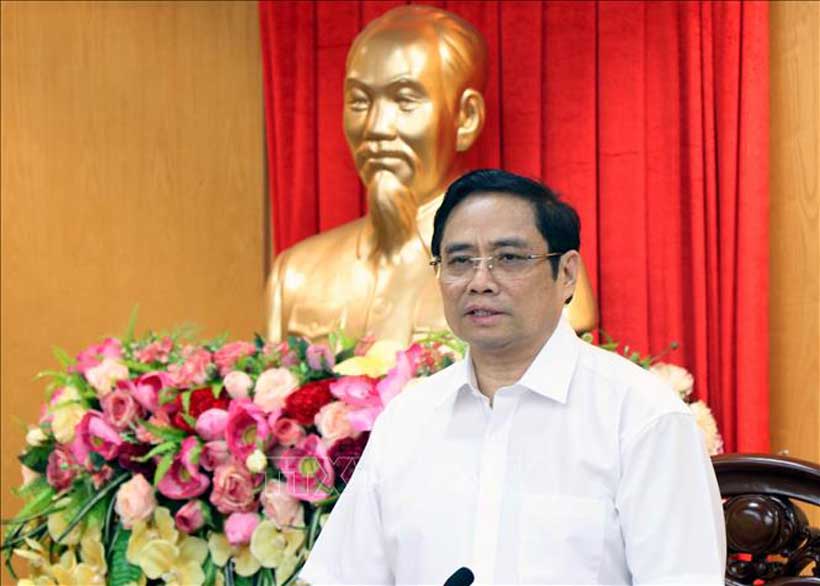 Vietnamese Prime Minister Pham Minh Chinh visited Japan from November 22-25 and discussions about trade, investment, defence, cultural and enhancing political ties took place between the two leaders. The former prime minister of Japan Suga had visited Vietnam in October 2020, and it was his first visit to any foreign country. With the coming of Fumo Kishida new prime minister in Japan, Vietnamese Prime Minister thought it prudent to engage the new political leadership. When recently Kurt Campbell stated that India and Vietnam will be crucial in deciding the fate of Asia and the three countries namely India, Vietnam and Japan have been closely cooperating with one another because of two major factors. The three countries are in the periphery of China and have major stakes in the resolution of the South China Sea dispute. Second, these three economies are promising economies in Asia and are seen to be major harbingers of technology, economic growth and sustainable development.
The visit of Vietnamese prime minister is primarily seen from the point of view of projecting the need for 'Free and Open Indo Pacific' and developing close cooperation between Vietnam and Japan. During the visit of Japanese defence minister to Vietnam last year several agreements have been signed between the two sides which included transfer of technology and defence trade between the two sides. Vietnam is facing a few challenges related to trade and investment, growing cases of Covid 19 pandemic, need for modernisation of its armed forces and realising the potential of the regional organisations such as ASEAN .In terms of developing necessary technical acumen for renewable energy sources and facilitating foreign direct investment from Japan were the major agendas for the visit of the Vietnamese Prime Minister.
The Vietnamese Prime Minister visit was his first official visit to Japan. Vietnam is increasingly seen as a middle power which requires support and cooperation from Japanese in areas such as waste management, infrastructure development, developing technology parks, export processing zones and vocational training skills to emerge as one of the engines of economic growth in Southeast Asia. In fact, Japan was the only few countries in Asia with which Vietnam has developed air bubble agreement during COVID-19 to facilitate travel of passengers and businesspeople from the two countries. Given the fact that Vietnam is slowly opening its trade and investment and tourism sector it would be looking for countries in Europe and in Asia to spur development in the country. Japanese tourists are important incoming visitors for Vietnam because of their spending and booking high end resorts and hotels.
Following the COP- 26 meeting which was held in London there have been huge expectations from the Asian countries to reduce their carbon footprints and look for other viable sources of energy. The visit of Vietnamese Prime Minister explored diverse issues related to politics, security, cultural interactions and development of human resources in Vietnam. The two defence ministers also signed aagreements related to transfer of technology and exports of Japanese defence equipment and weapons to Vietnam. Japan has already embarked on a policy to support littoral countries of South China Sea through patrol boats and fast attack crafts.
One of the critical areas that Vietnam is looking for is the development of technology and scientific rigour within the country. In this context collaboration with Japanese scientific institutions and academic community would help Vietnam to develop skills and human resources to cater to the industrial revolution 4.0. Also, Vietnam is looking for developing expertise in areas such as machine learning, big data mining, artificial intelligence, underwater systems, developing sustainable development and energy resources in those South China Sea islands so that the soldiers can become self-sufficient in energy and clean water resources. Japan has been looking for alternate sources of investment and developing infrastructure in countries such as Vietnam Cambodia and Laos. Vietnam itself is emerging as a viable alternative to China in the wake of recurring cases of COVID-19 pandemic in China. Japanese investors and entrepreneurs are looking for relocating their businesses and investments.
There is no denying of the fact that developments in South China Sea are of critical importance both for Vietnam and Japan, and it is expected that the two leaders discussed these issues in detail. The Chinese assertive activities in South China Sea have been deplored by Japan and other allied partners in the past. Vietnam is looking for cooperation with Japan in terms of submarine hunting capabilities and developing acumen for better management of human resources in defence sector. In terms of military cooperation between the two sides there is a lot of potential in terms of maritime surveillance aircraft, fast attack crafts, and coastal radar systems. Also, sonar systems and developing helicopter mounted surveillance systems would and has Vietnamese defence and surveillance capabilities. The two countries signed an agreement on space defence and cyber security.
One of the important critical areas that the two countries discussed was related to the implementation of Regional Comprehensive Economic Partnership (RCEP) and promoting intra regional trade so that better complementarities could be developed between the two sides. Another important forum where Japan and Vietnam are members is CPTPP and there is speculation that President Joe Biden might be interested in re-joining the grouping. Taiwan and China have expressed interest in joining it, but Japan is in favour of only Taiwan. In such a context when the two countries are at the crossroads of economic integration and regional economic groupings, it is expected that the two leaders discussed necessary checks and balances so the trade interests of the two countries can be protected while enhancing the integration at the regional level.
Vietnam is also seen as a probable candidate for the Quad Plus initiative and Japan has been very insistent on engaging the country in a more proactive way. India, Vietnam and Japan could be one trilateral which will bring in a large market, Strong technology fundamentals, unique cultural identities and common strategic concerns acts as glue between the three countries. The development of Vietnam and Japan ties would reconfigure Asian identity and future.
A Reflection of the Social Commerce Banning in Indonesia
Social Commerce Had Been Developed in Indonesia Before
We have been seeing the significant development of retail market activities since Kaskus facilitated trading activities between online sellers and purchasers. Founded in 1999, Kaskus was the main platform used by most Indonesians to engage in digital social interaction. I still remember vividly how I posted my first comment in Kaskus. Kaskus has a unique feature which allows users to assemble in a specific group discussion and exchange views. As a result of this hype, users founded a business opportunity to sell goods or services in Kaskus. I sold my first goods, a bodyfat tracker, in Kaskus by opening a Lapak, a special post made by the sellers to inform that they were selling goods and purchasers were allowed to chat, comment, or message the sellers. Seeing this behaviour, Kaskus opened the Forum Jual Beli or FJB to facilitate trade in the platform in 2011. It helped Kaskus to place itself as a cornerstone in a common practice that we are about to see later, the marketplace business model. This model is adopted by some renowned marketplace platforms i.e. Tokopedia, Shoppe, Bukalapak, and more. They act as a platform operator to bridge sellers and purchasers. In return, they generate income by charging certain fees like admin fees or platform fees to the purchaser by adding such fees to the total fee charged to them. Another scheme may be conducted by setting a commission fee to the seller.
As we have seen in Kaskus' story, trade activities are an incremental interaction between users in a digital platform. The potential of social media to turn itself into an e-commerce platform is highly possible due to these two factors. One, social media has an extensive social platform to accommodate types of social dialogues. This is because one of the inherited traits of social media is users are free to express themselves or we can say that social media is a user-generated platform. Therefore, users may post their goods or services on social media without deterrence. Second, social media gathers a variety of users, and it is good. Social media can be used by any kind of user, which makes it inclusive for digital consumption. Thus, it is a common behaviour for any e-commerce platform because the sellers do not have to make extra efforts to attract potential consumers.
Because of the above factors, social media like Meta or TikTok has an upper advantage as a potential platform for e-commerce activities. TikTok, for example, has gained four times Gross Merchandise Value (GMV) growth to a humongous US$ 4.4 billion in 2022. In addition, Indonesia was the country in the Southeast Asia Region to gain the largest income generated by influencers in Quarter 4-year 2022. This proves the potential commercialization of social media that affects social preferences in commencing trade activities. Consequently, these activities have attracted the government's attention as this myriad potential may need to be administered through a regulation. The government of Indonesia has been conducting several regulatory assessments of social commerce activities from 2022 to 2023 and some publications have implicitly elaborated the government's position to stringent the current regulation on e-commerce businesses, especially social media. Such perception was crystalized through the enactment of the Minister of Trade Regulation Number 31 of 2023.
Guardrails for Social Commerce
The regulation stipulates types of electronic commerce business models, and it is an advanced content because in the previous regulation, the Minister of Trade Regulation Number 50 of 2020, there was no e-commerce business models classification. The new regulation put social commerce as a part of e-commerce regulation. Therefore, this business activity falls under the terms and conditions of this regulation. One of the most discussed articles is Article 21 because it mentions the prohibition applied to social commerce to act as a producer and facilitate payment transactions. The government of Indonesia argue that this prohibition rehabilitates fair competition between offline sellers and online sellers. This is backed by some of the offline sellers arguing that TikTok has deteriorated their sales results. On the other hand, the online sellers expressed their disappointment. They said that they have enjoyed the benefits of TikTok by facilitating live sales on the platform.
The government stated three problem statements about social commerce. One, social commerce opens the importation activities to Indonesia. Second, it causes unfair price determination. Some of the offline sellers said that the price in TikTok is cheaper than theirs. Third, the assurance of imported goods standards must be preserved at all costs. These problem statements are answered in the regulation, such as US$ 100 as the price minimum set by the offshore merchants (Article 19 paragraph (2)), the obligation for merchants to protect the price of goods free from price manipulation (Article 13 paragraph (1)), and obligation to put standard certification (Article 11).
The impact of this regulation can be catastrophic. The current merchants who have conducted business in social commerce must adjust their business models to comply with the regulation. Besides a set of prices and standard certification, the prohibition of social commerce to add payment features could influence purchasers to reconsider their preference in commencing their purchasing activities. In addition, social media influencers may be affected by this regulation. They may lose financial income because of this ban since usually some of the influencers are engaged by the social commerce platform to stimulate trade activities by promoting and doing live streaming. However, we must acknowledge that this regulation relieves the offline merchants'' surviving burdens. The most visible alleviating part is the price determination must be fairly set by the online merchants in social commerce. Thus, it helps the offline merchants to keep their competition.
The Real Root Cause
It is common to understand that the retail growth in Quarter 2-year 2023 was 1.2 %. Compared to quarter 1 in the same year which was 2.6%, it decreased by more than 100%. It was affected by several factors, the society's behaviour to saving their money for education cost, global uncertainty, and the changing of social preference to an online platform. Therefore, what we need is support for offline merchants to embrace digital platforms as their sales funnel. Unfortunately, the banning of social commerce in procuring payment facilities may limit the potential for those merchants to get more income and benefits from social commerce. To avoid any further consequential damage, the government may conduct these things: 1) implement the small and medium businesses' expansion of their sales media to the digital platform. This can be done by facilitating partnerships between e-commerce providers and the Ministry of cooperation and small-medium businesses. 2) setting the systemize supervision on the price determination. The price determination may be set by the e-commerce provider to attract consumers. Furthermore, this price may be heavily reduced to stimulate trade activities. The government must ensure that such determination is made under reasonable and common practice in the retail market. 3) re-evaluating the Minister of Trade Regulation Number 31 of 2023. This re-evaluation is made to assess the relevancy of the regulation with the current retail market behaviour. The government must, at some point, embrace any market development including the adoption of social commerce.
Democracy Promotion in ASEAN: Opportunities and Limitations
After the European Union, ASEAN (Association of the Southeast Asian Nations) is fast becoming a complete and holistic political and economic union, its most recent consensus on trade facilitation through custom clearance where all 10 ASEAN member states (AMS), signed the Mutual Recognition Arrangement (MRA) of their respective Authorised Economic Operator (AEO) Programmes. The ASEAN AEO MRA (AAMRA) is a step towards the ASEAN 2025 vision, to make the ASEAN economy well integrated and much bigger. Another development is ASEAN's first ever military exercises. According to Thomas Daniel, senior fellow at (ISIS) Malaysia, "ASEAN has never held military exercises". These exercises though mainly focused on humanitarian response and enhanced the coordination between ASEAN members. The Gray Zone challenges from China is yet another reason where such military coordination between ASEAN members is the need of the hour. We will discuss and explore ASEAN's long struggle to become a complete political and economic union yet uphold the very principles of democracy on par with the EU, its recent and future challenges which are well within the grasp of its 10 member states, because its rapid proved its potential both regionally and globally.
World War II brought to an end the old world order that was a highly fragmented mode of conducting global affairs. The aftermath of the war compelled world leaders to come as one. Thus it resulted in a series of new international institutions that were negotiated in the Bretton Woods Conference. This initial institutionalism resulted in a widespread phenomenon that globally shifted world affairs from bilateral to multilateral forums; this new change in global affairs lessened the burden on traditional bilateral communication lines. The International Organizations spurred multilateralism, in which countries decided to engage multilaterally under a single platform; this, in turn, gave rise to bureaucracy (Klabbers, 2015). This mode of diplomacy at a global scale was mainly adopted by the Western countries, which later increased to other regions.
But surprisingly, there are many Asian multilateral platforms founded almost decades before the foundation of the European Union, a sole political and economic union in the contemporary world. The democratic norms started to spill in the era of intense competition between the US and Soviet Union, as the West was increasingly worried about the spread of communism in Southeast Asia. The late 1960s was a politically charged era in global politics, and the cold war was at its zenith (Swift, 2003). The political wrangling between the two foremost superpowers of the age and their divergences in the southeast region compelled the Country of Southeast Asia to adopt a uniform approach towards addressing those challenges in great power competition. The Association of Southeast Asian Nations (ASEAN) was founded in 1967 by Indonesia, Malaysia, the Philippines, Singapore, and Thailand.
These five countries were the foundational members of the ASEAN; keeping at the broader regional and economic interests, the group decided to expand and later was joined by Myanmar, the Philippines, Vietnam and Laos. Economically the region is one of the most attractive markets for the major economic powers like China, the US and the EU. Thus, political influence can convert into greater financial incentive for any major powers (Parameswaran, n.d.).The expansion of ASEAN happened in the roaring 1990s when the world saw an unprecedented increase in international trade following the free trade and globalisation movement in that era. The United States had specific industry-related free trade agreements in countries like Cambodia, which enhanced the regional economic profile of ASEAN greatly.
Indonesia is the largest economy in the ASEAN region, which saw an unprecedented rise and became the first trillion-dollar GDP economy of the region (Post, n.d.). ASEAN economies mainly were operating under the Western ambit and thus maintaining greater transparency in its operation while adhering to the international economic laws that were in place. Countries like the Soviet Union, which later became the Russian Federation, always flouted those laws until the 1990s due to geopolitical compulsions. ASEAN's foundational text laid three pillars for its conduct in the social, cultural and economic integration at all levels (Seah, 2009).
Due to its highly heterogeneous structure, ASEAN failed to garner a viable framework for political union. It does achieve massive success in integrating the economies and putting aside cultural and societal differences. Thus ASEAN of today is more tolerant towards communities from all the member's countries, and the ease of doing business for all the districts is laudable. The cooperation is spearheaded by many dedicated agencies of ASEAN, which shows that the organisation is now mature enough to expand its secretariats and delegate specific areas to those new offshoots of the leading organisation. The ASEAN Economic Community (AEC), ASEAN Socio-Cultural Community (AECC) and ASEAN Security Community (ASC) are the sub-organizations that focus on specific tasks.
Apart from this, ASEAN, due to its geopolitical and economic centrality, is actively engaged in the Indo pacific region; through the ASEAN regional forum, ARF consists of 20 members, of which 10 are ASEAN members. At the same time, ten countries are called ASEAN dialogue partners; these countries include China, the European Union, United States, Russia, Japan, India, New Zealand, Australia, Canada and the Republic of Korea (A Functional Analysis of Multilateral Regimes: The ARF -The Emergence of "Soft Security," n.d.).
ASEAN experience with democratisation is an on and off affair, as the regional countries are a mix of partial and complete democracies. However, the communist outlook of some of its members are now gone, but authoritarian tendencies are rampant in those countries. Indonesia being the largest democracy in the region, remained under a harsh dictatorship in most of its existence. At the same time, the new millennium brought some reprieve to the Country, as its democracy was briefly restored in 1998. Up until now, the evolution of democracy in Indonesia is remarkable. Still, the regional scorecard on democratisation is not satisfactory, as the organisation needs a new approach to revive the democracy in its member states because democracy is central to its existence (Webber, 2006).
Achievements in ASEAN's cooperation and democratisation.
Robert Gilpin famously opined that market power transforms into political power. This holds in the case of the ASEAN economic bloc (Gill, 1990). The ASEAN economic grouping in 2020 joined the world's most significant free trading agreement, the Regional Comprehensive Economic Partnership. This economic relevance, which started in early 2000, instilled new resolve in the countries of this region, and the scorecard in democratisation improved immensely in this region.
The main reason for the decision to incorporate ASEAN into EU and US trade affairs and engage politically with the rising region is its democratic outlook. There are many economic blocs globally, such as Eurasian Economic Union and the Gulf Cooperation Council etc. Still, they failed to impact both regionally and internationally because their centre of strength lies between the countries that are a part of these frameworks. The EU, which is a political and Economic Union, is an alliance of democracies. Turkey trying to become a part of the EU for decades is being left in the lurch because of its non-implementation of the democratic ideals and principles in letter and spirit.
The current membership of ASEAN and its experience with democracy is not entirely a debacle but also a success, and its members achieved a lot in the process. In turn, the organisation played a crucial role, as it now becomes a central part of their state existence, as if we tore apart or divide their economic strength, we can see that apart from Indonesia, all other countries will lose out as they derive their solid bargaining position via a vis bigger economic powers like, US, EU, China and India, their sole impact in the global economy will have little impact on giants economies like these. The central tenet of its existence after the ninth ASEAN Summit in 2003, the Bali Concord II Declaration, states that the ASEAN community should be built on three pillars mutually reinforcing to ensure democratisation and cooperation in the region (Huang, 2019).
Indonesia. Suharto's 30 years of dictatorship in Indonesia degraded the Country's international profile, economy, and regional standing in the ASEAN. With Suharto ousted in 1998, Indonesia started a fragile journey towards democracy, which was fraught with danger as the powerful dynasty was still influential in the national politics of the state. Even in the year 2021, the remainings of the Suharto political dynasty is visible in Indonesia, but two main factors mainly influence the post-Suharto developments in Indonesia; one is Indonesia regional standing as the Country always punched below its weight, and thus never truly realised it potential, the other main ingredient of its strategy was to become a complete democracy by removing every aspect of the dictatorship from the government and politics and do so by merging well into the regional economic architecture under the aegis of ASEAN.
This region was once the hotbed of rivalry between capitalism and communism, and communist scars still loom large in the area, as the glimmer past experiences of Khmer Rouge and other atrocities compelled countries like Cambodia and the Philippines into the democratic folds. As an ex Dutch colony, Indonesia saw a transformation of colonialism into a dictatorship in the post-independence era. Indonesia is now a thriving democracy that garnered a necessary consensus between government and opposition to uphold the rule of law. Only a democratic system can maintain the Country's upward trajectory in global politics in the economy. ASEAN remain a more significant influence behind this new thinking in Indonesia because a de facto leader of an economic bloc, Indonesia is now in a leading position to engage much larger economies and thus boost its trade and economic profile, most of the ASEAN countries, including Singapore are a member of G20, which is considered as a steering committee on the global economy (Cooper, 2019). Indonesia, along with Malaysia and Singapore, are the three main drivers of ASEAN success in the last decade. From an ASEAN perspective and national political compulsions of Indonesia, all these points towards greater integration at the regional level, expanding its gambit, and the realisation to initiate a norm diffusion in the ASEAN to embed democratic ideals in the ASEAN charter.
Malaysia is also an essential part of ASEAN, being an industrial country. And holding a central place in the global and regional economy, Malaysia is a vital link that is creating more viable conditions for democracy to increase into a broader ASEAN framework. The Country has made it difficult for other Southeast Asian countries to slide towards authoritarianism, as its long term Prime Minister decided to quit his office after serving for more than two decades; the decision was to end the belief that he is ruling under the garb of democracy (www.cnn.com, n.d.).
This created a new norm in Southeast Asia. Term limit politics gained popularity, that any elected government must rule as per the constitution, and term limits will decide how many times a particular individual can lead a country. Autocrats mainly infested ASEAN up until 2005, but after the Mahathir decision, the chain of autocracy is broken, as he retires as PM in 2003, and was replaced by Abdullah Badawi, and saw a successful transition of power onto Najib Razaq, the next Prime Minister of Malaysia (www.cnn.com, n.d.). All these national political events in ASEAN countries in the new millennium added to the efficacy of ASEAN and its path to evolving democratisation, in which osmosis of norms took place. It's still going strong, as the current military take over in Myanmar was widely condemned by ASEAN governments, and are now mulling an efficient response to reverse the steps taken by the military Junta against democracy in Myanmar.
Limitations in democracy promotion.
The ASEAN Bali declarations crafted a policy towards greater democratisation, via engagement as well extra regionally, by garnering workable relations with other countries, diplomatic forums, regional organisations and the United Nations to discourage any lone wolf within ASEAN fold to steer clear from any undemocratic moves, and thus jeopardise the global image and economic positioning of ASEAN,
The Bali Concords Deliberated the following steps to nurture democracy and add to the process of democratisation through cooperation :
· The ASEAN Economic Community (AEC) is a significant milestone in the regional integration agenda. It promotes the free flow of goods, services and capital, and equitable economic development. It aims to be a single market, a single production base and a competitive economic region integrated into the global economy.
· Secondly, the ASEAN Socio-Cultural Community (AECC) promotes regional cooperation by preserving the diverse cultural heritage of ASEAN countries while promoting regional identity. It promotes cooperation in social development, public health, restricted mobility and mutual recognition of professional credentials. It also fosters interaction between ASEAN intellectuals and media practitioners.
· Finally, the ASEAN Security Community (ASC) is designed to ensure peace, democracy and cooperation in the region and security in all the Asia-Pacific region. It endorses the ASEAN principles of non-interference, consensus-based decision-making, national and regional resilience, respect for national sovereignty, renouncing the threat or use of force, and peaceful resolution of differences and disputes.
One particular reason that some countries in the ASEAN fold are still not democratic is the nature and scope of the organisation, devised by its charter, which calls for non-interference in national politics. The democracy promotion campaign launched by the United States under the Bush administration failed miserably in the first two decades of the 21st century, countries like Iraq and Afghanistan were mainly invaded as to achieve e swift regime change and thus started the democratisation process by equipping the opposition forces to lead the promotion of democracy in those countries. But in the case of Iraq, it resulted in widespread violence and an exported constitution written under occupation. In the Afghanistan case, the Taliban never faded from the national scene, while the grudges between warlords never resulted in any form of democratic setup that could transform the Country. This example shows that democracy promotion through ASEAN will result in degradation of its economic strength, as after all, it is a monetary union and not political. Its provision of non-interference is explicit. The countries must uphold the principle of non-interference and constitute one of the six founding principles of the Treaty of Amity and Cooperation between ASEAN countries. It imposes the right of each state to be free from mutual interference in its internal affairs (ASEAN | ONE VISION ONE IDENTITY ONE COMMUNITY, 2016). Democracy can only be promoted within the national borders. ASEAN evades criticism of the lack of democracy in the area by minimising human rights issues as domestic concerns protected by non-interference and rejects the notion of a supranational power that could impose conformity among member states. As such, even democratic institutionalisation at the regional level is hampered by insurmountable domestic political constraints. Other member countries like Singapore, Cambodia, Vietnam, Philippines, Thailand, and Laos are also making significant headways in the right direction influenced by trends in national politics and emerging International pressure. The Biden administration renewed focus on democratisation in the world, to curb the menace of authoritarianism and thus to avoid any potential international conflict have explicit signalling for the countries of Southeast Asian nations, which under the ASEAN framework are getting economic benefits but are reluctant to introduce reforms or pursue a path towards democratisation because they are now members of one of leading economic bloc in the world, that is now central to many major economic powers from the West as well from the East, and their presence in any mega FTA can double the prospects of gaining benefits for all the member's states of that mega FTA, in this case, the RCEP, which is bolstered greatly by the presence of ASEAN countries (Nuechterlein, n.d.) .
Shortcomings in ASEAN's cooperation and democratisation.
Despite the improvements of the last few years, empirical data show that democracy and cooperation are still weak in ASEAN countries. Many ASEAN countries still do not have a democratic structure. Even when they formally claim to be a democracy, there is no respect for fundamental rights. Thus, the principles of democracy are not respected, and agreements made between ASEAN countries are violated, weakening regional cooperation.
In Myanmar, a parliamentary republic under a military junta since 2021, crimes against humanity have been committed with the ethnic cleansing of the Rohingya. For a country to be a part of a thriving economic bloc, it is highly immature to initiate a series of events that can potentially damage the organisation, or result in expulsion from the organisation. These norms are still not there in this region, as military juntas, dictators, and autocrats have contingency plans. They are more concerned about their political well being than a country standing in any organisation (BBC News, 2021). It means that multilateralism is still not well understood in this region.
Brunei is an absolute Islamic monarchy, a sultanate that is rapidly turning into a Pharaoh state as it banned same-sex marriages and demonised any gay relation (AP NEWS, n.d.). This kind of tendency means that the Country is far from any democratic ideals. However, there are many instances in contemporary global politics where monarchy and elected governments are running successfully. In many ASEAN countries like Thailand and Malaysia, we also notice this trend.
Vietnam and Laos are Leninist states led by a single party. With Singapore, they see no change of government and tolerate no political opposition. Laos still has the death penalty for treason. Torture is widespread in Laotian prisons. In Vietnam, there are no regular elections, and freedom of the press is minimal.
Singapore is a parliamentary republic marked by the presence of only one political force. Homosexuality is punished with prison and illegal possession of drugs with the death penalty (Foundation, n.d.). Singapore is known as the maritime hub of the region and the world. Still, the Country's intolerance towards its opposition and attitude towards multilateral norm diffusion put question marks on its future where democratisation will decide where a country is standing. It will make or break a country's economic future.
Malaysia, Cambodia and Thailand are parliamentary monarchies. Malaysia allows for the indefinite detention of anyone suspected and for corporal punishment on gays. Cambodia is a one-party government. It ranks 146th out of 189 countries on the Human Development Index. There are numerous violations of freedoms. These include the forced closure of The Cambodia Daily and the arrest of opposition leader Kem Sokha. Although Thailand is more advanced in the democratic process, there is still a ban on the association, the crime of lese-majesty is still in force, and there is strong censorship. The presidential republics of the Philippines claimed over 20,000 victims of drug-related extrajudicial killings. In Indonesia, atheism is not accepted. Freedom of the press is hampered. The police have been repeatedly accused of excessive use of force and torture. The Indonesian state has finally managed to achieve an almost 'western' form of democracy. Indonesia is the largest Muslim majority country, and its past experiences with East Timor shows that Country is still ready to use indiscriminate force against any sessions movement, its new use of force policy against Papua community, and implementation of new military doctrine to be used in the public domain under the garb of counter-terrorism is creating a huge concern in the West.
Conclusion. As we have seen in the first part of the presentation, democratisation and cooperation are at the basis of the ASEAN project. However, these ambitions remain unattainable without the institutionalisation of democracy and regional power-sharing. But, democracy remains impossible without reinforcing the mechanisms for sharing sovereignty in shared respect of the principles of equality and the rule of law. To transform completely towards a democratic outlook, ASEAN countries must institutionalise their disagreement, accepting a normative-institutional framework to regulate conflicts. The creation or the reinforcement of ad hoc institutions not only allows the birth of democracies but, above all, guarantees their survival.
From this point of view, although the ASEAN way is palpable for the flexible character it gives to the political discourse, a more severe approach to agreements among ASEAN countries is probably needed. The major economies in ASEAN must bring about a radical change in the way its policy works, such as introducing a burden share formula, in which influential ASEAN members with a larger share in organisation must step up the costs on those countries who commit large scale atrocities in the form of delegitimizing. Homosexuality, taking actions against opposition forces in the Country, doing political victimisation, censoring media, the burden share formula will create an index of the most immediate concern like the ones listed above. It will gauge an annual country performance on this. This mechanism will allow the organisation to declare countries with the worst and best record of democracy. This index may serve as a focal document to the Western democracies. They will be free to take necessary actions as per the international law, which will lessen the burden of organisation. Myanmar acts are condemned globally because it is taking down an entire ASEAN community with itself.
The democracy promotion as a global campaign hit a snag. Still, a new approach that West launches is more efficient, as it calls for lesser to no relation in trade if a country commits large scale atrocities, human rights violations and deviates from the democratic path.
Philippines stands up to Chinese "grey zone" bullying
Laser, water cannon, and now a floating barrier – I explain how Manila is mustering the courage to deal with China's recent "grey zone" tactics.
On September 22, during a routine patrol around the disputed Scarborough Shoal in the South China Sea, referred to as Huangyan Dao by Beijing and parallelly as Bajo de Masinloc by Manila, the Philippine Coast Guard found a 300-metre-long "floating barrier" placed by their Chinese counterpart, which effectively prevented Filipino boats from accessing a rich fishing spot around the aforementioned shoal, lying about 120 nautical miles away from the Philippine coast and about 480 nautical miles away from the Chinese coast, i.e., four times the distance from the former.
The Philippine Coast Guard removed this blockade in compliance with a presidential order on the same. While international law (UNCLOS) clearly recognises Manila's sovereign rights over all living and non-living resources in the area as part of its exclusive economic zone (EEZ), Beijing refuses to honour or even acknowledge this fact. Instead, it has given shape to its own baseless, overarching claims, seen as a "nine or ten dash line" in Chinese maps, depending on whether the island of Taiwan is included in it or not. Notably, this farcical line covers almost 90 per cent of the entire South China Sea.
Offensive Chinese posturing
The latest incident occurred while ASEAN's first non-combat naval drills, named the Solidarity Exercise, were about to conclude and just a month after another incident of a large Chinese Coast Guard ship reportedly using water cannon against a much smaller Philippine boat occurred, inviting condemnation from Washington, Manila's foremost security ally in the region. Eleven years ago, the Scarborough Shoal was the site of a standoff between Manila and Beijing, following the detention of some Chinese fisherfolk by the Philippine Navy for intruding into the area that fell within Philippine EEZ.
Tensions were diffused only after the U.S. brokering a deal, and following this the Philippine Navy pulled itself out from the area, but the Chinese never left the resource-rich lagoon since then. This led Manila to take the course of international arbitration in 2013, which Beijing refused to cooperate, and later it defied an arbitration ruling that came in the former's favour in 2016. Earlier this year, in February, China deliberately hit a Philippine Coast Guard vessel with a military-grade laser, which even lead to the temporary blinding of some of its crew.
Coming back to the most recent incident of Chinese Coast Guard building a "floating barrier" on Philippine waters, it should be read as the latest in a series of decades-long dispute involving China on the one side and five ASEAN countries, namely Philippines, Vietnam, Malaysia, Brunei, and Indonesia, plus Taiwan on the other side. With or without a Code of Conduct for the South China Sea, which is currently being negotiated between the two sides, China's overall offensive strategic posturing towards its neighbours can never be expected to turn benign as long as its overarching claims persist.
The recent provocative actions by China fit into the larger frame of expansionist tendencies it has been showcasing throughout the last one decade, both along its land borders and the seas. China is trying to gain maritime foothold bit by bit through the skilful use of its growing military power, stopping short of a war, but remaining coercive, thereby pushing other countries in the neighbourhood into a defensive mode. These tactical moves, lying in the "grey zone" between peace and war, represent a new normal and a serious challenge to the status quo of the current regional security order lead by the United States Navy and its allies.
Augmented U.S. alliance
Earlier in this April, the United States and the Philippines conducted their largest-ever annual military drills, the three-week-long Exercise Balikatan, meaning "shoulder-to-shoulder' in the Philippine language of Tagalog, with more than 17,600 combined troops participating, including simulated drills of attacks on enemy warships and live-fire exercises performed for the first time. With Beijing in mind, Manila has also given the U.S. a wider access to its military bases under a recently revived defence pact. Alongside strengthening Manila's defence capabilities, it grants Washington a stronger foothold to counter what it sees as a bigger threat in the broader region – Beijing's possible invasion of Taiwan.
The Philippines is a major non-NATO ally of the U.S. for the last two decades and the two countries have forged several security pacts in the past such as the Mutual Defence Treaty of 1951, the Visiting Forces Agreement of 1998 and the Enhanced Defence Cooperation Agreement of 2014. At the same time, the Philippines is overlooking the reality of a large Chinese economic footprint in the country, including the disturbing fact that China still holds about forty per cent stake in its national power grid and that Chinese engineers are still working on critical infrastructure projects across the archipelago.
Manila needs economic decoupling, supply chain diversification and new trading partners to reduce its dependency on China and to stamp out the possibility of Beijing weaponising economic vulnerabilities for geopolitical gains, although a distant prospect. In other words, a security strategy alone is inadequate to deal with the challenges posed by China, which calls for a comprehensive one. However, former Philippine President Rodrigo Duterte used to follow a policy of accommodating China, looking at the prospect of promising economic ties, even while Beijing continued to exercise its exclusionary policy in the neighbourhood.
Rifts back in spotlight
Tensions have been simmering again since last year with the election of a former dictator's son, Ferdinand "Bongbong" Marcos Jr., as the President of Philippines, who vowed to follow a tough policy in dealing with China. Consequently, U.S. Vice-President Kamala Harris visited the Southeast Asian archipelago in November last year, and in return President Marcos Jr. visited the U.S. in May this year, which was in fact the first visit by a Philippine leader to the White House in almost a decade. The visit followed April's military drills and President Biden reaffirmed U.S. military's support to the Philippines, describing it as "iron-clad".
At the same time, President Macros Jr. is also trying to reach out to his Chinese counterpart Xi Jinping, as evident from his recent visit to Beijing in the beginning of 2023, harbouring hopes of an amicable management of disputes. Unfortunately, just weeks later, the laser incident happened, signalling China's lack of interest to settle disputes any time soon. When it comes to hard security, China is aware of its strengths and also its limitations against the combined might of U.S. and its regional allies. Reinvigorated defence ties with Washington supposedly gave Manila the confidence to stand up to China's overtly belligerent activities in the South China Sea.
Beijing's ultimate ambitions for the broader region, i.e., a complete dominance and the expelling of the U.S., can never materialise without solidifying its territorial claims in the neighbourhood in the first place, which subsequently calls for sustained acts of securitisation and militarisation of the region. This can never happen without provoking its Asian neighbours and also without changing the status quo, which would invite the United States and its allies to respond. All these scenarios point to the hollowness of China's seemingly benign initiatives such as the "Global Security Initiative" and tend to derail its own efforts in projecting itself as a "responsible" great power in the world.