How Beijing's Disinformation Campaign threatens International Security in the Post-Truth Era
Ever wonder how disinformation[1] could have shaped the next information warfare in the post-truth era? With the continuous advancement of artificial intelligence (AI) and our overwhelming reliance on social media, the potential ramifications provoked by state-sponsored disinformation campaign could be disastrous. Indeed, given its relative low cost, low barriers with easy access to basically anywhere that allow free flow of information, disinformation serves as a perfect strategy in the new era of hybrid warfare.
Indeed, western countries have been noticing an alarming surge in political polarization with a pattern of declining public trust for mainstream media[2], implying the increasing susceptibility of the public to fake news. While this kind of information warfare is likely to dominant future warfare as technological advancement continue to upsurge, the liberal democratic structure of the western societies that enables freedom of speech provides fertile ground for adversaries, especially dictated regime to exploit. This article focused primely on China, its ideology, and reasons to deploy disinformation as part of its grand strategy, as well as the tactics Beijing would likely to use in the upcoming information warfare.
Hybrid Tactics as the Grand Strategy—and Disinformation
First announced by the Central Military Commission (CMC) in 2003, the "Three Warfare"—which included the coordinated use of strategic psychological operations, overt and covert media manipulation, as well as legal warfare designed to manipulate strategies, defense policies, and perceptions of target audiences abroad[3]-— acted as political guidelines and mutually reinforcing strategies for the People's Liberal Army (PLA). While the Three Warfare primely aims at exploiting the adversary's weaknesses to disrupt their opposition to PRC's agendas[4], Chinese hybrid warfare has much more potential destruction with the integration of other hybrid tactics such as clandestine diplomacy and irregular warfare.
As a matter of fact, the nature of liberal society and democratic structure makes it difficult to resist hybrid warfare—western nations' domestic politics could be readily usurped by Beijing's use of disinformation and geo-economic influence, since the system are "protected by the very same liberal values that these hybrid means are designed to subvert"[5]. Hybrid warfare thus constitute the best strategy for Beijing to weaken opponents' counterbalancing potential. Free media, for instance, which represents a basic value of liberal democracy, provided sufficient room for hybrid interference. Whilst freedom of speech allows free flow of information, free press is susceptible to fake news and propaganda conducted by coordinated disinformation campaigns, which conceivably result in a delegitimization of the media's credibility, as well as an internal division among different target audience[6]. In addition, the echo chamber and filter bubbles effect constituted by the news feed algorithm further reinforce information consumption pattern[7] and thus further generates political polarization and potential social turmoil such as the United States capital attack on Jan 6th, 2021. The nature of fake news, indeed, has constituted its easy deployment with great effectiveness.
The Ultimate Nightmare—Deep Fakes for Disinformation campaign
Constructed by machine learning techniques, deep fakes—images, videos and sound records that mimics one's speech or action, of which that person had never did or said in reality—are backed by a specific type of deep learning method named as the Generative Adversarial Networks (GAN), where two self-supervised algorithms automatically "learn" from each other. In such method, one algorithm (the generator) produces a synthetic image of a person whereas the other algorithm (the discriminator) reviews the level of authenticity of that image and provides feedback to the former. Generator takes "advises" from discriminator and thus being able to improve every time it creates new image. After thousands and thousands of training cycles, GAN's algorithms would be either skillful in producing synthetic images or differentiate images' authenticity. Due to the constant evolvement of AI and its technological sophistication, deep fakes are hence extremely hyper-realistic and difficult to be detected by human eyes[8][9]. Therefore, when deployed as a form of disinformation, deep fakes could bring disastrous implications from democracies to international security.
In relations to Beijing's strategy, the use of deep fakes could be deployed from the fabrication of public figures and ordinary citizens.
First, deep fakes that aim at politicians, celebrities, and key opinion leaders (KOL) will have an agenda of defamation and/or shaping public opinion. Take the presidential election in 2020 as an example. Both Trump and Biden were being accused of having sexual misconduct during their election campaign. What if, there is a deep fake video portraying such criminal behaviors released the night before election? How would this have reshaped public opinion on their suitability of candidacy? Given the difficulty to debunk fake news in real time, one could only speculate the extent of damage caused to his/her reputation and the country's democratic system.
Internationally speaking, deep fakes does not only have the potential to damage diplomatic relations but also generating intra and inter-state warfare. What if, a deep fake video illustrating U.S. president stating that America's nuclear umbrella will no longer shelter her allies? Or Washington is planning on withdrawal of NATO, that collective defense is just a political discourse? How devastated will it be to the alliance relations and U.S. government's credibility? Such reputation loss is often irreversible, regardless of the authenticity of the news being verified afterwards or not.
In addition, AI-generated people could be used as "witnesses" to create the illusion of "truth" for disinformation. In fact, certain private companies are already offering disinformation as services, including automated and human-curated accounts, as well as trolling and other AI services[10]. These campaigns are often deployed for a certain political actor, according to an Oxford study in 2020[11].
Moreover, other forms of AI system including Generative Pre-trained Transformer (GPT)[12] which can generate text that synthesize human writings, could bring fake news and information warfare to the next level, especially when it comes to complexed international politics[13]. Together with the use of hyper-realistic deep fakes, fake accounts, personal statements, and opinion pieces would appear to be authentic—further blurring the line between truth and post-truth, meanwhile, undermining confidence in traditional media and state's authority.
Perceptibly, the integrated use of private companies' and state-sponsored disinformation—for instance, the 50-cent army, a notorious internet trolls employed by the CCP, which is responsible for about 450 million fake posts and comments every year[14] masquerading themselves as ordinary citizens in attempt to sway public opinion in favor of Beijing[15]—would be heavily deployed as part of the disinformation campaign/ strategy in the next information warfare.
Tailored-made disinformation
The second characteristics of China's present (and future) disinformation would be tailored-made to certain target groups, especially its diaspora Chinese community. Overseas Chinese' tendency to "stick to themselves and form distinct diaspora communities within their settling countries"[16] had paved way for Beijing to exert its surveillance, control, and manipulation on its people, regardless of their physical geographical location. And the spread of disinformation could be effortlessly accomplished through these significant features.
For instance, The Foreign Influence Registry Act (Bill C-282) introduced by Canada's former Conservative MP Kenny Chiu was being deviously altered as fake news that are deliberately personalized for the Chinese audience. By portraying the Chinese community as the targeted groups and "victims" of the bill, these disinformation campaigns attempt to generate a perception that the introduction of the bill is correspond to racial discrimination against the community; thereby drawing an equal sign (albeit casual assumption) between the foreign influence registry act and the suppression of pro-China opinion, as well as control and surveillance on organizations and individuals[17] in the overseas Chinese community. Such rhetoric is indeed a discourse of danger and insecurity regardless of its truthfulness (the Chinese race being discriminated, free speech, business, and cultural exchange opportunity on the line)—it helps construct the "Chinese identity" by composing binary opposition of "us versus them"—thus provoking a certain degree of pro-Chinese sentiment and nationalism, especially for those who have always been in a more pro-Beijing stance.
Moreover, dissemination of fake news through via the use of social media like WeChat, WhatsApp[18], increases the sense of familiarity which consequently surge one's susceptibility to disinformation[19]. Such propagation would be difficult to debunk given the fact that it is spread through community channels and end-to-end encryption communication apps.
Perceivably, China will be utilizing disinformation campaign by tailoring to certain target groups. Chinese diaspora community would inevitably be one of them as Beijing seeks to mobilize them in operation of actions that is in favor of the central authorities. The other likeliness would be agitators and organizations that have the potential to provoke political unrest. The latter is particularly alarming—especially if (when) deep fakes are tailored to spark radical actions of certain target group, which includes but not limited to far-right groups and extremists—the consequences could be riots and social turmoil, and if not impossible, a civil war.
If you want peace, prepare for war[20]
The nature of disinformation makes it easy to be deployed with great effectiveness but at a relatively low cost. Whilst social media algorithm facilitates echo chambers and filter bubbles which conveniently trap users in reinforced information consumption patterns, the psychology of disinformation often puts people in vulnerable position as mere repeated exposure would be able to surge one's susceptibility to fake news.
Nevertheless, the world has been witnessing more frequent and intensified disinformation campaign. State-sponsored yet covert disinformation campaign could even take advantages of its clandestine nature to deny responsibility while causing chaos in the other side of the planet by generating political polarization and thus social tear.
Certainly, merely a riot or even a civil war would not bring the U.S. down. But the time bought via such disinformation campaign and social turmoil could be. What if, such chaos is generated in times of China's pre-emptive strike to the island? The use of fake news is only a part of Beijing's hybrid warfare, of which included much more complexed strategies such as the integration of a satellite assault to blackout BMD system in space warfare, and other use of unorthodox methods like Chinese Maritime Militia[21] ("little blue man") in East and South China Sea.
These situations, although hypothetical, are not impossible. Yet these potential dangers have already been undermining public's confidence in traditional media and state's authority, let alone when being seriously tailored and deployed in wartime. As Taiwan's president Tsai has noted, "Taiwan does not seek military confrontation……But if its democracy and way of life are threatened, Taiwan will do what never it takes to defend itself."[22] Akin to Taipei's situation, like-minded democracies that hope for peace and stability must align and prepare for this information warfare as it is fundamentally threatening our liberal democratic society, as well as international security.
After all, from a realist perspective—if you want peace, prepare for war.
---
[1] Disinformation, as a form of fake news, is regarded as "false, incomplete, or misleading information that is passed, fed, or confirmed to a target individual, group, or country". For details, see Shultz, R. H. and Godson, R. (2018). Dezinformatsiya: Active Measures in Soviet Strategy, Washington, D.C.: Pergamon-Brassey, 1984, p.41. and United Nations Educational, Scientific and Cultural Organization, 2018, p.7; Theohary, 2018, p.5.
[2] Greifeneder, R., Jaffé, M., Newman, E. and Schwarz, N., 2021. The Psychology of Fake News. New York: Routledge.
[3] Raska, M. (2015). 'China and the "Three Warfares"'. The Diplomat. Available at https://thediplomat.com/2015/12/hybrid-warfare-with-chinese-characteristics-2/
[4] Miracola, S. (2018). 'Chinese Hybrid Warfare', Italian Institute for International Political Studies. [online] Available at: https://www.ispionline.it/en/pubblicazione/chinese-hybrid-warfare-21853 [Accessed 30 Apr. 2019].
[5] Wigell, M. (2019). Hybrid interference as a wedge strategy: a theory of external interference in liberal democracy. International Affairs, 95(2), pp.255-275.
[6] Ibid.
[7] Greifeneder, R., Jaffé, M., Newman, E. and Schwarz, N., 2021. The Psychology of Fake News. New York: Routledge.
[8] Chesney, R. and Citron, D. (2019). 'Deep Fakes: A Looming Challenge for Privacy, Democracy, and National Security'. California Law Review, Vol. 107, pp.1753-1819.
[9] Rossler, A. et al. (2019) "2019 Ieee/cvf International Conference on Computer Vision (iccv)," in Faceforensics : Learning to Detect Manipulated Facial Images. IEEE, pp. 1–11. doi: 10.1109/ICCV.2019.00009.
[10] Hsu, K., Sangvikar, D. Zhang, Z. and Navarrete, C. (2020). 'Lucifer: New Cryptojacking and DDos Hybrid malware Exploiting high and critical vulnerabilities to infect windows devices.' Palo Alto Networks: Unit 42. 24 June 2020.
[11] Wallace, A. (2020). "Major Data Breaches in 2019." Toronto Sun. Available at https://torontosun.com/news/world/major-data-breaches-in-2019
[12] GPT is an artificial intelligence system built by OpenAI, an AI research organization based in California.
[13] Kreps, S. and McCain, M. (2019). 'Not Your Father's Bots—AI Is Making Fake News Look Real'. Foreign Affairs.
[14] The number is going up every year according to study.
[15] Farrell, H. (2016). 'The Chinese Government fakes nearly 450 million social media comments a year. This is why.' Washington Post. Available at https://www.washingtonpost.com/news/monkey-cage/wp/2016/05/19/the-chinese-government-fakes-nearly-450-million-social-media-comments-a-year-this-is-why/
[16] Forsby, A. (2011). 'The Non-Western Challenger? The Rise of Sino-Centric China'. Danish Institute For International Studies Report.
[17] Today Commercial News. (2021). 'Please spread the message: Conservative MP Kenny Chiu proposed <The Foreign Influence Registry Act> to suppress the Chinese community'. Available at https://todaycommercialnews.com/canada/49207# (〈請廣傳! 保守黨國會議員趙錦榮提「外國勢力註冊」法案打壓華人社區〉,加拿大商報,2021年09月09日)
[18] Bramham, D. (2021). 'Daphne Bramham: Conservatives face ugly barrage over party's China policy'. Vancouver Sun. Available at https://vancouversun.com/opinion/columnists/daphne-bramham-conservatives-face-ugly-barrage-over-partys-china-policy
[19] Greifeneder, R., Jaffé, M., Newman, E. and Schwarz, N., 2021. The Psychology of Fake News. New York: Routledge.
[20] Old Latin saying "Si vis pacem, para bellum" (If you want peace, prepare for war)
[21] Informal navy constituted by the Chinese "citizens".
[22] Tsai, I. W. (2021).' Taiwan and the Fight for Democracy—A force for Good in the Changing International Order'. Foreign Affairs. Available at https://www.foreignaffairs.com/articles/taiwan/2021-10-05/taiwan-and-fight-democracy
Hollywood with Chinese Characteristics
Authors: Dr. Abhishek Srivastava and Ms. Shreyasi*
Cinemas are an effective tool to project soft power and influence communities at large. A number of Hollywood production-finance firms in the last decade have seen a major rise in Chinese investments. Some of the biggest Hollywood box office hits are backed by Yuan. To maximize profit off of the Chinese domestic movie consumption market, these movies either have elements of Chinese culture or they self-censor to appease the Chinese censorship authorities. A dominant explanation to this phenomenon is that China pursues a significant influence in the American culture by infiltrating Hollywood. Hollywood itself has, through its movies, exported American values since its inception. Any impact on this industry will consequently reflect on its movie consumers eventually.
China wears the global box office crown worth $7.3 billion and reigns as the biggest movie consumer market in the world. It bounced back from the pandemic slump of 2020 and turned twice the amount of revenue only 26% less than pre-pandemic numbers. During the pandemic movie theatres all over the world were shut down, literally zeroing down the movie theatre business. China due to its regime style, somehow managed to open up theatres to some extent and garner revenues.
China opened its domestic movie market for outside films only in the 1990's. The ever-growing domestic movie market China has made it a golden spot for foreign language films to get screen time and thereby huge returns. More and more Hollywood movies and especially blockbuster category movies are lining up to get a spot since Chinese authorities allow only 34 films per year quota to foreign language movies. This strategy along with the promise of money has resulted in Hollywood movies altering their plot, stories, scenes etc., to suite the regulations of the Chinese censorship authority. The censorship authority's aim is to induct Chinese values and promote their ideas through the Hollywood movies. Last 10 years has culminated into an intersection of free market and Chinese censorship. This is an unprecedented path whose outcome is very unpredictable.
Another strategy is the use of China's economic power to get into the American movie business and then trying to induct a cultural change. Los Angeles has a big presence of Chinese firms and conglomerates who have major or minor shares in big production houses or have co- financed individual movie projects. It is not only limited to production companies but theatre chains, distributing retails and public relations management companies are also being brought by Chinese firms.
Chinese Soft power and public diplomacy through movies
Joseph Nye coined the term soft power and further broadened the area of study to public diplomacy. Much of what he has written on soft power, tools used by the United States to exercise soft power is relevant even today. According to Nye, Hollywood in itself is the biggest soft power influencer of the United States. The power Hollywood movies have had on different countries through generations is incomparable.
According to Stanley Rosen, a professor of political science in University of South California and a specialist on politics in the People's Republic of China, even after spending $10 billion year in exercising soft power, China has not been able to compete with the U.S. Chinese soft power is much more involved in dealing with the domestic crowd. Much of the soft power is controlled by the state. This does not allow a natural spurt in soft power. Successful American soft power on the other hand has largely grown away from the clutches of the government. And this is what Chinese authorities are trying to bank on.
China in Hollywood
As explained before, the Chinese production house and firms exert control by buying up screen spaces. But movies themselves self-censor to appease the censorship board of China. The aim is to make it to the list of 34 movies which is allowed screen time in the domestic movie landscape. Chinese real-estate and entertainment conglomerate Dalian Wanda Group Co. has signed a deal for a majority stake in Legendary Entertainment that would value the U.S. film and television company at nearly $4 billion. Chinese internet giant Tencent Holdings bought 10% of Skydance Media, the Hollywood company behind movie Terminator. The valuation of the deal of the production company is at approximately $1.5 billion. As part of the arrangement, Tencent and Skydance will co-finance movies, TV shows and video game projects too.
Apart from the Chinese values, an instance which shows the Chinese government's good governance, foresight, China's technology boom, good standard of living are expected to be shown in the movie by the producers themselves. The production houses of these movies often have Chinese co-financiers who work to make the Chinese authority happy. Any image which shows the country in a bad light is frowned upon. In the disaster movie, 2012, humanity is saved because the Chinese government had the foresight to build the life-saving arcs. In Gravity, Sandra Bullock survives by getting herself to the Chinese Space Station which was shown to be the most advanced one.
The 2006 released book titled World War Z, a zombie apocalyptic horror novel written by American author Max Brooks was adapted in a 2013 movie of the same name by the Paramount pictures production. The original plot of the book is about a global pandemic in which people infected with the virus turns into a zombie. The virus origins or the patient zero as mentioned in the book is found in China but the movie adaptation refers to the source of the virus to be in Taiwan. This allowed the release of the movie in Chinese theatres.
In 2014, hacked Sony e-mails revealed that the original script of the movie PIXELS, which was released in 2015, called for blowing up of the Great Wall of China but finally in the movie, Taj Mahal of Agra is seen being blown up. This change was done with the hope that the movie could gain access to the Chinese theatre market. Blowing up of a national heritage site was not something the audience or the national film agencies of China would have appreciated. This incident is a classic example of American movie self- censoring themselves to gain access to a huge market, thereby ensuring a decent profit margin.
Understanding how important movies are in constructing imagery, the Chinese authorities make sure the country is represented in the fairest and best way possible. This includes hand picking visuals of the country in movies, curating dialogues, altering plots, storylines and characters, changing the way the people are represented in the movies. The censorship is so strong and rigid that certain words and cases are not allowed in the movies. Issues of homosexuality, democratic values and free spirit, rejection of authority, liberty and equal rights are certain areas which are a significant part of the Western cultural discourse. Nuances regarding these issues are often put up in public discourse through movies. But when such movies are presented to the Chinese censorship for approval, scenes representing these issues are straight away omitted. This is an attempt by the authority to isolate the local population from western cultural values. A prime example is the 2018 hit, Oscar awarded movie The Bohemian Rhapsody. The movie represented the life and times of Freddie Mercury, lead singer of the British music band The Queen and a well-known member of the LGBT community who died of AIDS. The movie's cut which was shown in Chinese theatres lacked certain sections of the cinema which talked about the lead singer's life as a homo sexual. This takes us again to Stanley Rosen's argument that a bigger chunk of Chinese soft power strategy is within its border for its own public. The country keeps her media in check by regulating movies, especially foreign ones.
The 1997 movie, Seven years in Tibet starring Brad Pitt, depicts China's controversial takeover of Tibet and the harsh Chinese rule in the country. Director Jean-Jacques Annaud and stars Brad Pitt and David Thewlis were allegedly banned from even entering China.
In the May month of 2021, actor John Cena apologised publicly on Chinese social media platform for referring Taiwan as a country. The production house of the movie, Universal pictures has a long-term co-financing deal with a Chinese entertainment company called the Perfect World Pictures. The movie is backed by Chinese money which made it mandatory for the actor to publicly apologise.
The sensitivity regarding Taiwan is so much that even public acknowledgement of the island nation as a country sparks outrage and objection by China. Tibet, Taiwan, Tiannamen square, Uighur province etc. are certain sensitive issues for the Chinese. The authority does not want any incident, in real life or in movies, to happen that could legitimise their existence, both amongst the domestic and the international audience.
China's sensitivity to Tibet could be seen in the 2016 hit movie Doctor Strange, part of the popular Marvel Cinematic Universe of the Marvel production house. The ethnicity of a major character was changed completely. In the original comic books, the Ancient one is a Tibetan character, and the studio that was making Doctor Strange changed it to a Celtic character. The movie went on to earn around $109 million in the country. Eliminating a Tibetan character is an attempt to remove the issue of Tibet from the minds of any average movie watcher.
One of the top three highest grossing films in the box office of 2022 is the movie Top Gun: Maverick, a sequel to the 1986 movie Top Gun. In the original 1986 movie, the central character of Tom Cruise's wears a jacket which went on to become a national rage in Northern America and consequently in more English language movie watching countries. The jacket on its back had a flag patch of US, Japan and Taiwan. In the trailer for the sequel released around two years back, Taiwan's flag, which the island country has used since 1949, was seen being replaced with an ambiguous patch. This self-censoring by the movie makers was somewhat expected by audience since the movie's co –producer, Paramount Pictures signed on Tencent, a Chinese tech firm to co-finance the movie. The Shenzhen-based conglomerate hoped to act as an "investor and co-marketer" of the film. But things turned out to be a different when the movie was released.
How receptive is the American movie industry and consumer?
The reaction of the American audience to the trailer, specifically to the changes made in the original jacket in the movie was extremely fierce. The aware audience has somehow grown a resentment towards artistic changes and additions made to American movies, done solely to appease the Chinese authorities. The makers of the movie sensed it and reverted to the original jacket which had the flag patch of Taiwan.
The case of Chinese authorities curating American movies is seen by Hollywood stakeholders as an attempt at altering culture and value system of the nation as well as the larger audience who are American movie watchers. Another matter of concern is the literal buying up of domestic movie production and distribution houses of America by big Chinese firms and conglomerates. A law has been introduced to the US Congress, that would regulate funding of these big American production house by foreign companies. In April 2020, Republican Ted Cruz introduced a bill titled "The Stopping Censorship, Restoring Integrity, Protecting Talkies Act" that the Texas Senator described as "cutting off Hollywood studios from assistance they receive from the Department of Defence if those studios censor their films for screening in China." The legislation, called the SCRIPT Act, was introduced in May and referred to the Committee on Homeland Security and Governmental Affairs. 2020 was also the time when tensions between the U. S. and China were at its peak and a probable trade war between the two countries was looming large.
Conclusion
Soft power is a long-term strategy which reaps benefit only in future. It's arduous, laborious and results might not be visible instantly, unlike hard power which yields outcomes almost as soon as it is used. But when it does, it is the most profitable and significant investment a country could make in terms of both time and money. China realised this way back in the 1970s, when it mended relations with the U.S. The country has come a long way since the days when Bruce Lee's movies were dubbed and rationalized to suit American and world audience. It is amazing to see how the world's most powerful movie industry plays tune to China's censorship authority's pipe.
However, Beijing's strategy of using money to implement soft power tactics has been unveiled. For a very long time this phenomenon was under wraps. Chinese firms pumping money in Hollywood production houses rose only post-2010 but it was done aggressively around 2015. When it comes to allowing foreign language movies to open in China, a limit of 34 movies have been posed. But these movies happen to be the biggest blockbusters of Hollywood, watched by a huge audience across globe. The impression these movies make is simply unimaginable. By censoring and planting favourable plot lines in movies, Chinese authorities intend to artificially manufacture of opinions. Off course, these opinions work in favour of the Chinese regime. This allows them to present to the world a narrative on issues close to Beijing's heart.
*Ms. Shreyasi Post graduate Student, School of International Studies, Jawaharlal Nehru University, New Delhi
The U.N. as a collective security says no to politicalized agenda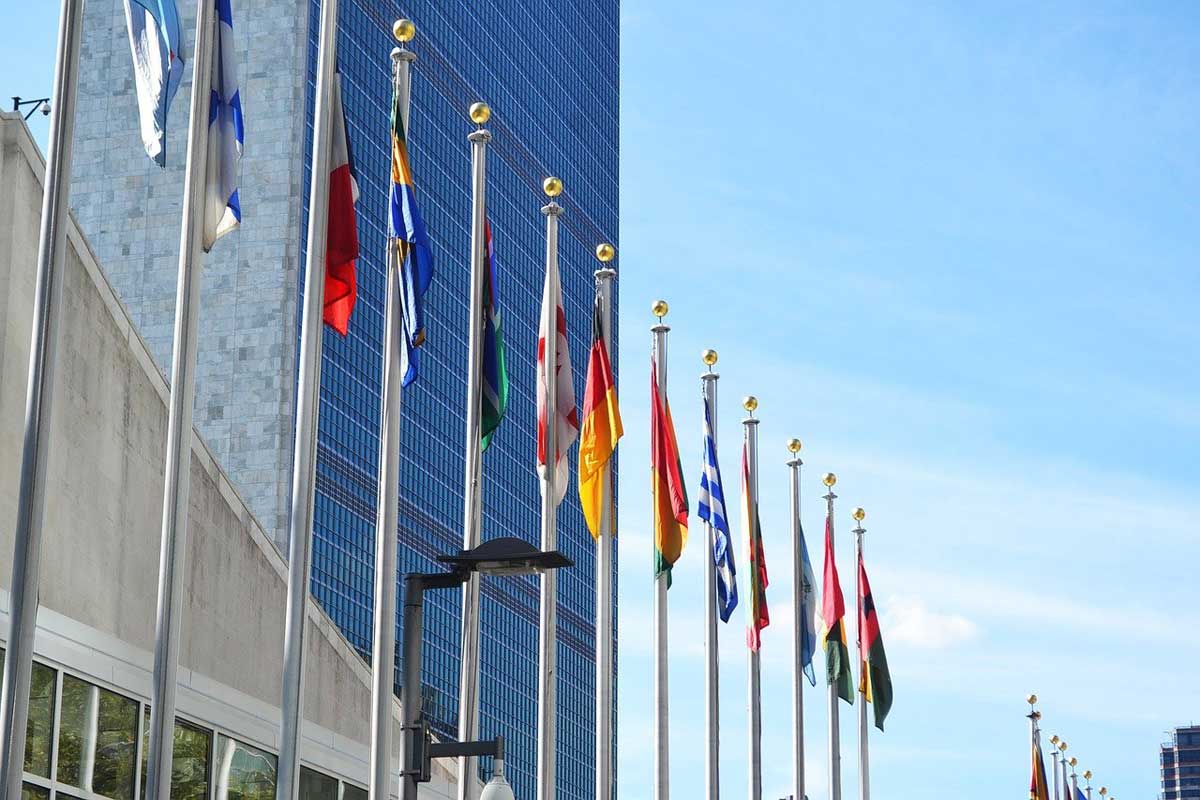 Since the United Nations was founded at the end of the WWII, it has played a seminal role in preserving the world peace and international justice from time to time. Based on the U.N. Charter which champions the no-use of force and collective security, the U.N. is seen as a relatively efficient global organization of sovereign states since then. There is no question that the U.N. has historically promoted the decolonization and changes in the composition of the international community when the U.N. General Assembly adopted the Declaration on the Granting of Independence to Colonial Countries and Peoples in 1960. Since then, it is fair to say that the new states have come to end the dominance of the West which then commanded a majority of the seats in the General Assembly.
From the very beginning, a world public opinion is seen as the most potent of all forces for peace. Nowadays, it has been since more strongly developing throughout the world. In particular, the U.N. General Assembly is declared to be "the open conscience of the world as Hans Morgenthau used to argue. China has consistently and persistently championed the legitimate rights of the all states in general and the small/weak countries in particular. As Chinese government has reiterated that as the world's largest developing country, China will continue to stand with all developing States, who are no longer the silent majority in international and multilateral processes.
Also as one of Five Permanent Members of the U.N. Security Council, China should and also must stand up to defend the sacredness of the United Nation as it is a permanent forum in which countries could come together to deliberate and attempt to resolve disagreements rather than sowing the seeds of hatred among them. In reality, the U.N. has been used properly but is also misused and even abused by some governments for the purposes of politicalizing the issues and demonizing its rivals with no moral criteria or any bottom lines. Given this, this essay argues for the necessity of preserving the sacredness and purity of the U.N. for the original goal of acting a collective security rather than unilateral tool abused by any small bloc.
Recently, China allies itself with the statement made by Eritrea on behalf of a group of like-minded countries. Chinese ambassador Geng Shuang made it clear that remedy and reparation is an important way to deliver justice, offer consolation and promote reconstruction after wars and conflicts. Deeply victimized by numerous foreign wars against China in the modern history, China has endured immense losses. Accordingly, the Chinese people and the elite empathize with the heartbreaks of war victims, and sympathize with their misery. Meanwhile, China opines that any remedy and reparation should be achieved through correct political means and legal proceedings in line with international will, fairness and justice, and the humanitarian spirit. The U.N. Security Council and the General Assembly should and can play the role as expected by the international community.
Regarding the ongoing crisis in Ukraine, China has reiterated its sincere concerns with the current situation in Ukraine and the four points about what must be done in the wake of the outbreak of the crisis and the four things the international community must do together later. It is self-evident that given a global, composite crisis in Ukraine, it is important to give serious thought to the following: first, conflicts and wars produce no winner; second, there is no simple solution to a complex issue; and third, confrontation between major countries must be avoided. China has and will continue to look forward to a resumption of peace talks between Russia and Ukraine. At the same time, it is imperative that the U.S. and its allies of the NATO and the EU should hold direct dialogues with Russia. This is the nature of classic diplomacy championing negotiation, persuasion and mutual compromises rather than driving a decisive victory in the battlefield.
Due to the discussion of China's stances on the international issues and the role of the UN in the crises management, it is quite easy to perceive China's refusal of the draft resolution on remedy and reparation submitted for actions of the Emergency Special Session of the U.N. General Assembly on November 16 since it has obvious flaws and loopholes and does not conform to China's position and proposition. However, Chinese Ambassador Geng Shuang presented three points to verify the general principles and practices of the UN as a collective security forum.
First, legally speaking, China believes that the draft resolution intends to address the issue of international legal responsibility directly through the General Assembly, thereby overstepping GA's authority. As it is well-noted that the UN Charter clearly stipulates the mandates of the principal organs of the UN and the General Assembly is not an international judicial body. Thus, it has no legal power to define and hold accountable for internationally wrongful acts. As a matter of fact, the resolutions previously adopted by the 11th Emergency Special Session of the GA do not constitute solid legal basis for remedy and reparation.
It is clear that the draft resolution aims to invoke the Articles on the Responsibility of States for Internationally Wrongful Acts to pursue accountability, yet, doing so lacks legal basis in a professional way. The aforementioned Articles are research products of the International Law Commission which is an expert body. It is not an inter-governmental treaty and not legally binding. From a perspective of international law, neither do the Articles provide legal norms to define an internationally wrongful act or determine whether such an act exists. Hence, it is not appropriate to cite the Articles to make legal determination and pursue accountability.
Second, given the fact the draft resolution intends to bless the creation, by some countries, of a mechanism for reparation and a register of damage outside the UN framework, thus it deviates from the normal practice. The above mentioned mechanisms proposed by some countries are not in the framework of the UN, not overseen by the UN, and do not report to the UN. Nevertheless, the General Assembly is requested to adopt a resolution specifically for their creation. This approach makes no sense and has no precedent in practice.
It deserves noting that the issue of remedy and reparation is of great dimensions and far reaching implications. It concerns peace and security on the one hand, justice and conscience on the other. Moreover, it concerns not only the sacredness of the United Nations, but also the justice of international rule of law. Thus, the issue of remedy and reparation needs to be presented in a legal and procedural way. Historically, countries in the world victimized by internationally wrongful acts such as colonialism, external interference, unilateral sanctions and economic blockade have the right to seek remedy and reparation. The action taken by the General Assembly today should help to provide correct guidance for the settlement of possible future claims of relevant countries for remedy and reparation. Yet, the red-line is that it should help to maintain the impartial image of the UN that treats all member states equally. It should help to ensure various UN bodies can work in concert according to their respective mandates. Regrettably, the sponsor states did not organize consultations in earnest, did not substantively respond to the concerns of member states, and instead insisted on pushing the General Assembly to take a hasty action which is totally unconstructive.
As it is well-known that the Ukrainian crisis has been ongoing nearly nine months. It has sent shockwaves throughout the world and brought more uncertainty and instability to the world. Since the crisis serves no parties' interests including Ukraine and Russia, China has appealed to all parties concerned to return to dialogue and negotiation as soon as possible. In so doing, the international community, including the General Assembly, should work actively to this end, instead of intensifying tensions, provoking confrontation and aggravating divides. In fact, China's position on the Ukraine issue is clear and consistent. That is to say that the sovereignty and territorial integrity of all countries must be respected and the purposes and principles of the UN Charter must be fully observed. However, the legitimate security concerns of all countries must be also taken seriously. Accordingly, China endorses the tireless work with the international community to play a constructive role in promoting the early realization of ceasefire and cessation of hostilities.
To sum up, China has no bias against any parties concerned in the Ukrainian crisis. Yet, the key is that China must act a responsible power to upload the authority of the UN Charter and the credibility of the General Assembly. Given this, China decided to vote against the draft resolution along with more than ten other countries, though they were a minority. For the end of safeguarding true multilateralism and maintaining the international rule of law and fairness and justice, China has done as it should do as always.
Silence on Uyghurs and Kashmir: A tacit quid-pro-quo between India and China
On the 7th of October, India abstained from voting on a resolution for "holding a debate" on China's alleged atrocities on Uyghur Muslims in the Xinjiang region. Although, on previous occasions, India had called for the human rights of Uyghurs to be respected, and had taken note of a UN Human Rights report finding human rights violations by China; When presented with an option to finalise and consolidate its stance on the matter, India chose to abstain from voting.
In this post I argue that, India's choice to abstain from voting against China's alleged human rights violation in the Xinjiang province, is part of a tacit quid pro quo between the two states to remain silent on each other's human rights violations.
Uyghurs, a Muslim ethnic community in the Xinjiang region of China, have been, and continue to be subjected to severe human rights abuses by the Chinese state. The Chinese Communist Party (CCP) has established centres which the international media has come to refer to as, "re-education centres". At these centres the CCP works towards preventing citizens from being influenced by extremist thoughts, and to "nip terrorist activities in the bud."
In the context of Uyghurs, a plethora of allegations have been levelled against China. These range from forced labour, illegal detention, to genocide, and may even extend to crimes against humanity. However, as discussed previously on this forum, even though the corpus of evidence on China's violations of Human Rights against Uyghurs continue to grow, the same must be protected, and finally utilised to prove the role of the State in these human rights violations.
The Convention on the Prevention and Punishment of the Crime of Genocide (Genocide Convention), to which China is a signatory, defines genocide to include, five acts. Evidence suggests, China has violated every single clause of this article. These include, (i) killing members of a group, (ii) causing serious bodily, or mental harm, (iii) deliberately inflicting conditions of life to bring about the physical destruction of the group, (iv) imposing measures intended to prevent births within the group, and (iv) Forcefully transferring children of the group to another group. (For a consolidated list of human rights violations by China in Xinjiang, see this report by the Office of the UN High Commissioner for Human Rights)
It is therefore, shocking to see that although India continues to stand for respecting the human rights of Uyghurs, India chooses to abstain from voting on China's alleged atrocities on Uyghur Muslims in Xinjiang province.
However, a closer study of India's abstention on the Uyghur vote speaks volumes. India itself faces numerous accusations of Human Rights violations in the erstwhile state (and now Union Territory) of Jammu, and Kashmir. These range from civilian killings, to restrictions on freedom of expression, and many other forms of human rights violations. (A consolidated list of human rights violations by India in Indian-administered Kashmir can be found in this report)
Therefore, in light of this, India's abstention can in many ways be seen as a quid pro quo between India, and China. China's absolute silence on Human Rights violations by India in J&K, even in the face of growing evidence for the same, must be seen in tandem with India's abstention at the UNHRC. Alternatively, India's move to abstain from voting could also be a move to mollify, the ever-increasing Chinese aggression, and expansionist policies in the Indo-pacific.