How the Republican Party Has Tightened U.S.-Taiwan Ties
Taiwan, also known as the sovereign Republican of China (ROC), set up in the aftermath of the revolution in 1911 in China. The U.S. government recognized the ROC as the legal government of China till the end of 1978 and has thereafter maintained a non-diplomatic relationship with the island after its official recognition of People's Republic of China (PRC) as the legal government of China in 1979. Even though the U.S.-Taiwan relationship is deemed as "unofficial" by the U.S. Department of State, official contacts between the two governments based on the Taiwan Relations Act have never ceased, the most important of which includes U.S.-Taiwan arms sales. The "strategic ambiguity" embedded in the three U.S.-PRC Joint Communiqués in 1972, 1979 and 1982 allows the U.S. to maintain its involvement in the regional security of Taiwan Strait under a statutory framework despite PRC's countless opposition.
America's long-standing commitment to Taiwan and involvement in the region is not only bound by the jurisdiction of the Taiwan Relation Act, but has created "historical and ideological connections". The support for Taiwan, especially when in the face of an increasingly aggressive China, is usually bipartisan in the U.S., but the Republican party seems to be more provocative when it comes to defending Taiwan from the threat of mainland China. Historically, Republican politicians usually stroke first to take a pro-Taiwan stance when disputes across the Taiwan Strait arose. Meanwhile, the ongoing "asymmetric polarization" in the U.S. – the Republican Party is turning conservative more than the Democratic Party turning liberal – is influencing Washington's policies involving the Taiwan Strait. In 2020, conservative Republican senators Josh Hawley and Ted Cruz introduced the Taiwan Defense Act (TDA) and Taiwan Symbols of Sovereignty (Taiwan SOS) Act respectively, both of which aimed at defending Taiwan from Chinese Communist Party's oppression and even invasion. As Republicans are rapidly turning more conservative, is it likely that the U.S.-Taiwan relations will enter a honeymoon phase? And how that would affect U.S.-Taiwan arms sales?
Historical links between U.S. Republican Party and Taiwan
1949 – 1971: The China Lobby
Throughout the history U.S.-Taiwan relations, there have been multiple times when conservative Republican officials and public figures have worked at the forefront of campaigning for closer U.S.-Taiwan ties, often along with anti-PRC policies.The Republican Party's intimacy with Taiwan dates back to 1949 when the Chinese Civil War ended. The defeat of Chiang Kai-shek split U.S. policymakers on the issue of whether to defend Taiwan if Communists from China initiated an attack. Democratic Secretary of State Dean Acheson was prone to abandon the island while Republican Senators Robert Taft and William Knowland, together with former Republican President Hoover adamantly demanded that America should protect Taiwan.
In the 1950s, the China Lobby, a broad network of people who shared the common goal of support Chiang Kai-shek's recovery of mainland China from Mao Zedong-led communism, represented the apex of Taiwan's success in America. It involved both Nationalist Chinese officials and right-wing American politicians who were mostly Republican politicians, including Senator Barry Goldwater, Jesse Helms, Senator Bob Dole, and Representative Dana Rohrabacher. Although not every supporter of Chiang actually cared about Taiwan issues since many of them simply took advantage of it to advance their own political agendas, the China Lobby, supported by the Republican Party, was capable of arguing for their cause aggressively and intimidating dissidents.
2.2 1971-1991: The Sino-US Normalization – Inner Conflicts among Republicans
Republican President Nixon won bipartisan support for his trip to China in 1972, which marked the end of U.S. efforts to isolate People's Republic of China. Praises for Nixon's China initiative came not only from leading congressional Democrats such as Senator Ted Kennedy and Mike Mansfield, but liberal communist James Reston. However, domestic controversy and criticism also arose and mostly came from conservative Republicans who complained that the preliminary rapprochement undermines America's longtime ally – Taiwan. As the conclusion of Nixon's visit to China, the "U.S.-PRC Joint Communique (1972)" was issued, which incurred opposition and even wrath of Nixon's conservative Republican supporters who were upset by the gradual reduction in U.S. forces in Taiwan as implied by the communique.
A decade later, Republican President Ronald Reagan issued the "U.S.-PRC Joint Communique on Arms Sales" – also known as 1982 Communique – which clarified that the U.S. intended to gradually decrease its arms sales to Taiwan, but Reagan's secret Memorandum on the 1982 Communique specified that the reduction in U.S. sales of arms to Taiwan was "conditioned absolutely upon the continued commitment of China to the peaceful solution of the Taiwan-PRC differences". As a matter of fact, not only did the Reagan administration have Republicans in Congress reassured through his written clarification that the communique would not disadvantage Taiwan, but he continued to work to assuage potential criticism from the pro-Taiwan Republicans by selling twelve C-130H military transport aircraft to Taiwan in 1984.
2.3 1992-2016: The Gradual Revival of Republican-Taiwan Ties
In 1992, an agreement was reached by PRC and ROC governments in the name of "1992 Consensus" in which the commitment of "one China, respective interpretations" was shared and seen as the foundation of the rapprochement between the two sides of Taiwan Strait ever since. Douglas H. Paal, the Director of American Institute in Taiwan (AIT) between 2002 and 2006, buttressed the 1992 Consensus by emphasizing its critical importance to maintaining cross-strait peace in 2012, days before the presidential election of Taiwan. However, the former Republican Senator Frank H. Murkowski supported Tsai Ing-wen's challenge to the 1992 Consensus – "Taiwan consensus", and claimed that Tsai' proposal "represents the will of the Taiwan people".
Two years after the proposal of 1992 Consensus, the Clinton administration sought to upgrade the U.S.-Taiwan relations but still restricted high-level Taiwanese government officials' access to U.S. visas. In the same year, Republicans swept the mid-term elections, which led to a growing movement in the Congress that favored closer relations with Taiwan. In 1995, Newt Gingrich, the Speaker of the House as well as the conservative Republican representative of Georgia stated that president of ROC should not only be able to visit the United States, but ROC itself deserved a seat in the United Nations.
The majority of House Republicans' support for Clinton Administration's efforts into bringing China into WTO was surprising, but harsh criticism against China also came from Republican politicians and public figures such as Representative Chris Smith, Representative Dana Rohrabacher, and 1992 Republican presidential candidate Patrick Buchanan, most of whom were allies of conservative forces that held anti-PRC and pro-sentiment.
2.4 2017 – present: Increasingly Conservative Republicans and Closer U.S.-Taiwan Ties
After winning the 2016 U.S. president election, the Republican president-elect Donald Trump had a 10-minute conversation with the President of Taiwan Tsai Ing-wen, an unprecedented move for a soon-to-be U.S. president and Taiwan's top leader. This led many people to label Trump as a pro-Taiwan president and some even speculate his intention to support the independence of Taiwan.
The conservative Republican president's policies toward Taiwan were as bold and aggressive as his domestic policies. Even though some may claim Trump's attitude was "neither new nor Taiwan-specific", it cannot be denied that his leadership, directly or indirectly, accelerated Republican Party's right-leaning dash and that came with more pro-Taiwan policies that got under Beijing' nerve. In 2018, Trump "gladly signed" the Taiwan Travel Act that encourages all levels of U.S. government officials to travel to Taiwan and high-level Taiwanese officials to enter the U.S.. The bill was introduced by the Republican representative Steven Chabot and won bipartisan support before being signed into law by Trump. In 2020, the Republican Senator Josh Hawley introduced the Taiwan Defense Act (TDA) to ensure America's obligations of defending Taiwan from Chinese Communist Party's invasion. In the same year, the Republican Senator Ted Cruz recognized Taiwan's National Day and introduced Taiwan Symbols of Sovereignty (Taiwan SOS) Act.
The conservative Republican Secretary of State Mike Pompeo is also known for his staunch support for Taiwan. During the final days of Trump's presidency, Pompeo announced that the U.S. was lifting restrictions on U.S.-Taiwan relations by allowing U.S. government contacts with Taiwan despite an increasing risk of invoking Beijing to trigger a new cross-strait crisis. Even in the post-Trump era, Republicans does not seem to put a stop to their pro-Taiwan cause. In April 2021, the Republican Representative John Curtis introduced the "Taiwan International Solidary Act" to condemn China's overreach of the sovereignty of Taiwan – a year after he authored the "Taipei Act" to strengthen Taiwan's international diplomatic recognition and had it passed by bipartisan support. The ongoing partisan divide has yet to show a sign of deceleration after Trump left the office. Based on the redder Republican Party's historical favor toward Taiwan, it is likely that there will be more Republicans initiating anti-PRC and pro-Taiwan policies, including increasing U.S. arms sales to Taiwan.
Asymmetric Polarization in the U.S.
As early as in the 1990s, themes of polarization, division, and fragmentation started to be discussed by media and political commentators of American politics. The editor of the Columbia Journalism Review declared the conservative politician Patrick Buchanan's speech at the Republican convention in 1992 a "culture war" and asserted "There is increasing polarization in American society over race, religion, family life, sex education and other social issues". Similar perceptions include "the sharpening cultural polarization of U.S. society after the mid-1970" and the two dividing values camps in America – the "culturally orthodox" and the "culturally progress". As shown in Figure 1, Republican legislators have been turning more conservative and Democratic legislators more liberal, which makes the Senate and House more divided than ever since the end of the first World War.
Figure 1: Increasing Polarization in Congress 1870-2010 based on DW-NOMINATE Index
Each point represents the discrepancy between two parties' mean DW-NOMINATE scores. Higher values along the y-axis indicate stronger political polarization. (source: Moskowitz & Snyder, 2019)
The Republicans and Democrats in the U.S., with their ongoing conflicts commonly acknowledged, are not simply mirror images of each other. A wealth of studies find that the two parties are not moving away from the center at equal speeds. Scholars such as Jacob Hacker and Paul Pierson point out that the phenomenon "asymmetric polarization" – Republicans have marched much further right than Democrats have moved left – is what has escalated partisan conflicts, which is also demonstrated by Figure 2. Nolan McCarty, the professor of Politics and Publica Affair of Princeton University, asserts that the polarization is "a Republican-led phenomenon where very conservative Republicans have replaced moderate Republicans and Southern Democrat". The disproportionate share of rising polarization is thereby greatly explained by Republican party's march toward the ideological extreme.
Figure 2: Asymmetric Polarization based on DW-NOMINATE Scores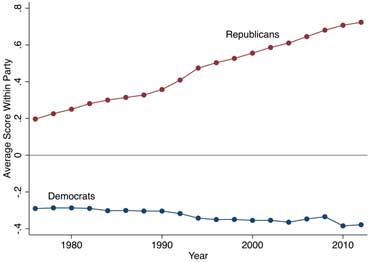 (source: Moskowitz & Snyder, 2019)
Correlations between U.S. Asymmetric Polarization and US-Taiwan Relations and Arms Sales
Compared to 1991 when it had more than 20 countries as suppliers of arms, Taiwan only has the U.S. as its supplier nowadays. America, however, remains Taiwan's sole and largest supplier of arms by taking advantaging of the strategic ambiguity of the U.S.-PRC Joint Communique of 1982 and the Taiwan Relations Act. More importantly, keeping arms sales to Taiwan can be used as political leverage by the U.S. for the U.S.-RPC relations. The U.S. military sales agreements with Taiwan amounted to $9 billion and delivers totaled $12.3 billion between 1991 and 1998. During the Bush and Obama Administration, U.S.-Taiwan arms sales were oftentimes delayed or cancelled due to concerns over relations with the RPC or U.S. domestic political disputes in Taiwan. However, to counter the cross-Strait military imbalance, the arms sales to Taiwan during the Trump Administration exceeded any previous administrations over the last four decades, including seven packages of arms sales in 2017, C-130 and F-16 fighter parts and accessories in 2018 and 2019. As shown by Figure 3, the overall volume of U.S.-Taiwan arms sales experiences an increase between 1981 and 2010 despite some fluctuations.
 Figure 3: U.S. Government Arms Deliveries to Taiwan 1981 – 2010 ($billion, values not adjusted for inflation)
The scatterplot is composed by the author of this article (source: Arms Control Association, n.d.)
For years, Republicans constantly praise the common value shared by the U.S. and Taiwan and never attempt to hide their stance on defending Taiwan under the Taiwan Relations Act should China violate the peaceful status quo across the strait. The U.S. support for Taiwan is oftentimes dominated by Republicans who tend to convert their anti-CCP ideology to pro-Taiwan policies. Those prominent Republican politicians include Senator Marco Rubio, Senator John McCain, and former National Security Advisor John Bolton. Republicans' pro-Taiwan impression culminated when Donald Trump, the Republican then-President-elect, had a phone call from Taiwan's President Tsai Ing-wen, the first official U.S.-Taiwan conversation since 1979. Throughout history, most prominent pro-Taiwan Republican politicians have shown a higher level of conservatism than their colleagues based on DW-NOMINATE ideology scores, including Senator Barry Goldwater, Senator Frank H. Murkowski, and Senator John Curtis, whom of which have made great contributions to tightening the relations between the U.S. and Taiwan. According to those Republicans, Taiwan is a loyal friend of the United States who deserves their strong support which includes the timely sale of defensive arms.
With Republicans' accelerating right-leaning dashing, the anti-China sentiment has been rising and a large portion of it has been translated into pro-Taiwan actions. The Trump Administration's hardline reprimand of CCP has starkly juxtaposed Taipei and Beijing in the current international political environment. This has enhanced the image of Taiwan as "a tiny democratic ally threatened by a totalitarian neighbor", which has given Republicans more legitimacy to take aggressive actions to defend democracy of Taiwan by means of promoting more arms sales to the island.
However, is the asymmetric polarization the only reason behind the increasing U.S.-Taiwan arms sales? Even the polarization of Republicans seems to proceed at a faster pace, Democrats' process of radicalization is tagging along. The boundary between liberal and left had almost vanished by the end of the 1980s, and the self-identifying radicals started to be replaced by leftists relabeled as "progressive". The progressive movement of Democrats has been accelerated by "neoliberal globalism" and the "Cyber Left" – an amalgamation of hundreds of thousands of online organizations, blogs, Twitter and Facebook groups. A study of Brookings finds that the ratio of progressive non-incumbent House winners to total democratic candidates was as high as 41% in 2018, a huge increase compared to 26% in 2016 and 17% in 2014. There is a chance that Democrats could also show stronger support for Taiwan to help the island stand up to the presence of increasingly aggressive China, which is also consistent with their emphasis on a harmonious global community and "social responsibility". It is true that notable Democrats such as Senator Bob Menendez, Senator Ted Kennedy or Speaker Nancy Pelosi do have been open about their appeal for Taiwan's rightful place on the global stage and have never been shy about celebrating Taiwan's democracy. Whereas, it is also progressive Democrats' pro-globalization stance that makes them tend to downplay anti-Communism ideology and thus provide insufficient legislative support for Taiwan. Therefore, military support for Taiwan is still and will be dominated by the conservative Republicans who uphold anti-Communism ideology and value a strong military power to increase security and peace.
Conclusion
The history has proven the Republicans' overall pro-Taiwan stance from the perspective of ideological similarity, strategic purposes and common values. The increasingly right-leaning Republicans' support for Taiwan is not only confined to the legislative branch, but has permeated the executive branch. Being regarded as the most pro-Taiwan president in the US history, Donald Trump lifted U.S.-Taiwan arms sales "to the next level" by not only upgrading the quality of arms, but significantly changing the frequency and procedure of sales.
Biden's ambition to reunite the U.S. is not likely to happen on a short notice given the highly divided American society in terms of income inequality, identity politics, race divergence and so on. The ongoing asymmetric polarization is only going to get worse before it gets better, and that would lead more conservative Republicans, instead of moderate ones, to take power in the foreseeable future. Against the backdrop of deteriorating U.S.-PRC relations, hawkish policies for China will become the mainstream among Republicans. That may not necessarily increase the arms sales to Taiwan under the Biden Administration, but the partisan divide in the current American political environment has made and will make pro-Taiwan policies one of the few agendas that can reach a bipartisan agreement. Therefore, that would neither leave sufficient scope for the Biden administration to adjust its Taiwan policy nor make its China policy too different than his predecessor despites his eager to fix the relations with the second largest economy.
The Indignant Politics of America's Mass Shootings
Why do mass shootings garner the lead stories in the news cycle? Could it be the sudden cluster of deaths alone? Perhaps it is the public fascination over a shooter plotting evil or to illicit political theatre where finger pointing, blaming far-right ideology, chalking it up to mental illness, or creating a stir over the demise of the 2nd Amendment and government taking our guns.
These narratives would seem too simplistic for well-educated lawmakers obfuscating their responsibility by playing into an uncompromising political base rather than demonstrating a bipartisan effort to solving problems. Does the clinging to power in the legislature somehow become more imperative than the pains felt when facing the end of a barrel. In retrospect, lawmakers might ponder one of Mother Teresa's favorite texts in the bible, which she often quoted to support her ministry, is "Truly I tell you, whatever you did for one of the least of these brothers and sisters of mine, you did to me".
To avoid fecal mudslinging over attempts to find common ground with political rivals or facing noisy garden-variety cynicism that it is possible to move the needle, courage will be required to grasp the big picture of gun violence and understand critical facts to create value in building trust across the aisle. According to the data compiled by the Gun Violence Archive (GVA), America is on track this year to be the second highest year for mass shootings with 607 mass shootings through November 22 against a total of 690 in 2021 (GVA defines a mass shooting where at least four people are shot excluding the shooter).
While 637 deaths and 3,179 people shot in mass shootings so far in 2022 is abhorrent, there has been a stark total of 40,373-gun violence deaths in the US this year as of Nov. 29. A total of 21,978 of these deaths were suicides whereas 18,395 comprise of homicides, unintentional, and defensive use.
For those wondering about racism in law enforcement by the likes of Black Lives Matter and the far left defund the police efforts, 62 officers have been killed in the line of duty so far this year with 769 subjects shot dead or injured in police situations.
About 40% of Americans now own firearms where 18% of American households purchased a gun during the COVID-19 pandemic, and 5% of US adults bought a gun for the first time. The question that bares asking is why the increase in purchases. Could it be State AG's allowing criminals to walk or no-bail for violent crimes only to reoffend and commit further harm and death? What about worried citizens who are fearful of the millions of immigrants illegally crossing the southern border, or the Antifa riots that caused mayhem, death, and destruction with little to no police response to protect neighborhoods and businesses. With Americans being killed at the highest rate in 30 years, they are now packing more than ever to protect their families in what may feel like a purge.
Let's dig deeper into the starkest gun violence statistic. Black Americans are disproportionately more likely to be killed by a gun with the most vulnerable ages 25-45. According to the CDC, 6,600 were shot dead in this category or at an astonishing 54.43 per 100,000 people. Blacks aged 10-24 years did not fare well either at 4,347 killed or 48.80 per 100,000. By comparison, white people came in at 1,918 or 3.91 per 100,000 in the older group and 653 or 1.97 per 100,000 in the younger bracket.
Clearly, black on black violence is a huge problem that is not being addressed or focused on by the media or political leaders. On the heels of the media coverage and President Biden's repeated mass shooting comments to ban guns following the terrible mass shootings at the Wal-Mart in Virginia leaving six people dead and five people dead three days earlier in a shooting rampage at a nightclub in Colorado, there were 31 people shot and 6 killed across Chicago the following Thanksgiving weekend. These combined shootings amount to mass shootings taking place every weekend in dystopian-like enclaves in Detroit, St. Louis, Baltimore, and New York to name a few. Where is the media coverage and why are these predominately black neighborhoods allowed to fall into tyranny?
To make the case for Republican bipartisanship support to work towards reducing guns in the wrong hands, the Democrats will need to reciprocate on the most glaring killer facing America. According to the CDC, fentanyl is now the leading cause of death among US adults (ages 18-45); more than Covid-19. Fentanyl, the cheap to produce and easy to transport killer that is 100 times stronger than morphine, has seen deaths nearly double in two years from 32,754 in 2019 to 64,178 in 2021.
The cartels in Mexico producing the candy-colored drug in super labs purchase the ingredients and chemicals from China. The Drug Enforcement Administration (DEA) say they are combating the problem; however, their actions are profoundly incompetent with the substance crossing a porous border with Mexico. It is unconscionable that the Biden Administration does not use every tool to pressure China to stop the exports to the cartels and it is a crime by China who can lock down a population of over a billion people over Covid yet fail to prevent these shipments. China is an accomplice to mass killings in the US.
According to the FAA, there is an average of 64.4 passengers per domestic flights in the US. The number of fentanyl deaths would be equivalent to three passenger aircraft going down with all onboard perishing in the crash. Would American politicians not call for the immediate grounding of all flights until there were assurances that no further loss of life was at peril. Should the human mules coming across the southern border not also be halted with the same sense of urgency to save over 190 lives every day from fentanyl?
No one person has the answers to nation-wide epidemics of gun violence and the fentanyl crisis. First, it begins with leadership to turn off what seems to be an incurable pathology to assign blame. The unfounded white supremacy is divisive rhetoric while claiming the 2nd Amendment to bear arms is at risk. It is simply untrue. Progress will have a greater chance of success if the small but loud voices are sidelined, contributions from influential lobbies are refused, and the media covers the big picture.
Politician can no longer wait to act on the comprehensive measures. Just ask black Americans if they want to defund police and see active enforcement and protection in their neighborhoods. There needs to be a focus on cultural and social factors, guidance counseling and education that focuses on responsibility in the family and community. Gun shops need to uphold current laws when selling firearms, and gun ownership should require at minimum to attend and pass a course on firearm safety that could prevent a deranged shooter from purchasing a gun prior to carrying out a mass shooting. Finally, if the Mexico government is not going to do the job, the DEA needs to forcibly remove fentanyl super labs making the killer poison. Time to get to work.
Joe Vogler and the Alaskan Independence Party: The Last Secession Attempt in the United States
The political system in the U.S is characterized by a bipolar system of division between the Democratic and the Republican Party. As a result, independent parties are hardly noticed and barely manage to scrap votes in the elections. However, independent parties in the U.S have been around since the creation of the nation and some of their leaders have gone as far as pursuing to secede from the federal government of the U.S. Joe Vogler was an Alaskan politician that rallied a major nationalistic movement in Alaska for the state to secede from the U.S. Although his actions did not bear any fruits, his creation of the Alaskan Independence Party opened the door to interesting questions and political theories. Is it possible for an independent party to hold major power in the U.S, and how much influence do the independent parties have in one of the most politically divided countries in the world?
Joe Vogler: An Alaskan nationalist from Kansas
Joe Vogler was born on April 24, 1913, in Kansas, U.S. In 1942, he moved to Alaska where he worked as a civilian employee of the U.S Army Corps of Engineers in Fairbanks. Although he graduated with a law degree from the University of Kansas, his move to Alaska demonstrated his humble beginnings and love for a more traditional lifestyle away from the metropolises of America. Besides working construction in military bases, Vogler was involved in the development of real estate and mining in Alaska.
Described by his admirers as a stand-up, no-nonsense man, Vogler started his early nationalist views of an independent Alaska in the early 1970s, where he frequently wrote letters to editors in newspapers, calling for Alaska to secede from the federal government of the U.S. In 1973, he founded the Alaskans for Independence organization to label his petition drive to secede from America. In 1984, he founded the Alaskan Independence Party (AIP), which he led for almost a decade until his sudden disappearance and death in 1993.
The Alaskan Independence Party: Libertarian conservatism at its finest
The Alaskan Independence Party (AIP) gained momentum in the early 1980s when Joe Vogler founded the party with a clear focus on the independence of Alaska from the United States. The ideology of the party is a mix of Alaskan nationalism and libertarian conservatism. It is easy to see where Alaskan nationalism comes from and why it was advocated. As one of the largest states in the U.S, Alaska has immense mineral and oil wealth, with the oil and gas industries being the largest component in the state. Almost 85% of the state budget is supplied by oil revenues. Not to mention that Alaska has an important geopolitical position, being isolated from the continental U.S and sharing a maritime border with the Russian Federation.
The position of Alaska on the world map is a very strategic one and a major advantage in trading, fishing, and mining. Marie Francis, a writer from Southcentral Alaska and a registered member of AIP shares the same views as many Alaskans who advocate for the independence of their state. In her own words as posted in the Anchorage Daily News she describes how beneficial would be the actual secession of Alaska for the people that live there, who many times feel abandoned by the federal government due to their small population. "As the U.S. engages in trade wars, an independent Alaska would make international trade agreements on our terms. Our geographic position at the top of the Pacific grants us access to Asian and North American markets, and as Arctic shipping lanes open in the decades to come, European markets. Currently, we are relegated to the position of a dejected American outpost, yet almost all air cargo being transported between the United States and Asia flows through Ted Stevens Intl. Airport. Alaska's economic potential is much greater than what the U.S. allows" (Anchorage Daily News, Marie Francis).
The last sentence by Marie Francis reveals the nature of the U.S government taking full advantage of the position and natural resources of Alaska while at the same time disregarding the voices of the Alaskan population simply because of their low population compared to the other 49 states of America. When people of a particular geographical area feel isolated from their government in a metaphorical and literal sense and find unity under the same cause, isn't that a classic recipe for a nationalistic independence movement?
Regarding the philosophical ideology of the party, we can see many similarities with other political parties in the U.S, like the Libertarian Party and the Republican Party. The primary ideology is based on traditional American values such as the right to bear arms, privatization away from the sphere of public sectors, and of course limited government interference. These particular American values are mixed with a libertarian conservatism philosophy that advocates among many things, the maximum economic liberty for the people, combined with the minimum government regulation of economic and social life. Although on many occasions this political and social philosophy is mirroring classical liberalism, what distinguishes it is the focus on American values and a sense of morality and duty toward the idea of free and independent people from any form of government regulations.
Margaret Randall, an American writer and academic describes the notion of libertarian conservatism as an expression of personal freedom and individualism, the same ideology that can be found in the early works of Henry David Thoreau. Thoreau was an American naturalist and philosopher, mostly known for his advocation of individualism and limitation of the power that the American government had at that time. His book Civil Disobedience (1849), argues that any form of progress comes from the ingenuity of the people not from the government, and as a result, the best thing for any government to do is to let the people govern themselves and flourish. He concludes that the best government is one that does not govern at all. It is easy to connect the ideological position of the AIP with the notion of Alaskan nationalism, as both the ideology and the practical implementation of its positions reveal a mix of liberalism, conservatism, libertarianism, naturalism, and a strong apathy for any form of government that wishes to control the individuality of its local population.
Joe Vogler's controversial views and sudden disappearance
Joe Vogler made a couple of unsuccessful bids for public office, with the first one being back in 1974, when he ran for governor of Alaska, only to lose by a large margin to Jay Hammond who represented the Republican Party. After that, in 1978, he tried to run as a lieutenant governor alongside Don Wright, only to lose again to Jay Hammond. He made two last attempts to run as a governor in 1982 and 1986, but his efforts did not result in a positive outcome. Although none of his efforts resulted in a victory, Vogler still had quite a few thousand supporters that rallied behind his nationalistic cause. His libertarian rhetoric appealed to many Alaskans that felt that indeed they are being exploited and overlooked by the U.S government. He was extremely un-American in a political sense and a harsh critic of all the government institutions that he felt had no place in the state that he envisioned.
On May 30, 1993, Joe Vogler suddenly disappeared, just a couple of weeks before he addressed the United Nations on the issue of Alaskan independence. A close friend called the authorities after not hearing from him for a couple of days. An investigation took place to find him. After a couple of months of unsuccessful attempts to find Vogler, a man called the authorities informing them that a suspicious truck with a bullet hole at the back was seen at Fairbanks at the same time that Vogler disappeared. The man driving the truck was identified and was taken into custody. Manfried West immediately confessed to the murder of Joe Vogler. He claimed that Vogler wanted to buy plastic explosives from him, and when the deal went wrong he shot Vogler and buried him. After almost a year, an anonymous tip revealed the location of Vogler's body. He was buried in a shallow grave outside Fairbanks. West was convicted of 80 years of prison time and currently serves his time at the Palmer Correctional Facility in Sutton.
Joe Vogler's sudden disappearance and murder did not sit well with a lot of people affiliated with AIP, who felt that his death was an execution and that Manfried West was hired to do the job. These speculations seem to fit the narrative that Vogler's death was not just a deal that went wrong. It is important to mention that Vogler managed to gain the support of Iran to sponsor his speech at the U.N. At that time, relations between the two states had deteriorated right after the Persian Gulf War when Iran was accused of trying to replace Iraq as the most dominant power in the Gulf. By 1992, under the Bush Administration, Congress had passed the Iran-Iraq Nonproliferation Act, sanctioning specific materials that could be used for the development of advanced weaponry. As a result, Iran's support to Joe Vogler would have been an embarrassment for the U.S if he managed to speak at the podium at the U.N.
In addition, Vogler, throughout his political career had made a lot of enemies and powerful people back in Washington D.C did not see his intentions as just an effort to secede from the U.S. By the time his political career started, the Cold War was still at its peak and the competition with the Soviet Union was the most serious matter that affected the whole globe. Vogler was accused by many, of being a socialist, and people in D.C were worried that his views may find support back in Moscow, who could seek to find an opportunity to have closer relations with an independent Alaska. We might never find the truth about Vogler's death and the people responsible for it, but we can only speculate that powerful people in the political arena of the U.S would not have been happy if Vogler was allowed to speak at the United Nations.
The Alaskan Independence Party today and the future of independent parties in the U.S
Although Joe Vogler himself was unsuccessful in holding a public office in Alaska, that doesn't mean that the AIP was also unsuccessful. In 1990, as Vogler was serving as a chair to the party, he supported Wally Hickel, a businessman and a member of the AIP who managed to get elected as the governor of Alaska on the Independence Party ticket, making the AIP one of the few third parties that had managed to hold public office in the U.S. However, after the death of Vogler, the party lost some of its power and will to continue fighting for an independent Alaska.
Today the Alaskan Independence Party remains the third most powerful party in the state of Alaska. According to its official website, AIP now has almost 19.000 registered members, nearly 25% of the size of the Democratic Party in Alaska. Remaining true to their goals until this day, members of AIP continue to challenge the authorities in D.C and demand that their voices be heard. As Marie Francis mentions in her opinion piece for the Anchorage Daily News: "We are receiving fewer favors from the federal government, and I firmly believe an independent Alaskan government would manage a better budget that would provide for all. As civil welfare programs are cut, the federal defense budget has been fluffed. We are being exploited by a government thousands of miles away for military purposes. The dignity of autonomy is not granted to more than 700,000 people. Secession would grant Alaskans the freedom to determine their destiny without federal oversight. I encourage my fellow Alaskans to discuss the endless possibilities and consider the Alaskan Independence Party".
Independent political parties in the U.S have a long history of engagement in U.S politics. Although they are not always successful their presence is still visible in local and nationwide elections. Apart from the Alaskan Independence Party, other political parties across the U.S have made their presence calling for independence or greater autonomy. For example, there is the Independent Party Of Delaware, the third largest party in the state with almost 10.000 people registered with it. Also, the Aloha ʻĀina Party in Hawaii advocates for the independence of Hawaii from the U.S and a greater focus on traditional Hawaiian cultural values. The list goes on and on with political parties and movements across the U.S, in California, Texas, Florida, Vermont, Montana, Minnesota, etc.
According to the Pew Research Center, nearly four-in-ten U.S. adults (38%) identify as politically independent, but most "lean" toward one of the two major parties. This goes to show that although the presence of third parties is still active, people are not very keen on voting for them. Is it because their stance on certain issues is not appealing, or is it because the media is so focused on dividing the country between red and blue that any chance of reviewing or analyzing any other party's position would be immediately suppressed? Joe Vogler used to say the same phrase whenever asked about his ideological stance: "I'm an Alaskan, not an American. I've got no use for America or her damned institutions". How possible would it be for more politicians to come out and say I am a Californian, not an American, or I am a Texan and I've got no use for America or her damned institutions?
In politics nothing is unlikely and the possibility of these movements gaining more recognition and support may come sooner than we expect. With the incompetence of Joe Biden and the Democratic Party and the controversy around Donald Trump and the Republican Party, people in the U.S may realize that they need to look elsewhere for solutions. Maybe they will realize that the democratic system that they so much praise and demonstrate around the world, is just a fallacy of democracy with two parties representing the same goals with different colors.
Canada's Indo Pacific strategy
Canada's Foreign Minister, Melanie Joly released the North American country's vision for the Indo-Pacific on November 27, 2022. Canada's Indo Pacific strategy is 26 pages in length, and it has earmarked Canadian $ 2.6 billion (US $ 1.9 billion) for funding in the Indo-Pacific region. Through the strategy, Canada seeks to play its role of promoting peace and security in the Indo Pacific region by; investing in security and intelligence networks and cybersecurity infrastructure in the Indo Pacific, strengthening Canada's trade with the region, building natural resource linkages between Canada and Indo-Pacific countries and to strengthen people to people links between Canadian citizens and those of Indo-Pacific countries.
The Canadian Foreign Minister, while unveiling the strategy highlighted the economic importance of the Indo-Pacific region while also stating that:
 "Every issue that matters to Canadians, our national security, our economic prosperity, democratic values, climate change or again human rights will be shaped by the relationship Canada has with Indo-Pacific countries."
The strategy lays immense emphasis on enhancing trade ties with India, East Asia and Association of South-East Asian Nations (ASEAN) countries. To achieve the objective of greater trade with the region, Canada will appoint an Indo-Pacific trade representative (the vision also seeks to set up Canada's first agricultural office in the region with the aim of increasing agricultural exports to the region).  In comparison to the vision of other western countries and Australia, there is a strong thrust in Canada's Indo Pacific strategy on giving a boost to people-to-people linkages with the region. It would be pertinent to point out, that Canada is home to not just a large Indian expat community, but that Indian nationals account for the largest group within the international community (this point has been flagged in Canada's Indo-Pacific strategy as well)
China factor
While Canada's Indo-Pacific strategy cannot be linked to any one factor, but there is no doubt, that one of the key factors for Canada to focus on the Indo-Pacific is to reduce economic dependence upon China, and also find common ground with other countries becoming increasingly vary of Chinese expansionism. The 26page document released by Canada dubbed China a 'disruptive power', while also arguing that China seeks to 'disregard' norms and values by which it has risen. Says the strategy:
"China is looking to shape the international order into a more permissive environment for interests and values that increasingly depart from ours."
In recent years, like many other western countries, Canada's ties with China have gone downhill. Tensions began to emerge after Canadian police detained Meng Wanzhou Chief Financial officer of Huawei in 2018, while China retaliated by arresting two Canadian nationals of spying (all three individuals were released last year). In 2020, Canada had also shelved its trade deal with China. Then Canadian Foreign Minister, Francois-Philippe Champagne while commenting on differences with China had said:
"I do not see the conditions being present now for these discussions to continue at this time. The China of 2020 is not the China of 2016".
Recently, Ottawa has also accused China of interfering in the domestic politics of Canada. Canada accuses China of providing financial support to 11 candidates in the North American nation's federal elections of 2019. Canadian Prime Minister, Justin Trudeau had raised this issue with Xi Jinping during his meeting with the latter on the sidelines of the G20 Summit at Bali last month. Chinese President Xi Jinping had expressed his displeasure with Trudeau of leaking details of the meeting to the media.
Canada's Indo Pacific strategy also seeks to prevent Chinese investments in areas linked to 'national security'. The 26 page document stated that Canada would come up with legislation which would enable it to act:
'decisively when investments from state-owned enterprises and other foreign entities threaten our national security including our critical mineral supply chains'
Canada had recently asked three Chinese companies to divest from the country's mining companies citing security reasons.
The Canadian Foreign Minister, Melanie Joly said that while the strategy sought to safeguard Canada's interest it was pragmatic. The strategy does refer to the need for cooperation with China on issues such as climate change, global health and nuclear proliferation. In conclusion, Canada's Indo Pacific strategy while focusing on economics, has a clear security component. Canada like the US, UK and Australia recognizes the need to reduce economic dependence upon China, and to keep a close watch on Beijing's interference in Canada's domestic affairs. The meeting between US President, Joe Biden and Chinese President Xi Jinping on the side-lines of the G20 Summit as well as Canada's Indo-Pacific strategy do reiterate, that in spite of all the differences with China, western countries will seek to avoid the emergence of a 'new cold war' with China and to engage on issues such as climate change.