A new world: The Middle East tries cooperation alongside competition
Just in case there were any doubts, Turkish Foreign Minister Mevlut Cavusoglu demonstrated with his visit to Lebanon this week that improved relations between Middle Eastern rivals would not bury hatchets.
On the contrary, improved relations shifts the battlefield away from potential armed conflict, allowing rivals to compete while enjoying the benefits of trade and economic cooperation as well as lines of communication that help prevent disputes and conflicts from spinning out of control.
With his visit, Mr. Cavusoglu was stepping into a breach. He sought to fill a vacuum after Turkey's geopolitical and religious soft power rivals, Saudi Arabia and the United Arab Emirates, together with Bahrain and Kuwait, imposed an economic boycott on Lebanon and withdrew their ambassadors from Beirut.
A one-time middle-income country, Lebanon is teetering on the brink of collapse due to endemic corruption and an elite willing to protect its vested interests at whatever cost. As a result, the United Nations estimates that three-quarters of the population have descended into poverty.
Aggravating Lebanon's predicament, the boycott intends to loosen the grip on the country of Hezbollah, the Iranian-backed militia and political party, which has become part of the elite. A Hezbollah protest in October, demanding the replacement of a judge investigating last year's devastating Beirut port explosion that killed more than 200 people, descended into sectarian violence reminiscent of Lebanon's 15-year long civil war in the 1970s and 1980s.
Mr. Cavusoglu travelled to Beirut in advance of a one-day UAE-Turkey business forum in Istanbul and a visit by UAE Crown Prince Mohammed bin Zayed, the first in 12 years. Turkish interior minister Suleyman Soylu met in Rome with his UAE counterpart, Saif bin Zayed Al Nahyan, days after the Beirut visit on the sidelines of the Mediterranean Parliamentary Assembly.
Turkey and the UAE have been at loggerheads because of Turkish allegations that the Emirates had funded a failed 2016 military attempt to topple President Recep Tayyip Erdogan and Emirati objections to Turkish support for political Islam, particularly the Muslim Brotherhood.
Turkey and the UAE have fought military and/or political proxy battles in Libya, Syria, the Eastern Mediterranean, and France, where they were on opposite sides of the divide. Moreover, Turkey supported Qatar and expanded its military presence in the Gulf state during the 3.5 year-long UAE-Saudi-led diplomatic and economic boycott of Qatar that was lifted in January.
Similarly, Egypt and Saudi Arabia have been seeking to tone down their differences with Turkey at a time of uncertainty over the United States' security commitments in the Middle East and the need of all Middle Eastern states to focus on some combination of economic reform, diversification, and expansion as a result of the Covid-19 pandemic and the demands of climate change.
Against that backdrop, Mr. Cavusoglu travelled to Tehran a day before arriving in Beirut. In Tehran, he sought to bolster his position as a potential mediator in Lebanon, manage Turkish-Iranian tensions in the Caucasus along the Azerbaijani-Iranian border, and find some common ground in Syria where the two countries are also at odds.
"If there is anything that can be done for the issue (in Lebanon) to be resolved as soon as possible, we are ready to carry it out, " Mr. Cavusoglu said.
Despite improving relations between Turkey, the UAE, and Saudi Arabia, it was unlikely that the Gulf states would loosen their stranglehold on Lebanon or that they would trust Turkey to be an acceptable and unbiased mediator.
At the same time, Turkey appeared to be further drawing regional battle lines not only with Saudi Arabia and the UAE but also Southeast European states as well as Russia and Iran, with which it simultaneously competes and cooperates.
It did so in a gathering in Istanbul last week of the Cooperation Council of Turkic Speaking States. The council groups Azerbaijan, Uzbekistan, Kyrgyzstan, and Kazakhstan, Turkic-speaking states in Central Asia and the Caucasus. Turkmenistan, the only other Turkic-speaking nation, and Hungary have observer status.
The Istanbul gathering restricted membership and observer status to Turkic-speaking countries. The decision bars not only other Southeast European countries from associating themselves with the council but also Iran, where Azeris, the country's largest ethnic minority, account for 15 per cent of the population, and Russia with its Turkic minorities.
Add to all of this the diplomatic impact of last week's arrest on espionage charges and the subsequent release of an Israeli tourist couple for taking pictures of Istanbul's Dolmabahce Palace, one of the city's major tourism attractions. The palace on the shores of the Bosporus served as the administrative headquarters of Ottoman sultans in the 19th century and the place of death in 1938 of Kemal Mustafa Ataturk, the founder of modern Turkey.
The couple's release prompted the first phone call between Mr. Erdogan and top Israeli leaders in nine years, with President Isaac Herzog and Prime Minister Naftali Bennett phoning the Turkish president separately to thank him. Israel has until now cold-shouldered Turkish efforts to improve long-strained relations between the two countries.
Beyond the fact that Mr. Erdogan does not want the incident to scare off badly needed tourists at a time of severe economic crisis, it also provided an opportunity to break through to Israel and reduce the UAE's geopolitical advantage in maintaining close ties to the Jewish state. Mr. Erdogan expects the Turkish move to be reciprocated. That is precisely what Israeli conservatives fear.
"Ankara's accusations of 'espionage' and apparent threats to raise the price for the detainees show that it was using hostage diplomacy involving innocent tourists. This is how Hamas, which is backed by Ankara's ruling party, has also behaved… Normal regimes don't detain innocent people," thundered Seth J. Frantzman, the right-wing Jerusalem Post's Middle East correspondent.
Israel-Palestine: Risk of 'deadly escalation' in violence, without decisive action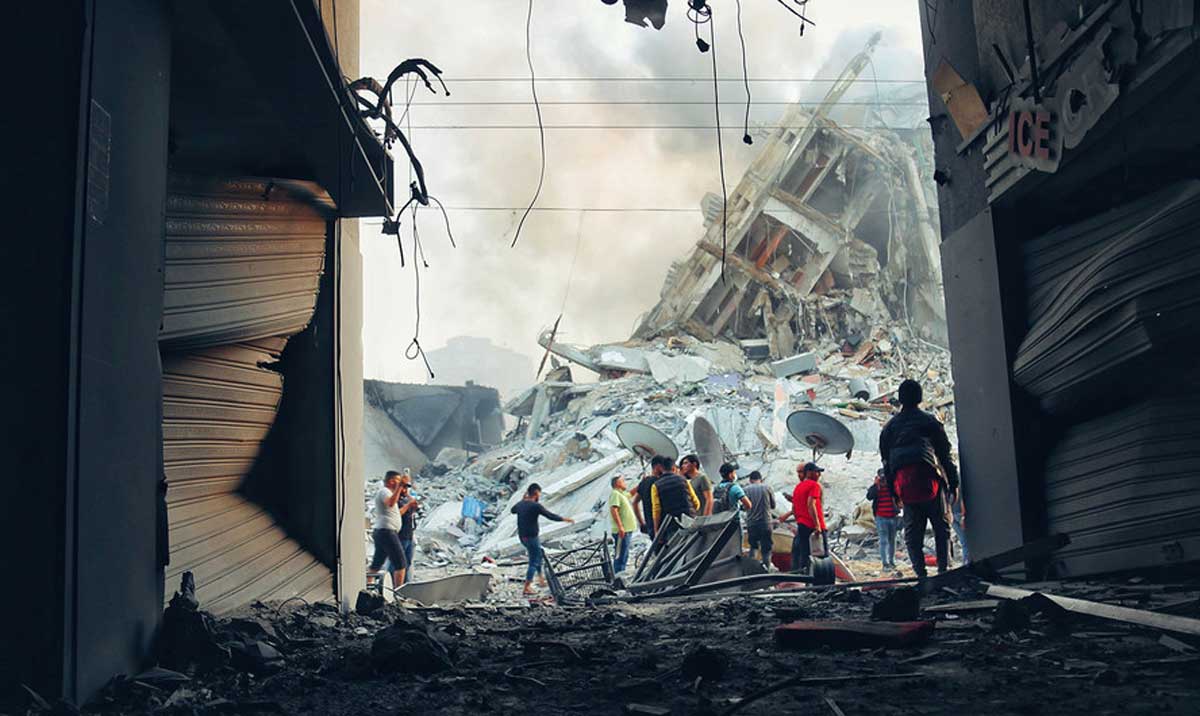 With violence continuing daily throughout the Occupied Palestinian Territory, the Special Coordinator for the Middle East Peace Process urged the Security Council on Tuesday to adopt a more coordinated approach to the region.
Tor Wennesland told Council Members that "recent developments on the ground are worrying", pointing out the situation in the West Bank and Gaza and the challenges faced by the Palestinian Authority.
"I therefore emphasize again the importance of concerted efforts by the parties to calm things on the ground. I am concerned that if we do not act quickly and decisively, we risk plunging into another deadly escalation of violence", he warned. 
He informed that, in the last month, violence resulted in the death of four Palestinians, including two children, and injuries to 90 others – including 12 children – due to action by Israeli Security Forces.
One Israeli civilian was killed in the same period, and nine civilians, including one woman and one child, and six members of ISF were injured.
Challenges
Mr. Wennesland said that a severe fiscal and economic crisis is threatening the stability of Palestinian institutions in the West Bank.
At the same time, he added, "ongoing violence and unilateral steps, including Israeli settlement expansion, and demolitions, continue to raise tensions, feed hopelessness, erode the Palestinian Authority's standing and further diminish the prospect of a return to meaningful negotiations."
In Gaza, the cessation of hostilities continues to hold, but the Special Envoy argued that "further steps are needed by all parties to ensure a sustainable solution that ultimately enables a return of legitimate Palestinian Government institutions to the Strip."
Settlements
The Special Coordinator also said that "settler-related violence remains at alarmingly high levels."
Overall, settlers and other Israeli civilians in the occupied West Bank perpetrated some 54 attacks against Palestinians, resulting in 26 injuries. Palestinians perpetrated 41 attacks against Israeli settlers and other civilians, resulting in one death and nine injuries.
Mr. Wennesland highlighted a few announcements of housing units in settlements, reiterating that "that all settlements are illegal under international law and remain a substantial obstacle to peace."
Meanwhile, Israeli authorities have also advanced plans for some 6,000 housing units for Palestinians in the occupied East Jerusalem neighbourhood of al-Issawiya and some 1,300 housing units for Palestinians living in Area C (one of the administrative areas in the occupied West Bank, agreed under the Oslo Accord).
The Special Envoy welcomed such steps but urged Israel to advance more plans and to issue building permits for all previously approved plans for Palestinians in Area C and East Jerusalem.
Humanitarian aid delivered
Turning to Gaza, the Special Envoy said that humanitarian, recovery and reconstruction efforts continued, along with other steps to stabilize the situation on the ground.
He called the gradual easing of restrictions on the entry of goods and people "encouraging", but said that the economic, security and humanitarian situation "remains of serious concern."
The Special Envoy also mentioned the precarious financial situation of the UN Relief and Works Agency for Palestine Refugees (UNRWA), which still lacks $60 million to sustain essential services this year.
The agency has yet to pay the November salaries of over 28,000 UN personnel, including teachers, doctors, nurses and sanitation workers, many of whom support extended families, particularly in the Gaza Strip, where unemployment is high.
Saudi religious moderation is as much pr as it is theology
Mohammed Ali al-Husseini, one of Saudi Arabia's newest naturalized citizens, ticks all the boxes needed to earn brownie points in the kingdom's quest for religious soft power garnered by positioning itself as the beacon of 'moderate,' albeit autocratic, Islam.
A resident of Saudi Arabia since he had a fallout with Hezbollah, the Iranian-backed Lebanese Shiite militia, Mr. Al-Husseini represents what the kingdom needs to support its claim that its moderate form of Islam is religiously tolerant, inclusive, non-sectarian, pluralistic, and anti-discriminatory.
More than just being a Shiite, Mr. Al-Husseini is the scion of a select number of Lebanese Shiite families believed to be descendants of the Prophet Mohammed.
Put to the test, it is a billing with as many caveats as affirmatives – a problem encountered by other Gulf states that project themselves as beacons of autocratic interpretations of a moderate strand of the faith.
Even so, Saudi Arabia, despite paying lip service to religious tolerance and pluralism, has, unlike its foremost religious soft power competitors – the United Arab Emirates, Qatar, Turkey, Iran, and Indonesia, yet to legalise non-Muslim worship and the building of non-Muslim houses of worship in the kingdom.
Similarly, the first batch of 27 newly naturalized citizens appeared not to include non-Muslims. If it did, they were not identified as such in contrast to Mr. Al-Hussein's whose Shiite faith was clearly stated.
The 27 were naturalized under a recent decree intended to ensure that Saudi Arabia can compete with countries like the United Arab Emirates, Qatar, and Singapore in attracting foreign talent. About a quarter of the new citizens, including Mr. Al-Husseini and Mustafa Ceric, a former Bosnian grand mufti, were religious figures or historians of Saudi Arabia.
In doing so, Saudi Crown Prince Mohammed bin Salman linked his economic and social reforms that enhanced women's rights and catered to youth aspirations to his quest for religious soft power and leadership of the Muslim world. The reforms involved tangible social and economic change. Still, they refrained from adapting the ultra-conservative, supremacist theology that underlined the founding of the kingdom and its existence until the rise of King Salman and his son, the crown prince, in 2015.
Prince Mohammed's notion of 'moderate' Islam is socially liberal but politically autocratic. It calls for absolute obedience to the ruler in a deal that replaces the kingdom's long-standing social contract in which the citizenry exchanged surrender of political rights for a cradle-to-grave welfare state. The new arrangement expands social rights and economic opportunity at the price of a curtailed welfare state as well as the loss of political freedoms, including freedoms of expression, media, and association.
A series of recent op-eds in Saudi media written by pundits rather than clerics seemingly with the endorsement, if not encouragement of the crown prince or his aides, called for top-down Martin Luther-like religious reforms that would introduce rational and scientific thinking, promote tolerance, and eradicate extremism.
Mamdouh Al-Muhaini, general manager of the state-controlled Al-Arabiya and Al-Hadath television networks, spelled out the top-down process of religious reform that would be led by the crown prince even though the writer stopped short of identifying him by name.
"There are dozens, or perhaps thousands, of Luthers of Islam… As such, the question of 'where is the Luther of Islam' is wrong. It should instead be: Where is Islam's Frederick the Great? The King of Prussia, who earned the title of Enlightened Despot, embraced major philosophers in Europe like Kant and Voltaire and gave them the freedom to think and carry out scientific research, which helped their ideas spread and prevail over fundamentalism after bitter clashes. We could also ask where is Islam's Catherine the Great…? Without the support and protection of these leaders, we would have likely never heard of these intellectuals, nor of Luther before them," Mr. Al-Muhaini said.
Messrs. Al-Husseini and Ceric represent what Saudi Arabia would like the Muslim and non-Muslim world to take home from their naturalization.
A religious scholar, Mr. Ceric raised funds in Saudi Arabia, Iran, and Malaysia during the Bosnian war in the 1990s and defended issues close to Saudi Arabia's heart even if his own views are more liberal.
Mr. Ceric argued, for example, that opposition to Wahhabism, the kingdom's austere interpretation of Islam that has been modified since King Salman came to power, amounted to Islamophobia even if the cleric favoured Bosnia's more liberal Islamic tradition. The cleric also opposed stripping foreign fighters, including Saudis, of Bosnian citizenship, granted them for their support during the war.
To Saudi Arabia's advantage, Mr. Ceric continues to be a voice of Muslim moderation as well as proof that Islam is as much part of the West as it is part of the East and the hard to defend suggestion that being a liberal does not by definition entail opposition to ultra-conservatism.
Referring to the fact that he is a Shiite, Mr. Al-Husseini said in response to his naturalisation by a country that was created based on an ultra-conservative strand of Islam that sees Shiites as heretics: "The glowing truth that cannot be contested is that the Kingdom of Saudi Arabia is open to everyone…and does not look at dimensions of…a sectarian type."
Beyond being a Shiite Muslim cleric, Mr. Al-Husseini is to have been a Hezbollah insider. A one-time proponent of resistance against Israel, Mr. Al-Husseini reportedly broke with Hezbollah as a result of differences over finances.
He associated himself on the back of his newly found opposition to Hezbollah with the Saudi-backed March 14 movement headed by Saad Hariri, a prominent Lebanese Sunni Muslim politician.
As head of the relatively obscure Arabic Islamic Council that favoured inter-faith dialogue, particularly with Jews, Mr. Al-Husseini ticked off another box on the Saudi checklist, particularly given the kingdom's refusal to establish diplomatic relations with Israel without a clear and accepted pathway to a resolution of the Israeli-Palestinian conflict.
While Mr. Al-Husseini's history fits the Saudi bill, his impact appears to be limited. He made some incidental headlines in 2015 after he used social media to urge Muslims, Jewish, and Christian clerics to downplay religious traditions that call for violence.
Mr. Al-Husseini spoke as the tension between Israel and Lebanon mounted at the time after Hezbollah killed two Israeli soldiers in a cross-border attack.
Earlier, Mr. Al-Husseini seemingly became the first Arab Shiite religious figure to address Israelis directly and to do so in broken Hebrew.
"We believe that not all Jews are bad [just as] not all Muslims are terrorists. Let us cousins put our conflicts aside and stay away from evil and hatred. Let us unite in peace and love," Mr. Al-Husseini told an unknown number of Israeli listeners.
Mr. Al-Husseini's presence on social media pales compared to that of the Muslim World League and its head, Mohammed Al Issa. The League, the one-time vehicle for Saudi funding of Muslim ultra-conservatism worldwide, and its leader, are today the main propagators of Prince Mohammed 's concept of moderate Islam.
Mr. Al-Husseini's 47,00 followers on Twitter and 10,200 on Facebook pale against his Saudi counterparts who propagate a message similar to his.
The League has 2.8 million Twitter followers in English and 3.4 million in Arabic in addition to 662,000 in French and 310,00 in Urdu. The League boasts similar numbers on Facebook. The League's president, Mr. Al-Issa, has 670,000 followers on Twitter and 272,000 on Facebook.
Vienna Talks: US-Russia-China trilateral and Iran
Talks between Iran and other signatories to the Joint Comprehensive Plan of Action (JCPOA) 2015/Iran Nuclear deal regarding the revival of the deal resumed at Vienna on November 29, 2021 after a hiatus of five months (the talks which began on April 2021 have been stalled since June 2021). The US has not been participating directly in these talks.
Iranian President Ebrahim Raisi who won the June 2021 election has not been opposed to engaging with other signatories to the JCPOA, including the US, but has repeatedly stated, that Iran would only return to full compliance to the 2015 agreement, if its key demands are addressed favorably, and would give precedence to its national interest.
EU political director, Enrique Mora sounded optimistic with regard to the resumption of the talks, and while talking to reporters said:
'I feel positive that we can be doing important things for the next weeks'
Iran's Deputy Foreign Minister, Ali Bagheri Kani, also the country's chief nuclear negotiator, said that the US is adopting a 'maximum pressure' approach (referring to economic sanctions) which would not help in achieving any genuine results.
Ali Bagheri Kani's statement underscores the fact that any significant headway with regard to the Iran nuclear deal is likely to be an uphill task. Iran has increased its uranium enrichment and uranium stockpile, away above the limits agreed upon during the 2015 agreement, and has also restricted access of International Atomic Energy Agency (IAEA) inspectors to it's nuclear program. Tehran has also made it clear, that if the US lifts all economic sanctions, it will get back to full compliance to the agreement of 2015. Tehran is also seeking a guarantee from the US, that in future it would not withdraw from an agreement, as Donald Trump had done.
The Biden Administration too has been adopting a more aggressive stance vis-à-vis Iran in recent months (Iranian officials have gone to the extent of saying that Biden's Iran policy is no different from that of Trump). The US seems to be unwilling to remove all sanctions against Iran. US has also been saying that if diplomacy fails it will need to explore other options against Iran and would not refrain from exerting more pressure . On Monday, a US State Department spokesman categorically stated that 'If Iran demands more or offers less than a mutual return to compliance, these negotiations will not succeed,'.
US-Russia-China trilateral and Iran
In recent weeks, Washington has made efforts to reduce tensions with Beijing and Moscow, sending out a message that it is keen to work with both countries on certain issues – especially Afghanistan, Climate Change and Iran.
Both Moscow and Beijing have adopted a different stance from Washington on the Iran issue. Washington's decision to host a Democracy Summit (December 9-10, 2021) has not gone down to well with either especially Beijing.
During a video conversation on November 24, 2021 with Iranian Foreign Minister, Hossein Amir-Abdollahian, Chinese Foreign Minister Wang Yi not only supported Tehran's demands with regard to the JCPOA, but also criticized the Summit For Democracy saying that it will only create further divisions globally. Russia's Ambassador to Tehran, Levan Dzhagaryan, also supported Tehran's demands saying some of them were pertinent. In a newspaper interview he said:
'For example, they, the Iranian side, want to guarantee, let's say, in future Americans wouldn't repeat the same step as they did before. The Iranian side also needs some guarantees from the European businesses to fulfill and to implement all that contract. It is quite logical'
US President, Joe Biden while seeking to have a working relationship with China and Russia has also been trying to work together with democracies, and also send out a message that democracies can deliver (hours before his conversation with Chinese President Xi Jinping on November 14, 2021, Biden signed into law an ambitious 1.2 trillion USD infrastructure package). The Summit for Democracy was aimed at greater coordination with other democracies, especially US allies, on important global issues, but it remains to be seen if the Summit will raise tensions between Washington and Beijing and Moscow, and thus indirectly act as an impediment to further progress on talks related to the Iran nuclear deal.
While Biden's emphasis on democracies working together, and the need to check China's growing clout is legitimate, it is important that he does not make the same mistakes as Trump and does not compel Iran to become an appendage of China (imposition of further sanctions at a time when Iran's economy is in the doldrums will only increase the Anti-US sentiment in Iran). It is also important that the US works closely with its allies on the Iran issue. France, Germany and UK should be playing a more pro-active role in the revival of JCPOA and should not be quiet bystanders. Iran on its part also needs to demonstrate flexibility and pragmatism.