Pulling back from the brink
The family of nations is balancing on the edge of an abyss as mushrooming religious and ethnic intolerance becomes the norm.
Western as well as non-Western societies have helped paved the road towards the abyss: the West by abandoning the post-World War Two principle of 'Never Again' and the non-Western world by never embracing it and failing to adopt the principle of 'forgive but don't forget.'
Exasperating matters is the fact that the United States and Europe look at individual crises rather than a threatening pattern of developments. In doing so, they fail to recognise the structural problems that challenge Western values of democracy, tolerance, and pluralism.
Citing a litany of crises and tensions in Central and Eastern Europe, Balkan scholar Damir Marusic warns that "the whole edifice feels rickety. It feels like the order we have all taken for granted since the end of the Cold War is badly decaying, and has gotten so fragile that it might well shatter soon… We notice individual problems, but we don't see how it adds up, nor how we got here… We are still, in some strange way, operating as if things are more or less fine—yes, adjustments must be made, but our world is durable and sound."
Mr. Marusic argues that the rot in the system has been exasperated by the troubled US wars in Iraq and Afghanistan in the wake of the 9/11 Al-Qaeda attacks on New York and Washington. "As the final collapse of the Afghanistan project earlier this year proved, the whole optimistic premise of nation- and order-building upon which the EU project is ultimately premised was also undermined by America's failures," Mr. Marusic said.
Geopolitical battles are being fought on the backs of innocent and desperate people. They fuel tensions and threaten stability in Central and Eastern Europe and spark humanitarian catastrophe in Yemen and Afghanistan. An ethnic and religious divide characterises the tens of thousands of Middle Eastern migrants ferried by Belarus with Russian support to the Polish border. Ten British soldiers have been dispatched to the border to help Poland with fencing.
The exploitation of deep-seated religious and ethnic hostility drove Bosnian Serb leader Milorad Dodik to threaten to withdraw Serb troops from the army of Bosnia Herzegovina and create a separate Serb force. Bosnia Herzegovina was created as a federation at the end of the Bosnian war in the 1990s with Muslim, Serb and Croatian entities that enjoyed autonomy. The federation retained control of the military, top echelons of the judiciary, and tax collection. Mr. Dodik has said that the Bosnian Serb parliament would also, in what would amount to de facto secession, establish a separate Serb judiciary, and tax administration.
The writing is on the wall across the globe from the United States and Europe to Afghanistan and China.
Islamophobia and anti-Semitism have become mainstream. Hindu-Muslims tensions spill across South Asian borders. Sunni Muslims persecute their Shiite brethren in Afghanistan, risking clashes between the Taliban and Iran. The Christian minority in the cradle of Abrahamic faiths has been decimated.
Men like former Israeli Prime Minister Binyamin Netanyahu and Republican Jews in the United States have joined thinly veiled anti-Semitic attacks on liberal philanthropist and Holocaust survivor George Soros rather than insulate their political and ideological differences with the billionaire from assaults laced with undertones of religious prejudice and racism.
Similarly, French presidential contender Eric Zemmour questions the innocence of Alfred Dreyfus, the Jewish army officer whose false conviction for treason sparked bitter controversy in the walk-up to World War One. Mr. Zemmour also rejects the notion that French collaborationist wartime leader Philippe Petain assisted in the deportation of Jews to Nazi death camps, asserting instead that Mr. Petain had saved Jews.
Finally, China has launched a frontal assault on Turkic ethnic and religious identity in the north-western province of Xinjiang that has gone largely unchallenged in the Muslim world.
At the core of the problem lie not social media that function as megaphones, aggregators and creators of echo chambers and silos rather than instigators but political, religious, ethnic, and cultural leaders who play on base instincts in pursuit of popularity and power.
Lebanon, Iraq and potentially Afghanistan are fallouts of the institutionalisation and instrumentalisation of religious and ethnic prejudice and intolerance at the expense of notions of mutual respect, adherence to human dignity and coexistence.
Sectarian warlords loot the Lebanese and Iraqi states and weaken their institutions. Recent violence in Beirut suggests that protagonists, including former Christian warlords and Shiite allies of Iran, are willing to risk a second round of civil war to secure their vested interests, sending a middle-income country spiralling into widespread poverty.
Long-term, the solution is education systems that stress the importance of humanitarian and moral values as well as religious and ethnic tolerance as the guardrails of governance and politics and ensure that ethnic and religious prejudice and racism are socially taboo attitudes.
The short-term tackling of the problem will have to involve dialogue and negotiation. A recent study showed that John F. Kennedy's decision to seek an arms control treaty rather than escalate a debilitating and risky arms race after the Soviet Union detonated the world's most powerful nuclear weapon in 1962 succeeded where accelerated conflict may not have.
Applied to religious and ethnic intolerance, lessons learnt from Mr. Kennedy's approach require that governments and religious and ethnic groups that pay lip service to interfaith and other forms of dialogue or assert that they promote democratic and humanitarian values are held to account rather than be allowed to rest on their laurels with hollow promises and declarations.
This year's chairmanship by Indonesia of the Group of 20 (G20) that brings together the world's largest economies has an opportunity to stress humanitarian and democratic values and promote a framework for dialogue. The chairmanship puts Nahdlatul Ulama, the world's largest Muslim civil society organisation that emphasises those values, on global public display given that it is poised to play a role in the G20's inter-faith tack.
Jon Grinspan, a curator of political history at the Smithsonian's National Museum of American History, argued in a New York Times op-ed entitled 'The Last Time America Broke,' that the United States, despite deep-seated polarisation that has brought religious and ethnic intolerance to the forefront, had not passed the point of no return. He noted that civil society had repeatedly brought America back from the brink.
"We're not just helplessly hurtling toward inevitable civil war; we can be actors in this story. The first step is acknowledging the dangers inherent in democracy. To move forward, we should look backwards and see that we're struggling not with a collapse but with a relapse," Mr. Grinspan wrote.
It's a message that is as true for the rest of the world as it is for the United States.
Betting on the wrong horse: The battle to define moderate Islam
Proponents of a moderate Islam that embraces tolerance, diversity, and pluralism may be betting on the wrong horse by supporting Muslim scholars on autocrats' payroll.
Polling in the Middle East seems to confirm that state-sponsored clerics lack credibility.
Recent research suggesting that non-violent protest has increasingly become less effective magnifies problems posed by the clerics' legitimacy deficit.
The combination of lagging credibility and reduced effectiveness enhances the risk of politically inspired violence.
Add to that that young Muslims gravitate towards militancy in a world of perceived persecution of the faithful.
Tam Hussein, an award-winning investigative journalist and novelist, who has spent time with jihadists in various settings, noted in a recent blog and an interview that a segment of Muslim youth, who see Western militaries operating across the Muslim world, often embrace the jihadist argument that Muslims would not be victims if they had a genuinely Muslim state with an armed force and religious laws that would garner God's favour.
Achieving a state, the jihadists say, has to be 'through blood (because) the rose isn't got except by putting one's hand on the thorns.'
Mr. Hussein cautioned that "this sentiment of young Muslims…cannot be combated with platitudes, ill thought out deradicalisation programmes, and naff websites set up to combat social media."
Mr. Hussein's insight goes to the crux of a rivalry for religious soft power in the Muslim world that, at its core, involves a struggle to define concepts of moderate Islam.
In essence, Mr. Hussein argues that a credible response to religiously inspired militancy will have to come from independent Islamic scholars rather than clerics who do Muslim autocrats' bidding.
The journalist's assertion is undergirded by some three-quarters of Arab youth polled annually by Dubai-based public relations firm ASDA'A BCW who have consistently asserted in recent years that religious institutions need to be reformed.
Commenting on the agency's 2020 survey, Gulf scholar Eman Alhussein said that Arab youth had taken note of religious figures endorsing government-introduced reforms they had rejected in the past.
"This not only feeds into Arab youth's scepticism towards religious institutions but also further highlights the inconsistency of the religious discourse and its inability to provide timely explanations or justifications to the changing reality of today," Ms. Alhussein wrote.
Mr. Hussein warned that "what many…well-intentioned leaders and Imams don't realise, and I have seen this with my own eyes, is that radical preachers…have a constituency. They hit a nerve and are watched" as opposed to "those they deem to be 'scholars for dollars'… There is a dissonance between the young and the imams. …
When the no doubt erudite Azhari sheikhs such as Ali Gomaa seemingly support Sisi's killing of innocents followed up by Habib Ali Jifri's support for his teacher, one cannot help but understand their predicament and anger," Mr. Hussein said, referring to scholars of Al Azhar, a citadel of Islamic learning in Cairo.
Mr. Hussein was pointing to Ali Gomaa, who, as the grand mufti of Egypt, defended the killing of some 800 non-violent protesters on a Cairo square in the wake of the 2013 military coup led by general-turned president Abdul Fatah al-Sisi. The coup toppled Mohamed Morsi, a Muslim Brother and Egypt's only democratically elected president.
A Yemeni-born UAE-backed cleric, Mr. Al-Jifri, a disciple of Mr. Goma, is part of a group of Islamic scholars who help project the Emirates as a beacon of an autocratic form of moderate Islam that embraces social reforms and religious diversity, rejects political pluralism, and demands absolute obedience of the ruler.
The group includes the former Egyptian mufti, Abdullah Bin Bayyah, a respected Mauritanian theologian, and his disciple, Hamza Yusuf, one of America's foremost Muslim figures.
Mr. Hussein could have included Mohammed al-Issa, the secretary general of the Muslim World League, the primary vehicle employed by Saudi Crown Prince Mohammed bin Salman to garner religious soft power and propagate his autocratic version of Islam.
Autocratic reformers such as UAE President Mohammed bin Zayed and Mr. Bin Salman offer an upgraded 21st-century version of a social contract that kept undemocratic Arab regimes in office for much of the post-World War Two era.
The contract entailed the population's surrender of political rights in exchange for a cradle-to-grave welfare state in the oil-rich Gulf or adequate delivery of public services and goods in less wealthy Arab states.
That bargain broke down with the 2011 and 2019/2020 popular Arab revolts that did not spare Gulf countries like Bahrain and Oman.
The breakdown was sparked not only by governments' failure to deliver but also by governments, at times, opening political space to Islamists so that they could counter left-wing forces.
Scholar Hesham Allam summarised the policy as "more identity, less class." In effect, Middle Eastern government were hopping onto a bandwagon that globally was empowering religious and nationalist forces.
Using Egypt as a case study in his just publisjed book, Classless Politics: Islamist Movements, the Left, and Authoritarian Legacies in Egypt. Mr. Sallam argued that" in the long run, this policy led to the fragmentation of opponents of economic reform, the increased salience of cultural conflicts within the left, and the restructuring of political life around questions of national and religious identity."
To revive the core of the social contract, Messrs. Bin Zayed and Bin Salman have thrown into the mix degrees of social liberalization and greater women's rights needed to diversify their economies and increase jobs as well as professional, entertainment, and leisure opportunities.
At the same time, they have cracked down on dissent at home and sought to impede, if not at times brutally, reverse political change elsewhere in the region.
Even so, researcher Nora Derbal describes in her recently published book, Charity in Saudi Arabia: Civil Society under Authoritarianism, discrepancies between interpretations of Islamic guidance as provided by government officials and state-sponsored clerics and charity and civil society groups that have their own understanding.
In one instance, Ms. Derbal noted that the government sought to restrict charity recipients to holders of Saudi national id card. She quoted a representative of one group as saying that "Islamically speaking, any person, Muslim or not Muslim, deserves aid if in need."
Nevertheless, the notion of an autocratic moderate Islam appears to work for the UAE and holds out promise for Saudi Arabia but is on shaky ground elsewhere in the Middle East and North Africa.
Recent polling by ASDA'A BCW showed that of the 3,400 young Arabs in 17 Arab countries aged 18 to 24 surveyed, fifty-seven per cent identified the UAE as the country where they would like to live. Thirty-seven per cent wanted their home country to emulate the UAE.
The survey's results starkly contrast Mr. Hussein's perceptions of discontented, radicalized Muslims and jihadists he encountered in Syria and elsewhere.
The diverging pictures may be two sides of the same coin rather than mutually exclusive. The survey and other polls and Mr. Hussein likely tap into different segments of Muslim youth.
Nobel Literature Prize laureate Orhan Pamuk described the men and women that Mr. Hussein discussed as having a "sense of being second or third-class citizens, of feeling invisible, unrepresented, unimportant, like one counts for nothing—which can drive people toward extremism."
Some of those responding to polls may be empathetic but probably wouldn't pull up their stakes because they are at a point where they have too much to lose.
Even so, recent surveys by the Washington Institute for Near East Policy showed that 59 per cent of those polled in the UAE, 58 percent in Saudi Arabia, and 74 per cent in Egypt, disagreed with the notion that "we should listen to those among us who are trying to interpret Islam in a more moderate, tolerant, and modern way."
Given that in the milieu that Mr. Hussein depicts, the UAE is "seen by many as actively subverting the aspirations of millions of Arabs and Muslims for their own political ends, one can see why these (angry) young men will continue to fight," the journalist said.
"When scholars don't act as their flock's lightning rod, or do not convey their sentiments to power, or are not sufficiently independent enough, the matter becomes hopeless and young men being young men, look for other avenues," Mr. Hussein added.
Pakistan is one place where Mr. Hussein's scenario and Mr. Pamuk's analysis play out. In July, a United Nations Security Council report said that Tehreek-e-Taliban Pakistan (TTP), also known as the Pakistani Taliban, boasted the largest number of foreign militants operating from Afghan soil.
The report suggested that many of TTP's 3,000 to 4,000 fighters were freed from Afghan jails shortly after last year's fall of Kabul.
Recent academic research suggesting that non-violent dissent is seeing its lowest success rate in more than a century even though the number of protests has not diminished magnifies the resulting threat of militancy.
One study concluded that the number of protest movements worldwide had tripled between 2006 and 2020, including the dramatic 2011 popular Arab uprisings. Yet, compared to the early 2000s when two out of three protest movements demanding systemic change succeeded, today it is one in six, meaning that protests are more likely to fail than at any time since the 1930s, according to Harvard political scientist Erica Chenoweth. Ms. Chenoweth suggested that the sharp decline was starkest in the past two years.
By comparison, armed rebellion has seen its effectiveness decline more slowly than non-violent protest, making the two strategies nearly tied in their odds of succeeding. "For the first time since the 1940s, a decade dominated by state-backed partisan rebellions against Nazi occupations, non-violent resistance does not have a statistically significant advantage over armed insurrection," Ms. Chenoweth said.
Ms. Chenoweth and others attribute the evening out of success rates of violent and non-violent agitation to deep-seated polarization, militant nationalism, media echo chambers, increased restrictions on freedom of assembly and expression that cut off avenues to release pent-up anger and frustration, and an enhanced authoritarian toolkit. The toolkit includes divide and rule strategies, digital repression, propaganda and misinformation, and the declaration of emergency powers under pretexts such as the recent public health crisis.
Said Ms. Chenoweth: "As authoritarian movements gain ground, democratic movements worldwide are struggling to expand their constituencies among those who have grown frustrated with the systems of inequality and injustice that continue to plague…countries worldwide."
Wither India's secularism?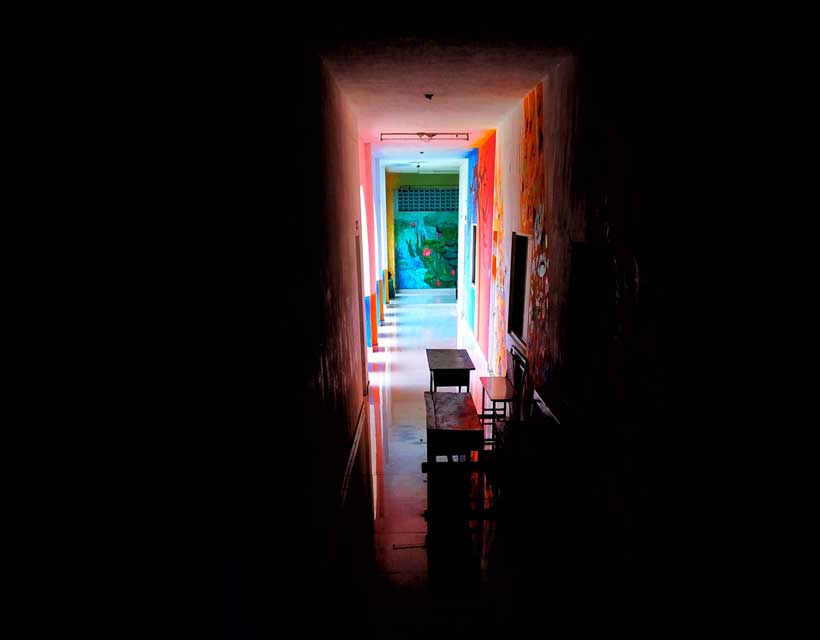 Florets International School in Kanpur's Gandhinagar area is owned by Hindu owners. It is viewed as a paragon of quality education and interfaith harmony. According to the school's principal Ankita Yadav, the school has a long established tradition of beginning its morning session by reciting prayers of four religious faiths (Hindu, Muslim, Sikh and Christian) since the school opened in 2003. After closure due to COVID19, the interfaith prayers were recited to the morning assembly.
No-one ever objected to the practice. But some extremist Hindu outfits (Bajrang Dal and the Vishwa Hindu Parishad) and BJP's leaders got inkling of the practice. On August 2, they forced a few parents to register a First Information Report against the school's administration.
The FIR inter alia accused school's managing director, Sumeet Makhija of 'sowing the seeds of conversion' and indulging in "shiksha jihad" (jihad teaching). He has been booked under Section 295A (outraging religious feelings and infringing Uttar Pradesh Prohibition of Unlawful Conversion of Religion Act, 2021). The police hastily sealed the school. The complainants said that it was never their intention to get the school closed down. They have no intention to move their wards to any other school.
The façade of secularism
The Preamble to the Indian Constitution turned India into a secular state through the Constitution (42nd Amendment) Act, 1976. The underlying objective was to provide for the unity of the people of India, professing numerous faiths. The state was bound to protect all religions equally and did not itself uphold any religion as the state religion. The secular objective of the state was specifically expressed by inserting the word 'secular' in the Preamble .Besides, the liberty of 'belief, faith and worship' promised in the Preamble was censured by incorporating the fundamental rights of all citizens relating to 'freedom of religion' in Articles. 25-29. These articles guarantee to each individual freedom to profess, practice and propagate religion, assure strict impartiality on the part of the state and its institutions towards all religions.
Religious persecution caricatures India's constitution
Not only Muslims but also the other minorities have a miserable plight. Article 25-A of India's Constitution provides for religious freedom. Yet, the US Commission on International Religious Freedom called for putting it on religious freedom blacklist. The report noticed: 'In 2019, religious freedom conditions in India experienced a drastic turn downward, with religious minorities under increasing assault'. Not only Muslims but also Christians, Dalit (downtrodden) and other minorities are persecuted communities.
US Senators' letters to Secretary of State
Fourteen U.S. Senators sent a letter to Secretary of State reminding him of the recommendation by US Commission for International Religious Freedom (USCIRF) to designate India a country of particular concern. The Senators went on to demand that "targeted sanctions" be imposed against Indian agencies and officials responsible for escalating religious intolerance and violence.
According to USCIRF, violations of the religious freedom rights of minorities have reached a point where India should be considered amongst the world's worst violators. The Senators when on to request the Secretary of State to provide Congress with reasoning as to why the USCIRF recommendations are not being followed and why India is not designated "a country of particular concern"
Manifestation of persecution
A Christian preacher was burnt alive right in front of his two minor kids in Orissa by a serial killer Dara Singh. Several Indian states have passed anti-conversion laws. They are aimed at restricting the right to propagate religion, which is guaranteed by Article 25 of the Indian Constitution.
India claims to be a secular country but unfortunately, the country's legislative history, relating to the issue of conversion underscores the reality that the government always harbored a grudge against conversion. Orissa, Madhya Pradesh, Rajasthan, Arunachal Pradesh and Tamil Nadu have passed Freedom of Religion Acts. A common feature of these anti-conversion laws is that they made so-called 'forced conversion' a cognizable offence under sections 295 A and 298 of the Indian Penal Code. Several Indian states have passed anti-conversion laws.
Cognisability of the offence licensed police to harass missionaries and converts under the influence of Hindu fanatics or government functionaries. Some Indian courts intervened to stop the persecution of converts or Christian preachers. For instance, Chief Justice A.N. Ray in Reverend Stanislaus v. State of Madhya Pradesh (AIR 1977 SC 908), and Yulitha v. State of Orissa and others, ruled that propagation is different from conversion. Ray observed adoption of a new religion is freedom of conscience, while conversion would impinge on 'freedom of choice' granted to all citizens alike. But the state governments remained nonchalant to the courts' observations.
To discourage Dalits from converting to Christianity, not only the center but also the Indian states have deprived 'Dalit Christians' of minority-status privileges. The courts' decisions being declaratory (certiorari), not mandatory (mandamus), remained un-implemented. Interestingly, India's Ministry of Home Affairs (February 1981) advised the state government and union territories to enact laws to regulate change of religion on the lines of the existing Acts in Madhya Pradesh, Orissa and Arunachal Pradesh. Such legislations violate the UN Charter of Human Rights which gives a person right to change his or her religion.
Since the Bharatiya Janata Party (BJP) took power in 2014, religious intolerance and anti-Christian violence has surged across India. Six women at Kilipala village in Jagatsinghpur district (Orissa) had their heads tonsured by influential Hindus. Their offence was abandoning Hindu faith at their own free will. Christian missionaries are harassed, deported and even killed. Indian government ordered 'deportation of three American preachers from Church of Christ in North Carolina on the first available flight to the US.' To insult them even further, the preachers were even attacked by Hindu fanatics.
Indian courts often act as kangaroo.
A few years back, Hindus attacked Christians as a response to a book which allegedly insulted Hindu deities. Investigations revealed that the book was not written by any Christian. But it happened to be displayed on one of the Emmanuel Mission's bookshops for sale. The mission is a Christian organization that runs a chain of schools in various Indian states.
Hindus ignore the fact that Christian missionaries started coming to India, particularly the North-East, in the late 19th century. They promoted education and socio-economic developmental work in the region. In Rajasthan, the Emmanuel Mission, alone, runs over 50 schools.
Surge in persecution under BJP
Since the Bharatiya Janata Party (BJP) took power in 2014, religious intolerance and anti-minority violence surged across India. In 2014, the Evangelical Fellowship of India (EFI) documented 144 violent attacks on Indian Christians. In 2019, the latest data available, the number of attacks has more than doubled with EFI documenting 366 violent attacks.
The plight of Muslims is no less miserable. They join Muslim munch, a component f Rashtriya Swayamsevak Sangh to escape persecution. Indian courts ruled that a mosque was not necessary for the Muslim mode of worship. Muslims offering prayers in open space were brutally eaten. Some Muslims, wearing prayer caps, were also beaten. Beef sellers or eaters are lynched. A Goa legislator complained that cow vigilantes (gau rakhshak) intercept beef trucks into Karnataka and put phenyl on it to make it unfit for eating.
Judge Mahesh Chandra Sharma of the Rajasthan High Court, in his 193-page judgment, stunned people by mentioning the mythical benefits of cow milk, urine and dung. His judgment, a mélange of scriptures and law, glistens with claims like 'cow is a surgeon', 'a complete pharmacy', and cow is a 'national animal'.
While lynching the beef eaters, Hindus ignore that, according to the National Sample Survey Office, more than 80 million Indians consume beef, of whom Hindus account for 12.5 million, the rest belonging to various other communities, including Muslims and Christians.
Moreover, according to 2015 figures, India has been the largest exporter of beef since 2014 and has been outpacing Brazil in that realm steadily over the past few years. India's Al-Dua is a leading exporter of halal/kosher meat to Arab nations.
BJP legislator Sangeet Som is a beef exporter. Goa allows beef consumption as does the Northeast. Both, Union Minister of State for Home Affairs Kiren Rijiju and Arunachal Pradesh Chief Minister openly admitted being beef eaters.
Indian authorities linked dozens of cases of COVID-19 to a Muslim missionary group (tableghi, preachers) that held its annual conference in Delhi in early March, and health officials raced to track down anyone who had contact with the participants. Videos falsely claiming to show members of the missionary group spitting on police and others quickly went viral on social media, exacerbating an already dangerous atmosphere for Muslims.
tweets with the hashtag #CoronaJihad appeared over 300,000 times and were potentially seen by 165 million people on Twitter. The social posts were mostly fake. For instance, one post purported to show a person spitting on a Hindu. The graphic post was fabricated in Thailand.
On the heels of the propaganda came religious pogroms conducted by Hindu nationalists leaving 36 Muslims dead, their houses and shops burnt, including some mosques where they took refuge, in Delhi. The pogroms were rooted in anti-Muslim hatred, dating back to pre-partition of the sub-continent. Subconsciously, Hindus believe that Muslims are untouchable. They are treated as a malaise.
The Indian Supreme Court validated the demolition of the Babri masjid. The Supreme Court judge Ranjan Gogoi was inducted, shortly after his retirement as a member of the Rajya Sabha (council of states) as quid pro quo for his pro-government decisions.
He took no action on the abolition of Kashmir's special status. The serving Supreme Court judges rejected a petition for inquiry into Gogoi's in-service conduct. The National Crime Records Bureau withheld collected data on murders; burning Muslims alive, cow-related lynching and offences committed for religious reason.
Hindu-monk chief minister Yogi Adityanath of India's Uttar Pradesh state equated cows with human beings. He directed that cow-related offences be registered under India's national Security Act. He jailed people for social posts `Love jihad' and Pakistan zindabad. He declared that only the pandemic prevented him from allowing the whole India to make pilgrimage (Ram dashing) at the under-construction Ram temple at Babri mosque. Anyone differing with ruling BJP's policies is prosecuted for sedition.
Concluding remarks
Persecution of minorities caricatures India's secular face. The fanatic Hindus view Muslims as "anti-national, terrorists, and enemy of Hindu nation. Love jihad, "ghar wapsi" (reconversion), and cow vigilantism are tools to persecute Muslims. Indian prime minister refused to condemn lynching of the 55-year old Muhammad Akhlaq at Dadri in Uttar Pradesh by a mob about a hundred guards. Muslim are treated as second-class citizens. Sikhs are treated, legally, as Hindus. They have petitioned the British parliament against this juggernaut.
Walk of Truth calls for action after the Conference on Freedom of Religion or Belief
Tasoula Hadjitofi, a refugee from Famagusta, cultural activist and president of Walk of Truth NGO, spoke in front of 800 participants from 100 countries and 60 ministers as an embodiment of agony and disappointment, her own and the Cypriot people's, over the systematic and as yet unpunished violation of their religious freedom's rights by Turkey's occupying forces in Cyprus.
Ms Hadjitofi, one of the keynote speakers at the International Ministerial Conference to promote Freedom of Religion or Belief that took place in London on 5 and 6 July 2022, used her talk to send important messages to foreign representatives. She was also present at the event in her capacity as "The Icon Hunter", the title of her book on Cyprus' cultural treasures, looted by Turkey, and her ongoing struggle to repatriate stolen and illegally sold cultural goods.
The Conference was organized by the British government with the aim to "bring together governments, parliamentarians, faith and belief representatives and civil society in order to urge increased global action on freedom of religion or belief for all".
Addressing Conference participants and thousands of online attendees, Ms Hadjitofi said she felt she spoke on behalf of everyone in the world who had been affected by war, who had suffered discriminations because of their faith or national identity, who has been denied their collective memories and rights of religious freedom. And she asked:
"Can you envisage being a 14-year-old girl in 1974, in the Republic of Cyprus, the Island of love and beauty? Can you imagine going to sleep full of dreams and then waking up after being threatened by the invading forces of Turkey which are using Napalm incendiary bombs and raping women and children around you? Can you begin to understand the impact this experience has on a child that sees as well as smells death, feels alone, abandoned and unprotected? Can you sense why that child felt exposed when nobody came to the rescue as that child was subjected to a forcible population transfer and, thus, ethnic cleansing? Can you understand why this child grew up to be critical of international policy makers and acquired a tendency to walk alone in life?"
"This child", she added, "is me". And she continued: "Due to my war-torn childhood experiences, I lost faith in the strong and powerful to provide justice. Yet, this prompted me to take justice into my own hands and I became an Icon Hunter, also the title of my book. I travelled the world, worked under cover with police forces to expose crooks and antiquities smugglers. My mission was to take away from those crooks and smugglers what they had stolen from me: pieces of my happy youth; the frescoes, mosaics and icons which were looted from the Churches and monasteries where I – and so many others – prayed in what became, in 1974, the Turkish-occupied north of Cyprus".
The President of Walk of Truth spoke in a dramatic tone as she addressed participants with these words: "I have a dream. I want to make one last pilgrimage before I die. I want to be able to go to my home, to pray to the Apostle Barnabas Monastery where I was baptized. I can't because it was pillaged and converted to a museum. I want to go to St Mamas church in the village of Mandres, where my parents had gotten married. I can't because it was looted and converted to a mosque. I want to go to Famagusta, the ghost-city, my city and my church. But I can't go because everywhere I turn there's barbwire and my church has been looted, ruined, robbed of its icons and mosaics that make part of my prayer".
"In July 2021, Turkish President R.T. Erdogan announced he would go to Famagusta, my city, and pray at an illegal mosque. There was nobody there. I went to the site accompanied by two German reporters of Spiegel magazine. Erdogan prayed "from a distance" even as I could not pray in front of my looted church. There was not a single UN soldier there. There was no one to protect me. And I felt the same as I did when I was 14 years old. Today I am 63 and I still feel the same way".
Ms Hadjitofi also referred to the 1974 Turkish invasion of Cyprus, describing with dramatic clarity how she had erased from her memory the horror of the war, keeping only one image that stays with her to this day:
"My mother, a pious Christian Orthodox, is kneeling in front of the icon of Apostle Andreas praying, whilst holding the candle that she saved from our last Easter in Famagusta. So, I have dedicated my life to chasing around the world to track down looted icons and frescoes to bring them back to all Christian Orthodox mothers, fathers, sisters and brothers so they can pray for our freedom, as well as for our resurrection as a free and democratic nation".
In the last part of her address – which caused a stir and stroke an emotional chord among most of the participants, prompting them to ask for more details about Turkey's violations of religious freedoms in Cyprus – Ms Hadjitofi raised three crucial questions:
Firstly, what is the point of having, on paper, that which Foreign Secretary Truss described yesterday as 'the freedom to believe, to pray and commit acts of worship' if that freedom and related human rights are systematically violated by 'authoritarians and oppressors', as she called the perpetrators of such violations?
Secondly, what is the point of having, on paper, international humanitarian law, the law of occupation and international criminal law if these critically important areas of law are effectively rendered useless because of the selective delivery of international criminal justice?
Thirdly, what is the point of having, on paper, the worthy statements published yesterday, including that on 'Freedom of religion or belief in conflict or insecure contexts', if such statements are not accompanied with concrete actions which actively change the situation on the ground? In this context, I must also ask a follow-up question. Why is Turkey not on the list of co-signatories?
"Impunity must end. We need universal respect for the rule of law and a uniform delivery of justice" were Ms Hadjitofi's closing remarks.