The Paris Climate Agreement Is Pure PR, A Fraud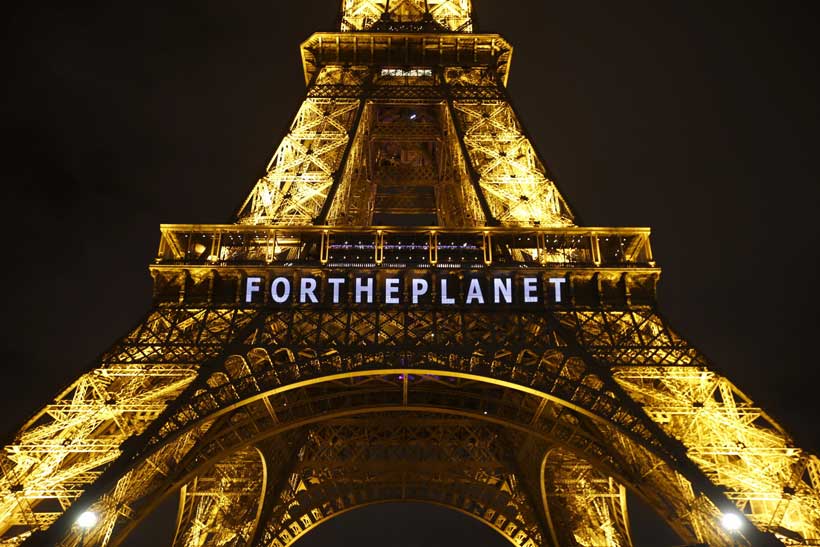 The Wikipedia article on the 2015 "Paris Agreement" says that "Negotiations in Paris took place over a two week span, and continued throughout the three final nights.[10]" and that:
The negotiations almost failed because of a single word when the US legal team realised at the last minute that "shall" had been approved, rather than "should", meaning that developed countries would have been legally obliged to cut emissions: the French solved the problem by changing it as a "typographical error".[13] [That statement — that France instead of America raised the objection to "shall" — is false. Actually, it was the chief American negotiator, Todd Stern, who labelled it that and demanded it to be eliminated from the text.] At the conclusion of COP21 (the 21st meeting of the Conference of the Parties), on 12 December 2015, the final wording of the Paris Agreement was adopted by consensus by the 195 UNFCCC participating member states and the European Union.[14] Nicaragua indicated they had wanted to object to the adoption as they denounced the weakness of the Agreement, but were not given a chance.[15][16] In the Agreement the members promised to reduce their carbon output "as soon as possible" and to do their best to keep global warming "to well below 2 degrees C" (3.6 °F).[17]
U.S President Barack Obama announced on 12 December 2015 that
In my first inaugural address, I committed this country to the tireless task of combating climate change and protecting this planet for future generations.
Two weeks ago, in Paris, I said before the world that we needed a strong global agreement to accomplish this goal — an enduring agreement that reduces global carbon pollution and sets the world on a course to a low-carbon future.
A few hours ago, we succeeded. We came together around the strong agreement the world needed. We met the moment.
I want to commend President Hollande and Secretary General Ban for their leadership and for hosting such a successful summit, and French Foreign Minister Laurent Fabius for presiding with patience and resolve. And I want to give a special thanks to Secretary John Kerry, my Senior Advisor Brian Deese, our chief negotiator Todd Stern, and everyone on their teams for their outstanding work and for making America proud.
It was nothing but theater, to fool the public. It succeeded in doing that.
Here is how Britain's Guardian, under the headline "How a 'typo' nearly derailed the Paris climate deal", phrased the matter: this Agreement was
confirmed by US secretary of state, John Kerry, that the US had objected to Article 4.4 on page 21 of the 31-page final agreement. US government lawyers had found, it was said to their horror, that they had unwittingly approved a vital word which could make the difference between rich countries being legally obliged to cut emissions rather than just having to try to: "shall" rather than "should".
Here is global law firm Norton Rose Fulbright on the significance of the two words:
This article requires developed countries to undertake economy-wide absolute emission reduction targets but developing countries to only "continue to enhance" their mitigation efforts. In the draft that was presented for adoption there were two critical words – "shall" and "should". The expression "shall" applied to the developed countries' obligation and the word "should" applied to the developing countries' obligation.
There was a crisis.
According to some, it had always been intended that both rich and poor countries should have the same obligation, namely "should", not "shall". This was of huge importance to the US especially, which, it said, would have had difficulty signing up to any legally binding obligation to implement its reduction target.
One reporter, at the time, Lisa Friedman, of Climate Wire, said that when "the Americans spotted the 'shall', word began to spread that the United States had a problem." It was the Obama-appointed chief U.S. negotiator, Todd Stern, who noticed the word, called it "a clerical error," and demanded that it be replaced by the legally empty "should." It wasn't the French Government that raised the objection and gutted the text, but, instead, Obama's negotiator, who did this gutting of the text.
In other words: the U.S., which had contributed far more to creating climate-change than had any other single country, and which had reaped the vast economic benefits from all of that fossil-fuels burning, was demanding that the poor countries, which were only beginning to industrialize, must be obligated just as much as the U.S. would be obligated, to reduce fossil-fuels-burning, or else the U.S. wouldn't sign the Agreement — and neither would its allies, such as France.
In order to understand Obama's motive in this, one must understand his motive in a certain key phrase that he used throughout his Presidency but which was downplayed by the press and therefore never attracted the public's attention as it should have done.
Barack Obama repeatedly referred to the United States as being the only indispensable nation — that all others are "dispensable" — such as when President Obama addressed America's future military leaders, at West Point, on 28 May 2014, by telling them:
The United States is and remains the one indispensable nation. That has been true for the century passed and it will be true for the century to come. … Russia's aggression toward former Soviet states unnerves capitals in Europe, while China's economic rise and military reach worries its neighbors. From Brazil to India, rising middle classes compete with us, and governments seek a greater say in global forums. … It will be your generation's task to respond to this new world.
He was telling the military that America's economic competition, against the BRICS nations, is a key matter for America's military, and not only for America's private corporations; that U.S. taxpayers fund America's military at least partially in order to impose the wills and extend the wealth of the stockholders in America's corporations abroad; and that the countries against which America is in economic competition are "dispensable" but America "is and remains the one indispensable nation." This, supposedly, also authorizes America's weapons and troops to fight against countries whose "governments seek a greater say in global forums." In other words: Stop the growing economies from growing faster than America's. There is another name for the American Government's supremacist ideology. This term is "fascism."
It is natural that a person who wants to keep America on top by all means including by keeping down the nations that are rising would be viscerally opposed to the original draft's application of "should" to the poor countries while applying "shall" to the rich ones — especially to the one nation (America) that alone had contributed more than a quarter of all of the greenhouse gases that have been added to the global atmosphere since the year 1850 — the effective start of the industrial revolution.
So, Obama's representatives demanded that the word "should" would apply not only to the poor countries (as in the original draft) but to the rich countries, including the U.S. — and Obama got his way, at the very close of the conference, in order to have the PR benefit of seeming, to the gullible throughout the world, to be in favor of halting global warming. It was pure PR (for Obama, and also for leaders of the other highly-developed countries; and, thus, global warming won't be affected, at all, by the Paris Climate Agreement, nor by the other, similarly insincere, mouthings by billionaire-financed 'environmentalist' 'charities'. It is all theater.
However, this does not mean that there is no possible way that humans might be able to halt and to undo the catastrophic harm and terminal danger that we have perpetrated upon the biosphere. There might be such a way, but it has nothing to do with any international agreements, and it also has nothing directly to do with suppressing the consumption of fossil fuels, but it is instead entirely focused upon outlawing the purchase of investments in fossil-fuels-extraction corporations such as ExxonMobil.
The way to stop global warming (if it still can be stopped) is to ban purchases of stocks and of bonds — i.e., of all forms of investment securities (corporate shares and even loans being made to the corporation) — of enterprises that extract from the ground (land or else underwater) fossil fuels: coal, oil, and/or gas.
For examples: in 2017, the world's largest fossil-fuels extractors were, in order: 1. Saudi Aramco (Saudi Arabia billionaires); 2. Chevron (U.S. billionaires); 3. Gazprom (Russia billionaires); 4. ExxonMobil (U.S. billionaires); 5. National Iranian Oil Co. (Iran billionaires); 6. BP (UK billionaires); 7. Shell (Netherlands billionaires); 8. Coal India (India billionaires); 9. PEMEX (Mexico billionaires); 10. Petroleos de Venezuela (Venezuela billionaires); 11. PetroChina/CNPC (China billionaires); and 12. Peabody Energy (U.S. billionaires). (NOTE: U.S. billionaires, allied with Saudi, UK, Netherlands, and India, billionaires, are trying to absorb, into their team, Russia, Iran, Mexico, Venezuela, and China, each of which latter nations had actually nationalized their fossil fuels, so that those nations' Government, instead of any billionaires, would own those assets, in the name of all of the given nation's residents. Though Russia ended its side of the Cold War in 1991, the U.S.-and-allied side of the Cold War secretly continued, and continues, today. Consequently, the U.S.-led team failed to achieve total conquest of the Russia-led team, and is now increasingly trying to do that: achieve total global hegemony, so that the entire world will be controlled only by U.S.-and-allied billionaires. This explains a lot of today's international relations.) All fossil-fuels extractors compete ferociously, as producers of a basic global commodity, but the proposal that is being made here will affect all of them and all countries, even if it is done by only one country.
It needs to be outlawed (in some major country, perhaps even just one) in order to save our planet. Here's how and why doing that in even just a single country might save the planet (this is a bit long and complicated, but avoiding global catastrophe is worth the trouble, so, you might find it worth your while to read this):
These companies exist in order to discover, extract, refine, and market, fossil fuels, in order for these fuels to be burned — but those activities are killing this planet. Buying stock in, and lending money to, these firms doesn't purchase their products, but it does incentivize all phases of these firms' operations, including the discovery of yet more fields of oil, gas, and coal, to add yet more to their existing fossil-fuel reserves, all of which are discovered in order to be burned. Unless these companies' stock-values are driven down to near zero and also no investor will be lending to them, all such operations will continue, and the Earth will therefore surely die from the resulting over-accumulation of global-warming gases, and increasing build-up of heat (the "greenhouse-effect"), from that burning.
To purchase stock in a fossil-fuel extractor — such as ExxonMobil or BP — or to buy their bonds or otherwise lend to them, is to invest in or fund that corporation's employment of fossil-fuel explorers to discover new sources of oil, gas, or coal, to drill, and ultimately burn. Such newly discovered reserves are excess inventories that must never be burnt if this planet is to avoid becoming uninhabitable. But these firms nonetheless continue to employ people to find additional new places to drill, above and beyond the ones that they already own — which existing inventories are already so enormous as to vastly exceed what can be burnt without destroying the Earth many times over. To buy the stock in such corporations (or else lend to them) is consequently to fund the killing of our planet. It's to fund an enormous crime, and should be treated as such. To invest in these companies should be treated as a massive crime.
The only people who will suffer from outlawing the purchase of stock in, and lending to, fossil-fuel extractors, are individuals who are already invested in those corporations. Since we've already got vastly excessive known reserves of fossil fuels, discovering yet more such reserves is nothing else than the biggest imaginable crime against all future-existing people, who can't defend themselves against these activities that are being done today. Only our government, today, can possibly protect future people, and it will be to blame if it fails to do so. The single most effective way it can do this, its supreme obligation, is to criminalize the purchase of stock in fossil-fuels extractors, and to bar loans to them. Here's why (and please follow this closely now):
The IMF says that "To limit the increase in global temperature to 2 degrees Celsius — the more conservative of the goals agreed to by governments at the 2015 climate change talks in Paris — more than two-thirds of current known reserves, let alone those yet to be discovered (see Table 1), must remain in the ground (IEA 2012)." Obviously, then, what the oil and gas and coal companies are doing by continuing exploration is utterly idiotic from an economic standpoint — it's adding yet more to what already are called "unburnable reserves." Thus, waiting yet longer for a technological breakthrough, such as fossil-fuels corporations have always promised will happen but nobody has ever actually delivered (and such as is exemplified here), is doomed, because if and when such a real breakthrough would occur, we'd already be too late, and the uncontrollably spiraling and accelerating feedback-loops would already be out of control even if they weren't uncontrollable back then. We'd simply be racing, then, to catch up with — and to get ahead of — an even faster rise in global temperatures than existed at that previous time. Things get exponentially worse with each and every year of delay. Consequently, something sudden, sharp, and decisive, must happen immediately, and it can happen only by a fundamental change becoming instituted in our laws, not in our technology. The solution, if it comes, will come from government, and not even possibly come from industry (technological breakthroughs). For governments to instead wait, and to hope for a "technological breakthrough," is simply for our planet to die. It's to doom this planet. It's to abandon the government's obligation to the future (its supreme obligation). The reason why is that what's difficult to achieve now (preventing the murder of our planet), will soon be impossible to achieve.
On 13 November 2019, the International Energy Agency reported that "the momentum behind clean energy is insufficient to offset the effects of an expanding global economy and growing population," and "The world urgently needs to put a laser-like focus on bringing down global emissions. This calls for a grand coalition encompassing governments, investors, companies and everyone else who is committed to tackling climate change." Obviously, we are all heading the world straight to catastrophe. Drastic action is needed, and it must happen now — not in some indefinite future. But the IEA was wrong to endorse "calls for a grand coalition encompassing governments, investors, companies and everyone else," which is the gradual approach, which is doomed to fail. And it also requires agreement, which might not come, and compromises, which might make the result ineffective.
I have reached out to Carbon Tracker, the organization that encourages investors to disinvest from fossil fuels. Their leader, Mark Campanale, declined my request for them to endorse my proposal. He endorses instead "a new fossil fuel non-proliferation treaty supported by movements calling to leave fossil fuels in the ground." When I responded that it's vastly more difficult, for states (individual governments) to mutually pass, into their respective nation's laws, a treaty amongst themselves (since it requires unanimity amongst all of them instituting into each one of their legal systems exactly that same law), than it is for any state ON ITS OWN to institute a law (such as I propose), he still wasn't interested. I asked him why he wasn't. He said "I've chosen a different strategy for my organization." I answered: "All that I am seeking from you is an ENDORSEMENT. I am not asking you to change your 'strategy' (even if you really ought to ADD this new strategy to your existing one)." He replied simply by terminating communication with me and saying, without explanation, "We don't always agree."
Here is that "treaty supported by movements calling to leave fossil fuels in the ground". As you can see there, it was posted in 2012, and as of now (nine years later) it has been signed by 8 individuals, no nations (and not even by any organizations). Mark Campanale isn't among these 8.
Carbon Tracker is secretive of the identities, and size of donations, of its donors, but its website does make clear that it's a UK organization that has designed itself so as to be as beneficial for tax-write-offs to U.S. billionaire donors as possible, and "Our UK organisation has an Equivalency Determination ('ED') which allows it to be recognised by the IRS as a 501(c)3 US Public Charity. We have held the ED since February 2016 and is maintained annually by NGO Source on behalf of our major US donors." In short: it's part of the U.S.-led team of billionaires. Perhaps this organization's actual function is that (since the nations that have nationalized their fossil fuels haven't yet been able to be taken over as outright colonies or vassal-states controlled by the U.S.-led group) the residents inside those outside countries will be paying the price (in reduced Government-services, etc.) from a gradual transition to a 'reduced carbon' world. (Everybody but those billionaires will be paying the price.) This mythical aim, of a 'reduced-carbon' 'transition', would then be a veiled means of gradually impoverishing the residents in those nations, until, ultimately, those people there will support a coup, which will place U.S.-and-allied billionaires in charge of their Government (such as happened in Ukraine in 2014). This appears to be their policy regarding Venezuela, Iran, and several other countries. If it is additionally influencing the 'transition to a low-carbon economy', then it's actually blocking the needed change in this case (which isn't, at all, change that's of the gradual type, but is, instead, necessarily decisive, and sudden, if it is to happen at all). However, Carbon Tracker is hardly unique in being controlled by U.S.-and-allied billionaires, and there are, also, many other ways to employ the gradual approach — an approach which is doomed to fail on this matter. A few other of these delaying-tactics will also be discussed here.
Some environmental organizations recommend instead improving labelling laws and informing consumers on how they can cut their energy-usages (such as here), but even if that works, such changes, in consumers' behaviors, are no more effective against climate-change than would be their using buckets to lower the ocean-level in order to prevent it from overflowing and flooding the land. What's actually needed is a huge jolt to the system itself, immediately. Only systemic thinking can solve such a problem.
Making such a change — outlawing the purchase of stock in, and prohibiting loans to, fossil-fuel extractors — would impact enormously the stock-prices of all fossil fuels corporations throughout the world, even if it's done only in this country. It would quickly force all of the fossil-fuel extractors to eliminate their exploration teams and to increase their dividend payouts, just in order to be able to be "the last man standing" when they do all go out of business — which then would occur fairly soon. Also: it would cause non-fossil-energy stock-prices to soar, and this influx of cash into renewable-energy investing would cause their R&D also to soar, which would increasingly reduce costs of the energy they supply. It would transform the world, fairly quickly, and very systematically. And all of this would happen without taxpayers needing to pay tens or hundreds of trillions of dollars, or for governments to sign onto any new treaties. And if additional nations copy that first one, then the crash in market-values of all fossil-fuels corporations will be even faster, and even steeper.
As regards existing bonds and other debt-obligations from fossil-fuels extractors, each such corporation would need to establish its own policies regarding whether or not, and if so then how, to honor those obligations, since there would no longer be a market for them. Ending the market would not be equivalent to ending the obligations. The law would nullify the obligations, but the corporation's opting to fulfill those obligations wouldn't be illegal — it would merely be optional.
This would be a taking from individuals who have been investing in what the overwhelming majority of experts on global warming say are investments in a massive crime against future generations, and we are now in an emergency situation, which is more than merely a national emergency, a global one, so that such governmental action would not be merely advisable but urgently necessary and 100% in accord with the public welfare and also in accord with improving distributive justice.
The only way possible in order to avoid getting into the uncontrollable feedback-cycles (feedback-loops) that would set this planet racing toward becoming another Mars is to quickly bring a virtual end to the burning of fossil fuels. That can happen only if fossil fuels become uneconomic. But common methods proposed for doing that, such as by imposing carbon taxes, would hit consumers directly (by adding a tax to what they buy), and thereby turn consumers into advocates for the fossil-fuel industries (advocates on the fossil-fuels-companies' side, favoring elimination of that tax upon their products). In this key respect, such proposals are counterproductive, because they dis-incentivize the public to support opposition to fossil-fuel extraction. Such proposals are therefore politically unacceptable, especially in a democracy, where consumers have powerful political voice at the ballot-box. Any carbon tax would also anger the consuming public against environmentalists. Turning consumers into friends of the fossil-fuels extractors would be bad. What I am proposing is not like that, at all. Investors are a much smaller number of voters than are consumers. Everyone is a consumer, but only a relatively tiny number of people are specifically fossil-fuel investors. To terminate the freedom those investors have to sell their stock, by making illegal for anyone to buy that stock, is the most practicable way to prevent global burnout (if it still can be prevented). This needs to be done right now.
How was slavery ended in the United States? It became illegal for anyone to own slaves — and the way that this was done is that it became illegal for anyone to buy a slave. The same needs to be done now in order to (possibly) avoid runaway global heat-up.
Once it's done, those firms will go out of business. (First, these firms will increase their dividend-payouts to their stockholders while they lay off their explorers, but then they'll cut their other costs, and then they'll fold. But the objective isn't that; it's to make their products uneconomic to produce, market, and sell; and this will do that, even before all of those firms have become eliminated.) All of today's existing economies-of-scale in the fossil-fuels-producing-and-marketing industries will then be gone, and will become replaced by new economies-of-scale that will rise sharply in non-carbon energy, as R&D there will be soaring, while the fossil-fuels producers fade out and fade away.
This is the only realistically possible way to avoid global burnout. It must be done. And even some top executives in fossil-fuels extractors harbor personal hopes that it will be done. For example:
Shell CEO Says Governments, Not Firms, Are Failing on Climate Change
On Monday, 14 October 2019, Reuters headlined "Exclusive: No choice but to invest in oil, Shell CEO says" and reported:
Ben van Beurden expressed concern that some investors could ditch Shell, acknowledging that shares in the company were trading at a discount partly due to "societal risk".
"I am afraid of that, to be honest," he said.
"But I don't think they will flee for the justified concern of stranded assets … (It is) the continued pressure on our sector, in some cases to the point of demonisation, that scares asset managers."
"It is not at a scale that the alarm bells are ringing, but it is an unhealthy trend."
Van Beurden put the onus for achieving a transformation to low-carbon economies on governments.
He didn't suggest any specific policies which governments should take, but he did say "that not enough progress had been made to reach the Paris climate goal of limiting global warming to 'well below' 2 degrees Celsius above pre-industrial levels by the end of the century." Furthermore:
Delaying implementation of the right climate policies could result in "knee-jerk" political responses that might be very disruptive to society, he said. "Let the air out of the balloon as soon as you can before the balloon actually bursts," van Beurden said.
He is, in a sense, trapped, as the head of one of the world's largest fossil-fuel extractors. He doesn't want to be "demonised," but he is professionally answering to — and obligated to serve — investors who are still profiting from destroying the world. Though he acknowledges that consumers cannot initiate the necessary policy-change, and that investors aren't yet; and though he doesn't want government to do anything which "might be very disruptive to society," he does want governments to "Let the air out of the balloon as soon as you can before the balloon actually bursts," and he's therefore contemplating — and is even advising — that governments must do the job now, and not wait around any longer to take the necessary decisive action.
Here's what that type of governmental action would be (and unlike the Paris Climate Agreement, it doesn't require an international consensus — which doesn't actually exist among the nations).
Why is this the ONLY way? No other proposals can even possibly work:
The concept of "bridge fuels," such as methane as being a substitute for petroleum, is a propaganda device (another delaying-tactic) by the fossil-fuels industry and its agents, in order to slow the decline of those industries. For example, on 16 November 2019, Oil Price Dot Com headlined "Why Banning Fossil Fuel Investment Is A Huge Mistake", and Cyril Widdershoven, a long-time writer for and consultant to fossil-fuel corporations, argued against an effort by the European Investment Bank to "put more pressure on all parties to phase out gas, oil and coal projects." Widdershoven's argument is that "experts seem to agree that the best way to target lower CO2 emissions in the EU is to substitute oil and coal power generation in Eastern Europe with natural gas." He says, "Even in the most optimistic projections, renewable energy options, such as wind or solar, are not going to be able to counter the need for power generation capacity. If the EIB blocks a soft energy transition via natural gas, the Paris Agreement will almost certainly fail."
The unstated "experts" that Widdershoven cited are, like himself, hirees of the fossil-fuels industries. Furthermore, this go-slow approach is already recognized by the IMF and IEA to be doomed to fail at avoiding global burnout.
Furthermore — and this is perhaps the most important fact of all — government-support has largely been responsible for the success of fossil-fuel corporations (especially now for natural gas), and, if fully replaced by government-support going instead to non-fossil-fuel corporations, there will then be a skyrocketing increase in R&D in those non-fossil-fuel technologies, which skyrocketing R&D, there, is desperately needed, if any realistic hope is to exist, at all, of avoiding global burn-out.
On 17 December 2019, I had sent this argument (emailed, under the "Subject" line of "Here is the way to avoid happening again what just happened in Madrid:") to the:
—
Dear EU Climate Commissioners:
Re:
He [Timmermans] said right wing countries like Canada, the USA and Brazil were preventing the EU from reiterating the Paris Agreement requirements in the COP conclusions.
What is needed is a method which (unlike international agreement on carbon-trading credits) won't require agreement among nations, which are too corrupt to take the necessary collective action to avert catastrophe. Here's the solution which could be implemented by, say, the EU, or even just by Germany, or just by India, or just by China, alone, if not by any of the far-right countries (such as U.S. and Brazil), which action, taken by any one of them, would create the necessary cascading-effect among all nations, that could transform the world and perhaps save the future (and please do follow closely the argument here, and click onto any link here wherever you might have any questions, because this is a truly new idea, and every part of it is fully documented here):
Then came the argument that I've just presented. On 8 April 2020, I received back a reply that was full of the usual platitudes and said "Europe will continue to lead the global low-carbon transition we have agreed. I hope on your continued support for reaching the common climate objectives."
I also emailed the entire argument to all of the lawyers on the staffs of all of the billionaires-funded 'nonprofits' or 'charities' that are active supposedly against global warming, and not a single one of those persons even responded, at all.
I also contacted both of my U.S. Senators and communicated with the Senator's specialist staffer on environmental issues. One of them never replied, but the other said that outlawing purchases of investments in something might be "unconstitutional." I asked how that could even possibly true, because narcotic drugs are illegal to purchase, and many other types of purchases also are illegal in America. The staffer never replied.
In other words: the entire 'movement' against global warming is controlled by the same tiny fraction of the global population who own the stocks and bonds that are invested in and control the fossil-fuels-extraction corporations, the same group of people who donate most of the money to the political campaigns of America's successful politicians.
The entire 'movement' against global warming is fraudulent. It's not ONLY the Paris Climate Agreement that's fraudulent.
COP-26 Results: High Hopes for Low Temperatures

The 26th Conference of the Parties (COP-26) to the United Nations Framework Convention on Climate Change (UNFCCC) was held in Glasgow from October 31 to November 13, 2021 with delegations from almost 200 countries participating. The strategic goal of the Summit was to sum up the results achieved during six years since the adoption of the Paris Agreement in 2015. Combating deforestation, phasing down of coal and increasing financial support for developing countries are among the successes of COP-26 however it revealed certain disagreements.
Conference of strategic importance
At the opening ceremony of COP-26, Chairman Alok Sharma stated that the decisions made in Glasgow should be more vigorous than those of Paris. In Scotland's largest city, the parties to the UNFCCC, after several unsuccessful attempts made in previous years, were again trying to hammer out the rules for implementing the Paris Agreement. In addition, the participants were discussing plans for adaptation to the consequences of climate change that can no longer be prevented. The agenda was really demanding.
Ambitious agenda but unfavorable background
There were four issues on the COP-26 agenda. Countries should: 1) submit programs on carbon emissions reduction to net zero by the middle of this century; 2) propose programs to restore affected ecosystems; 3) mobilize finance to achieve all the climate goals; 4) agree on a procedure for reporting on the implementation of the Paris Agreement.
However, a breakthrough was unlikely even before the Summit began. The G-20 meeting that had taken place the day before cast serious doubt on a multilateral climate agreement between the world 's largest economies. The meeting in Rome resulted in the 20 states failing to reach an agreement on reducing the deadline for achieving zero emissions and abandoning coal-fired power. Although the G-20 states upheld the goal of limiting the temperature rise, some countries avoided making firm commitments on how to keep its growth beyond the threshold of to 1.5°C.
Forest conservation: a step forward
Over 100 world leaders agreed on a declaration on stopping deforestation. The key point of the document was the joint work on stopping and reversing "the loss of forests and land degradation by 2030". The states plan to increase investments in agriculture, in the conservation and restoration of forests, as well as in support of indigenous communities who are struggling due to deforestation.
This is one of the most significant achievements of COP-26 as among the signatories to the agreement was Brazilian President Jair Bolsonaro, whom environmentalists recently accused in the International Court of Justice for crimes against humanity over the deforestation of the Amazon region.
Meanwhile, Russian President Vladimir Putin in a video address to the forum on the protection of forests expressed confidence that the Glasgow Declaration "will undoubtedly serve the goals of the Paris Agreement on reducing carbon dioxide emissions". He added that Russia, in an effort to achieve carbon neutrality by 2060, relies, among other tools, on the unique resource of its trees, since about 20% of all forests of the world are located in Russia.
Abandoning coal: modest progress
Another meaningful issue on the COP-26 agenda was the abandonment of coal, and certain results were achieved as well. Firstly, major international banks pledged to stop financing coal-fired power plants by the end of 2021. Secondly, 40 countries made a commitment to gradually abandon coal-fired energy – developed countries by 2030, developing by 2040.
At the same time, the Financial Times characterizes the wording of the declaration as vague as it does not set the exact deadline. The document states that the countries should abandon coal by a certain date or as soon as possible after its expiration. In addition, the main users of coal energy – China, India, the US, Australia, Russia have not signed the declaration.
Alexey Kokorin, head of the WWF Russia Climate and Energy Program called the declaration a "conditional agreement". The countries-signatories allocate certain financial resources to developing states so that they can abandon coal. If Russia had signed the agreement, it would have become a voluntary donor, not a recipient of climate finance.
At the same time, Jamie Peters from the environmental organization Friends of the Earth maintained that the key meaning of this "unimpressive agreement" was that everyone was allowed to continue using coal for many years to come.
Reducing emissions: methane on the agenda for the first time
Back in April 2021 during the virtual Climate Summit Russian President Vladimir Putin designated the reduction of methane as one of the main directions in combating global warming. During COP-26 the leaders held an event dedicated to the methane emissions reductions for the first time in many years. The US and the EU put forward a joint initiative on reducing methane emissions by 30% by 2030 which was supported by 105 countries.
China, Russia and India, three out of top five states in methane emissions, did not join the agreement. However, the initiative was supported by Brazil, the country which Climate Watch Data includes in the list of leading methane emitters.
The rationale for Russia not to join the initiative of the Western powers may be economy. In the countries that willingly sign up to the agreement, the share of the oil-and-gas sector is significantly lower than in Russia. According to Igor Makarov, head of the HSE Climate Change Economics Research and Training Laboratory, in Russia methane emissions are linked to both natural gas production and transportation. So, it is challenging for the country to take on such commitments right now.
According to Alexey Kokorin, there is no point in joining this initiative either ideologically (there is no China and India in it) or technically (it is necessary to deal with mine methane, leaks in gas and oil fields, which is more expensive than energy efficiency, energy conservation and forest fire control).
Russia's position was also shared by some countries from the Anglo-Saxon world. For instance, Australian Prime Minister Scott Morrison spoke out against a concrete deadline for phasing out coal and pointed out that accelerating the reduction of methane emissions by 2030 will result in high costs for farmers engaged in dairy farming and animal husbandry.
Carbon neutrality: commitments without breakthroughs
Among the main topics at COP-26 was carbon neutrality. Even though many leaders spoke of it the goals set vary both in deadlines and in feasibility. Chinese leader Xi Jinping announced that the PRC would strive to achieve carbon neutrality by 2060. The Prime Minister of India promised to reduce emissions to zero by 2070, setting a zero target for the country for the first time. Environmentalists called the Indian president's goals "ambitious", but the Nature magazine noted that it was probably only about CO2, with other greenhouse gases being out of the plan.
Russian President Vladimir Putin, addressing the summit virtually, maintained that carbon neutrality in Russia should be achieved by 2060. The international representative of Greenpeace characterized the goal as not ambitious enough.
Meaning of the final Glasgow Agreement
The stumbling block during the negotiations on the COP-26 final statement was Article 6 of the Paris Agreement. It envisages specific mechanisms for international the regulation of greenhouse gas emissions. This is why the states had to prolong the summit till November 13. Additionally, this very article prevented consensus on the text of COP-25 held in December 2019 in Madrid, which resulted in a failure. COPs are far from punctuality. Out of 26 summits, only seven ended on time (on Friday) 14 ended on Saturday and five were held till Sunday.
The final agreement, published late in the evening on November 13, disappointed many parties. The wording of certain points was softened. For instance, instead of "phasing out" coal and other fossil fuels, the participants made an eleventh-hour decision to use "phasing down". India, the third largest emitter, insisted on this change. Meanwhile, Special Representative of the President of Russia on climate Ruslan Edelgeriev stated that Russia welcomed the result. Nevertheless, the COP-26 final document has certain breakthroughs:
It calls on the countries to strengthen national commitments and by 2022 renew Nationally Determined Contributions (NDCs) to achieve zero emissions and curb global warming within 1,5°C.
The first measure will be combined with an annual political roundtable to consider global progress report and a top-level summit in 2023.
The document contains a pledge to increase financial assistance to poor and developing countries to combat climate change.
The participants of COP-26 touched upon the issue of the global green transition based on four principles: energy efficiency, decarbonization, decentralization and digitalization. Many important statements have been made during COP-26. The countries have promised to achieve carbon neutrality by the middle of the century, significantly reduce the extraction and use of fossil fuels, completely stop the processes of deforestation, allocate considerable funds for the green transition. However, COP-26 also has its disappointments: ambitions of many countries remained weak, mistrust between developed and developing countries increased, and the real reduction of emissions was partially replaced by compensations.
Although the declaration was signed by almost 200 delegations, every point of it sparks disagreement. The Glasgow Agreement will not replace the Paris Agreement. It acts as a rulebook on the implementation of the 2015 Paris commitments. It defines more concrete actions in financing measures to combat climate change, mitigating its consequences and adapting to the ongoing climate changes.
What awaits us in the future?
Climate Action Tracker has published a report that shows that the risks of rising temperatures in the world are even higher. Even with the current goals of emissions reduction, by 2100 the temperature in the world could rise by 2.4 degrees. It means that the strategies announced at COP-26 would not meet the goals of the Paris Agreement.
Today, the world can only effect the green transition by a gradual replacement of technologies. It is obvious that electricity has been and will remain the main energy source for humanity. But the question is: how to accumulate it more efficiently and more environmentally friendly in the new realities? Hydrogen is recognized as a viable option. At the same time, the issues of green transition and carbon emissions reduction are over politicized and often do not take into account regional peculiarities of the countries. For now, the easiest step to make is to continue focusing on energy conservation and energy efficiency.
Afterwards, it is necessary to reconsider the attitude to the types of energy generation and modernize them according to the environmental agenda. It is important to use technologies that meet economic needs and cause minimal harm to the environment. It means that Russia should rely on three main areas during the energy transition: nuclear power, hydrogen, and natural gas generation.
From our partner RIAC
Just How Bad Are Airplanes?
With the COP26 concluded a little over a week ago (November 13), here is something to ponder. Must we travel as much as we do on airplanes?
A flight from London to San Francisco releases approximately 5.5 tonnes of CO2 per person. By contrast, an entire year of driving a typical passenger car emits 4.6 metric tonnes. More than a whole year's car emissions released in one 11-hour flight.
Aviation is estimated to account for approximately 2.5% of global CO2 emissions. While this number may not sound significant, if aviation were a country, it would be sixth in the world. Forecasts estimate that by 2050, approximately 43 metric gigatons of carbon dioxide will be generated by aviation worldwide. And when the damage from aircraft includes the discharge of other gases and vapor trails in addition to the CO2, the total jumps to 5% of global emissions.
Contrails, the white streaks we see in the sky, are produced when hot exhaust gases come into contact with low-pressure, cold air. They contain black carbon particles. Moisture condenses on these to form ice. Though some contrails only last a few minutes, some join with cirrus clouds and other contrails, and this larger mixture can remain for up to eighteen hours. This contrail cloud mixture causes an effect known as 'radiative forcing'. The balance between heat emitted from the earth and that coming from the sun is altered. And this causes a change in climate. Thus, there is a double negative to aircraft – the CO2 emissions, and the radiative forcing effect from the contrails.
It turns out the damage from contrails can be mitigated by changing flight paths. Researchers at Imperial College London have found that flight altitude changes of just 2,000 feet could curb the effect. A study of Japan's airspace found that changing just 1.7 percent of flights could cut contrail climate forcing by 59%.
Small changes in flight paths can significantly curb the impact of each flight, and at low cost. If these changes are implemented throughout the world, the effects could be significant.
Some airlines are leading the way towards environmental sustainability. Last winter, Air France KLM Martinair launched the world's first sustainable aviation fuels (SAF) program to reduce CO2 emissions.
Then there are innovators devising environmentally friendly small aircraft to one day meet some passengers' needs. As a start, the company Pipistrel received EU certification for its electric two-seater plane a little over a year ago. And Swiss flying school AlpinAirPlanes installed solar panels to recharge them (Engineering and Technology Magazine, Volume 16, Issue 7, August 2021).
For larger aircraft Rolls-Royce is in the process of developing hydrogen-fuelled engines that are likely to be available by 2035. They have three concept designs: a turboprop for 100 passengers, a turbofan for 200 passengers, and a futuristic blended-wing body design. Unfortunately there are many obstacles with hydrogen that lead some experts to believe that hydrogen aircraft are unlikely to be available until 2050 (Engineering and Technology Magazine, Volume 16, Issue 7, August 2021). Still, they do give us some hope for the future.
In the short term, Sustainable Aviation Fuel (SAF), has been introduced by Air France. It is a kerosene-like fuel but not derived from fossil sources. Such biofuels have difficulties of their own. It takes an enormous amount of crops to produce enough energy for aircraft, and the decision of the best use for those crops – food versus airlines — is certainly not a clear cut one. SAF is a very good idea but will be slow in transition, and during the next four decades when mitigating emissions is crucial, we must find alternatives.
Hydrogen or biofuels are the two likely choices for the future, and hydrogen as we know is a long process in development. In the meantime, while scientists work on improving flying options, what is the best way for us to reduce our carbon footprint, and still travel when we need to?
For domestic travel, high-speed rail proves a good alternative. The Brussels-London Eurostar launch caused aviation along that route to decrease by 55%. In other instances high-speed rail has been shown to reduce air transport by as much as 80%. The International Energy Agency has summarized the direct impact of launching high-speed lines on the corresponding flight paths in a telling chart. It notes that the Paris-Strasbourg train decreased air travel by over 80%. The Paris-London and the Seville-Madrid train routes decreased corresponding aviation travel by over 50%, and in China the Taipei-Kaohsiung train decreased flights by 80%.
Domestic flight travel emissions have increased 17% since 1990 and they continue to grow. But where high speed rail is present, this is being mitigated. Building more high-speed trains between common flight destinations could be part of the solution.
Thus connecting major cities like New York, San Francisco and Chicago through high-speed rail could significantly reduce carbon emissions. That, and allowing online meetings to be the modus operandi for the corporate world could together have a real impact. The pandemic has given us a window of opportunity – a chance to try virtual meetings and to see how they perform. And they work well.
There is no simple answer to the problem of carbon emissions; there are many changes that can have a cumulative positive effect. Here are a few ways to help reduce the climate impact of aircraft — this is by no means an exhaustive list, only a beginning:
1. Use the Cloud, Not the Conference Room
Simply reducing flights when meetings can be conducted online has a huge impact. The International Civil Aviation Organization has verified that global passenger traffic decreased a huge 60 percent over 2020. While the pandemic mindset exists, let's keep the conference room online and make it a permanent fixture. The cloud is better for the planet, better for families to spend more time together, and better for our pets — no need to be left alone or boarded for that business trip.
2. Slightly Alter Flight Altitudes
Imperial College London has shown that at a low cost and with only minor flight altitude adjustments, we can reduce damaging radiative forcing that contributes to global warming.
3. Fund Environmentally Friendly SAF Programs
With airlines struggling as they are today, government funding for SAF research and airplane innovation could help, especially in the long-term.
4. High-Speed Rail
Our government should build high-speed trains, particularly between commonly used flight paths. And when we have the option of a high-speed train instead of a jet, we should use it. Fortunately, the research shows we do. So it is just a matter of putting some tracks down, starting to build, and fighting the airline lobby.
All of it will take time; some we can do now.
Results of the COP-26 conference – An analysis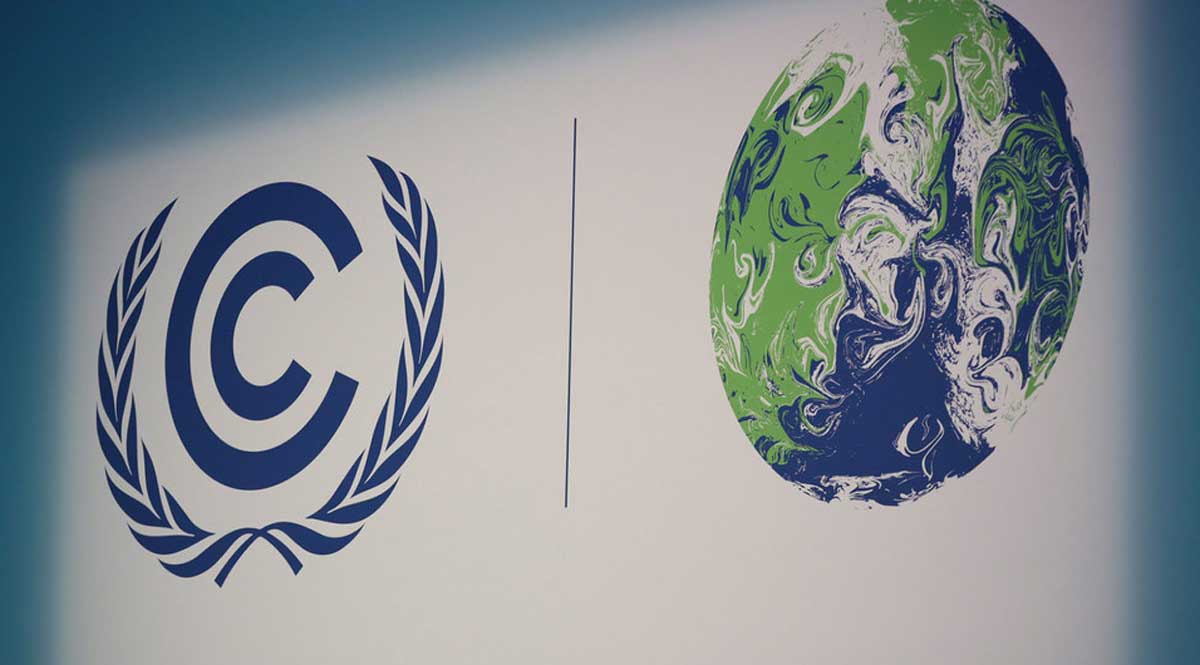 The much-discussed COP-26 conference is over. The conference was scheduled to take place in Glasgow, Scotland from October 31 to November 12, but the time was extended by one day as there was no consensus within the stipulated time. In addition, the next 2022 and 2023 COP conferences will be held in Egypt and the United Arab Emirates respectively. The main goal of the UN at the COP-26 conference was to halve carbon emissions by 2030, which would require a 45% reduction in carbon emissions. Moreover, by 2050 emissions will have to be brought to zero percent. The UN's second goal at the conference was to increase assistance to the poorest countries in the climate crisis, so that they can adapt and spend money to address the damage caused by climate change.
Climate experts say global temperatures have risen by 0.5 degrees Celsius in recent decades to 1.1 degrees Celsius. Due to this, various natural disasters including floods, tidal surges, cyclones and fires have increased abnormally. The United Nations has said that if the current rate of carbon emissions continues, temperatures will rise to 2.7 degrees Celsius. The increase in the use of fossil fuels is 100% responsible for this, said Associate Director of Oxford University.
Climate change was pledged 100 billion a year in 2009. It was said that this assistance will be effective by 2020. However, it has been postponed again till 2023, but this promise is not being fully fulfilled. As a result, the poorest countries affected by climate change are being hit hardest. The UN's IPCC says 100 billion a year in compensation will not benefit poor countries affected by climate change. Now it will take a trillion dollars a year to deal with their losses.
If the temperature rises by two degrees Celsius, it will cost billions of dollars every year in Africa alone. The IPCC also claims that spending 1.8 trillion over the next decade on sectors such as infrastructure, agriculture and mangrove forest conservation to tackle the climate crisis would avoid 7.2 trillion in losses. On the other hand, scientists say that if tough climate policies are not implemented now, 200 million people a year will need new humanitarian aid by 2050. Which is twice as much as it is now.
However, three consecutive agreements were drafted at the COP-26, because of disagreements over how to reduce atmospheric altitude. Finally, under the pressure of China and India, the word 'phase down' was added instead of 'phase out' in the agreement on coal use. More than 200 countries have agreed to an agreement called the Glasgow Climate Pact, which aims to increase climate crisis compensation by 2025 and update each country's NDCs each year. Now it will take a long time for the UN member states to sign. It is difficult to say now how many countries will sign in the end.
Meanwhile, the pros and cons of the deal are being discussed around the world. In it, most of the negotiators have expressed a negative attitude, especially people and environmentalists from least developed and developing countries. Young people have called the conference a 'greenwash'. The chairman of the conference, British Minister Alok Sharma, said, "Fragile victory." According to the UN president, the agreement only aims at a temperature of 1.5 degrees Celsius. "This is an important step, but not enough," he said. "It's a big step," said Boris Johnson, the prime minister of the United Kingdom. US Climate Ambassador John Kerry said Paris had created the field and the Glasgow race had started from there.
According to experts, the decision taken at the Glasgow Conference, if implemented properly, will prevent the rise in atmospheric altitude even if it does not decrease to the desired level, which is beneficial for the world. But there is no guarantee that the agreement will be fully implemented, as evidenced by the Paris Agreement. The agreement was not fully implemented. As a result, the world has to pay its ultimate compensation. The same could be said of the Glasgow Agreement. Needless to say, the agreement is a beacon of hope, on the basis of which we can move forward.
Apart from the COP-26 agreement, there are a number of commitments to reduce carbon emissions by 2030. Such as: stop using coal, protect forests, reduce methane gas, build climate tolerant and low carbon emissions healthcare systems, stop building fossil fuel based vehicles, net zero etc. In addition, Scotland has initiated funding (1.4 million) to fund climate change issues. The biggest surprise of the COP-26 conference is the announcement by the US and China to work together to tackle the climate crisis.
The unexpected announcement said the two countries would work together to keep atmospheric temperature rise within 1.5 degrees Celsius within this decade. The United Nations and the European Union have called the announcement a "very urgent and encouraging step." Then there are India, Russia and the EU. Now, if they join the Sino-US initiative, carbon emissions will be much lower.
Furthermore, 190 countries and organizations have pledged to stop using coal. Many countries and organizations have announced to stop financing the coal sector. If this promise is implemented, the amount of carbon emissions will be greatly reduced. So it is conceivable that the rest of the world will follow suit. And if that is the case then the great sacrifice of renewable energy will start worldwide. The use of nuclear power to meet the demand for electricity will also increase a lot. 124 countries have pledged to stop deforestation.
One of the ways to save the planet is to get the necessary forest cover and 25% forest cover, which all countries have to create, and it has to be fruit, herbal and forest based. Planting fruit trees will meet the nutritional needs. Besides, the demand for wood for furniture will also be met. Also, if medicinal plants are planted, the demand for medicine will be met. Therefore, in the case of tree planting, all these must be given importance. Tall and strong trees to deal with storms, floods, tidal surges and salinity should be planted in coastal areas and drought tolerant trees should be planted in desert areas. With this, all-round measures have to be taken to protect the forest. Otherwise, the forest hunters will destroy the forest as it is now if they get a chance.
There will be huge employment in the creation of forests. Social forests are very helpful in alleviating poverty. Therefore, it is the responsibility of the government and the society as well as the individual to create and protect the necessary forests in a planned manner. In collaboration with the World Health Organization, 50 countries have pledged to build climate-tolerant and low-carbon health care systems. If it is implemented, people will benefit a lot. 90 countries have pledged to provide private funding to achieve net zero. If it is implemented, the environment will improve a lot.
At the COP-26 conference, hundreds of countries pledged to reduce greenhouse gas emissions by 30% by 2030. It did not say how it would be done. According to a recent research report, agriculture is responsible for 12% of the world's greenhouse gas emissions, mostly due to methane gas. Agriculture and livestock together produce about 40% methane. Cows emit the most methane among cattle. A cow releases about 220 pounds of methane a year. According to the United Nations, the tendency to consume beef and milk will increase by 70% in the next few years. The number of cows will also increase.
As a result, methane will be emitted at a proportional rate. So global warming will increase further, but there is no reason to worry. This is because Jelp in the UK and Cargill in the US have created a special cow mask to protect cows from methane. Although like a mask, it is actually a device that is attached to the cow's nose. The device filters the methane emitted in a special process and converts it into carbon dioxide.
So now it is necessary to make arrangements for all the cows to wear masks. Then the amount of methane gas will decrease. Experts are talking about changing diets to reduce carbon emissions. Every year, 14.5% of the world's greenhouse gases are emitted for animal feed. Scientists are of the opinion that it is possible to reduce the level of carbon in the atmosphere by increasing the speed of carbon storage at the bottom of the ocean.
According to the British government, during the COP-26 summit, six of the world's leading car manufacturers (Volvo, Ford Motors, General Motors, Mercedes-Benz, BYD and Land Rover) announced that they would stop making fossil fuel-based vehicles by 2040. This did not include Toyota, Volkswagen AG, Stellantis, Honda, Nissan, BMW and Hyundai. But there is no way to make the world carbon-free without their involvement. Because, different countries have already banned the use of fuel based vehicles. By 2030, most countries will do the same. According to the IAA, the transportation sector is responsible for 25% of global carbon emissions.
Road vehicles are most responsible for this. Bill Gates, in an article published based on his experience of attending the COP-26 conference and surrounding issues, said that by 2050, the world will have to emit zero carbon. Achieving this will require a green industrial revolution, where we will de-carbonate virtually the entire physical economy. This will include making things, generating electricity, moving around, producing food and heating and cooling buildings. However, this will require extensive innovation. Emphasis should be placed on innovation of environment friendly technology.
However, the earth must be saved. Human, fauna and biodiversity must be protected. Therefore, the agreements and commitments of the COP-26 conference must be fully implemented to limit the altitude of the atmosphere to 1.5 degrees Celsius by 2030. This is the responsibility of all the people and countries of the world. However, the greatest responsibility lies with the rich. Because, they have the main responsibility for increasing the height of the atmosphere. They emit 30 times more carbon emissions than the poor. So they have a greater responsibility to reduce carbon emissions. The rich must help 134 poor and developing countries to implement the Green Revolution, because they can't afford that.
The main responsibility in this case lies with the World Bank, IMF and international financial institutions. Otherwise the green revolution of the countries will not succeed. As a result, the loss of carbon emissions will continue. Needless to say, it should not be based on rich countries alone. Poor and developing countries should also try their best.