In recent decades, French foreign policy in Africa has been preoccupied with a jump-start of relations with the African nations, marked by a gradual curtailment of the Françafrique, a concept that provided for a direct military and political intervention in affairs of the French-speaking nations on the continent. France is now in search for a more balanced framework for interaction with the countries in the region.
Jacques Chirac was the first to voice the need to recalibrate these relations, with his sentiments echoed to varying degrees by each of his successors, whose proclamations were always coupled with certain symbolic gestures and initiatives. Emmanuel Macron is no exception here, as was demonstrated by his appearance at the latest Africa–France Summit in Montpellier on October 8, 2021. Once again, the event proved that Paris is trying to move beyond the outdated African strategy and diversify this policy case, both in terms of partners and in the scope of topics on the agenda.
The Context of the Summit
The key events in Macron's African policy since 2017, which provided the background for the Summit, are a mixed bag when it comes to reinvigorating the dialogue between France and Africa, with a more or less equal number of hits and misses.
On the one hand, early into his tenure, the incumbent French leader made a number of statements, indicating that France would be willing to rethink all dimensions of its relations with Africa in a post-colonial fashion. Speaking at the University of Ouagadougou in November 2017, Macron explained that "there no longer is a French policy for Africa" in the older sense of the term. Instead of a network of clientelist ties with the old, mainly French-speaking elites, even-handed ties with all the 54 countries of the continent need to be fostered.
The President stressed that he belonged to a modern generation of politicians, who launched their careers in the aftermath of the colonial period in Africa and who never denied the crimes of European colonialists. E. Macron suggested that Europeans and Africans are "a generation whose destinies are interwoven", meaning that there is no other option but move together along the path of harmonious and mutually complementary development. At the same venue, the President called for new channels of communication between the Hexagon and the African nations, implying that cooperation should develop at the grassroot level between small and medium-sized enterprises, educational centres, museums, sports associations; if not through government offices and large corporations, something typical of the Françafrique. Macron used a similar logic at the Summit of the International Organisation of the Francophonie in Yerevan, adding that the heart of the French-speaking world is "neither to the right nor to the left of the Seine, but undoubtedly in the basin of the Congo river", since the population of African countries is rapidly growing, as is their potential for development.
Expanding on this thinking, a new policy of historical memory has gained traction. It places emphasis on returning once exported cultural property to Africa as well as on resolving the most sensitive issues of the common past. For example, a report was published in 2018, authored by Felwine Sarr and Bénédicte Savoy, providing a detailed list of items that could be donated to Africa from the funds of French museums. Some of the report's recommendations were acted upon: during his trip to Senegal, Prime Minister Édouard Philippe brought an antique sabre to a meeting with the local government a year later while a law on the restitution of cultural artifacts was passed in 2020. Besides, in early 2021, the historian Benjamin Stora submitted a report to the President focusing on the Algerian War, outlining a number of steps towards mutual rapprochement. These were ranging from the construction of monuments to granting scholarships to support research into the 1954–1962 war. The trend was also stimulated by Macron's recent recognition that France bears political responsibility for doing not enough to prevent the genocide in Rwanda.
Also important was that the Élysée Palace agreed to the prospective abolishment of the CFA franc, a common name for the two currencies used in West and Central Africa a fixed exchange rate to the euro, signalling France's readiness to give up on this financial lever over its former colonies. The French government's capabilities in the two sub-regions will significantly be reduced with the introduction of the new currency, the Eco. However, Paris will still guarantee the new currency's convertibility into euro, however, withdrawing its representatives from the main financial institutions in the sub-regions (such as the Central Bank of West African States) and rescinding the requirement to keep over a half of these countries' financial reserves in the Banque de France. In the future, this may give an additional impetus to regional integration, which was largely hampered by a consistently overvalued CFA franc.
Something that also deserves our attention here is that France has made numerous attempts to foster business cooperation with African nations. One such example is the Choose Africa initiative under the French Development Agency, launched in 2019 to provide support for 10,000 small businesses and entrepreneurs to the tune of 2.5 billion euro. That same year, during his tour of the Horn of Africa, where French is not widely spoken, Macron announced that Paris would be expanding ties with some of its non-traditional partners—notably, with Ethiopia (in the fields of military equipment, aviation and archaeology) and with Kenya (in infrastructure, energy, and the automotive industry)[1].
Finally, some of the initiatives proposed by Macron during his four years in power have, directly or indirectly, to do with Africa. In 2019–2021, he repeatedly talked about a "Paris Consensus", labelling it as a new set of rules for the global economy to replace the well-known "Washington Consensus." The President has not yet elaborated on the main parameters of the concept; still, he stressed that it should take a more flexible approach to addressing the imbalances between the North and South and, primarily, the needs of Africa. Macron was one of the first leaders globally to argue that a temporary moratorium on African debt should be introduced. Besides, he endorsed the global ACT-A project to expand access of developing countries to COVID-19 vaccines. Paris hosted the International Conference to Support the Sudanese Transition in May 2021 and brought its African partners into various ad hoc coalitions—the Paris Call for Trust and Security in Cyberspace, the Tropical Forest Alliance, the Alliance for Multilateralism, and others.
On the other hand, certain elements of France's current policy in Africa have left a distinctly less favourable impression than as it meets the eye, especially among the Africans. This mainly has to do with security issues: in the Sahel, Paris has been running its Operation Barkhane to fight terrorism since 2014, and no victory seems to be in sight for the French troops and their allies. Having "inherited" the operation from François Hollande, Macron tried to follow the "three Ds" (Défense, Diplomatie, Développement), a tactics that soon faltered in practice. While occasionally announcing liquidations of terrorist leaders, the forces France has at its disposal in the sub-region are insufficient to assume full control of the vast expanses of the Sahel, easily permeable from both north and south [2]. Finally, the joint contingent of five countries has so far proven rather ineffective[3].
Mustering all its diplomatic charm, France turned for help to its European partners, with no one proving ready to send a large force to the area, only agreeing to deploy special forces instead (such as the 2020 Takuba Task Force). Besides, the various projects to develop the Sahel funded by France, the EU and international organizations have not produced any real results yet. They have either duplicated what existed before or failed to penetrate the clan structure of local societies. As a result, French military presence is increasingly seen in a negative light, while the Sahel countries have started to explore other options for cooperation, reaching out to alternative security providers [4]—primarily, Russia—in the form of businesses, military instructors and PMCs.
This evidently shook France's Quai d'Orsay, which recently threatened to abandon the Sahel altogether. This would never have happened were the Françafrique logic really a thing of the past, as Paris declared. The current French leadership believes that the Operation Barkhane cannot go on forever, with Macron having announced this summer that it would be coming to a close. However, Paris wants to prevent competitors from filling the vacuum that it will leave.
The situation in the Sahel is not the only challenge exposing the ambivalence of France's recalibrated African policy. The Élysée Palace has been inconsistent in its stances on the domestic situation in various African countries. In some cases, Paris prefers to act in the spirit of the Françafrique: Vasily Filippov, for one, argues the French forces in Gabon were instrumental to preventing a coup d'état in early 2019. Besides, Paris' silence regarding the third-term re-election of Alassane Ouattara in Côte d'Ivoire (who was originally installed in power with a certain support from France) after receiving 95 per cent of the vote amid a violent suppression of the opposition was very much in line with France's earlier policy case in Africa. Later, following the death of President Idriss Déby of Chad, France moved to establish contacts with the military led by his son, who would go on to assume the role of interim president.
Meanwhile, Macron called for fair and legitimate elections in Mali following successive coups in the country in 2020 and 2021. In the run-up to the Africa–France Summit in Montpellier, the media launched an attack on the president for his stance on Algeria as he criticized the ruling "military-political system," accusing it, among other things, of a deliberate politicization of the historical memory. Another classic example of how French policy in Africa oscillates between democratic values and pragmatic interests is its relationship with the Egypt: Macron may, on occasion, voice concerns about human rights violations in the country (albeit in a very measured way), while still concluding mutually beneficial agreements, including military and technical contracts.
Key Takeaways from the Meeting
Perhaps to redress the effects of this ambivalence, the French took the unusual step of not inviting heads of state and government to the summit in Montpellier (with the exception of Emmanuel Macron himself), aiming instead for a broader representation of the civil society, business and academia. The rationale behind this, as was explained by Benoit Verdeaux, Secretary-General of the Summit, was to cater for the main target audience. It appears that the summit was geared towards future leaders rather than the current elites—and it was notably the African youth whom the President of the Republic addressed at the University of Ouagadougou four years ago. The summit was, therefore, "therapeutic" in that its purpose was to establish contacts with the new generation of Africans, overcoming mutual stereotypes and improving the perception of France across the continent.
It strikes the attention that the Summit's participants were not limited to Africa's Francophone countries, proving once again that Paris wants to go beyond its traditional stomping grounds. An emphasis on a fostered cooperation with the non-Francophone Africa looks all the more understandable as it includes the continent's larger economieséSouth Africa, Nigeria and Ethiopia—where the historical memory of France's presence is less important than in the countries that were once part of the French Empire.
The specific nature of the Summit meant that no major political decisions were made. Instead, the Summit saw the announcement of a new series of steps towards the continent's countries, chief among which were:
-Establishing a fund to support African democracy, with a 30-million-euro budget for the next three years. Such a relatively meagre sum suggests that the money will not be spent on sponsoring African leaders or local political parties—it will rather be spent on projects run by non-profit human rights organizations.
-Breathing new life into the Digital Africa initiative, which was launched back in 2018 to support African start-ups and small entrepreneurs. Initially, 65 million euro was allocated for the initiative; however, as press reports suggest, the money never got past bureaucratic obstacles. An announcement was made on the sidelines of the Montpellier summit that the French Development Agency would be taking the initiative under a closer supervision, adding another 130 million to its budget until 2025.
-Intending to open a "House of African Worlds and Diasporas" in the heart of Paris, meant as a creative space for exhibitions, tours, educational programmes, etc. The House will serve as a single platform for Africa's presence in France and a place to network on a multilateral basis. E. Macron also spoke in favour of a more active involvement of African diasporas in the staff of French state bodies, including the Ministry for Foreign Affairs. As the Institut Montaigne expert Mahaut de Fougières noted, the Macron's idea went against the statements of Eric Zemmour, a journalist and a likely 2022 presidential hopeful, who is in favour of the conservative project for the French nation, going on to call for a Francization of the names of African migrants.
These are just some of the announcements contained in the main document that set the tone for the Summit: a special report on the contemporary French–African relations was prepared on behalf of E. Macron by the famous post-colonial theorist Achille Mbembe. Having interviewed some 3,500 people (mainly of the younger generation), Mbembe concluded that there is a strong demand for self-sufficiency in the African countries of today. What this means, as Emmanuel Macron also notes, is that the relations between Europe and Africa should be re-fashioned along the lines of equality. Africa stands on the verge of a comprehensive economic, social and geopolitical transformation, with the coronavirus crisis only highlighting the need for such a change.
The incumbent African elites do not share these sentiments, though, having grown quite accustomed to their own irremovability while throwing a spanner in the attempts to effect some changes. One solution, according to Mbembe, would be to carry out a revolution "in their heads," where new generations of Africans would decide to take their fate into their own hands. This would require an extensive work at the grassroot level that would include the most pressing issues of the day, ranging from digital technologies and climate change to migration. Another prerequisite is a revision of the French narrative to entail a shift from "assistance for development" to investments and partnership.
Judging by the recent summit and the steps already taken by Macron with regard to Africa, it would seem that the French leadership agrees with this. Compared to the times of the Françafrique, reorienting the strategy towards non-state actors is an unconventional approach to say the least. If implemented consistently, it could theoretically improve France's image in Africa over the next 10 to 15 years. What is more, looking at the cost of the initiatives mentioned above, France could save money that would previously go towards supporting the regimes in power. At the same time, this strategy does not guarantee that the younger generations now supported by France will not reorient themselves to other players at some point in the future, as the competition (including China, Turkey or Russia) is stepping up their activities in Africa. Cultivating contacts with the civil society "over the head" of the local elites may provoke anger, which would lead to a slowdown of the French initiatives on the ground.
It is also unlikely that France's support for small start-ups in Africa will provide a quick solution to the problem of the country's shrinking economic presence on the continent, which may have grown over the past 20 years in absolute terms (from $13 billion to $28 billion in exports), though falling in relative terms (from 12 per cent to 7 per cent of the market share).
In turn, African nations are faced with the task of not only improving the conditions for smaller businesses but also implementing large-scale infrastructure projects. This is something that China tends to focus on, and this will also be on the agenda at the Second Russia–Africa Summit to be held in 2022. The biggest problem, however, is that none of the approaches employed by French diplomacy can compensate for the failures in the military and political sphere. It is precisely here that France must be successful to sustain its authority in the eyes of African nations. It would thus be logical to assume that the next President of France (or Emmanuel Macron should he be re-elected) will still face the task of balancing the country's African policy case so that it does not appear to exclusively favour either Track I or Track II diplomacy.
Vasily Filippov, "E. Macron's Tour in the Countries of the African Horn," Asia & Africa Today, no.1 (2020): 10–16.
As of September 2021, the French contingent in Sahel includes 5100 troops, 900 ground vehicles, between 5 and 8 transport aircraft, 20 helicopters, 7 fighter jets and 6 unmanned aerial vehicles.
France's five partners in the operation are Chad, Niger, Burkina Faso, Mali and Mauritania.
According to media reports, there have been numerous demonstrations in Mali in recent years, with protestors chanting anti-French and pro-Russian slogans.
From our partner RIAC
Q&A: Arguments for Advancing Russia-African Relations
As preparations are underway for the second Russia-Africa summit planned for 2022, African leaders, politicians, academic researchers and experts have been discussing several aspects of the current state of Russia-Africa relations. They, most often, compare it with a number of foreign countries notably China, the United States, European Union, India, France, Turkey, Japan, and South Korea that have held such gatherings in that format with Africa.
Some have convincingly argued that Russia has moved away from its low-key strategy to vigorous relations, as shown by the first symbolic Russia-Africa summit in the Black Sea city of Sochi in October 2019. Russia and Africa adopted a joint declaration, a comprehensive document that outlines the key objectives and necessary tasks that seek to raise assertively the entirety of relations to a new level.
Long before the summit, at least, during the past decade, several bilateral agreements between Russia and individual African countries were signed. Besides, memoranda of understanding, declaration of interests, pledges and promises dominated official speeches. On the other side, Russia is simply invisible in economic sectors in Africa, despite boasting of decades-old solid relations with the continent.
Undoubtedly, Africa is opening up new fields of opportunity. The creation of the African Continental Free Trade Area (AfCFTA) provides a unique and valuable opportunity for businesses to access an integrated African market of over 1.3 billion people with a GDP of over US$2.5 trillion. It aspires to connect all the regions of Africa, to deepen economic integration and to boost intra-African trade and investment.
Despite existing risks, challenges and threats, a number of external countries continue strengthening their economic footholds in Africa and contribute enormously towards the continent's efforts to achieve the Sustainable Development Goals (SDGs).
Russia has to upgrade or scale up its collaborative engagement with Africa. It has to consider seriously launching more public outreach programmes, especially working with civil society to change public perceptions and the private sector to strengthen its partnership with Africa. In order to achieve this, it has to surmount the challenges, take up the courage and work consistently with both private and public sectors and with an effective Action Plan.
In this exclusive interview with Steven Gruzd, Head of the African Governance and Diplomacy Programme at the at the South African Institute of International Affairs (SAIIA), discusses a few questions, highlights existing challenges and passionately offers some progressive suggestions regarding Russia-African relations.
Steven Gruzd also heads the Russia-Africa Research Programme initiated this year at SAIIA, South Africa's premier research institute on international issues. It is an independent, non-government think tank, with a long and proud history of providing thought leadership in Africa. Here are the interview excerpts:
What are your appreciations and fears for Russia returning to Africa?
Africa is becoming crowded, with many old and new actors actively involved on the continent. Apart from EU countries, China and the US, we have players such as Iran, Turkey, Israel, the UAE, Japan and others. So Russia's renewed interest in Africa does not happen in isolation. It, of course, seeks to build on Soviet-era ties, and several African leaders today studied in the USSR or the Soviet sphere of influence. Russia has tended to focus on niche areas such as weapons sales, nuclear energy and resource extraction, at a much smaller scale than China. Many leaders are welcoming the attention of Russia, but some remain wary of Russia's hidden motives and intentions. Russia's dealings are not transparent and open compared to China. The shadowy world of private military companies such as Russia's Wagner Group is causing concern in unstable countries like the CAR, Libya and Mali. So, in fact, there is a kind of mixed picture, sentiments and interpretations are also varied here.
How would you argue that Russia engages fairly in "competition for cooperation" in Africa?
Africa is a busy geopolitical arena, with many players operating. Russia has to compete against them, and distinctively remain focused its efforts. Russia welcomes diplomatic support from African countries, and unlike the West, it does not demand good governance or advocate for human rights reforms. Russia likes to portray itself as not interfering in local politics or judging African countries, even though there is mounting evidence that it has been involved in meddling in elections in Africa through disinformation, fake news and attempting to exploit fault lines in societies through social media.
Do you think, to some extent, Russia is fighting neo-colonial tendencies, as shown in Guinea, Mali, CAR and Sudan? Does it imply that Russia supports military leaders in Africa?
Russia uses the rhetoric of anti-colonialism in its engagement with Africa, and that it is fighting neo-colonialism from the West, especially in relations with their former colonies. It sees France as a threat to its interests especially in Francophone West Africa, the Maghreb and the Sahel. Russia has invested resources in developing French-language news media, and engages in anti-French media activity, including through social media. I think Russia has its own economic and political interests in countries like Guinea, Mali, CAR and Sudan, even if it uses the language of fighting neo-colonialism. It explicitly appears that Russia supports several undemocratic African leaders and their regimes.
Some experts have argued that Russia's diplomacy is full of bilateral agreements, largely not implemented, and gamut of pledges and promises. What are your views about these?
I would largely agree that there is a divide between what has been pledged and promised at high-level meetings and summits, compared to what has actually materialised on the ground. There is more talk than action, and in most cases down the years mere intentions and ideas have been officially presented as initiatives already in progress. It will be interesting to see what has been concretely achieved in reports at the second Russia-Africa summit scheduled for late 2022.
From the above discussions so far, what do you think are Russia's challenges and setbacks in Africa?
Africa is a crowded playing field. Russia does not have the same resources and approaches as China, France, UK or US, so it has limited impact. The language barrier could be used as an excuse, but Russia has the great possibility to leverage into the Soviet- and Russian-trained diaspora. On the other hand, Russia feels it is unfairly portrayed in Western media, so that is another perception it seeks to change. It can change the perception by supporting public outreach programmes. Working closely with the academic community, such as the South African Institute of International Affairs and similar ones throughout Africa, is one potential instrument to raise its public image. In places like Mozambique and the CAR, the Wagner Group left after incurring human losses – does Russia have staying power?
As it prepares to hold the second Russia-Africa summit in 2022, what could be the expectations for Africa? What to do ultimately with the first Joint Declaration from Sochi?
As already mentioned, there needs to be a lot of tangible progress on the ground for the second summit to show impact. It is worth to reiterate here that African countries will expect more debt relief and solid investment from Russian businesses. In terms of political support at places like the UN Security Council, there is close interaction between Russia and African States, but as recent research by SAIIA shows, not as much as assumed. The relationship has to however deliver, and move from words to deeds. In conclusion, I would suggest that Russia has to take up both the challenges and unique opportunities, and attempt to scale up its influence by working consistently on practical multifaceted sustainable development issues and by maintaining appreciable relations with Africa. And African countries likewise have to devise viable strategies for engaging with Russia.
Nigeria's role in ECOWAS peacekeeping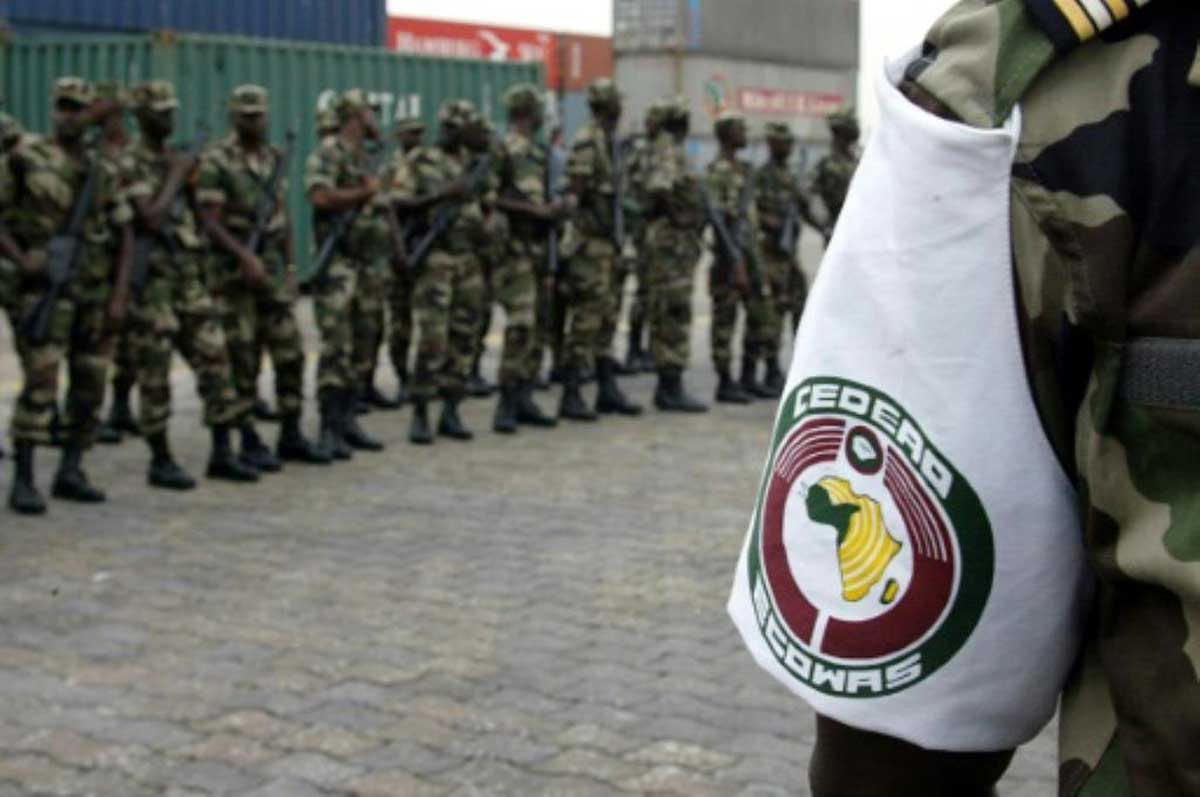 ECOWAS is the 44-year-old economic community of West African states. "The evolution of ECOWAS from the level of an organization created for the purpose of economic integration to the level of organizations that makes and implements decisions of a political and economic nature at the international level deserves quite close attention of researchers today." [2]
As with any alliance, ECOWAS has the undisputed leader – Nigeria. Nigeria is the most populous country in Africa. It should be noted that for many years it was dominated by a military regime, during which the country was in mismanagement and in disorder. Even under military rule, Nigeria has made a significant contribution to the work of ECOWAS to restore democratic governance and ensure stability in many West African countries. This can be attributed to an attempt by "Nigeria to convince the international community of its determination to return to democratic rule and refrain from participating in difficult West African conflicts." [5]
Due to the strategic position, Nigeria plays an important role in realizing the goals and objectives of ECOWAS. First, "Nigeria has a positive balance of payments, because the country exports large quantities of oil and oil products, as well as cocoa and many valuable metals and alloys." [1] The second reason is Nigeria's partners, who make a great contribution to the country's economy by being its investors. Another important factor is the fact that Nigeria mainly imports high-tech products, without participating in the international exchange of technologies.
At the time of Nigeria's accession to ECOWAS, the government marked for itself several directions of its activities, being a member of this organization. In the first place, particular attention was paid to adherence to the ECOWAS economic integration framework, as this contributed to the promotion of free trade. In addition, Nigeria has sought to introduce a single currency for the region. The goal of expanding the infrastructural development of the automobile, railway, telecommunications, energy, gas pipeline industries was also important, which, as a result, should have increased agricultural and industrial production.
Thus, it can be concluded that the need for ECOWAS in Nigeria is great because Nigeria, owning financial and human resources, can help the organization achieve its long-term goal of full integration of the region.
According to the Vice President of the World Bank L. Sabib, "Nigeria can become a locomotive capable of promoting the economy of West Africa. This has not yet been done due to poor governance, ineffective government, corruption and political instability". [5]
Since the establishment of the Economic Community of West African States (ECOWAS) in 1975, Nigeria has focused on the foreign policy of the West African region. In many ways, this decision allowed it to become one of the decisive forces of this regional organization, not to mention its advantages in its size, geographic location and, of course, economic potential.
Professor Akintola is confident that "Africa has been the focus of Nigeria's foreign policy since independence, with an emphasis on the liberation, development and unity of Africans both inside and outside the continent." [3] This confirms that Nigeria continues to dominate the rest of West African states, which allows it to play an important role in the activities of ECOWAS.
Many researchers highlight the contribution of Nigeria to the regional integration of the ECOWAS organization. Moreover, this activity is a priority for Nigeria in matters of its foreign policy. This is most clearly manifested in the processes of maintaining peace and economic liberalization.
Between 1975 and 1993, Nigeria revised its foreign policy in many ways. This was largely due to the formation of ECOWAS, since the country was striving to significantly increase its weight in this alliance. It should be noted that the change in Nigeria's policy is closely related to changes in ECOWAS. At the beginning of its work (1975) ECOWAS set itself the task of becoming a collective security organization, but in 1990 the goal was rethought. It was decided to stimulate the development of collective security, and this decision was reflected in Chapter 8 of the UN Charter. [4]
Nigeria especially showed the importance of its participation in integration during the civil wars in Liberia and Sierra Leone as part of ECOMOG. When Nigeria assumed the role of the dominant country in the organization of ECOWAS, its foreign policy choice was extremely obvious – a peacekeeping strategy.
Speaking about the contribution of Nigeria to the Liberian conflict, it should be said that its participation did not give any guarantees of successful peacekeeping. However, Nigeria's involvement continued to be critical to the operation. Without Nigerian troops, supplies and air support, ECOMOG forces would have lost many more soldiers and civilians and would most likely be driven out of the country entirely by the factions. Nigeria provided significant military support to ECOMOG, but the motives behind this support hindered ceasefire agreements and further negotiations for a transitional government and elections. Although Nigeria has acquired a certain regional prestige for its actions, it has also generated opposition to its dominant status from neighboring African states.
Nigeria faced major challenges in its efforts to restore peace and security to Sierra Leone with ECOMOG. In addition to financial problems, the lack of support from the citizens of Sierra Leone has also affected the main aspects of peacekeeping in the country. Despite the challenges faced by the Nigerian government and the country's unstable economic situation, Nigeria was able to continue its mission, which was believed to be in line with the country's foreign policy goals of ensuring peace and security in the subregion and Africa as a whole. Despite the enormous government spending and corruption associated with Nigeria's mission to Sierra Leone, the mission remains one of the most successful African initiatives to promote peace and security abroad.
The role of Nigeria in the implementation of the ECOWAS plans cannot be overestimated because it has the status of a regional leader in ECOWAS, which indicates its serious contribution to the processes of regional integration and the maintenance of peace and security in West Africa
References
1. Asiagba John Chinedu. Nigeria as a member of the Economic Community of West African States, p. 261.
2. ECOWAS. Regional integration problems. Managing editor A.Y. Elez. Moscow., IAfr RAN., 2016.p. 5
3. Geveling, L.V. Foreign experience in fighting corruption: Federal Republic of Nigeria / L.V. Geveling // Institute of Municipal Administration. – 2012.- № 3.- p. 98-102.
4. Omo. O. O. Dennis. Nigeria in the Process of Regional Integration in West Africa: The Case of ECOWAS. Moscow,2018., p. 67.
5. Speech delivered by World Bank Vice President Louis Sabib, state visits to Nigeria // The Guardian Newspaper. Lagos, 1998 September 21.
What a Successful Summit for Democracy Looks Like from Africa
The Biden administration is wrapping up preparations for its Summit for Democracy, to be held virtually next month. While the list of invitees is now clear, what is not yet clear is what success for the Summit looks like – overall and for each region of the globe. Here, I outline concrete ways the Summit could help advance democracy in Africa.
To be realistic, success should be defined at the individual country level and consider the history and context of each one. However, for the purposes of this paper I will focus on sub-Saharan Africa as a whole and what common hopes we have with regards to democracy success across the continent.
The State of Democracy in Africa
It is now a cliché' to say that democracy is in retreat in Africa. Evidence for this appears strong and includes back-sliding in Ethiopia and Sudan, two countries that held out hope for a democratic awakening. In addition, recent coups in Guinea, Chad, and Mali provided further evidence of back-sliding. Closing and closed political spaces in Angola, Mozambique, Tanzania, Uganda, Cameroon and Zimbabwe (among others) do not provide much in the way of hope. During the past 18 months COVID-19 has provided fertile ground for autocracy and has led to economic deterioration and further restricted political space.
On the other hand, Africa is the world's youngest continent. According to the latest "World Values Survey", those holding "emancipative" (i.e. democratic) values are far and away higher than those holding more autocratic values. The older generation of autocratic leaders such as President Museveni in Uganda is facing a population representing values at odds with those of the political leadership. While autocratic values currently hold sway throughout the continent, one can conclude that these represent "eddies" in a river which largely represents more democratic values. Consequently, we should counsel patience and not condone pessimism over the long-term.
Making Progress through Summit Commitments
Success will not be a static end-point or destination or some far-flung and unattainable goal that is unrealistic. It will represent a series of actions or steps among a variety of actors in each society that are on a journey toward a democratic future. These actors, explained in detail below, include political parties, civil society, and legislative bodies. We must be modest in our assumptions around success given the slow vicissitudes of progress. Modest progress is still progress, particularly given the direction in which many countries are headed (at least over the short-term).
Successful political parties aggregate, communicate and advocate for the wishes and hopes of their members. Ideally, they are not based on the charisma of a leader, nor does a good party represent only the needs of a specific group, such as an ethnic group. Unfortunately, across the continent the evidence points to nearly all political parties serving as a vehicle for a particular leader's wish to obtain high office. Political parties exist for their leaders instead of serving as a vehicle to promote a particular set of policies advocated by their constituents. As a result, traditionally marginalized groups such as women and youth are rarely given real leadership roles within political parties. Witness the situation in Sudan where women and youth were the vanguard of a revolution but were then marginalized within political parties vying for power in the new transitional government. We must be realistic and patient when addressing the question of what democracy would look like vis-à-vis the upcoming Summit for Democracy. The longer-term goal of ideologically based, inclusive, participatory, and transparent political parties is a worthy one. To realize these goals, the U.S. and its allies should commit to the following:
Ensure that political party governing documents are revised to promote intra-party democracy and the inclusion of traditionally marginalized groups.
Cultivate youth and female leaders within political parties because they represent upwards of 75% of each country's population.
Promote and support peaceful elections using widely available research that has been shown to reduce violence before, during, and after elections. This also includes honestly criticizing elections that do not meet regional or international standards.
Civil society organizations (CSOs) are key actors in all societies. We have seen that where CSOs are trained and motivated they can have a significant impact holding governments and legislative bodies accountable. For example, CSOs provided electoral observation during the Ethiopian elections to ensure that Ethiopia's first democratic elections were conducted according to international and regional standards. In the Gambia, CSOs advocated to the government to pass legislation to provide citizens access to information and succeeded in court in suing the electoral commission (IEC) over voter registration anomalies. Despite successes, several factors will need to be addressed for their contribution to democracy to be sustained and amplified. This includes CSOs working together in coalitions that magnify their power and scope. Working alone on sensitive issues in often restricted contexts rarely produces lasting success. Learning the skills of networking with other CSOs will be critical to fulfill the promises of democracy.
To realize these goals, the U.S. and its allies should commit to the following:
Train CSOs in strategic communications, project development and management, monitoring and evaluation, and other skills needed to flourish. Organizational development support will provide long-term sustainable assistance across a wide range of CSOs.
Strengthen CSOs outside of capital cities. In most African capitals there is a cadre of well-resourced, well-trained, and savvy CSOs that speak the language of the donor. In the countryside, however, where enthusiasm generally runs higher, CSOs are organizationally weaker and more isolated. The US and its allies should bring these CSOs into the planning of international organizations who traditionally work with CSOs with higher profiles in capital cities. This will broaden the base of capable CSOs throughout each country and addresses the challenge of relying on just a few located in capital cities.
Stand up for CSOs working in repressive environments. For instance, in Sudan CSOs were largely responsible for the overthrow of the al-Bashir Government but lacked the skills to move from protest to governance. This in part led to the recent military coup.
Train CSOs to hold legislative and executive bodies accountable through things like performance "report cards" and publishing national budgets in easy-to-understand formats.
Legislative bodies throughout Africa are largely rubber-stamp institutions that do the bidding of the countries' leadership. They rarely perform their traditional role as an independent branch of government that represents the people they were elected to serve. IRI's own work found that many members of legislatures do not even understand their role with regards to oversight of the executive branch, outreach to constituents, legislative processes, and budgetary oversight. Consequently, we must be realistic about what can be accomplished and take small steps to train legislators about their roles.
To realize these goals, the U.S. and its allies should commit to the following:
Train newly elected members of legislative bodies on their role as legislators.
Link members of legislative bodies with their constituents to better craft laws that meet the needs of their communities. This is relatively inexpensive yet has demonstrable impact.
Work with legislative bodies to improve transparency through more public hearings, making it easier for citizens to interact with them.
Encourage legislative bodies to address corruption through a strong legal framework and use their subpoena power to address instance of corruption.
Looking Forward
An opportunity now exists to change the narrative that democracy is in decline. Africa's youthful population, its increasing levels of education and better access to information are all factors pointing to more democracy; not less. Recent democratic victories in Malawi and Zambia, coupled with strong opposition and protest movements in Sudan, Guinea, and Chad portend further gains. To sustain these gains, institutions that represent citizens, including political parties, legislative bodies, and civil society must be strengthened. Autocratic governments, some in power for more than 30 years, will not easily give up power. As a result, both public and private institutions must be resilient and have the skills necessary to thrive in restricted environments. The Summit for Democracy can highlight gains made, to provide support to those working in restricted environments, and to provide resources to continue building the capabilities of democracy's institutions.