New Project to Support Egypt's Inclusive and Sustainable Economic Growth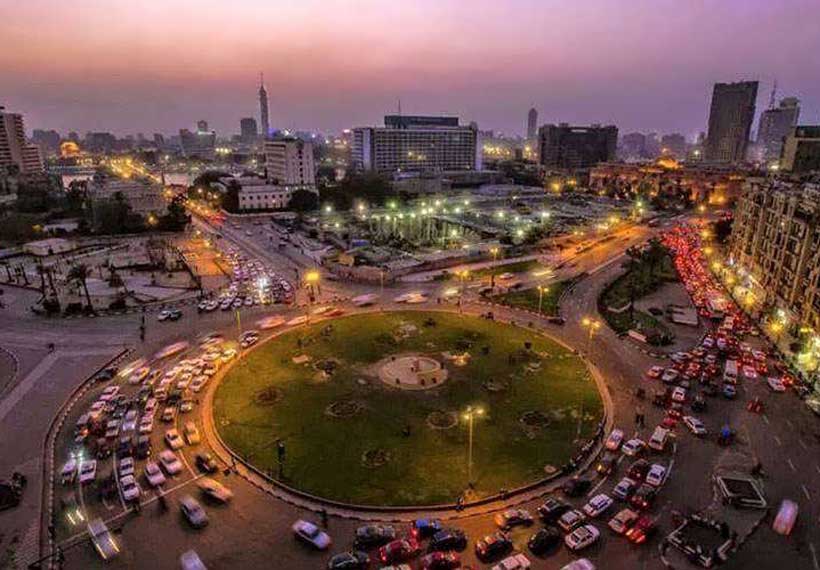 The World Bank's Board of Executive Directors approved a US$360 million Development Policy Financing (DPF) loan to support Egypt's post-pandemic recovery and enhance the country's prospects for sustainable and inclusive growth. To further support achievement of the operation's development objectives, the Asian Infrastructure Investment Bank is considering parallel financing for the operation of the same amount using the same package of policy reforms agreed with the World Bank.
Egypt's first wave of macro-economic reforms stabilized the economy and allowed the country to enter the global COVID-19 crisis with greater resilience and improved fiscal and external accounts. The newly approved "Egypt Inclusive Growth for Sustainable Recovery" operation builds on this by supporting a second wave of structural reforms focused on creating jobs and providing an inclusive enabling environment for the private sector laying the basis for a sustainable recovery.
Egypt has remained one of the few countries that has maintained positive growth during the crisis. The reform program implemented since 2015, as well as the quick action on fiscal and monetary measures to ease the effect of the pandemic on firms and households have supported Egypt's economy during the crisis. Significant steps have also been undertaken to address Egypt's long-term structural challenges that are helping with the pandemic recovery.
"Structural reform policies are integral to Egypt's efforts to accomplish a sustainable and resilient economic recovery that enables the economy to weather future shocks," said Dr. Rania Al-Mashat, Egypt's Minister of International Cooperation. "This operation will support our efforts to maintain the reform momentum and achieve the milestones necessary for inclusive growth." she added.
The program strategically addresses some of the long-term structural issues impacting growth through its focus on three thematic pillars: enhancing macro-fiscal sustainability, enabling private sector development, and fostering women's economic inclusion.
The first pillar on Enhancing Macro-Fiscal Sustainability, supports improving the management of State-Owned Enterprises through enhanced transparency and reporting. It also enhances debt transparency and debt management by introducing the regular publishing of a wider range of domestic and external debt data. This pillar also promotes and empowers a greener and more sustainable economic recovery through the issuance of green bonds.
The second pillar on Enabling Private Sector Development builds on the first wave of reforms and supports digital and financial inclusion, the streamlining and automation of trade facilitation, and a modernization of bankruptcy processes that aim to improve Egypt's competitiveness and private sector job creation. The pillar also strengthens the regulatory framework for private sector participation in waste management, which provides a basis for greener and more inclusive development in the sector.
The third pillar on Fostering Women Economic Inclusion, focuses on legislative and regulatory reforms that promote female participation in the labor force and supports Government efforts to address gender-based violence. It includes steps to remove restrictions on women participation in sectors and limitations on working hours and supports the Government adoption of a national code of conduct that promotes safe and decent transportation for women in railways.
Through a Country Platform Approach, the Ministry of International Cooperation has organized key stakeholder engagements to ensure that the DPF program supports and strengthens the reforms taken by the Government. The program's design benefited from a collaborative process that had input from key stakeholders, including development partners, civil society, women and the private sector.
"Through this operation and many more, we are proud to support Egypt's endeavors to build back better," said Marina Wes, World Bank Country Director for Egypt, Yemen and Djibouti. "One of the key objectives of this operation is making Egypt's growth more inclusive and more resilient to future shocks, by addressing long term structural challenges and recognizing the pivotal role of women in the country's economic growth." she added.
Naftali Bennett Highlights Tech and Trade, Bridge-Building and Climate Change
Prime Minister Naftali Bennett of Israel used his address to the Davos Agenda 2022 to highlight the role of digital technologies in confronting the Omicron variant and climate change. He also highlighted how regional bridge-building with the United Arab Emirates and neighbouring Arab states has accelerated trade volumes.
Israel was the first country in the Omicron wave to shut its skies for a few weeks to buy time and formulate the best policy response based on analysis of data from its national database and the actions of other countries. "The pandemic is all about data information and gleaning insights from that data", Bennett said. Israel has developed a "variant radar" of data scientists dedicated to gathering intelligence on emerging variants around the world. "That's why," he added, "we reacted to Omicron before it even got its name."
The pandemic has changed the ways we work, with the world more dependent than ever on remote working. Bennett pointed out that nearly half the global investment in cyber defence in recent years has come from Israel.
Turning to regional bridge-building, he said the Abraham Accords – cooperation agreements signed between Israel, UAE and Bahrain in 2020 – have the potential to greatly accelerate regional trade. Already trade between Israel and UAE has "skyrocketed", while trade with Egypt remains "tiny". Bennett views UAE as "a gate to the East" and regards "Africa as a big potential partner for Israel". He recently met President Sisi of Egypt and King Abdullah of Jordan and said: "I want to inject more content into these relationships."
His wider strategic aim is to firm up agreement among regional partners who are coming to see Israel as "an anchor of stability in a very tumultuous region."
The prime minister highlighted how his move to open Israel's borders to Palestinians is helping tens of thousands from Gaza and the West Bank to make a better living. In his speech, Bennett spoke about joint Israeli-Palestinian industrial zones to allow Palestinians to work in very high-tech sectors. "I believe that through business, through economy, through jobs is the most sustainable way to bring stability," he said.
Israel has committed to reach net zero on carbon emissions by 2050. Bennett pointed to Israel's "small carbon footprint", adding that the country's unique contribution to fighting climate change is through its high-tech innovation sector. He called on Israel's cohort of young entrepreneurs to start developing the "technologies that do not yet exist", which the world needs to deliver net zero by 2050. Israel is already a world leader in climate-relevant technologies such as generating, conserving and recycling freshwater, he said, while noting that the climate crisis gives it the opportunity to grow its capacity in renewable energy and alternative meat products.
Guterres Calls on Private Sector to Help Developing Countries with Post-Pandemic Recovery
In a special address at the virtual World Economic Forum Davos Agenda 2022 on Monday, United Nations Secretary-General António Guterres outlined three urgent areas that need to be addressed for the world to emerge from the ongoing global economic and health crisis and to ensure the UN Sustainable Development Goals are achieved.
"Recovery remains fragile and uneven amid the lingering pandemic, persistent labour market challenges, ongoing supply chain disruptions, rising inflation and looming debt traps," he said. "To chart a new course, we need all hands on deck, especially the global business community."
The first area that needs immediate attention is confronting the COVID-19 pandemic with equity and fairness. Citing the World Health Organization's global target to vaccinate 40% of people in all countries by the end of 2021 and 70% by the middle of 2022, Guterres said the world is nowhere near these targets. "If we fail to vaccinate every person, we give rise to new variants that spread across borders and bring daily life and economies to a grinding halt," he said.
To ensure vaccine equity, he called on countries and manufacturers to prioritize vaccine supply to the global programme COVAX and to support the local production of tests, vaccines and treatments around the world. He also asked pharmaceutical companies to stand in solidarity with developing countries by sharing licences, know-how and technology to find a way out of the pandemic.
The second challenge is the need to reform the global financial system, especially as low-income countries are at a huge disadvantage and are experiencing their slowest growth in a generation. "The burdens of record inflation, shrinking fiscal space, high interest rates and soaring energy and food prices are hitting every corner of the world and blocking recovery, especially in these low- and middle-income countries," Guterres said. This is stifling any hope of growth by making it even more difficult for governments to invest in the sustainable and resilient systems.
He urged business leaders to help shape a global financial system that works for all countries. This includes working to restructure the long-term debt architecture, addressing corruption and illicit financial flows, ensuring that tax systems are fair and designed in a way that reduce inequalities, and bringing together governments, businesses, the financial sector and international financial institutions to build up private investment in developing countries.
Supporting climate action in developing countries is the third area that needs immediate attention, especially as global emissions are set to increase by 14% by 2030.
"Even if all developed countries kept their promises to drastically reduce emissions by 2030, global emissions would still be too high to keep the 1.5 degree Celsius goal within reach. We need a 45% reduction in global emissions this decade," Guterres stressed.
Climate shocks, including extreme weather events, forced 30 million people to flee their homes in 2020 alone – three times more than those displaced by war and violence. And 1 billion children are at an extremely high risk of the impacts of climate change. "Turning this ship around will take immense willpower and ingenuity from governments and businesses alike, in every major-emitting nation," he said. "We see a clear role for businesses and investors in supporting our net-zero goal."
This, he said, calls for the creation of coalitions of government, public and private financial institutions, investment funds and companies with the technological know-how to provide targeted financial and technical support for every country that needs assistance.
The World Economic Forum's Climate Action Platform is helping businesses, governments and NGOs accelerate and scale ambition and partnerships needed to drive a sustainable and inclusive future, and its Alliance of CEO Climate Leaders is engaging policy-makers to help deliver the transition to a net-zero economy.
Guterres concluded by saying that many countries need the support, ideas, financing and voice of the global business community.
"If we fail to provide debt relief and financing to developing countries, we create a lopsided recovery that can send an interconnected global economy into a tailspin," he said. "If we fail to reduce inequalities, we weigh down economic progress for all people in all countries."
Modi Urges All Countries to Embrace Sustainable Lifestyles
Prime Minister Narendra Modi of India used his address to the Davos Agenda 2022 to call on all countries to shift from a throwaway culture towards more sustainable lifestyles. Modi emphasized that while India is home to 17% of the world's population, it contributes only 5% of global emissions.
"It is very essential that we move away from today's take-make-use-dispose economy and towards a circular economy," he said. India, which co-launched the International Solar Alliance at COP26 to ensure universal access to affordable solar energy, today generates 40% of its energy from non-fossil sources. Modi underlined that the next phase of India's growth will be "green, clean, sustainable and reliable".
The prime minister questioned the ability of the world's multilateral organizations to meet challenges that did not exist when they were created. He said that reforming these institutions is "the responsibility of every democratic country". In a clear call for greater global cooperation, he said: "Today, more than ever before, countries need each other's help – this is the only path to a better future." He offered India's vision of One Earth One Health as a means of responding to global challenges, from the COVID-19 pandemic to climate change.
India is an entrepreneurial powerhouse that has created 10,000 new start-ups in the past six months and over 40 unicorns in 2021, Modi said, propelling the country into the top three in the world for billion-dollar new ventures. Its digital infrastructure is developing rapidly, with over 4.4 billion transactions taking place on its United Payments interface in the past month alone. Over the period 2020-2021, India attracted $82 billion in foreign direct investment – a new record. Modi said India is committed to becoming a trusted partner for global supply chains.
In a bid to improve the ease of doing business, Modi outlined the measures his government is taking to reduce government intervention to the minimum. He has done away with over 25,000 tax compliances in the past year and deregulated most sectors for investment, except for defence, aerospace and telecoms. His government is investing $1.3 trillion on connectivity-related infrastructure through its GatiShakti National Master Plan, which includes connecting over 6,000 villages through optical fibre. The plan's aim, he said, is to "give new impetus to seamless connectivity for movement of goods, people and services". India is also investing $26 billion to boost manufacturing and resilient supply chains.
The Prime Minister also spoke to the importance of collective and synchronized action to face global challenges. He highlighted new technology as an important area for countries to act together, "Another example is cryptocurrency. Given the kind of technology it is associated with, the decisions taken by a single country will be insufficient to deal with its challenges."
Modi said India enters 2022 "infused with self-confidence". Its economic growth is projected to hit 8.5%. It has already administered 1.6 billion COVID-19 vaccines. And, he added: "Our multilingual, multicultural environment is a great strength [that] teaches us not just to think of ourselves in times of crisis but to work in the best interests of the world."