The 38th ASEAN Summit Meeting: Agenda and Outcomes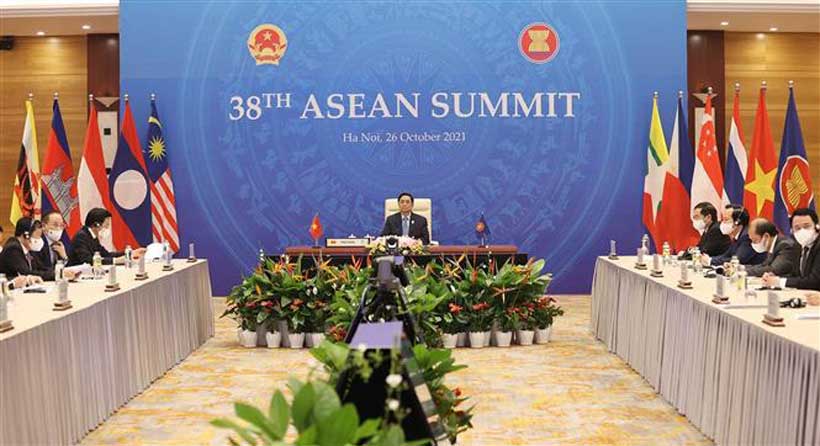 The 38th ASEAN summit meeting is held from October 26-28th and the list of areas to concentrate for the ASEAN would be far too many which includes focusing on the infrastructure projects, working on improved timelines for better implementation of the ASEAN Investment Area (intra ASEAN investment was $23 billion in 2021), emphasising on trade facilitation across ASEAN region, building better health facilities and pandemic infrastructure, and working on realisation of the three pillars of ASEAN communities. With the possibility of US President Joe Biden attending the ASEAN summit meeting through video conferencing shows the relevance of this ASEAN meeting. In fact, the major discussions and debate will be about the challenges that the region faces regarding the pandemic, health issues and fulfilling the objective of better pandemic management through effective health network, diagnostics, and therapeutics.
During the ASEAN foreign ministers meeting which was held in August 2021 the common motto was 'we care, we prepare, we prosper'. During the meeting it was clearly earmarked that there is need for cohesive approach regarding ASEAN unity and centrality with a clear focus on saving people's lives and protecting the ASEAN community by adhering to the common fundamentals of peace, prosperity, and progress. During the meeting the stress was regarding ASEAN Community Vision 2025 and peaceful resolution of maritime disputes under the 1982 United Nations Convention on the Law of the Sea (UNCLOS). The emphasis on protecting ASEAN identity, centrality and creating awareness among the people of the region was seen as a major precursor for building regional institutions and strengthen bonds between nations.
The member countries of ASEAN need to work on better managing the ASEAN Shield and working on unified response to disaster management through promotion of multilateral cooperation, respect in international law, striving to achieve peace, prosperity, and stability in the region. In fact, one of the areas which has gained much attention is regarding the 4th Industrial Revolution, developing better infrastructure for blue economy and promoting awareness among the department of foreign affairs in ASEAN countries.
During the last one year, it has been found that the organization needs to cooperate in promoting institutional mechanisms related to public health emergencies and collaborating in promotion of trade and addressing challenges to the return of pre Covid-19 levels economic growth. This summit meeting needs to address what exactly are the possibilities for utilising the ASEAN COVID fund, and undertaking regional research mechanisms to protect the children from the third wave of the pandemic.
ASEAN on its own can work on a regional COVAX initiative which can promote better coordination and cooperation among the medical community for better diagnostics and therapeutics. In fact, ASEAN is on the cusp of developing a better infrastructure which can promote research development, logistics chain for distribution of vaccines, and working as a organized unit for better bargaining of the bulk purchase of vaccines at the regional level. This regional approach will also help in the global initiative of COVAX which will address this region as a cohesive one unit. This will further help in better access to the international medicines and developing a regional response to the vaccine passport. The Southeast Asian countries need to undertake regional protocols for safe travellers and thereby promote intra-regional business and tourism. This can also be done through ASEAN travel corridor bubble and undertaking a region wide protocol for countering the spread of the pandemic through tourists and business travellers.
During the pandemic it has been acknowledged that while nations have been working hard to counter the side effects of the pandemic, but it needs a return to the sub regional initiatives in terms of economic recovery and sustainable development. The pandemic has also opened the avenues for promoting digital connectivity and creating mechanisms for sanitised logistics and cargo support. This will help in addressing sanitary and phytosanitary issues regarding trade within the region and even at transregional level.
In fact, one of the areas where the ASEAN needs to work very cohesively is to integrate the ASEAN region through port network, regional connectivity grids, energy, and electricity networks, and promoting better e-commerce avenues. The digitalization of the region will also help in gaining significant leverage regarding the Industrial Revolution 4.0 and getting the support from the dialogue partners on smart cities project across the region. In terms of research in science and technology, and the future role those new emerging technologies would be playing, the ASEAN must work on a blueprint regarding developing the region as the Research Centre for critical technologies. Given the fact that there are more than thirty critical technologies items the Southeast Asian countries can pick any three from the list to develop their niche areas and undertake concerted efforts to develop that sector in their respective countries. To create awareness and develop scientific acumen there is need for 'talent to technocrat initiative' which can groom the promising scholars in this field and developed the network of nodal institution across Southeast Asia.
While many issues which are non-traditional security threats such as terrorism, illicit drugs, human trafficking, cyber security have been addressed time and again in different ASEAN meetings, but it needs to be seen that how the COVID-19 pandemic has redefined the criteria for achieving sustainable countermeasures in this regard. The Treaty of Amity and Cooperation (TAC) in Southeast Asia needs better management and compliant mechanism. There is also requirement that the region-specific cyber defence network and creating centres of excellence in this field. The cue can be taken from the NATO cyber security networks and how a cohesive response mechanism can be created.
Maritime security and cooperation are the critical sectors which needs strong commitment from all the Southeast Asian nations. The UNSC sponsored special dialogue on maritime security outlines the need for addressing this from the point of view of climate change, illegal fishing, countering piracy, promotion of marine scientific research, safeguarding maritime trade and commerce. It should be acknowledged at the South China Sea is a major issue and the Southeast Asian countries should accept the deadline for the signing of the Code of Conduct (CoC) on South China Sea. Otherwise, it is expected that ASEAN centrality on resolving the South China Sea issues will be marred with internal frictions and tensions among the member countries. The dialogue partners already have outlined that there is need for consistent approach and engaging China in a compulsive manner so that certain protocols can be developed, and the status quo is maintained.
It is also important to note that the role which has been played by ASEAN Maritime Forum and the Expanded ASEAN Maritime Forum is much below par and therefore these institutions need to revisit their mandate and objectives to be the harbinger of new ideas in this field. One of the areas which needs active involvement of the Southeast Asian countries is the climate change and the need to shift to clean and renewable energy sources. These issues have been addressed through ASEAN plan of action for energy cooperation but there is a need for more research in promoting energy security and safe transition to new kinds of energies.
The Regional Comprehensive Economic Partnership (RCEP) which was signed in November 2020 needs to gain momentum, and given the fact there is tardy progress about domestic ratification procedures, it has been felt that a quick response mechanism on ratification should be initiated. Further, the Southeast Asian countries should also work on developing their own domestic capacities in manufacturing and services so that the rules of origin issue can be better addressed. The rules of origin issue were one of the issues on which India had strong reservations.
In terms of knowledge creation and education as well as human resource development this summit can achieve a lot. In the Manila summit held in 2017, it was highlighted that there is a need for employment generation and developing skills and capacities. It is opportune time after four years of the Manila summit to investigate what exactly has been achieved and whether there has been slow progress. The time has also come for reinforcing the role that the East Asia summit as the leaders forum can work on developing consensus on broad security strategic, economic, and political issues.
While ASEAN has clearly outlined its outlook on the Indo-Pacific, but it needs better structuring and identifying areas under which it can synergise its activities along with partners in the Indo Pacific. In terms of maritime cooperation, promoting connectivity and undertaking initiatives related to protection of marine life and developing protocols for sustainable harnessing of resources, there are immense possibilities.
About South China Sea dispute there is need for working fast on the single draft code of conduct negotiating text and addressing this on a priority. ASEAN countries themselves can outline their outlook about compliance as per the provisions of the 1982 United Nations Convention on the Law of the Sea (UNCLOS) and promote that the ASEAN nations would be willing to subscribe to the legal regulations enshrined under the UNCLOS 1982.
If one evaluates Hanoi declaration 2020 related to the ASEAN community, it clearly stated that there is need for reviews of the blueprints of the ASEAN Community, ASEAN connectivity and initiative for ASEAN integration. These three documents need further review during this summit, and it is believed that a holistic approach should be adopted so that instead of rhetoric there is more tangible outcomes on ground.
The recommendations for the ASEAN Summit are many. ASEAN should really acknowledge the need for concerted approach in the field of comprehensive regional cyber security strategy, developing national ASEAN community councils to create awareness and responsibilities, creating the digital support fund to provide access to millions in terms of governance and redressal of grievances, undertaking a time bound approach with regard to single draft on code of conduct in South China Sea, developing critical technologies hub which can be decentralised and the country should be assigned there are areas of expertise which it can develop in the next decade. ASEAN also needs to undertake futuristic vision by commissioning a governmental group of experts which can undertake feasibility studies to make this organization more buoyant and proactive. ASEAN can also develop architecture and logistics to harness the global initiative related to resilient supply chains and even participate in the Build Back a Better World(B3W) Initiative by G-7 countries.
Vietnam's President Phuc visit to Switzerland and Russia
Vietnam's President Nguyen Xuan Phuc visited Switzerland and Russia(November25-December 2) to promote his country's bilateral ties with the two countries. During the visit to Switzerland, the Vietnamese president initiated a link between the Swiss state and Vietnam. For Vietnam, which has already ordered and administered eight different vaccines in its country to protect its citizens from the COVID-19 pandemic, the need is to procure more vaccines. The immediate urgency is to get medical equipment and to import resuscitation supporting machines so that critically ill patients should be saved. In terms of medical equipment and diagnostics procedures, Switzerland is one of the foremost countries for research in fields of diagnostics, pharmacy, lifesaving medicines and new kinds of vaccine development. Vietnam has been facing immense threat from the new variants of COVID-19 and related complications. The country is looking for conclusion of free trade agreement with European free trade association. The European Free Trade Association comprises of Norway, Switzerland, and Lichtenstein, There are also immense possibilities of improving the trade basket between the two trade partners. Vietnam is slowly emerging as an alternate manufacturing destination too.
The total volume of trade between Vietnam and Switzerland is more than 3.5 billion U.S. dollars. Vietnam which was the permanent member of the UN Security Council for the year 2020-21 is looking for developing better understanding and greater participation in international institutions such as United Nations, its affiliate organizations and the World Trade Organization(WTO).
Switzerland is also one of the enticing destinations for Vietnamese travelers and it is expected that there might be possibility of more flights between the two countries. During the visit to Switzerland discussions were held also with regard to promoting defence relations, interaction between the legal bodies of the two countries, promoting science and technology interactions between different institutions, encouraging investment from Switzerland to Vietnam, and also celebrating five decades of establishment of diplomatic relations between the two countries. President Phuc concluded his visit to Switzerland on November 29th and went to Moscow to hold meetings with its counterpart Vladimir Putin.
During the visit to Russia, the two sides discussed areas to promote further cooperation in realizing the true potential of comprehensive strategic partnership and developing coordination in areas such as humanitarian and disaster relief. One of the important milestones during the visit of President Phuc has been the signing of bilateral agreement on vaccine production so that Sputnik V could be produced in Vietnam. The agreement which was signed between Vabiotech and Russian Direct Investment Fund(RDIF) would promote development of Sputnik V vaccine research in Vietnam, and developing resilient supply chains within Vietnam so that the vaccine can be produced in that country. One of the interesting aspects of this agreement is development of a Research Center and a small lab to look into efficacy of the vaccine and develop new formulations to counter the new variants of Coronavirus. Other prominent areas include developing cyber security architecture, exchange of cultural troupes, research in renewable energy and promoting sports between the two countries. Vietnam is emerging as one of the important sources for iron ore and therefore Vietnam now wants to diversify its vehicle manufacturing facility.
In fact, that Vietnam is increasingly reliant on Russia for its defence imports and in the past have imported sophisticated frigates, Sukhoi 30 aircraft, and Kilo class submarines. The growing defence relationship between the two sides is also expected to further expand in terms of sonar systems, supersonic missiles, air defence equipment, and training of sailors and technicians.
Vietnam and Russia have a long-standing relationship even after the disintegration of the USSR. Russia has been very supportive of Vietnam efforts with regard to countering the three major powers which included France, the US, and China. The three Vietnam wars and the valor of the Vietnamese soldiers were much appreciated in erstwhile Soviet Union and thereafter by Russia. The historic ties between the two countries was much appreciated and there has been much research which has been done with regard to cultural, historical, and political interactions between the two sides.
The visit of President Phuc is seen as a new addition to the relationship as the president stated in one of the business interactions that the two sides should lift their trade by 15 times and also facilitate investment in each other's countries. During one of these interactions, he clearly stated that Vietnam has emerged as one of the top 20 priority countries and therefore Russian investors should look forward for investing in Vietnam. He urged the Russian companies to capitalize on the free trade agreements that Vietnam has signed with Eurasian Economic Union and also understand the liberalization measures that Vietnam has undertaken in the recent past.
In the joint statement, which was released between the two sides it was clearly articulated that there is mutual respect and friendship between the two countries. The foundation of this relationship has been through mutual trust, territorial integrity, right to self-determination, and no use or threat of force against each other. The joint statement clearly stated that the two countries will work together in the field of security, military interaction, defence, and developing new technologies in defence sector. In the joint statement it was also stated that the two sides should work on capability planning, training, developing better science and technology cooperation, and forge strategic partnership in areas such as international law and promote interactions in UN agencies. The joint statement also alluded to the 1982 UN Convention on the Law of the Sea(UNCLOS) and it was particularly important in the context of developing issues in South China Sea.
President Phuc used his diplomatic acumen to issue a joint statement in which there was clear reference with regard to developments in South China Sea. Russia supported Vietnam's endeavor for full and effective implementation of the Declaration of the Code of Conduct of the South China Sea parties (DOC) under the 2002 agreement. Another important aspect was looking into sectors for promoting ASEAN Russia relationship and realize the potential of the comprehensive action plan between the two sides. The visit to Switzerland and Russia was effective and it met the objectives which were laid out in terms of achievements and new ideas which would be put into practice for the future.
Local Wisdom Brings Everybody Towards Sustainability
Climate change, carbon emission, zero waste, circular economy, and sustainability. If you are anywhere on the internet just like 62% of the world's population, chances are you must be familiar, have understood, or at least have heard of these 21st century buzzwords. If you Google search the word 'sustainable', it would give you more results than if you search for 'Titanic', 'globalization', even 'BTS'. Clearly, people all around the world has been putting more and more attention towards the concept of sustainability.
The question is, how well do we understand sustainability? What is being sustainable in development, business, and life in general entail?
Sustainability concepts were built on the foundation of protecting the resources of the Earth and the wellbeing of humankind which are negatively impacted by our abusive patterns of production and consumption. The Commission on Environment and Development (WCED) in its highly-cited Brundtland Report, also called Our Common Future, formally defined sustainable development as development that meets the needs of the present without compromising the ability of future generations to meet their own need. The Triple Bottom Line (TBL) first coined by John Elkington in 1994 is the fundamental concept in business to balance Profit, People, and Planet[1]. The concept really gained its momentum when the United Nations (UN) in 2015 set out 17 Sustainable Development Goals (SDGs) to be adopted and achieved through global partnership by its Member States in 2030.
As a way of thinking, however, balancing wealth, society, and the environment has actually been a part of traditional belief systems, religious teachings, medieval philosophies, and communal ways of living for centuries. Indigenous people all over the world for years have developed and for the most part maintained cultural knowledge, norms, and rules that stem from the adaptation process to the environment, commonly referred to as the local wisdom. Long before the natural, organic, free-this-and-that-synthetic skincare boom, People of Bajo or the Sea Gypsies community have been harnessing the ingredients provided by Earth as their recipe to having healthy and firm skin despite being out in the sea under the sun for most of the time. They would make use of the clams' shells or rice grain mixed with herbs like turmeric to make powder that would protect their skin from the scorching sun.
Local wisdom is also at the heart of many customary rules, including activities to manage their natural resources. For instance, many indigenous coastal communities in Eastern Indonesia implement Sasi Laut that would only allow fishing in certain areas for around two weeks to three months and close for one to two years. This local wisdom embodies the concept of marine conservation and has been passed down from generation to generation. Globally, indigenous people that constitutes less than 5% of the world's population is protecting around 80% of the planet's biodiversity.
Moreover, economic, environmental and social issues come in different form and intensity in different countries and communities. It might be pollution for urban area, declining water quality for tourism destination, or the non-existence of proper waste management system for rural area. Thus, achieving sustainability would require a bottom-up approach in identifying the most pressing problem in a particular country or community. The integration of local wisdom would contextualize the existing varied frameworks, concepts, tools, and innovations on sustainability to be positively perceived, better understood, and well implemented. It is the bridge to include the less represented voice, common people, and indigenous communities to be parts of climate and sustainability conversation; making sure to leave no one behind.
---
[1] Elkington, J. (1998). Cannibals with forks: The triple bottom line of 21st century business. Gabriola Island, BC: New Society Publishers.
Ecosystem Restoration: The Answer to Indonesia's Dilemma
The pressure for the Indonesian government to actively take part in climate change mitigation has been escalated lately. Since 2016, Indonesia has been a part of the Paris Agreement to join the global movement to tackle climate change and its negative impacts. First adopted at COP 21, the agreement demands committed countries to submit an updated national climate action plan, called Nationally Determined Contribution or NDC, on a five-year cycle. Hence, COP 26, which was held a couple of weeks ago in Glasgow, was the centre of attention to all activists and environmentalists to find out how each country's progress has been mitigating climate issues for the past five years. President Jokowi spoke at COP 26 about Indonesia's achievements in mitigating climate change which many Indonesian activists and environmentalists then criticized. He mentioned that Indonesia has been positively contributing to tackling climate change and that the deforestation rate in Indonesia has significantly reduced. Greenpeace criticized that all the Jokowi's claims were not picturing the whole situation to Indonesia's current condition. Greenpeace believed that the low rate of deforestation was not a product of policy intervention but merely from the wet season.
Just a day after COP 26 conference, the tweets from Siti Nurbaya, the Minister of Environment and Forestry, added fuel to the fire. She wrote a Twitter thread, explaining the vast development in Jokowi's era should not be stopped only because of carbon emissions or deforestation. She also put the dilemma of the Indonesian government in achieving the net-zero carbon goal by 2030. "If the concept is no deforestation, that means there will be no roads, then how about the people, do they have to be isolated? Meanwhile the government must be present in the middle of its people". The statement she put in her tweets was considered pro-deforestation, which contradicts her duty to contribute to Indonesia's commitment to Net-Zero by 2060. It instantly got viral on social media. Aside from the controversy, the 2015 – 2019 National Medium Term Development Plan (RPJMN) mentioned six main national development goals: leading sector development targets, including food and energy. With monoculture food production and fossil fuel-based energy production, deforestation is inevitable, and Minister Siti's controversial statement makes more sense and reflects the dilemma on forest management in Indonesia.
However, the urgency to create a global movement tackling climate change is because climate change is getting real. According to the Intergovernmental Panel on Climate Change (IPCC), the global temperature was 1.1 degrees Celcius above the pre-industrial period in 2019. In addition to that, the total greenhouse gas emissions, including land-use change, reached 59.1 gigatonnes of carbon dioxide equivalent. It is undeniable that Indonesia also significantly contributes to greenhouse gas emissions. The Global Forest Watch summarized the tree cover loss that has been happening in Indonesia for the past ten years. For the last two decades, Indonesia lost 27.7 million hectares of tree cover and equivalent to 19 gigatonnes of carbon dioxide emissions. An article from WRI Indonesia mentioned that even though the overall deforestation rate is declining from 2015 to 2018, several provinces with an abundance of primary forest and peatland, which are East Kalimantan, Maluku, and West Papua, experienced a 43%, 40%, and 35% increase in deforestation, respectively. The impact of climate change affects the environmental and social aspects and dramatically affects the economy. In the 4th Indonesia Circular Economic Forum, the National Development Planning Agency of Indonesia or Bappenas mentioned that the economic loss due to climate change will reach 115 trillion rupiah in 2024. However, Indonesia can reduce the loss to 57 trillion rupiahs by making some efforts on mitigating climate change, Bappenas said.
The dilemma then brings up the question: how should the Indonesian government act on climate change mitigation in a way that is not threatening the continuity of national development but not stunting the growth of economic development? In 2004, the Ministry of Environment and Forestry issued an ecosystem restoration concession (ERC) regulation in the production forest area. ERC is a forest-based management model that allows the private sector to restore degraded lands and utilize non-timber products and environmental services in the production forest area. The idea behind ERC is to provide a license to investors, similar to logging and industrial forest permit, to reforest the area that the other two permit's activities have impacted. ERC could help carbon capture scale and offset the carbon footprint from development activities if it runs well. And since private firms manage ERC, it could also positively impact the economy. Unlike NGO or non-profit organizations, the ERC scheme demands the operating company to profit through ecosystem restoration. It can be from utilizing non-timber products such as honey, bamboo, or rattan, cultivating medicinal plants, wildlife preservation, developing ecotourism, and carbon capture and sequestration.
Even though ERC is a relatively new concept and not as appealing and popular as other types of concession, some ERC companies managed to show some progress that supports Indonesia's development plan and climate mitigation targets. The ERC of PT Rimba Makmur Utama (RMU), also known as the Katingan-Mentaya Project, focuses on carbon business to reduce greenhouse gas emissions and has sold its carbon credits to companies such as Shell, Volkswagen, and NP Paribas. By protecting and restoring the forest, RMU had Verified Carbon Units for about 4.34 million tonnes of carbon dioxide in 2017. A member of the APRIL group, PT Restorasi Ekosistem Riau (RER), also committed to protecting, restoring, and conserving the forest ecosystem through ERC. RER has been inventing flora and fauna, preventing forest fires, and conducting ecosystem research in its concession of 150.693 ha forest in Riau province. RER embodies APRIL's commitment to conserving one hectare of land for every one hectare of APRIL's pulp and paper plantation. PT Restorasi Ekosistem Indonesia (REKI), the first ERC license holder, has become a home to 1.350 species, improving local livelihood by protecting farmers' right to land, promoting women's rights, and preserving deforestation-free areas through its Hutan Harapan. And PT Restorasi Habitat Orangutan Indonesia (RHOI) has provided a secure habitat for more than 400 orangutans from BOS Foundation Orangutan Reintroduction program.
ERC business models typically include carbon sequestration, wildlife conservation, forest protection, utilizing non-timber forest product (NTFS), developing ecotourism, enhancing local economies, and research and development. These activities potentially support the national development plan in practice and in a strategic way. Five of the 7 Agenda in The National Medium Term Development Plan 2020-2024, which are strengthening economic resilience, reducing inequality from regional development, improving human resources, building national character and culture, and enhancing the natural environment and building climate and disaster resilience, could use ecosystem restoration concession as a strategy to achieve the sustainable development goals. Moreover, the implementation of Omnibus law can benefit investors in doing ecosystem restoration business. The current regulation issued by the Minister of Environment and Forestry, P.8/2021, allow multibusiness activities in production forest with only one permit, called PBPH. With PBPH, investors can be more flexible in choosing where to invest in ecosystem restoration. Moreover, the G20 presidency of Indonesia 2022 also forces president Jokowi to show off his capability and willingness in moving toward sustainable development. Promoting ERC and putting best practices into practice, ecosystem restoration can be the most strategic way to solve the dilemma between climate change and development.