Rush for new profits posing threat to human rights
The finance industry's demand for new sources of capital worldwide to satisfy investors, is having a serious negative impact on the enjoyment of human rights, a group of UN-appointed independent rights experts have warned.
Among the rights at risk from increasing speculation in the financial markets by hedge funds and other investment funds, are the right to safe drinking water and sanitation, food, adequate housing, development, and a healthy and sustainable environment, among others. 
Exploiting the marginalized
In a statement, the independent Special Rapporteurs and other experts, expressed their concern over the gradual encroachment of financial speculators into new areas of the economy, putting human rights at risk.
They highlighted in particular, trading in areas essential for the enjoyment of human rights of marginalized, indigenous peoples, Afro-descendant and peasant communities, persons with disabilities and persons living with Albinism, as well as those living in areas of conflict.
The experts also pointed out that so-called financialisation – the growth in new financial instruments since the 1980s managed by new financial services – has a disproportionate impact on the enjoyment of their rights by women and girls, who are systematically victims of discrimination. The impact on older people was also highlighted.
Effect on housing
According to a former Special Rapporteur on adequate housing, in recent years massive amounts of global capital have been invested in housing as a commodity, as security for financial instruments that are traded on global markets, and as a means of accumulating wealth.
However, when the 2008 global financial crisis hit, many houses suddenly lost much of their value, and individuals and families were made homeless overnight.
The expert also pointed out that in the Global South, informal settlements in Southern cities are regularly demolished for luxury housing and commercial development intended for the wealthiest groups of the population.
This process of financialisation of assets, has only been reinforced during the COVID-19 pandemic, the expert said.
'Speculative food bubble'
In agricultural markets, the experts described how the same big international banks responsible for the global financial crisis, invested billions of dollars in food futures, generating an increase in the prices of raw materials such as wheat, corn and soybean, which doubled and even tripled in a few months, creating a new speculative food bubble.
According to the World Bank, between 130 and 150 million more people were pushed into extreme poverty and hunger, mainly in low-income countries depending on food imports to feed their populations.
The experts highlighted how the financialisation of housing and food has exacerbated inequalities and exclusion, disproportionately affecting heavily indebted households and those on low incomes.
Applying speculative logic in these areas violates the human rights of people in poverty, exacerbates gender inequality and aggravates the vulnerability of marginalized communities, they said.
Commodifying nature
The growing monetization and commodification of ecosystem services, such as carbon storage, were also noted by the experts.
They warned that it threatens the sustainability of ecosystems, marginalizes natural and cultural values that have no apparent economic value, and weakens the control of indigenous peoples and local communities over their territories.
The right to pollute and destroy nature is gradually being legitimized and commercialized, they said.
They also pointed out that addressing the climate emergency often ignores both the impacts on people in poverty, and undermines the human rights and livelihoods of the poorest.
The eviction of indigenous peoples from forests or the replacement of complex old-growth forests with monocultures of fast-growing non-native tree species was highlighted as an example of this.
Treating housing, food, or the environment, as assets to be traded by hedge funds and other financial actors in financial derivatives markets, represents a direct attack on people's exercise and enjoyment of human rights such as the right to housing, to food, to a healthy environment, or to drinking water and sanitation, the experts stated.
Saint Lucia Builds Investment Reference Guide to Boost Sustainable Development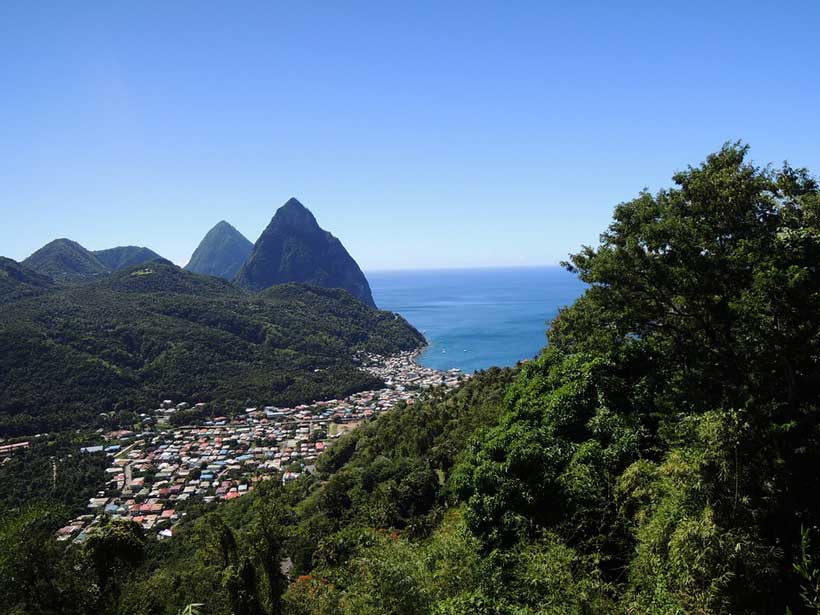 In partnership with the Government of Saint Lucia, the World Economic Forum is launching the Country Financing Roadmap for the SDGs. It aims to help Saint Lucia unlock sources of funding, remove investment bottlenecks and develop a more coordinated approach for financing projects that are environmentally friendly or can help people develop new skills.
The Country Financing Roadmap for Saint Lucia provides an overview of priority initiatives for leaders to assess and action project work – potentially saving money and helping to identify synergies across funding areas.
For example, the initiative brought together reskilling programmes with $12 million in total budget that can support the country's economic recovery efforts – potentially supercharging efforts. These include a collaboration between the European Commission and Forte, to help 500–600 people develop skills related to hospitality, digital skills and green or blue economy by the end of 2022, at no upfront cost to the government.
Another project, the Caribbean Climate-Smart Fund initiative by the Rocky Mountain Institute (RMI) and Lion's Head Global Partners (LHGP), is working towards mobilising both private and below market rate capital to finance a $80 million project pipeline dedicated to renewable energy in Saint Lucia.
"Finding viable solutions in the short, medium and long term to the myriad challenges that plague small island developing states (SIDS) like Saint Lucia is critical to safeguarding and putting the needs of our people first while achieving meaningful post-COVID socioeconomic recovery and implementing the Sustainable Development Goals," said Wayne Girard, Minister in the Ministry of Finance, Economic Development and the Youth Economy, Government of Saint Lucia. "The CFR not only presents Saint Lucia with actionable options to unlock some of the financing and investment bottlenecks that limit sustainable development, it also presents a useful mechanism for replication across other SIDS in the Caribbean region. Saint Lucia is committed to continuing its work with the Sustainable Development Investment Partnership (SDIP), to advance a regional approach to driving our collective capacities to build back better."
"Saint Lucia has demonstrated its commitment to meeting the SDGs by embarking on several important initiatives, with some of the most important focusing on financing targets," said Sean de Cleene, Member of the Executive Committee of the World Economic Forum. "We hope that this CFR initiative will create opportunities for Saint Lucia and other countries to fast track similar impact projects."
The CFR is a country-led initiative in collaboration with the Sustainable Development Investment Partnership (SDIP) and a joint initiative of the World Economic Forum and the Organisation for Economic Co-operation and Development (OECD). Its goal is drive economic recovery and achieve the Sustainable Development Goals by presenting viable solutions that address barriers to investment and attract greater sources of capital.
As a small island nation, Saint Lucia is vulnerable to economic shifts and continues to expand recovery efforts due to the consequences of the COVID-19 pandemic, which pushed the country to an 86.5% debt-to-GDP ratio for 2020. In 2019, tourism accounted for 80% of the nation's labour market which faced a reduction in jobs from 63,400 in 2019 to 41,600 in 2020 as a result of the crisis, according to the World Travel and Tourism Council. Barriers to sustainable growth also hinge on the population's dependence on fossil fuels which, through a successful transition to renewable energy, could increase self-sufficiency, equity, and environmental sustainability.
Alongside the CFR, the government in collaboration with the United Nations Office for Project Services (UNOPS) and the University of Oxford launched the Saint Lucia National Infrastructure Financing Strategy developed using the Sustainable Infrastructure Financing Tool (SIFT), which complements the CFR and further explores the opportunities for sustainable infrastructure financing in the country.
The Sustainable Development Investment Partnership plans to continue its support to the Government of Saint Lucia and regional organisations in hosting a series of discussions on reskilling and renewable energy solutions with over the next six months.
World Bank Supports Croatia in Transforming Its Primary Education
The World Bank Board of Directors today approved a loan to the Republic of Croatia in the amount of EUR25 million ($28.9 million equivalent) for a project to improve the learning environment in selected primary schools.
The Croatia: Towards Sustainable, Equitable and Efficient Education Project (SEE Education) will support the Ministry of Science and Education's (MSE) introduction of the Whole Day School (WDS) system in selected schools, which is designed to improve student learning outcomes, particularly among disadvantaged students, through increased instructional hours and improved teacher training and school infrastructure. Since school days will be better aligned with common working hours, young mothers and fathers, of children attending WDS will find it easier to participate in the labor market and thereby increase their earnings. The project will also strengthen the capacity of MSE to scale up the WDS system at the national level and to implement other needed sector reforms.
Croatia has committed to a set of sweeping reforms, outlined in the National Recovery and Resilience Plan (NRRP) 2021-2026, to modernize and improve the education system and respond to the learning challenges which have been further exacerbated by the COVID-19 pandemic and the two large earthquakes that struck Croatia in 2020.
"We are so pleased to partner with Croatia in this vital effort that will ultimately bring benefits to the whole Croatian society through better learning outcomes, higher labor force participation and increased productivity," said Jehan Arulpragasam, World Bank Country Manager for Croatia and Slovenia. "The SEE project comes at a critical stage of the transformation of Croatia's education system and will substantially improve educational opportunities for current and future generations of children, including those from disadvantaged backgrounds and vulnerable groups."
The proposed project will support a systemic transformation of Croatia's basic education sector. It will initially help to implement the WDS reform in 50 demonstration schools by providing both technical assistance and the needed infrastructure. The capacity built as a result of these efforts will help authorities to introduce the WDS model at the national level. The direct beneficiaries of the project will include approximately 32,500 students, their parents and teaching and administrative staff.
The project will also support the design of new infrastructure standards for Croatian schools, incorporating seismic resilience into building upgrades, and encompassing best practice OECD-EU climate, environment, and energy-efficiency standards, contributing to the European Green Deal agenda.
The World Bank has been a partner to Croatia for over 27 years. During this period, the Bank has supported more than 50 projects, worth almost US$5 billion, produced numerous studies, and provided technical assistance to help strengthen institutions and support the design of policies and strategies. The Bank's current program focuses on mitigating the economic and social impact of COVID-19, post-earthquake reconstruction, transport, justice, innovation, business environment, land administration, science and technology, and economic development of the Pannonian region.
Despite COVID-19 connectivity boost, world's poorest left far behind 
Some 2.9 billion people still have never used the internet, and 96 per cent live in developing countries, a new UN report has found. According to the International Telecommunication Union (ITU), the estimated number of people who have gone online this year actually went up, to 4.9 billion, partially because of a "COVID connectivity boost".  
This is good news for global development, but ITU said that people's ability to connect remains profoundly unequal – as many hundreds of millions might only go online infrequently, using shared devices or facing connection speeds that hamper their internet use.
"While almost two-thirds of the world's population is now online, there is a lot more to do to get everyone connected to the Internet," Houlin Zhao, ITU Secretary-General said.
"ITU will work with all parties to make sure that the building blocks are in place to connect the remaining 2.9 billion. We are determined to ensure no one will be left behind."
'Connectivity boost'
The UN agency's report found that the unusually sharp rise in the number of people online suggests that measures taken during the pandemic contributed to the "COVID connectivity boost."
There were an estimated 782 million additional people who went online since 2019, an increase of 17 per cent due to measures such as lockdowns, school closures and the need to access services like remote banking. 
Uneven growth
According to the document, users globally grew by more than 10 per cent in the first year of the COVID crisis, which was the largest annual increase in a decade. But it pointed out that growth has been uneven.
Internet access is often unaffordable in poorer nations and almost three-quarters of people have never been online in the 46 least-developed countries. 
A 'connectivity Grand Canyon'
Speaking in Geneva, Doreen Bogdan-Martin, Director of the ITU said: "The internet divide runs deep between developed and developing countries. Only a third of the population in Africa is using the internet.
"In Europe, the shares are almost 90 per cent, which is the gap between those two regions of almost 60 percentage points. And there is what the UN Secretary-General António Guterres, has called in his Common Agenda blueprint for the future, "a connectivity Grand Canyon".
'Digitally excluded'
The report found that younger people, men and urban dwellers are more likely to use the Internet than older adults, women and those in rural areas, with the gender gap more pronounced in developing nations.
Poverty, illiteracy, limited electricity access and a lack of digital skills continued to hinder "digitally excluded" communities, ITU noted.