The 30th Anniversary of the Renewal of Diplomatic Relations Between Russia and Israel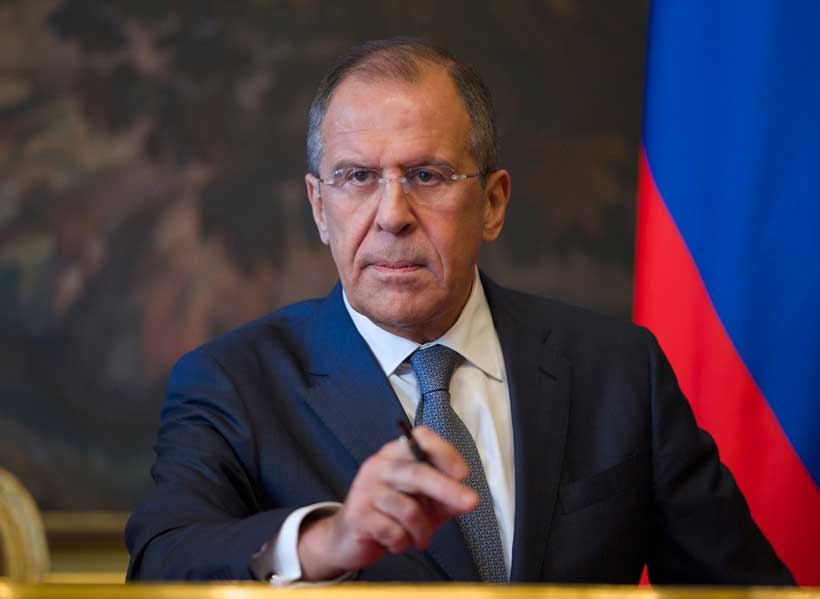 Minister of Foreign Affairs of the Russian Federation Sergey V. Lavrov's article for the Israeli Newspaper "Yedioth Ahronoth" dedicated to the 30th Anniversary of the Renewal of Diplomatic Relations Between Russia and Israel, October 15, 2021.
On October 18, Russia and Israel celebrate the 30th anniversary of the renewal of full-fledged diplomatic relations – the beginning of a new era of common history.
Turning to the pages of the past, let me recall that the USSR was the first country to recognize de jure the State of Israel back in May 1948. Of course, there were ups and downs in the chronicle of our relationship. Today, it could be assessed with confidence that Russian-Israeli mutually beneficial cooperation has stood the test of time and continues to actively develop in all directions.
Its foundation is formed by an intensive political dialogue, foremost – at the highest level. Inter-parliamentary contacts are progressing, bolstered by Friendship Groups established in the legislative bodies of our countries. Inter-ministerial communications are carried out on a regular basis.
Over the past decades, a solid experience of diversified cooperation has been accumulated in such spheres as economics, science and technology, healthcare and education. More than twenty acting intergovernmental agreements reflect the richness of the bilateral agenda.
Our mutual practical cooperation has significant potential. A number of joint projects are being successfully implemented. Many initiatives have received the support of the President of the Russian Federation and the Prime Minister of the State of Israel. The interest of Israeli business circles in entering the Russian market continues to grow. Despite the consequences of the coronavirus pandemic, by the end of 2020 trade between Russia and Israel decreased by only 3.9%, and in January-July this year it increased by 51.8% over the previous year's period. The key coordinating mission in these common efforts is fulfilled by the Joint Russian-Israeli Commission for Trade and Economic Cooperation, founded in 1994. We are interested in the early resumption of its work in full.
A special role in strengthening the unifying baselines of our relations as well as ensuring their stability and continuity belongs to humanitarian contacts. We appreciate the high level of mutual understanding between the peoples of Russia and Israel, connected by a common historical memory and convergence of cultures. It is encouraging that this thread, which has no geographic boundaries, is only getting stronger in course of time.
There are millions of Russian-speaking compatriots living in Israel, including descendants both from the former Republics of the USSR and from the Russian Federation. Veterans of the Great Patriotic War, survivors of the siege, former prisoners of concentration camps are among them. The fate of these people is of major interest to us.
Most vigorous rejection of the attempts of historical revisionism, combatting the distortion of the genesis, course and generally recognized international legal outcomes of the World War II have always united Russia and Israel. We will continue to coordinate our efforts, and specifically at the UN, to counter this shameful phenomenon.
While in some countries of Central and Eastern Europe Nazi henchmen are being brought to the level of national heroes and neo-Nazi tendencies are being revived, the memory of the decisive contribution of the heroic soldiers of the Red Army to the Victory over Nazism, the saving of Jews and other peoples from extermination, the liberation of the world from the horrors of the Holocaust is sacred in Israel. We see how Israeli colleagues – at the state and public levels – encourage the activities of the veterans and compatriots movements, conduct active work to educate the younger generation.
It is difficult to overestimate the significance of the law on Celebrating the Victory Day over Nazi Germany on May 9, approved by the Israeli parliament in 2017. It is particularly telling that on the 76th anniversary of the Great Victory, celebrated this year, festive events and commemorative parades along with the Immortal Regiment march were held in more than 45 Israeli cities. Thousands of Israelis of all ages as well as officials participated. This scale speaks for itself.
Cooperation in the field of education and science – whether through student and academic exchanges or joint scientific research continues to move forward. Every year, students from Israel get an opportunity to receive higher education in Russian universities. All of them are sincerely welcome there.
We hope that it will be possible to restore mutual tourist flows as soon as the sanitary and epidemiological situation improves. Russia is traditionally one of the top three countries in terms of the number of visitors to Israel.
The Russian-Israeli dialogue is vigorously advancing through the foreign ministries. It is obvious that without constructive interaction of diplomats it is impossible to solve a number of international and regional problems that are of paramount importance both for ensuring the prosperous future of the peoples of Russia and Israel just as for strengthening international and regional security and stability. From this perspective, diversified contacts between the Security Councils and the defense ministries of our countries have also proven themselves well. On a regular basis it allows us to compare approaches and take into account each other's legitimate interests.
Russia is pursuing an independent multi-vector foreign policy, contemplating pragmatism, the search for compromises and the observance of balances of interests. Creation of the most favorable external conditions for our internal socio-economic development remains its backbone. We have no ideological likes and dislikes, or any taboos in relations with our foreign partners, therefore we can play an active role in the international arena and specifically through mediation in the settlement of conflicts.
We are interested in continuing consultations with our Israeli partners on security and stability issues in the Middle East. We always draw attention to the fact that comprehensive solutions to the problems of the region must necessarily take into account the security interests of Israel. This is a matter of principle.
At the same time, we are convinced that there is no alternative to the two-state solution of the Israeli-Palestinian conflict on a generally recognized international legal basis. We strongly support direct negotiations between Israelis and Palestinians. A comprehensive solution to all issues of the final status is possible only through it. We are ready to work with Israeli colleagues, including multilateral formats, primarily in the context of the renewal of work of the Middle East Quartet of international mediators in close cooperation with representatives of the Arab League.
I am convinced: it is in the common interest to maintain the momentum. Ahead of us are new milestones and additional opportunities not only to continue, but also to enrich the positive experience of multifaceted cooperation for the benefit of our states and peoples, in the interests of peace and stability.
Source: Minister of Foreign Affairs
Putin Stresses Broadening Economic Cooperation With African States
Russian President Vladimir Putin has reiterated some aspects of Russia's foreign policy agenda when he received letters of credence from 20 foreign ambassadors, including seven from Africa, who had arrived in the country to begin their duty tour.
The seven new African ambassadors are from Republics of Angola, Benin, Ghana, Guinea, Nigeria, Mauritania and Somalia. The ceremony formally marks the official beginning of the ambassadors' duties in the Russian Federation, and it usually takes place twice a year in the St. Alexander Hall of the Great Kremlin Palace.
President Vladimir Putin made concrete reference to his earlier speech delivered in November at the expanded meeting of the Foreign Ministry Board, in which he outlined the priorities of Russia's foreign policy and gave a detailed overview of the current difficult international situation, as well as approaches to settling acute global and regional problems.
He has been consistently pursuing the idea that it is possible to effectively cope with the numerous challenges and threats only through joint efforts of the entire global community, that Russia was ready for such cooperation.
"In fact, I believe that without joining the efforts of all states, without establishing mutually beneficial and equal cooperation it will be impossible to address such difficult global problems and achieve success in fighting climate change, or countering terrorism and organized crime, or ensuring sustainable development," the Russian leader stressed.
During his speech at the ceremony, Putin said Russia was ready to raise economic cooperation including developing investment and deepening trade, as well as increasing humanitarian assistance to African countries. He then describes, in brief, the state of relations between Russia and each of the countries the ambassadors represent.
Putin told Ambassador Augusto da Silva Cunha form the Republic of Angola, that Russia has long friendly relations with Angola. "What matters most is that, together with our Angolan friends, we intend to fully develop a comprehensive cooperation, to promote political dialogue and carry on joint work in trade, investment, and culture among other things." These, in particular, were discussed during the Angolan Foreign Minister's visit to Russia in October.
At the ceremony was Akambi Andre Okounlola-Biaou from the Republic of Benin. He was reminded that Russia continues expanding interaction with Benin. Notably, it is currently drafting an intergovernmental agreement on military cooperation and a memorandum of understanding in the area of sport. Russian companies are interested in participating in joint geological prospecting, energy and infrastructure projects in Benin.
Ghana's ambassador Lesley Akyaa Opoku-Ware is serving her second term in Moscow. Putin noted the steady development of the bilateral relations, and pointed to efforts at expanding interaction in the field of trade and energy, including the peaceful nuclear development in that country. "We jointly produce minerals and hydrocarbons. And, of course, we will continue to train professionals for various sectors of Ghana's economy," Putin added.
With the Republic of Guinea, represented by the newly arrived Ambassador Maju Kake, Russia hopes that political life in this West African country will soon stabilize, and will attain a national accord. For many years, Russia has been offering substantial investment into the Guinean economy. Russian companies have been producing and processing mineral commodities in Guinea. According to Putin, it is now time to implement new interesting projects, including those in the sphere of energy, infrastructure, fisheries and agriculture.
Abdullahi Yibaikwal Shehu is the new ambassador from the Federal Republic of Nigeria. Russia is satisfied with Nigeria as a key partner in Africa. Putin said: "We talked with President Muhammadu Buhari during the Russia-Africa Summit held in Sochi two years ago. We hope that the Nigerian leadership will support Russia's initiative to hold another meeting between the Russian and African leaders in 2022."
Russia leader added "As for specific areas of bilateral cooperation, we find expansion of the detailed dialogue on topical problems related to supporting stability on the global hydrocarbon markets, countering terrorism and religious extremism, to be quite promising."
At the ceremony, Putin told Mohamed Mahmoud Dahi (Islamic Republic of Mauritania) that "There are favorable opportunities for expanding trade and economic ties with the Islamic Republic of Mauritania, including in the area of high-seas fisheries where we cooperate closely." Russia, however, appreciates Mauritania's substantial contribution to fighting terrorism in the Sahara-Sahel zone.
With Hassan Abdi Daud from Somalia located in the Horn of Africa, Putin told him that Russia has advocated for an expanded cooperation with the Federal Republic of Somalia.
Reports indicate that currently Russian-Somali relations are at a very low level, with Russia having sent humanitarian aid to Somalia several times. That the Somalian Government is working actively to strengthen the country's sovereignty and territorial integrity, it is fighting terrorism and extremism, striving to create favorable conditions for the socioeconomic revival. "We hope that all these efforts will be crowned with success," asserted Putin.
Putin hopes that with ambassadors' active participation, these relations will be filled with new content, further hopes for mutually beneficial projects and useful initiatives and, in general, will make rapid progress for the benefit of the people and in the interests of international security and stability.
The newly arrived ambassadors have important diplomatic tasks: to promote the development of comprehensive relations, make conscious efforts in strengthening trade and economic ties, deepening cultural exchanges and promoting people-to-people contacts, facilitating stronger friendship and mutual understanding between their countries and the Russian Federation.
Due to the unfavorable pandemic situation, Kremlin still had to hold the ceremony for the newly arrived ambassadors to present their letters of credence in a strict and limited format. At the gathering, Putin congratulated them on the official start of their diplomatic assignments in the Russian Federation. Russian authorities pledged to help and offer necessary assistance to all the foreign envoys in pursuit of their official assignments in the Russian Federation.
The Russia-China-Iran Alliance
NATO, the U.S. Government, and all other "neoconservatives" (adherents to Cecil Rhodes's 1877 plan for a global U.S. empire that would be run, behind the scenes, by the UK's aristocracy) have been treating Russia, China, and Iran, as being their enemies. In consequence of this: Russia, China, and Iran, have increasingly been coordinating their international policies, so as to assist each other in withstanding (defending themselves against) the neoconservative efforts that are designed to conquer them, and to add them to the existing U.S. empire.
The U.S. empire is the largest empire that the world has ever known, and has approximately 800 military bases in foreign countries, all over the planet. This is historically unprecedented. But it is — like all historical phenomena — only temporary. However, its many propagandists — not only in the news-media but also in academia and NGOs (and Rhodesists predominate in all of those categories) — allege the U.S. (or UK-U.S.) empire to be permanent, or else to be necessary to become permanent. Many suppose that "the rise and fall of the great powers" won't necessarily relate to the United States (i.e., that America will never fall from being the world's dominant power); and, so, they believe that the "American Century" (which has experienced so many disastrous wars, and so many unnecessary wars) will — and even should — last indefinitely, into the future. That viewpoint is the permanent-warfare-for-permanent-peace lie: it asserts that a world in which America's billionaires, who control the U.S. Government (and the American public now have no influence over their Government whatsoever), should continue their 'rules-based international order', in which these billionaires determine what 'rules' will be enforced, and what 'rules' won't be enforced; and in which 'rules-based international order' international laws (coming from the United Nations) will be enforced ONLY if and when America's billionaires want them to be enforced. The ideal, to them, is an all-encompassing global dictatorship, by U.S. (& UK) billionaires.
In other words: Russia, China, Iran, and also any nation (such as Syria, Belarus, and Venezuela) whose current government relies upon any of those three for international support, don't want to become part of the U.S. empire. They don't want to be occupied by U.S. troops. They don't want their national security to depend upon serving the interests of America's billionaires. Basically, they want the U.N. to possess the powers that its inventor, FDR, had intended it to have, which were that it would serve as the one-and-only international democratic republic of nation-states; and, as such, would have the exclusive ultimate control over all nuclear and other strategic weapons and military forces, so that there will be no World War III. Whereas Rhodes wanted a global dictatorship by a unified U.S./UK aristocracy, their 'enemies' want a global democracy of nations (FDR named it "the United Nations"), ruling over all international relations, and being settled in U.N.-authorized courts, having jurisdiction over all international-relations issues.
In other words: they don't want an invasion such as the U.S. and its allies (vassal nations) did against Iraq in 2003 — an invasion without an okay from the U.N Security Council and from the General Assembly — to be able to be perpetrated, ever again, against ANY nation. They want aggressive wars (which U.S.-and-allied aristocracies 'justify' as being necessary to impose 'democracy' and 'humanitarian values' on other nations) to be treated as being the international war-crimes that they actually are.
However, under the prevailing reality — that international law is whatever the U.S. regime says it is — a U.N.-controlled international order doesn't exist, and maybe never will exist; and, so, the U.S. regime's declared (or anointed, or appointed) 'enemies' (because none of them actually is their enemy — none wants to be in conflict against the U.S.) propose instead a "multilateral order" to replace "the American hegemony" or global dictatorship by the U.S. regime. They want, instead, an international democracy, like FDR had hoped for, but they are willing to settle merely for international pluralism — and this is (and always has been) called "an international balance of powers." They recognize that this (balance of powers) had produced WW I, and WW II, but — ever since the moment when Harry S. Truman, on 25 July 1945, finally ditched FDR's intentions for the U.N., and replaced that by the Cold War for the U.S. to conquer the whole world (and then formed NATO, which FDR would have opposed doing) — they want to go back (at least temporarily) to the pre-WW-I balance-of-powers system, instead of to capitulate to the international hegemon (America's billionaires, the controller of the U.S. empire).
So: the Russia-China-Iran alliance isn't against the U.S. regime, but is merely doing whatever they can to avoid being conquered by it. They want to retain their national sovereignty, and ultimately to become nation-states within a replacement-U.N. which will be designed to fit FDR's pattern, instead of Truman's pattern (the current, powerless, talking-forum U.N.).
Take, as an example of what they fear, not only the case of the Rhodesists' 2003 invasion of Iraq, but the case of America's coup against Ukraine, which Obama had started planning by no later than 2011, and which by 2013 entailed his scheme to grab Russia's top naval base, in Crimea (which had been part of Russia from 1783 to 1954 when the Soviet dictator transferred Crimea to Ukraine). Obama installed nazis to run his Ukrainian regime, and he hoped ultimately for Ukraine to be accepted into NATO so that U.S. missiles could be installed there on Russia's border only a five-minute missile-flight away from Moscow. Alexander Mercouris at The Duran headlined on 4 July 2021, "Ukraine's Black Sea NATO dilemma", and he clearly explained the coordinated U.S.-and-allied aggression that was involved in the U.S.-and-allied maneuvering. U.S.-and-allied 'news'-media hid it. Also that day, Mercouris bannered "In Joint Statement Russia-China Agree Deeper Alliance, Balancing US And NATO", and he reported a historic agreement between those two countries, to coordinate together to create the very EurAsian superpower that Rhodesists have always dreaded. It's exactly the opposite of what the U.S.-and-allied regimes had been aiming for. But it was the response to the Rhodesists' insatiable imperialism.
To drive both Russia and China into a corner was to drive them together. They went into the same corner, not different corners. They were coming together, not coming apart. And Iran made it a threesome.
So: that's how the U.S. regime's appointed 'enemies' have come to join together into a virtual counterpart to America's NATO alliance of pro-imperialist nations. It's a defensive alliance, against an aggressive alliance — an anti-imperialist alliance, against a pro-imperialist alliance. America's insatiably imperialistic foreign policies have, essentially, forced its 'enemies' to form their own alliance. It's the only way for them to survive as independent nations, given Truman's abortion of FDR's plan for the U.N. — the replacement, by Truman of that, by the U.N. that became created, after FDR died on 12 April 1945.
New Strategic Report: Development Prospects for Improving Russia's Policy in Africa
An expert group, has completed its studies of Russia's policy implementation processes, impact and setbacks, and the development prospects in Africa, and has presented its final report with some recommendations intended to improve and scale up the existing Russia's influence in Africa.
The report was prepared as part of a programme sponsored by the Russian Foreign Ministry. The Situation Analytical Report, compiled by 25 Russian policy experts, was headed by Sergei A. Karaganov, Dean and Academic Supervisor of the Faculty of World Economy and International Relations of the National Research University – Higher School of Economics (HSE University). Karaganov is also the Honorary Chairman of the Presidium, Council on Foreign and Defense Policy.
The 150-page report, released in November, offers new directions, some development prospects and recommendations for improving policy methods and approaches with Africa. The report identifies two key factors necessary for determining the long-term importance of the continent: (i) human capital and (ii) natural resources.
These make for the increased interest for investment in extractive industries and infrastructure, booming consumer markets rising at rates much higher than the rest of the world. With its 1.3 billion, it is a potential market for all kinds of consumable goods and for services. In the coming decades, there will be an accelerated competition between or among the external players over access to the resources and for economic influence in Africa.
Nevertheless, despite the growth of external player's influence and presence in Africa, Russia has to intensify and redefine its parameters as it has now transcended unto the fifth stage. Russia's Africa policy is roughly divided into four periods, previously after Soviet's collapse in 1991.
The first historic summit created a good basis for launching or ushering in a new fifth stage of Russian-African relations. The joint declaration adopted at the summit raised the African agenda of Russia's foreign policy to a new level and so far remains the main document determining the conceptual framework of Russian-African cooperation.
Some of the situation analysis participants, who contributed to the latest policy report spoke very critically of Russia's current policy towards Africa and even claimed that there was no consistent policy and/or consistency in the policy implementation at all. The intensification of political contacts are only with a focus on making them demonstrative. Russia's foreign policy strategy regarding Africa has to spell out and incorporate the development needs of African countries.
While the number of top-most and high-level meetings have increased, the share of substantive issues on the agenda often remains small or scanty. There are little definitive results from such meetings. There are, indeed, to demonstrate "demand for Russia" in the non-Western world; the formation of ad hoc political alliances with African countries geared towards competition with the collective West. Apart from the absence of a public strategy for the continent, there is shortage of qualified personnel, the lack of coordination among various state and para-state institutions working with Africa.
In addition, insufficient and disorganized Russian-African lobbying, and combined with the lack of "information hygiene" at all levels of public speaking were listed among the main flaws of Russia's current Africa policy. Under the circumstance, Russia needs to compile its various ideas for cooperation with Africa into a single comprehensive and publicly available strategy to achieve more success with Africa.
In many cases and situations, ideas and intentions are often passed for results, unapproved projects are announced as going ahead. Russia's possibilities are overestimated both publicly and in closed negotiations. The supply of Russian-made vaccines to Africa is an example. Having concluded contracts for the supply of Sputnik V to a number of African states, Russian suppliers often failed to meet its contractual obligations on time. Right now, there are many agreements signed, before and during the first Russia-Africa summit, and Russia simply fails to deliver, as promised with African countries.
"The situation analysis participants agreed that the lack of project due diligence and proper verification of contracting partners is one of the key challenges for Russian business in Africa. Many projects announced at the top and high political levels have not been implemented. The reason is usually that the projects were not properly prepared before official approval. As a result, budget funding is often spent on raw and unprepared initiatives," according to the report.
The adoption by Russia of an open doctrinal document on cooperation with Africa will emphasize the seriousness of its intentions and create an atmosphere of trust, in which individual steps will attain greater weight and higher-level justification. In African conditions, this will mean accelerated coordination of essential decisions. It is important to note that such public strategies for the entire continent are a necessary instrument of the other countries that are active in Africa.
Unlike most competitors, Russia can afford to promote a more honest, open, direct and understandable agenda for Africa: sovereignty, continental integration, infrastructure development, human development (education and medicine), security (including the fight against hunger and epidemics), normal universal human values, the idea that people should live with dignity and feel protected. All situation analysis participants agreed with this view. The main advantage of such an agenda is that it may be more African than those of its competitors.
It is advisable to present such a strategy already at the second Russia-Africa summit, and discuss and coordinate it with African partners before that. Along with the strategy, it is advisable to adopt an Action Plan — a practical document that would fill cooperation with substance between summits.
One of the most important tasks critical for the effectiveness of Russian actions in Africa is the centralization and strengthening of the role and capacity of Russian state institutions on the African track, especially in the information sphere.
The report proposes dialogues should be enhanced between civil societies, including expert and academic organizations. In a situation where a rapid expansion of trade and economic relations is difficult (for example, due to economic stagnation or a crisis in the respective country), the humanitarian track can become one of the ways to deepen relations further.
On foreign players in Africa, the report points to China as number one active player. India's influence continues to grow, as does the involvement of Turkey, the UAE, and Qatar, which are relatively new players in Africa. The influence and involvement of the United States, Japan, South Korea, and Brazil in the coming years, are likely to remain at the level of the past decade and will decline compared to China's influence.
China, the EU, Germany, Turkey, Spain, and others have developed, announced and are implementing progressively their African strategies.
In general, of all the G7 countries, only Germany still has some potential to increase its influence and presence in Africa. Canada, Italy, and the UK, according to the authors, can at best maintain their influence at the same level, but it, too, will decrease compared that of the new centers of power.
At the same time, for its part, Africa will retain its importance for Europe in the long term and may even increase being an important source of a wide range of resources. Europe needs mineral resources (cobalt, gas, bauxite, rare earth metals) in order to carry out the energy transition, and human ones in order to make up for the natural decrease of population. The European banking system and financial institutions traditionally rely on Africa as a source of funding (while African capital often seeks refuge, and instability only accelerates its flight).
The influence of other non-European emerging powers, who often compete with each other, is also growing in Africa. UAE and Turkey may be mentioned among others. Their rivalry is visible in North Africa, West Africa and, especially, the Red Sea, and includes competition for control over both port infrastructure and points of possible military presence. A vivid example of this rivalry is Somalia, where Turkey is interacting and strengthening its position in Mogadishu, while the UAE, which recently lost control of the port in Djibouti, is taking a foothold in Berbera (in the self-proclaimed Republic of Somaliland).
There are indications that Israel, whose activity in many African countries, particularly in East Africa, has remained traditionally high (especially in "sensitive" areas, such as internal security, the training of security and special forces, as well as in economic, especially agriculture projects), will continue to increase its involvement in the short and medium term.
Making efforts to maintain and expand its presence in Africa, Israel is developing contacts with the UAE and through it with a number of Gulf countries. Africa will be one of the platforms for Israel's interaction with these countries. It will continue attempts to reduce the influence of Iran that has been carrying out its own diverse activity in Africa, seeking to expand it further.
On July 22, 2021, already after the situation analysis had taken place, it was declared that Israel had obtained an observer status to the African Union.
In the next ten years, rivalry, the balance of power and interests in the Indian Ocean will become a key factor of military and strategic importance, for this is where the interests of China, India, Pakistan, Turkey, Arab countries, Iran, as well as the United States, France and other players are likely to collide. These countries will use significant resources to strengthen their positions along the entire coast of Eastern Africa, from Egypt to South Africa, which means both risks and new opportunities for the countries of the region. The military and strategic importance of the Indian Ocean islands (including four African island states) will continue to grow.
The report proposes discussions on possible mechanisms and formats of bilateral and multilateral alliances with interested parties, whose interests in Africa may coincide with the Russian ones. For example, the potential of bilateral cooperation in Africa with India (including outside of BRICS) has not been fully tapped yet. Joint initiatives in Africa in the areas of international development assistance, education, health care, and project financing may be of interest as well. It is also advisable to explore, including at the expert level, the possibility of engaging with countries such as South Korea (widely represented in Africa), Vietnam (showing growing interest), Cuba, Serbia, and several others as part of Russian initiatives in Africa.
Without Africa, Russia would not have so many friendly partners sharing its strategic goal of building a fair polycentric world order. By all purposes, Africa seems to be a favorable region in terms of positioning Russia as a global center of power and a country that defends peace, sovereignty, the right of states to choose development models independently, and as a protector of nature and the environment. Therefore, Russia's increased presence and influence in Africa does not and should not cause resistance among African countries.
It is also important to move away from the "zero-sum" approach in relations with the West, even though at first glance the interests and aspirations of the EU and the U. S. in Africa seem to be opposite to those of Russia. Russia should build its policy and rhetoric in relation to Africa regardless of its rivalry with the West and should not create the impression that its policy in Africa is driven by the wish to weaken the positions of the United States and the EU on the continent.
The situation analysis participants agreed that Russia's policy in Africa should be a derivative of Russia's overall foreign policy goals and objectives, the three key areas being:
a) Ensuring national security. In the African context, this means primarily the danger of new viruses, extremism, anything that may impact Russia's national security, including competition with other centers of power.
b) Ensuring social and economic development of Russia. Africa is a promising market
for Russian products and services, and a factor that facilitates the diversification and
modernization of the Russian economy. The situation analysis participants agreed that this is the main aspect today. In future, Africa can become one of the important factors in the development of some of Russian non-resource sectors, particularly railway and agricultural engineering, automotive and wheeled equipment, as well as services (primarily education and health care).
c) Strengthening the position of the Russian Federation as one of the influential centers in the modern world. Political partnership with African countries and the African Union as friendly players can make an important contribution to these efforts. As UN votes show, the positions of Russia and most African countries are conceptually identical or similar on many issues. None of the African countries imposed sanctions or restrictions against Russia. The ideological basis for cooperation at this level can be provided by the conceptual documents and ideas recognized and supported by all African countries: the approach of "African Solutions to African Problems" be strictly followed, working within the framework of the African Union Agenda 2063 and the UN Development Goals 2030.