Gas doom hanging over Ukraine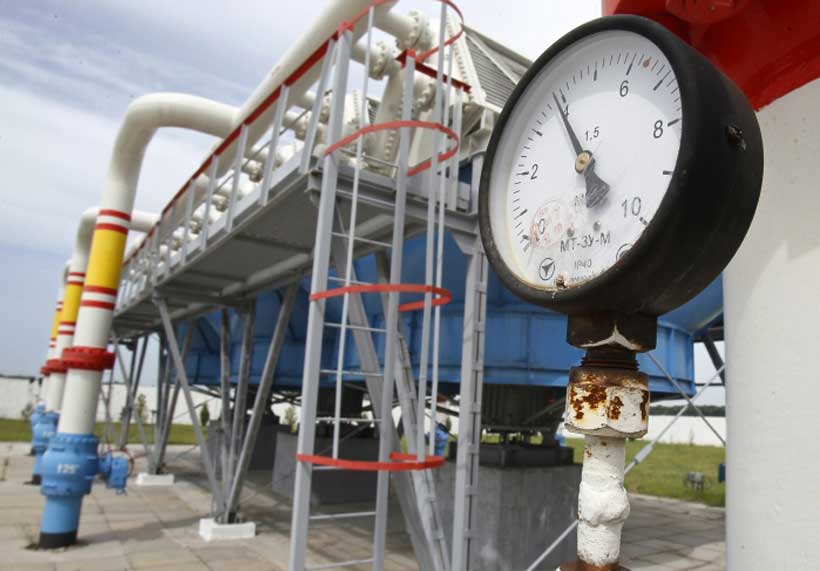 The long history of gas transit across independent Ukraine began with Kiev's initial failure to pay anything for Russian natural gas, both intended for transit to Europe and for domestic consumption, on the pretext of fraternal relations between the former Soviet republics. Later it cost the Ukrainians a meager $25 for 1,000 cubic meters of Russian gas, and that ridiculously small sum remained unchanged for quite some time. The sizeable amount of Russian gas provided at a discount price, plus domestically available oil resources, were distributed by the country's greedy elite the following way: domestically produced gas was used on utilities, proceeds from the transit of Russian gas went to the state budget (minus the money that lined bureaucratic pockets), and Russian gas – to the industry (plus the corruption component).
Then came the Ukrainian revolutions and Kiev's desire to join "Euro-Atlantic structures" and the desire to "get off the Russian gas needle and prevent the Kremlin from using energy as a weapon." Ukraine has tried and is still trying to believe in all this by playing up to the collective West and hoping that the West will compensate Kiev for the losses caused by its revolutionary endeavors and anti-Russian antics. As a result, we see gas prices going through the roof, an energy crisis in Europe, and the completion of the Nord Stream 2 gas pipeline.
Those in power in Kiev hoped for the very last moment that the West valued their country more than it did the energy security of European countries. Much to their surprise (and only theirs), this is not so. It looks like the Europeans are interested in Russian gas supplies and are not so eager to keep Ukraine as the main transit country. Moreover, having "democratized Ukraine" to the state of an openly anti-Russian country, the West turned it into a country, whose leadership the Kremlin does not really want to talk to simply because it does not see any point in doing this. This is the reason why third countries care (or rather pretend to care) about Ukraine. Thus, in July of this year, there came out the "Joint Statement of the United States and Germany on Support for Ukraine, European Energy Security and Our Climate Goals." According to it, Germany pledged to do everything in its power to make sure that the agreement between Moscow and Kiev on the transit of Russian gas across Ukrainian territory was extended for up to ten years. The statement came when it was already obvious that the construction of Nord Stream 2 would be completed, Germany resisted US pressure on this issue, Moscow paid no attention and Washington, exhausted by the battles of the presidential elections and the search for new strategies in the Old World, was trying to pit America's European friends against Russia.
It has never been a secret that the West needs reliable transit, and this is something that Ukraine also insists on. However, Kiev has officially labelled Russia as an "aggressor country," which means that this very "aggressor" must ensure this transit and bring billions of dollars in revenues to the Ukrainian budget. This looks like a kind of "Euro-schizophrenia" where Ukraine is an anti-Russian country and simultaneously serves as a reliable transit country for Russian gas. Things do not work this way, however, and it looks like Europeans are beginning to realize this. Therefore, most of the European consumers support Nord Stream 2 even though they do not show this in public. Suffice it to mention the recent conclusion of a years-long contract for gas supplies to Hungary.
Vladimir Putin's statement, made amid soaring gas prices and growing threats to European industry, came as an energy lifeline for all Europeans.
"Russian President Vladimir Putin supported the initiative of Deputy Prime Minister Alexander Novak to increase gas supply on the market amid rising energy prices in Europe… Novak said that Russia can stabilize the situation with prices by providing additional volumes of gas on the exchange, adding that this country's main priority is to accommodate domestic demand," Lenta.ru reported.
Commenting on the possibility of increasing gas supplies via Ukraine, President Putin recalled that Ukraine's gas transport system had not been repaired "for decades" and that "something could burst" there any time if gas pressure goes up.
"At the same time, it is more profitable and safer for Gazprom to operate new pipeline systems," he added. Putin thus confirmed what is already clear to all that Ukraine is an unreliable and, in fact, an extra link, and that Europe can get gas bypassing technically and politically unreliable Ukrainian pipes. He also pointed out that Gazprom would suffer losses from an increase in gas transit via Ukrainian territory, while new gas pipelines offer cheaper transit options. He added that Gazprom is saving about $3 billion a year by using new pipelines and that Russia was ready to increase gas supplies and make them cheaper for European consumers.
Gas shortages have already forced the Ukrainian government to freeze gas prices for household consumers, but prices for gas for industrial enterprises are rising along with those on European exchanges, where on October 6, they reached a very impressive $ 2,000 per thousand cubic meters and went down only after Putin's statement came out.
Meanwhile, the head of Ukraine's Federation of Glass Industry Employers, Dmitry Oleinik, said that this [rise in gas prices – D.B.] would lead to an inevitable rise in prices. However, producers will not be able to jack up prices indefinitely, because at some point buyers simply will not be able to cover production costs.
"The Ukrainian consumer will not even be able to cover the cost of production. Plants and factories will slowly shut down and people will lose their jobs – this is already very serious. Budget revenues will "plummet," and expenses will skyrocket… The issue of bankruptcies is just a matter of time," Oleinik warned.
If Ukraine continues to follow the chosen course, it will face de-industrialization. By the way, this will suit the West, but certainly not the Ukrainian industrial oligarchs, who have long been eyeing agriculture, including the prospect of turning themselves into land barons. However, the farming sector will not be happy about the high prices on gas that bakeries, sugar factories and greenhouses run on. There will be nowhere to run.
Apart from purely practical realities, the conclusions I can draw from the current energy situation in the world and Vladimir Putin's statements regarding the Ukrainian transit, are as follows:
Gas supplies through Ukraine and to Ukraine are not solely an economic issue, given Kiev's endless anti-Russian escapades;
This problem affects the energy security of Europe;
Since there are several angles to this problem, it must be solved in a comprehensive manner;
At the same time, this cannot be done exclusively in the interests of the West and Ukraine to the detriment of the interests of Russia.
As you can see, it is once again up to Kiev and its shadow patrons to decide. And winter is just around the corner…
From our partner International Affairs
Analyzing China Solar Energy for Poverty Alleviation (SEPAP) Program
In 2014, China deployed a large-scale initiative named as Solar Energy Poverty Alleviation Program (SEPAP) to systematically alleviate poverty in poor areas including underdeveloped regions of western China. In recent years, moving the country toward technological leadership and making China the largest solar investor has been on Government's central Agenda. While having environmental benefits associated, SEPAP is a multi-purpose project which aims to reduce poverty, promote jobs and income in rural areas, boost China's solar market, and improve rural lives. It is noteworthy that SEPAP is a program that has harmonized the social, developmental, and industrial goals. SEPAP acquired the highest level of political endorsement after Xi Jinping pledged to eradicate poverty from China by 2020, which resulted in its ascension from the pilot program to a nationwide campaign. According to World Bank, China has lifted 800 Million people out of poverty by 2022 and contributed to the Global reduction of people living in poverty as close to three-quarters. China has become able to achieve this milestone by adopting targeted poverty alleviation strategies and by providing economic opportunities to the unprivileged people to raise their income level.
Through this initiative, China aimed to add 10GW of solar capacity by 2020, which will benefit over 2 Million people. The program targeted 35,000 poverty-stricken villages which were located in 471 counties in 16 Provinces. According to an evaluation study conducted in 2020, this program has resulted in an increase of 7%-8% in the per-capita disposable income of the county. Chinese Government investment in solar energy and using it as a strategy for poverty eradication has brought out positive results and the effects are twice as high in the subsequent two to three years, especially in Eastern China.
Three different contexts contributed to making SEPAP a priority on Government's agenda, making a historical conjuncture. First was the political push to eradicate prolonged rural poverty in China. To combat the higher rural-urban income gap, China adopted an "industrial" approach that emphasized developing innovative industrial facilities in the unprivileged region to make them self-sufficient in the long run. The second was the significant demand for rural electrification, where former technological preferences, especially small hydropower, were no longer feasible. The third driver was the overcapacity and shrinkage of the country's solar energy sector and the subsequent necessity to stimulate distributed solar PV installation. Before 2013, China's solar energy sector was mostly export-oriented with a dominant share of exports in overseas markets in Europe. During 2008 Trade disputes in the EU and US combined with the financial crisis lead Chinese solar manufacturers to the brink of Collapse. So, opening the domestic market for solar consumption was launched as a rescue strategy. The officials favored the installation of the distributed, small-scale solar system that can generate energy that may be utilized locally. By 2013, China becomes the world-leading market for solar energy and by 2015, It reached a total installed capacity of more than 43.18GW. Considering the scenario, SEPAP was formulated with a strategic vision that will benefit the local people while also expanding distributed Solar PV generation and absorbing overcapacity.
In 2014, SEPAP was launched by National Energy Administration (NEA) and State Council leading group
Office of Poverty Alleviation and Development (CPAD) as two joint policies. A first policy designed two alternatives for policy implementation. Installing rooftop Solar PV systems for low-income families formerly registered with CPAD was the initial option. The other policy alternative was to build Solar Power Station on the non-arable lands near the counties and villages. Using a robust financial model described in policy guidelines, the SEPAP was funded by both Government subsidies and corporate donations as a part of their corporate social responsibility initiatives. The second joint policy includes detailed guidelines for developing pilot SEPAP Projects in six provinces which included 30 counties. The provinces targeted were relatively underdeveloped while having abundant solar resources. Provincial Governments were involved to carry out the implementation process which include collecting comprehensive data on the poor household, energy supply and consumption, and quality of grid connection for each county. After the approval of plans from central governments, they were executed by the county's government via an open bidding process. Provincial Governments' poverty alleviation funds and policy banks' preferential loans were utilized for the financial support of the pilot project of the Program. To ensure accountability and transparency in projects, monitoring and evaluation teams were designed by NEA and CPAD to maintain a check and balance on program activities and construction maintenance. To raise poor household income through this project, the profits gained from the sale of solar power were distributed fully among residents after Tax deductions. The policy goal also guaranteed 3000RMB of annual income per household for more than 20 years. The program created a win-win situation by alleviating the poor from poverty while absorbing China's overcapacity of solar energy at the same time.
China's ambitious plan to align poverty alleviation goals with the expansion of renewable energy has some serious practical concerns associated with it. Analyzing the program leads to significant gaps in policy design and implementation. The program faced severe budgeting and financial problems because of a lack of appropriate arrangements and no detailed financial mechanism was developed for post-construction maintenance of the projects. Only the central government endorsement was not enough to tackle these challenges but consistent support from the banking and bureaucratic sector was the pre-requisite for program implementation. Moreover, proper financial incentives were also required to encourage the solar companies to take lead in the construction of projects. Another challenge associated with the project was the complication in the governance structure where energy regulators took the lead rather than development officials. Misallocation of expertise affected the priorities in agenda setting of the program i.e. energy regulators based on their expertise, advocated the expansion of industrial capacity rather than looking out for poverty and development issues in the local context. Moreover, the time frame designed for the assessment of pilot projects was not enough for the critical evaluation of the success and failure of the project before its transition toward a national program.
Even though it's a commendable approach, the combination of renewable energy technology with poverty reduction needs to be further examined through rigorous empirical studies both in China and in other developing nations. Future studies on how to integrate industrial strategies with development priorities and what governance institutions or structures might best serve these many policy goals can provide great insight into various policy alternatives that would be beneficial in the long run as well.
USA-KSA Energy War and Global Energy Crisis
The response of the USA to OPEC and its partner's plan to reduce output by two million barrels per day was strong enough to suggest an uptick in hostilities with oil producers, particularly Saudi Arabia. Despite the fact that the decision was well anticipated, Washington saw it as a strong indication from its Gulf allies that they are not likely to comply with USA's requests to continue oil production. In fact, it has started a war between the two major oil powers to make a serious impact on the energy regime. Hence the tug of war has an impact on the global energy domain since these two are the principal role player in the energy regime.
However, prior to the 2020 election, current US President Joe Biden urged to charge Saudi prince Mohammed bin Salman for the Jamal Khashoggi issue. The Trump era was quite friendly with the Saudi government. So, to confront Donald Trump Biden used the anti – Saudi stance in the 2020 election. Even the US government published a report on the issue after Biden was elected as the president. But the Ukraine war changed the landscape of global politics by introducing the energy crisis. To maintain a balanced price inside the USA, the Biden administration requested the KSA to put a bridle on the price. But despite having kept the USA's urge the OPEC plus decided to hold the production of 2-million-barrel oil per day. It will help to move the price upward since the downward price of oil was alarming for the OPEC members. The rising oil price can determine the interim election in the USA. Hence the US responded strongly. But the KSA maintained its position. However, here the action of the two big powers in terms of energy will facilitate another round of energy crisis in the global market. The following portions will discuss the issue and what ramifications it will bring.
Strong Stance of the KSA
Suhail Al-Mazrouei, the energy minister for the Emiratis, stated to reporters following the Vienna summit that OPEC took action to assure that producers would continue to invest in new oil supply. "They have their own stories, too, in Europe," he continued, "and in Russia. We cannot support either this nation or that nation. Moreover, Prince Abdulaziz bin Salman, Saudi Arabia's energy minister, ruled out whatever political purpose and impliedly rejected the notion that the resolution entailed any hostility toward the US or other purchasers, claiming it was not done in defense of Russia. These portray that the KSA is not showing its intent in a hostile manner rather it wants to deal the tension through diplomatic channel.
NOPEC: Reappearing on the Set
The No Oil Producing or Exporting Cartels (NOPEC) bill will allow the U.S. attorney general to sue OPEC or its members, such as Saudi Arabia, in federal court. Other producers like Russia, which works with OPEC in wider group known as OPEC+ to withhold output, could also be sued.
The decision to reduce oil production, however, has already caused President Joe Biden to express his "disappointment," adding that he would be exploring at "alternatives" to increase inventories. Hence, National Security Advisor Jake Sullivan and Director of the National Economic Council Brian Deese, two senior officials, issued a joint statement urging the White House to rethink its position and support the so-called NOPEC bill, which would hold the oil-producing cartel legally responsible for any price collusion.
Releasing Strategic Reserve: Not an Optimistic Option
The Biden administration's alternative choice is to increase the amount of oil that is released from the strategic reserve, which is currently at its lowest levels since 1984. A previously stated release of tens of millions of barrels had no effect on the market, but further releases could lead to a supply surplus that would support further OPEC production cutbacks.
The Russia Factor
Washington commentators spouted accusations of Saudi Arabia "siding with Russia" after the OPEC+ announcement of relatively small production cuts. In a statement, the Saudi foreign minister revealed that the U.S. asked OPEC+ to delay announcing its production cut by a month and said that he rejects such "dictates" from Washington.
Moreover, according to OPEC, the decision is simply technical and for maintaining market stability. However, the US administration was enraged because Alexander Novak, the deputy prime minister of Russia and minister of energy, was present at the OPEC+ summit in Vienna. According to sources at OPEC, the US attempted to exert pressure on Austria to forbid his attendance, but OPEC+ members vowed to relocate the organization's headquarters from there if its integrity was not upheld.
According to analysts, rising oil prices prior to a price cap would be advantageous for Russia, the largest non-OPEC producer. At least the discount starts at a higher price level if Russia is forced to sell oil below market value. Early in the year, high oil prices somewhat offset the sales Russia lost as Western consumers avoided its supplies. Additionally, the nation has been successful in redirecting almost two thirds of its traditional Western sales to buyers in nations like India.
However, as oil prices and sales volumes dropped, Moscow's revenue from oil decreased from $21 billion in June to $19 billion in July to $17.7 billion in August, according to the International Energy Agency. The price limitations would further undermine a significant source of income since oil and gas revenues account for one-third of Russia's federal budget.
Ramifications: "Weaponization of Oil"
The world will experience a surge in demand for oil. Besides, the global politics will divide into two separate blocs, though already the polarization is vivid enough. There are other ramifications of the war.
Firstly, The Biden administration plans to "re-evaluate" America's eight-decade-old alliance with Saudi Arabia because of last week's OPEC+ decision to cut oil production. But the White House posturing looks like a bid to distract from the effects at home of Washington's failure to pursue a successful transition to clean energy.
Immediately following the OPEC+ decision, Roger Diwan, an analyst with S&P Global Commodity Insight, claimed in a note that the cuts represented a "weaponization of oil" and that the meeting's timing and location were an intentional signal: The deputy prime minister of Russia, who is subject to US sanctions, was present to discuss limiting the oil supply as winter approaches and Russia has already militarized its gas deliveries to Europe. The confrontational course taken by Saudi Arabia will increase the price risk for oil.
Secondly, a shift in the gulf's policy domain will be experienced. Some in the US perceived the decision as a failure of Biden's Gulf policy because it was taken just over two months after Biden's meeting with Saudi Crown Prince Mohamed bin Salman in Jeddah. The ruling Democratic Party was anxious about the Congressional midterm elections in addition to the conflict in Ukraine and the economic sanctions against Russia. With opinion surveys indicating that Republicans might win majorities in both the House and the Senate, high gas prices at the pump only worsen their already bleak prospects.
Thirdly, Saudi Arabia's energy minister cautioned in a deliberate response to the American response that US-led plans for a price ceiling on Russian shipments are fanning the uncertainty that prompted OPEC+ to its largest output cut in two years. The perception that the next two months would be "a period of uncertainty" is increased by "the lack of details and the lack of clarity" regarding how the price ceiling will be put into place. People have no idea how the market or the participants would respond.
Fourthly, according to some Gulf sources, the "strategic alliance" between the US and Gulf nations will prevent the situation from turning into a full-blown energy crisis. They even assert that everything will "cool off" following the midterm elections later this month.
Sixthly, the USA will search for alternative sources in the African region for maintaining supply-chain of oil and gas. The visit of Biden to the African states was a sign of newer sources to ensure the security of commodities like oil.
Finally, the energy war is empowering the movement for renewable energies facilitated by the USA inside and outside the USA. The initial election mandate for the US president was to enable more renewable energy sources.
Moreover, higher oil prices will unavoidably exacerbate the inflation problem that central banks around the world are trying to solve, and they will affect the decision to raise interest rates even further to slow down the economy. That might increase the price of gasoline globally and intensify an energy crisis in Europe and the rest of the world that is mostly related to Russian reductions in natural gas supplies used for heating, electricity, and manufacturing.
In the end, it is a reality for the developing and underdeveloped nations, that they will suffer the most. Reserve shortage, high inflation, high food price, and a prolonged energy crisis are what they might expect from the situation.
Russia-Turkey: Gas partnership as an answer to Western sanctions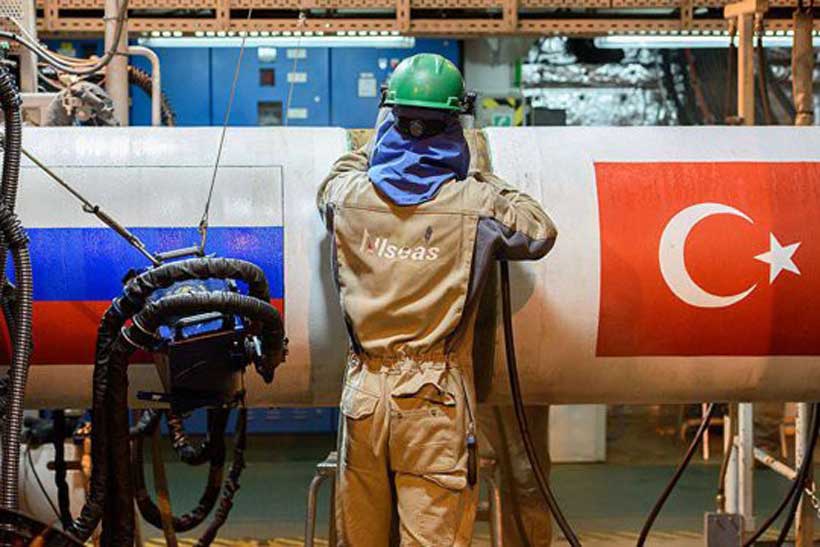 In early November, the European Union extended for the umpteenth time its sanctions against Turkey for another year for Ankara's allegedly illegal exploration of gas fields off the coast of Cyprus.
The EU is understandably obliged to protect the interests of its member nations, in this case, of Greece and Cyprus, but I believe that this latest move by Brussels should be viewed in a broader context. The issues of extraction, transportation and supply of natural gas have already acquired a distinct political dimension in the world.
"We could move the lost volume of transit through the Nord Streams along the bottom of the Baltic Sea to the Black Sea region … by creating the largest gas hub for Europe in Turkey, if, of course, our partners are interested in this," Russia's President Vladimir Putin said, when addressing the plenary session of the Russian Energy Week International Forum. His Turkish counterpart enthusiastically accepted the offer.
Notably, the "gas" issue has more than just economic or political significance for Turkey. It has also become a sort of a metaphysical symbol of its success in the international arena. Ankara has long outlined its goal of becoming a major transportation hub, and if possible, the seller of natural gas to Europe, and is working hard to make this happen. Right now, there are seven main gas pipelines running through Turkish territory, four operational LNG terminals, and the country's own gas fields in the Black Sea that are being actively developed by Turkey, which plans to put the first of these gas fields into operation within a month.
Not everyone believes the Turkish reports about the "huge reserves" of natural gas in the country's territorial waters, though. Some skeptics even joke that Gazprom will lay a pipe to these fields, and BOTAŞ (the Turkish analogue of Gazprom) will simply latch onto it.
Meanwhile, in an interview with TRT Haber, Turkish Minister of Energy and Natural Resources, Fatih Donmez, said that "in the event of an increase in demand, Russian gas alone may not be enough." Therefore, Ankara is currently in talks with other suppliers of pipeline and liquefied natural gas in the Middle East, North Africa, Central Asia and even Southeast Asia – about half a dozen in all. Given this vast geography, the logistics of supplies will be fairly complicated though, but Ankara's plans to hold a conference with potential gas suppliers for the proposed hub early next year proves the seriousness of its intentions.
By implementing this project, Ankara expects both to receive relatively inexpensive gas and also payment and even commissions for the sale of Russian fuel to the European market. And of course, Turkey would not be Turkey if, just days following President Putin's abovementioned statement, the country's Treasury and Finance Minister, Nureddin Nebati, did not reiterate its request for a discount on Russian gas and for a deferral of payments for its supplies.
Meanwhile, Hungary and Serbia continue to buy Russian gas, while the European Commission has officially banned its purchases – politics in the West today prevails over the economy. At the same time, many countries are willing to purchase Russian gas, but subject to the observance of "sanction propriety," and the proposed hub where gas from different suppliers will inevitably be mixed, will help observe this "propriety."
As for Turkey's relations with Western allies, both the US and the EU have repeatedly and persistently invited the Turkish leaders to join the anti-Russian sanctions, which is something Ankara has so far carefully avoided.
Almost a week after Putin and Erdogan agreed to set up this hub, US Assistant Secretary for Terrorist Financing and Financial Crimes Elizabeth Rosenberg visited Ankara and Istanbul to discuss "a range of topics, including the sanctions and export controls imposed on Russia by a broad coalition of over 30 countries, energy security, anti-money laundering policy, and countering the financing of terrorism. These meetings affirmed the importance of close partnership between the United States and Turkey in addressing the risks caused by sanctions evasion and other illicit financial activities," the US Treasury Department said.
Starting from June, US Deputy Treasury Secretary Wally Adeyemo and European Commissioner for Financial Services, Financial Stability and Capital Markets Union Mairead McGuinness traveled to Turkey with approximately the same agenda.
At the same time, Washington and, at its suggestion, Brussels are ramping up economic pressure on Ankara, above all on its banking sector. As a result, Turkish banks were forced to refuse to service Russia's Mir cards, periodically returning payments in dollars and euros to Russian payers, even if they go via correspondent, almost entirely Western banks. There is always a way out though, and work is now underway to resume accepting Russian bankcards, and payments are easily made in rubles. Such transactions are not tracked by financial regulators in the United States and Europe.
As for Ankara itself, it has its own means of counteracting this. Europe has fresh memories of Recep Tayyip Erdogan once opening the "gate" for hundreds of thousands of Asian and African migrants, and due to the "obstinacy" of the Turkish leader, NATO is still unable to take in Sweden and Finland.
Turkey, like probably no other country in the world, is interested in maintain sustainable economic ties with Russia. Therefore, it is safe to assume that it will continue to resist pressure brought to bear by the Western allies, even if at times it comes under their "friendly fire."
From our partner International Affairs