COVID-19 deaths at lowest level in nearly a year
Although COVID-19 deaths continue to decline, vaccine inequity persists, the head of the World Health Organization (WHO) said on Wednesday, again calling for greater support for developing countries.
Agency chief Tedros Adhanom Ghebreyesus reported that the death toll from the disease is now at its lowest level in almost a year.
"But it's still an unacceptably high level – almost 50,000 deaths a week, and the real number is certainly higher," he said, speaking during the regular WHO briefing from Geneva.
"Deaths are declining in every region except Europe, where several countries are facing fresh waves of cases and deaths. And of course, deaths are highest in the countries and populations with the least access to vaccines."
Tedros appealed for global cooperation. "Countries that continue to roll out boosters now are effectively preventing other countries from vaccinating their most at-risk populations," he said.
Missing the mark
As of Wednesday, there were more than 238 million COVID-19 cases worldwide, and more than 4.8 million deaths.
WHO had previously pushed governments to vaccinate 10 per cent of their populations by the end of September, a target which 56 nations missed, most of them in Africa.
Tedros said even more countries are at risk of missing the 40 per cent target to be achieved by the end of the year.  Three countries – Burundi, Eritrea and the Democratic People's Republic of Korea – have yet to start vaccinations. 
 "About half of the remaining countries are constrained by supply. They have a vaccination programme underway, but don't have enough supply to accelerate enough to reach the target," he said.
Tedros urged countries and companies that control global vaccine supply to prioritize distribution to the COVAX solidarity initiative and the African Vaccine Acquisition Trust (AVAT).
Meanwhile, WHO and partners are working with other countries, such as those affected by fragility or conflict, to strengthen technical and logistical capacity for vaccine rollout.
"With aggressive and ambitious action, most of these countries can still reach the 40% target by the end of this year, or be on a clear pathway to reaching it."
Crisis in Tigray
Tedros also addressed the escalating crisis in northern Ethiopia, where a nearly year-long war in the Tigray region has left up to seven million people in urgent need for food and other assistance.
The conflict has spilled over into neighbouring Afar and Amhara, further increasing needs and complicating response efforts. Aid is not reaching the area "at anywhere close to the levels needed", he said, and communications, electricity, other basis services remain cut off.
WHO and partners are calling for unfettered access to the affected regions, as the lives of millions of people are at stake, Tedros told journalists.
"People with chronic illnesses are dying due to lack of both food and medicine. Nearly 200,000 children have gone without critical vaccinations," he said
"When people do not have enough food, they are more susceptible to deadly diseases, as well as the threat of starvation, and that's what we're now seeing in Tigray."
Left Ventricular Aneurysm Surgery
A heart aneurysm is a serious illness that causes impairment of the contractile activity of the affected area of the heart muscle. Most often such pathology develops in the wall of the left ventricle of the heart. The disease more often affects men over the age of 40. Aneurysm detected in the heart grows only up to a certain size, but always requires surgical treatment.
Treatment for left ventricular aneurysm
Today physicians cope with heart aneurysms only by surgery. This is the only effective method that can completely cure a patient. Medication therapy is only used to temporarily improve the condition of patients with left ventricular aneurysms. If a patient is diagnosed with a left ventricular aneurysm, urgent surgical treatment is prescribed in the presence of the following indications:
Severe heart rhythm abnormalities
Formation of a blood clot in the aneurysm
Rapidly developing heart failure
Aneurysm rupture
Surgical treatment of acute and subacute heart aneurysms is indicated in the rapid progression of heart failure and the threat of aneurysmatic sac rupture. In chronic cardiac aneurysm, surgery is performed to prevent thromboembolic complications and for myocardial revascularization.
As a palliative intervention, strengthening of the aneurysm wall with polymeric materials is resorted to. Radical operations include ventricular aneurysm resection (if necessary – with subsequent reconstruction of the myocardial wall).
How is the surgical treatment carried out?
During this procedure, the patient's chest is opened and the blood flow through the heart is stopped. A special device is attached to the main vessels, which continues to maintain the pumping function while the heart remains inactive. Only then a surgeon removes the aneurysm. Vascular bypass is also performed, if necessary. After a cardiac aneurysm is excised, the treatment process is not over. After the operation, it is necessary to stay under the supervision of healthcare professionals, because there is a risk of complications.
In a post-traumatic aneurysm of the heart, the heart wall is sutured. If additional revascularizing intervention is necessary, aneurysm resection with CABG are performed simultaneously.
In the preoperative period, patients with a left ventricular aneurysm receive cardiac glycosides, anticoagulants, hypotensive drugs, and oxygen therapy.
As a rule, small left ventricular aneurysms do not require special methods of repair after the procedure. The defect after aneurysmectomy can be closed by a simple linear suture, which is effective and the most suitable option for such situations.
After left ventricular aneurysmectomy and possible plasty, the development of low ejection syndrome, repeated myocardial infarction, arrhythmias (paroxysmal tachycardia, atrial fibrillation), suture failure and bleeding, respiratory failure, renal failure, cerebral thromboembolism is possible.
Is it worth going abroad for treatment during a lockdown?
All of the above conditions pose a serious threat to a person's life, so the start of treatment should not be delayed. Left ventricular aneurysm surgery should only be performed by an experienced physician because it is a very complex intervention. And the absence of timeliness and quality of the intervention becomes the reason why people go abroad to treat left ventricular aneurysms.
You might think that it isn't worth jumping straight into it in the middle of a lockdown. But if you need to go abroad for treatment, you can. Yes, you may need to wait a bit longer to get a visa, but it also doesn't have to be that way.
Booking Health knows all of the ways to organize the left ventricular aneurysm surgery as soon as possible. The company will help you to get a visa if you're applying for the first time or if your request has been declined. Booking Health will also help you choose a hospital that suits your preferences, prepare all the necessary documentation, book the flight tickets and accommodation, and will do every single treatment-related thing for you.
For Booking Health to help you, please, leave a request on the official website, and a medical advisor will contact you.
WHO urges caution over travel bans linked to new COVID-19 variant
The UN health agency has urged all countries to adopt a risk-based and scientific approach to travel bans linked to a new COVID-19 variant identified in South Africa and Botswana.
The development on Friday came as a World Health Organization (WHO) panel prepared to meet to assess the potential impact of a new coronavirus variant identified as B 1.1.529.
According to WHO's COVID-19 technical lead, Dr. Maria Van Kerkhove the information is still limited.
"There are fewer than 100 whole genome sequences that are available, we don't know very much about this yet. What we do know is that this variant has a large number of mutations, and the concern is that when you have so many mutations it can have an impact on how the virus behaves", she said during a Q&A on Twitter.
Dr. Van Kerkhove explained that researchers are currently trying to determine where the mutations are and what they potentially mean for diagnostics, therapeutics, and vaccines.
"It will take a few weeks for us to understand what impact this variant has, there's a lot of work that is underway. It's a variant that's under monitoring. The (WHO) technical advisory group will discuss if it will become a variant of interest or a variant of concern and if that's the case, we will give it a Greek name, but it is something to watch", she added.
'Do not discriminate'
The expert thanked researchers from South Africa and Botswana for openly sharing information to the UN health agency.
"Everyone out there: do not discriminate against countries that share their findings openly", she urged, as countries such as Britain, France and Israel have moved to cancel direct flights from South Africa and surrounding nations.
According to South African health authorities so far fewer than 100 cases of the new variant have been confirmed, largely among young people who have the lowest vaccination rate in the country.
"Countries can do a lot already in terms of surveillance and sequencing and work together with the affected countries or globally and scientifically to fight this variant and understand more about it so that we know how to go about…so at this point implementing travel measures is being cautioned against", WHO spokesperson Christian Lindmeier told journalists in Geneva.
Protect yourself and others
The WHO officials reminded previous advice: people can do a lot to protect themselves from COVID, including by continuing to wear masks and avoiding crowds.
"Everybody that's out there needs to understand that the more this virus circulates the more opportunities the virus has to change, the more mutations we will see", said Dr. Van Kerkhove.
"Get vaccinated when you can, make sure you receive the full course of your doses and make sure you take steps to reduce your exposure and prevent yourself from passing that virus to someone else", she added.
Tobacco use continues to fall, but still 'long way to go'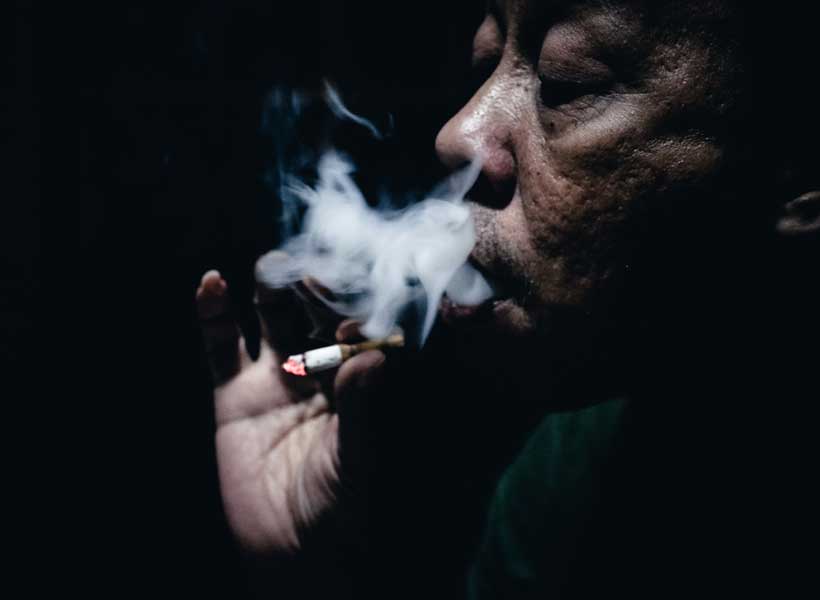 The number of tobacco users continues to decrease globally, going from 1.32 billion in 2015 to 1.30 billion last year, the World Health Organization (WHO) said onTuesday.
And according to the fourth WHO global tobacco trends report, that number is expected to continue to drop to 1.27 billion by 2025.  
Sixty countries are now on track to achieving the voluntary global target of a 30% per cent reduction by 2025, an increase from two years ago, when only 32 countries were on course.
Encouraging news
For WHO Director-General Tedros Ghebreyesus, the numbers are very encouraging, but more work must be done. 
"We still have a long way to go, and tobacco companies will continue to use every trick in the book to defend the gigantic profits they make from peddling their deadly wares", Tedros said.
According to WHO, recent evidence shows that the tobacco industry used the COVID-19 pandemic to build influence with Governments in 80 States.
The report urges Member States to accelerate implementation of the measures outlined in the WHO Framework Convention on Tobacco Control (WHO FCTC).
Ruediger Krech, Director of WHO Department of Health Promotion, attributed some of the progress to measures aligned with the WHO FCTC, while maintaining that success is "fragile."
"It is clear that tobacco control is effective, and we have a moral obligation to our people to move aggressively in order to achieve the Sustainable Development Goals (SDG) link", he said.
Good investment
A newly released WHO Global Investment Case for Tobacco Cessation, also makes the case for investing in cessation interventions.
According to the report, contributing US$ 1.68 per capita each year to national toll-free quit lines, SMS-based support, and other interventions could help 152 million tobacco users successfully quit by 2030.
The report and the investment case were released right after the ninth session of the Conference of the Parties to the Protocol to Eliminate Illicit Trade in Tobacco Products.Protocol to Eliminate Illicit Trade in Tobacco Products.
Key findings
Last year, 22.3% per cent of the global population used tobacco, 36.7 per cent of all men and 7.8 per cent of the world's women.
Approximately 38 million children between the ages of 13 and 15 currently use tobacco, 13 million girls and 25 million boys.  While it is illegal for minors to purchase it, the goal is to achieve zero child tobacco users.
On average, upper middle-income countries are making the slowest progress, but with data quality low or insufficient in 29 countries, more monitoring is needed to assess a trend.
Regions
Of all WHO regions, the steepest decline is in the Americas, where the average user rate dropped from 21 per cent in 2010 to 16 per cent last year.
In Africa, the rate fell from 15 per cent to 10 per cent and the continent continues to have the lowest numbers.
In Europe, 18% per cent of women still use tobacco, substantially more than in any other WHO region, while all others are on track to reduce women's usage rates by at least 30% per cent by 2025.
Although South-East Asia has the highest rates, with around 432 million users or 29 per cent of its population, it is also the region in which the numbers are declining fastest.
Finally, the Western Pacific is projected to become the region with the highest use among men, with indications showing that more than 45% per cent will still be using tobacco in 2025.
According to WHO, this product kills more than 8 eight million people each year, over 7 seven million of whom die as a direct result of smoking tobacco while around 1.2 million others from second-hand smoke.