Bilateral relations between the world's sole superpower, the United States of America (US, USA), and the world's third-largest economic power, the East Asian powerhouse of Japan, are premised on forging healthy relations and binding with the rest of Asia impeccably. This would involve deepening existing ties and forging new ones with the many notable actors professing to vital stakes and vested interests across the length and breadth of the world's largest continent, as also the Indo-Pacific region (IPR). As on date, owing to evident differings and conflictual circumstances between countries such as Japan and South Korea, Washington D. C. is compelled to calculate its forays in Asia while aspiring for long-term amicability between belligerent countries. However, this factor has not stopped Washington from establishing, entertaining, and evolving its mini/multi-lateral relationships in Asia, especially in the eastern geography of the continent. The United States has implemented a 'Hub-and-Spokes' alliance system in the security environs of the Asia-Pacific, with Japan a critical, if not the most critical, 'spoke' in this system (see Figure 1 below).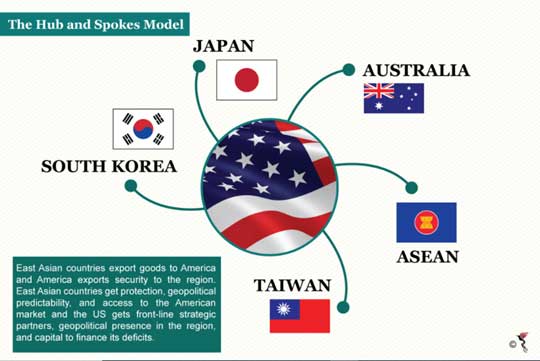 Fig. 1  The US 'Hub-and-Spokes' Arrangement in Asia. Source:  The ASEAN Post

America and Japan are not just involved bilaterally, but have enforced an effective multilateral impression leading to having exercised their geopolitical influence across Asia. The Quadrilateral Security Dialogue (QSD, better known as the QUAD) is an initiative of four democracies, which was the brainchild of Japan in the mid-2000s, with pressing commonalities and engaging objectives in the Indo-Pacific in particular. Its four member democracies are the US, Japan, Australia, and India. It was heralded in 2007 courtesy promptings from Japan about the state of maritime security and apprehensions about the upsetting rise of a determined emerging superpower in the Peoples' Republic of China, despite having initially focussed on disaster relief in the high seas (The Indian Ocean tsunami, December 2004). Of late, the QUAD has been given a much-needed impetus with the as-yet unstructured grouping having adopted a sole security motive to offset the rise of an increasingly influential, overbearing, and overpowering China. A first-ever in-person meeting was organised between its members in Washington D. C., with the capital of the United States signifying just how far the QUAD has come in terms of sustained minilateral activism. This in-person meeting has followed meetings between senior-level officials such as the respective foreign ministers of the four partner countries.

The US and Japan have also extensively associated with Southeast Asia as far as the political, geopolitical, economic, geoeconomic, security, and geostrategic situations of the region are concerned. The US remains on exceedingly and improvingly good terms with South China Sea countries such as Vietnam, the Philippines, Indonesia, and Singapore – which are the four major countries of the Association of Southeast Asian Nations, or the ASEAN. These relationships are centred upon the military, and especially maritime-military, domain given that Southeast Asia largely involves routine and menacing Chinese infringements in the form of the brazen excursions of its many maritime entities such as the Peoples' Liberation Army Navy (PLAN). An interest in Southeast Asia for Tokyo and Washington caters to a diverse array of initiations and involvement ranging from economic and trade relations to investments and financial outlays for very specific purposes. Timely and responsive military assistance in the form of equipment donations and technology transfers have also become a staple of the US and Japan's association with Southeast Asian countries. A wary approach is pursued in the perplexing domain of the South and East China Seas with freedom of navigation considered to be an imperative of the vast maritime-naval forces deployed by Washington and Tokyo.

The United States was one of the first Dialogue Partners of the ASEAN (since 1977), and this is also when Japan formalised its till-then-informal dialogue partnership with ASEAN. The US has been involved in several ASEAN-driven maritime-allied formal platforms such as the East Asia Summit (2005), the Expanded ASEAN Maritime Forum (since 2012), and the ASEAN Defence Ministers' Meeting Plus (which is held with all of the ASEAN's Dialogue Partners and first took place in Vietnam in 2010). Japan is involved integrally in all of the above forums and the ASEAN+3, an exclusive between ASEAN and China, the Republic of Korea, plus Japan itself. In the broader respect, American involvement has helped forge a unity among the participants of such pioneering political, economic, and security mechanisms amongst, primarily, Southeast and east Asian nations, ably assisted by Japan wherever feasible. America's (in)famous 2011 'pivot to Asia', officially named a 'Rebalance', was meant to re-tune and re-focus its attention to the world's largest and most important continent as far as the twenty-first century is concerned. This was due to the twin reasons of dealing with the emerging security imperatives related to erasing the extra-sovereign Chinese strategic footprint and devising new paradigms of mutually-beneficial economic cooperation with like-minded Asian countries. Southeast Asia was deemed to be the geographical launchpad of this strategy which has since evolved under succeeding administrations.

Other multilateral involvements which help address issues bearing a commonality and a convergence of maritime interests include the US-Australia-Japan Trilateral Security Dialogue (TSD). Australia is a country which is increasingly being viewed as an actor with the required level of capacities and capabilities befitting a broader and deeper Indo-Pacific institution of itself, and the recent announcement of an Australia-United Kingdom-United States (AUKUS) arrangement has just critically elevated its nuclear threshold. Within the ambit of the Indo-Pacific region in which all three profess to geopolitical stakes, both the US and Japan are highly committed friends of Australia. The TSD was founded in the late 2000s and was focussed on elevating cooperation between the three major Indo-Pacific players in the broader domain of security, which also includes the diplomatic, economic, social, and political arenas. A concerted and concentrated focus on China was also one of the themes of the security domain of the TSD. The last meeting of this trilateral took place in August 2019, a few months prior to the onset of the novel Coronavirus pandemic in Japan. A joint ministerial statement issued by the three parties was ASEAN-centric and endorsed the 'ASEAN Outlook on the Indo-Pacific'. This last meeting had actually co-incided with the circulation of the 'Outlook' document by the ASEAN community.

It is certain that the US and Japan have, since time immemorial, indicated a tendency to align key and emerging players in regions of critical geopolitical importance, such as Southeast Asia, and this has considerably vitalised multilateralism. This optimism has been consistently backed by strategies entailing day-to-day participation and the US has emerged as an oddly Asian country in itself through a multitude of ever-growing endeavours. It has expended considerable bandwidth to Asia since the end of the warring years and there is much to both gain and learn from such a grand venture by a foreign superpower. The US remains immensely close to the ASEAN, as does Japan. The extent to which Washington and Tokyo have aided, abetted, assisted, and assured their friends and allies either jointly or individually is worth commendation and furthers a welcome duopoly in the Indo-Pacific region. Most of Southeast Asia remains in an emerging form, with a few prosperous exceptions such as the city-state of Singapore which are responsible for the rise of ASEAN as a worthy participant in the Indo-Pacific's 'Great Game'.
Disclaimer: The views expressed in this article are personal and do not reflect those of his employers in the National Maritime Foundation or Modern Diplomacy.
Kishida and Japan-Indonesia Security Relations: The Prospects
In October, Japan had inaugurated Fumio Kishida as the new prime minister after winning the Liberal Democratic Party (LDP) presidential election earlier. Surely this new statesmanship will consequently influence Tokyo's trajectory in international and regional affairs, including Southeast Asia.
Not only that Japan has much intensive strategic cooperation with Southeast Asians for decades, but the region's importance has also been increasing under Japan's Free and Open Indo-Pacific (FOIP). Southeast Asia, as a linchpin connecting the Indian Ocean and the Pacific Ocean, is key to Japan's geostrategic interest and vision.
Since the LDP presidential election debate, many have identified Kishida's policy trajectory, including in the defense and security aspect. Being bold, Kishida reflected its hawkish stance on China, North Korea, and its commitment to strengthening its alliance with Washington. Furthermore, Kishida also aimed to advance the geostrategic and security initiatives with like-minded countries, especially under FOIP.
One of the like-minded countries for Japan is Indonesia, which is key Japan's key partner in Southeast Asia and Indo-Pacific.
This article maps the prospect of Japan's security cooperation with Indonesia under the new prime minister. It argues that Prime Minister Kishida will continue to grow Japan's security cooperation with Indonesia to adjust to the changing security environment in Indo-Pacific.
Japan – Indonesia Common Ground
In its basic principle, Japan and Indonesia shared the same values in democracy, rules-based order, and freedom of navigation in developing strategic cooperation, especially in the maritime security aspect.
In the geostrategic context, Japan and Indonesia also have significant similarities. Both countries are maritime countries and seeking to maximize their maritime power, as well as having formally synchronized geostrategic vision. While Japan has FOIP, Indonesia has Global Maritime Fulcrum (Poros Maritim Dunia) and leading initiator for ASEAN Outlook on the Indo-Pacific (AOIP).
In capitalizing on this shared vision, since Shinzo Abe and Joko "Jokowi" Widodo era, Japan and Indonesia have initiated much new security cooperation ranging from a high-level framework such as 2+2 Foreign and Defense Ministers' Meeting in 2015 and 2021 to capacity building assistances and joint exercises. Furthermore, defense equipment transfers and joint technology development were also kicked off under Abe-Jokowi.
Kishida's Foreign Affairs and Defense Profile
Compared to his predecessor, Suga Yoshihide, Prime Minister Kishida is more familiar with foreign affairs.
Personally, Kishida comes from a political family and spent several years living in the United States, reflecting his exposure to the international and political environment from an early age. This is significantly different from Suga, who grew up in a strawberry farmer family in a rural area in Akita Prefecture.
Politically, served as foreign minister under Shinzo Abe, Fumio Kishida is the longest-serving foreign minister in Japan's history. This reflects his extensive understanding of current world affairs, compared to Suga who spent most of his prime political career in the domestic area such as being chief cabinet secretary and minister for internal affairs & communication.
Specifically, in defense and security posture, Prime Minister Kishida is willing to go beyond the status quo and not blocking any key options in order "to protect citizens". During his policy speeches, he stated that he is not ruling out the option to build attacking capabilities due to the severe security environment surrounding Japan. Also, Kishida will not limit the defense budget under 1% of Japan's gross domestic product if necessary.
Future Security Cooperation Trajectory with Indonesia
In short, policy continuity will play a huge role. One of the reasons why Kishida was able to win over more popular Kono was due to his moderate liberalness, demonstrating stability over change. This was more preferred by faction leaders in LDP.
In defense and foreign affairs, the continuity is boldly shown as despite appointing entirely new ministers in his cabinet, the only two ministers retained by Kishida are Foreign Minister Motegi and Defense Minister Kishi. By this, it sent the narrative to the international community that there will not be significant turbulence caused by the changing leadership on Japan's side.
As a background context on Indonesia, Fumio Kishida was the foreign minister from the Japanese side behind the 2+2 Foreign and Defense Ministers' Meeting with Indonesia in 2015. Indonesia is the only country Japan has such a high-level security framework within Southeast Asia. This framework has led Japan and Indonesia to have a second edition of the 2+2 meeting in 2021, resulting in many practical cooperation deals in defense and security.
The other setting supporting Kishida's policy continuity, especially in the context with Indonesia is that his foreign minister's counterpart, Retno Marsudi, was still in charge from the last time Kishida left the foreign minister post in 2017, until today. Initiating the 2+2 framework together, it will be easier for Kishida to resume his relationship with both President Jokowi and Foreign Minister Retno in advancing its strategic cooperation with Indonesia, especially in the defense and security area.
The prospect of continuity is also reflected in Kishida's commitment to continue the geostrategy relay of both his predecessors, Shinzo Abe and Suga Yoshihide, in achieving the FOIP vision.
Not only that Indonesia is having a similar vision of maritime prosperity and values with Japan, but Indonesia is also concerned with South China Sea dynamics as it started to threaten Indonesia's remote islands, especially Natuna Islands. As this is a crucial cooperation opportunity, Kishida needs to continue assisting Indonesia to improve the security and prosperity of its remote islands. Thus, as Kishida also admitted that Indonesia is a major country in ASEAN, having favorable relations with Indonesia is important for Japan's geostrategy.
Challenges
To capitalize on the potentials with Indonesia, Kishida needs to support Indonesia's strategic independence as well as to make the best of his position as one of the United States' allies in Asia.
Despite his tougher stance on China and Taiwan issues, Kishida cannot fully project Japan's rivalry with China to Indonesia. In addition to its strategic independence, Indonesia has and needs strong strategic relations with China to support many of the vital development projects surrounding Indonesia. This cannot be touched.
Also, Japan needs to bridge Indonesia, as well as other like-minded Southeast Asian countries, with the Quad and AUKUS proponents. Indonesia is formally stated that it is concerned about the ownership of nuclear-powered weapons by its neighboring countries. On the other side, Japan supported AUKUS and is a close ally of the U.S. Kishida's ability to grab this opportunity will solidify Japan's credibility and position among Southeast Asians.
Will There Be an End to the War in Korea?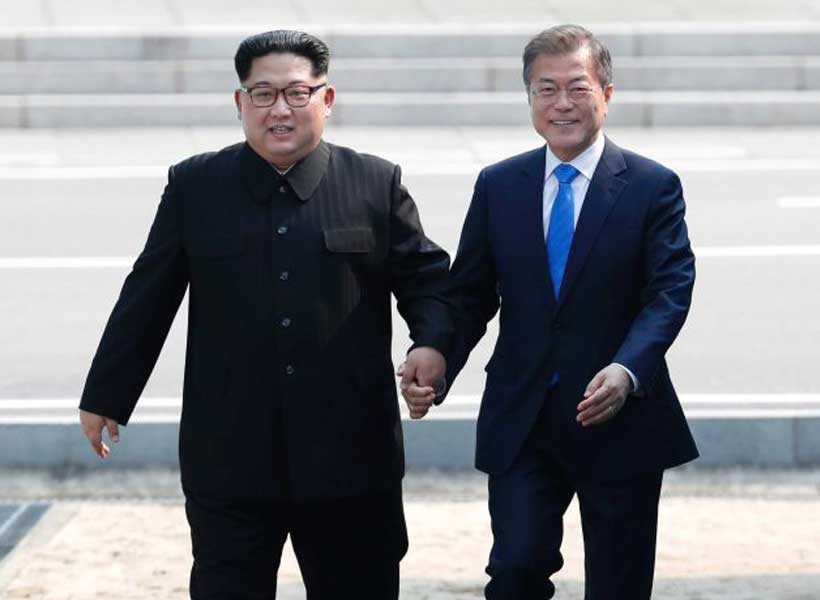 On September 21, 2021, President of South Korea Moon Jae-in addressed the UN General Assembly, calling for a formal end to the Korean War of 1950–1953. "I … propose that the three parties of the two Koreas and the U.S. or the four parties of the two Koreas, the U.S. and China come together and declare that the war on the Korean Peninsula is over," Moon Jae-in said.
President Moon's call appeared more relevant than ever before. For decades, the military stand-off on the Korean Peninsula has been haunted by the threat of a "big war" that could involve nuclear weapons. Resolving the issue also presents a crucial political and legal problem, as the UN has from the outset been involved in the conflict. On the one hand, the 1953 Korean Armistice Agreement only meant the cessation of military hostilities, not an end to the war as such. On the other hand, the absurd truth is that it is the United Nations, rather than South Korea, that is officially locked in a military stand-off with North Korea—something certainly needs to be done about this. During the war, South Korea received assistance in the form of UN Security Council Resolution 84 passed on July 7, 1950, establishing the UN Command, multinational armed forces of 16 states led by the United States. These forces fought in the Korean War under the UN flag and signed the 1953 Korean Armistice Agreement as the adversary of the Korean People's Army and China's People's Volunteer Army. The Command effectively signed the agreement on behalf of the United Nations, meaning that the latter is still formally at war with North Korea, a full-fledged UN member state since 1991.
President Moon has done his outmost best to build bridges between the two Koreas. The inter-Korean summits of 2018 yielded some positive results—in the near future, there will be no war in Korea, whether nuclear or conventional. That said, the two Koreas have recently tested ballistic missiles, thus demonstrating that Pyongyang and Seoul are both ready for dialogue and for confrontation. South Korea has accepted the existence of North Korea to adopt a policy of peaceful co-existence towards its closest neighbor. However, the parties have proved unable to take the most important step, which is to move the inter-Korean relations to a bilateral format. Moreover, Seoul still refuses to recognize the status of North Korea as that of an equal sovereign state, with a legitimate and constitutional leadership.
Some premises for this seem to be there. Nationalism is what brings the two Korean states closer. Even their first joint statement, dating back to July 4, 1972, said that the Korean unification must be achieved independently, without outside interference, which means peacefully and on the basis of "national consolidation." In December 1991, the heads of government of the two Koreas signed the Agreement on Reconciliation, Non-Aggression, and Exchanges and Cooperation between South and North Korea, formally acknowledging the equal co-existence of the two Korean states. Five inter-Korean summits were held between 2000 and 2018, with joint declarations adopted at each of them. These were essentially programmes to cultivate bilateral relations that would see the two countries move away from confrontation towards reconciliation and eventual rapprochement. None of the documents envisioned any participation of third states in the inter-Korean communication. The relations between North and South Korea have always been conceptualized in an exclusively bilateral dimension, a practice that should persist.
President Moon has also proposed to establish some multilateral organization to include North Korea. "I propose today launching a Northeast Asia Cooperation Initiative for Infectious Disease Control and Public Health, whereby North Korea participates as a member along with China, Japan, Mongolia and the Republic of Korea." He emphasized that states can no longer handle their national security issues individually. "A cooperative architecture that guarantees collective protection of life and safety will lay the groundwork for North Korea to have its security guaranteed by engaging with the international community." The President believes that "the end-of-war declaration will indeed open the door to complete denuclearization and permanent peace on the Korean Peninsula."
Inter-Korean normalization would be impossible without the sanctions lifted, which requires certain progress towards resolving the nuclear issue. North Korea's nuclear status is enshrined in its constitution—for today's Pyongyang, this topic cannot be subject to any discussion. It would be wise to adopt a step-by-step approach here—first limiting North Korea's nuclear missiles, then reducing their numbers to eliminate them all in the end. Negotiations between Washington and Pyongyang should be replaced with the "six-party" talks that sought to resolve the nuclear issue of the Korean peninsula in 2003–2008. For a humble beginning, the parties could discuss the prospects of putting a freeze on missile development, guaranteeing the non-proliferation of nuclear and missile technologies. Pyongyang could cease its development of intercontinental ballistic missiles and intermediate- or shorter-range missiles, opening its nuclear facilities for international inspections. In exchange, Washington, Tokyo and Seoul would formally recognize North Korea, establishing diplomatic relations, exchanging diplomatic missions, easing and ultimately lifting sanctions, rather choosing to provide economic and energy assistance to North Korea. A secure and stable North Korea is a far more reliable partner for talks on any subject, including on nuclear issues, than a country cornered by sanctions.
Today's Northeast Asia is the only region in the world that lacks a multilateral framework to discuss matters of mutual interest or settle conflicts between regional parties. The main obstacle in the way of creating a security system in Northeast Asia is the little trust between the parties. Trust cannot appear without a dialogue on the specific issues of common interest.
In this respect, President Moon's proposal to establish a multilateral organization that would include North Korea is worthy of note, as it is clearly an attempt to engage with North Korea in international affairs.
As part of its "New Northern Policy", South Korea could complement President Moon's current initiative by becoming an intermediary for other Northeast Asian states in assisting in their long-term projects in regional security, energy security, safe and peaceful use of nuclear energy, transportation security and cybersecurity. Setting up legally binding partnerships in the region in these areas, as well as fine-tuning their procedural mechanisms, would allow the parties to build mutual trust to move on to discussions of a broader range of regional issues concerning peace, development and security.
Bringing South Korea's "New Northern Policy" in line with the existing programmes for international economic integration, which are already "tied-in" to each other (such as the Eurasian Economic Union and China's Belt and Road Initiative), could bring about positive results. Openness, transparency and respect for each other's interests could go a long way to establishing an effective framework for dialogue as well as a Eurasian Economic Partnership that would include both Koreas. However, how feasible is such an aligning of South Korea's policies with more global initiatives given the country's current alliance with the United States?
President Moon Jae-in proposed his initiative against the background of major malfunctions in international communication. The coronavirus pandemic has uprooted everyday life throughout the world. The entire system of international organizations turned out to be totally ineffective, if not completely paralyzed. At the same time, the U.S. withdrawal from Afghanistan has struck quite a heavy blow to the entire system of international relations. And it is not so much the U.S. defeat that matters here. Rather, it is the circumstances under which this defeat took place. In leaving Afghanistan, the Americans effectively presented their Afghan clients and their NATO allies, who had been fighting alongside them for 20 years, with a fait accompli.
The Afghan debacle will certainly have repercussions for the situation on the Korean peninsula. Currently, Washington seems to be incapable of proposing new initiatives on the nuclear issue, especially as it faces a number of far more urgent challenges across a broad geographic perimeter, stretching from China to Afghanistan. Still, no matter how interested Russia or China might be in the Korean sanctions being eased or lifted, this cannot be resolved without the United States.
However, the ancients used to say that a crisis can be both a disaster and an opportunity. Like any global crisis, not only do the pandemic and the U.S. fiasco in Afghanistan generate additional risks and challenges for the international community, but they also come with fresh opportunities, opening up new prospects. This applies to the current initiatives proposed by President Moon Jae-in just as well.
From our partner RIAC
From Abe to Kishida: Japan's Changing Line on China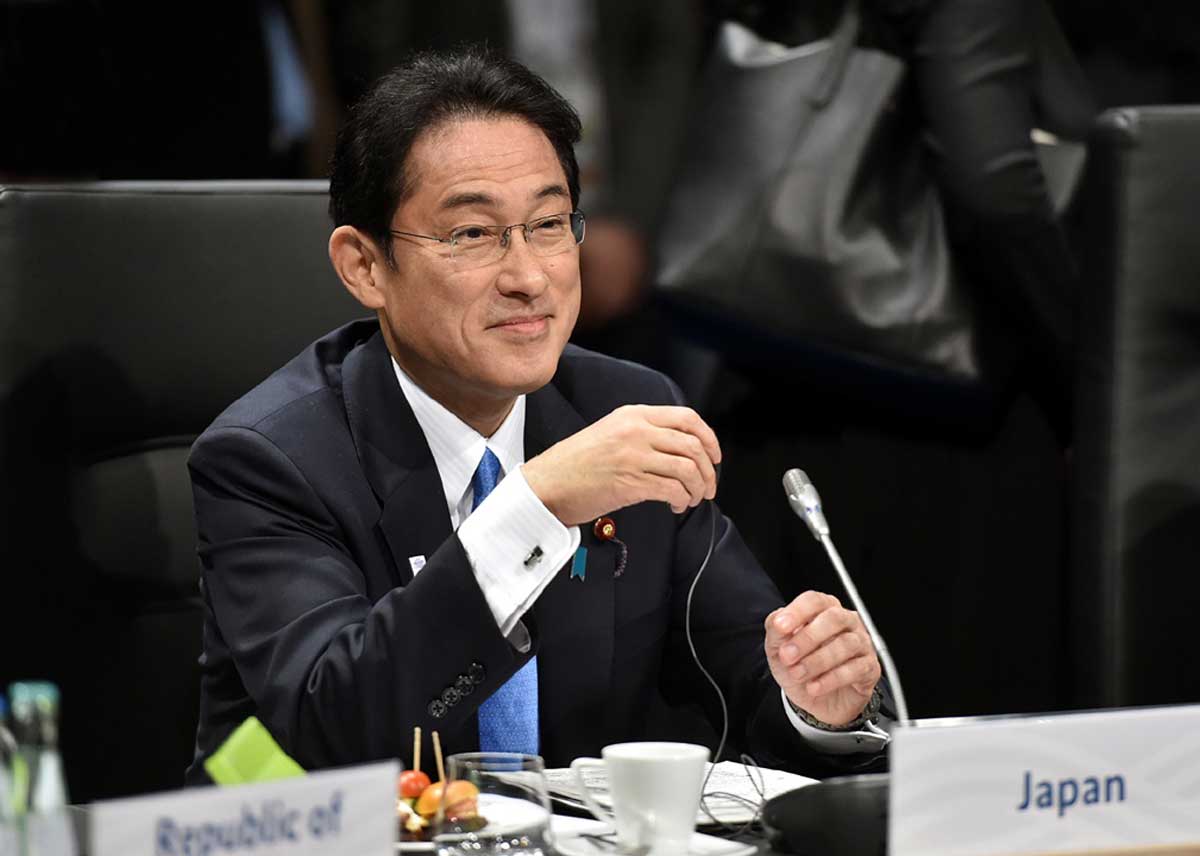 Japan's vital role in the modern geopolitical landscape of Asia –if not the world –can no longer be denied. Under Shinzo Abe, Japan's longest serving Prime Minister from 2012-2020, Tokyo charted its re-emergence as a key global and regional power, laying the groundwork for some of the most important multilateral ventures of present-day Asia and the Indo-Pacific. From historic speeches like 'Confluence of the Two Seas' to ideological creations like the 'Asia's Democratic Security Diamond' —laying the groundwork for present day Quadrilateral Security Dialogue (Quad) —Japan began its quest for a 'great power' identity by building a strong regional presence. Debate concerning moving away from its pacifist constitution took center-stage under Abe; concurrently, ties with the US, India and China received focus in realms ranging from security to connectivity to economics. Japan's infrastructure diplomacy was built with active implementation of ventures like the Expanded Partnership for Quality Infrastructure (EPQI) while trilaterals such as US-Japan-Australia established 'quality' infrastructure driven ventures like the Blue Dot Network (BDN). Most importantly, each of these ventures ultimately tied together with Japan's Free and Open Indo-Pacific (FOIP) strategy.
Amongst such developments, Japan-China ties continued to dominate Japan's security concerns against its economic outlook. But, with China's belligerence as a revolutionary revisionist power showing no signs of dissipating, Tokyo has begun to chart a new line on Beijing. What shape is Japan's China policy poised to take in the near future, especially amidst political turmoil domestically?
Moving away from 'seikei-bunri'?
Abe's sudden resignation in September 2020 brought with it political turmoil for Japan, adding to the economic challenges the country was facing due to COVID-19. Hailed as a 'continuity' leader, his successor Yoshihide Suga had big shoes to fill while the international community watched with consternation. However, Suga showed consistency in Japan's foreign policy –a subtle shift from 'Abenomics' to 'Suganomics' in domestic economic outlook saw successes, leading to a 12.7 per cent expansion in the economy by February 2021 aiding its recovery from recession. On Japan's international policy front, Suga built on Abe-era initiatives and outlooks by focusing on growing bilateral and multilateral partnerships with Japan's partners as the threat from China grew. Even with his recent decision to step-down amidst falling ratings over handling of the pandemic, Suga's leadership on the international front has proven to be valuable for Tokyo.
Now, with seasoned diplomat Fumio Kishida –who has also served as Tokyo's longest foreign minister among other major charges – becoming Japan's next leader, his hawkish stand on China clearly highlights that while being a 'consensus builder', China's hopes for a reset in ties with Japan are unlikely to see fruition. Maintaining and building on the US-Japan security alliance (which saw progress under the Biden-Suga bilateral) will remain the key priority for Kishida on the international front, balanced against recognition of China as a security threat. This has been evidenced by Kishida not wasting time in shedding his 'dove' image for a more hardline approach towards Beijing, formulating this strategy during his campaign trail itself. The Liberal Democratic Party (LDP) in selecting Kishida –who went up against other party stalwarts like Taro Kono –has picked a leader who they believe is the safest option to ensure that a return to 'revolving door' politicians does not take place in the country; such an overture is essential to ensuring stability in Japan's foreign policy at a time when its role in the region has grown to be tremendous.
In this respect, a gradual shift away from Japan's age-old 'seikei bunri' –the policy of separation of politics and economics –has been visible in tandem with China's revisionist antics, especially over the past couple of years. Such an overture is not new in Japan; in the past as well, Tokyo has strayed from 'seikei bunri' to cater to immediate national security and national interest needs. However, in the post-pandemic era amidst a new emerging international order, this shift appeared to be more permanent, under both Abe and 'continued' —as well as built on— by Suga. The 2021 Defence White Paper by Japan termed China "a matter of grave concern" with a focus on the East China Sea (ECS), China's new Coast Guard Law (CGL) and 'gray zone' maritime strategy. On the economic front, Japan was one of the first countries to move production out of China at the onset of the COVID-19 pandemic. It also launched the Supply Chain Resilience Initiative (SCRI) with partners India and Australia, seeking to build sustainable alternatives to China-centric supply chains in the post-pandemic order while showing a long-term commitment to limiting its own trade dependency on China.
Kishida's factional diplomatic ideology of prioritizing economic stability over security has also found a strong base to build on; via 'Kishidanomics', he plans to focus on "growth and redistribution", not diverting but rather updating 'Suganomics' and 'Abenomics'. Hence, his continued dedication to building frameworks like SCRI can be counted upon. Japan's economic multilateralism ambitions have seen Kishida welcome Taiwan's application to join the CP-TPP (while Suga had already welcomed the UK's application for the same in February), create a new cabinet focused on economic security and ensure he maintains a nuanced China outlook by confronting China, therein putting security over economics.
Tokyo's evolving multilateralism
Japan's growing bilateral and multilateral partnerships also provide potent examples of a more concrete shift away from 'seike bunri'. The Japan-US alliance saw significant improvement in the Biden-Suga era post an unstable US leadership under Trump, arguably rebuilding itself in confidence as Tokyo's most important security linkage. This new reset to the US-Japan alliance, can be broadly identified in two key instances; first being Biden's call to Suga at the onset of his presidency wherein he emphasized that the alliance extends into the ECS and the second being the Biden-Suga meet in Washington establishing a "US-Japan Global Partnership for a New Era". Importantly, in a uncharacteristic move for Tokyo, the joint statement with US levied harsh criticisms of China's assertive actions in the maritime domain, human rights violations in Hong Kong and Xinjiang and mentioned the "importance of peace and stability across the Taiwan Strait" –for the first time in over three decades. Such a mention highlights a move away from 'seikei bunri' in explicit terms especially as for Beijing viewed the same a threat to 'One China' in a major diplomatic affront.
In this context, Japan's focus on Taiwan –which also happens to be a claimant power in the Senkaku/Diaoyu/ Diablo dispute in ECS –has seen growth over the past year while Kishida has stated that maintaining maritime security remains a vital focus area. China's implementation of its new CGL and the security threats it poses are an added factor behind this focus; as China's stand on the Taiwan Question becomes more aggressive —it has sent a record high number of warplanes into Taiwan's air defence identification zone (ADIZ) this week— it is important for Tokyo's regional security calculus that Taipei's security holds –a fear shared by its ally US. Mention of Taiwan in the US-Japan statement showcased this very focus. Kishida, in a continuation of Suga and Abe's outlooks, has appointed a special adviser to the Prime Minister who focuses on human rights, linking overtly to moves focused on ensuring a deeper connect with the US on topics such as Hong Kong, Xinjiang and Taiwan.
Japan's bilateral ties with powers beyond the US like India, Australia, France and UK have also seen growth. Kishida will now have to ensure that such momentum develops further. His advent to power could prove to be very timely; being a seasoned diplomat, he brings back to the table the Abe-era of foreign policy rooted in personal diplomacy which Suga –a career politician –could not provide Tokyo. With India –a natural and 'strategic global' partner for Japan –Tokyo's ties saw growth post signing of the Acquisition and Cross-Servicing Agreement (ACSA). Promises to combine efforts in third country cooperation bode potential for a reinvigoration of Japan and India Africa approach, especially as China's footprint in the continent continues to grow. Concurrently, Japan-Australia signed in principle a long-pending reciprocal access agreement (RAA) heightening their defence cooperation. From Europe, Japan has welcomed both the UK and France's strategic pivot and focus towards the Indo-Pacific, building on deeper ties with both while Tokyo's commitment to the Quad has held steadfast.
Overall, Kishida is poised to follow in Suga (and Abe's) footsteps –he has reiterated commitment to ensuring success of the 'Free and Open Indo-Pacific' policy and highlighted China as a threat of "deep concern". Kishida has already gotten Biden to re-commit yet again that the US-Japan alliance extends into the East China Sea. He seeks to re-examine laws regarding interoperability of the Japanese Self Defense Forces (SDF) and the Japanese Coast Guard (JCG) –latter being all the more crucial in light of China's own CGL–ensuring that progress concerning revision of the country's pacifist constitution moves ahead. While China 'hopes' that Kishida will not take the Sino-Japanese relations towards hostility, Beijing will carefully monitor his diplomacy for the near future. Nonetheless, China does note that a return to pre-pandemic Japan-China ties is unlikely, especially as militarist, economic and technological threats from Beijing take focus in public debate in Japan. The very fact that Kishida has retained Defence Minister Nobou Kishi –a strong advocate for Taiwan and China hawk – and Foreign Minister Toshimitsu Motegi from the Suga cabinet into his own highlights this very continuity. Kishida's focus on Japan's domestic woes –from the pandemic to the economy –must not deter him from pursuing an actively strong foreign policy by engaging deeply with fellow Indo-Pacific partner states to cement Tokyo's contributions to the regional power dynamics and building its evolving China policy along stronger lines. While his focus on economic growth and protection remains, moving away from 'seikei bunri' must continue under his leadership in a way that no longer puts security and economics at par, but rather looks at the former as primary while diversifying approaches for the latter.