Comparing textbooks: Even Afghanistan scores better than Pakistan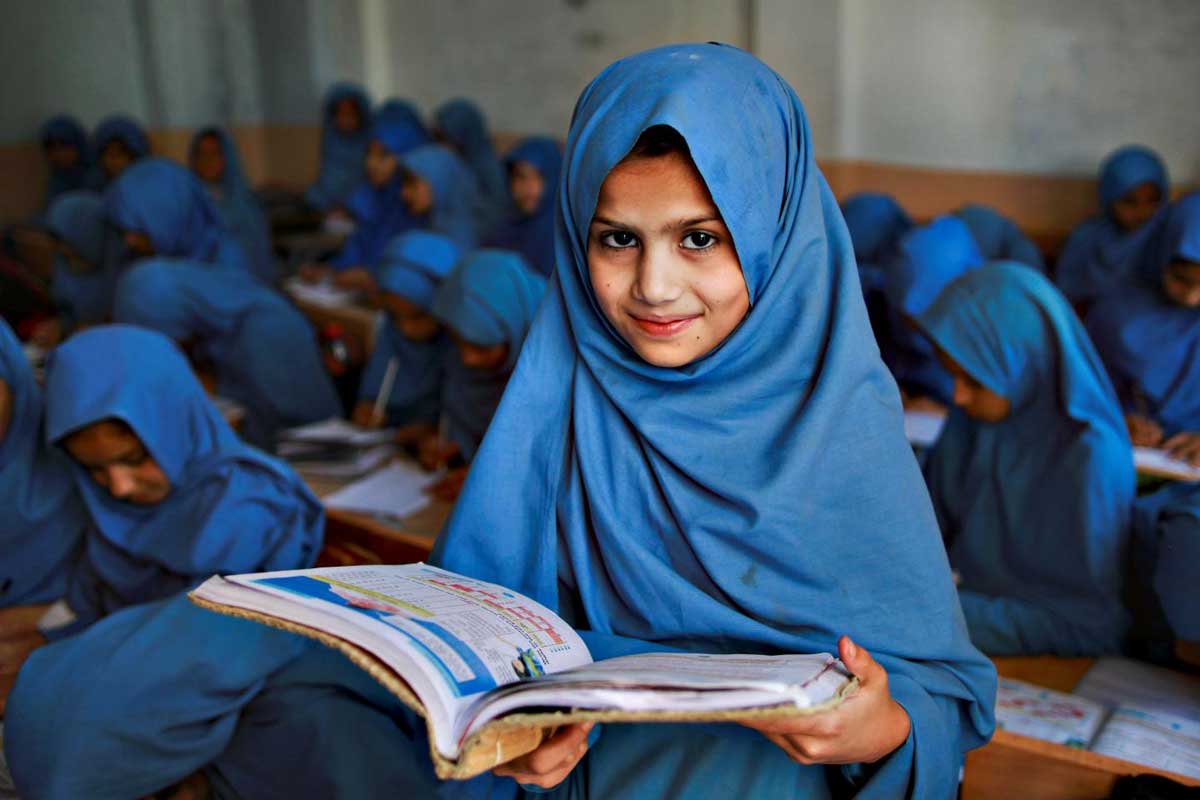 Societal struggles and reform often take unexpected turns in vast swaths of land stretching from the Middle East into Central Asia.
Take education for example.
The Taliban have yet to fulfil their promise to allow girls to return to school but primary and secondary Afghan textbooks appear to be a relative bright spot amid all the doom and gloom about the group's rule.
It's a bright spot that highlights the deep societal impact of decades of ultra-conservative Saudi influence in Pakistan at a time that an Israel-based NGO is reporting significant progress in the way the kingdom's textbooks describe non-Muslims and discuss violence in the name of Islam.
Pervez Hoodbhoy, a nuclear scientist and Pakistani human rights activist, concluded from a recent survey of Urdu-language Afghan textbooks that they were light years ahead of what Pakistani schools offer.
Mr. Hoodbhoy argued that the Taliban were unlikely to change the textbooks in use anytime soon. Afghanistan's brain drain includes many teachers, writers and editors and the Taliban don't have the wherewithal to produce a new generation of textbooks. The group, moreover, is unlikely to have fundamental problems with the books that sugar-coat its brutal rule before the 2001 US invasion.
The science books for classes 1-12 that cover mathematics, physics, chemistry, biology, and computer science surveyed by Mr. Hoodbhoy were in his words "clear and pleasing with systematically organised graphs and coloured illustrations."
He noted that "Pakistani textbooks are very different. For years my colleagues and I have begged our education authorities to drastically revise locally published textbooks. All are faulty in content, poor in pedagogy and badly presented."
Already back in 2015, Mr. Hoodbhoy called for revised textbooks in Pakistan.
"Please keep our students away from the rotten science textbooks published by the Sindh Textbook Board (STB), an entity operating under the Sindh Ministry of Education. Else yet another generation will end up woefully ignorant of the subjects they study — physics, mathematics, chemistry, and biology. Tragically they will see these magnificent human achievements as pointless, boring, and dry as dust," he wrote in an op-ed titled 'Burn these books, please!'
Abdul Hameed Nayyar, a physicist and education consultant, analysing the Pakistan government's troubled effort to introduce a single national curriculum came to a similar conclusion. "Textbooks provided by the state are of abysmal quality, both in content as well as in presentation. Pakistani textbook boards have repeatedly proved unable to provide good-quality learning material," Mr. Nayyar said.
Messrs. Hoodbhoy and Nayyar's assertions are backed up by a decade of independent Annual Status of Education Report surveys that lament quality of learning in public, private, urban and rural secular and religious schools.
In contrast to Pakistani books, Afghan textbooks teach different schools of Muslim religious law separately. They also keep religion out of secular subjects. "The religious textbooks are comprehensive… Special books for use in madrassahs cover usual topics in math, science, English, and world history. But they are simpler and less detailed than those for ordinary schools," Mr. Hoodbhoy said.
In Pakistani textbooks, particularly those developed as part of the government's flagging effort to create a single national curriculum, Mr. Hoodbhoy argued that "religious topics permeate books teaching Urdu, English and general knowledge. Quite senselessly, madrassahs and ordinary schools are yoked together. While all students should know how the modern world works, 99 per cent of madrassah students will never use math or science professionally. So why use the same books and force students to take the same exams? This means the….government is shooting for a lowest common denominator, lower than even the existing one."
In a similar vein, Mr. Nayyar charged that the policymakers behind the single curriculum "believe — contrary to all available evidence — that a greater dose of religious education will produce more honest and useful citizens of Pakistan."
Pakistani Prime Minister Imran Khan affirmed Messrs Hoodbhoy and Nayyar's criticism when he earlier this year announced education reforms that would Islamicize syllabi across the board from primary schools to universities. Critics charged that religion would account for up to 30 per cent of the syllabus. Referring to the religious content in the first four years of primary school, Mr. Nayyar noted that "when compared against Islamiat taught in madrassahs at this level, it turns out that public and private schools will be teaching more religion than even the madrassahs."
Defending the Islamization, Muhammad Bashir Khan, a member of parliament for Mr. Khan's ruling party, insisted that "Pakistan is an ideological Islamic state and we need religious education. I feel that even now our syllabus is not completely Islamized, and we need to do more Islamization of the syllabus, teaching more religious content for the moral and ideological training of our citizens."
Prime Minister Khan this week reinforced his vision by promising religious scholars to involve them alongside educational institutions in the creation of a character-building of society. Mr. Khan coupled that with a pledge to ensure that no laws would be adopted as long as he was in office, including ones intend to counter domestic violence and forced conversions to Islam, that are "in direct conflict with the teachings of Islam."
Mr. Khan's Pakistan is in good company. Turkey, increasingly a Pakistani ally, was once a model of secularism with an education system that taught evolution, cultural openness, and tolerance towards minorities that included Kurdish as a minority language.
Turkish curricula, however, have increasingly replaced those concepts with notions of jihad, martyrdom in battle and a neo-Ottoman and pan-Turkist ethnoreligious worldview, according to an analysis of 28 textbooks.
In South and Central Asia, the irony is that it is Pakistani rather than Afghan textbooks that appear more likely to promote the notion of an Islamic state if only because of the poor quality of textbooks for secular subjects and the problems with religious instruction in the world's second-most populous Muslim-majority state. This is not to say that a deeper dive into Afghan texts would not produce multiple problematic concepts that promote Muslim supremacism.
The conclusion from this is that the international community would likely do well to pay as much attention to Pakistan and its education system as it does to Afghanistan given that the two countries are intertwined at multiple levels.
Another irony is that Saudi Arabia's most recent textbooks could point Pakistan in the right direction. Current Pakistani textbooks are products of a world in which Saudi ultra-conservatism empowered by Saudi funding made deep inroads into an already deeply conservative Pakistani society.
That is, however, changing. Saudi schoolbooks are no longer what they were several years ago.
In a just-published study, IMPACT-se, a Ramat Gan-based research group that has been analysing Saudi textbooks since 2003, reported that as a result of reforms "twenty-eight lessons featuring demonization of the other and religious intolerance were (recently)removed or heavily modified" in Saudi textbooks. "An entire textbook unit on jihad was scrapped. While problematic material remains in Saudi textbooks, these represent profound changes in these categories."
That is the kind of overhaul that is long overdue in Pakistan and no doubt would also be beneficial in Afghanistan.
If textbooks are indicators, Afghanistan may prove to be only one of South and Central Asia's problem states. Long perceived as problematic, Pakistan could be the other.
Looming Humanitarian Crisis – Millions May Die in Afghanistan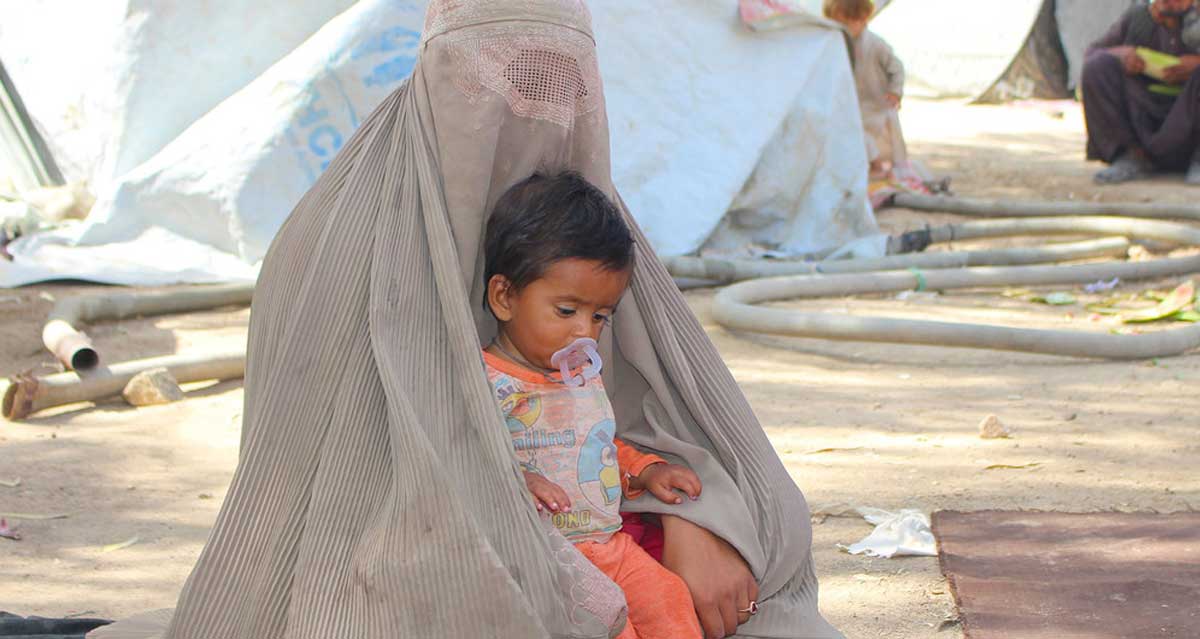 There is a dire need for massive funds transfer to Afghanistan in present circumstances where banks and businesses have collapsed, the hunger crisis is also rising while the prices of basic commodities like shelter, fuel, and food have increased. There is a clear warning from World Health Organization (WHO) that within one year over 3 million children may suffer from malnutrition. UN World Food Program has also issued multiple warnings of deteriorating food insecurity in Afghanistan. The Winter season will also become too risky for the survival of one million children as the temperature will drop to an extremely low level.
There are numerous cases of acute shortage of money, where families are compelled to even sell their babies and daughters as child brides. Public hospitals are facing a shortage of medical equipment; the nurses and doctors are not paid prompting them to quit. The majority of Afghans want to move to other countries for life security and a better future. Heavy human traffic from Afghanistan has gathered on borders with Iran and Pakistan. UNHCR has called on authorities of Afghan neighboring countries to cease the forced return of Afghans, noting that many of them may require refugee protection.
The private sector, which works for the progress of the country, has halted due to uncertainty. There is a serious and shocking analysis by UNDP that by July next year 97% of the Afghan population may fall under the poverty line. Millions of people are living hand to mouth and will face harsher economic crises due to troubling economies.
Even $1.29 billion aid, recently announced from US and EU for Afghanistan & its refugees living in surrounding countries cannot solve the economic crisis permanently. This aid will only be able to postpone the human disaster for some time but it is not a permanent solution.
The world's best economists are constantly warning that the present economic situation will lead to anarchy and chaos in Afghanistan. Abdallah Al Dardari, UNDP's Afghanistan head, said, "I'm comparing Afghanistan with Venezuela, Lebanon, and so on; we haven't seen such an immediate, abrupt drop".
After the Taliban took control of Afghanistan, the first step by the Biden administration was to freeze the $9.5 billion foreign reserves. Taliban recently called on the US delegation in Doha for the unconditional and immediate unfreezing of Afghanistan's financial assets.
IMF has also warned that this year Afghan economy will get contracted to 30%. During Ghani's government, US aid accounted for 75% of the government budget and 45% of the country's GDP. The majority of sectors of Afghanistan were run by foreign aid including a majority of public-sector jobs in the medical, teaching, policing, and legal sectors.
From the last few months, the life of millions of daily wagers/ working class has become hopeless. They gather in various downtowns for the sake of work but as the construction industry has halted so they get back without getting any work. They are unable to buy food for themselves and their families and live miserable lives. Another fact of the matter is that Afghanistan has long been dependent on imports of basic utensils.
In Ashraf Ghani's government, the Afghan economy was fragile because of poverty and corruption. Customs, administration, and traffic officers, who have gone unpaid for months, are asking for more bribes. Things have become highly disorganized in all segments of the country.
Taliban have placed withdrawal limits on currency ranging from 200-400$ per week to counter complete currency collapse. Taliban have appealed to fill its billions of dollars vacuum from Qatar, Turkey, Pakistan, and China. Taliban are also pressing the US for the release of its frozen funds and they think that the humanitarian crisis in Afghanistan is increasing as a result of their frozen funds. Afghans are facing a shortage of crucial goods due to trade disruptions and the collapse of financial services which have supplemented traders' woes that depend on U.S. dollars and bank loans for imports. Issuance of sanctions' exemption, by the Biden administration at the end of September to ease out the process of aid, is still not enough.
Afghan interim government has to find the best economic team from inside and outside the country which should be able to bring some fruitful strategies and planning to solve this economic crisis. The International community needs to come together to join hands with the Afghan interim government to avoid the worst-case scenario in Afghanistan. The international community should also play its role in bringing "explicit humanitarian exemptions" for the delivery of aid to prevent a "catastrophe". Watchdogs like UNSC and the US government should do their utmost to raise the living standards of the Afghan people.
What ails Modi's relations with its own people and neighbours?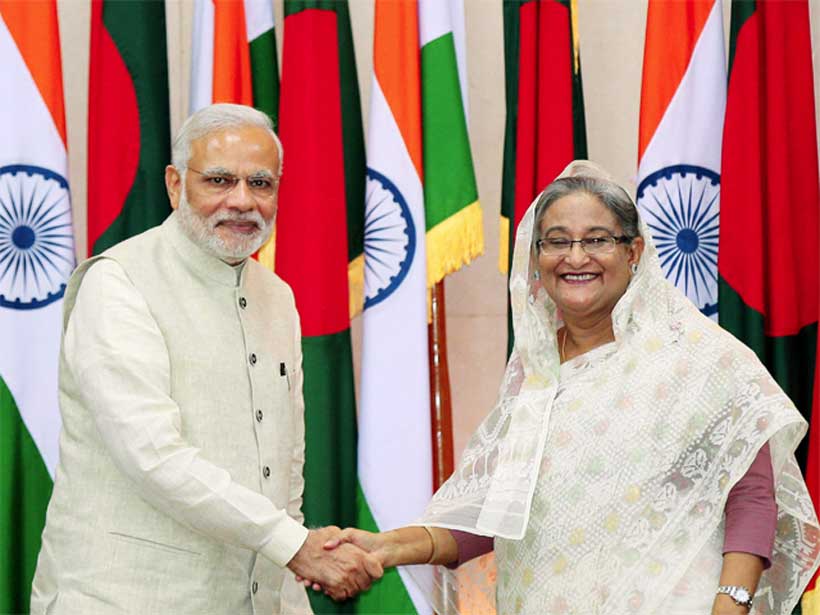 The veneer of "democracy" cloaks "autocratic and hypocritical" style of Modi's government. Modi first tried every Machiavellian trick to suppress the farmers' protest movement against the three farms laws. He tied to sow seeds of discord among them by portraying them as "Khalistani" through a multitude f fake social media accounts. He then tested the protester's patience by letting the movement linger on for a years. He allowed police to beat them mercilessly. Tried to turn the Supreme Court hostile to them. And finally a farmer was mowed down under a vehicle (Lakhimpura incident). About seven hundred farmers including some women lost their lives. But, Modi shrugged off the claim saying their deaths were due to natural causes. He kept insisting that the laws were enacted for farmers' welfare. And they would repent their repeal. The farmers saw through the ruse and stayed put. The laws were finally withdrawn without any discussion. This gesture strengthened the opposition's allegation and farmers' perception that the laws were meant to surreptitiously benefit the crony capitalism (Adanis, Ambanis, et al).
Modi deprived the disputed Jammu and Kashmir of even its nominal statehood without caring a fig for sentiments of the common man or the politicians. He is unwilling to repatriate the Occupied Kashmir widows or wives of so-called militants. Instead of repealing draconian laws, he is killing innocent Kashmiris in fake encounters (Hyderpora encounter being the latest). In 1990s, India's reign of terror forced large number of Kashmiri natives to cross over into the Azad Kashmir. India launched operation 'Sadbhavana' to lure back the refugees. Some refugees even married the Azad Kashmiri nationals. Those who returned mostly wives or divorcees had been suffering immeasurably being without nationality documentation. Indian government could have deported them back to Azad Kashmir. But, India flouted its own promise of rehabilitation and international norms by denying them nationality. Defying restrictions, hundreds of wives protested in Srinagar and held a press conference (November 21, 2021) to highlight their plight. Modi is unwilling to repatriate the widows or wives. Be it observed that Pakistan immediately returns innocent border crossers back to India.
Modi imposed a corrupt friend (Patel) as governor of Lakshadweep (32 square kilometers), a predominantly Muslim archipelago of 36 islands (10 of which are uninhabited). It is sparsely populated with population of 63000, growing at about six per cent against national average of 17 percent.
The governor issued many orders which were perceived as anti-Muslim. For instance, no-one could slaughter a cow without a permit but liquor was allowed in all the islands ostensibly to promote tourism. The government could acquire any piece of land from inhabitants in national interest. The isles are in COVID grip and the people used to airlift the sick to nearby Kerala. The governor ordered that no sick shall be flown out without the governor's permission. The people interpreted the governor's move s as an effort to impair their life style and links with Kerala. He wanted to facilitate the isles link with Mangalore (Karnataka). The islanders are convinced that the Centre is trying to depopulate the island and convert into a naval base. Within framework f QUAD, the Modi government wants to strengthen "Chagos-Lakshadweep-Maldives choke".
India's volatile North East
At the time of partition, India was in grip of countless insurgencies and separatist movements (Dravidstan, Khalistan, Bodo, Nagas and Mizos). It is still a simmering cauldron. India's north east was a porous border. Through deceit, coercion, and financial incentives, India mellowed some of the insurgencies. Ambushes and confrontations still take place in some north eastern states. Indian bowed to insurgents' demands for the creation of new states. And, insurgency leaders became chief ministers! India forgot yesteryear when they used to burn to ashes copies of the Indian constitution and uproot rail tracks. Tamil Nadu, Andhra Pradesh, Nagaland and East Punjab merged into the Union." India has become synonymous with a thousand insurgencies waged by mysterious outfits, known only by their acronyms. It has become synonymous with grandiose announcements by successive prime ministers of many thousand crore packages that disappear without trace, leaving a handful of political brokers very rich. And in the Indian bureaucracy, a posting in the Northeast is treated on par with incarceration in Siberia" (Swapan Dasgupta, India's Siberia, Rediff dated October 2004).
Neighbourhoods
Pakistan
Modi's "might is right" style is conspicuous from India's policies towards her neighbours. India's former foreign secretary Shyam Saran (How India sees the World) thinks none of the disputes with Pakistan are intractable. They were almost solved except for lack of political will to sign the final draft deals. To pander to the galleries, India's home minister Amit Shah roared in Parliament that "Aksai Chin and POK (Azad Kashmir) are part of India. And we would lay down our lives to get them back".
Nepal
To topple KP Sharma Oli's government, Indian embassy in Nepal had been bankrolling corrupt politicians and other members of Nepalese society. Oli was ultimately ousted by Supreme Court of Nepal and appointed the new prime minister until the next elections. Oli
debunked India's conspiracies during a ceremony to commemorate sixty-ninth anniversary of the Party's popular leader Madan Bandari. He claimed, `Conspiracies were being plotted against him since the constitutional Nepali map amendment'. No-one thought that a prime minister would be removed from office for printing a map'.
Be it observed that Nepal amended its map when its objections fell flat on India. India's defense minister Rajnath Singh, went ahead to inaugurate an 80-kilometer-long road connecting the Lipulekh Pass in Nepal with Darchula in Uttarkhand (India). Indian army chief insinuated that Oli was being prodded by China against India.
After being ousted by the Nepalese Supreme court, Oli continued to criticise India's machinations. Inaugurating the 10th general convention of the Communist Party of Nepal (Unified Marxist-Leninist) in Chitwan, Oli claimed if his party comes back to power it will "take back the disputed territories such as Limpiyadhura, Kalapani and Lipulek from India through dialogue". The Lipulekh pass is a far western point near Kalapani, a disputed border area between Nepal and India. Both India and Nepal claim Kalapani as an integral part of their territory — India as part of Uttarakhand's Pithoragarh district and Nepal as part of Dharchula district. ('Will 'take back' Kalapani, Lipulekh from India, If…' KP Sharma Oli. One India, November 27, 2021).
Maldives
Indo-Maldivian relations are no longer hunky-dory. They are rather in a state of flux. India reneged on contract to supply a hundred thousand doses of corona virus vaccines to Maldives. So did India despite that fact that it views the current president Solih as pro-India as compared to Yameen the previous president. India withheld supplies thoughMaldives had already paid the cost. In perhaps a tit-for-tat, Maldives banned all Indian tourists including films stars.
Fluid political situation in Maldives
There is a widespread impression in Maldives that India has subjugated the country's sovereignty through a host of treaties. The present president Solih is perceived as an Indian stooge. People resent granting immunity to Indian forces in Maldives and allowing construction of military infrastructure. The subsurface resentment led to "India out" social media campaign. The Indian High Commission became terrified of the ferocity of the protests. And, it sent a note verbale to the Maldivian government for protection of its staff.
President Solih is up against opposition from within his party. Through a tweet, Nasheed, the former President and at present Parliament Speaker, has highlighted corruption scandals against President Mohamed Solih9 ('ventilator-import scam). Nasheed tweeted "I see the government colluded in this… I do not want the MDP to stand by a government that steals," adding that he would 'not budge' against attempts to put a lid over the scandal. He alluded to the Health Ministry MVR 34.50 million (US$ 2.2 million) contract to Dubai-based Executors General Trading to procure 75 ventilators. The Auditor General's office found out that nearly 90 percent of the contracted amount was paid in advance without any 'performance guarantee.' It was found that only 15 of the 75 ventilators were received.
The ruling party's internal rift portends that it may be ousted in next general elections. Mr. Nasheed is likely to put himself as a presidential candidate. Already, the -ruling Maldivian Democratic Party (MDP) could not sweep the municipal elections. It secured 43 percent of all seats, with opposition Progressive Party of Maldives (PPM) having won 34.9 percent.
Bangladesh
India is not sincere even with Bangladesh. At India-Bangladesh Business Forum, in Delhi, Bangladesh PM Sheikh Hasina expressed grief (Oct 4, 2019) on the onion crisis in her country. Hasina taunted, `We are facing crisis on the onion issue. I don't know why you have banned onion export. Maine cook ko bol diya ab se khana mein pyaaz bandh kardo. (Indian Government had banned export of Onions on September 29).
India is the biggest supplier of onions to Bangladesh, which buys a yearly average of more than 350,000 tons. India abruptly slapped a ban on onion exports to Bangladesh. Following the export ban, onion prices in Bangladesh jumped by more than 50 per cent, prompting the government to procure supplies from elsewhere.
In retaliation, Bangladesh's involved the Chinese in a proposed $300 million project in the downstream of Teesta River.
India claims that Bangladesh is her close strategic and economic friend within its `Look East, neighbour's-first policy". But, the history of broken promises indicates that India looks to its own interest. A raft of issues from water disputes to religious tension mask mistrust in the relationship.
India backed out of its agreement (December) with Bangladesh to supply 30 million doses of AstraZeneca vaccine, developed by Oxford University in cooperation with the Pune-based Serum Institute of India. The Institute announced that India had barred Serum from selling doses on the private market until everyone in India had received the vaccine.
Later, Salman F. Rahman, a Cabinet minister and co-founder of the Beximco Group, a Bangladeshi conglomerate, took over the responsibility to distribute three million doses of the AstraZeneca vaccine in Bangladesh.
Concluding remark
Modi government is insincere not only in dealing with its own people but with also its neighours.
China's rise in power and India's rise in fear: Strategic hedging amidst growing threat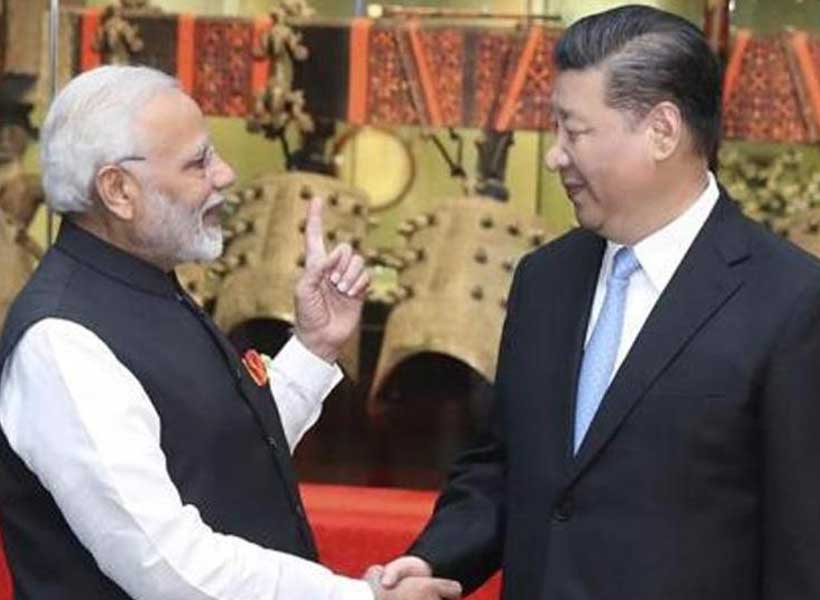 India, the nation long being under colonial oppression started its journey of foreign policy with the ideology of Pt. Jawaharlal Nehru's Non-Alignment; abstaining from taking sides of the bipolar power blocs and securing its newly gained national sovereignty and independence. But soon after, it realised the crux of surviving in the internationally interlinked world that the countries were fast approaching towards. Therefore, in 1971, India joined hands with the Soviet Union in a Treaty of Friendship, but with the disintegration of Soviet Union in 1991 and the United States emerging as the sole superpower, India felt back into the state of isolation and helplessness.
As the famous saying goes on to say "don't put all your eggs in one basket", India soon learnt from its mistakes to not put all its might and trust into one entity as concepts such as 'trust' and 'no strings attached' are non-existent elements of global politics and international relations.
Today, the 21st century is largely seen as an 'Asian century', the century where Asia's burgeoning economy and demographic dividend will make it rise to everyone's notice and be the talk of the center stage. This is what is envisioned by experts and to no surprise it is what is slowly molding to be the fact; a fact that is greatly favoring the People's Republic of China.
Despite the pandemic's birth from Wuhan and the global economic stagnation in 2020, China managed to log 2.3 percent growth for 2020, becoming the only major economy that grew during a year when the virus exacted a devastating global toll (Gerry Shih, 2021). This shows the success rate of the country into turning its far-sighted 'China Dream' a reality. It is of no surprise that the rise of China is rampant, aggressive in some instances, strategic and far-sighted into changing the existing world order; posing a threat to the rest of the major power houses today.
India, being the largest rival neighbour to China has a lot at stake, for which it has shifted its foreign policy from hedging for to strategically hedging against the collective threat imposed by China. Contemporary geopolitical and strategic circumstances present a multifaceted challenge to India's foreign policy, with regards to its neighbourhood, border and the Indian Ocean region, for which incorporating a pragmatic realpolitik approach is the need of the hour.
What balancing China means is to strengthen India's capacity and linkages in order for it to be well-equipped to counter Chinese aggression. India has been working towards this aspect in the following ways-
-India has embarked on its own "Diamond Necklace" policy to counter China's 'String of Pearls' through which it is building ports in strategic points such as Singapore, Indonesia, Oman, Seychelles and Iran and strategically cooperated with Mongolia, Japan, Vietnam and the Central Asian regions.
-India-Russia and Indo-Pak relations although sour, have been tried to reconcile in the recent past as maintaining a somewhat cordial relationship with China's ally should be one of India's priority as both the nations are militarily heavy. India has built its defence cooperation with Russia and Putin recently told that "there is no contradiction in the relationship with India", giving it a stronger tie. Russia has also managed to show great support to India during its fight for Pandemic. Maintaining this cordial relationship is of great benefit to both and is a way towards balancing relations.
-In addition to all this, what is more important today to withstand international threat is the coming together of like-minded states that are willing to support each other and target China with a common motive. India has therefore, signed bilateral and multilateral agreements on different fronts to achieve its hedging goals, which will be further looked upon ahead in the paper
-Along with external ties, India needs to be well-equipped domestically as well by building up its defence capabilities. It is here that India's 'atmanirbhar' (self-reliant) initiative plays importance.
However, on the flip-side, India cannot manage independently without China. The two being giant players in Asia with the two largest populated countries in the world and more so, being geographically in close proximity and economically dependent on each other, it is inevitable for them to have zero contacts. Therefore, whilst battling China's String of pearls and border disputes, India must also be wary of having a middle ground with China wherein it can conduct its peaceful coexistence and continue its trade relations.
Overall, it can be said that New Delhi's policy of strategic hedging works on a mode of attempting to find a modus vivendi with Beijing, while also slowly moving towards building security and political links with other regional and international powers as an insurgence against China. The Modi government has adopted a mixed strategy towards asymmetric rival China by maintaining a relationship of cooperation at the regional level (the Asian Infrastructure Investment Bank), competition at the regional level (Indo-Pacific), rejection of China's unilateral initiatives (Belt and Road Initiative), and deterrence along the Himalayas and in the Indian Ocean (Manjeet S. Pardesi, 2021).
When the survival of a state is threatened by a hegemonic state or a coalition of stronger states, they seek to join forces with other states and establish an alliance to preserve its own independence by keeping in check the power of the other state. This is the Balance of threat theory (Stephen M, 1985), wherein the threat levels can be affected by geographical proximity, offensive power, and aggressive intentions and when all this is together met with one nation alone, the severity of forming coalition and strategically hedging speaks for itself.
The United States
If the rise of China poses a direct threat on someone, it is United States' hegemony. US being the super power in the globalized multipolar world, while India being the largest democracy, an emerging economy and a key important player in Asia proves both the states to be in a mutually benefitting coalition.
The two biggest democracies have joined hands on various fronts such as pursuing the joint interest in freedom of navigation in the highly contentious South China Sea where China has shown a great deal of interest as well. The US recently has shown a shift in their focus to the Asia-Pacific region through its new policy of Trans-Pacific Partnership (TPP) and its decision to station 2500 marines in Australia. This has been regarded by China, who staked claim over South China Sea, as a hedging strategy if not outright containment by the USA. In 2020, Indo-US ties have elevated to a "comprehensive global strategic partnership". This has been a great achievement in India's vision for development. Moreover, both the nations have successfully concluded three 2+2 dialogues, wherein USA reiterates to support India in defending its territorial sovereignty against the "greater threat", referring to China. In addition to these, the highlights also follow the four foundational agreements between the two nations, which are – Communications Compatibility and Security Agreement (COMCASA), General Security of Military Information Agreement (GSOMIA), Basic Exchange and Cooperation Agreement for Geo-Spatial Cooperation (BECA) and Logistics Exchange Memorandum of Agreement (LEMOA). The two nations have also released a Joint Statement on shared Indo-USA goals in the Asia-Pacific region. The developments so far have been quite beneficial on both sides and are a great strategic hedging handling on India's part. And to top this policy of strategic hedging is the establishment of QUAD (Quadrilateral Strategic Dialogue) between the four members- United States, Japan, Australia and India with their common vision of securing global order, liberal trading and freedom of navigation between the countries. The informal dialogue between these four nations has seen to be a driving force is curtailing a 'rising China'.
Japan
India's foreign policy is built on its three foundational pillars, which are security, economic development and status and Japan plays quite a significant role in all three aspects. This bilateral relation is of great benefit to India. Japan and India's upward trajectory gives it a status of being 'Special Strategic and Global Partnership', transforming the relation into a 'cornerstone of India's Act East Policy'. The relationship between Asia's largest democracies is deemed to be Asia's fastest growing relationship as well. Japan was the first country with which India held its 2+2 ministerial level dialogue which along with military and defence talks, also shared concerns of China's rise in the region. As Japan acquires world class navy and high-tech capabilities; if the two countries continue to add concrete securities, a high hope is instilled in this strategic relationship of becoming a game-changer in Asia. The two countries have already deepened ties in the field of maritime defence and infrastructure such as the construction of India's first high speed railway corridor between Mumbai and Ahmadabad.
Australia
The two nations have had a cordial relationship even before independence and continue to share common interests in trade, sustainable development, and student-to-student ties. It has been building its strategic partnership and recognizes India's critical role in the Indian Ocean and therefore, the two nations are committed to working together to enhance maritime cooperation, along with engaging in a naval exercise called AUSIDEX since 2015. Trilateral engagements with crucial nations like Indonesia and Japan, deeper engagement with regional groups like the Indian Ocean Rim Association and East Asia Summit and the very efficient quadrilateral dialogue with Japan and US have all contributed in strengthening the ties between India and Australia. A cordial relation with Australia will help India in the long run as by 2027, India is expected to have world's largest population and henceforth require the up-skilling of 400 million people. Australia is well-equipped to assist with this huge need for knowledge-sharing, education and skill development. The two countries also have enormous potential to build on their people-to-people links and thus their soft power influence (Parakkal, 2018). India is the third largest source of immigrants to Australia and the second largest source for skilled professionals. The pandemic is seen to have exacerbated Sino-Australian relations and this further strengthens Australia's relations with India is managing China.
European Union
The recent past has seen a reboot in the relations between India and EU which have both embarked on the journey of resuming the long stalled talks on a free trade deal with an aim to strengthen their economic cooperation in the face of an increasing Chinese assertion.
In 2013, trade talks suspended between the two nations but today it rises together to hedge strategically amidst the pandemic. The nations aim to double the trade by 2030 which shows the optimism it withholds for the future endeavours.
In a speech, Indian Foreign Minister Jaishankar highlighted how the pandemic has shown the necessity of diversifying supply chains, especially for the EU. He says "Europe is looking at strategic autonomy, looking at a multipolar world, which is actually hedging its risk" (Jaishankar, 2021). This was told in the backdrop of repercussions faced by EU and more so, for the majority of the world for being overly dependent on China for trade. Glorifying on this aspect, India has an edge to build connections in the European world and sustain Chinese growth.
In addition to the trade boon, EU countries also signed the "Indo-Pacific Strategy" that aims to impose greater European influence in areas of Chinese superiority. Keeping this in hand, the two nations remain steadfast on building infrastructure across Europe, Asia and Africa in the name of "connectivity" partnership. It doesn't brand it to be an "anti-Beijing" plotting, but a mere alternative to the Belt and Road Initiative of china, a way of disallowing Chinese investments.
Conclusion
Today it can be said that the world has come up together, galvanised in order to counter China in the changing world order. This pushback against China has been manifesting itself in multiple ways and in particular, by the regional players who have been successful in persuading more coordinated actions along the way so as to create a more stable balance of power in these highly tumultuous world that we live in.
The complex rivalry between India and China has led to hedging strategically by a mixed approach of cooperation, deterrence and balancing, which is seen to be working efficiently for India till now. After all, India's ultimate aim is to build its own capabilities without overtly provoking China and silently transform itself to be a competition. To achieve this, India is building its relation with China's neighbours such as South Korea, Taiwan, Japan, along with maintaining a cordial relationship with Russia and mending relations with Pakistan and ultimately gaining support from the western nations in strategic cooperation with a common aim.
It is evident today how China's belligerent agenda on regional states has caused it a greater pushback with the unity of the rest of the world against it. The BRI is confronted with numerous fault lines, the Indo-Pacific is well-established, QUAD resurrected and various regional players are beginning to engage with each other much more cohesively.
The only concern that remains today is the growing influence China has over India's neighbours through its 'debt-trap diplomacy' and its 'aggressive wolf-warrior diplomacy', for which India needs to make sure to make the neighbouring countries believe in the hidden agenda and bring unity with India in countering the spread and rise of China. India's 'vaccine-maitri' initiative was a good way of handling the neighbourhood, but more needs to be done in this aspect.
The way forward is to accept each other's legitimacy in certain aspects and hedge accordingly in others. Military escalation such as in 2020 Ladakh is to be prevented in order for both to maintain its relations. To paraphrase Deng Xiaoping (1988), "unless China and India are able to co-exist peacefully, "there will be no Asian century."