7 climate action highlights to remember before COP26
A September to remember, a pivotal month for climate action commitments. From the United Nations General Assembly week to the final pre-COP meeting, last month was an important time to build momentum before the decisive UN Climate Conference COP26 in early November.
UN News has put together a list of the seven most important climate action-related highlights you should know about.
1. Billions planned for clean energy
More than $400 billion in new finance and investment was committed by governments and the private sector during the UN High-level Dialogue on Energy, the first leader-level meeting on energy under the auspices of the UN General Assembly in 40 years.
More than 35 countries, ranging from island states to major emerging and industrialized economies, made significant new energy commitments in the form of Energy Compacts.
For example, the No New Coal Compact includes Sri Lanka, Chile, Denmark, France, Germany, the UK, and Montenegro.
The countries involved in the coalition have committed to immediately stop issuing new permits for coal-fired power generation projects and cease new construction of coal-fired power generation, as of the end of 2021.
Several new partnership initiatives were announced during the event, aiming to provide and improve access to reliable electricity, to over a billion people.
2. United States and China boosted climate action
The world's two largest economies committed to more ambitious climate action during the high-level week of the General Assembly.
United States' President Jose Biden announced that his country would significantly increase its international climate finance to approximately $11.4 billion a year.
Meanwhile, President Xi Jinping of China said that he would end all financing of coal-fired power plants abroad, and redirect support to green and low carbon energy generation.
While the announcements were most welcome, The UN Secretary-General flagged that there is still "a long way to go" to make UN climate conference (COP26) in Glasgow a success that ensures "a turning point in our collective efforts to address the climate crisis".
3. Africa Climate Week spurred regional action
People across Africa met virtually for several days to spotlight climate action, explore possibilities, and showcase ambitious solutions.
More than 1,600 participants actively joined in the virtual gathering, with the host Government of Uganda bringing together governments at all levels across the region, along with private sector leaders, academic experts, and other key stakeholders.
Janet Rogan, COP26 Regional Ambassador for Africa and the Middle East, said that the meeting enabled many stakeholders to build new partnerships and strengthen existing ones.
"Only by working together can we truly help to deliver on the ambition of the Paris Agreement while being conscious of the unique opportunities and challenges this presents in the region", she said.
UN agencies were involved:
The World Bank examined economy-wide approaches for a sustainable, green recovery
The UN Development Programme (UNDP) explored how both climate risk and climate solutions are reshaping different sectors
The UN Environment Programme (UNEP) reimagined the future and looked at behaviors, technologies, and financing
The Food and Agriculture Organization (FAO) published its first ever stock take of Africa's forests and landscapes revealing that up to 65 per cent of productive land is degraded, while desertification affects 45 per cent of Africa's land area.
Africa has contributed little to climate change, generating only a small fraction of global emissions. However, it may be the most vulnerable region in the world already suffering of droughts, floods, and destructive locust invasions, among other impacts.
4. COP hosts, the United Kingdom, asked countries to 'secure the money'
Right at the beginning of the General Assembly, the UK Prime Minister Boris Johnson convened an emergency meeting to press for more action on climate finance and other measures ahead of UN COP26.
World leaders addressed the gaps that remain on the actions needed from national governments, especially the G20 industrialized powers, on mitigation, finance, and adaptation.
The UK Prime Minister warned that "history will judge" the world's richest nations if they fail to deliver on their pledge to commit $100 billion in annual climate aid ahead of COP26. He placed the chances of securing the money before November at "six out of 10".
Mr. Johnson also assured his country "will lead by example, keeping the environment on the global agenda and serving as a launchpad for a global green industrial revolution." But warned: "No one country can turn the tide, it would be akin to bailing out a liner with a single bucket."
5. World leaders committed to reform Global Food Systems
Food systems cause as much as a third of greenhouse gas emissions, up to 80 per cent of biodiversity loss and use up to 70 per cent of freshwater reserves.
However, sustainable food production systems should be recognized as an essential solution to these existing challenges.
On 23 Sept, the first ever UN Food Systems Summit convened world leaders to spur national and regional action to transform the way we produce, consume and dispose of our food.
Following from the latest IPCC report, which raised a "code red" for human-driven global heating, the US administration, one of the world's major agricultural producers, pledged $10 billion over five years to address climate change and help feed those most vulnerable without exhausting natural resources.
The Summit, called by the UN Secretary-General in 2019 to accelerate global progress by leveraging the interconnected importance of food systems, featured other commitments from more than 85 Heads of State around the world.
Many countries announced national initiatives to ensure their food systems met not only the nutritional needs of their populations but also goals around climate change, biodiversity, and decent livelihoods for all. Business and civil society organizations also made important promises.
6. No more 'blah, blah, blah'
Almost 400 activists aged 15 to 29 from 186 countries met in Milan, Italy, a few days ago, to rev up the call for climate action. With weeks to go before COP26, they highlighted youth leadership and pushed for a far more climate conscious society.
Greta Thunberg, along with Ugandan environmentalist Vanessa Nakate was among the speakers at the Youth4Climate event, run by Italy and the World Bank Group.
"Build back better. Blah, blah, blah. Green economy. Blah blah blah. Net-zero by 2050. Blah, blah, blah. This is all we hear from our so-called leaders. Words that sound great but so far have not led to action. Our hopes and ambitions drown in their empty promises", Thunberg said.
"No more empty conferences, it's time to show us the money", added Nakate, 24, referring to the $100 billion in annual climate aid promised by the richest economists to help developing countries vulnerable to the impact of climate change.
"What do we want? We want climate justice now", highlighted Thunberg, known for inspiring a series of youth climate strikes around the world since 2018.
The three-day meeting finalized with a joint document to be presented at negotiation meetings during the preparation COP26 event, the Pre-COP, and then during the pivotal conference.
UN chief António Guterres thanked young people for contributing ideas and solutions in advance of the UN Climate Conference.
"Young people have been in the forefront of putting forward positive solutions, advocating for climate justice and holding leaders to account. We need young people everywhere to keep raising your voices," he said in a video message.
7. Next commitments to watch: the Pre-COP
Each UN Climate Conference (COP) is preceded by a preparatory meeting held about a month before, called Pre-COP. The meeting is the final formal, multilateral opportunity for ministers to shape the negotiations in detail ahead of the meeting in Glasgow in November.
The event, this year in Milan, brings together climate and energy ministers from a selected group of countries to discuss and exchange views on some key political aspects of the negotiations and delve into some of the key topics that will be addressed at COP26.
The meeting is taking place just weeks after a report by UN Climate Change found that nations must urgently redouble their climate efforts if they are to prevent global temperature increases beyond the Paris Agreement's goal of 2C – ideally 1.5C – by the end of the century.
The issues under discussion in Milan include:
Reducing emissions to ensure that the 1.5C goal remains within reach
Provision of finance and support to developing countries to enable them to act on climate change
Improving approaches to averting, minimizing and addressing loss and damage from climate extremes
Establishing a global goal on adaptation to decrease vulnerability
Advancing the technicalities needed for countries to report on their climate actions and support needed or received
Advancing the detailed rules for the market and non-market mechanisms, through which countries can cooperate to meet their emission reduction targets
Ghana Begins Receiving Payments for Reducing Carbon Emissions in Forest Landscapes
Ghana has become the second country in Africa after Mozambique to receive payments from a World Bank trust fund for reducing emissions from deforestation and forest degradation, commonly known as REDD+. The World Bank's Forest Carbon Partnership Facility (FCPF) paid Ghana $4,862,280 for reducing 972,456 tons of carbon emissions for the first monitoring period under the program (June to December 2019).
"This payment is the first of four under the country's Emission Reductions Payment Agreement (ERPA) with the World Bank to demonstrate potential for leveraging results based payments for carbon credits," said Pierre Laporte, World Bank Country Director for Ghana, Liberia, and Sierra Leone. "Subject to showing results from actions taken to reduce deforestation, Ghana is eligible to receive up to $50 million for 10 million tons of CO2 emissions reduced by the end of 2024."
These actions are within a six-million-hectare stretch of the West Africa Guinean Forest, where biodiversity and forests are under pressure from cocoa farming and unsustainable harvesting, and small-scale mining. Ghana is one of 15 countries that have signed ERPAs with the World Bank.
"The many years of dialogue, consultations, and negotiations with local communities, traditional authorities, government agencies, private sector, CSOs, and NGOs have paid off," said Samuel A. Jinapor, Minister for Lands and Natural Resources. "This emission reductions payment will further promote confidence in Ghana's REDD+ process for action to reduce deforestation and forest degradation while empowering local community livelihoods. The road to global 1.5 degrees cannot be achieved without healthy standing forests, and Ghana is committed to making it possible."
Ghana is the world's second-largest cocoa producer. Cocoa drives the economy, but it is also one of the main causes of deforestation and forest degradation in the southeast and western regions of the country. Stakeholders are working to help some 140,000 Ghanaian farmers increase cocoa production using climate-smart agro-forestry approaches, rather than slash and burn land-clearing techniques that decimate forests. More sustainable cocoa farming helps avoid expansion of cocoa farms into forest lands and secures more predictable income streams for communities.
Ghana's Cocoa Board is participating in the REDD+ process, as are some of the most important cocoa and chocolate companies in the world, including World Cocoa Foundation members like Mondelēz International, Olam, Touton, and others. Their combined actions are not only helping bring change to the cocoa sector, but they are also helping Ghana meet its national emissions reductions commitments under the Paris Agreement. This level of collaboration is also reflected in the benefit sharing plan underpinning Ghana's' ERPA with the World Bank. Prepared through extensive consultations with local stakeholders and civil society organizations throughout the country, the plan ensures all participating stakeholders are fairly recognized and rewarded for their role in reducing emissions.
Soil and freshwater come under the spotlight in plastics-pollution fight
BY GARETH WILLMER
On a recent stroll to his local supermarket in the southern German town of Bayreuth, Christian Laforsch decided to count how much plastic trash he passed.
'It was 52 pieces on only a normal walk,' said Professor Laforsch, an ecologist at the University of Bayreuth. 'The problem starts indoors before moving outside. If you open your door and look out onto the street, you will see plastics.'
Spotlight shift
Over time, plastic waste is weathered and breaks down into minute fragments – with those measuring less than 5 millimetres in diameter defined as microplastics. Much about their threat to the environment and human health remains unknown.
The lack of knowledge is particularly pronounced when it comes to soils and freshwater, with research to date tending to focus on microplastics in oceans. Yet terrestrial microplastics pollution may be four to 23 times higher than it is in seas.
'We started as researchers in the marine system, then we went on to the freshwater system and terrestrial ecosystems,' said Laforsch.
Interest in microplastics pollution in soils has grown over the past few years.
For example, a quick search on Science Direct for papers in 2018 on the subject brings up just over 150 results compared with around 450 for oceans. But for 2022, the figures are 2 300 to 2 400 for both soils and oceans.
'People who work in environmental sciences found that microplastics are everywhere,' said Dr Nasrollah Sepehrnia, a soil physicist at the University of Aberdeen in the UK.
However, investigating their effects in ecosystems such as soils is challenging.
'Monitoring and tracing such materials is complex, and their fate in soil is not clear,' said Sepehrnia. 'But very likely they find a way to go into our food chain – and may impact our climate and the environment.'
Progress on the research front could help pinpoint ways to reduce microplastics and any effect they have on human health. With the EU recently proposing to limit the use of microplastics in industry and the United Nations calling last month for countries to work towards eliminating plastics pollution, research could also help determine the most important areas for further regulatory action.
Soiled soils
The EU-funded TRAMPAS project that Sepehrnia works on is investigating microplastics pollution in soils. The focus is on the biological, chemical and physical impacts, including the potential effects on pathogens.
The surface or pores of microplastics can create artificial habitats for disease-causing organisms and protect them against harsh external environments, according to Sepehrnia.
'Microplastics in soil could be a good harbour or shelter for other contaminants, potentially increasing the life of pathogens,' he said.
The project will use a new approach to monitor the movement of bacteria, harnessing synthesised DNA to track how organisms are transported through the soil on microplastics and where they end up.
Studying microplastic particles measuring 1.5, 3 and 5 mm, Sepehrnia's team noticed that the smaller the particle, the longer the contaminants such as bacteria appear to stay in soil.
'When we have such information, it helps trace the contaminants' fate,' he said. 'We can then use it to define management practices and regulations.'
Microplastics in soil may even play a role in global warming.
Plastics release greenhouse gases as they break down in soil. In addition, bacteria that hitch a lift on microplastics might contribute to increasing the amount of carbon dioxide released.
On top of this, work by TRAMPAS indicates that changes in the surface of degraded microplastics can make soils hydrophobic and, as a result, harder for water to permeate.
Troubled waters
After microplastics move through the soil or arrive from other sources such as sewage treatment plants and runoff from streets, they often end up in streams and rivers before flowing into the sea.
The EU-funded LimnoPlast project led by Laforsch is focusing on microplastics in freshwater bodies. The team is investigating the sources, impact, removal options and possible policy responses of this invisible invader.
So far, LimnoPlast has discovered that some biodegradable plastics are potentially as harmful as traditional plastics. As a result, analysing the whole mix of constituents in finished plastic products is important, according to Laforsch.
A challenge is that microplastics are a diverse set of contaminants of varying polymer types, sizes and shapes rather than a single material – so it's important to investigate these differences. Knowing more about them will help to inform manufacturing practices and EU regulation of the most harmful microplastics.
'It might be that only some of those properties are responsible for the effects we see,' said Laforsch. 'If we know which properties do most harm, we can be more focused on these when it comes to the design of new polymers.'
Promising possibilities
LimnoPlast is testing a removal method that uses an electric field to isolate microplastic particles in wastewater.
The researchers are also developing new biodegradable polymers made from orange peels.
'It's hard to say when we will be successful in having a new material, but at the moment things look promising,' Laforsch said.
Beyond hoping to lay the ground for an improved European legal framework for microplastics, LimnoPlast is training a new generation of interdisciplinary scientists in the field who have an understanding of the wider societal context of microplastics.
The project brings together experts with backgrounds in environmental, technical and social sciences from 14 research institutions and organisations across Europe – including Denmark, France, Germany, Slovenia and the UK.
'You cannot tackle an environmental issue only by looking the natural-science part,' said Laforsch. 'You have to include social sciences and all the legal aspects.'
Expanding on that idea, he highlighted a need to think in a joined-up way across ecosystems too.
'We should stop talking about it being a problem of the marine or the freshwater or the terrestrial system because it's all interconnected,' Laforsch said.
Research in this article was funded via the EU's Marie Skłodowska-Curie Actions (MSCA). This article was originally published in Horizon, the EU Research and Innovation Magazine.
Decarbonization of Industrial Clusters Initiative Gains Global Momentum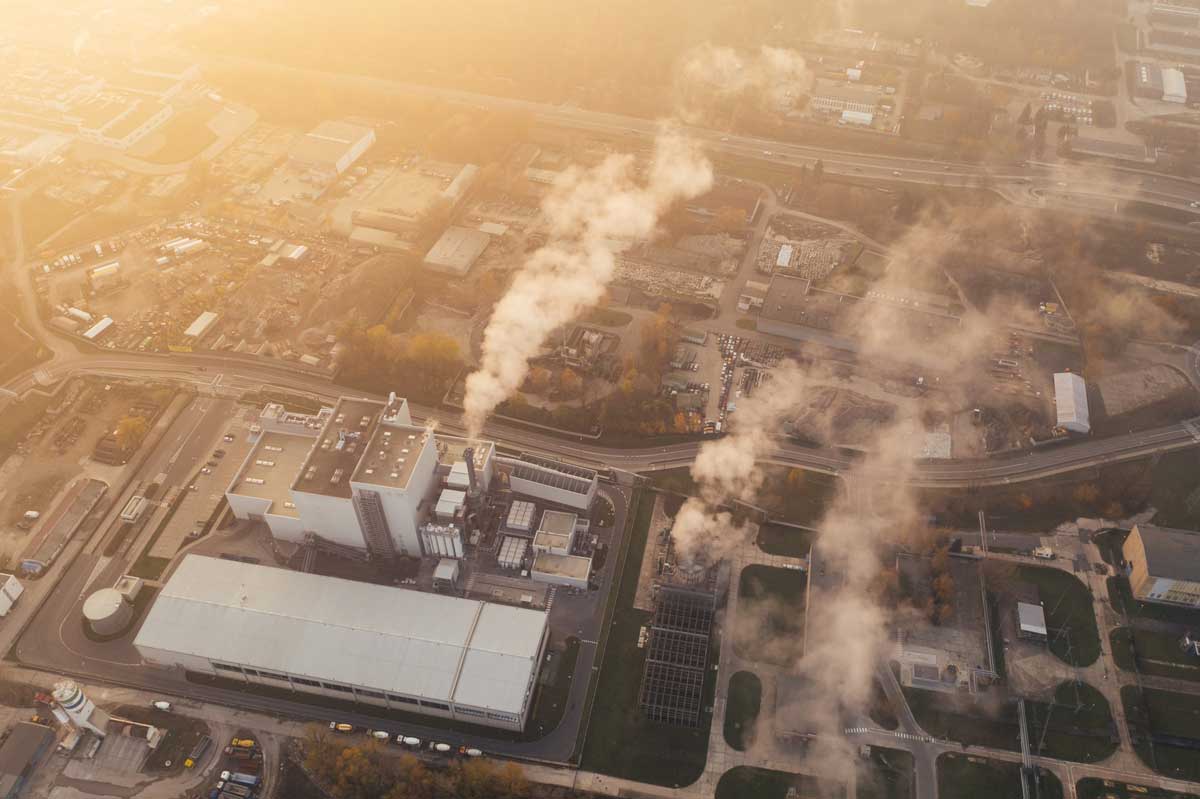 Nine leading industrial clusters in China, Indonesia, Japan, Spain, and the United States have joined the World Economic Forum initiative, Transitioning Industrial Clusters towards Net Zero, to help industries reduce emissions.
Launched in 2021 and supported by Accenture and EPRI, the initiative focuses on reducing heavy industry asset emissions in regional industrial zones, while supporting job creation and increasing economic competitiveness.
Industrial clusters account for 15%-20% of global CO2 emissions, making them an attractive target for emission reductions. Industries in the same general location benefit not only from sharing risk, infrastructure and natural resources but also from a united approach to tackle decarbonization along with workforce transformation and environmental justice.
Industrial clusters are areas where companies, representing either a single or multiple industries, provide opportunities for scale, sharing of risk/resources, aggregation and optimization of demand.
The latest members of the initiative:
· Andalusian Green Hydrogen Valley, with projects in Palos de la Frontera (Huelva) and San Roque (Cádiz), Spain, aims to implement the largest green hydrogen project in Andalusia that offers a solid electricity grid, abundant low-cost renewable production, high industrial consumption and good connections by road, rail, air and maritime transport
· Canary Islands Industrial Cluster, Spain, aims to become a hub for sustainable aviation and clean shipping by using the islands' significant solar and wind energy generation
· Greater St Louis and Illinois Regional Clean Hydrogen Hub Industrial Cluster, USA, a diverse group of industry, business and community groups and academic institutions collaborating to decarbonize the regional industrial sector and foster production and end-uses of hydrogen
· Indo-Pacific Net-zero Battery-Materials Consortium (INBC) in Indonesia, a cooperation to secure low-carbon battery materials from Indonesia to gigafactories in the UK and to launch the leading net-zero industrial park in Sulawesi
· Jababeka Net-Zero Industrial Cluster in Cikarang, Indonesia, includes various industries and the first publicly listed industrial cluster will focus on rooftop solar panels, biomass co-firing as a renewable substitute, organic waste management, circular manufacturing, electric mobility and hydrogen solutions
· Kawasaki Carbon Neutral Industrial Complex, Japan, with petroleum and chemicals at its core, as well as, steel and electric power industries, is pursuing hydrogen deployment, carbon recycling and the use of regional energy optimization
· National Capital Hydrogen Center, USA, helps to accelerate the clean energy transition of the Washington D.C., Maryland and Virginia region while supporting the regional and national imperative to deliver hydrogen solutions for US clean energy future
· Ordos-Envision Net Zero Industrial Park, China, integrates supply chains in Inner Mongolia for battery manufacturing and energy storage, electric vehicle, photovoltaic and green hydrogen equipment, features a high rate (>80%) of renewable penetration, a net-zero digital certification system and supports carbon neutrality for industries within the region
· Sanjiang New Area Industrial Park, China, aspires to achieve carbon neutrality across the local battery value chain by means of green electricity, intelligent energy management, sewage treatment and green transport, while leveraging the innovative experiences in zero-carbon factory and lighthouse factory of CATL's Sichuan plant
The new members join eight other initiative signatory clusters: Brightlands Circular Space, H2Houston Hub, Ohio Clean Hydrogen Hub Alliance, Port of Antwerp-Bruges, Zero Carbon Humber, Hynet North West, Kwinana Industries Council, and the Basque Net-Zero Industrial Supercluster.
Combined, the new clusters add significant decarbonization potential, bringing the CO2 emissions of all the initiative's members to 451 million metric tonnes emitted per year, comparable to the annual emissions of Turkey. The 17 members also contribute economically by employing more than 2.7 million people and represent an annual GDP contribution of $218 billion.
"Kawasaki, which is located between Tokyo and Yokohama, is one of the largest industrial cities in Japan where we are working with companies to form a base for importing CO2-free hydrogen from overseas and create an area that will drive carbon neutrality in Japan," said Norihiko Fukuda, Mayor of Kawasaki City. "I'm confident these efforts will be strongly accelerated by deepening collaboration with other clusters through the initiative."
Industrial clusters are powerful drivers of innovation at scale and knowledge sharing. The expanded initiative community includes new greenfield operations, particularly a number of hydrogen clusters that are future-energy export hubs aimed at developing international green energy corridors.
"Green hydrogen is the best low-carbon alternative for hard-to-abate sectors including industry and heavy transport," said Maarten Wetselaar, CEO of Cepsa. "We see more and more customers keen to commit to green hydrogen consumption and southern Spain offers one of the best price points in Europe to produce it. Cepsa's two projects in our Andalusian Green Hydrogen Valley, the largest green hydrogen hub in Europe, will help create a commercial construct to meet this demand, decarbonize local industry and begin to provide the scale Spain needs to become a net exporter of clean energy."
"Indo-Pacific Net-zero Battery-materials Consortium (INBC) will accelerate developments of battery gigafactories across the world. As we play our part in the end-to-end global EV supply chain – started with Indonesia and the UK – we will position INBC as the go-to alternative for ESG-processed nickel and battery materials. Collaboration is the key to a successful net-zero sustainability transition and hence we are very excited to be joining the Transitioning Industrial Clusters towards Net-zero initiative," said Anindya Bakrie, Consortium Lead Representative of INBC and CEO of Bakrie & Brothers.
Building on these developments, the initiative has published its first report, Transitioning Industrial Clusters towards Net Zero, and will host a number of public-private roundtables and regional workshops in 2023. These events will strengthen public-private collaboration and pursue further policy analysis beyond the recently published white paper, Transitioning Industrial Clusters towards Net Zero: National Policy Enablement for Industrial Decarbonization.
"The nine new industrial cluster members add momentum to our programme and diversify the locations and types of industries seeking to accelerate their decarbonization, making our initiative truly global and comprehensive," said Roberto Bocca, Head of the Platform for Energy, Materials and Infrastructure, World Economic Forum. "The programme now covers several heavy industries sectors in nine countries across four continents. We encourage other industrial estates and hubs to join us in helping reduce CO2 emissions faster by creating international public-private and cross-industry partnerships which enable implementation of low-carbon technologies."