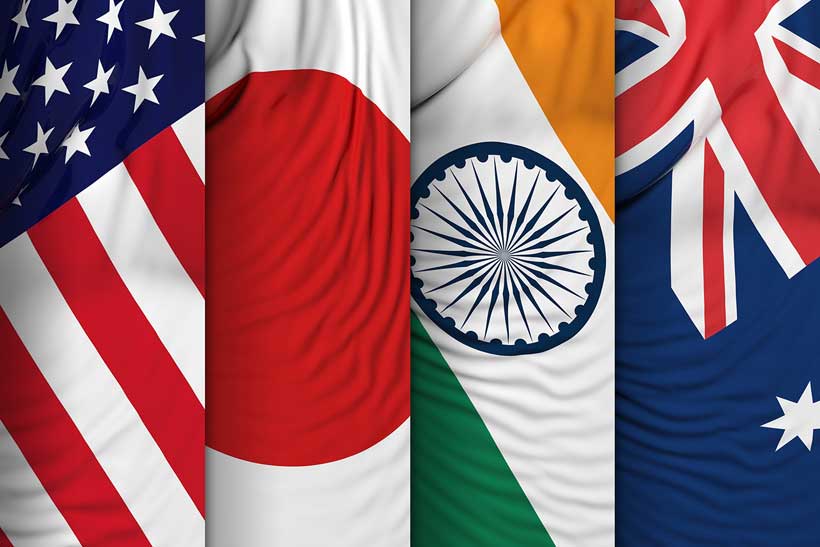 From the 2004 tsunami relief efforts to the 2021 leaders' summit, the Quad has come a long way
The Quad plurilateral mechanism in the Indo-Pacific reached the landmark summit level in March, this year. With its second summit being held late this week in Washington DC, the prospects of cooperation appear promising. In this long essay, I try to briefly historicise the journey of the Quad so far, right from its very beginnings to the present, and share my frame of mind on what the grouping entails and what it ought to be.
***
US President Joe Biden will host the prime ministers of India, Japan, and Australia at the White House on Friday (September 24) for their first in-person Quad Leaders' Summit. The previous summit was held in virtual mode six months before, in March.
In February, this year, the third ministerial of the four-nation grouping in two years' time also took place in the virtual mode. The Quad has been recalibrating itself to deal with the most pressing challenges of the times with several purpose-driven working-level groups set in action this year.
This covers a wide range of areas of cooperation, going beyond the traditional domain of maritime security and defence and includes issues such as the production and distribution of Covid-19 vaccines, critical and emerging technologies, climate change, quality infrastructure, cyber-security, diversified supply chains, counter-terrorism, humanitarian assistance and disaster relief.
Even though the Quad leaders' came up with a joint statement titled 'The Spirit of the Quad' shortly after the virtual summit in March, the grouping's very purpose or raison d'être still remains ambiguous, as there are a lot of issues it involves with and there is a lot on the table to speculate on.
While some perceives the Quad as an anti-China coalition of maritime democracies that would ensure a stable balance of power in the Indo-Pacific region, some perceive it differently and see the possibilities for regional cooperation, rather than competition.
The Quad navies jointly participated in the annual Malabar naval exercise thrice – in 2007, 2020, and 2021. It was initially conceived and conducted as an India-US bilateral exercise until 2007, when the four Quad navies participated together for the first time since the drills began in 1992. Among the Quad partners, the United States, India, and Japan have been participating as permanent members of the annual war games since 2015.
Australia has been participating in Exercise Malabar for two consecutive years now – 2020 and 2021 – and has additionally participated in one more edition, in 2007, but it still lacks a permanent status in the exercise. If Australia is inducted as a permanent member soon enough, it completes the securitisation of the Quad, but without a formal treaty alliance.
Despite all the contemporary public excitement surrounding the Quad, it is still not fully institutionalised in terms of structural factors such as having a permanent secretariat or an active web presence, a gap that has to be filled in order to complete the process of formal institutionalisation.
There is little doubt that China's enhanced power projection in the past two decades in the region and the geopolitical concerns it raise has been a key factor in bringing together the nations of grouping in the late 2000s. However, the Quad's story had subtly begun even much before in an entirely different context.
A natural disaster brings the would-be Quad partners together
The four Quad countries have a history of mutual cooperation that goes 17 years back to December 2004, when a massive tsunami struck along the rim of the Indian Ocean, depriving tens of thousands of people of their lives, livelihoods, and property. It was presumably the deadliest natural disaster of the 21st century, resulting in the death of a whopping 230,000 people.
India, Japan and Australia joined hands with the United States to coordinate the relief efforts, two days after the disaster occurred. They formed a 'Tsunami Core Group' as first responders to the looming humanitarian crisis and their collective effort continued till mid-January 2005 before handing over the mission to the United Nations.
A thematic conundrum
The very first Quadrilateral Security Dialogue (shortened as the QSD, or the Quad) of senior officials from the four Indo-Pacific democracies took place in May 2007 on the side-lines of the ASEAN Regional Forum in Manila, only to get disbanded the very next year with Australia's withdrawal and also due to differences on what the grouping's aims and objectives ought to be in the years ahead.
However, after nearly a decade, the Quad took a new avatar in November 2017 with the launch of an official-level working group for 'consultations on issues of common interest in the Indo-Pacific region', and since then until the March 2021 summit, the Quad meetings of senior officials were held seven times and the foreign ministers met thrice, one each in 2019, 2020, and 2021 respectively.
Having a large number of issues at hand would amount to losing focus on a key central theme, which ideally ought to be maritime security and the preservation of the right balance of power against any single power's quest for hegemony in the region. While a shared concern on the rise of China and its new assertion in a way disrupting the regional and global balance of power was an issue that needed to be dealt with right from the very first QSD in 2007.
However, the 'security' element of QSD has broadened into newer arenas of cooperation lately, of which the most important issue has been the coordination of the Covid-19 pandemic relief efforts collectively, particularly through the vaccine initiative, announced earlier this year.
Under the initiative, Covid vaccines will be manufactured in India using American biotechnology, with Japanese financial support and Australian logistical support and distribution network, thereby making use of the respective capability-edge of each Quad countries in different areas, as a combined whole. This can also be seen as a response to increasing Chinese influence in regions such as Southeast Asia, where the Quad's initiative can be introduced as an alternative to the ones offered by China.
The territorial worries of India and Japan
Of all the Quad partners, India is the only country that shares a land border with China in the high Himalayas, which is also disputed and undemarcated with overlapping claims and serious differences in perception of the border. Japan, on the other hand, is located in China's immediate maritime neighbourhood.
From 2005 to 2007, the security dynamics of Asia and the Pacific witnessed several changes with the rise of China. On the other hand, India was getting closer to the United States, with notably the Indo-US civil nuclear deal negotiations being underway, and later finalised.
Around the same time, in November 2006, the Chinese Ambassador to India kindled an unnecessary controversy by claiming the whole of the northeast Indian state of Arunachal Pradesh as Chinese territory, or rather as part of southern Tibet. This cast a shadow over the border negotiations that were going on between the two countries since the early 1990s.
Earlier in 2006, during a round of border negotiations, the Chinese side seemed to backtrack on a prior understanding that any final resolution would refrain from disturbing 'settled populations'. This signalled that Beijing had no intention of respecting the 'status quo'.
Tensions were also simmering in the East China Sea and not that far from Japanese territorial waters, when a Chinese submarine surfaced in the middle of a US carrier strike group without warning. This happened in October 2006, causing a major embarrassment for the US Navy. Until that point of time, China remained a quiet naval power.
The incident marked the first instance of China's naval power projection in modern history, as it remained a land-based power for centuries, even though it had a long coastline along the South China Sea, the East China Sea, the Yellow Sea, and the Bohai Sea. The Chinese just gave a political message to the world on their new coming as an Asian maritime power.
In fact, Japan started to view China as a potential threat even a couple of years before, when Chinese aircrafts intruded into Japanese airspace near the Senkaku Islands in the East China Sea, which the Chinese referred to as the Diaoyu Islands. A Chinese submarine transited through Japanese territorial waters near Okinawa in 2006 and similar incidents repeated in the following years too.
With tensions heating up, Shinzo Abe, then member of the Japanese National Diet (parliament) published a book detailing his political philosophy and vision for Japan in July 2006, titled "Towards a Beautiful Country", in which he proposed to strengthen Japan's collaboration with Australia, the US, and India.
By the time, Indian and Japanese strategic interests in the region began to converge. In the same year, Shinzo Abe was elected as the Prime Minister of Japan, the youngest person to hold the office since the conclusion of the Second World War.
The birth of Quad coincides with the re-emergence of the 'Indo-Pacific'
The Indian Ocean represented a key strategic vulnerability of China, being a crucial waterway through which Beijing's energy lifelines transit, before reaching the southern and eastern ports of mainland China via the Strait of Malacca. This opened up the possibility of using naval might to moderate China's aggressive behaviour, a discussion that attracted minds in the strategic circles of New Delhi and Tokyo, particularly since the mid-2000s.
Before 2006, the Indian Ocean was rarely seen as part of the Asia-Pacific in the context of regional politico-economic integration. The time has now come to imagine a region in which the Indian Ocean integrated with the Asia-Pacific.
Around the same time, in November 2006, then Japanese Foreign Minister Taro Aso delivered a speech at a seminar organised by the Japan Institute of International Affairs, in which he spoke of an 'arc of freedom and prosperity along the outer rim of the Eurasian continent'.
In January 2007, a strategic thinker and then Captain in the Indian Navy named Gurpreet S. Khurana subtly brought back an old idea of a maritime continuum of the Indian and Pacific Oceans to the strategic discourse though his policy paper titled, "Security of Sea Lines: Prospects for India-Japan Cooperation" – the Indo-Pacific. It was published in Strategic Analysis, the journal of Indian think-tank Institute for Defence Studies and Analyses (IDSA).
However, the idea was originally attributed to a 20th century German geopolitician named Karl Haushofer, who used it in the 1920s in his multiple academic works. Fast forward to the 21st century, in August 2007, Japanese PM Shinzo Abe delivered a speech in the Parliament of India, during his visit to the country, known as 'Confluence of the Two Seas', in which he endorsed the concept, thereby receiving political and diplomatic mileage for the first time.
The immediate trigger for this ideational revival was apparently the new military assertiveness of China in its neighbourhood. However, it was different from the idea of a four-nation grouping of the Quad, which later endorsed a much-evolved concept of a 'free, open and inclusive Indo-Pacific', respecting customary international law and a rules-based regional order.
Today, the Quad is one of the most important power centres in the Indo-Pacific, along with the ASEAN countries, France, and of course, China.
2007 – A historic year for the Quad
2007 was indeed a phenomenal year for the Quad as it witnessed the first Quadrilateral Security Dialogue (QSD) on the side-lines of that year's ASEAN Regional Forum meeting in Manila. This was made possible after Japanese PM Shinzo Abe managed to successfully persuade the then US Vice-President Dick Cheney of the need for such a meeting. Abe also made similar proposals to India and Australia, which received positive responses.
The first Quad meeting was in fact a gathering of mid-level officials from the four countries, who explored possible ways of cooperation. The year also witnessed the participation of Japan and Australia in the annual US-India Malabar naval exercise, along with Singapore, the first in which all the Quad partners participated. These moves, as expected, invited strong reactions from China.
The disbandment of Quad 1.0
Unfortunately, what followed in the rest of 2007 were unfavourable regime changes in Japan and Australia, as PM Abe was forced to resign due to the loss of public confidence and the then Australian PM John Howard was replaced by a Mandarin-speaking and pro-China Kevin Rudd.
Less than a year since its formation, the Quadrilateral Security Dialogue was forced to disband itself prematurely in 2008 when Canberra made it clear that it would no longer wish to be part of the Quad, owing to pressure from Beijing, to which it was getting closer for exploring new prospects of expanding a promising economic ties, and also due to a lack of interest from the new Japanese leadership that succeeded Abe.
With a mounting economic might and promising industrial progress, China comfortably and gradually began to pursue an assertive foreign policy, which would soon be visible in areas such as the South China Sea and later reflective as Beijing's so-called wolf-warrior diplomacy.
The return of Shinzo Abe and Japanese leadership at play
In 2012, the visionary Shinzo Abe made a heroic return as the Prime Minister of Japan, after winning that year's parliamentary polls. He then vowed to invest Japan's capabilities in the reinvigoration of the Quad by all means possible. He said, "Australia, India, Japan and the US State of Hawaii form a diamond to safeguard the maritime commons staring from the Indian Ocean Region to the Western Pacific …"
Three years later, in 2015, Japan was inducted as the third permanent partner in the US-India Malabar naval exercise. Under Abe's leadership, Japan managed to revise its defence guidelines involving the United States, allowing maritime drills outside the vicinity of Japan's territorial waters.
Soon after, Tokyo elevated its ties with Canberra to a 'Special Strategic Partnership' and its ties with New Delhi to a 'Special Strategic Global Partnership'. Around the same time, Australia, being home to one-third of the world's known uranium reserves, overturned its uranium export ban to India by signing a civil nuclear cooperation agreement, an issue that had strained Canberra-New Delhi ties for long.
Even without a formal quadrilateral set-up in place, the Quad countries continued to enhance their mutual cooperation in the early 2010s by a series of trilateral networks initiated among themselves such as the Japan-America-India (JAI) and the Australia-India-Japan dialogues. Similarly, an Australia-Japan-US ministerial dialogue has already been in existence since 2006, falling short of including only India.
Quad 2.0 rises from the ashes
Finally, after a nine-year gap between the formal meetings of the disbanded Quadrilateral Security Dialogue, Tokyo again took the lead in proposing a fresh meeting of the Quad to be held on the side-lines of the ASEAN and related summits in November 2017, again in Manila, the same city that hosted the very first Quad meeting almost a decade back.
The Japanese proposal was welcomed by Washington, Canberra and New Delhi, without much delay. This eventually led to the resurrection of the Quad from the ashes, almost a decade after it was disbanded. This time, in its new avatar, all the four countries had shared concerns on the geopolitical challenge posed by China and their strategic interests converged well.
In January 2018, the navy chiefs from the Quad countries participated and shared a common stage in the Raisina Dialogue, India's flagship annual conference on geopolitics and geo-economics held in New Delhi, jointly organised by the Ministry of External Affairs (MEA) of the Indian government and a think-tank named Observer Research Foundation (ORF).
2018 saw two working-level meetings of senior officials from the Quad countries in Singapore. The following year witnessed two such meetings in Bangkok and also the elevation of the Quad to the ministerial level in New York. The second Quad ministerial was hosted by Tokyo in 2020, and the same year saw all the Quad countries participating in Exercise Malabar after a gap of 13 years.
The US assumes the leadership of Quad 2.0
The United States has been a significant factor in the convening of the Quad summit recently. The Trump presidency (2017-2021) took an openly confrontational stance against China, giving an early impetus for the re-emergence of the Quad in 2017.
President Joe Biden, in fact, followed his predecessor's footsteps and built on Trump's legacy when it came to dealing with China, a global-level strategic rival of the United States, in arenas ranging from trade and technology to geopolitics.
With a virtual Quad ministerial and two summits being held this year under the US leadership, the balance of power dynamics in the Indo-Pacific has been recalibrated this year to the highest level of diplomatic engagement.
Australia's trade woes with China brings it closer to the Quad
Australia and China have been engaged in a quasi-trade war since late 2019. Both countries do not share any territorial boundaries, as Southeast Asia and the China Seas lie in between these two large countries. However, China has been Australia's biggest export market for many years.
In 2018, Australia became the first country in the world to ban Chinese companies Huawei and ZTE from its 5G trials and rollout, citing national security concerns. It was alleged that these companies had links with China's ruling Communist Party (CCP) and due to the fear of espionage. China reacted strongly to this by asking the Australian government to "abandon ideological prejudices and provide a fair competitive environment for Chinese companies".
In 2020, Australia risked further worsening of its ties with China by demanding an inquiry into the origins of the Covid-19 pandemic. China, on the other hand, imposed high tariffs on Australian imports, particularly wine that was taxed at over 200 per cent, with some lasting even up to five years, making its sale almost impossible in China.
Also, China has either halted or substantially reduced imports of many more items from Australia such as beef, coal, barley, seafood, sugar and timber, as part of 'anti-dumping measures' and by alleging that the Australian government has been subsidising its wine producers for facilitating their exports against the rules of fair competition.
But, the real reason was apparently political, which China doesn't wish to openly acknowledge and it also wanted to punish the struggling Australian economy. By March, this year, the value of Australian trade with China for almost all industries had plummeted by 40 per cent.
Since April 2020, Australia has been engaging in a Supply Chain Resilience Initiative (SCRI) with fellow Quad partners India and Japan to diversify and mitigate supply chain vulnerabilities, without overly being dependent on a single country or a few. All these factors have, in fact, brought Australia closer to the Quad.
India's participation as a sustainability factor in the Quad
The Quad opened up fresh new possibilities for India for cooperation with the US and its two key regional allies in the Quad. Thus, the grouping gained attraction in India's strategic calculations for the Indo-Pacific lately, further intensified by the Chinese threat looming large across the Line of Actual Control (LAC), which is particularly intensified in the backdrop of the bloody Galwan clash of June 2020 that resulted in the death of 20 Indian soldiers.
With its territorial border with China remaining tense, Indian strategic thinkers batted for an effective maritime strategy that would dissuade China from its misadventures in land, owing to its strategic vulnerability in the Indian Ocean. Today, the Quad remains as the lynchpin of India's Indo-Pacific strategy. Some experts even pointed out that the secret to peace in India's land border with China might actually lie in the oceans.
India has inaugurated '2+2' dialogues of foreign and defence ministers with the United States, Japan and Australia in 2018, 2019 and 2021 respectively, to enhance cooperation in the realm of security, bypassing strategic constraints. If India ever leaves the Quad, the grouping simply ceases to exist with Japan and Australia continuing to remain as US allies in the region.
Historically, India has been a champion of a non-aligned foreign policy, which later metamorphosed into 'multi-alignment' by the dawn of this century. India still remains to be the only Quad partner not in a formal treaty alliance with the United States.
A trilateral ministerial dialogue between Australia, Japan, and the US is in existence since 2006. The leaders of Japan and Australia signed a historic Joint Declaration on Security Cooperation in 2007, and a US-Japan-Australia triangle was already in place.
Thus, India was a loner in the Quad since its comeback in 2017 and has always been reluctant to the alliance system. In fact, India is an active participant of Russia and China led groupings such as the Shanghai Cooperation Organisation (SCO) and the BRICS (Brazil, Russia, India, China, and South Africa).
A 'Quad Plus' in the offing
New mechanisms such as the 'Quad-Plus' are also taking shape recently. During the early months of the Covid-19 pandemic, officials from the Quad countries along with their counterparts from South Korea, Vietnam, and New Zealand had met to discuss ways to tackle the challenges of the global health crisis, covering areas from vaccine development to mitigating the impact of the pandemic on world economy.
The Philippines, Singapore, Indonesia, Taiwan, and France can also be potential 'Quad-Plus' partners in the future.
The need for a re-defined raison d'être for Quad 2.0
The world of diplomacy and multilateralism has a myriad of inter-governmental or non-governmental organisations, institutional mechanisms, legal regimes, and advocacy groups for various purposes such as global nuclear governance, trade, humanitarian assistance, environment, development assistance, health and so on. In that league, it is important to specifically determine where exactly do the Quad stand and what is its relevance in the current times?
An expanded mandate of Quad 2.0 would mean losing focus on the most important issue at hand – maritime security and defence, at the cost of entertaining other issues. The Quad deals with issues of common interest of all of its members that are systemically 'democracies' and this explains why China cannot be part of it.
With 'security' being 'one of the many issues' the Quad undertakes lately, the grouping still has to clear ambiguities surrounding its bottom-line raison d'être and there is still scope for redefining its purpose and central focus into a few limited themes by prioritising a sustainable and positive balance of power in the region above everything else, and I remain optimistic in this regard, particularly as the White House welcomes the prime ministers of India, Japan and Australia, this week.
China's assurance of Rohingya repatriation between Myanmar-Bangladesh
We now have new hope thanks to news reports that were published in the Bangladeshi dailies on Tuesday and contained the word of Yao Wen, the recently appointed Chinese ambassador to Bangladesh, that the repatriation of Rohingyas to their native Myanmar would begin as soon as possible. We believe that the Chinese government is truly considering Bangladesh's concern over the safe and immediate repatriation of more than a million displaced Rohingyas in light of the Chinese envoy's pledge.
The envoy reportedly made this commendable remark to our foreign minister at a recent meeting at his office.
If his words are followed by action, we think China's role in this case will serve as a model for future efforts to advance world peace, particularly in light of the repeated failures of attempts to repatriate Rohingya due to the government of Myanmar's blatant indifference and partially due to the insincere efforts of the international community. And when it comes to finding a long-term solution to the biggest refugee crisis in history, we wholeheartedly believe in China's potential. China is a dependable friend of Bangladesh and a major global force. There is no doubting the importance of the newly appointed Chinese Ambassador's position in this situation.
The Rohingya situation needs to be resolved diplomatically and via political means, according to the international community. The US and other Western nations keep applying pressure to Myanmar even though they are unable to ensure the safe and willing return of the Rohingyas. As Bangladesh seeks the swift repatriation of Rohingyas to Myanmar, Li Zhiming, the former Chinese ambassador to Bangladesh, stated that China would serve as a "bridge of communication" and do its utmost to support a timely resolution. China supports Bangladesh's desire to begin repatriation, and China will keep assisting the two friendly neighbors in finding a solution to this persistent problem. China will make an effort to address this issue effectively because it is one of humanity.
In truth, Bangladesh, a country with limited resources and territory, is no longer able to handle such a large number of displaced people as it deals with a wide range of domestic and international problems as a result of the recent worldwide pandemic and the war in Russia and Ukraine. Hosting the growing population of Rohingyas, including newborn children, is also not a long-term option for them. In previous editorials, we have emphasized numerous times the importance of finding a long-term solution to this situation.
To protect China's interests in Myanmar, the Rakhine state must remain stable. The infrastructure that China built in the state of Rakhine will have a big impact on the region's economic growth. Human resources are also necessary to run all of these facilities. These Rohingyas and Rakhines can be trained by China to work efficiently in a variety of facilities and sectors. A stable Rakhine will draw tourists, and the region's tourism industry can grow. Rakhines and Rohingyas can work in that sector as well. That will deal with the state's unemployment issue. The level of racial animosity will progressively decline as the economy improves, and harmony may be guaranteed. The Rakhine region is essential for China's military plans in addition to ensuring presence in the Indian Ocean.
Given all, it can be concluded that the Rohingya situation will be resolved if China takes the proper action.
Bangladesh desires the safe and honorable return of the Rohingyas to Myanmar. Bangladesh and China have long-standing, close ties. During a visit to Bangladesh on August 6, 2022, China's State Councillor and Foreign Minister Wang Yi stated that Bangladesh is making serious efforts to resolve the Rohingya crisis. During this tour, the Rohingya issue received important discussion. China's help was requested during this visit in order to play a bigger role in the Rohingya situation and find a political solution that would guarantee return. China has contributed significantly to Bangladesh's socioeconomic growth by funding numerous economic initiatives there.
We think the Rohingya situation would not have lasted as long if the big nations had shown the kindness and sincerity that we see now. An appropriate solution to the situation would have been achieved by now if the humanitarian component of it had been given precedence above its geopolitical ramifications.
According to our assessment, the main source of the crisis lost steam due to the competing interests of the major players, many of which Bangladesh and Myanmar have bilateral relations with for a variety of reasons.
The Rohingya situation is solely a matter of human rights. Democracy and human rights are related. From that vantage point, it is impossible to deny the significance of democracy for the sustainable return of displaced Rohingyas to their country of origin, Myanmar.
We believe that other global power players cannot avoid their collective responsibility to rise to the occasion above their political lines and assist China for a long-term solution to the world's largest humanitarian crisis, despite the fact that China's assurance to resolve the Rohingya crisis revives a ray of hope.
Bangladesh and China have close political and military relations in addition to the fact that China is Bangladesh's top trading and development partner. The Rohingya issue must be addressed in Myanmar, a country that China has significant influence over. As a result, China can make a big contribution to the return of the Rohingya.
To resolve this problem, the regional powers need to step forward right away. Everyone expects that by resolving the Rohingya issue, China, a friendly nation of Bangladesh, will significantly contribute to the peace, security, and stability of the area.
To engage or not engage. Hindus and Muslims suss each other out
Moderate Muslims and militant Hindu nationalists are strange bedfellows at the best of times, particularly when they come together to reshape Hindu-Muslim relations in troubled India.
Yet, that is what Indonesia's Nahdlatul Ulama and India's Rashtriya Swayamsevak Sangh (RSS) seek to achieve.
Nahdlatul Ulama, arguably the world's most moderate Muslim civil society group in the world's largest Muslim-majority state and democracy, is everything the RSS, a notorious Hindu nationalist movement widely viewed as the catalyst of anti-Muslim violence and discrimination in India, is not.
What makes the endeavour even more remarkable is that the two groups have strikingly different visions of what Hindu-Muslim reconciliation should entail.
For Nahdlatul Ulama, engagement with the RSS is part of a bold and risky strategy to persuade faith groups, including Muslims, to confront their troubled, often violent, histories and problematic tenants of their religions that reject pluralism and advocate supremacy.
"Nahdlatul Ulama believes that the only way to overcome entrenched historical grievances and promote peaceful co-existence is to engage all parties and refuse to indulge in the sentiment of enmity and hatred based upon a claim of unique communal victimhood," the group said in a statement in September explaining its engagement with RSS.
For the RSS, engagement is about redressing historical grievances dating to centuries of Muslim invasions and rule, defending Hindus against perceived contemporary Muslim threats, and ensuring that India is a Hindu rather than a non-discriminatory multi-religious state.
A 2019 amendment to India's citizenship law suggested how the RSS defines a Hindu state. The amendment extends the right to apply for citizenship to members of religious minorities — Hindus, Sikhs, Buddhists, Jains, Parsis, and Christians but not Muslims — fleeing persecution in Pakistan, Bangladesh, and Afghanistan.
Nevertheless, Khwaja Iftikhar Ahmed, an Indian Muslim author and intellectual who maintains close ties with the RSS, insisted in an interview with the author that RSS ideology views Indians, irrespective of their religion, culturally as Hindus.
"They say that Hindu doesn't have a religious connotation, Hindu being all those people living in this part of the world, they are culturally…Hindus… The religion is Santana Dharma or Eternal Faith (the Hindu reference to Hinduism). Hindu is the cultural identity… That is the middle ground," Mr. Iftikhar said.
In 2021, RSS leader Mohan Bhagwat launched a widely acclaimed book authored by Mr. Iftikhar that argued in favour of Hindu-Muslim togetherness and harmony.
Nahdlatul Ulama and the RSS' different visions have consequences for strategy. Although the RSS' Indonesian engagement is with a movement led by clerics, in India, it tends to interact with secular Muslims who have no authority to reform Islamic jurisprudence rather than religious scholars.
Even so, Mr. Iftikhar said numerous Indian Muslim religious leaders of all stripes were in touch with the RSS, although many of them did so privately.
These include leaders of Deobandism, a revivalist ultra-conservative Sunni Muslim movement, which counts some 20 per cent of the world's 1.8 billion Muslims among its followers.
Deobandism emerged in the mid-19th century around Darul Uloom Madrassa, a religious seminary in Deoband in the Indian state of Uttar Pradesh, to preserve Islamic teachings under British colonial rule.
"The difficulty is that contrary to the RSS, Muslim authorities in India do not have a strategy. Theologically, they have not accepted India's existence but, for political reasons, do not challenge it. It's an attitude they have yet to abandon," said an analyst of Indian Islam.
In a separate interview on an Indian Muslim television channel, Mr. Iftikhar argued that the Muslim community had failed to address its differences with the RSS.
"The community has avoided any discussion or debate on that. It has always taken refuge behind others, whereas the challenge was ours. The response should have been from us, and we should have tackled those issues. The issues are challenges that India as a country and we as Indians…as one single nation, are facing. It is not a Hindu challenge; it is not a Muslim challenge," Mr. Iftikhar said.
In a chapter that he contributed to an edited volume on the politics of hate in South Asia, Indian Islam scholar A. Faizur Rehman seemed to spell out Mr. Iftikhar's castigation of the Indian Muslim leadership and align himself with Nahdlatul Ulama's call for reform of Islamic law.
Mr. Rehman took the Muslim community to task for not countering their own ultra-conservatives and militants on multiple issues, such as the defense of relations with non-Muslims, the rights of Muslim and non-Muslim minority communities in Muslim lands, and draconic blasphemy laws in countries like Pakistan.
"If the Muslim community fails to question and stop these fanatics, it would be unwittingly contributing to Islamophobia," Mr. Rehman said.
Mr. Rehman argued that Muslims needed to clarify their beliefs by stating that India is not part of the Muslim notion of an abode of war and, like Nahdlatul Ulama, declare that the concept of the kafir or infidel does not apply to non-Muslims.
A gathering of 20,000 Nahdlatul Ulama clerics ruled in 2019 that the concept of the kafir was no longer legally valid.
Mr. Rehman contended that Muslims should discard the concept of dawah or proselytisation "as a tool of supremacism" and abolish apostasy and blasphemy as capital crimes under Islamic law.
"In short, what is needed…is a radical rethink of Muslim theology," the scholar said.
Three years into the dialogue, the jury is still out on Nahdaltul Ulama's interaction with RSS, which started as a cautious dialogue and has expanded into a degree of cooperation.
So far, the endeavour, embraced by moderate Indian Muslims and reformers, appears to have worked more in the RSS' favour than that of Nahdlatul Ulama.
Nahdlatul Ulama's credentials offer the RSS Muslim legitimisation.
The RSS has used the Muslim group's push for reform of religious jurisprudence, the concept of a pluralistic Humanitarian Islam, and unequivocal endorsement of the Universal Declaration of Human Rights to tell India's 200 million Muslims, the world's largest Muslim minority, what their faith should look like.
To be fair, there may be no Hindu-Muslim reconciliation without the RSS, a five million-member-strong movement whose disciples constitute the core of Prime Minister Narendra Modi's ruling Bharatiya Janata Party (BJP) and government. The RSS is the ideological cradle of Mr. Modi, who has been a member since childhood.
In a rare recent interview published in Hindi and English by two RSS sister publications, Mr. Bhagwat, the group's leader, discussed the movement's strategy and objectives that frame engagement with Nahdlatul Ulama although he did not refer to the Indonesian Muslims.
Mr. Bhagwat's statements offer reasons for both optimism and pessimism.
From a tactical point of view, Nahdlatul Ulama is likely to have taken note of Mr. Bhagwat's acknowledgement that the RSS can no longer refuse accountability for what its associates in office do.
"People forget that swayamsevaks (RSS associates) have reached certain political positions through a political party. Sangh (RSS) continues to organise society for organisation's sake. However, whatever swayamsevaks do in politics, Sangh is held accountable for it," Mr. Bhagwat said.
"Even if we are not implicated directly by others, there is certainly some accountability, as ultimately it is in the Sangh where swayamsevaks are trained. Therefore, we are forced to think – what should be our relationship, which things we should pursue with due diligence," Mr. Bhagwat added.
To be sure, Mr. Bhagwat was talking about the RSS's relationship with the BJP and its current accountability rather than the historical responsibilities of the group and Hindus at large. He stressed that the RSS was concerned about "national policies, national interest, and Hindu interest," not electoral politics.
By drawing a line between the RSS and the BJP, accepting the principle of accountability, and framing the groups' political involvement, Mr. Bhagwat appeared to hint at a potential divergence between the movement and the party.
"The RSS thinks about the endgame. Bhagwat thinks about the future. He is not elected and does not have to worry about re-election. The BJP does. That's why the BJP is more prone to polarisation. The RSS does not need polarization for electoral purposes," said an analyst who closely follows the RSS and BJP.
Even so, Mr. Bhagwat did not shy away from polarizing language when he asserted that Hindus were engaged in a "1,000-year war." Moreover, Mr. Bhagwat magnified the notion of war by insisting on the RSS' majoritarian vision of India, or Hindustan in his words. as a Hindu rather than a multi-cultural nation.
The RSS leader defined the war as a fight against "foreign aggressions, foreign influences and foreign conspiracies" that seek to force others "to accept their path as it's the only true path. And if you refuse to do so, you will have to choose between our mercy and death."
Mr. Bhagwat made clear that he was referring to Muslim rather than Christian proselytisers by insisting that "Muslims should give up the mindset of superiority…(and) 'we can't live with others.'"
Mr. Bhagwat asserted, "foreign invaders are no longer, but foreign influences and conspiracies have continued. So, there is a war to defend Hindu society, Hindu Dharma (cosmic law), and Hindu culture."
Drawing a contrast with Hinduism, Mr. Bhagwat asked rhetorically: "What is the Hindu worldview? Does a Hindu ever say that everyone should endorse his faith? This is not how we think. We want to present an example for others to see. We want to have (a) dialogue with everyone. Those who wish to improve will follow our example. If they do not, we do not intend to harm them."
Mr. Bhagwat's polarizing rhetoric notwithstanding, Nahdlatul Ulama sees common ground in the RSS' rejection of what the Indonesian group describes as "obsolete and problematic elements within Islamic orthodoxy that lend themselves to tyranny."
Nahdlatul Ulama, a conservative, nationalist organisation in its own right, hopes that its willingness to confront head-on intolerant and supremacist tenants of Islamic law will convince the RSS to develop a Hindu equivalent of Humanitarian Islam and take a critical look at Hindu theology, history, and anti-Muslim attitudes.
In an article entitled "What the media has misunderstood about Mohan Bhagwat's interview," Ram Madhav, an RSS executive committee member and associate of Mr. Modi, sought to finetune Mr. Bhagwat's reference to war.
"The UNESCO Constitution begins with the statement that 'wars begin in the minds of men'. Bhagwat's emphasis was actually on removing that mindset of war. It is a historical fact that India has been subjected to various political and religious aggressions over millennia. That history has left an imprint, leading to occasional aggressive outbursts in sections of the society. Bhagwat was categorical that such aggression was uncalled for," Mr. Madhav said.
"If there is a Hindu who thinks like that, he should discard it. A communist should also shed it", Mr. Madhav quoted the RSS leader as saying.
In his interview, Mr. Bhagwat downplayed aggression by RSS members. "Since there is a war, people are likely to get overzealous. Although this is undesirable, yet provocative statements will be uttered," the RSS leader said.
The dialogue with Nahdlatul Ulama did not stop the Indian group from accusing in its March 2022 annual report "a particular community" of seeking to "enter the government machinery" to further its "malicious" agenda" as part of "a deep conspiracy."
The report repeated allegations of imaginary Muslim jihads, such as the alleged forced conversion of Hindus to Islam.
"This challenge has a long history, but, of late, different newer ways of converting new groups are being adopted," the report said.
Mr. Rehman, the Islam scholar. discounts Hindu fears of a demographic threat to their majority status in India but acknowledges that deep-seated distrust dates to the 12th-century Muslim conquests.
"By the turn of the 20th century, a deep distrust developed between Muslims and Hindus. The Muslims came to be seen as outsiders who had come to conquer and convert the original inhabitants of the subcontinent to Islam, "Mr. Rehman said.
Noting that Hindu distrust is rooted in the insistence of Muslim conquerors that India was Islamic territory, Mr. Rehman conceded that Hindu fears are fueled by "clerics and televangelists in India (who) continue to display their supremacist arrogance."
Mr. Rehman points to ultra-conservative and militant clerics who forbid Muslims to congratulate non-Muslims on their religious holidays and denounce the operation of non-Muslim houses of worship in Muslim lands.
Another Muslim reformer traces the roots of strained relations to Muslim invasions that started with the Umayyad conquest of Sindh in the 8th century.
"It all began with Muslims invading, slaughtering, enslaving Hindus, and burning their temples. Today, the demographic fear may be blown out of proportion. But how long would it take deer to overcome their fear of tigers if tigers became domesticated and tigers stopped killing deer? This is the way Hindus look at Muslims. The fear is still there that Muslims continue to believe that they should dominate and prey upon non-Muslims," the reformer said.
For his part, Mr. Iftikhar, the Muslim intellectual, insisted in his interview with the author that Indian Muslims were as much victims of Muslim conquests as were Hindus.
"All the Muslims who ruled India in the last seven, eight centuries were either Arabs, Turks, Iranians, Uzbeks or Iraqis, not Indian Muslims… We have never ruled India… So why should I take it on myself when I was not part parcel of that history?… We belong to this land. We stayed here by choice. We are the citizens of this country. So why should we take the baggage of the foreign Muslim rulers?" Mr. Iftikhar asked.
The latent fear of Muslims, fuelled by perennial Indian-Pakistani tensions, enabled ideologues and politicians to weaponize demographic concerns in a population for which it is primarily a lingering prejudice rather than a living memory or a daily life challenge.
Moreover, the population figures speak for themselves. Muslims account for 200 million of India's population of 1.4 billion. Demography, in the best of cases, is only a potential concern, if at all, if Indians look at South Asia as a whole. The subcontinent is home to three of the four largest Muslim populations that, alongside India, include Pakistan, with 231 million, and Bangladesh, with 169 million.
Even so, Mr. Bhagwat asserted in October that "population control and religion-based population balance is an important subject that can no longer be ignored" because "population imbalances lead to changes in geographical boundaries."
Countering Mr. Bhagwat, Mr. Rehman, the Islam scholar, argues that "Hindu-Muslim mistrust in India today is based on imaginary fears. Both communities are not responsible for what their respective ancestors did. But they would be if they buy into the politically motivated propaganda that seeks to keep them divided."
For his part, Mr. Iftikhar expressed support for Muslim dialogue with the RSS.
"If you keep a distance and detachment as your strategy, as your policy, then whatever opinions you form are stereotypes. Stereotypes are untested, untried so-called facts. If they become the source of opinion-making and opinion-building, then you can imagine that the argument will never have a logical base," Mr. Iftikhar said.
The author went on to say that "the Muslim community should come forward and instead of putting conditions, raising doubts and making it an issue that do this and then it will happen, no, relations are not build up, understanding is never achieved as a goal when you put conditions. Engagement is the way forward, sit, talk, interact, exchange, put forward your viewpoint, listen to the other viewpoint."
It's an approach that Mr. Rehman and Nahdlatul Ulama embrace. For them, as well as for Mr. Iftekhar, the onus is on all parties. For Muslims, that means conceptual and judicial reform; for the RSS, it means defining accountability in word and deed.
Gates, Smooth and Striped Spaces, and the Royal Lore of the Aerial Silk Road
The Coastal City, a Chinese-invested aviation center in Cambodia, will be used to illustrate the deep interface idea in the context of the Air Silk Road, a new vertical component of China's Belt and Road Initiatives (BRI). Following the mobile aeroplanes reveals three deep interaction gates. Diplomatic movements on international aviation coordinations open institutional gates. The Civil Aviation Administration of China (CAAC) launched the Air Silk Road to ally with ASEAN by rearticulating the International Civil Aviation Organization (ICAO) No Country Left Behind (NCLB) program. Dara Sakor International Airport, a new kind of air-earth complex, is the second gate. However, the mangrove conservation zone that was commodified by special economic zones resisted. Cambodia's Koh Kong coast mangrove woods become the third gate between land and sea, stalling the special zone project. As though throwing a pebble into the water and seeing it burst through the static concept of the surface and its underlying spheres, a new way of thinking about spatial practices as a dynamic, tumultuous, voluminous whole is opened up now. Through relays, the deep interface links the biological, material, and atmospheric.
Striking up the air: opening the door to civil aviation rights
The Convention on International Civil Aviation (Chicago Convention), promulgated by the International Civil Aviation Organization (ICAO) in 1944, has steadily dominated civil airspace utilization in its 193 member countries. The Chicago Convention does not quantify airspace by airway altitude because there are no agreements on sovereign airspace's vertical extent. Instead, it's about the nine degrees of "freedoms of air," which limit a country's airlines' access to another's airspace. The first two freedoms relate "the transit of commercial aircraft across foreign airspace and airports," while the others involve international transport of persons, mail, and cargo. The fifth freedom of air, which allows the contracting country to load and disembark passengers and goods as an intermediary station in an airway to a third country, is sought for by airlines. Only multilateral and bilateral conventions allow air liberties. Thus, sovereign nations can employ aeriality technology like air traffic control and vertical surveillance.
China began diplomatic efforts to lead ICAO in this context. In 2015, former CAAC chief Liu Fang became ICAO Secretary-General. China demanded results from bilateral aviation development agreements. China as an ASEAN brother with a "situated vision" is a compelling new narrative. Liu noted that China might influence NCLB implementation not as a member of the advanced group, which easily invokes the memory of colonization, but as one of the Asian siblings, who have recently gone through years of battles to rise out of the post-colonial setting. As Liu and many Chinese intellectuals believe, China is replete of still-fresh lessons and experiences from its decades of self-advancement, making it a stronger candidate who understands the struggles of emerging nations. ASEAN countries at the start of aviation growth may need this more. China's experience is also more regional, geopolitical, and geoeconomic due to its proximity to these countries. ASEAN and China must then establish an "integrated plan for the aviation industry" in a new BRI zone.
China's story of placed vision highlights the NCLB scheme's new Asian focus: the BRI region. Diplomatic acts form a buoyant global network that seems to transcend earth. ICAO and CAAC signed the Belt and Road Forum for International Cooperation Letter of Intent in Aviation Cooperation in May 2017. In his meeting with Luxembourg Prime Minister Bettel one month later, Xi Jinping formally launched the name "Air Silk Road" as a new direction to increase financial and production capacity cooperation within the "Belt and Road Initiatives". The Chinese Central Enterprise Aviation Industry Corporation of China chose the phrase for their Air Silk Road Alliance initiative. The planned alliance has two layers: a cross-sectoral alliance linking a full chain of the aviation industry—aviation equipment manufacture, aviation infrastructure construction, and aviation operating services—and a cross-boundary alliance that channels the "going abroad" of the domestic aviation industry and capital. As of 2017, China has bilateral aviation transportation agreements with 62 Belt and Road countries and direct air links with 43 countries.
China signed a document with ASEAN on the region's Fourth Freedom of Air in 2010, but made no progress at country level. Air service provision and air security and safety were added to the agreement in 2014. Cambodia's National Assembly approved the ASEAN-China Aviation Cooperation Framework in 2016. These inter-state agreements allow China to enter ASEAN airspace and participate in transnational aviation standard-setting.
Diplomatic efforts to place Chinese professional elites in ICAO's transnational authority reconfigure ontological territory. Here, elites, transnational organizations, and their norms create a pathway for airplanes to take off from China, enter ASEAN airspace horizontally, and land vertically on their soil as "existential constructions of… our planet" on their takeoff and return journeys. The gate broke the relationally smooth airspaces of two sovereign countries and provided a new stripe with a new institutional path for airplanes going between them. The Air Silk Road's image is bolstered by its intangible geopolitical networks. The NCLB scheme's narratives on aviation safety and China's story of Asian brothers for a placed vision wooed Cambodia into bilateral air service operations treaties. Chinese companies in aviation products and services, professional training, supporting facilities, and economic zones are intervening in the aviation economy under the integrated strategy.
Stratifying the earth: airport check-in
Surprisingly, Chinese land-development developers who weren't initially beneficiaries supported China's airspace outreach in ASEAN countries. This has led to the rapid construction of an aviation special zone with an airport at its center. The Royal Government of Cambodia and Tianjin-based Union Group developed the Coastal City Resort Developmental Zone, a special economic zone. After the Cambodian government adopted the special economic zone model for industrialization and urbanization in 2008, the Union Group entered the land-development competition. The Coastal City was intended as a resort development along Dara Sakor's coast to take advantage of natural resources like the world's second-largest mangrove forest and Botum Sakor National Forest Park. The resort-style master plan included hotels, holiday villas, yacht marinas, and golf courses. The project stalled for several years. The Union Group quickly revamped Coast City's aim to be ASEAN's regional aviation center with a second-class airport, echoing the Air Silk Road Scheme.
Sphere of influence
The flying relay from China to Cambodia passes through three institutional gates, the airport's material context, and mangrove environments. The three gates, which function in atmospheric, terrestrial, and biological worlds and involve diverse actors and policies, form one interface to invite, assist, regulate, or reject relay succession. After being conditioned by contingently coupled socio-technical forces, the three sites function as gates along the same chain of effects. The three sites then connected air, earth, and water.
The moving airplane disrupts the original spatial configuration of the aerial system and causes a series of reorganizations due to the interdependence between the two gates of aviation arrangement and airport. Cambodians expect foreign firms to privatize airports. Since 1995, French corporation Vinci Airport has privatized all three major airports in the nation. The NCLB scheme and Cambodia's "an integrated plan of the aviation industry" spurred additional bidders to compete for airport privatization and aviation-led development. Vinci expanded Sihanoukville Airport's runways from 2800 to 3300 m in 2016 after finishing Phnom Penh's airport development. Yunnan Investment Group, another Chinese enterprise, signed the contract for the Siem Reap Angkor International Airport Project, a top-tier airport.
Regional aerial networks were reorganized after effective territorialization on Earth. The Asia Pacific Regional Aviation Routes Committee held four sessions in Mongolia, Kazakhstan, China, and Cambodia from 2017 to 2018 to hear ideas from allies. The U.S. and Indonesia replanned the aerial route between Australia and Asia, but Thailand and Vietnam halted Cambodia's idea. The Cambodian top-standard airport project garnered criticism from various countries. Steven Mnuchin, US Treasury Secretary, questioned Cambodia's longest runway, which fighter-jet pilots prefer. The US imposed visa and financial sanctions on Coast City military personnel for wrongdoing. Local opposition parties echoed these claims. A local researcher noticed that the two superpowers "start to compete, push, and splash water at each other" in Cambodia.