Torture, killings, lawlessness, still blight Burundi's rights record
The people of Burundi continue to endure serious human rights violations including possible crimes against humanity, the majority committed by those with links to the ruling party, UN-appointed independent investigators said on Thursday.
Despite a pledge by President Evariste Ndayishimiye to address the situation in the country after years of violent repression, crimes including arbitrary detention and execution, torture and intimidation, have not stopped, according to the UN Commission of Inquiry on Burundi.
"Not only have grave human rights violations continued to occur, but in some respects the situation has deteriorated", since President Ndayishimiye's took office in June last year, Commission chair Doudou Diene told journalists in Geneva.
These abuses happened against a backdrop of "multiple armed attacks" by opponents of the Government since August 2020, Mr. Diene explained.
"While seeking persons allegedly involved in the armed attacks or collaborating with rebel groups, the security forces targeted mainly members from the main opposition party, the National Congress for Liberty (CNL), former members of the Tutsi-dominated Burundian Armed Forces (ex-FAB), returnees and some of their family members. Some were executed, others disappeared or were tortured while detained arbitrarily."
Dire situation
The Commission noted that although the level of political violence in the Great Lakes nation decreased immediately after the 2020 elections – and with the country appearing to be "on the road to normalization" – the human rights situation remains "dire".
The national poll was held after the death of President Pierre Nkurunziza, whose decision to stand for a controversial third term in 2015 sparked major protests and mass displacement, and ultimately the establishment of the Commission of Inquiry by the Human Rights Council, in 2016.
The political climate today is "highly intolerant of dissent", the Commissioners maintained in their fifth and final report to the Human Rights Council, highlighting how members of opposition parties – notably the CNL – have been targeted, in particular since June 2021.
Imbonerakure impunity
Many security officers and others linked to the ruling party, the CNDD-FDD, continued to go unpunished for their crimes, they added, pointing to agents of the National Intelligence Service (SNR), police officers – including from the Mobile Rapid Intervention Groups (GMIR) – and the Imbonerakure youth-league, whose brutality has been documented in previous Commission of Inquiry reports.
Individuals belonging to these groups are "the main perpetrators of those violations, some of which could amount to crimes against humanity", the Commission of Inquiry report said. "They continue to enjoy widespread impunity for their actions, as has been the case since 2015."
Justice reforms lacking
Highlighting the lack of promised structural reforms to promote accountability in the country, Commissioner Françoise Hampson said that the "rule of law in Burundi continues to erode, despite the stated intention of President Ndayishimiye to restore it".
In common with the Commission's previous findings, Ms. Hampson noted how testimonies gathered for its latest report pointed to an organized campaign "against those elements of the civilian population that were seen as or thought to be hostile to the government in power" – a potential crime against humanity. "Some of the violations that this year's report detail, seem to be a continuation of that policy," she added.
In Burundi, the judicial system could not be relied upon "to curb or remedy human rights violations", Ms. Hampson continued, warning that the newly elected Government "has only been strengthening its control over the judiciary".
For the past five years, the Commission of Inquiry on Burundi has documented, monitored and reported alleged human rights violations in Burundi.
It has conducted more than 1,770 interviews, including remotely, in the Democratic Republic of the Congo (DRC), Rwanda, Tanzania, Uganda, as well as Burundi.
The Commission is scheduled to present its report to the Human Rights Council on 23 September, 2021.
Only 'real equality' can end vicious cycle of poverty
Although poverty and privilege "continue to reproduce themselves in vicious cycles", it is possible to break the chain and shift the paradigm, an independent UN human rights expert told the General Assembly on Wednesday.
Presenting his report, The persistence of poverty: how real equality can break the vicious cycle, Special Rapporteur on extreme poverty and human rights, Olivier De Shutter, said that "with political will", it is possible to end centuries of entrenched inequality and "move from fate to opportunity".
Early investment
"Investing in early childhood, promoting inclusive education, given young adults a basic income financed through inheritance taxes, and combating anti-poor discrimination are the key ingredients needed to break the cycles of advantage and disadvantage", Mr. De Shutter said in his statement.  
Acknowledging that many countries pride themselves on ensuring high levels of social mobility, the human rights expert stated that "the truth is that the persistence of privilege at the top, and deprivation at the bottom, are all too commonplace." 
"The top 10 percent of people living in OECD countries control 52 percent of total net wealth, while the bottom 60 percent own just over 12 percent, condemning the poor to a lifetime of poverty", he said. According to the report, based on data from countries which are part of the Organization for Economic Cooperation and Development (OECD), it takes four to five generations for children in low-income households to reach the mean income in their country. In emerging countries such as Brazil, Colombia or South Africa, it can take up to nine or even more generations.  
Tougher with time
Observing that children born in disadvantaged families were denied equal opportunity, the Special Rapporteur examined the channels through which poverty is perpetuated, in the areas of health, housing, education and employment. 
"Children born in poor families have less access to healthcare, decent housing, quality education and employment than those in better-off households", De Shutter said. "This dramatically reduces their chances of breaking free from the poverty trap".
Describing the outcomes as "appalling", the Rapporteur added that children born in a family experiencing poverty are more than three times as likely to be poor, aged 30, than those who were never poor. 
Poverty costs
The UN rights expert reminded that child poverty is not only "morally unconscionable and a human rights violation", but also expensive. "In the United States, child poverty costs over one trillion dollars annually, or 5.4% of its GDP, but for each dollar invested on reducing it, seven dollars would be saved," said the expert.
Calling for and end to the myth that inequality is an incentive that encourages people to work harder, Mr. De Shutter said that the facts point to the exact opposite: "Inequality lowers social mobility and entrenches advantage and disadvantage over decades. When we fetishize merit, we stigmatize those in poverty or with low incomes, and blame them for their own condition".  
Call for action
Stressing that "no child should be penalized for being born in poverty" in mind, and stating that, in fact, "poverty is a failure not of the individual, but of society", Mr. De Shutter called on governments to act now, "before another generation is condemned to the same fate as their parents".
Restore sexual, reproductive health rights lost during COVID, rights expert urges
Sexual and reproductive health rights, are human rights, the independent UN expert on the right to health reminded Member States in the General Assembly on Wednesday, saying that it was essential to restore services in the field, that have been eroded during the COVID-19 pandemic
"Millions of women globally had limited or no access to maternal and new-born healthcare, some 14 million women lost access to contraception, and specialized services for victims of gender-based violence became inaccessible, when they were needed most", said Dr. Tlaleng Mofokeng.
The Special Rapporteur pointed out that lockdowns, movement restrictions and diversion of funds due to COVID-19 have "jeopardized access to essential sexual and reproductive health services".
In presenting her report on the effect of the pandemic on physical and mental health services, she also spoke of "new measures and laws in place across regions, further restricting access to safe abortion, a component of sexual and reproductive services encompassed in the right to health".
Reversing a legacy
As part of the right to health, the UN expert called on States to move beyond the COVID-19 pandemic to rebuild and strengthen health systems for advancing sexual and reproductive health rights for all.
"Governments must remove obstacles and ensure full access to quality services, including maternal health care, contraception and abortion services, screening for reproductive cancers and comprehensive sexual education", she said.
However, Dr. Mofokeng noted that many obstacles continue to stand between individuals and their exercise of their rights to health, rooted in patriarchy and colonialism, and others in structural and systemic inequalities.
"Patriarchal oppression is universal, permeates all societies and is at the very origin of the erosion of autonomy and the control of girls and women's bodies and sexuality to the detriment of their enjoyment of sexual and reproductive rights", she spelled out.
"Colonialism has permeated patriarchy across regions and its legacy continues today through laws, policies and practices that deny or restrict sexual and reproductive rights and criminalize gender diverse identities and consensual adult same-sex acts", added the Special Rapporteur.
Rooted in law
She reminded governments that sexual and reproductive health rights are rooted in binding human rights treaties, jurisprudence, and consensus outcome documents of international conferences.
"I call on States to respect and protect key principles of autonomy, bodily integrity, dignity and well-being of individuals, especially in relation to sexual and reproductive health rights", she said.
"I pledge to engage with States and all relevant actors to uphold the right of everyone to the enjoyment of the highest attainable standard of physical and mental health".
UN: Paraguay violated indigenous rights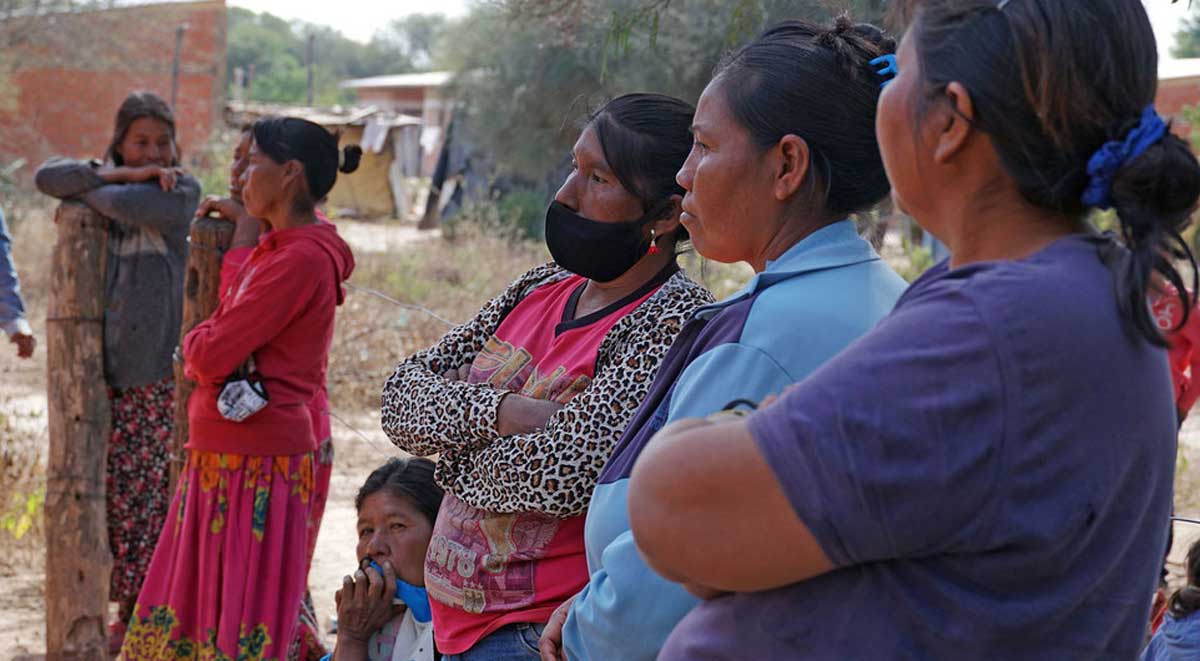 Paraguay's failure to prevent the toxic contamination of indigenous people's traditional lands by commercial farming violates their rights and their sense of "home", the UN Human Rights Committee said in a landmark ruling on Wednesday.
The Committee, which is made up of 18 independent experts from across the world, monitors countries' adherence to the International Covenant on Civil and Political Rights.
Lands represent 'home'
The decision on Paraguay (in Spanish) marked the first time it has affirmed that for indigenous people, "home" should be understood in the context of their special relationship with their territories, including their livestock, crops and way of life.
"For indigenous peoples, their lands represent their home, culture and community. Serious environmental damages have severe impacts on indigenous people's family life, tradition, identity and even lead to the disappearance of their community. It dramatically harms the existence of the culture of the group as a whole," said Committee member Hélène Tigroudja. 
The decision stems from a complaint filed more than a decade ago on behalf of some 201 Ava Guarani people of the Campo Agua'e indigenous community, located in Curuguaty district in eastern Paraguay.
The area where they live is surrounded by large commercial farms which produce genetically modified soybeans through fumigation, a process which involves the use of banned pesticides.
Traditional life affected
Fumigation occurred continuously for more than 10 years and affected the indigenous community's whole way of life, including killing livestock, contaminating waterways and harming people's health.
The damage also had severe intangible repercussions, according to the UN committee. The disappearance of natural resources needed for hunting, fishing and foraging resulted in the loss of traditional knowledge. For example, ceremonial baptisms no longer take place as necessary materials no longer exist.
"By halting such ceremonies, children are denied a rite crucial to strengthening their cultural identity," the Committee said.  "Most alarmingly, the indigenous community structure is being eroded and disintegrated as families are forced to leave their land." 
Toxic exposure
The indigenous community brought the case to the Human Rights Committee after a lengthy and unsatisfactory administrative and judicial process in Paraguay's courts.
"More than 12 years after the victims filed their criminal complaint regarding the fumigation with toxic agrochemicals, to which they have continued to be exposed throughout this period, the investigations have not progressed in any meaningful way and the State party has not justified the delay," the Committee said in its decision.
Recommendations, reparations
Members found Paraguay did not adequately monitor the fumigation and failed to prevent contamination, adding "this failure in its duty to provide protection made it possible for the large-scale, illegal fumigation to continue for many years, destroying all components of the indigenous people's family life and home."
The Committee recommended that Paraguay complete the criminal and administrative proceedings against all parties responsible and make full reparation to the victims.
The authorities are also urged to take all necessary measures, in close consultation with the indigenous community, to repair the environmental damage, and to work to prevent similar violations from occurring in the future.