Multiple reports of alleged human rights violations in Tigray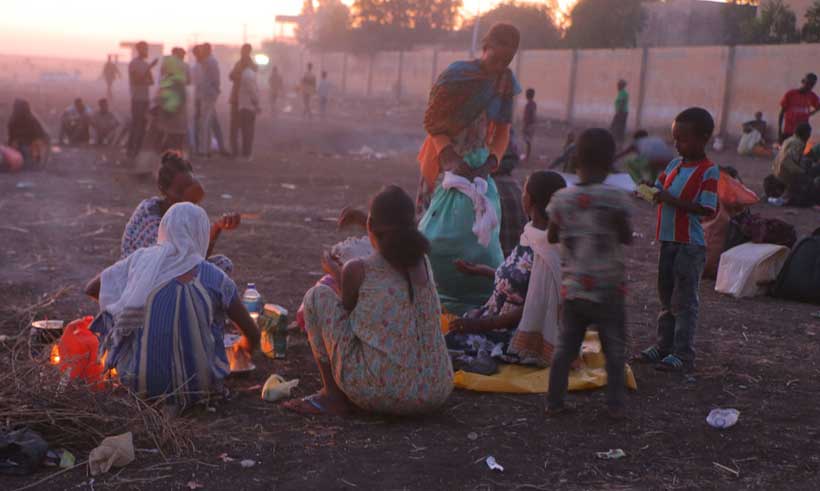 UN human rights chief, Michelle Bachelet on Monday deplored "multiple and severe reports of alleged gross violations of human rights, humanitarian and refugee law" committed by all parties to the conflict in Tigray.
In an update to the UN Human Rights Council (OHCHR) on the situation in the northernmost regional state in Ethiopia, Ms. Bachelet said the conflict has "continued unabated," and "risks spilling over to the whole Horn of Africa".
In the last few months, "mass detentions, killings, systematic looting, and sexual violence" have created "an atmosphere of fear and an erosion of living conditions that resulted in the forced displacement of the Tigrayan civilian population. Civilian suffering is widespread, and impunity is pervasive, she said.
Joint investigation
The UN High Commissioner for Human Rights also informed the Council on progress made in the joint investigation by the OHCHR and the Ethiopian Human Rights Commission (EHRC) following the conclusion of the fieldwork phase of the report.
The full range of information collected is currently being analysed, but Ms. Bachelet said it was already clear that cases documented comprise multiple allegations of human rights violations.
These included attacks on civilians, extrajudicial killings, torture, and enforced disappearances. Sexual and gender-based violence has also included gang rapes, sexualised torture and ethnically targeted sexual violence.
Violations by all parties
According to Ms. Bachelet, Government forces and their allies continue to be implicated in allegations of human rights violations.
Reports also suggest that people of Tigrayan ethnicity have been detained by law enforcement officials on ethnic grounds, mostly in Addis Ababa.
She noted that incitement to hatred and discrimination were also documented targeting people of Tigrayan ethnicity, as well as attacks on journalists and the suspension of media outlets' licenses and shutdowns of Internet and telecommunications in Tigray.
Ms. Bachelet added that Tigrayan forces have also allegedly been responsible for attacks on civilians, including indiscriminate killings resulting in nearly 76,500 people displaced in Afar and an estimated 200,000 in Amhara.
More than 200 individuals have reportedly been killed in the most recent clashes in these regions, and 88 individuals, including children, have been injured, she said.
There have also been reports of the recruitment of children into the conflict by Tigrayan forces, which is prohibited under international law.
Avoid national division
Ms Bachelet urged the Government of Ethiopia to accept the recommendations of the joint investigation report that will be issued on 1 November 2021 and to give human rights and humanitarian actors unhindered access. She called for all parties to immediately end hostilities and negotiate a lasting ceasefire to "avoid the risk that Ethiopia will be torn apart".
 WHO airlift
The largest single shipment of humanitarian cargo to date has been airlifted to Ethiopia by the World Health Organization (WHO), the UN agency said on Monday.
85 metric tons of life-saving medical supplies were flown by a charter flight from WHO's Logistics Hub based in Dubai to in Addis Ababa on Friday. The supplies, including essential medicines, trauma and emergency surgery kits, infusions, consumables, equipment, and cholera kits, are enough to address the urgent needs of more than 150 000 people.
"This delivery will help bolster our efforts to provide relief to hundreds of thousands of families who are grappling with a difficult humanitarian situation," said Dr Boureima Hama Sambo, WHO Representative in Ethiopia.
Currently, nearly 2.5 million people are in need of health assistance from WHO and partners. The shipment to Ethiopia wrapped up a historic week for the WHO Dubai Logistics Hub. Four times the weekly average has been dispatched with over 450 metric tons of medical supplies valued at more than $ 4.3 million in support of cholera outbreak response in Nigeria, critical shortages of medicines in Afghanistan, and trauma and surgical supplies to Syria and Yemen. 
Ethiopia's Ministry of Industry, UNIDO sign €2m agreement
Ethiopia's Ministry of Industry and the United Nations Industrial Development Organization (UNIDO) have signed a €2m agreement to support Integrated Agro-Industrial Parks (IAIPs), funded by the Italian Agency for Development and Cooperation. Thes agreement will contribute to the development of the agro-industrial sector and the creation of decent jobs and economic opportunities in the rural areas of Ethiopia. The objective of the new project is to support the inclusive and sustainable development of four pilot IAIPs. Project activities will concentrate on increasing private sector involvement in agro-industry, improving food quality, safety and traceability, and promoting social inclusion and environmental sustainability.
With the support of UNIDO, the Government of Ethiopia has prioritized the establishment of the IAIPs as a primary tool to achieve agricultural modernization and rural industrialization in the country. To this end, the Government of Ethiopia has mobilized various funding sources and development partners for the implementation of IAIPs. The current project is for the development of the four pilot IAIPs, located in Oromia (Bulbula), Sidama (Yirgalem), Amhara (Bure) and Tigray (Beaker). The project is funded by the Italian Agency for Development and Cooperation, in alignment with the Italian strategy outlined in the Ethio-Italian country framework 2017 – 2019 which encourages sustainable and inclusive economic growth to ensure full employment and decent work for all, especially in rural areas, as well as promoting partnerships between Italian and Ethiopian institutions to ensure continuity of investment and transfer of technologies.
The signature ceremony was attended by Shisema Gebreselassie, State Minister of the Ministry of Industry, Aurelia Patrizia Calabrò, UNIDO Representative and Director of the Regional Office Hub, and Isabella Lucaferri, Head of the AICS Addis Ababa Office.
Sudan: Looting in Darfur, leaves 730,000 without enough to eat
The UN chief condemned on Wednesday the looting and attacks against United Nations facilities, equipment and supplies gifted to the Sudanese authorities for civilian in El Fasher, Darfur.
Last Tuesday evening, a World Food Programme (WFP) warehouse located in the Borsa area of El Fasher town, the capital of North Darfur State, came under attack from unknown armed groups.
Over 1,900 metric tons of food commodities that were meant to feed 730,000 vulnerable people for a month were stolen.
The incident followed the looting and reported violence last week at the former UN-African Union Hybrid Operation (UNAMID) base in El Fasher.
Restore order
In his statement, Secretary-General António Guterres called upon the Government of Sudan to restore order.
He stressed that the authorities must ensure that former UNAMID property and assets are strictly used for civilians – in conformity with the Framework Agreement the Government signed in March.
The UN chief also asked the Sudanese authorities to facilitate the safe working environment and passage for remaining UN operations in the region.
He concluded by thanking the UN civilian and uniformed personnel who remain on the ground under "challenging" circumstances.
WFP cuts off aid
WFP chief David Beasley tweeted his outrage over the "senseless attacks" in El Fasher and strongly condemned the continued looting and destruction of the agency's assets.
"As a result, we have been forced to suspend WFP operations in North Darfur, effective immediately", said Mr. Beasly.
The theft has robbed nearly two million Sudanese of the food and nutritional support they so desperately need.
"Not only is this a tremendous setback to WFP operations, but it endangers our staff and jeopardizes our ability to meet the needs of the most vulnerable families", he added.
Humanitarian crisis
The Humanitarian Coordinator in Sudan, Khardiata Lo N'diaye, also condemned the looting.
"This was food assistance meant for Sudan's most vulnerable people. Humanitarian assistance should never be a target", she underscored.
Currently, one in three people in Sudan needs humanitarian assistance – equivalent to an estimated 14.3 million individuals.
According to the 2022 Humanitarian Response Plan, 25 per cent of those people require food security and livelihoods support.
An attack like this, the coordinator explained, severely impedes the ability to deliver to the people who need it the most.
"We urgently ask all parties to adhere to humanitarian principles and allow the safe delivery of life-saving assistance", Ms. N'diaye stated.
WFP currently faces "unprecedented" funding shortfalls, estimated at $358 million.
Violence
Earlier in the month, thousands of people took to the streets to mark the third anniversary of the uprising that led to the April 2019 overthrow of President Omar al-Bashir, who had ruled for three decades.
Demonstrators who made for the presidential palace were also protesting October's military coup and the political agreement signed later on 21 November.
UN officials and agencies expressed deep concern at the time over credible reports of serious human rights violations, including the use of rape and gang rape of women and girls, employed to disperse protesters.
As of 29 December, the security situation had been restored, according to State authorities.
Ms. N'diaye thanked the local authorities for preventing the situation from worsening but called upon the Government to step up efforts to protect and safeguard humanitarian premises and assets.
Thousands head home voluntarily from Zambia to DR Congo
Nearly 5,000 refugees who fled violence in the Democratic Republic of the Congo (DRC) four years ago, are opting to head home voluntarily from Zambia over the coming months, with the first 100 people setting out on Tuesday.
The UN refugee agency, UNHCR, said that security had improved sufficiently in DR Congo's Pweto territory, Haut-Katanga province, for them to go home "in safety and dignity".
Inter-ethnic clashes as well as fighting between Congolese security forces and militia groups in parts of southeastern DRC in 2017, have uprooted communities.
Through intention surveys carried out in October by UNHCR, some 4,774 refugees expressed their aim to voluntarily return to DRC.
International agreement
The voluntary repatriation, which will continue into 2022, is part of the ongoing 2006 tripartite agreement between UNHCR and the Governments of Zambia and DR Congo.
Partners are supporting the returning refugees by providing voluntary repatriation documents, expedited immigration clearance, health screening and school certificates to allow children to resume their education in the DRC.
"As security has improved in some areas of Haut-Katanga, an estimated 20,000 refugees have spontaneously left Zambia since 2018 to return to their areas of origin – mainly to Pweto territory", UNHCR spokesperson Babar Baloch told journalists in Geneva.
Meanwhile, the UN refugee agency is working with authorities and development partners – such as Catholic aid confederation CARITAS – in DRC to advance reintegration projects, including education, health and agriculture, and to ensure conditions for safe and dignified returns.
Currently, some 18,000 Congolese refugees farm at Mantapala settlement – established in early 2018 to accommodate displaced people – alongside 5,000 Zambians, across 11 integrated villages.
As Zambia continues to host 103,000 refugees, asylum seekers, and former refugees, including more than 63,000 from DR Congo, over the past three years around 20,000 Congolese have left to return home.
The UN Children's Fund (UNICEF) and World Food Programme (WFP) are assisting in repatriation efforts.
Agency support
The two agencies have provided buses and trucks to help transport refugees, their belongings and food for the journey, Families will receive a cash grant to help them pick up their lives again in the DRC.
"UNHCR will disinfect the buses, provide face masks, hand sanitizers and, together with the authorities, ensure that COVID-19 prevention measures are observed, including loading of buses to half the capacity", Mr. Baloch said.
UNICEF has improved water and sanitation facilities at the reception centre in Chiengi district, where returning refugees are being housed for the night to process immigration documents, before embarking on the final leg of their journey home.
And Zambian authorities are providing rapid COVID-19 tests for the returning refugees, at the Mantapala Rural Health Centre.