Global Plastic Action Partnership Making an Impact in Fighting Plastic Pollution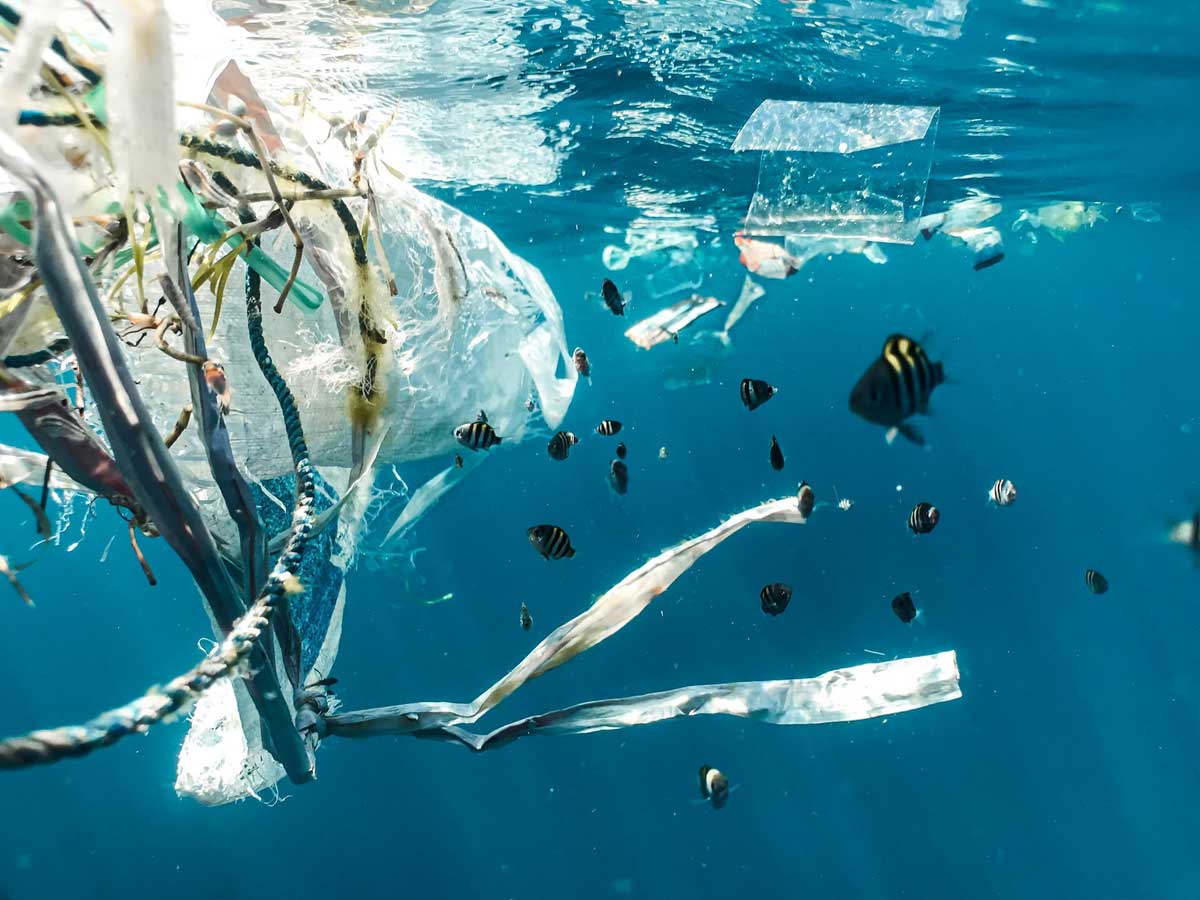 The Global Plastic Action Partnership (GPAP) released its second annual impact report, which highlights strides made over the last two years in building coalitions, extending global reach, and helping nations make a difference by confronting plastic waste.
"Plastic pollution was already a global emergency, and with the pandemic-induced explosion in packaged goods, as well as increased of use of single-use plastics through masks, gloves and other PPE, it has become a global disaster," said Kristin Hughes, GPAP Director and a member of the World Economic Forum Executive Committee. "The good news is that our GPAP 2021 impact report proves that what we're doing works, and if we act together now, we can halt the plastic pollution crisis in its tracks."
On the heels of a challenging year dominated by the COVID pandemic, GPAP and its partner governments have met critical milestones, including:
– Ghana, Nigeria, Indonesia, and Viet Nam came together as early adopters in the Forum's Global Plastic Action Partnership
– Viet Nam pledged to reduce marine plastics by 75% by 2030
– Ghana committed to a 100% circular economy for plastics
– Indonesia's action and investment roadmap is poised to prevent 16 million tonnes of plastic leakage into the ocean; Create 150,000 jobs; and Generate $10 billion in annual revenues.
Taking collaborative action to tackle plastic pollution
"The Forum's platform approach aligns various stakeholders from public and private organisations, works toward common objectives, and creates outcomes far greater than could be achieved by any nation or organization acting alone," said Hughes. "It's a great honor to lead the GPAP platform, and to see what we can accomplish through the convening power and influence that the Forum brings to bear. Our second annual report shows what can be done and, now more than ever, what needs to be done."
In the face of global disruption and re-set, GPAP's initiatives are performing and moving the needle on climate change by promoting a circular economy for plastics. The report outlines key progress in the following impact areas:
Transforming behaviour – GPAP amplified initiatives that help citizens and consumers form more sustainable relationships with plastics
– Raised awareness of the COVID-19 impact on the plastic ecosystem through public town hall communications
– 14 solutions to address plastic waste and pollution were developed in collaboration between government, business, and media influencers on the GPAP platform
– 116 recycling points were identified in Ghana's capital city of Accra, up from just 10 before the National Plastic Action Partnership was initiated
Unlocking financing – GPAP engaged stakeholders to promote investments that tackle plastic waste and pollution
– $196.7 million was committed by GPAP members to National Plastic Action Partnership countries
– 13 financial institutions engage in GPAP finance events and task forces
– 140,000 people will be reached through financing committed by GPAP partner, the Alliance to End Plastic Waste in Indonesia
– GPAP collaborated with HRH The Prince of Wales Sustainable Markets Initiative to host a Roundtable on Financing Plastic Action in Emerging Markets to unlock opportunities for investing in plastic action
Informing policy – Supporting the collaboration of policy makers with stakeholders to confront plastic pollution, GPAP has established National Plastic Action Partnerships (NPAPs) in Indonesia, Ghana, Viet Nam, and Nigeria
– 57% of GPAP's members have been involved in government policy consultations; 53% report being involved in corporate policy decisions
– GPAP's National Action Roadmaps offer a suite of solutions for policy makers to consider when developing plans to address plastic pollution.
Boosting innovation – GPAP created opportunities for high-potential innovators to access partners who are helping to scale their ideas
– Established a platform for connecting innovators, experts, and investors through the Global Plastic Innovation Network in partnership with UpLink where 70+ solutions are now showcased
– Crowdsourced plastic waste solutions in Indonesia and produced videos of innovators engaged in the plastic space, which reached 1.75 million views on social media
Harmonizing metrics – GPAP has facilitated evidence-based, country-level analysis and action planning to create consistent, best-practice frameworks for measuring plastic waste reduction
– Forum research determined that almost 50% of ocean waste can be prevented by reusing only 10% of plastic products (see The Future of Reusable Consumption Models Report)
– Baseline assessments and scenario analyses were completed with Indonesia, Ghana, and Viet Nam to give governments clear evidence and inform action roadmaps
Promoting inclusivity – GPAP maintained its commitment to ensure that diverse voices and inclusive perspectives are integrated across all partnerships
– Established gender-responsive principles for plastic action through GPAP's Guide to Ensure Gender-Responsive Action in Eliminating Plastic Pollution
– Conducted a ground-breaking Gender Analysis of the Plastics Sector in Ghana
– Brought together key youth leaders through the inaugural Plastic Action Champions cohort
UNIDO and the Alliance to End Plastic Waste partner to scale circular solutions to plastic waste
A cooperation framework for jointly tackling global plastic waste using circular economy approaches was signed today by LI Yong, Director-General of the United Nations Industrial Development Organization (UNIDO), and Jacob Duer, President and CEO of the Alliance to End Plastic Waste (Alliance).
Through the partnership, UNIDO and the Alliance aim to develop, implement and scale projects and programmes to advance plastics circularity. The collaboration will also help to facilitate knowledge sharing and best practices to support inclusive and sustainable industrial development.
A transition to a circular plastics economy would reduce the presence of plastics in the environment while maintaining the value of plastic materials for as long as possible. The reduction of greenhouse gas emissions, the creation of new and inclusive jobs and cost savings to governments, are some of the significant environmental and socio-economic co-benefits of transitioning to a circular plastics economy.
LI Yong, UNIDO Director-General, expressed his enthusiasm for the partnership. "Ending plastic waste in the environment will require new business models, technologies, perspectives and partnerships. We are pleased to enter this partnership with the Alliance and bring our expertise in circular economy solutions to bear in solving this environmental crisis."
Jacob Duer, President and CEO of the Alliance, said, "We are investing in projects and solutions that can scale and will be able to deliver long-term benefits to the environment and to the communities where they are situated. We are excited to partner with UNIDO to amplify the impact of our mission to end plastic waste in the environment and support inclusive and sustainable development."
COP26 closes with 'compromise' deal on climate, but it's not enough

After extending the COP26 climate negotiations an extra day, nearly 200 countries meeting in Glasgow, Scotland, adopted on Saturday an outcome document that, according to the UN Secretary-General, "reflects the interests, the contradictions, and the state of political will in the world today".
"It is an important step but is not enough. We must accelerate climate action to keep alive the goal of limiting global temperature rise to 1.5 degrees", said António Guterres in a video statement released at the close of the two-week meeting.
The UN chief added that it is time to go "into emergency mode", ending fossil fuel subsidies, phasing out coal, putting a price on carbon, protecting vulnerable communities, and delivering the $100 billion climate finance commitment.
"We did not achieve these goals at this conference. But we have some building blocks for progress," he said.
Mr. Guterres also had a message to young people, indigenous communities, women leaders, and all those leading the charge on climate action.
"I know you are disappointed. But the path of progress is not always a straight line. Sometimes there are detours. Sometimes there are ditches. But I know we can get there. We are in the fight of our lives, and this fight must be won. Never give up. Never retreat. Keep pushing forward".
A snapshot of the agreement
The outcome document, known as the Glasgow Climate Pact, calls on 197 countries to report their progress towards more climate ambition next year, at COP27, set to take place in Egypt.
The outcome also firms up the global agreement to accelerate action on climate this decade.
However, COP26 President Alok Sharma struggled to hold back tears following the announcement of a last-minute change to the pact, by China and India, softening language circulated in an earlier draft about "the phase-out of unabated coal power and of inefficient subsidies for fossil fuels". As adopted on Saturday, that language was revised to "phase down" coal use.
Mr. Sharma apologized for "the way the process has unfolded" and added that he understood some delegations would be "deeply disappointed" that the stronger language had not made it into the final agreement.
By other terms of the wide-ranging set of decisions, resolutions and statements that make up the outcome of COP26, governments were,among other things, asked to provide tighter deadlines for updating their plans to reduce emissions.
On the thorny question of financing from developed countries in support of climate action in developing countries, the text emphasizes the need to mobilize climate finance "from all sources to reach the level needed to achieve the goals of the Paris Agreement, including significantly increasing support for developing country Parties, beyond $100 billion per year".
1.5 degrees, but with 'a weak pulse'
"Negotiations are never easy…this is the nature of consensus and multilateralism", said Patricia Espinosa, the Executive Secretary of the United Nations Framework Convention on Climate Change (UNFCCC).
She stressed that for every announcement made during the past two weeks, the expectation is that the implementation "plans and the fine print" will follow.
"Let us enjoy what we accomplished but also prepare for what is coming," Ms. Espinosa said, after recognizing the advancements on adaptation, among others.
Meanwhile, COP26 President Alok Sharma stated that delegations could say "with credibility" that they have kept 1.5 degrees within reach.
"But its pulse is weak. And it will only survive if we keep our promises. If we translate commitments into rapid action. If we deliver on the expectations set out in this Glasgow Climate Pact to increase ambition to 2030 and beyond. And if we close the vast gap that remains, as we must," he told delegates.
He then quoted Prime Minister Mia Mottley, who earlier in the conference had said that for Barbados and other small island states, 'two degrees is a death sentence.' With that in mind, Mr. Sharma asked delegates to continue their efforts to get finance flowing and boost adaptation.
He concluded by saying that history has been made in Glasgow.
"We must now ensure that the next chapter charts the success of the commitments we have solemnly made together in the Glasgow Climate Pact, he declared.
The 'least worst' outcome
Earlier during the conference's final stocktaking plenary, many countries lamented that the package of agreed decisions was not enough. Some called it "disappointing", but overall, said they recognized it was balanced for what could be agreed at this moment in time and given their differences.
Countries like Nigeria, Palau, the Philippines, Chile and Turkey all said that although there were imperfections, they broadly supported the text.
"It is (an) incremental step forward but not in line with the progress needed. It will be too late for the Maldives. This deal does not bring hope to our hearts," said the Maldives' top negotiator in a bittersweet speech.
US climate envoy John Kerry said the text "is a powerful statement" and assured delegates that his country will engage constructively in a dialogue on "loss and damage" and adaptation, two of issues that proved most difficult for the negotiators to agree upon.
"The text represents the 'least worst' outcome," concluded the top negotiator from New Zealand.
Other key COP26 achievements
Beyond the political negotiations and the Leaders' Summit, COP26 brought together about 50,000 participants online and in-person to share innovative ideas, solutions, attend cultural events and build partnerships and coalitions.
The conference heard many encouraging announcements. One of the biggest was that leaders from over 120 countries, representing about 90 per cent of the world's forests, pledged to halt and reverse deforestation by 2030, the date by which the Sustainable Development Goals (SDGs) to curb poverty and secure the planet's future are supposed to have been achieved.
There was also a methane pledge, led by the United States and the European Union, by which more than 100 countries agreed to cut emissions of this greenhouse gas by 2030.
Meanwhile, more than 40 countries – including major coal-users such as Poland, Vietnam and Chile – agreed to shift away from coal, one of the biggest generators CO2 emissions.
The private sector also showed strong engagement with nearly 500 global financial services firms agreeing to align $130 trillion – some 40 per cent of the world's financial assets – with the goals set out in the Paris Agreement, including limiting global warming to 1.5 degrees Celsius.
Also, in a surprise for many, the United States and China pledged to boost climate cooperation over the next decade. In a joint declaration they said they had agreed to take steps on a range of issues, including methane emissions, transition to clean energy and decarbonization. They also reiterated their commitment to keep the 1.5C goal alive.
Regarding green transport, more than 100 national governments, cities, states and major car companies signed the Glasgow Declaration on Zero-Emission Cars and Vans to end the sale of internal combustion engines by 2035 in leading markets, and by 2040 worldwide.  At least 13 nations also committed to end the sale of fossil fuel powered heavy duty vehicles by 2040.
Many 'smaller' but equally inspiring commitments were made over the past two weeks, including one by 11 countries which created the Beyond Oil and Gas Alliance (BOGA). Ireland, France, Denmark, and Costa Rica among others, as well as some subnational governments, launched this first-of-its kind alliance to set an end date for national oil and gas exploration and extraction.
A quick refresher on how we got here
To keep it simple, COP26 was the latest and one of the most important steps in the decades long, UN-facilitated effort to help stave off what has been called a looming climate emergency.
In 1992, the UN organized a major event in Rio de Janeiro called the Earth Summit, in which the UN Framework Convention on Climate Change (UNFCCC) was adopted.
In this treaty, nations agreed to "stabilize greenhouse gas concentrations in the atmosphere" to prevent dangerous interference from human activity on the climate system. Today, the treaty has 197 signatories.
Since 1994, when the treaty entered into force, every year the UN has been bringing together almost every country on earth for global climate summits or "COPs", which stands for 'Conference of the Parties'.
This year should have been the 27th annual summit, but thanks to COVID-19, we've fallen a year behind due to last year's postponement – hence, COP26.
Cooling community announces steps to beat global warming with GBP 12M boost from UK
The UN-led Cool Coalition today announced a series of steps to reduce the climate impact of the cooling industry, including a GBP 12 million boost from the UK Government, the host of COP26.
Just 1.5°C of global warming, a temperature limit the world currently looks set to far exceed could leave 2.3 billon people vulnerable to heatwaves. Cooling will be essential to protect human health and productivity under such circumstances – but 7 per cent of global greenhouse gas emissions come from cooling already.
"The need for cooling in our daily lives – to protect people against heat extremes – will grow. But the way we cool our homes and workplaces is a major driver of climate change. Today, around 10 per cent of the world's electricity is used for air conditioning. If left unchecked, emissions related to cooling are expected to double by 2030, driven by heat waves, population growth, urbanization and the demands of a growing middle class," said Inger Andersen, UNEP Executive Director.
A transition to efficient and climate friendly cooling, including natural solutions, could allow the expansion of cooling and avoid 4-8 years of global emissions. This includes work under the Kigali Amendment to the Montreal Protocol to replace climate-warming gases, known as hydrofluorocarbons, that are used as refrigerant gases.
Lord Goldsmith of Richmond Park, Minister for Pacific and the Environment at the Foreign, Commonwealth & Development Office (FCDO) and the Department for Environment, Food and Rural Affairs (Defra), said, "I am delighted that we have announced GBP 12 million of Defra Official Development Assistance programming today to provide valuable assistance to developing countries, enabling them to make rapid progress on reducing hydrofluorocarbons and adopting energy efficient cooling solutions.
"This funding will support vital work to address inefficient cooling technologies and help develop a resilient and sustainable food supply chain in Africa, delivering the first African centre of excellence for rural cooling and cold chain."
Cool Commitments
Partners have set out a comprehensive agenda to begin delivering on the climate potential of the cooling industry in the wake of COP26. Through its membership of over 120 countries, cities, companies and investors, and other organizations, the Cool Coalition has been an essential catalyst for the Race to Zero in accelerating global efforts and commitments on sustainable cooling.
Some highlights include:
14 cooling suppliers have joined the Race to Zero, representing 28% of the residential AC market. They are ready to supply solutions aligned with their customers' net-zero commitments. See how Trane and Electrolux are doing this.
Gree and Haier committed to bring to market by 2025 residential AC units that have five times less climate impact.
14 countries made the largest government commitment ever to double product efficiency globally by 2030, with a focus on AC, refrigerators, motors and lighting (accounting for 40 per cent of global electricity).
EP100 has doubled its membership during the UK's Presidency of the COP, so more cooling manufacturers and buyers are improving their energy productivity.
53 enhanced Nationally Determined Contributions (NDCs) have integrated sustainable cooling.
25 countries have committed to developing National Cooling Action Plans.
16 cities have committed to tackle extreme heat using the newly launched Beating the Heat: A Sustainable Cooling Handbook for Cities
Energy Efficiency Services Limited committed USD 50million for the development of sustainable cold chain projects in India
The UK announced 12 million of Defra Official Development Assistance programming today to make rapid progress on reducing hydrofluorocarbons and adoption of energy efficient cooling solutions. Multilateral Development Banks committed at least USD185 million to stimulate investment in sustainable cooling.
In support of these commitments, an unprecedented surge of implementation will fill 2022 and beyond. These implementation efforts will go a long way in turning commitments into emissions reduction and increase resilience.
"Cooling is becoming increasingly critical to strengthen our resilience to a warming world. National, local and business commitments to reducing emissions urgently need to translate into implementation that can keep the world cool and achieve net zero in time," said Nigel Topping, COP26 High Level Climate Champion.