India Completes First Drone Delivery of Vaccines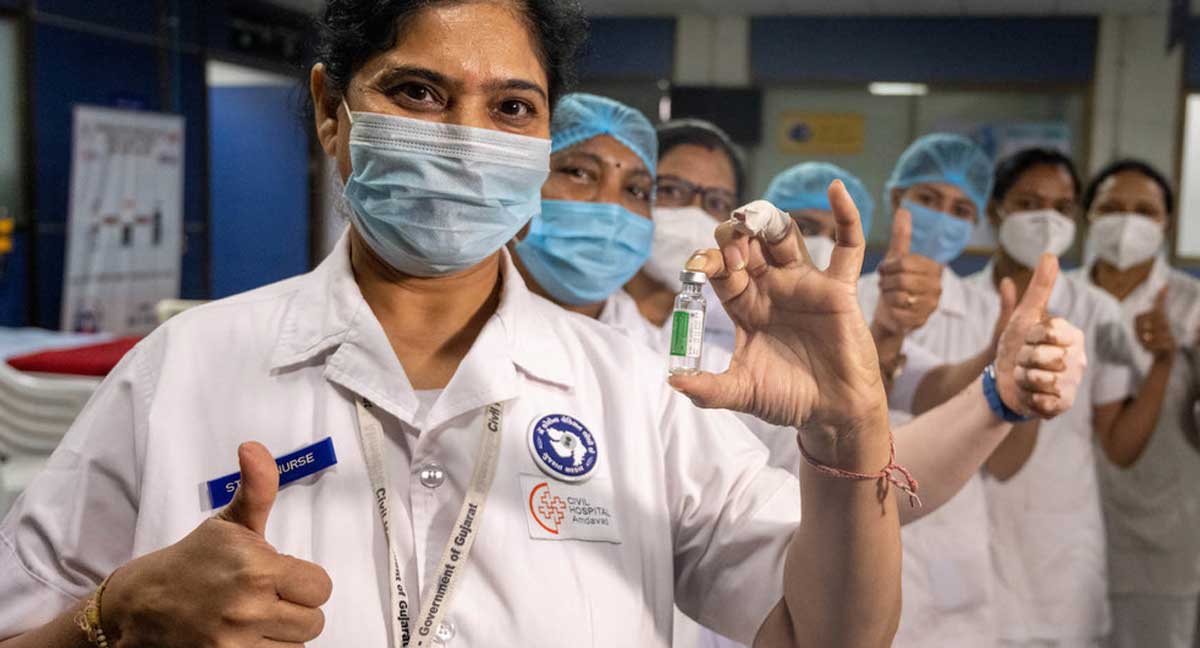 Today marks the beginning of the first trials for the delivery of MMR, influenza and COVID-19 vaccines in the southern state of Telangana.
The trials, which have been organized by the World Economic Forum in partnership with the state government of Telangana, Apollo Hospital's HealthNet Global and NITI Aayog, will be conducted over 28 days in designated air corridors in the district of Vikarabad, Telangana.
Starting off with the first ever drone delivery of a vaccine in India, the trials are focused on laying the groundwork for a more elaborate drone delivery network that will improve access to vital healthcare supplies for remote and vulnerable communities. This is also the first drone programme since India recently liberalized its drone policy.
"The Forum is pleased to support Indian government and industry in demonstrating how emerging technologies can be used to improve access to healthcare for its most vulnerable populations," says Timothy Reuter, Head of Aerospace and Drones, World Economic Forum. "The project has set into motion the adoption of drones to deliver lifesaving services across the country. We believe that India's work with drones can serve as a model for other countries in the region and beyond."
"Ever since Telangana issued the expression of interest in expanded drone use in March 2020, the industry has witnessed an acceleration around policy decisions," said Vignesh Santhanam, Lead, Aerospace and Drones, World Economic Forum. "With the latest liberalization of India's drone economy the Medicine from the Sky initiative has made efforts to invigorate the drone sector in India by demonstrating the essence of cooperative federalism and creating a template for the region."
"Being at the forefront of leveraging emerging technologies, Telangana has always acted as a testbed for innovative solutions to support scaling across the nation," said K.T. Rama Rao, Minister of Information Technology, Industries, Municipal Administration and Urban Development of Telangana, India. "The COVID-19 pandemic has highlighted that healthcare supply chains can be further strengthened and drones offer a robust value proposition especially when it comes to remote areas and emergencies. The Medicine from the Sky is the first of its kind initiative in the country to generate insights that shall benefit the entire ecosystem. The enthusiasm and support by all the partners is deeply appreciated."
With the support of the Vikarabad municipality, India's Ministry of Civil Aviation, the Directorate-General of Civil Aviation and the Airports Authority of India, this will be the first drone-delivered COVID-19 vaccine in Asia. After extended trials with MMR and influenza vaccines, COVID-19 vaccines will also be transported beyond the visual line of sight.
"This pilot has been enabled through a series of collaborations between India's regulatory agencies state government, the World Economic Forum, international organizations, healthcare experts and drone companies," said Anna Roy, Senior Adviser, Frontier Technologies, NITI Aayog, Government of India. "The Medicine from the Sky community has acted as an important platform providing advice and insight that has translated the extensive academic groundwork into action on ground. Through a highly collaborative effort, the pilot programme also demonstrates the importance of localized inputs and micro planning for healthcare in remote parts of the world."
This initiative aims to improve equity in healthcare while enabling healthcare access for isolated populations and hazard-prone areas. The project has eight participating partners, including drone operators and experts in healthcare and airspace management among others. Together, these partners will demonstrate short and long-range drone-based deliveries to assess the efficacy of low-altitude aerial logistics in healthcare.
"Drone use provides the opportunity to support our traditional approaches to healthcare delivery especially in underserved or remote regions of the country," said Dr. Sangita Reddy, Joint Managing Director, Apollo Hospitals Group. "Our healthcare sector could potentially witness large-scale deliveries of long-tail medicines, vaccines, blood and vital organs throughout the country across terrains with drones in action. As clinical partners in the Medicine from the Sky initiative, Apollo Hospital's HealthNet Global will be responsible for enabling vaccine and medicine availability and properly monitoring the adherence of clinical protocols throughout the project."
An industry core group was commissioned in June 2021 to help scale the effort to bolster last-mile mobility in healthcare. The outcomes from the trials will be analysed and used to scale up the effort to additional states with the support of the Medicine from the Sky community and key stakeholders. The project is expected to be expanded to six states in the coming months.
Pandemic shock must propel stronger health systems in Latin America and the Caribbean
Strengthening health systems in Latin America and the Caribbean in the wake of COVID-19 must be a priority, according to a new World Bank publication entitled "Building Resilient Health Systems in Latin America and the Caribbean: Lessons Learned from the COVID-19 Pandemic". Investing in cost-effective interventions such as high-performing primary health care and better public health surveillance systems can build resilience against future pandemics. More investments are also needed to address pressures on health care services exacerbated by COVID-19, including mental health services, and to lay the ground for better human development outcomes and economic growth.
"The pandemic has shown that health systems need to be well funded and able to deal with shocks and surges," said Juan Pablo Uribe, Global Director for Health, Nutrition and Population, World Bank. "Many countries in Latin America and the Caribbean have developed effective, innovative measures, including the expansion of telemedicine and telehealth services, increased the use of data in decision-making and new public-private partnerships that have expanded access to care during pandemic peaks. These innovations can be catalyzed, and propel broader, lasting reforms for better resilience in the health sector".
Despite improvements in health care over the last 30 years, the Covid-19 pandemic encountered a region that faced many systemic challenges. Most healthcare systems in LAC underperform compared to the average for the Organization for Economic Cooperation and Development (OECD). Healthcare fragmentation is a key source of waste in the region, leading to duplication of tasks, substantially reducing system efficiency, and exacerbating inequalities. On average, health spending, although it grew in recent years, stands at only 25 percent of OECD countries' expenditure per capita adjusted for purchasing power.
Limited health system capacity also impaired countries' abilities to deal with shocks and surges in demands, as underinvestment in public health before the pandemic left health systems in LAC severely underprepared. The region has had one of the highest global rates of deaths and excess mortality due to COVID-19, and the pandemic has led to a significant increase of mental health conditions.
The publication was launched during an event organized by the Government of Chile and the World Bank, with the presence of the health and finance ministers of the region, high-level officials, and representatives of international organizations to discuss the challenges faced by health systems in the aftermath of the pandemic. The event culminated in a joint statement about the importance of investing in resilient health systems and mental health to strengthen human capital and the economy in Latin America and the Caribbean.
"For Chile it is very relevant to host this meeting, which is in line with the priorities of President Gabriel Boric's government in Health, where we are working on three strategic lines for this period: reducing waiting times; Mental Health, which has worsened especially with the pandemic; and moving towards the reform of a Universal Health system that recognizes universal primary care as a central element, with a community approach, of favoring care and access through different mechanisms," said Chile's Minister of Health, Ximena Aguilera.
Since the outset of the pandemic, the World Bank has doubled its financial support to the health sector in the region. The World Bank's Health, Nutrition and Population (HNP) portfolio in LAC totals US$ 3.9bn in commitments (29 operations), of which US$2.3bn (18 operations) are specifically aimed at strengthening the resiliency of health systems in the region. The World Bank is supporting new lending operations in Argentina, Chile, Colombia, the Dominican Republic, and Honduras via planned investments in primary healthcare, telemedicine, and health information and surveillance systems that are expected to contribute to the ability of health systems to effectively respond to future shocks including those related to climate change.
Baby foods take centre stage in push for more safety and quality
By DANIELA DE LORENZO
If we are what we eat, as the saying goes, food quality is key to our health. And as food production and trade increase in response to greater global demand, controls on safety and quality have become even more vital.
The impact of diet on health is hard to overstate. Obesity worldwide has almost tripled since 1975 and, in Europe, affects almost 60% of adults and nearly one in three children. Diabetes is also on the rise and Europe has a markedly high number of children with type 1 – 295 000 in 2021.
Quality controls
Eating a varied and healthy diet can enhance overall well-being and reduce the risk of long-term illness. In addition, consumers are demanding greater food-chain transparency following food-fraud incidents such as the contamination of infant milk formula with melamine in 2008, the discovery of fipronil in eggs in 2017 and sporadic outbreaks of salmonella.
'Food safety systems in Europe are generally effective, but we believe that it is possible to further improve the safety and quality levels,' said Dr Erwan Engel, research director at the French National Institute for Agriculture, Food and Environment (INRAE).
Engel coordinates the EU-funded SAFFI project that brings together major research organisations and infant-food producers from Europe and China. With babies, children and young people being more vulnerable and needing high-quality nutrition to grow, the project is investigating ways to ensure greater safety in production.
Other than breast milk, infant formulas and baby foods are the most important part of a child's diet in the first year of life. Preventing microbial or chemical contamination in the processing chain is a priority.
60 million mouths
SAFFI is addressing food for the EU's 15 million and China's 45 million children under the age of three. The partners are focusing on four popular infant-food lines: formula, sterilised mixed vegetables with meat or fish, infant cereals and fruit purees.
The project has carried out tests on the premises of five participating international infant-food companies – Netherlands-based FrieslandCampina, HiPP in Germany, Greek producer YIOTIS and two Chinese companies, Beingmate and YFFC.
The aim is to identify the main risks from both microbial hazards, including bacteria, and potential chemical contaminants in the food chain.
Chemical contaminants include environmental pollutants such as dioxins or lead, crop-treatment residues like pesticides and substances generated during processing including furan.
'We need to convince the industry that it is important to focus on chemicals too,' said Engel. 'Although the effects on health are not as immediate as for microbes, they can still be significant in the longer term.'
SAFFI also aims to help food producers and authorities predict where potential problems could arise and, as a result, reduce the threat of contamination at every stage of production.
Classical processes based on thermal treatments, for instance, could be replaced with pulse combustion dryers, radio frequency heating and high-pressure processing, which are better at sterilising foods while maintaining the optimal nutritional value of fresh products.
'We check the effectiveness of these innovative processing technologies to control the growth, inhibition and inactivation of pathogens, as well as their ability to slow food degradation and limit the integration of certain chemicals,' said Engel.
Healthy trade-off
The food and drinks sector, which includes foods for infants, is a major contributor to the EU economy with exports of €110 billion in 2019. By investing in training and sharing know-how, SAFFI will help to improve safety standards in the EU and China and reduce potential barriers to trade.
It will cooperate with other research projects under the EU-China Food, Agriculture and Biotechnology (FAB) Flagship Initiative, with all seeking continued improvement in food safety control.
Such cooperation can increase EU-China commerce and give European food companies greater opportunities to expand on the international market. In addition, the standards laid down by SAFFI in the infant-food sector could be extended to other food categories, according to Engel.
Tailor-made diets
When it comes to health, food variety and quality also count. A balanced diet can help prevent illnesses from arising in the first place. It can also enable people with serious diseases to heal and have more stable lives.
However, people respond differently to the same foods or nutrients, depending on genetic and lifestyle factors. These include stress, exercise levels, individual microbiome composition and exposure to environmental toxins.
The EU-funded NUTRISHIELD project has set out to create personalised diets tailored to individual biomarkers, with a particular focus on children with obesity and/or diabetes and on lactating mothers.
The project is analysing a range of biomarkers related to nutrition and health disorders, taking into account the way each child responds to different nutrients and food types.
NUTRISHIELD involves research and clinical partners from across Europe. The project is coordinated by a Swiss company called Alpes Lasers, which has developed specialised mid-infrared laser technology for use in clinical settings.
Laser-sharp
'Unlike current processes used to analyse body fluids, laser technology can work with very small samples of urine – a necessity when little patients can only produce minimal quantities,' said Miltos Vasileiadis, business developer and project manager at Alpes Lasers.
The company has provided project partners with laser technology used to build analysers for urine, breath and human milk. Samples collected are analysed at a molecular level, allowing nutritionists to give detailed, personalised and easy-to-follow advice.
This may include the amount of each food group an individual needs and how often, how much exercise and sleep are necessary and even which particular variety of fruit or grain is required for proper nutrition.
A study on young diabetes patients is running at the San Raffaele Hospital in Milan, Italy, while the Health Research Institute Hospital La Fe in Valencia, Spain is working with lactating mothers and newborns. Studies conducted at Radboud University in the Netherlands aim to understand how nutrition can assist and enhance cognitive development in children.
The tools developed by NUTRISHIELD are designed to be portable and easy to use, making biomarker analysis faster and more cost-effective. In the longer term, these could be used in different medical settings to assist patients of any age.
FOOD 2030
The EU's FOOD 2030 research and innovation policy aims to transform food systems and ensure everyone has enough affordable, nutritious and safe food to live a healthy life.
The initiative covers the entire food system, linking primary production sectors (such as agriculture and fisheries) to food processing, retail and distribution, packaging, waste and recycling, catering services and consumption.
Research in this article was funded by the EU. This article was originally published in Horizon, the EU Research and Innovation Magazine.
Olives, the source of "liquid gold," offer more riches to unlock
By ALEX WHITING
Olive oil is a multibillion-euro global business and Manuel Román is determined to create an even bigger market from the sacred ancient fruit.
Román is co-founder of ISANATUR, a Spanish company that has built a refinery able to turn every part of an olive into a commercial product of some kind.
Pulp and pits
Only about 25% of an olive is used for the prized oil, with the remaining pulp, pits and water ending up in landfills or being turned into fertiliser. The pits can also be used for fuel.
'What is needed is a market willing to use the products – the olive powder, olive water, olive seed,' said Román, former coordinator of an EU-funded project developing ways to transform the entire residue into commercial goods.
Global annual production of olive oil totals about 3 million tonnes, of which 2 million tonnes are in Europe. The worldwide olive oil market is worth nearly €13 billion, according to Fortune Business Insights.
While olive oil has been called 'liquid gold' for millennia because of its many health benefits, the residue is also packed full of goodness.
Companies in Europe are developing ways to tap into this rich source of ingredients so they can be used in health and beauty products, food supplements and animal feed.
'Thousands of tonnes of natural products are not being used and we are missing out on the opportunity to eat these healthy compounds,' said Román.
He was interim coordinator of UP4HEALTH, which began in mid-2020 and is due to continue until end-May 2024. Run from Spain, Europe's top producer of olive oil, the project brings together participants determined to end olive waste.
ISANATUR is already selling powder made from olive pulp – which is rich in iron, proteins and antioxidants – for use in snack bars and food supplements.
The overall potential is enormous. Other products include soluble fibre to boost digestive health, drinks made from olive water and fats that can be used as skin moisturisers.
Although UP4HEALTH includes several small and medium-sized food and nutraceutical businesses testing the products, it wants to attract large multinational companies that could create enough demand to scale.
One of the main obstacles to turning biowaste into new products is creating the demand and building the supply chains to meet it.
Leafy promises
Olive-tree leaves, which are normally left to rot in groves or burnt for energy, also have significant commercial potential.
A second EU-funded project coordinated from Spain, OLEAF4VALUE, has brought together scientists, multinational companies and olive farmers to develop uses for leaves in a range of products.
Olive leaves contain antioxidants, anti-inflammatories and antimicrobials, which – like olive-oil residue – could be used in food supplements, pharmaceuticals, beauty products and animal feed.
Currently, only about 0.2% of the world's residual olive leaves find commercial uses, according to OLEAF4VALUE.
The project wants to increase the level to 15% with the help of Oleícola El Tejar, a Spanish farm cooperative that already handles an equivalent percentage of the world's supply of olive pulp, pits and leaves.
The project is working with Mibelle Biochemistry Switzerland, a multinational that designs ingredients for the beauty industry.
But inroads are also being made into other markets including feed, said José Maria Pinilla, coordinator of OLEAF4VALUE.
Healthier fish
Pinilla is project manager at Natac Group, which makes natural ingredients for food supplements, feed and pharmaceuticals.
Natac works with Norway-based Mowi, the world's largest producer of farmed salmon.
The two companies have already successfully tested olive pulp ingredients in feed for fish to determine whether they protect salmon from bacterial infections. Trials so far – conducted at the Institute of Agrifood Research and Technology in Spain – have found they make salmon more resilient to such contagion.
Now, as part of OLEAF4VALUE, Natac and Mowi are testing ingredients from the leaves to gauge whether they can protect fish from viral infections.
Trials are under way at the Institute of Marine Research in Bergen, Norway and should be completed by the end of 2023, according to Pinilla.
To break into the market for animal-feed additives, economic efficiency is key.
'If you want to enter that market, you need to be very, very cost competitive,' said Pinilla.
Smarter sorting
To cut production costs in general, the project is developing a new way to extract the most value from the leaves.
With this technique, known as "dynamic processing," each batch of leaves is processed differently according to its chemical content. OLEAF4VALUE researchers are creating a sensor that analyses the chemical composition of each batch.
The chemical content of leaves depends on where they grew and how they were handled before processing. The content determines the most suitable products for leaves.
For example, olive leaves contain oleuropein, which is used as a food supplement. Its content in leaves varies from 0.2% to 10%.
Currently, leaves are all processed in the same way and for the same purposes.
'But if I want to produce a very high-purity oleuropein, it's obviously much easier to do it with a high-content leaf at the beginning,' said Pinilla.
With dynamic processing, only olive leaves with high oleuropein content are used to extract this compound. The rest are processed for different chemicals.
The project is also developing treatments to modify the chemical content of leaves so they contain higher concentrations of certain chemicals before processing begins.
Plenty of research is still needed for both the processes and the products. Then the challenge will be to find major buyers.
But Pinilla is certain about the merits of the whole initiative.
'In theory we could have nothing to throw away,' he said. 'We are trying for a zero-waste approach.'
Research in this article was funded by the EU. This article was originally published in Horizon, the EU Research and Innovation Magazine.