Pandemic increasing risk factors for suicide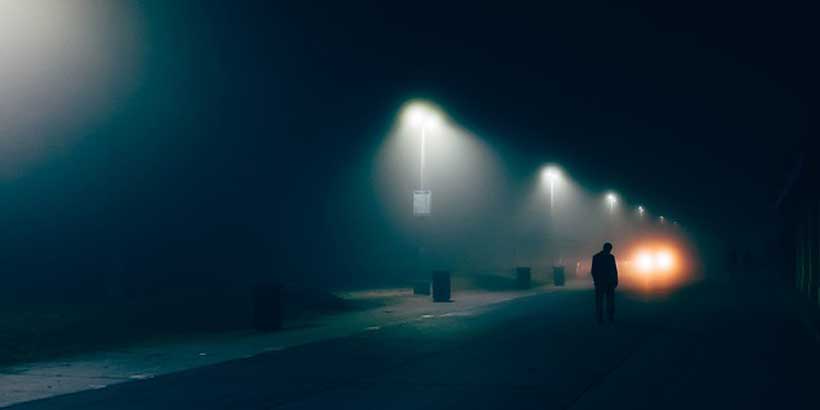 Suicide prevention must be prioritized after 18 months of the COVID-19 pandemic, the Americas office of the World Health Organization (WHO) warned ahead of World Suicide Prevention Day, commemorated annually on 10 September.
Studies show that the global crisis has exacerbated risk factors associated with suicidal behaviours, such as job loss, trauma or abuse, mental health disorders and barriers to accessing health care.
'Urgent public health problem'
"Suicide is an urgent public health problem and its prevention must be a national priority," said Renato Oliveira e Souza, head of the Mental Health Unit at the Pan American Health Organization (PAHO).
"We need concrete action from all elements of society to put an end to these deaths, and for governments to create and invest in a comprehensive national strategy to improve suicide prevention and care," he added.
Globally, one in 100 deaths is by suicide, making it among the leading causes of death worldwide and the fourth leading cause of death among 15- to 29-year-olds, after road traffic accidents, tuberculosis and interpersonal violence.
More people die each year from suicide than from HIV, malaria, or breast cancer, or from war and homicide, according to WHO.
Warning signs
Some of the verbal or behavioural warning signs for suicide include talking about wanting to die, feeling immense guilt or shame, or feeling like a burden to others. Other signs are feeling empty, hopeless or trapped, or having no reason to live, or feeling extremely sad, anxious, agitated, or full of anger.
Among behavioural changes that can also be warning signs, are researching ways to die, staying away from friends, giving away important items, showing extreme mood swings, eating or sleeping too much or too little, and using drugs or alcohol more often.
Anyone who detects warning signs of suicide, whether in themselves or in someone they know, should seek help from a health care professional as soon as possible.
Hope through action
World Suicide Prevention Day is organized by the International Association for Suicide Prevention (IASP) and endorsed by WHO.
This year's theme 'Creating hope through action', focuses on the need for collective action to address the issue.
WHO recently published guidance that supports national efforts to help reduce the global suicide rate by one-third by 2030, in line with the Sustainable Development Goals (SDGs).
Key prevention measures include limiting access to means of suicide, such as firearms and pesticide, as well as early identification, assessment, management and follow-up of people affected by suicidal thoughts and behaviours.
Other actions include fostering adolescent social-emotional skills, and educating the media in responsible reporting on suicide
Mushrooms emerge from the shadows in pesticide-free production push
By Ali Jones
Mention La Rioja in northern Spain and most people will picture majestic sun-drenched vineyards nestled in the hillsides. But, hidden from the sunlight, the region is also home to a very different crop that happens to be at the heart of efforts to make European food production more sustainable.
Three small villages in La Rioja house the vast, dark, humid growing sheds that produce its 77 000 tonnes of mushrooms each year. Almost half of Spain's cultivated mushroom crop is grown in the region, making Spain the third-largest producer in Europe, behind Poland and the Netherlands.
New world
'Mushrooms are a whole different world than we are used to, from growing plants or rearing animals,' said Pablo Martínez, an agronomist who worked in wineries before being drawn to the specialist mushroom sector after a chance conversation with a former colleague.
Based at the Mushroom Technological Research Centre of La Rioja (CTICH), Martínez manages a Europe-wide project to tackle the environmental challenges faced by the industry.
Many people know very little about how mushrooms are grown. While it's easy to buy a starter kit online to have a go at home, growing on a commercial scale is very different – managing humidity, temperature and light to produce a regular, quality crop while contending with pest control.
Cultivated mushrooms can double in size in a day and consumer demand for them is mushrooming too.
The global market is projected to grow from around 15 million tonnes in 2021 to more than 24 million tonnes over the next five years. Packed with nutrients, they deliver a protein-rich umami kick that is well suited to the soaring trend for plant-based foods.
To meet demand, growers need to fail-safe their crop from pests and, for now, they rely on pesticides. Tighter regulations are limiting available products and concerns over the impact on the environment and human health mean growers are looking to researchers to come up with answers.
CTICH is coordinating the BIOSCHAMP project, which works with researchers, commercial partners and mushroom growers in six European countries. In addition to Spain, they are Belgium, the Netherlands, Poland, Serbia and the UK.
Peatland protection
Mushrooms are grown on a substrate, or base layer, made of straw and animal manure, then covered with a thick blanket of peat known as the casing. Made up of partially decayed vegetation, peat perfectly mimics nature's forest floors that so readily yield mushrooms.
The depletion of precious finite peatlands is a global concern. These wetlands store more carbon than all other vegetation types in the world combined and their conservation is ever more important for countering climate change.
'Mounting restrictions on peat extraction in European countries threaten the long-term continuity of peat supplies,' said Martínez. 'We're looking to develop a new product for growing mushrooms that could cut pesticide use by 90% while reducing the industry's reliance on peat.'
Most of Europe's peat comes from the Baltic countries, traveling first by boat to the Netherlands, where it is treated ready for commercial use, before being distributed to growers across Europe, amassing transport costs and a heavy carbon footprint.
BIOSCHAMP aims to create a low-peat sustainable casing for cultivated mushrooms made from renewable materials sourced close to existing mushroom production.
While the exact details are under wraps, it will combine with a substance known as a biostimulant to enhance the natural growing processes and strengthen the mushroom mycelium in their early phase, protecting them against disease without the need for chemical pesticides.
Fertile waste
In Norway, two mushroom enthusiasts have pioneered a project to explore whether the crop could be cultivated in food waste. The EU-funded initiative is called VegWaMus CirCrop.
Dr Agnieszka Jasinska, who completed her postgraduate research on mushroom substrates, has led the research in partnership with Dr Ketil Stoknes, senior project leader of research and development at waste-management company Lindum and himself once a specialist mushroom grower.
The project has demonstrated that organic residue from food waste – usually used to feed anaerobic digestors, devised to capture methane and divert it from problematic greenhouse gas to useful fuel – can be a successful starter for mushrooms.
The European Food Information Council (EUFIC) estimates that a whopping one third of all food produced for human consumption is wasted. Anaerobic digestion, also known as biogas, allows the nutrients from waste to be reused for growing plants in greenhouses.
'It enables a climate-efficient, resilient, urban food production system based entirely on waste,' said Stoknes.
Tomatoes, lettuce and herbs had been chosen as the initial candidates. But Stoknes said that mushrooms are degraders, breaking down fibres and so on, and are a necessary part of an integrated biosystem. Inspired by the natural cycle in the forest, the project set out to combine mushrooms and plants in one circular system.
The biogas system is explained as 'food to waste to food' and it's a movement that is growing in popularity.
While mushroom cultivation ceased on a commercial scale in Norway in the early 2000s, unable to compete with other countries, VegWaMus CirCrop has proved there could be a sustainable future for Norwegian mushroom production after all.
Side hustle
The project has hatched a start-up company called SOPPAS with ambitions to scale up the process commercially. In the meantime, it's embarking on a raft of new ideas, including expanding production at the food waste biogas facility from button mushrooms to oyster mushrooms.
'The new company will produce starter blocks for growing mushrooms for farmers, plant producers and greenhouse owners who might want to diversify to mushrooms in their low season,' said Jasinska. 'They can put their existing pickers, packing line and cold-storage facilities to good use in idle times and sell the produce locally.'
Against the backdrop of growing momentum for producing food from waste and an interest in keeping production local, both EU-funded projects look set to give mushrooms their moment in the sun.
Research in this article was funded via the EU's Marie Skłodowska-Curie Actions (MSCA). ). This article was originally published in Horizon, the EU Research and Innovation Magazine.
High blood pressure? A heart app prescribes musical therapy
By ANTHONY KING
The opening of a Beethoven symphony thrills the heart – but not just figuratively. While music touches us emotionally, it stimulates the heart physically and can lower blood pressure.
More than one in five people aged 15 years and over in the EU have reported having high blood pressure, which can lead to failure in the heart, kidneys or brain. Lowering blood pressure even slightly can reduce the risks of cardiovascular disease.
Heartfelt tunes
From the Science and Technology of Music and Sound Laboratory in Paris to King's College London, Professor Elaine Chew is developing an app for smartphones to boost heart health as part of an EU-funded project called HEART.FM.
'We're creating an app that will monitor people's response as they listen to music and then tailor that music to benefit them,' said Chew, a professor of engineering at King's who collaborates with St Bartholomew's Hospital in London.
The app uses measurements of the person's heart and artificial intelligence algorithms to create a listening regimen that regulates blood pressure.
While HEART.FM stands to help people today, another EU-funded project called GOING VIRAL looks back at how public perceptions and uses of music in Europe have evolved through the course of disease outbreaks over the past four centuries.
In the 17th century, music was believed by many people in Europe to have the power to stop or even prevent an outbreak of the plague, according to Professor Marie Louise Herzfeld-Schild, who leads GOING VIRAL and is a musicologist at the University of Music and Performing Arts Vienna.
The two projects show how popular views of music have changed since the days of Handel, and the heightened power of music when combined with modern technology.
Personal perspective
Chew has a personal connection to the project. She had suffered from an irregular heartbeat, which was successfully treated. The experience made Chew conscious of her own and others' heart health.
'Medicine made it possible for me to have a much better quality of life and it led me to rethink the purpose of what it is I do,' she said.
A professional-level piano player herself, Chew has since 2018 studied how people's hearts respond to music, starting with patients who have pacemakers.
A pacemaker is used to treat some abnormal rhythms – called arrhythmias – that can cause the heart to beat too slowly, too fast or irregularly. The pacemaker enables a patient's heart to beat regularly by sending electrical pulses to it.
Chew and colleagues at St Bartholomew's Hospital discovered some good news: the recovery time between beats of the hearts of people with pacemakers could be modulated by music. In general, quicker recovery times signal stress, while longer ones indicate relaxation or calm.
Chew is drawing on the findings of her work involving pacemaker patients to develop the HEART.FM app for a much broader group of people.
'People enjoy music as a pleasurable pastime – the difference here is that we are monitoring how the body responds,' she said.
HEART.FM's goal is to fingerprint the cardiovascular responses of people listening to music. Chew often hooks up students to the testing device and then sends them data from the app so they can see their own physiological response to music.
The app in development would be downloaded onto a smartphone by users to track their heart's rhythmical responses to music and to guide them on a therapeutic path to lower blood pressure. The plan is to make the app globally available for download from app stores.
Shifting views
Under GOING VIRAL, funded by the European Research Council, Herzfeld-Schild is interested in how Europeans of bygone eras felt about music.
Her project is investigating and comparing the emotional experiences that people had from music during three epochs of disease outbreaks in Vienna: plague in 1679 and 1713, cholera in 1831 and flu in 1918-19.
Herzfeld-Schild believes that emotional experiences differ through the periods of history.
'The way we navigate the world emotionally is bound to our upbringing and what we learned about the world,' she said. 'That changes how we feel about music.'
During the plague outbreaks, people in western Europe often blamed the planets and believed music could influence them and, as a result, end or ward off the pestilence.
At the same time, there was also a belief that contaminated items could make you sick. Records exist of people burning instruments or sheet music.
'Music in that context was dangerous,' said Herzfeld-Schild. 'Religion was quite important, so people understand the plague to be a punishment from God.'
Alternatively, they would blame Jews or foreigners from the East, she said.
Musical escapes
During the 1700s, perceptions in Europe evolved again to embrace the idea of music as a source of listening bliss.
'The idea of a universal kind of "true" music and that music is good for everyone begins in the 18th century,' said Herzfeld-Schild. 'Also, in the late 18th century, there arises this idea of music as a kind of religious experience, like a revelation, or escape from this bleak life.'
By the time of the cholera outbreak in the 19th century, medical practices and popular attitudes to music had shifted. Once people realised that this disease had its origins in dirty water, charity balls were run in Vienna for cholera victims and even featured new music from the composer Johann Strauss.
The final outbreak that Herzfeld-Schild will investigate is the so-called Spanish flu, which started in 1918. It came when some people could buy early versions of gramophones and listen to music in their own homes.
This was a tumultuous time for Austria because the first flu outbreak coincided with the end of the First World War, collapse of the monarchy and disappearance of the Habsburg Empire.
'There's really a lack of knowledge about how music was perceived emotionally during these times of diseases,' said Herzfeld-Schild.
During the Covid-19 pandemic that started in 2020, she noticed that people seemed to assume a shared experience with those who faced disease outbreaks in earlier eras. But this supposition seemed wrong to Herzfeld-Schild based on her study of the history of music, medicine and emotions for more than a decade.
'From everything I know, right now, the emotional experiences of music during pandemics have been different throughout times and throughout places,' she said. 'I'm sure it was very different for people in the past.'
Research in this article was funded via the EU's European Research Council (ERC). This article was originally published in Horizon, the EU Research and Innovation Magazine.
Pandemic shock must propel stronger health systems in Latin America and the Caribbean
Strengthening health systems in Latin America and the Caribbean in the wake of COVID-19 must be a priority, according to a new World Bank publication entitled "Building Resilient Health Systems in Latin America and the Caribbean: Lessons Learned from the COVID-19 Pandemic". Investing in cost-effective interventions such as high-performing primary health care and better public health surveillance systems can build resilience against future pandemics. More investments are also needed to address pressures on health care services exacerbated by COVID-19, including mental health services, and to lay the ground for better human development outcomes and economic growth.
"The pandemic has shown that health systems need to be well funded and able to deal with shocks and surges," said Juan Pablo Uribe, Global Director for Health, Nutrition and Population, World Bank. "Many countries in Latin America and the Caribbean have developed effective, innovative measures, including the expansion of telemedicine and telehealth services, increased the use of data in decision-making and new public-private partnerships that have expanded access to care during pandemic peaks. These innovations can be catalyzed, and propel broader, lasting reforms for better resilience in the health sector".
Despite improvements in health care over the last 30 years, the Covid-19 pandemic encountered a region that faced many systemic challenges. Most healthcare systems in LAC underperform compared to the average for the Organization for Economic Cooperation and Development (OECD). Healthcare fragmentation is a key source of waste in the region, leading to duplication of tasks, substantially reducing system efficiency, and exacerbating inequalities. On average, health spending, although it grew in recent years, stands at only 25 percent of OECD countries' expenditure per capita adjusted for purchasing power.
Limited health system capacity also impaired countries' abilities to deal with shocks and surges in demands, as underinvestment in public health before the pandemic left health systems in LAC severely underprepared. The region has had one of the highest global rates of deaths and excess mortality due to COVID-19, and the pandemic has led to a significant increase of mental health conditions.
The publication was launched during an event organized by the Government of Chile and the World Bank, with the presence of the health and finance ministers of the region, high-level officials, and representatives of international organizations to discuss the challenges faced by health systems in the aftermath of the pandemic. The event culminated in a joint statement about the importance of investing in resilient health systems and mental health to strengthen human capital and the economy in Latin America and the Caribbean.
"For Chile it is very relevant to host this meeting, which is in line with the priorities of President Gabriel Boric's government in Health, where we are working on three strategic lines for this period: reducing waiting times; Mental Health, which has worsened especially with the pandemic; and moving towards the reform of a Universal Health system that recognizes universal primary care as a central element, with a community approach, of favoring care and access through different mechanisms," said Chile's Minister of Health, Ximena Aguilera.
Since the outset of the pandemic, the World Bank has doubled its financial support to the health sector in the region. The World Bank's Health, Nutrition and Population (HNP) portfolio in LAC totals US$ 3.9bn in commitments (29 operations), of which US$2.3bn (18 operations) are specifically aimed at strengthening the resiliency of health systems in the region. The World Bank is supporting new lending operations in Argentina, Chile, Colombia, the Dominican Republic, and Honduras via planned investments in primary healthcare, telemedicine, and health information and surveillance systems that are expected to contribute to the ability of health systems to effectively respond to future shocks including those related to climate change.