Biden Overstates by 700% Effectiveness of Covid Vaccines
The White House said on September 9th that "recent data indicates there is only 1 confirmed positive [covid-19 disease] case per 5,000 fully vaccinated Americans per week."
Its announcement fails to link to any source on that allegation. However, if Biden got that estimate from the New York Times, then he was definitely overstating it by 700%. And America's 'news'-media, at press conferences, don't ask politicians, "Where do you get those data? What assurance do you have that they are trustworthy?" Instead, mere allegations by public officials are reported as if they should be accepted as being facts.
All of America's recent Presidents have been similarly casual and untrustworthy about the truthfulness of their allegations, such as they were about "Saddam's WMD." The whole world therefore has good reasons to distrust what America's Presidents say. It's certainly the case with this President. Why do people trust them any longer? Either the U.S. official builds policies on the basis of his/her falsehoods, or aims to deceive people; and, in either case, what that person says won't be trusted by any intelligent person.
In this particular instance, another dubious news-source (besides Biden), the New York Times, had headlined, two days earlier, on September 7th, "One in 5,000: The real chances of a breakthrough infection." However, that allegation ("One in 5,000") likewise failed to link through to its source and to describe the methodology behind that estimate, though it did allege that the estimate was somehow based upon "statistics from three places that have reported detailed data on Covid infections by vaccination status: Utah; Virginia; and King County, which includes Seattle, in Washington state. All three are consistent with the idea that about one in 5,000 vaccinated Americans have tested positive for Covid each day in recent weeks."
Perhaps President Biden had read that headline (from two days before), and didn't read the Times's news-report itself, which said not "1 confirmed positive case per 5,000 fully vaccinated Americans per week" but instead "that about one in 5,000 vaccinated Americans have tested positive for Covid each day in recent weeks." In other words: Biden's estimate, of a one-in-5,000 chance per week, is overstating by 700% the Times's news-report's estimate, which said per day — not per week.
The Times's news-report then upped its own ante to only a one-in-10,000-per-day chance in America's largest cities, which are more-leftist, less rightist, than most of America, and which therefore believe more in government-regulation (such as to control covid) and so have a higher percentage of vaccinated population: "Here's one way to think about a one-in-10,000 daily chance: It would take more than three months for the combined risk to reach just 1 percent."
Consequently, if that's correct, then for a person in the more-rural America (assuming that the Times's data and calculations are sound), the likelihood, at one-in-5,000, would have an average resident there facing a 2% chance of becoming sick with covid-19 during a 3-month period, if "fully vaccinated." Furthermore, the Times alleges that "The infection rates in the least vaccinated states are about four times as high as in the most vaccinated states." If that is true, then a reasonable assumption would be that vaccination is effective, and that therefore the Republican Party position on this matter — that the government shouldn't impose penalties against unvaccinated individuals as part of a program to protect the public's health (the health of the entire public) — is false, and the Democratic Party's position on this matter is true.
The Morning Consult poll of residents in 15 countries recently headlined and reported:
"The U.S. Has a Higher Rate of Vaccine Opposition Than Any Country Tracked Besides Russia"
2 September 2021
#1: Russia: 27% unwilling, 16% uncertain.
#2: U.S.: 17% unwilling, 10% uncertain.
#15(last): China: 1% unwilling, 1% uncertain.
Previously, these had been the figures:
"The U.S. Has a Higher Rate of Vaccine Opposition Than Any Country Tracked Besides Russia"
10 June 2021
#1: Russia: 32% unwilling, 24% uncertain.
#2: U.S.: 20% unwilling, 12% uncertain.
#15(last): China: 2% unwilling, 4% uncertain.
Ever since those polls started on 13 May 2021, Russia has been #1 and China has been #15. However, U.S. hasn't consistently been #2.
How, then, do those countries rank on performance regarding covid-19?
That's shown by going to worldometers and clicking there twice onto the column that's headed "Tot cases/1m pop". Of the 223 ranked countries:
China is #9, the ninth-best country, at 66 cases per 1 million population.
Russia is #132, at 48,645 cases per million.
U.S. is #209 at 124,729 cases per million. It is the only non-small country that performs this poorly. Every one of the yet-worse countries has below 5 million population except Czechia, which has a population of 10,732,613.
As regards current covid trends:
China has extremely few new cases.
Russia's new cases have been declining since July 16th.
America's new cases have been declining since August 27th.
As regards Czechia, all of its bad performance ended in June. On 1 March 2021, Czechia introduced a draconian lockdown; and, after March 3rd, the raging epidemic began its decline. On 15 March 2021, Al Jazeera headlined "Czech Republic: What's behind world's worst COVID infection rate?" and reported:
Leading expert in viral sequencing, Jan Pačes from the Academy of Sciences, talks to Al Jazeera about the severity of the pandemic and calls on the government to take stricter precautions.
Al Jazeera: How did the country go from having some of the lowest infection rates in Europe to the highest in the world?
Jan Pačes: The Czech Republic is currently in its fourth wave of the pandemic and the healthcare system is reaching its limits.
The Czech government has consistently showed incompetent leadership, failing to protect public health, governing through populism rather than taking on expert advice.
As regards China (which arguably has the world's best performance at controlling covid-19): the New York Times indicates vaccination-rates throughout the world, which shows, for China 78% of its residents as having received one shot, and 69% two.
U.S. is 63% and 53%.
Russia is 31% and 27%.
Czechia is 56% and 55%.
Vietnam is 21% and 3.9%.
Vietnam had been, for a long time, the country that had the world's lowest covid-19 infection-rate, but they were left flat-footed and drastically unprepared for the Delta variant, with virtually no access to vaccines, and Vietnam's covid-19 infection-rate started soaring in May 2021 and peaked on August 26th. During that time, Vietnam's performance fell from #1 to #67 on infection-rate ("Tot cases/1M pop"). Vietnam's Government, which previously had been so proud of its performance, is now intensively struggling with the pandemic.
Within the United States itself, the worst-performing states, in order, as-of September 10th, are Tennessee (163,936), Florida (160,016), North Dakota (159,064), Rhode Island (156,183), Arkansas (155,735), Mississippi (154,667), South Dakota (153,909), Louisiana (152,814), South Carolina (151,474), and Alabama (150,212). (Nine of those ten states had voted for Donald Trump.)
For comparison, see these nations: U.S. (124,729), China (66), Czechia (156,763), Russia (48,645), Vietnam (5,991).
Interpreting the Biden Doctrine: The View From Moscow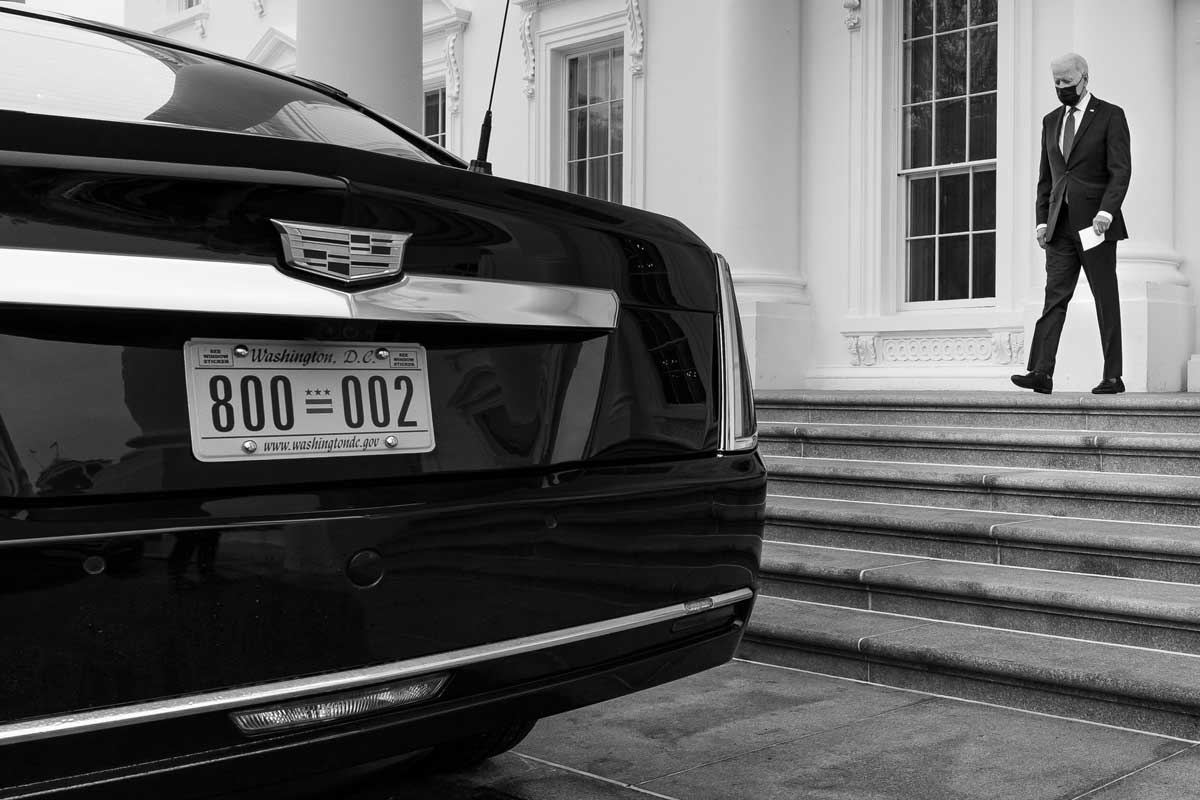 It is the success or failure of remaking America, not Afghanistan, that will determine not just the legacy of the Biden administration, but the future of the United States itself.
The newly unveiled Biden doctrine, which renounces the United States' post-9/11 policies of remaking other societies and building nations abroad, is a foreign policy landmark. Coming on the heels of the U.S. withdrawal from Afghanistan, it exudes credibility. Indeed, President Biden's moves essentially formalize and finalize processes that have been under way for over a decade. It was Barack Obama who first pledged to end America's twin wars—in Iraq and Afghanistan—started under George W. Bush. It was Donald Trump who reached an agreement with the Taliban on a full U.S. military withdrawal from Afghanistan in 2021. Both Obama and Trump also sought, albeit in strikingly different ways, to redirect Washington's attention to shoring up the home base.
It is important for the rest of the world to treat the change in U.S. foreign policy correctly. Leaving Afghanistan was the correct strategic decision, if grossly overdue and bungled in the final phases of its implementation. Afghanistan certainly does not mean the end of the United States as a global superpower; it simply continues to be in relative and slow decline. Nor does it spell the demise of American alliances and partnerships. Events in Afghanistan are unlikely to produce a political earthquake within the United States that would topple President Biden. No soul searching of the kind that Americans experienced during the Vietnam War is likely to emerge. Rather, Washington is busy recalibrating its global involvement. It is focusing even more on strengthening the home base. Overseas, the United States is moving from a global crusade in the name of democracy to an active defense of liberal values at home and Western positions abroad.
Afghanistan has been the most vivid in a long series of arguments that persuaded Biden's White House that a global triumph of liberal democracy is not achievable in the foreseeable future. Thus, remaking problematic countries—"draining the swamp" that breeds terrorism, in the language of the Bush administration—is futile. U.S. military force is a potent weapon, but no longer the means of first resort. The war on terror as an effort to keep the United States safe has been won: in the last twenty years, no major terrorist attacks occurred on U.S. soil. Meantime, the geopolitical, geoeconomic, ideological, and strategic focus of U.S. foreign policy has shifted. China is the main—some say, existential—challenger, and Russia the principal disrupter. Iran, North Korea, and an assortment of radical or extremist groups complete the list of adversaries. Climate change and the pandemic have risen to the top of U.S. security concerns. Hence, the most important foreign policy task is to strengthen the collective West under strong U.S. leadership.
The global economic recession that originated in the United States in 2007 dealt a blow to the U.S.-created economic and financial model; the severe domestic political crisis of 2016–2021 undermined confidence in the U.S. political system and its underlying values; and the COVID-19 disaster that hit the United States particularly hard have all exposed serious political, economic, and cultural issues and fissures within American society and polity. Neglecting the home base while engaging in costly nation-building exercises abroad came at a price. Now the Biden administration has set out to correct that with huge infrastructure development projects and support for the American middle class.
America's domestic crises, some of the similar problems in European countries, and the growing gap between the United States and its allies during the Trump presidency have produced widespread fears that China and Russia could exploit those issues to finally end U.S. dominance and even undermine the United States and other Western societies from within. This perception is behind the strategy reversal from spreading democracy as far and wide as Russia and China to defending the U.S.-led global system and the political regimes around the West, including in the United States, from Beijing and Moscow.
That said, what are the implications of the Biden doctrine? The United States remains a superpower with enormous resources which is now trying to use those resources to make itself stronger. America has reinvented itself before and may well be able to do so again. In foreign policy, Washington has stepped back from styling itself as the world's benign hegemon to assume the combat posture of the leader of the West under attack.
Within the collective West, U.S. dominance is not in danger. None of the Western countries are capable of going it alone or forming a bloc with others to present an alternative to U.S. leadership. Western and associated elites remain fully beholden to the United States. What they desire is firm U.S. leadership; what they fear is the United States withdrawing into itself. As for Washington's partners in the regions that are not deemed vital to U.S. interests, they should know that American support is conditional on those interests and various circumstances. Nothing new there, really: just ask some leaders in the Middle East. For now, however, Washington vows to support and assist exposed partners like Ukraine and Taiwan.
Embracing isolationism is not on the cards in the United States. For all the focus on domestic issues, global dominance or at least primacy has firmly become an integral part of U.S. national identity. Nor will liberal and democratic ideology be retired as a major driver of U.S. foreign policy. The United States will not become a "normal" country that only follows the rules of realpolitik. Rather, Washington will use values as a glue to further consolidate its allies and as a weapon to attack its adversaries. It helps the White House that China and Russia are viewed as malign both across the U.S. political spectrum and among U.S. allies and partners, most of whom have fears or grudges against either Moscow or Beijing.
In sum, the Biden doctrine does away with engagements that are no longer considered promising or even sustainable by Washington; funnels more resources to address pressing domestic issues; seeks to consolidate the collective West around the United States; and sharpens the focus on China and Russia as America's main adversaries. Of all these, the most important element is domestic. It is the success or failure of remaking America, not Afghanistan, that will determine not just the legacy of the Biden administration, but the future of the United States itself.
From our partner RIAC
AUKUS aims to perpetuate the Anglo-Saxon supremacy
On September 15, U.S. President Joe Biden worked with British Prime Minister Boris Johnson and Australian Prime Minister Scott Morrison together to unveil a trilateral alliance among Australia-U.K.-U.S. (AUKUS), which are the major three among the Anglo-Saxon nations (also including Canada and New Zealand). Literally, each sovereign state has full right to pursue individual or collective security and common interests. Yet, the deal has prompted intense criticism across the world including the furious words and firm acts from the Atlantic allies in Europe, such as France that is supposed to lose out on an $40-billion submarine deal with Australia to its Anglo-Saxon siblings—the U.K. and the U.S.
Some observers opine that AUKUS is another clear attempt by the U.S. and its allies aggressively to provoke China in the Asia-Pacific, where Washington had forged an alliance along with Japan, India and Australia in the name of the Quad. AUKUS is the latest showcase that three Anglo-Saxon powers have pretended to perpetuate their supremacy in all the key areas such as geopolitics, cybersecurity, artificial intelligence, and quantum computing. In short, the triple deal is a move designed to discourage or thwart any future Chinese bid for regional hegemony. But diplomatically its impacts go beyond that. As French media argued that the United States, though an ally of France, just backstabs it by negotiating AUKUS in secret without revealing the plan. Given this, the deal among AUKUS actually reflects the mentality of the Anglo-Saxon nations' superiority over others even if they are not outrageously practicing an imperialist policy in the traditional way.
Historically, there are only two qualified global powers which the Europeans still sometimes refer to as "Anglo-Saxon" powers: Great Britain and the United States. As Walter Mead once put it that the British Empire was, and the United States is, concerned not just with the balance of power in one particular corner of the world, but with the evolution of what it is today called "world order". Now with the rise of China which has aimed to become a global power with its different culture and political views from the current ruling powers, the Anglo-Saxon powers have made all efforts to align with the values-shared allies or partners to create the strong bulwarks against any rising power, like China and Russia as well. Physically, either the British Empire or the United States did or does establish a worldwide system of trade and finance which have enabled the two Anglo-Saxon powers to get rich and advanced in high-technologies. As a result, those riches and high-tech means eventually made them execute the power to project their military force that ensure the stability of their-dominated international systems. Indeed the Anglo-Saxon powers have had the legacies to think of their global goals which must be bolstered by money and foreign trade that in turn produces more wealth. Institutionally, the Anglo-Saxon nations in the world—the U.S., the U.K, Canada, Australia and New Zealand—have formed the notorious "Five eyes alliance" to collect all sorts of information and data serving their common core interests and security concerns.
This is not just rhetoric but an objective reflection of the mentality as Australian Foreign Minister Payne candidly revealed at the press conference where she said that the contemporary state of their alliance "is well suited to cooperate on countering economic coercion." The remarks imply that AUKUS is a military response to the rising economic competition from China because politics and economics are intertwined with each other in power politics, in which military means acts in order to advance self-interested economic ends. In both geopolitical and geoeconomic terms, the rise of China, no matter how peaceful it is, has been perceived as the "systematic" challenges to the West's domination of international relations and global economy, in which the Anglo-Saxon superiority must remain. Another case is the U.S. efforts to have continuously harassed the Nord Stream 2 project between Russia and Germany.
Yet, in the global community of today, any superpower aspiring for pursuing "inner clique" like AUKUS will be doomed to fail. First, we all are living in the world "where the affairs of each country are decided by its own people, and international affairs are run by all nations through consultation," as President Xi put it. Due to this, many countries in Asia warn that AUKUS risks provoking a nuclear arms race in the Asian-Pacific region. The nuclear factor means that the U.S. efforts to economically contain China through AUKUS on nationalist pretexts are much more dangerous than the run-up to World War I. Yet, neither the United States nor China likes to be perceived as "disturbing the peace" that Asian countries are eager to preserve. In reality, Asian countries have also made it clear not to take either side between the power politics.
Second, AUKUS's deal jeopardizes the norms of international trade and treaties. The reactions of third parties is one key issue, such as the French government is furious about the deal since it torpedoes a prior Australian agreement to purchase one dozen of conventional subs from France. Be aware that France is a strong advocate for a more robust European Union in the world politics. Now the EU is rallying behind Paris as in Brussels EU ambassadors agreed to postpone preparations for an inaugural trade and technology council on September 29 with the U.S. in Pittsburgh. European Commission President Ursula von der Leyen declared in a strong manner that "since one of our member states has been treated in a way that is not acceptable, so we need to know what happened and why." Michael Roth, Germany's minister for European affairs, went even further as he put it, "It is once again a wake-up call for all of us in the European Union to ask ourselves how we can strengthen our sovereignty, how we can present a united front even on issues relevant to foreign and security policy." It is the time for the EU to talk with one voice and for the need to work together to rebuild mutual trust among the allies.
Third, the deal by AUKUS involves the nuclear dimension. It is true that the three leaders have reiterated that the deal would be limited to the transfer of nuclear propulsion technology (such as reactors to power the new subs) but not nuclear weapons technology. Accordingly, Australia remains a non-nuclear country not armed with such weapons. But from a proliferation standpoint, that is a step in the direction of more extensive nuclear infrastructure. It indicates the United States and the U.K. are willing to transfer highly sensitive technologies to close allies. But the issue of deterrence in Asia-and especially extended deterrence-is extremely complicated since it will become ore so as China's nuclear arsenal expands. If the security environment deteriorates in the years ahead, U.S. might consider allowing its core allies to gain nuclear capabilities and Australia is able to gain access to this technology as its fleet expands. Yet, it also means that Australia is not a non-nuclear country any more.
In brief, the deal itself and the triple alliance among AUKUS will take some years to become a real threat to China or the ruling authorities of the country. But the deal announced on Sept. 15 will complicate Chinese efforts to maintain a peaceful rise and act a responsible power. Furthermore, the deal and the rationales behind it is sure to impede China's good-will to the members of AUKUS and the Quad, not mention of their irresponsible effects on peace and prosperity in the Asia-Pacific region.
Was Trump better for the world than Biden, after all?
Joe Biden and the State Department just approved a major deal with the Saudis for 500mln in choppers maintanance. Effectively, the US sold its soul to the Saudis again after the US intelligence services confirmed months ago that the Saudi Prince is responsible for the brutal killing of journalist Jamal Khashoggi. The Biden administration is already much more inhumane and much worse than Trump. Biden doesn't care about the thousands of American citizens that he left behind at the mercy of the Taliban, the Biden administration kills innocent civilians in drone strikes, they are in bed with the worst of the worsts human right violators calling them friendly nations.
Biden dropped and humiliated France managing to do what no US President has ever accomplished — make France pull out its Ambassador to the US, and all this only to go bother China actively seeking the next big war. Trump's blunders were never this big. And this is just the beginning. There is nothing good in store for America and the world with Biden. All the hope is quickly evaporating, as the world sees the actions behind the fake smile and what's behind the seemingly right and restrained rhetoric on the surface. It's the actions that matter. Trump talked tough talk for which he got a lot of criticism and rarely resorted to military action. Biden is the opposite: he says all the right things but the actions behind are inhumane and destructive. It makes you wonder if Trump wasn't actually better for the world.