Krieg ist das Ergebnis einer falschen Politik und sein Erbe Not und Elend.1 (From Gestrüpp meines Lebens, a diary kept by my grandfather, Helmuth Banik)
…next – Prussia, family roots and identity of heart
Cultural diversity or universal uniformity? Peaceful co-existence of nation-states or institutional global governance with international organizations and their sphere of influence gaining more and more ground, even in everyone's private life? Which future will be ours?
Roots, earth and homeland—while unearthing the deepest parts of my family history and, at the same time, German history, my uninhibited view of my Prussian roots continues to pave my way towards a new future. Our world today is on the verge of a new beginning. It is up to us to decide which way humanity will go in the future. An individual's identity is complex and has many layers that need to be uncovered. So, too, is our world: complexly composed of many layers that need to be uncovered for its roots to be revealed—as there is no future without roots.
Thus, it is necessary to decouple from all ideas and ideologies that have long determined political activity around the world. Let us start with Russia and Germany, since their destinies are forever linked; historically, culturally and geopolitically.
"I have sympathy toward the German people; my ancestors came to Russia from Westphalia under Peter the Great. Great nations can stay dormant for some time, but they always wake up!" Quote from a Russian friend
Sapere aude! In the spirit of Immanuel Kant, the great philosopher of Königsberg, let us reinvent and imagine the world in which we want to live!
Without Russia, not a better world in sight
The world, but especially the European Union (EU), is at a crossroads. The old structures and beliefs of the current governance seem to be collapsing before our very eyes. How simple was yesterday's world. The enemy, namely Russia, was in the East. A bipolar world vision, divided between "the good" and "the bad."
In the West, the EU with its main ally, the United States, represents the good world, an ideal world—in short, the world of the G7. Countries with a democratic system under the rule of law in which freedom is one of the fundamental values: All other countries in the world are measured and judged according to this ideal, especially if they want to enter this "club of the free world."
And now? What has become of this G7 world? The measures taken to fight the pandemic were lockdown and other more or less draconian actions that deprived a large part of the world's population of their fundamental rights, whatever the political regime or national culture. This is the cruel reality of a uniform crisis management policy that is visibly shared by democracies and authoritarian regimes. The main characteristics of this policy are the intransigence of clinging to the rule of the political-economic elites and, with that, the absolute will to remain in power and control communications and, as such, the population. The boundaries separating democracies and authoritarian regimes are disappearing, and a uniform technocratic world without identity is emerging. Propaganda—in this case, the massive communication of fear and hatred—is getting a second wind, this time not on a national level but on a global institutional scale. Moreover, it seems to be accompanied by a new Cold War strategy: According to an EU strategy paper, China is classified as a "systemic rival" (ecfr.eu 2020) and, together with Russia, is considered a new challenge to NATO by the Biden administration (Le Figaro 2021).
And the Russian president? Vladimir Putin always keeps the door for cooperation wide open, as he makes clear in "Offen sein, trotz Vergangenheit,"2 the recent article published in Die Zeit in which he states: "Ich möchte noch einmal betonen: Russland plädiert für die Wiederherstellung einer umfassenden Partnerschaft zu Europa."3
Moreover, the opportunities offered by the Belt and Road Initiative (BRI) do not seem to be taken into consideration. On the contrary, the G7 initiative to "Build Back a Better World" (B3W) is an alternative to the BRI. Conflict instead of cooperation. Yet, we should keep in mind: It is not possible to have a better world without integrating Russia.
"The technotronic era involves the gradual appearance of a more controlled society. Such a society would be dominated by an elite, unrestrained by traditional values. Soon it will be possible to assert almost continuous surveillance over every citizen and maintain up-to-date complete files containing even the most personal information about the citizen. These files will be subject to instantaneous retrieval by the authorities." (Zbigniew Brzezinski in Between Two Ages: America's role in the technotronic era)
Humanity's ultimate battle
There is an urgent need to continue questioning the sustainability of a power, political system and governance that are global—values and mercantilism, democracy and dictatorship, free market economy and planned market economy, diverse identities and universal uniformity, nation states and institutional global governance.
What future awaits us?
Either:
a political system of "universal digital governance," of total and totalitarian surveillance with a capitalist state economy, that is, a system in which humanity serves the system by constantly adapting to its different benchmarks, a technocratic world order according to Brzezinski,
or:
new political structures that are very much at the service of humankind and that ensure a free and autonomous life for everyone in the spirit of Immanuel Kant's sapere aude, that is, global governance that ensures a peaceful return to the primacy of humanity, relations and nations, deeply rooted in its own history, a return to cultural diversities and identities, to creation and, thus, a return to the roots.
The geographer and geopolitician Jacques Ancel set the vision of French geopolitics. According to Ancel, man is the creator of global governance, of identities and, subsequently, also the borders of civilizations, where "human groups … reach a harmonious balance and … end up recognizing borders deriving from a common memory, history, culture and language." It is "a nation of the heart in itself, not rational" (Ancel 1938, Banik 2021).
Neither Germany, nor China, nor the U.S., nor Russia is an isolated paradise. No country can claim to know the absolute truth. Violence, increased global competition (for natural resources, food, water, etc.) and international terrorism are forcing us to face up to the current realities, to abandon any ideology driving ideas such as the European project, socialism with Chinese or even Russian characteristics, or the ideology prevalent in the United States, which styles itself leader of the free world (Banik, 2016, 2019).
Ultimately, it is up to us to decide which path humanity will take.
"Kultur hat nie Grenzen gekannt. Kultur war immer unser gemeinsames Gut und hat die Völker verbunden."4 Vladimir Putin, 25.9.2001
The big European house
According to Jacques Ancel, "human groups … reach a harmonious balance and … end up recognizing borders deriving from a common memory, history, culture and language." It is thus important to encourage community spirit and to create human bonds—instead of strategic alliances—of geographical proximity and to overcome ideologies. The only way is to integrate Russia by creating a great pan-European house and, at the same time, taking advantage of the BRI as a link that encompasses the Eurasian region.
Russia and Germany have a common memory and their destiny is forever linked. It is up to Germany to finally assume its responsibility and play the key role in creating this space of peace and security. Integrating Russia is crucial if we are to create new political visions which serve humankind and which ensure a free and autonomous life for everyone.
Geographically, Russia is the largest country in Europe. Geographically, Europe is much larger than the territory of the EU. The EU, and subsequently Germany, must at all costs avoid being caught up in the tension that seems to be developing between China, Russia and the U.S. In case of a military conflict, the major nations will win while the EU will be the main loser. The current danger is the image of the resurgent enemy resulting from the aggressive policy of the Biden administration and the EU towards China and towards Russia. Two almost "military" fronts have thus been created. In fact, the Cold War has never ended but merely changed its guise.
Rise in military spending
According to the Sipri press release of April 26, 2021: "The five biggest spenders in 2020, which together accounted for 62 per cent of global military expenditure, were the United States, China, India, Russia and the United Kingdom. Military spending by China grew for the 26th consecutive year." China has focused on its navy. It is the second largest military spender after the United States. In 2020, "China's military expenditure is estimated at $252 billion in 2020, representing an increase of 1.9 per cent since 2019 and 76 per cent since 2011." (Sipri 2021). "Russia's military expenditure increased by 2.5 per cent in 2020 to reach $61.7 billion. This was the second consecutive year of growth. Nevertheless, Russia's actual military spending in 2020 was 6.6 per cent lower than its initial military budget, a larger shortfall than in previous years" (Sipri press release, 26.4. 2021).
From the perspective of the two fronts—"The Chinese Enemy" and "The Russian Enemy"—one must also consider U.S. military spending in 2020, "[which] reached an estimated $778 billion, representing an increase of 4.4 per cent over 2019. As the world's largest military spender, the USA accounted for 39 per cent of total military expenditure in 2020" (Sipri press release, 26.4. 2021).
In view of the world's ever-increasing military outlays, it is urgent that we revitalize and reform the instruments already in place, such as the NATO-Russia Council, the Organization for Security and Cooperation in Europe (OSCE), the EU-Russia dialogue and the various regional formats such as the Arctic Council. It is worth noting the bilateral agreements of strategic importance between China and Russia in the field of nuclear energy and within the framework of the Polar Silk Road, as well as the importance of the Eurasian Economic Union, in which Serbia, for one, has a free trade agreement.
Towards a uniform, faceless, controlled world?
China's withdrawal or Chinese deglobalization
China's 14th Five-Year Plan is the continuation of the country's efforts to reform and modernize, but the "dual circulation" model also marks an important step towards China's deglobalization. This "dual circulation" strategy welcomes foreign investment, but only in those products and services that are not (yet) available in China. Therefore, China aims to reduce its economic dependence on foreign countries and focus on building its own capacity. Nevertheless, it also wants to boost bilateral agreements, and is pursuing the BRI. The Regional Comprehensive Economic Partnership (RCEP) follows the same logic, pursuing reinforcement on the geographical and geopolitical level in Eurasia. With the implementation of the RCEP, the largest free trade area in the world is being established. On the other hand,
"China's FDI in Europe continued to fall, to a 10-year low: Shrinking M&A activity meant the EU-27 and the United Kingdom saw a 45 percent decline in completed Chinese foreign direct investment (FDI) last year,…" (Merics 2021).
"Keep the Soviet Union out, the Americans in, and the Germans down"
The United States is pursuing a strategy, particularly in the area of foreign policy, that was initiated by Donald Trump, meaning "America first" when it comes to economic, military and geopolitical issues. American foreign policy is, above all, marked by the withdrawal of American troops from Afghanistan. Note that, contrary to what Trump decided in 2020, Biden has reversed the partial withdrawal of U.S. troops from Germany (Politico 2021). Lord Ismay's narrative seeking to "keep the Soviet Union out, the Americans in, and the Germans down" is still relevant today.
The EU: a theater of conflict between China and the United States
Europeans have an increasingly critical view of China. China is seen as a systemic rival for the EU. The pandemic has exposed problems, including strategic dependence on imports from China. Therefore, the EU wants to remain credible at the international level and is seeking closer cooperation with the West, especially the United States, rather than an adjustment of its economic relations with China independent of the Americans.
Germany uprooted and war trauma
Germany seems to be stuck in a kind of "time loop." Even though the Berlin Wall has long disappeared, there is still no uninhibited view of an open perspective towards the East, towards Germany's historical East, especially towards Russia and the chances for cooperation that the country offers. German public opinion is still manipulated. As a result, it remains frozen in distrust of Russia. Further, the experienced war trauma—destruction, displacement and loss of homeland—has disconnected a whole generation from its own history, leading to a partial loss of its own identity. This disconnection has been unconscious, inherited by the descendants.
Towards total surveillance?
Basically, the conflict between the different ideologies and the omnipresence of the "pandemic" in the mainstream media strongly distract our attention from the real battle that has been going on in the background for a very long time.
The battle for world domination is not the conflict between different nation-states, e.g. the U.S., China or Russia, or between different political systems, democracy or dictatorship, but it is the struggle for supremacy by the lobbyists and by international institutions and organizations such as the World Economic Forum (WEF), the EU institutions, the World Trade Organization (WTO) and by the various interest groups and industrial associations that seem to be striving for a uniform, controlled world made of public-private partnerships, without nation-states, without cultural diversity, without a past, without a history, without roots and without identity.
"Smart government" and total surveillance
The advance of artificial intelligence and the 4th Industrial Revolution are visibly shifting geopolitics to geoeconomics. The need for control of international markets prevails over military conflicts. Large technological communication companies, such as social media giants (Facebook, Twitter, etc.), search engines like Google and Baidu, platforms like Amazon and Alibaba, cooperate more and more closely with their respective governments, thus creating public-private partnerships (PPPs). Back when geopolitics prevailed, the state's sovereignty was ensured by the military control of the country and its borders. Now we see an increasing interdependence and cooperation between different governments, technology companies and large enterprises—"global players," such as Big Data and Big Pharma. We are clearly heading towards a political system based on the "state economy," as is already the case in China. In China, the state-owned enterprises, the "national champions," are playing a predominant role not only in China but also on the international markets. In order to better face the Chinese competition, the EU has also launched a new industrial strategy to support and finance the creation of industrial alliances, a kind of "European industrial champions" (touteleurope.eu 2021)—even if the approach is not uniformly supported within the EU.
With an increasing number of PPPs, the establishment of state capitalism blurs the boundaries between business and government. In China, Russia and the United States, this issue is played out at the national level, while on the European continent it is advanced by the EU institutions. What is insidious is that, thanks to the cooperation between politics and technology companies, the media propaganda effectively supports and feeds this structural change. Thus, fundamental rights and identities are slowly being extinguished in favor of the uniformity of the corporate market.
Roots, identities, nations
Russians, Poles and Germans not only have a common history but shared cultural footprints. This history is a strength and not a weakness. According to Ancel's vision, these three countries are at the crossroads of arbitrary borders and of borders of civilization. There are, on the one hand, the so-called arbitrary borders, which are more fraught, more strategic borders that have resulted from military pretensions. The borders of civilization, on the other hand, are more permanent as these are based on a common memory, common history and common language arising from a group of humans in equilibrium. The borders of civilization are "nevertheless more complicated because they are the object of numerous political and commercial interpretations"—even if the commercial justifications aim at "clearing a path" and not "enclosing" as the military justifications do (Ancel 1938, Banik 2021). For Russia, Poland and Germany, reconciling the past means "making a path in harmony," our path back to our shared roots.
According to Ancel, the frontier is "a political isobar that fixes, for a certain time, the equilibrium between two pressures: the equilibrium of mass and the equilibrium of forces" (Ancel 1938). The real problem is not the question of borders. Borders will always exist, even in a globalized world. "There are no problems of borders. There are only problems of Nation" (Ancel 1938). Jacques Ancel argues for mankind as creator. "One does not revise borders, except by force; one modifies minds" (Ancel 1938; Lomnica 1938 foreword).
Quoting Vladimir Putin:
"Und wir können es uns einfach nicht leisten, die Last früherer Missverständnisse, Kränkungen, Konflikte und Fehler mit uns herumzuschleppen. Eine Last, die uns an der Lösung aktueller Probleme hindert."5 Die Zeit, 2021
Regaining a sense of self
We, the Germans, unfortunately refused to take the hand that Putin extended to us in his speech to the Bundestag on September 25, 2001. The window of opportunity is wide open again. The German people need to reconnect to their entire cultural past. It is up to every German to discover his or her own roots, reconnect to his or her family past, healing the wounds and thus helping Germany to integrate its entire history and become whole again.
Similar to my path back to my Prussian roots, let us take an uninhibited view of our roots and seize this chance in order to create new prospects for German-Russian cooperation.
As Putin said in 2001:
"Ich bin überzeugt: Wir schlagen heute eine neue Seite in der Geschichte unserer bilateralen Beziehungen auf und wir leisten damit unseren gemeinsamen Beitrag zum Aufbau des europäischen Hauses."6
There will be no better world, especially for Europe, without Russia's integration into the pan-European house – and no better world if Germany is still cut off from its roots.
…Back to the roots
Katja Banik
www.katjabanik.com
Specialist in geopolitical issues, doctorate from Sorbonne Nouvelle University;
speaker and guest lecturer on geopolitical, economic and political issues, focusing on Jacques Ancel's geopolitical vision of "the identity of the heart."
Author of articles published on moderndiplomacy.eu, russiancouncil.ru (RIAC) and worldscientific.com, and author of the book Les relations Chine-Europe à croisées des chemins, published by L'Harmattan, Paris. Katja is the descendant of ancestors who lived in East and West Prussia. Her family on her mother's side had to flee from Königsberg in East Prussia in January 1945 and, on her father's side, from Schneidemühl in West Prussia. She increasingly connects the topics of identities, roots and borders in her geopolitical views.
Visible roots: Kurort Oybin, Germany 2021 and 1955:
Great-granddaughter and great-grandfather Friedrich Herbst
---
[1] "War is the result of the wrong policy and its legacy is distress and misery."
[2] "Being open, despite the past."
[3] "I would like to emphasize once again: Russia advocates for the restoration of a comprehensive partnership with Europe."
[4] "Culture has never known borders. Culture has always been our common good and has united peoples."
[5] "And we simply cannot afford to carry around the burden of past misunderstandings, offenses, conflicts and mistakes. A burden that prevents us from solving current problems."
[6] "I am convinced that today we are turning a new page in the history of our bilateral relations and that we are making our joint contribution to the construction of the European house."
Author's Note: The paper was previously published by the Russian International Affairs Council (RIAC)
Serbia must reject the ultimatum regarding Kosovo
The President of Serbia, Aleksandar Vucic on January 20th had a meeting with the Western negotiating team about the solution for Kosovo. European mediator Miroslav Lajcak, American envoy Gabriel Escobar, German and French special advisers Jens Ploetner and Emmanuel Bonne as well as Italian prime minister's adviser Mario Talo once again discussed with the leaders of Serbia (and Kosovo) the plan(ultimatum) that should regulate relations between Belgrade and Pristina. Officially, the plan for a peaceful solution has not been presented to the public. However, Serbian media published the text of the plan and they clearly emphasize that it is an ultimatum from Quinta. And what is even more important, no one from the Government of Serbia denied it.
Which clearly tells us that the Government of Serbia is releasing the plan(ultimatum) as a trial balloon. However, that decision turned out to be wise, because the reactions of the citizens of Serbia to the plan were more than clear on the point of view that the plan was unacceptable. Because that agreement, among other things, requires that Serbia in practice (de facto) recognize the violent secession of its own Province that is, allow Kosovo to join the United Nations.
The plan compiled by the advisers of the leaders of the two largest democracies in Europe – French President Emmanuel Macron and German Chancellor Olaf Scholz – represents a gross violation of UN Security Council Resolution 1244, the basic principles of democratic international relations, the UN Charter, and the OSCE Final Document.
The plan(ultimatum) for Kosovo, humiliates Serbia and the Serbian people by ordering that Serbia respect equality, sovereignty, territorial integrity and the so-called state symbols of Kosovo and all other countries, except it`s own sovereignty, territorial integrity and it`s internationally recognized borders confirmed by the UN, OSCE and other international organizations. Serbia is expected to cooperate in dismantling its own integrity, its own constitutional order and international reputation, so that no one could use the "Kosovo case" as a precedent for unilateral secessions, which primarily refers to Ukraine.
The fact that currently five members of the European Union (Spain, Romania, Slovakia, Greece and Cyprus) and four members of NATO do not recognize the independence of Kosovo shows how bad the acceptance of the plan would be for Serbia. The goal is also to place all responsibility for the victims and destruction on Serbia, as a victim of the NATO aggression in 1999, and to use this act to justify the aggression against Serbia, which was carried out against the international law.
Kosovo is not a frozen conflict, as claimed in the West and repeated by official Belgrade, nor it can be resolved by an ultimatum to Serbia. The best example of this is Cyprus, which was invaded by Turkey in 1974, and despite this, neither Turkey nor Cyprus (or Greece) agree to any ultimatums, nor does anyone give them. The question must be asked here, how is it possible for Quinta to issue an ultimatum to Serbia and why are the Serbian Government and the President of Serbia allowing it?!
The Serbian Government must apply new tactics
Negotiations on Kosovo with Quinta must first be conducted on essential matters. And that means, above all, the protection of the current Serbian population in Kosovo and the return of the 250,000 expelled Serbs. Regulating the status of Serbian state property in Kosovo, which was seized by the separatist government in the province. Plus, the return of stolen property to the Serbs, who were forcibly expelled from the province.
Also, bearing in mind the aggressive policy of the Kosovo separatists, who, contrary to the agreement with NATO, are sending special units to the north of the province, while perpetrating violence against the Serbs, a new strategy is needed. And this is primarily reflected in the fact that the Government of Serbia must help establish the Republika Srpska in the north of Kosovo. This means that the local Serbs would have their own police(including a special police unit), judiciary, prosecutor's office, education, health care and control over border crossings. In other words, parity would be established in the armed forces, bearing in mind that it is not realistic to expect that Serbian president Aleksandar Vucic will ever approve the sending of the Serbian Army to Kosovo. In this way, Serbia would strategically strengthen its positions and would wait for a change on the geopolitical scene of the world, until favorable conditions are created for the full return of the southern Serbian province of Kosovo to Serbia.
Otherwise, if Serbian Government agree to Kosovo's entry into the United Nations, it would mean that Kosovo could unite with Albania, about which Kosovo Prime Minister Albin Kurti also publicly spoke about. This would than open the issue of secession from Serbia of the Presevo Valley and the geographical region of Sandzak. And what is even more important, an incredibly strong pressure to abolish Republika Srpska in Bosnia and Herzegovina would begin. All of the above would have catastrophic consequences for the country of Serbia, but also for the entire Balkans.
"The starry heavens above me…"* A plea for awareness and peace
*Immanuel Kant: "Two things fill the mind with ever new and increasing admiration and awe, the more often and steadily we reflect upon them: the starry heavens above me and the moral law within me." 
In the neighborhood with Russia
Who is actually aware today where the border of the former German Empire was once located? Or how far to the northeast the village of Nimmersatt and the nearby coaching inn Immersatt actually lay? Nimmersatt was located at the northern tip of East Prussia, surrounded by the Baltic Sea to the west and Russia to the east and north. Russia – then Russian Lithuania – was our direct neighbor until 1918. The Memel territory was traditionally Prussian borderland, 120 km long and 40 km wide, stretching north along the Memel River. In 1422, the Treaty of Melnosee established the frontier, which remained almost unchanged until 1920. After the Pyrenean border, it is the second oldest in Europe.
Located on the imperial border, Nimmersatt was the former German Empire's most northeastern spot and was last in German hands in 1945.[1] Like Nimmersatt, there are many seemingly vanished places and landscapes in historic eastern Germany. But they have for the most part disappeared. These places bear witness to the fact that many Germans, consciously or unconsciously, are still deeply rooted in these seemingly vanished landscapes.
The German soul is closely connected with the East and its territories, especially with Germany's historical East, including East and West Prussia and the Memel territory.
According to estimates, about 14 million refugees had to leave their homes after the Second World War, losing everything, all their belongings. About 2 million died in transit, and Germany lost a quarter of its territory.
As Simone Weil (1909–1943) once put it: "Rootedness is probably the human soul's most important and most misunderstood need."
Crises, conflicts and silver lining
If you look at today's world, you see crises everywhere, wars and deep divisions in our societies. Fears are being fueled and images of "the enemy" that were actually long forgotten are being revived. The war that has been raging in Ukraine since 2014 has now escalated on the European continent into a proxy war between the United States and Russia. Russia is being declared the enemy. With its arms deliveries and military support,[2] Germany has also officially entered into the war with Russia.
What immeasurable suffering wars visit on mankind – a painful truth also understood by members of Germany's "war generation" and their descendants, especially those with roots in Germany's historical East. Germans and Russians look back on a common and consequential past; we share one of history's darkest and most horrible chapters, beginning with Germany's invasion of the Soviet Union on June 22, 1941 and the subsequent conquest of East Prussia by the Red Army.
Whatever happened, a shared history connects peoples, and Germans and Russians will therefore always be connected
Civilians are and always have been the ones who suffer most in war. During the Second World War, from 1939 to 1945, the Soviet Union had the most casualties: 24 million people,[3] 14.3 million of them civilians. Germany had a total of 7.7 million casualties, of which 2.2 million belonged to the civilian population.
In her old age, Mama, my mother, could still recall the terrifying whistling sound of the rocket launchers known as "Stalin organs."[4] During thunderstorms and when fireworks were being shot off, she would begin to shiver and sought shelter. Yet despite all the war trauma, the attachment to Germany's historical East is part of the German soul and an integral part of the German cultural nation. Not for nothing was I christened Katja. Mama and my grandmother often affectionately called me "Katjuscha"[5] in their East Prussian dialect – a reference to the old Russian folk song.
The horrible sound of the Stalin organs was eventually forgotten. Bridges of reconciliation between Russians and Germans were built in large numbers after World War II, something that fortunately continues to happen.
Having left the Cold War behind us, which divided the world into good and evil or West and East, the world is evolving into a more complex, multipolar place – a multipolar world that could again give humanity a chance to create a new global world order of peaceful coexistence.
This might be possible were it not for the US, which seems to be resisting a multipolar world with all its might: The US wants to continue to assert its supremacy and influence worldwide. It has basically never withdrawn from Germany, and does not accept any other powers on the world stage. This US influence is expressed above all in the strategies of NATO and the EU, since they again rely on images of Russia and China as "the enemy" and on exclusion and division.
Shaktarp – when life comes to rest
The "Fifth Season" – Shaktarp in Lithuanian or, in Russian, Rasputitsa – is a special time, between the winter and spring season. It is the time of floods, of inundated meadows. This time was also called the time of "roadlessness" – the Memel territory and neighboring lowlands were neither passable, nor navigable during this period.[6] Life and people came to rest and there was thus time for reflection. Perhaps this is what our world sorely needs now.
It seems to me just the right time to pause, to rediscover and feel the magic of life. A magic that comes from looking at a piece of amber through which the sun is shining. Often found near the Baltic Sea, amber continues to fascinate people to this day. Sometimes known as the tears or gold of the gods, amber was once an important commodity, more valuable than gold, and it made its way across Europe on ancient trade routes from the Baltic Sea to Southern Europe and North Africa – one of the beginnings of globalization, or, rather, of the bonds that bring people together.
In addition to the Silk Road, the Amber Road has connected people, drawing them under the spell of this magical substance, which shines brighter than the sun.[7]
"States don't have friends, states only have interests"
The observation made in 2013 by Egon Bahr, the German politician known for a commitment to peace and détente, remains true today: "International politics is never about democracy or human rights. It is about the interests of states. Remember that, no matter what they tell you in history class."[8] Otto von Bismarck and Charles de Gaulle, among others, have also pointed out that feelings and values have no place in politics. Only "interests and reciprocity should be used as a guideline."[9]
Therefore, it is more important than ever to accept realities and define national interests. Values are volatile and often subject to the current zeitgeist. For example, no one called for a "feminist values-based foreign policy" until a German foreign minister from the Green Party did so. The much "cited community of values is not a form of governance, as it has not been legitimized by any democratic process." [10]
We have been living in a multipolar world for a long time, with different forms of governments, democracies, dictators and authoritarian regimes. But our international institutions and organizations, which were created after the Second World War, have not been updated.
According to a study by The Economist in 2021, only 45% of the world's population lives in countries with democratic structures.[11] The ostensibly promising narrative of "change through trade" has not come to fruition. The expansion of economic relations with China that began in 1978 has been driven solely by economic gain. Even today, China offers a huge market for foreign products. The expansion of economic relations and the opening of the country in turn has helped move a significant part of the Chinese population out of poverty, and China's technological backwardness has been quickly overcome. Both sides, the West and China, were and still are exclusively concerned with economic interests and geopolitical influence in Eurasia.
What is new, among other factors, is that the military no longer has a monopoly on wars and conflicts. We are increasingly experiencing ideologically fueled media and propaganda wars that deeply divide the population, make factual debates almost impossible, and drive humanity into division and thus into wars.
Ideology prevails over common sense and the heart
Fear and hatred are mighty propaganda tools – e.g., fear of the virus, fear of CO2 and distrust of Russia and China. The laborious and decades-long process of reconciliation between Germans and Russians, among others, has come to a standstill. Not only have economic relations been broken off, but cultural exchange has also come to a halt. Russian artists are being disinvited from performing if they have not publicly taken a clear stand against Putin. Political attitudes have become more important than art, and ideological attitudes are determining economic orientations and political decisions.
China – the surveillance state
The narrative of "change through trade" is now a thing of the past. China continues to pursue its "Grand Strategy." What were once the dynasties of the Chinese Empire have become – since the founding of the People's Republic in 1949 – the Communist Party, with current President Xi Jinping as its head, as emperor. In accordance with the "Chinese Dream," the country is striving to become Number 1 in the world in all areas, including military power.
The drastic end of its zero-Covid policy shows how capable China is. The Chinese government has reacted, in a way that saves face, to the "spontaneous protests" and thus shown strategic flexibility. Thus, Xi Jinping has not only done the Chinese economy a great favor by lifting all Covid measures, he has also cemented his power and the power of the Communist Party. The transformation into a different system, propagated for so long by the West as justification for maintaining economic relations with an authoritarian regime, now seems more unlikely than ever. On the contrary, the Chinese government continues to pursue its strategy and to build a perfectly controlled, highly technological surveillance state.
China thus remains a very flexible economic partner and geopolitical player. This requires an equally flexible China strategy on the part of other countries. Supply chain disruptions must always be taken into consideration, investments in China should be thought about carefully and protected. Potential dependencies in the area of critical infrastructure and products, such as upstream inputs for pharmaceuticals, should always be avoided. Yet this also applies to economic relations with non-authoritarian regimes.
Moreover, dealings with China, economic and political, should be free of emotion, determined only by the relevant economic interests and reciprocity, for the benefit of all concerned parties. The fact is: China continues to go its own way and is a country in which the individual and individual freedoms play a very limited role.
Ideology has great importance in China – an ideology that is not only intended to hold the population together internally, but is the guiding principle externally for every political step on the world geopolitical stage. In dealing with China, one's own national interests and reciprocity should always be the guiding principle. This applies not only to interactions with China, but especially to those with Russia as well.
We are all connected to each other.
Russia and the German soul
Let's be realistic: Russia is a nuclear power; economic sanctions will not harm it in the long run as a country that is almost immeasurably rich in raw materials. On the contrary, sanctions allow Russia to diversify its gas market and thus no longer depend on just one customer.
A prime example: the reactivation of the economic corridor running from China to Mongolia to Russia.[12] Further, the Russian gas pipeline to China will replace Nordstream 2.[13] In the course of securing its energy supply, China wants to keep its energy mix balanced and is thus increasing the share of natural gas. India is also a grateful purchaser of Russian gas.
Something that shows a decoupling from Russia is not so simple is the fact that from January to October 2022, Europe's LNG imports increased by 40% over 2021. Russian LNG accounted for 16% of total European marine imports, with the main customers being France, Belgium, Spain and the Netherlands.[14] Instead of low-cost and environmentally friendly pipeline gas, the focus is now on LNG.
The resulting damage is now being felt by Germany in particular, as an industry-intensive and, compared to Russia, resource-poor country. The growing home-made energy crisis is driving deindustrialization in Germany; large companies are increasingly thinking of leaving the country; medium-sized enterprises – once the backbone of the German economy – are increasingly being destroyed; the country's economic performance is declining; unemployment and poverty are the consequences.
And wasn't the attack on Nordstream 2 the first terrorist attack against Germany since World War II?
The decisions and actions of the current Federal Government, with Olaf Scholz as Chancellor, are not in accordance with the oath taken "to prevent harm to the German people."
"I swear that I will devote my strength to the welfare of the German people, increase its benefit, avert harm, uphold and defend the Basic Law and the laws of the Federation, fulfill my duties conscientiously, and ensure justice for all. (So help me God.)"
With or without God's help, arms deliveries and military support to Ukraine, the homemade energy crisis, the intolerable excesses of gender-neutral language, so-called wokeness, cancel culture and uncontrolled immigration are also destroying not only the German soul, language and culture and putting pressure on the national budget, they are also continuing to widen already deep social divisions. None of this works to the benefit of Germany and the German people.
The power of culture, history and geography
"… the continuity of the state without which Germany would be much poorer – Germany did not come out of nowhere. Prussia was one of the most formative great powers in Europe and one of the most modern states in the world, with its effective administration, literacy down to the last street in the last village, and the rule of law at all levels."[15]
While there were serious political instabilities in the Weimar Republic, as the largest member of the German Empire, Prussia was politically very stable. Otto von Braun,[16] Prussian prime minister from 1920 to 1932 and a diehard Prussian and Social Democrat, reformed the state and school systems. Prussia was thus a "reliable pillar of the Weimar Republic." But, following the so-called "Prussian blow,"[17] von Braun was removed from office.
"The Reich's control over Prussia, especially over the Prussian police, made it much easier for Adolf Hitler to establish a dictatorial regime in the course of the National Socialist takeover in 1933."[18]
The power of culture and shared history together with geography are enduring cornerstones that provide a strong foundation. "Between Russia and America lie oceans. Between Russia and Germany lies a great history," wrote historian Michael Stürmer.[19] Vladimir Putin also quoted Stürmer in his speech to the German Bundestag on September 25, 2001.
Building bridges
My unshakable optimism tells me that it is not too late to return to our fundamental power, our culture and history, in order to create a new world order based on peaceful coexistence. What's more, because of its geographic location, Germany should serve as a bridge between East and West.
Authoritarian regimes can only be changed from within, by their own people. Thus, Germany, too, can only free itself from its shackles from within, leaving behind the seemingly endless moralizing blame game and victimization loop and returning to what we Germans actually are: peace-loving, creative, innovative, technically expert and culturally sensitive.
How else should one interpret the famous "golden 20s" of the early 20th century? Here are some examples: Within a short time and despite the immense reparation claims made by the victorious powers based on the Versailles Treaty of June 28, 1919,[20] defeated Germany became the second most powerful industrial nation after the US – thanks to US credits, because banks in the US had faith in Germany's economic power. Further, as the treaty also prohibited motorized flight, some Germans made a virtue out of necessity, tinkered a bit and invented the glider.[21]
The economic basis for Germany's return to its fundamental strength, to its roots, is first and foremost the need for a drastic reduction in the state administration and the number of its government employees. The state should return to its original tasks: ensuring there is efficient infrastructure; a high-quality and affordable health-care system; high-quality, affordable and humane care for those in need; an excellent and free system of education; as well as ensuring internal and external security – in keeping with the oath taken to act for the good of the German people.
Changing our view of the world
The press, education and the health-care system, among others, must no longer be subject to competition and profit maximization, and could be transformed instead into foundations, for example.
Only a free press can ensure freedom of opinion and access to the full range of information. The monopoly of state media – such as broadcasters ARD and ZDF – and the ownership of media by billionaires – the Springer, Bertelsmann (Mohn) and Holtzbrinck families, among others – must end to create space for alternative media and sources of information. We need be well informed in order to become critical-thinking people in the sense of Immanuel Kant's saupe aude.
The education system and especially the health-care system and pharmaceutical companies and their research must not be driven by profit maximization. Hospitals must not be run like businesses – health should be their exclusive concern. Old people's and nursing facilities should be outfitted with the best possible equipment. The staff should be optimally paid. Profit should not play a role; all efforts should be guided by the desire to help people experience a graceful and respectful end to earthly life.
The divine within us and awareness
In his writings, Jacques Ancel, French geographer and geopolitician, proposed an identity of the heart, and a nation of the heart – the idea that people can connect and create a community based on a common history, language and culture.
This path back to the heart reconnects us as human beings to the divine. We are all "soul people." We are spiritual beings that come from the same source. This spiritual or divine expresses itself differently in various cultures and traditions, be it religion, Buddhism, shamanism or a closeness to nature.
We should shift back from the cold rational mind to the feelings of the heart. By doing so, we can create a new world view and a new world order. Such a reconnection to the heart and the divine in us would enable us to look at life and nature with reverence and love once again.
May we all become aware once again of our humanity and the many things that connect us.
Identity of the Heart – Back to the Roots – We Are All Love
References and further reading
Ancel, Jacques (1938): Géographie des frontières, Gallimard.
Banik, Katja (2022): Im Rausch des Bernsteins – der historische Osten Deutschlands, www.katjabanik.com
Banik, Katja (2021): A clear view eastwards: Russia and Germany, www.katjabanik.com
Banik, Katja (2021): Without roots, no future. Decoupling ideologies, www.katjabanik.com
Bode, Sabine (2009): Kriegsenkel. Die Erben der vergessenen Generation, Klett-Cotta.
Brzezinski, Zbigniew (1998): The Grand Chess Board, Basic Books.
Die Bundesregierung (2022): Krieg in der Ukraine, www.bundesregierung.de
Deutscher Bundestag: Wortprotokoll der Rede Wladimir Putins im Deutschen Bundestag am 25.9.2001.
https://www.bundestag.de/parlament/geschichte/gastredner/putin/putin_wort-244966
Deutsch Historisches Museum (2022): Lebendiges Museum Online, Berlin.
Euractiv (2022): Russia says pipeline to China will replace Nordstream 2.
Dohnanyi, Klaus (2022): Nationale Interessen, Siedler Verlag, München.
Graichen, Hesse (2012): Die Bernsteinstraße. Verborgene Handelswege zwischen Ostsee und Nil, Rowohlt Taschenbuch Verlag, Hamburg.
Jähner, Harald (2022): Höhenrausch. Das kurze Leben zwischen den Kriegen. Rowohlt-Berlin.
Kossert, Andreas (2009): Kalte Heimat: Die Geschichte der deutschen Vertriebenen nach 1945, Pantheon Verlag.
Lasch, Otto (1959): So fiel Königsberg, Gräfe und Unzer Verlag.
Namzhilova, Victoria (2022): Economic Corridor China – Mongolia- Russia: Infrastructure in Focus, RIAC.
ostexperte.de, Nachrichten aus Russland und China, Berlin.
Putin, Wladimir (2021): Offen sein, trotz Vergangenheit, Gastbeitrag vom 22.6.2021 in der WochenzeitungDie Zeit.
https://www.zeit.de/politik/ausland/2021-06/ueberfall-auf-die-sowjetunion-1941-europa-russland-geschichte-wladimir-putin/komplettansicht
Pölking, Hermann (2022): Das Memelland. Wo Deutschland einst zu Ende war, bre.bra. verlag, Berlin
RedaktionsNetzwerkDeutschland (2022): www.rnd.de. Hannover.
Statista (2022): https://de.statista.com/statistik/daten/studie/1055110/umfrage/zahl-der-toten-nach-staaten-im-zweiten-weltkrieg/
Segelflugzeug.org (2022): www.segelflugzeug.org
Teltschik, Horst (2019): Russisches Roulette: Vom kalten Krieg zum kalten Frieden, C. H. Beck.
The Economist (2022): https://www.economist.com/graphic-detail/2022/02/09/a-new-low-for-global-democracy?fsrc=core-app-economist?utm_medium=social-
Wagener, Martin (2021): Der Kulturkampf um das deutsche Volk. Der Verfassungsschutz und die nationale Identität der Deutschen, Lau Verlag.
---
[1] Pölking (2022): Das Memelland. Wo Deutschland einst zu Ende war.
[2] Bundesregierung.de (2022) War in Ukraine.
[3] Statista (2022): https://de.statista.com/statistik/daten/studie/1055110/umfrage/zahl-der-toten-nach-staaten-im-zweiten-weltkrieg/
[4] https://www.youtube.com/watch?v=VduZuCsqL00
[5] https://www.youtube.com/watch?v=acPvvv1gqGg
[6] Pölking (2022): Das Memelland. Wo Deutschland einst zu Ende war.
[7] Graichen, Hesse (2013): Die Bernsteinstraße.
[8] Bahr (2013) Conversation with students, "Willy Brandt Reading Week," Friedrich Ebert House Heidelberg.
[9] Otto von Bismarck.
[10] Dohnanyi (2021): Nationale Interessen.
[11] The Economist (2022): https://www.economist.com/graphic-detail/2022/02/09/a-new-low-for-global-democracy?fsrc=core-app-economist?utm_medium=social-
[12] RIAC (2022): https://russiancouncil.ru/en/analytics-and-comments/analytics/economic-corridor-china-mongolia-russia-infrastructure-in-focus/
[13] Euractiv (2022): https://www.euractiv.com/section/energy/news/russia-says-pipeline-to-china-will-replace-nord-stream-2-2/
[14] Rnd (2022): https://www.rnd.de/wirtschaft/fluessiggas-aus-russland-europa-importiert-rekordmenge-Y4DHLEMMPFEB5A5VSWZSLTVCD4.html
[15] PAZ, No. 47, 25.11.2022.
[16] German Historical Museum (DHM), https://www.dhm.de/lemo/biografie/otto-braun
[17] DHM, https://www.dhm.de/lemo/kapitel/weimarer-republik/innenpolitik/preussenschlag
[18] DHM, https://www.dhm.de/lemo/kapitel/weimarer-republik/innenpolitik/preussenschlag
[19] ostexperte.de, https://ostexperte.de/deutschland-und-russland-teil-1/
[20] DHM, Berlin. https://www.dhm.de/lemo/kapitel/weimarer-republik/aussenpolitik/versailler-vertrag.html
[21] Glider.org, http://www.segelflugzeug.org/segelflug_geschichte.php
The Ukrainian Crisis and its Impact on the European Security Governance and Global Legal Order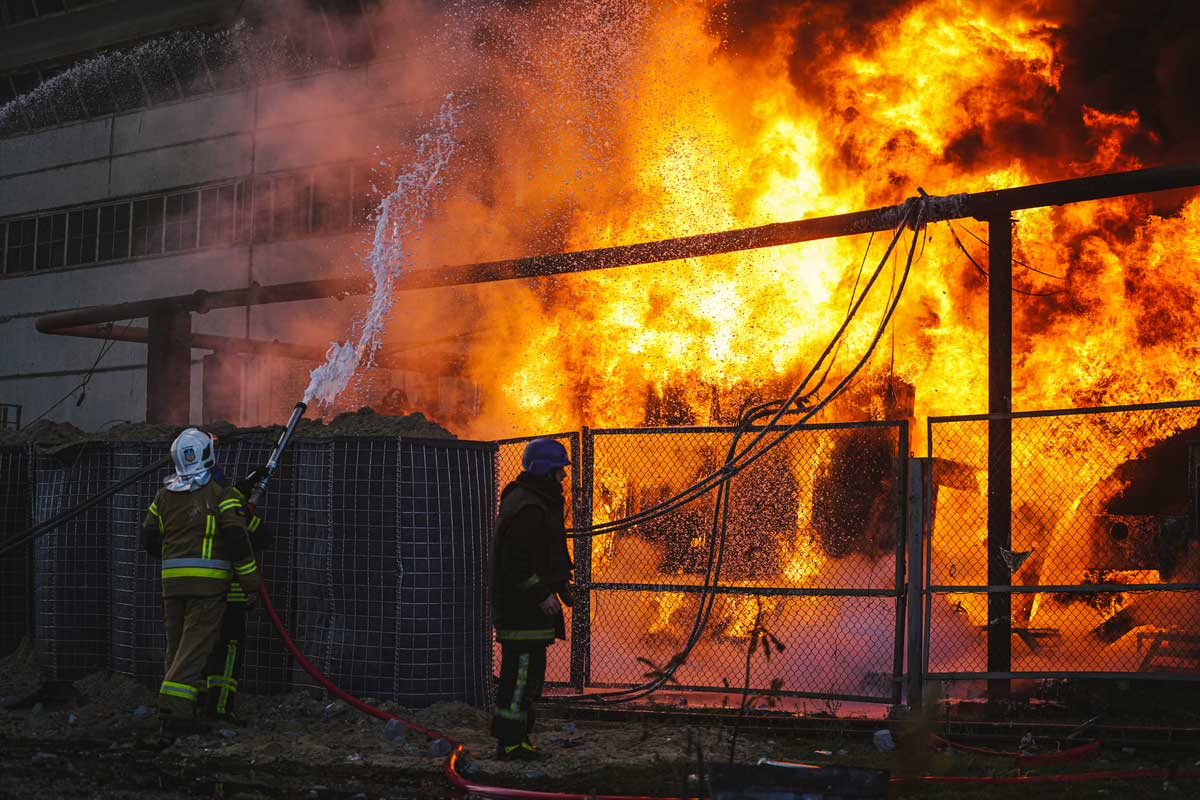 Authors: Abhinav Mehrotra and Amit Upadhyay*
As the attack on Ukraine continues by the Russian Military, there is a need to understand the continued impact of such attacks on global governance and legal order. The illegal annexation of Ukrainian territories has been one of the most shocking incidents affecting the world order since World War II ended. It sets a dangerous precedent for all independent nations formerly part of big empires from asserting their own identity as sovereign nations as per international and domestic norms.
Historically, the modern Ukraine crisis began with Nikita Khrushchev's 1954 transfer of Crimea from the Russian Socialist Federal Republic to the Ukrainian Socialist Federal Republic in order to commemorate the 300th anniversary of Ukraine-Russia unification. The crisis further extenuated during the 1990s after the disintegration of the USSR, when the Western leaders understood that Russia must not be labelled as a defeated state. It was in this background that the West was to assume responsibility to develop post-Cold War structures, processes, perceptions, and activities by balancing the European nation's interests and promoting democratic and liberal values, alongside keeping Russia within the framework.
Further adding to the complexity was the fact that NATO, under the US leadership, developed a complicated architecture where NATO's integrated military command structure would be preserved. The aim was to develop close relationships with the European countries that later took the form of the European Union. Surprisingly, during these deliberations, the United States and other NATO nations never took into consideration the fact that it may be Russia's will to remove the NATO like the Warsaw pact and have an equal role in developing a new institution for ensuring security.
Nonetheless, the act of a nation ie Russia exercising control over the political decision-making of another independent nation ie Ukriane with the objective to retain in its influence using force undermines various key principles of international law. It is argued by Russia that the West including the European Union ("EU") has failed to understand Russia's security interests whereas the EU argues that a serious diplomatic effort is necessary to re-establish the core principles of the European political order which Russia so far have failed to do.
What needs to be understood is that for Russia, the defiance in the post-Soviet Union era world order can be traced to the act of taking Pristina airport with paratroopers in 1999 based on a presumed occupation by the North Atlantic Treaty Organization (NATO) which is similar to the ongoing Ukrainian Crisis where NATO's eastward expansion has been cited as the reason for anticipatory self-defense
Cut to the present, the annexation of Crimea, aggression against Ukraine and the illegal annexation of Ukrainian territories by Russia have far-reaching implications for European and global security. It challenges certain basic assumptions underlying the western policy in the post-Cold War era of treating Russia more as a partner than an adversary and considering Europe essentially stable and safe from invasion. The lack of an EU strategic framework to deal with security challenges in relation to Russia. EU needs to have a more robust defence posture requiring it to revisit its defence strategies especially when the possibility of Russian aggression against other European states cannot be excluded. The Common Security and Defence Policy (CSDP) responsible for supporting revised security policies has been insufficient as Ukraine's sovereignty and independence is seen as essential indicator for future European security governance. The CSDP sought autonomy from North Atlantic Treaty Organisation ("NATO") to have Europeans provide for their own security as a strategic doctrine, but it has since generated limited autonomous military capacity.
In this context, there is need to analyse to what extent Russia's intervention in Ukraine is based on the assertive defence of its interests in its neighbourhood inspired by a revisionist challenge to the European rules-based system of security governance and how it impacts global order. The need of the hour is to see how International Community, States and Multilateral Institutions respond to Russia's actions to provide the balance between the requirements of European security and the resources available to support it as International law is dealing with the unique challenge posed by Russia's defiant behaviour including the acts of claiming exclusive rights and privileges; the need to claim a higher position in the international social hierarchy due to diminished reputation and importance, relative to other nations; and a belief that all these actions are necessary for national prestige, security and wealth
Going forward, the United Nations Security Council and other multilateral institutions need to be democratized to accommodate the differing views considering contemporary geopolitical realities. The inclusive collective security institutions are the need of the hour, and they should be accountable to the international legal framework for inclusive global governance.
*Amit Upadhyay is an  Associate Professor at O.P. Jindal Global University and holds an LL.M.  in European and International Law from Freie Universität, Berlin, Germany. His research interests include Constitutional Law, Legal Theory and Human Rights.