From nanotechnology to solar power: Solutions to drought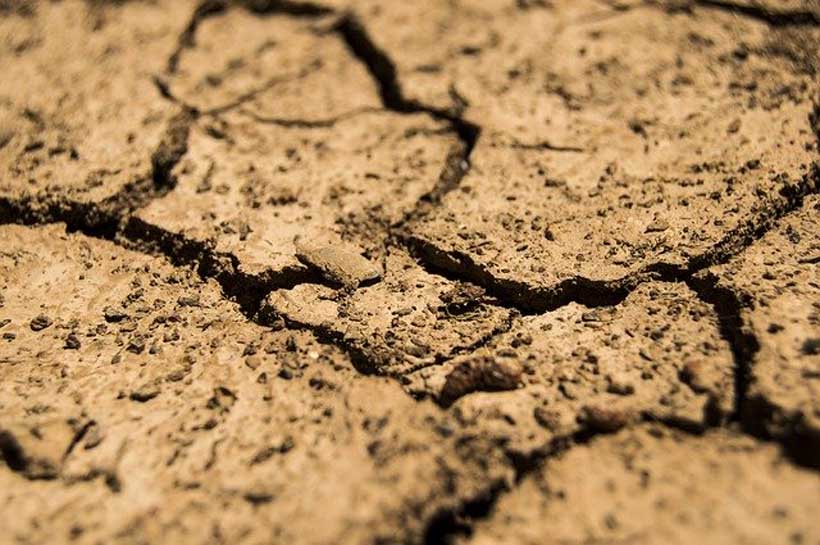 While the drought has intensified in Iran and the country is facing water stress, various solutions from the use of solar power plants to the expansion of watershed management and nanotechnology are offered by experts and officials.
Iran is located in an arid and semi-arid region, and Iranians have long sought to make the most of water.
In recent years, the drought has intensified making water resources fragile and it can be said that we have reached water bankruptcy in Iran.
However, water stress will continue this fall (September 23-December 21), and the season is expected to be relatively hot and short of rain, according to Ahad Vazifeh, head of the national center for drought and crisis management.
In such a situation, officials and experts propose various solutions for optimal water management.
Alireza Qazizadeh, a water and environment expert, referring to 80 percent of the arid regions in the country, said that "Iran has one percent of the earth's area and receives only 36 percent of renewable resources.
The country receives 250 mm of rainfall annually, which is about 400 billion cubic meters, considering 70 percent evaporation, there is only 130 billion cubic meters of renewable water and 13 billion cubic meters of input from border waters."
Referring to 800 ml of average rainfall and 700 mm of global evaporation, he noted that 70 percent of rainfall in Iran occurs in only 25 percent of the country and only 25 percent rains in irrigation seasons.
Pointing to the need for 113 billion cubic meters of water in the current year (began on March 21), he stated that "of this amount, 102 billion is projected for agricultural use, 7 percent for drinking and 2 percent for industry, and at this point water stress occurs.
In 2001, 5.5 billion cubic meters of underground resources were withdrawn annually, and if we consider this amount as 20 years from that year until now, it means that we have withdrawn an equivalent of one year of water consumption from non-renewable resources, which is alarming."
The use of unconventional water sources can be effective in controlling drought, such as rainwater or river runoff, desalinated water, municipal wastewater that can be reused by treatment, he concluded.
Rasoul Sarraf, the Faculty of Materials at Shahid Modarres University, suggests a different solution and states that "To solve ease water stress, we have no choice but to use nanotechnology and solar power plants.
Pointing to the sun as the main condition for solar power plant, and while pointing to 300 sunny days in the country, he said that at the Paris Convention, Iran was required to reduce emissions by 4 percent definitively and 8 percent conditionally, which will only be achieved by using solar power plants.
Hamidreza Zakizadeh, deputy director of watershed management at Tehran's Department of Natural Resources and Watershed Management, believes that watershed management can at least reduce the effects of drought by managing floods and extracting water for farmers.
Amir Abbas Ahmadi, head of habitats and regional affairs of Tehran Department of Environment, also referring to the severe drought in Tehran, pointed to the need to develop a comprehensive plan for water management and said that it is necessary to cooperate with several responsible bodies and develop a comprehensive plan to control the situation.
He also emphasizes the need to control migration to the capital, construction, and the implementation of the Comprehensive Plan of Tehran city.
While various solutions are proposed by officials and experts to manage water and deal with drought, it is necessary for the related organizations to work together to manage the current situation.
Mohammad Reza Espahbod, an expert in groundwater resources, also suggested that while the country is dealing with severe drought due to improper withdrawal of groundwater and low rainfall, karst water resources can supply the whole water needed by the country, only if managed.
Iran is the fifth country in the world in terms of karst water resources, he stated.
Qanats can also come efficient to contain water scarcity due to relatively low cost, low evaporation rates, and not requiring technical knowledge, moreover, they proved sustainable being used in perpetuity without posing any damages to the environment.
According to the Ministry of Energy, about 36,300 qanats have been identified in Iran, which has been saturated with water for over 2,000 years.
In recent years, 3,800 qanats have been rehabilitated through watershed and aquifer management, and people who had migrated due to water scarcity have returned to their homes.
Water resources shrinking
Renewable water resources have decreased by 30 percent over the last four decades, while Iran's population has increased by about 2.5 times, Qasem Taqizadeh, deputy minister of energy, said in June.
The current water year (started on September 23, 2020) has received the lowest rain in the past 52 years, so climate change and Iran's arid region should become a common belief at all levels, he lamented.
A recent report by Nature Scientific Journal on Iran's water crisis indicates that from 2002 to 2015, over 74 billion cubic meters have been extracted from aquifers, which is unprecedented and its revival takes thousands of years along with urgent action.
Three Iranian scientists studied 30 basins in the country and realized that the rate of aquifer depletion over a 14-year period has been about 74 billion cubic meters, which is recently published in Nature Scientific Journal.
Also, over-harvesting in 77 percent of Iran has led to more land subsidence and soil salinity. Research and statistics show that the average overdraft from the country's aquifers was about 5.2 billion cubic meters per year.
Mohammad Darvish, head of the environment group in the UNESCO Chair on Social Health, has said that the situation of groundwater resources is worrisome.
From our partner Tehran Times
New discoveries and scientific advances from around the world
In July 2022 the National Aeronautics and Space Administration (NASA) announced the first batch of colour photos taken by the James Webb Space Telescope more than six months after its launch. In August the Webb telescope captured the first clear evidence of carbon dioxide in the atmosphere of an extrasolar planet (exoplanet). In September, the Webb telescope released its first infrared image of Mars, acquiring atmospheric data for the entire planet.
After many delays, the large lunar exploration launcher Space Launch System carrying the Orion spacecraft was launched from the Kennedy Space Center in Florida in the early morning of 16 November 2022, thus beginning Artemis 1's unmanned flight around the Moon. After completing a 25.5-day unmanned mission around our satellite, the Orion spacecraft landed on the Pacific Ocean near Baja California, Mexico, on 11 December, thus ending the first mission of the Neo Artemis lunar landing programme – a high-risk return for an Earth test related to human travel around the moon that will take place in the coming years. This is an important step for the United States regarding the return to the moon after the Apollo 17 landing on the moon 51 years ago.
The US Dark Energy Spectroscopic Instrument (DESI) project has broken the record for all previous surveys of galaxies in 3D vision, creating the largest and most detailed map of the universe ever compiled. US astrophysicists have set the most precise constraints to date on the composition and evolution of the universe. NASA has also achieved the first "holographic teleportation" of humans from Earth to space.
In terms of commercial space tourism, the first "crew" purely composed of private individuals arrived at the International Space Station on 9 April 2022. In May a research team from the University of Florida successfully cultivated plants on lunar soil for the first time.
A Washington State University study found that mixing a small amount of simulated crushed Martian rock with a titanium alloy in the 3D printing process made the material stronger and higher-performing, and could be used to make instruments and carrier rocket components for more detailed exploration of the red planet. The breakthrough could make future space travel cheaper and more practical.
NASA has stated that the Exoplanet Archive has accepted 65 new exoplanets and their total number has exceeded the five thousand threshold. Furthermore, NASA's Jet Propulsion Laboratory is developing a new project that will enable robots having the size of smartphones to "navigate" the cosmic oceans in search of signs of life.
Also on the Russian side – at least before the outbreak of the well-known and supposedly ongoing crisis – the country will complete twenty-two spacecraft launch missions, including two manned Soyuz and two Progress cargo missions to the International Space Station. The originally planned mission to launch the Luna 25 probe in September was postponed to 2023 because the performance of the Doppler velocity and distance sensors used by the probe did not meet requirements. It is thought, however, that the reason lies in the lack of capital planned and now being used on the war front.
Russia's missile and aircraft industry – of great tradition and authority – is the sector most severely feared by the United States and the West. Due to sanctions, both Boeing and Airbus announced – even before the Ukrainian crisis – that they would no longer sell aircraft, spare parts and related services to Russia. This severely jeopardises the survival and development of the Russian aviation industry. To this end, focusing on self-sufficiency, Russia urgently formulated plans to produce Sukhoi Super 100, Tu-214 and MS-21 passenger aircraft and rebuilt the aviation industry's production system. The first batch of MC-21 airliners with domestic components is expected to be delivered in 2024, except for unforeseen circumstances.
In July 2022 the Obyedinyonnaya Aviastroitelnaya Korporatsiya (United Aeronautical Corporation) declared that Russia would fulfil all its obligations vis-à-vis its partners regarding the International Space Station, but decided to withdraw from the space station after 2024. Later an orbital station will begin to form under the aforementioned OAK – a grouping of Russian aerospace companies created in 2006 at the Russian government's initiative. In October Russia used the Soyuz-2.1b carrier rocket to successfully launch the first satellite of the Sphere/Scythian-D project. A demonstration satellite of the future Scythian system technology for broadband Internet access, part of the Sphere satellite constellation. The project of the Sphere group of satellites plans to launch 600 satellites to provide Internet services on the ground, similar to the US Space Exploration Technology Corporation's Starlink system.
On the British side, too, there is no shortage of initiatives such as mapping the skies of the Northern hemisphere to solve the mystery of the formation of the first quasars. In 2022, British scientists focused on the remotest depths of the universe making a number of important discoveries.
Astronomers from Durham University, in collaboration with an international team of scientists, used the pan-European Low Frequency Array (LOFAR) radio telescope to map more than a quarter of the Northern sky, discovering some 4.4 million objects billions of light years away, including one hundred thousand previously unknown celestial bodies.
Scientists from the University of Sussex have solved a black hole paradox previously proposed by Stephen Hawking, proving that black holes really have "quantum hair" properties. In quantum theory, the state of matter that collapses and forms the black hole continues to influence the external state of the black hole itself, albeit in a way that is compatible with current experimental limits. This is the meaning of "quantum hair".
The mystery of the formation of the first quasars that has bedevilled astronomers for twenty years has finally been solved: scientists from the University of Portsmouth have discovered that the first quasars formed naturally in the violent turbulent conditions of the rare gas layer in the early universe. The research also overturns years of thinking about the origin of the universe's first immense black hole discovered so far.
The search for signs of life on exoplanets, however, has always been one of the goals of space exploration: the University of Exeter has used the Webb telescope to take images of an exoplanet directly from space for the first time, which will help to better study the chemistry of these planets. Scientists from the Natural History Museum in the UK have also found extraterrestrial water in a meteorite that fell in the UK.
Scientists from Durham University used supercomputers to simulate the possible impact of a collision between the Earth and a protoplanet, concluding that the moon could have formed in a matter of hours rather than thousands of years.
In 2022 the German federal government began formulating a new space strategy: one of the key points is Earth observation in the context of climate change, including the prevention and removal of space debris. The European Space Agency (ESA) announced the European Space Programme for the next three years; it will raise 16.9 billion euros, and will give priority to supporting an Internet satellite constellation in low orbit.
In aerospace research Germany successfully tested the upper stage of the European Ariane 6 launch vehicle for the first time. The German Offshore Spaceport Alliance's plans to build a space launch platform continue to move forward. The first hyperspectral Environmental Mapping and Analysis Program (EnMAP) satellite developed and built in Germany was launched successfully. In terms of specific technologies, Germany has developed a fully integrated W3C mobile satellite control system on a standard laptop, which can control satellites without relying on any infrastructure other than antennas. It has developed a new generation of laser reflectors for satellites, which can operate without electricity. It has also developed a high-powered single-mode Vertical Cavity Surface Emitting Laser (VSEL) for use in space altitude gyroscopes.
Again in 2022 Germany – together with partners on the International Space Station – performed a simulation of capturing a small satellite with another satellite. Germany successfully tested the component structure, measurement methods and evaluation algorithms of hypersonic flight technology through a flight test. The third stage of the rocket with the payload reached a flight speed of about 9,000 kilometres per hour, corresponding to a Mach number above 7, for about 120 seconds. German and Spanish missile manufacturers are spearheading the development of a new hypersonic defence interceptor that in the future will be integrated into a high-performing system capable of early warning, tracking and interception of air threats, including ballistic missiles and hypersonic vehicles.
In aeronautics research, the German Aerospace Centre uses interdisciplinary methods to continuously improve the level of automation, digitisation and virtualisation. For example, through the Remote Tower Center project, the feasibility of a control centre providing air traffic services for multiple airports has been verified. A series of research and development activities around pure electricity, hydrogen fuel cells and Sustainable Aviation Fuel (SAF) has been promoted. For the first time, the entire digital development chain of throttle valves, from design to production and testing, has been computer-simulated.
With specific referenced to SAF, it must be said that aviation currently accounts for around 2-3% of global CO2 emissions. Since air travels are expected to double over the next fifteen years, these figures will grow quickly. The International Air Transport Association (IATA) has already taken steps in the right direction by committing to achieving zero emission growth from 2020 onwards and zero net carbon emissions from global aviation operations by the end of 2050.
While many solutions such as the aforementioned electrified aviation are still in the early stages of development, the industry needs solutions to reduce direct carbon emissions resulting from flights. In the meantime, Finland's Neste MY Sustainable Aviation Fue is leading the way with a current solution that is commercially available and in use worldwide. SAF is a direct and cleaner substitute for fossil jet fuel and reduces greenhouse gas (GHG) emissions by up to 80% compared to fossil jet fuel.
Neste currently produces 100,000 tonnes of SAF and production will increase up to 1.5 million tonnes (about 1.875 billion litres) per year by the end of 2023. At the same time, Neste is forging bold new partnerships to increase the global availability of SAF.
Deployment of 5G Technology: Scrutinizing the Potential Menace & Its Repercussions globally
5G, or fifth generation, is the latest generation of mobile telecommunications technology. It promises faster internet speeds, lower latency, and greater capacity than previous generations of mobile networks. 5G technology is designed to support a wide range of new and emerging applications, including the Internet of Things (IoT), autonomous vehicles, and virtual and augmented reality. The introduction of 5G to the world is a significant development in the field of telecommunications. It is expected to have a major impact on various sectors such as healthcare, transportation, manufacturing, and entertainment. 5G networks will enable new technologies like self-driving cars, remote surgery, and virtual reality to function more smoothly and efficiently.
It is based on a number of new technologies, such as software-defined networks, network slicing, and millimetre waves, which allow for faster data transfer and a greater number of connected devices. This will allow for more efficient use of network resources and support a wider range of applications. Many countries and mobile network operators are in the process of rolling out 5G networks, and the number of 5G-enabled devices is expected to grow rapidly. However, the deployment of 5G networks is a complex and ongoing process, and there are still many technical and regulatory challenges that needs to be addressed.
Concerns & Impact:
In terms of cybersecurity, 5G networks have the potential to be more vulnerable to cyber-attacks than previous generations of mobile networks. The increased complexity of 5G networks and the use of new technologies, such as software-defined networks, could make them more difficult to secure. As the number of devices connected to 5G networks increases, so does the attack surface for cybercriminals. In terms of privacy, with the deployment of 5G networks, the amount of data that is collected and stored by mobile network operators will increase, raising concerns about the protection of personal information. 5G networks will enable new technologies, like self-driving cars, remote surgery, and virtual reality, which will generate a large amount of data. Ensuring the security and privacy of this data will be a major challenge. Also, in terms of supply chain security, the deployment of 5G networks requires a large number of components and systems from different vendors, which makes it more difficult to ensure the security of the network. There are concerns that these components, if not properly secured, could be used by malicious actors to compromise the network. The deployment of 5G networks could also lead to radiofrequency interference with existing technologies such as weather radar, satellite communication, and GPS systems, aviation navigation, and scientific research. Even, countries that are deploying 5G networks are dependent on foreign vendors for the equipment and technology needed to build and operate these networks, which creates national security concerns.
Further, there are several concerns related to the environment and health that have been raised in relation to the deployment of 5G technology. It requires the installation of many more cell towers and antennae than previous generations of mobile networks. The environmental impact of this increased infrastructure, including the potential impact on wildlife and natural habitats, is a concern. The increased use of 5G networks is likely to lead to an increase in energy consumption, which could have an impact on greenhouse gas emissions and contribute to climate change. Additionally, there have been concerns about the potential health effects of 5G technology, particularly related to the use of millimetre waves for the transmission of data. Some studies have suggested that these waves may have an impact on human health, although the majority of scientific studies have found no evidence of such effects. 5G technology uses the same frequency bands as meteorological radars and could interfere with the accuracy of weather forecasts. Such networks will increase the exposure of people to electromagnetic fields, which could have negative impacts on health, particularly for people who are sensitive to electromagnetic fields.
However, it's pertinent to note that these concerns are being studied and addressed by governments and regulatory bodies, and steps are being taken to mitigate them. However, it's important to be aware of these issues and take appropriate action to address them as 5G networks are deployed to ensure that the benefits of 5G technology are realized while minimizing the security, privacy, environmental and health risks.
Conclusion:
Resolving these concerns will require a multi-faceted approach that involves cooperation between governments, industry, and other stakeholders. Governments and industry should work together to develop and implement security standards and best practices for 5G networks. This could include regular security audits and penetration testing, as well as measures to detect and respond to cyber-attacks. They should work together to develop and implement data protection and privacy policies for 5G networks. This could include measures to protect personal data, such as encryption and secure data storage, as well as clear guidelines on how data is collected, used, and shared. They should conduct further research on the potential health effects of 5G technology, and take steps to mitigate any negative impacts. This could include measures such as limiting exposure to electromagnetic fields and ensuring that cell towers are located in safe areas. They should take appropriate measures to minimize the environmental impact of 5G networks. This could include measures such as using renewable energy to power cell towers and antennae, and minimizing the impact of infrastructure on wildlife and natural habitats. They should secure the supply chain of 5G networks. This could include measures such as ensuring that vendors comply with security standards, and conducting regular security audits of suppliers.
The Indian Drone Industry is Growing Leaps & Bounds
Iranian drones have wreaked havoc in war-stricken Ukraine. When it comes to drones until a few years back it was the USA Vs China, but now all countries have realized the potential of these flying machines.
Bill Gates had predicted that drones, overall, will be more impactful than one can ever imagine or think to help society in a positive way, but sadly, today they are being used in warfare at a very large scale. Where does India stand in the Drone Making Spectre?
Today, India uses drones for a variety of causes. It has‍ BVLOS (Beyond-visual-line-of-sight) flights, mosquito eradication drones, drones used for agricultural needs – like spraying pesticides etc., then there are seed-copters used for aforestation (planting seedballs). During the pandemic Indian drones supplied vaccines to far out regions, as estimates suggest that more than 24 lakh Indians die of treatable conditions every year simply because medicines don't reach them on time. Drones are bridging the gap when it comes to inaccessibility of roads and other means of transport.
In India, drones can be seen everywhere, in weddings events and agricultural fields. There is a huge demand for drones and the Government is encouraging the industry to grow further. How is this emergence happening? Smit Shah, President of the Drone Federation of India is filled with ideas of zestful entrepreneurship and innovation for the Indian drone industry. He shares his views about how things in India's Drone industry are shaping up.
"Since 2018, we have had multiple regulations and lot of work is happening on that front. Finally, in August 2021 we had our regulations liberalised. So, after multiple policy attempts and iterations we were able to crack the right policy. This is the policy of liberalisation and incentive towards the industry. Since mid 2021, we have had a boost in the ecosystem. We have multiple start-ups now, over 200 working in the drone manufacturing and technology space in the country." says Shah.
The idea to ease the regulations has worked wonders for the industry and start-ups getting involved means a lot of innovation and experimentation is ongoing in the Indian drone industry. So, how are drones being used in governance and management? There is a lot of talk of drones being used for surveillance at borders. In what ways does the Indian Government use drones? Shah says that multiple State Governments, the Union Government, various departments and private sector corporations are now adapting to drone usage at a very large scale. The Government has launched the 'Swamitwa Scheme' where 6.5 lakh villages are being mapped across the entire country through drones. The National Highway Authority of India (NHAI) has mandated monthly monitoring of all highways via drones. The armed forces are looking for buying drones for security surveillance on all borders using drones. Also they are being used in tracking logistics.
India is using drones in almost all important departments, especially in defence the country is trying to procure and develop the best possible technology for which many private corporations like the Adani Group have forged Joint Ventures with major International drone component manufacturing companies.
For the purpose of warfare India is using drones on the borders to keep an eye on the enemy. It endeavours to make more advancement in the domain. How are things shaping up on that front?
"During warfare you need round the clock monitoring and intelligence and capacity building. So, surveillance capability on the borders and logistic capability on the border means transporting various kinds of resources to the border outposts, including the high altitude regions is what is being looked at now. In India, Unmanned Aircraft Vehicle (UAF), Unmanned Aerial Vehicle (UAV), Remotely Piloted Aircraft (RPA), Remotely Piloted Aircraft System (RPAS) are technological terms but are interchangeably used. All these are being used in our border security," informs Shah.
India is rapidly scaling up its drone industry and is investing a lot on research and development. Not just for domestic use, it plans to use drones intensively for border security by the armed forces. Does India manufacture raw materials and components used in drones? What plans does it have to reduce dependence on other countries and boost its own home-built production capability? What is the road ahead?
"A majority of the components are imported from different countries. Now we have Indian start-ups and corporations who are engaged in building local supply chains and local design on drone components. The PLI incentive is encouraging for manufacturing drones and their related components in India. If we see the overall drone ecosystem of drones in India, it envisioned success lies on 4 key pillars. First is ease of doing business, under which policy was liberalised and much of the licence fees was reduced. Second is the financial incentive, like the Production Linked Incentive(PLI) under which domestic manufacturing has a 20% incentive with almost zero upfront commitment. One is not needed to do any plant or machinery investment or any minimum employment. It is a straight investment based on one's capacity, so if you produce goods worth INR 100, you get 20% of your value addition. This is a sunrise sector, so rather than complicating incentives by tying them up with employment or revenue or upfront capital investment – it's all straight in the face. The third part is protectionism or favouring the local industry via an import ban. At present, import of drones as a whole are banned but the import of components is not. Fourth is enhancing our own skilling, R&D, trying to becoming Athmnirbhar (Self Dependant) in every possible way and benefit our own industries. Though, a lot of technology for the smaller drones comes from across the world including China, US and Europe, for the bigger drones, like the ones used to patrol the borders or for offensive ops, it is specialized so that is coming from our partners or the domestic manufacturers," elaborates Shah.
Many reforms by the Government have been introduced to encourage domestic production. It is confident that its own ecosystem will battle all odds and will be able to emerge as a frontrunner in drone making. The Government and industry are working in tandem to achieve this goal. In January, 2022, the Indian Government has offered a 100% subsidy or 10 lakhs, whichever is less, up to March 2023 to promote the use of drones for agricultural purposes and reduce the labour burden on the farmers. Also a contingency fund of INR 6000 per acre has been set up for hiring Drones from the Custom Hiring Centres (CHC). Together, the subsidy and contingency funds shall help farmers access latest drone technology at a very reasonable price.
Does India export drones to any other countries. If NO, by when does it intend to do so? What are its plans to become a recognized name in the drone export segment?
"Slowly and steadily India is looking at exporting. We are looking at certain initiatives to scale up our export segment and expect good results very soon. Our first goal has to be design independence. In terms of supply chains it is difficult to become 100% India made as many raw materials are imported. For that we need to have our own designs and supply chain reliability. In supply chain reliability there are 3 things, first we have domestic supply chains, second we have primary supply chains and third is we have secondary alternate supply chains. If we build good supply chains then we do not have be dependant by the traditional definition because then we have backup & balance of the supply chain. In today's global civilization we can't become completely independent. The right approach is to be dependant but also balanced. Some aspects of our drones may be better than others and vice versa. We are not yet ripened in this as our Information Technology (IT) sector is. India is trying to have its own electronic manufacturing fabs, so things are gaining momentum. In five years the game will totally change," asserts Shah confidently.
The industry and Drone Federation of India is optimistic that in a few years to come India will be a champion drone manufacturer and may export to other countries as well. Be it the procurement of raw materials or other critical components it seems to be progressing fast for self-reliance in the drone industry.