Digital billboards bring real-time air pollution data to Nairobi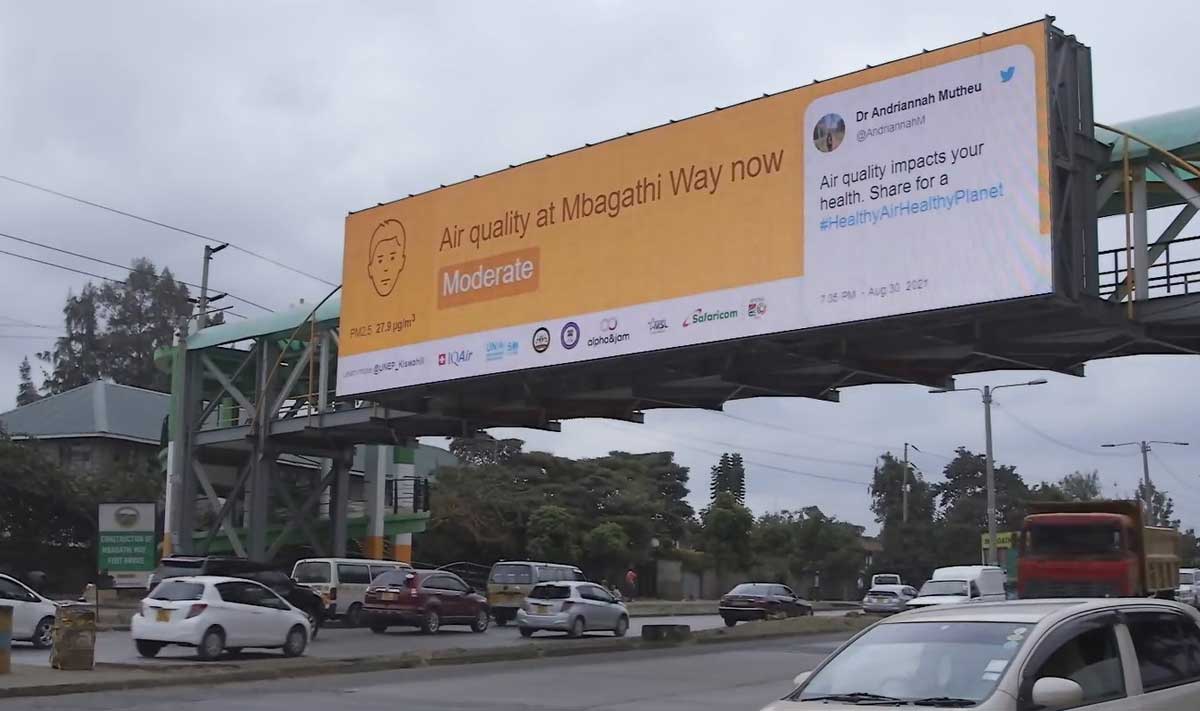 Digital billboards around the Kenyan capital today started to live stream Nairobi's real-time air pollution in an effort to increase air quality awareness among the city's 4.7 million inhabitants.
The initiative – by the UN Environment Programme (UNEP), in collaboration with IQAir, a Swiss air quality technology company, Safaricom, a telecommunications provider in Kenya, Alpha and Jam Ltd and Metropolitan Star Lite Ltd, Out Of Home (OOH) media – provides real-time air quality information for some of the most harmful type of air pollution, fine airborne particles, known as PM2.5. The pilot aims to engage the public by streaming real-time air pollution information to digital billboards at 4 critical locations in the city: Moi Avenue, University Way, Mbagathi Way and Jomo Kenyatta International Airport.
PM2.5causes serious health issues, including asthma, lung cancer, and heart disease. Exposure to PM2.5has also been associated with low birth weight, increased acute respiratory infections, and stroke.
"Real time air quality monitoring will help us with the issuance of health advisories as well as for formulation of smart traffic controls that minimize congestion," said Lawrence Mwangi, Assistant Director of Environment in charge of pollution control at the Nairobi County Government. "Dynamic advisories demonstrated through this collaboration will help people limit their exposure to harmful pollutants."
Around 3 billion people cook and heat their homes using open fires and simple stoves burning biomass (wood, animal dung and crop waste) and coal. More than 50% of premature deaths due to pneumonia among children under 5 are caused by the particulate matter (soot) inhaled from household air pollution. Outdoor air pollution in both cities and rural areas was estimated to cause 3 million premature deaths worldwide in 2012 with 88% of those premature deaths occurring in low- and middle-income countries.
Policies and investments supporting cleaner transport, energy-efficient housing, power generation, industry and better municipal waste management would reduce key sources of urban outdoor air pollution. Most residents of the city do not have access to real-time air quality data and consequently, are often unaware of the harmful levels of air they breathe.
"Action on air pollution, which is responsible for millions of premature deaths a year, is critical – efforts should focus on high-risk communities, such as people living in informal urban settlements," said Inger Andersen, Executive Director of UNEP. "Innovations to reach and engage the local community and decision-makers alike, can only elevate the understanding of the impacts of air quality and help create an enabling environment improve human and ecosystem health."
"We recognize that some of the world's most vulnerable communities are disproportionately affected by poor air quality," said IQAir CEO Frank Hammes. "Through our partnership with UNEP, we are able to leverage real-time air quality monitoring data, machine learning and data visualization to help identify those that are most affected by global air pollution. The real-time visibility of the impact of air pollution on mankind, combined with the outreach and support that the UNEP offers, can help governments and communities around the world take actions that lead to cleaner, healthier air."
The Nairobi air quality awareness demonstration project is the result of a unique collaboration between the UN, the private sector, academia, non-governmental and local governmental organizations and is expected to accelerate efforts to change how transport, waste management and other services are managed in cities so that air pollution from these activities is significantly reduced, if not eliminated.
"This partnership lies very much at the heart of our sustainability agenda that seeks to address environmental issues such as air pollution which remains a major challenge especially in urban centres. We intend to use our digital platforms and expansive network infrastructure to support the air quality monitoring project to expand across more urban areas in Kenya. We will also foster partnerships with other stakeholders including regulators, relevant ministries and private organizations to help build a compressive and sustainable air quality monitoring system in the long run", said Peter Ndegwa, CEO, Safaricom.
The demonstration project comes as the world celebrates the 2nd International Day for Clean Air and blue skies on 7 September, this year held under the theme, Healthy Air, Healthy Planet. The Day calls for increased international cooperation at the global, regional and sub-regional levels. It provides a platform for strengthening global solidarity as well as political momentum for action against air pollution and climate change, including the increased collection of air quality data, carrying out joint research, developing new technologies and sharing best practices.
Choosing the Best Engine Hoist for your Garage
An engine hoist is an extremely valuable piece of equipment. It will allow you to remove an engine from a vehicle easily, without putting yourself or others in danger. People have been using ropes and pulleys for centuries to lift heavy objects – and some modern engine hoists work via the same principles. However, there are a few alternatives which offer distinct advantages.
So, what's the best kind of engine hoist for your garage? Let's look at choosing the best engine hoist for your next car repair job.
Manual
The manual hoist uses old-fashioned pulleys and cords to lift a heavy object. These tend to be the simplest option, and therefore the cheapest. Simply pull on the chain, and the other chain will move. The main drawback here is that the manual hoist needs to be suspended above the room. That means that you'll need a suitably-rated ceiling that's capable of carrying the load.
A manual chain can allow a single person to lift tonnes of weight, since the arrangement of pulleys will result in a larger transfer of force. The cost is that you'll be moving the chain a large distance to move the engine just a small one.
Hydraulic Hoists
Hydraulic hoists work using fluid, spread over multiple vessels. By reducing or increasing the amount of fluid in one vessel, you can change the amount of fluid in another, attached by a length of hose. In this way, you can push or pull heavy loads. A telescopic boom arm actually does the lifting, with the help of pumps, cylinders, and oil.
Hydraulic hoists are positioned on the ground rather than the ceiling, and they tend to come with plenty of castors so that they can be moved from one side of the workspace to the next. The relative mobility of the hydraulic hoist puts it at a considerable advantage over the mechanical one in situations where you need to be flexible. You can even use a hydraulic hoist outdoors.
Electric Hoists
The electric hoist is similar to the manual one, except that you don't have to pull on the chain – an electric motor will do that for you. This makes life much more convenient – though you can expect to pay a little extra for the remote-control console. Electric hoists tend to be underpowered in comparison to hydraulic ones, which might be something to consider if you're lifting loads heavier than a few hundred kilos.
Electric hoists tend to be operated by a single dangling button, which means that you might not have the same degree of precise control as you do on a manual hoist. For most applications, however, this won't be an issue.
Tech Start-ups Key to Africa's Digital Transformation but Urgently Need Investment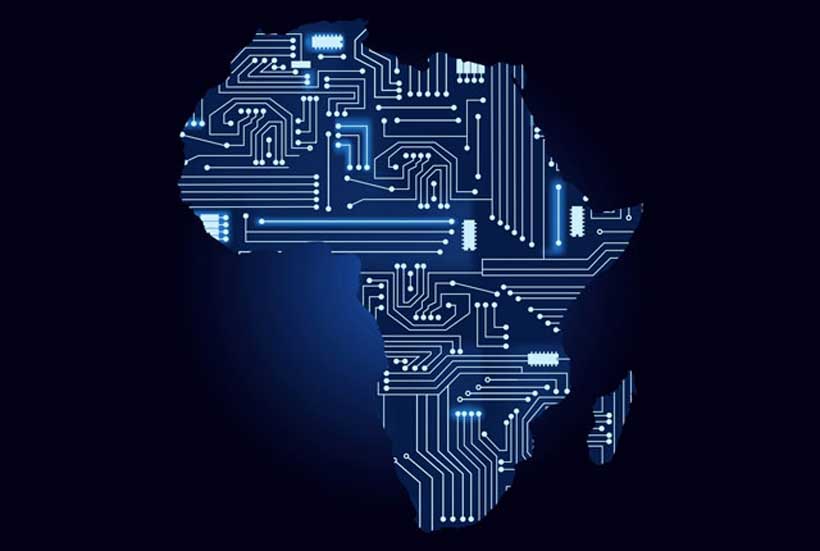 The World Economic Forum's latest report, "Attracting Investment and Accelerating Adoption for the Fourth Industrial Revolution in Africa" analyses the challenges Africa faces in joining the global knowledge-based digital economy and presents a set of tangible strategies for the region's governments to accelerate the transition.
The Forum's report, written in collaboration with Deloitte, comes just weeks after the announcement by Google of a $1 billion investment to support digital transformation across Africa, which centres on laying a new subsea cable between Europe and Africa that will multiply the continent's digital network capacity by 20, leading to an estimated 1.7 million new jobs by 2025. Africa's digital economy could contribute nearly $180 billion to the region's growth by the by mid-decade. Yet with only 39% of the population using the internet, Africa is currently the world's least connected continent.
Tech start-ups such as Kenya's mobile money solution Mpesa and online retail giant Jumia, Africa's first unicorn, represent what the continent's vibrant small business sector is capable of. Despite raising $1.2 billion of new capital in 2020 – a six-fold increase in five years – this represents less than 1% of the $156 billion raised by US start-ups in the same year. Meanwhile, Africa's investment in R&D was just 0.42% of GDP in 2019 – less than a quarter of the global average of 1.7%.
"African governments urgently need to drive greater investment in the tech sector and the knowledge economy," said Chido Munyati, Head of Africa Division at the World Economic Forum. "Policy-makers can make a difference by reducing the burden of regulation, embedding incentives within legislation and investing in science and technology skills."
The report breaks down these three policy enablers:
Pass legislation such as "Start-up Acts" designed to spur private sector innovation, reduce the burden of regulation and promote entrepreneurship, in which Tunisia and Senegal are leading the way.
Embed incentives for start-ups in legislation, such as start-up grants, rebates on efficiency gains through technology implementation, co-investment of critical infrastructure, tax-free operations for the early years, and incentives for R&D.
Invest in workforce education, skills and competencies. Currently, only 2% of Africa's university-age population holds a STEM-related (science, technology, engineering, mathematics) degree.
However, the analysis of 188 government incentives for business across 32 African countries finds that just 14 incentives – fewer than 10% – facilitate investment in Fourth Industrial Revolution technology. And most of these incentive schemes lack an efficient monitoring and evaluation system to gauge their effectiveness.
Delia Ndlovu, Africa Chair, Deloitte, believes that digital transformation promises to boost economic growth in Africa: "Connecting the region to the global digital economy will not only open new avenues of opportunity for small businesses, but will also increase intra-Africa trade which is low at 16% compared to markets such as intra-European trade which is approximately 65% to 70%."
African governments have much to learn from each other. In Côte d'Ivoire, an R&D tax incentive has been created to direct investment away from commodities and into innovation. In South Africa, the Automotive Investment Transformation Fund created by the largest manufacturers in the country is facilitating the development of a diverse supplier base to realise the 60% local content target set by the Automotive Production and Development Programme (APDP). In Tunisia, the government offers state salaries for up to three start-up founders per company during the first year of operations, with a right to return to their old jobs if the venture fails.
Coding – what is it and what are the benefits?
Coding has become more popular in recent years with everyone from entrepreneurs, hobbyists, children and professionals. And with many different kits now available, it's easier than ever to try your hand at coding.
If you're unsure what coding is or where to begin, read on to discover more and find out the benefits of learning this new skill.
What is coding and what is it used for?
In a nutshell, coding is writing a set of instructions in a language understood by machines to enable a computer to follow to carry out a task. It's used daily across the world in multiple applications from appliances to traffic systems and the motor industry.
With more of the world relying heavily on digital systems, there is an increased need for those who know how to code. But it's not just for professionals. Anyone can now try their hand at coding and it's increasingly popular amongst hobbyists who are creating exciting projects during their spare time.
A good place to start when thinking about coding as a hobby is by using a Raspberry Pi kit. Starter kits are great for beginners and allow you to develop your coding skills with everything you need in one package.
Benefits of learning to code
Whilst some benefits of learning to code such as future career options might be obvious, there are other advantages to this skill:
You could become smarter – Coding can utilise the logical part of your brain which is useful for other tasks, not just the coding process. It can also be very creative if you use your coding skills to work on different projects.
It increases your employability – and not just in the computer software industry. Skills learnt from coding are transferrable and the kind of qualities employers across many industries will be looking for.
It helps you understand technology – By getting to grips with computer languages, you'll learn how technology works at a base level – knowledge that will filter through to everyday life as well as in your career.
Enhance problem solving skills – By learning to code you'll learn how to address problems and, in turn, become skilled at solving them. Tools that will be transferred to other aspects of life.
Coding is a universal language – so there are endless opportunities to learning this skill.
Whatever knowledge you have of coding, why not give it a go? You could be creating the next big robotics project, having fun playing games with your kids or even developing a new software programme in no time.