Civil Society Groups Across Asia demand the ADB recalibrate its Draft Energy Policy
Civil society groups across South, Southeast and Central Asia are raising the alarm as the Asian Development Bank (ADB) gears up to announce a new Energy Policy that — unless recalibrated — will fail to reflect the realities of climate science and local peoples' burning concerns.
On September 6th, the ADB's Board of Directors is set to discuss the proposed framework that will guide the Bank's energy portfolio for at least the next five years. Just last month, the most recent IPCC report (AR6) was released; a so called "code red for humanity" that issues a stark warning: coal, oil and gas must be left in the ground, with no new infrastructure built to extract or burn these fuels if we are to have a chance at survival. Civil society groups note with concern the ADB is prepared to continue financing not only fossil fuel dependent projects, but also large-scale hydropower and waste-to-energy projects that simply have no role in a forward looking agenda for a just, inclusive and sustainable transition in the region. In effect, the ADB's publicly posted "Energy Policy Working Paper" critically fails to take into account the latest climate science, undermining – rather than bolstering – global efforts to limit global heating to 1.5C.
The Working Paper has been hastily rushed to the Board of Directors for approval with only a two week window for public review and input (August 16th – 31st), meaning non-English speaking communities with little or no access to the internet — the very people who are impacted by the ADB's projects — are effectively excluded from opportunities to give any meaningful comments on the draft.
As Rayyan Hassan, executive director of NGO Forum on ADB elaborated: "The Working Paper of the ADB's Energy Policy Review was released in English as late as 16 August on the ADB website. While the coal exit language has been retained, loopholes remain. There is nothing stopping the ADB from supporting investments in coal via financial intermediary lending, or in transport and connectivity infrastructure that will enable further coal trade and extraction." He also added that the Working Paper fails to incorporate the urgency of the IPCC AR6 report, and does not apply stringent or time-bound criteria on ending support for further expansion of fossil fuel infrastructure, most especially for new gas-dependent operations.
"For a 54-year old MDB, we expect the ADB to immediately halt its financing for fossil fuels, helping to shift the region towards renewable energy especially through solar and wind technologies. The ADB must ensure adequate considerations are made to the climate emergency as per the IPCC report and update the draft accordingly. The ADB has to emerge from this review with an Energy Policy anchored in support for transformative and renewable energy in line with a 1.5 degree target, and it has to act now," Hassan added.
The Draft Energy Policy veers dangerously towards promoting projects that will lock some of the most climate vulnerable countries on the planet into a future dependent on large-scale power projects that threaten peoples' livelihoods and health, while emitting heavy methane and other greenhouse gas emissions. As Avril De Torres from Center for Energy, Ecology and Development (CEED) Philippines explained: "A 1.5°C-aligned transition is an imperative for climate-vulnerable Asia, and the IPCC made clear what this looks like: a swift end to our dependence on all fossil fuels, not just coal. ADB seems to be deaf to the IPCC's climate code red, with its Working Paper still bent on churning more carbon and methane through dirty energy, especially fossil gas, and false solutions like carbon capture. We also hope the ADB clarifies its coal buy-out scheme in the Philippines and neighboring countries, and how this fits – or contradicts – its no coal policy". She continued: "As nations that stand to lose the most if we fail to bring global temperature rise back down to no more than 1.5°C by the end of this century, we cannot allow the ADB Board to approve a Working Paper that is nowhere near the ambition needed to address the climate crisis in this most critical decade."
Nora Sausmikat from Urgewald, based in Germany, urged the ADB to close all loopholes for facilitating fossil fuel extraction and infrastructure expansion, affirming that: "Only green hydrogen produced with renewable energy is sustainable and reduces carbon emissions." She further noted that: "True climate solutions cannot include any advice for nuclear energy. Looking at the whole project cycle from uranium mining to waste disposal, this technology is in no way climate friendly, but dangerous and costly."
As Petra Kjell from UK-based Recourse explained: "Since its last Energy Policy was implemented in 2009, ADB has invested over $6 billion in financial intermediaries such as private equity funds and banks. It is imperative that ADB publish the name, sector and location of all high and medium risk projects it supports through FIs. Otherwise, no one will be able to track and monitor ADB's fossil fuel commitments. Without transparency reforms, we will simply have to believe ADB that no FI money is ending up supporting fossil fuels."
Hasan Mehedi of the Coastal Livelihood and Environmental Action Network affirmed:
"In the Energy Policy Working Paper, the ADB did not set any deadlines for ending fossil fuel investments. ADB is not merely a bank, but a policy influencer in relation to member countries in Asia and the Pacific. If ADB doesn't set a deadline for fossil fuel investments and support achieving 100% renewables in the region, how will the member countries achieve it? Any further financing of fossil fuel projects will even jeopardize goals to achieve net zero emissions by 2050 – let alone real zero. ADB has to stop offering financing for fossil fuels, including fossil gas, now, and that should be reflected in their new Energy Policy."
Civil society groups are also questioning why the ADB's Working Paper explicitly suggests support will be extended to Waste-to-Energy projects, when better, cleaner and locally appropriate energy solutions exist. According to Yobel Putra of the Global Alliance for Incinerator Alternatives – Asia Pacific: "Waste-to-Energy is waste incineration in disguise. The bank has admitted that the energy generated from this burning technology is insignificant compared to other energy sources. In fact, it will only heat up our planet and spew toxic pollutants which will accumulate in our food chain for a very long time. With its heavy reliance on burning fossil-based plastic, investing in incineration is clearly not Paris-aligned. It is more carbon intensive than coal-fired power plants.. It also hinders measures on waste reduction, reuse, recycling, and composting".
The suggestion in the Working Paper to finance large-scale biomass operations has similarly raised concerns among advocates across the region. As Peg Putt of the Biomass Working Group's Environmental Paper Network explained: "Large-scale energy generation from forest and plantation grown biomass is a damaging false solution that the ADB should exclude from supporting as part of a low carbon transition. Logging and burning forest wood immediately releases carbon emissions on par with coal, harms forests and depletes their ability to draw down carbon, whilst it also marginalises forest communities".
NGO Forum on ADB members and allies are also alarmed by the provisions related to large-scale hydropower. Asserted Gary Lee of International Rivers: "For decades, large dams have driven the displacement of millions worldwide, while emitting vast quantities of methane – one of the worst greenhouse gases that the IPCC is calling for drastically reducing. The science and historical evidence is clear–if we want to tackle the climate and biodiversity crisis, increase resiliency and food security, and protect the rights of people. The ADB's energy policy must prohibit financing for new large hydropower projects."
In practical terms, the NGO Forum on ADB members across the region have also repeatedly raised concerns that the way in which the roll out of the Energy Policy review has taken place has not provided a meaningful basis for open, accessible consultations with communities affected by the Bank's own project investments. From the perspective of Vidya Dinker of the Indian Social Action Forum/GrowthWatch: "The ADB seems to have played an elaborate hoax on us. They kept us hooked with coming-soon announcements of a robust review of their energy policy. In an expression of good faith, despite the draft paper unveiled in May being only in English, CSOs struggled but extensively engaged with the bank on it. Why then do we have the same issues and some more, with this 2nd and last draft before us? Four months of 'consultations' that ignored community voices, even basic foundational asks like translations into 5-6 major Asian languages to facilitate meaningful consultation, continued subterfuge on guidance notes, marks this as an opaque and hopelessly meaningless exercise."
It is in this context that civil society groups have taken a stand to demand the ADB adopt a new Energy Policy that is in line with what the science and times demand of us, underscoring that better energy options exist for the region, that are locally appropriate, decentralized to meet the needs of urban and rural people alike, and Paris-aligned.
Strength of IEA-ASEAN energy cooperation highlighted at Ministerial meeting
IEA Executive Director Fatih Birol spoke today to Energy Ministers from across Southeast Asia about the latest global and regional energy trends, pathways to net zero emissions and the importance of clean energy investment.
He was participating in the seventh annual dialogue between the IEA and Ministers from the Association of Southeast Asian Nations (ASEAN) – the economic bloc comprised of 10 Southeast Asian economies. The meeting was hosted via video link by Brunei Darussalam, which is chairing ASEAN's 39th annual Ministers on Energy Meeting (AMEM).
"The IEA remains firmly committed to assisting ASEAN and its member states in developing pathways towards net zero that respect their capacities and capabilities," Dr Birol told the Ministers. "One of the key messages from the IEA's Roadmap to Net Zero by 2050 Roadmap is that not all countries are starting the race to net zero from the same place. I have and will continue to underscore the importance of ensuring that a greater share of global clean energy investment is directed towards the emerging and developing economies including in Southeast Asia to unlock new economic growth possibilities and emissions reductions.''
This year's ministerial marks the tenth anniversary of IEA-ASEAN energy cooperation, which was established with a Memorandum of Understanding at the 2011 AMEM in Brunei's capital, Bandar Seri Begawan. The Ministers and Dr Birol welcomed the adoption of a Commemorative Statement on IEA-ASEAN Energy Cooperation.
The IEA has significantly scaled up its work with ASEAN and its Member States over the past six years. Indonesia and Thailand became IEA Association Countries in 2015, and Singapore did so the following year. In 2019, under Thailand's Chairmanship, the IEA was named a Strategic Partner of ASEAN.
The IEA is committed to continue working with ASEAN and its Member States on key energy priorities, including energy security, energy efficiency, clean energy, energy investments and decarbonisation.
"On this, the tenth anniversary of our collaboration, the IEA is more determined than ever to continue to work hand in hand with our partners in the region to help achieve your energy goals,'' Dr Birol said. "I very much look forward to the next ten years."

The ASEAN Chair in 2022 will be held by Cambodia.
Indonesia's First Pumped Storage Hydropower Plant to Support Energy Transition
The World Bank's Board of Executive Directors today approved a US$380 million loan to develop Indonesia's first pumped storage hydropower plant, aiming to improve power generation capacity during peak demand, while supporting the country's energy transition and decarbonization goals.
"The Indonesian government is committed to reduce greenhouse gas emissions through, among others, development of renewable energy, energy conservation, and use of clean energy technology. Emission reduction in the energy sector will be driven by new and renewable energy generation and application of energy efficiency," said Arifin Tasrif, Minister of Energy and Mineral Resources of the Republic of Indonesia.
Over 80 percent of the power generated for the Java-Bali grid, which supplies electricity to 70 percent of the country's population, comes from fossil fuels. A key measure to support Indonesia's decarbonization agenda is the development of energy storage to enable integration of renewable energy into the grid. Pumped storage hydropower plays a crucial role in this approach.
The financing will support the construction of the Upper Cisokan pumped storage hydropower plant, to be located between Jakarta and Bandung, with an expected capacity of 1,040 MW. The facility will have significant power generation capacity to meet peak demand, provide significant storage capacity to enable a larger penetration of renewable energies and, because of its close location to two large demand centers, will alleviate increasing transmission loads on the grid. As a result, a more environmentally friendly and reliable supply of electricity will benefit consumers in Java and Bali.
"We are excited about this project as it will be the first of its kind for Indonesia. It represents a turning point for Indonesia's decarbonization pathway. The World Bank will continue to support Indonesia in its efforts to achieve resilient, sustainable, and inclusive development that will benefit the people of Indonesia now and in the future," said Satu Kahkonen, World Bank Country Director for Indonesia and Timor-Leste.
Pumped storage hydropower makes use of two water reservoirs at different elevations. At times of low electricity demand or when there is abundant generation from clean power sources, such as solar energy, power from the grid is used to pump water to the upper reservoir. Power is generated during peak demand, usually evening hours, as water moves down to the lower reservoir using a turbine, when electricity generation costs are high.
The project will help enhance the system flexibility and efficiency in balancing supply and demand, and therefore improve the reliability and quality of electricity services in Java and Bali. It also aims to support the government to integrate variable renewable energy into the Java-Bali grid, and to do so in an environmentally and socially sustainable manner.
Iran determined to boost oil exports despite sanctions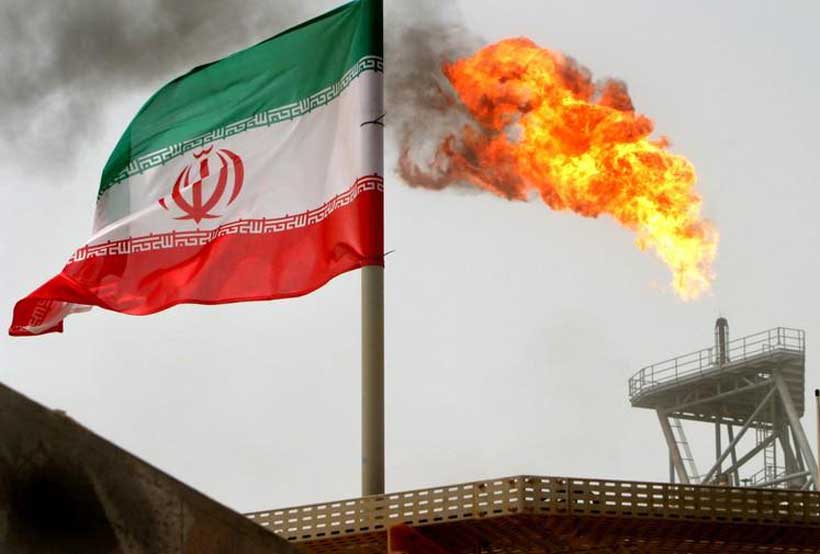 Iranian Oil Minister Javad Oji has said the Islamic Republic is determined to increase its oil exports despite the U.S. sanctions on the country's oil industry, adding that the use of oil sanctions as a "political tool" would harm the market.
"There is strong will in Iran to increase oil exports despite the unjust and illegal U.S. sanctions; I promise that good things will happen regarding Iran's oil sales in the coming months," Oji told the state TV.
As reported by IRIB, Oji noted that Iran can barter its crude oil for goods or even for services and investment not only in the oil industry but also in other sectors as well.
"Oil sales have dropped dramatically since the imposition of unjust sanctions, but this capacity exists in the Oil Ministry and all the industry's departments to increase oil sales," the minister said.
Iranian oil exports have plunged under U.S. sanctions, which were reimposed three years ago after Washington abandoned Tehran's 2015 nuclear deal with six powers.
"Iran will return to its pre-sanctions crude production level as soon as U.S. sanctions on Iran are lifted," Oji said.
"We are against using oil as a political tool that would harm the oil market."
Since April 9, Tehran and six world powers have been in talks to revive the nuclear pact. The sixth round of the negotiations adjourned on June 20. The next round of talks has yet to be scheduled.
Oji said Iran backed a decision made by the Organization of the Petroleum Exporting Countries and allies, a group known as OPEC+, on Wednesday to stick to a policy from July of phasing out record output cuts by adding 400,000 barrels per day (bpd) a month to the market.
Iran has been gradually boosting crude oil production to get ready for a strong comeback into the global market as the talks with world powers over the nuclear deal show signs of progress.
According to a Bloomberg report, National Iranian Oil Company (NIOC) officials have stated that the country's oil fields are going through overhaul operations and connections with oil buyers are being re-established.
"In the most optimistic estimates, the country could return to pre-sanctions production levels of almost four million barrels a day in as little as three months," the report published in May stated.
EF/MA